Attention, avid Korean Pop Culture fans! How many times have you drooled while watching your favourite Korean celebrities munch happily on fried chicken or jajangmyeon in dramas and variety shows? I know I do. EVERY SINGLE TIME!
Let's face it, there's no better combination than delicious food PLUS your favourite celebrity crush! Praying fervently that you will meet them on the streets or chasing them down at their show recordings is so 2015. With so many Korean celebrities, from actors and entertainers to even K-Pop idols now owning their own cafes and restaurants, you can simply visit their eateries and cafes! You might just be lucky enough to dine in on the day the stars themselves drop in! Heck, you may even be able to grab some selfies with them! 
Soooo… *DRUMROLL* Here is the ultimate list of celebrity-owned dining places in Korea that you should visit to fill your bellies and (potentially) meet your oppa/hyung and noona/unnie!
Disclaimer: Of course, DO NOT camp out at these establishments simply to stalk your favourite K-Pop star. That's a big no-no. And if you DO meet them, try not to be starstruck. If you want a photo, politely ask them for one.
Also read: 15 Easy Korean Words & Phrases Every K-Drama Fan Should Know!
1. G-Dragon's Cafe Aewol Monsant 카페 애월 드 몽상
Who hasn't heard of G-Dragon, the resident fashionista and trendsetter of the K-Pop industry?! But did you know he has an ambient cafe on the touristy island of Jeju? It's even listed as a must-visit attraction by local travel agencies! Cafe Aewol Monsant (for some reason, the name itself screams GD) is perfect for a visit, boasting floor-to-ceiling glass windows and a stylish exterior. The eclectic decor gives off rustic vibes with warm hues of brown and faded rock walls. Indulge in a good cup of coffee, pizzas, cookies, salads and macarons as you have a relaxing and enjoyable time here. The highlight is definitely the impressive ocean view of Jeju Island right out front! Imagine sipping on some fresh coffee as you admire the sunset! Boomshakalaka!
The highlight is definitely the impressive ocean view of Jeju Island right out front! Imagine sipping on some fresh coffee as you admire the sunset! Boomshakalaka! What's more, if the odds are in your favour, you might even be lucky enough to catch GD or even his celebrity friends dropping by!
Address: 2546 Aewol-ri, Aewol-eup, Cheju, Jeju-do, South Korea
Directions: Go to Jeju Intercity Bus Terminal to catch bus #702, take the bus for about 45–50 minutes and get off at Handamdong (한담동) bus stop. After that, walk straight ahead for a few minutes, then take a right turn into Aewol-ro 1 gil. Head all the way straight towards the ocean, and turn right at the end of the road. You will see a sign that shows the path to Monsant cafe.
2. Yoo Ah In's T.M.I Dining Pub 티엠아이
For those who might not know Yoo Ah-In outside of his guest appearance on Running Man in 2013 (true fans will remember the famous "Ah-In, annyeong" moment), you really should take a look at his impressive resume. This renowned actor has acted in many famous dramas and movies such as Sungkyunkwan Scandal (2010), Veteran (2015), The Throne (2015), and even made a cameo in the critically-acclaimed Descendants of the Sun (2016) in support of his good friends Song Joongki and Song Hye kyo! Psst, they sometimes drop in too! 
His restaurant, T.M.I (which literally stands for Too Much Information), is a casual and stylish dining pub located in Itaewon. Kick back with your friends and bond over signature cocktails, beers and other drinks for an awesome night. The food here is made using organic ingredients only, which is great for the health-conscious. We recommend trying their signature dish, the juicy and sumptuous Mushroom Burger!
Address: 16 Noksapyeong-daero 32-gil, Yongsan-gu, Seoul, South Korea
Opening hours: 11am – 2am daily, closed on Mondays
Directions: Take exit 3 of Noksapyeong station on Line 6, go straight and cross the road, and turn right. After passing 'Savile Row Custom Tailor Shop', turn left, walk straight, and you will see T.M.I on your right.
3. Exo Kai's Kamong Cafe 카몽
To EXO-Ls, Kai needs no introduction. The main dancer of arguably one of the top K-Pop boy groups in Korea is an easily-recognised face even outside of the fandom. After all, apart from his trailblazing music career, Kai has also starred in several K-dramas such as Andante (2016) and is also a fashion icon in his own right, having recently been unveiled as Gucci's brand ambassador in 2020.
Kamong, which means "Dreaming Kai", is a cosy cafe which is known to be the gathering place of Kai's fans. The most popular menu item in the cafe is their signature ice cream waffles topped with generous servings of fresh fruit. Although Kamong isn't exactly owned directly by Kai (it's actually owned by his sister), the EXO star is known to drop by quite frequently, sometimes with his members! Even if you're not lucky enough to meet him, you'll find drawings and messages written by Kai himself on the cups, napkins, and other small props in the cafe.
Address: 356 Seocho-dong, Seocho-Gu, Seoul, Korea
Opening hours: 9am – 9pm on weekdays; 11am – 9pm on weekends
Directions: Use subway lines 2 or 3 to reach Seoul National University of Education Station and take exit 1. Kamong is roughly 3 minutes away on foot.
4. Running Man HAHA's Loco Quan 401 BBQ Restaurant
HAHA! No I'm not laughing, I'm referring to one of our favourite Running Man celebrities who bears an uncanny resemblance to Pororo, the adorable cartoon penguin. Known for his reggae music and hip-hop style, Haha's personality is reflected strongly in the restaurant's interior and decor with Jamaican vibes all around. There's also cardboard cutouts of Haha in hilarious poses for you to snap photos with!
The Jeju Black Pork, pork belly and doshirak (lunchbox) are highly recommended here. Stay alert while chewing on that piece of succulent pork because you never know when the Running Man crew might pop in for a visit, or to complete a mission! On days when he's not filming, the owner himself (and sometimes even his Running Man castmate Kim Jong Kook) will drop by and interact with guests. Ever the humble celebrity, Haha is known to always be excited about see his fans from overseas eating at his restaurant. 
Address: 395-17 Seogyo-dong, Mapo-gu
Opening Hours: Mon – Thu and Sun (4pm – 2am), Fri – Sat (4pm – 4am)
Direction: Hongik Station Exit 9
Menu: You need to order at least 2 servings for 4 pax!
5. Park Shin Hye's Little Tin Drums 양쳘북
Are you a fangirl or fanboy of Park Shin Hye in the movie Miracle Cell No.7, or dramas such as Pinocchio or Doctors? If so, you should totally drop by this restaurant that's owned by her mother! Little Tin Drums specialises in lamb tripe but offers BBQ pork and beef intestines as well.
Park Shin Hye regularly helps out and dines there with her friends and her manager, so you might be lucky enough to meet her in person! However, do take note that there's an unspoken rule of no photo-taking with her at the restaurant, unfortunately. Have fun admiring her movie posters and autographs by other celebrities on the wall as well!
Address: 548-3 Seoul Gangdong-gu, Seonae-dong
Opening hours: 11.30am – 11pm daily
Direction: Take exit 3 of Gangdong-gu Office station on Line 8. Turn right and walk along the street for 3 blocks. It is located next to the CGV movie theatre.
6. Suzy's Caffe Soo 카페 수
Suzy visits Soo Cafe, her parents cafe located in Gwangju on the happy day! (via.DCS) pic.twitter.com/3o98DmEYte

— Gu Family Secret (@GuFamilySecret) September 29, 2013
Bestowed the title of "the nation's first love", Bae Suzy is widely admired for her natural beauty and adorable antics. Suzy rose to fame as the visual/maknae of Miss A before going on to star in dramas like Introduction to Architecture, Dream High, and, most recently, Vagabond. You might also have spotted her on the big screen recently in the 2019 film, Ashfall. Caffe Soo is located in Gwangju, Suzy's hometown, so make a trip down for some coffee and smoothies now!
Address: 14–25 Usan-dong, Buk-gu, Gwangju, South Korea
Opening hours: 9am – 10pm daily
Direction: You have to take a train (Honam Line) from Seoul to Gwangju which is at the south-western part of Korea. Take bus number 47 from 광주역육교 bus stop. Get off at the 6th bus stop (무등도서관). Walk straight and then turn left. It is located opposite the Gwangju City Library
7. Jo In Sung's Everything But The Hero Cafe
A handsome and lanky model-turned-actor, Jo In Sung is mesmerizing eye candy especially for all girls, women, and ahjummas alike. He is a household name in Korea, best known for dramas such as It's Okay, It's Love and films such as A Frozen Flower and The King. He bought a three-story building and the first floor was used to house this cafe, run by his younger brother. The cafe definitely catches your eye with its unique name and sophisticated interior decor.
If a handsome waiter who looks vaguely like Jo In Sung takes your order, that's probably his brother, because they are said to look quite alike. The cafe is popular among locals for its hand-dripped coffee and fresh pastries. Fans have spotted Jo In Sung at the cafe with his It's Okay, It's Love co-stars and even met Cha Tae Hyun while he was filming for 2 Days 1 Night…So you better keep your eyes peeled!
Address: 210-68 Itaewon-dong, Yongsan-gu, Seoul, South Korea
Opening hours: 11am – 11pm daily
Directions: Take exit 2 of Noksapyeong station on Line 6. Walk all the way straight until you reach the underpass, go through the underpass and take the stairs on the left. Walk into the alley next to Swit:B ice cream store, keep walking for about 10 to 15 mins and you'll see it on your right.
Also read: A Foodie's Adventures in Seoul: From Budget to Mid-Range
8. Yoo Yeon Seok's LUA Lounge Bar 루아 라운지바
Best known for his beloved character Chilbong in Reply 1994, and as chef Baek Gun Woo in Warm and Cozy, Yoo Yeon Seok has opened his very own lounge bar in the Itaewon area. He personally handled the aesthetic style and interior decoration of this place, which shows he indeed has impeccable taste! Aren't you just dying to visit it after looking at these stunning photos?!
Have I mentioned that he even repairs the light bulbs, puts up decorations and does flower arrangements for the tables?! Talk about dedication and love for his own business! You will find many photos of him taken with fans there when you do a quick search on Instagram and Facebook, which means that he visits LUA lounge QUITE often. Enjoy a glass of wine along with a scrumptious plate of risotto when you dine there. His best pals, Son Ho Joon and B1A4's Baro might even visit once in a while!
Address: 127-1 Itaewon 1(il)-dong, Yongsan-gu, Seoul, South Korea
Opening hours: 6pm – 2am on weekdays, 6pm – 4am on weekends
Directions: Take exit 3 of Itaewon Station on Line 6. Walk straight, and turn right at the end of the street. It is situated opposite the Itaewon fire station.
9. Hong Suk Chun's My Chi Chi's 마이 치치스 and 7 others
Hong Seok Chun is a legendary figure because he is the most prominent and openly gay celebrity in Korea. Coming out publicly was not easy for him and it caused a lot of controversies which he continues to struggle with today because most Koreans still hold traditional gender stereotypes. Nevertheless, he is a famous celebrity chef known for his witty remarks and jokes towards handsome male celebrities (*winks*). My Chi Chi's is unique because they offer a variety of chicken dishes, cooked in Greek, Moroccan, Thai, Japanese, Chinese, Italian, French, Indian and Mexican styles. You'll definitely be spoilt for choice!
Aside from My Chi Chi's, he has 7 other restaurants in Itaewon, all characterized by the prefix "My," which include – My Hong, My Thai, My Thai China, My X, My Chelsea, My Noodle and My Suji. Girls are in for a huge treat because he employs only handsome male waiters in his restaurants. The KEY point, however, is that his restaurants are a MECCA for celebrity couples to date in secret at the exclusive rooftop areas. 
Address: 6 Itaewon-ro 19-gil, Yongsan-gu, Seoul, South Korea
Opening hours: 11.30am – 1am daily, except on Fri and Sat it opens till 2am
Directions: Take exit 1 of Itaewon station on Line 6. Walk straight until you see a suit store called GGK, then turn left. Walk all the way straight and you will see it at the end of the alley.
Also read: 24 Fun Things to Do in Seoul on Your Very First Visit
10. BTS Jin's Otsu Seiromushi
That's right ARMYs, Mr. Worldwide Handsome has his very own restaurant! Co-run by BTS Jin and his brother, Otsu Seiromushi (sometimes Ossu on Google) is a Japanese restaurant specialising in food steamed in traditional two-level wooden steamers. There are also plenty of delicious side dishes to choose from. The restaurant exudes a Japanese zen-centric atmosphere, with wooden decor and furniture.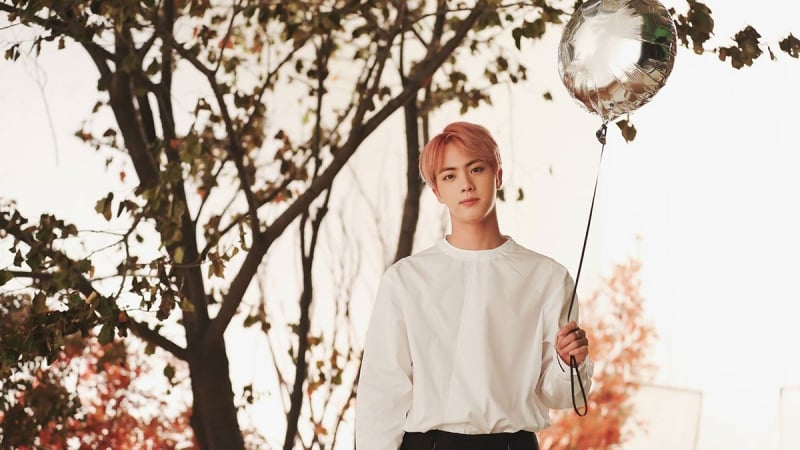 Jin himself has been known to eat at Otsu Seiromushi on occasion, sometimes with his bandmates too! However, given how otherworldly famous they are in South Korea, you're unlikely to be able to get within 10 feet of them. Still, admiring them from a distance ain't so bad!
Address: 30 Baekjegobun-ro 45-gil, Songpa 1(il)-dong, Songpa-gu, Seoul, South Korea
Opening hours: 5pm – 12am daily; closed on Tuesdays
Directions: Otsu Seiromushi is located near Lotte World and Seokchon Lake. Take lines 3 or 8 of the subway to Jamsil Station and take exits 2, 10 or 11. The restaurant is across the lake.
11. JYP's Soul Cup Cafe
When JYP Entertainment moved into their new building a few years ago, a lot was said about their new organic cafeteria. While the cafeteria is mainly reserved for staff and artists of JYP, there's also Soul Cup, a lovely cafe owned by Park Jinyoung that's open to the public. Like the JYP Cafeteria, Soul Cup uses all-organic ingredients for their coffee and pastries. The staff speak good English and light, casual decor make it an ideal hangout spot for coffee lovers an
Some of JYP's most famous artists like Twice, Stray Kids, Day6 and more, are known to frequent the cafe and have occasional photo shoots there. In fact, Twice have gone on record to highly recommend the ice cream after being spotted in the cafe by some lucky ONCEs! Once you've visited Soul Cup, you're bound to be back for "more, more, more, more, more, and more!" *winks
Address: 448-13 Seongnae 3(sam)-dong, Gangdong-gu, Seoul, South Korea
Opening hours: 9am – 10pm daily
Directions: Take subway line 5 or 9 to Olympic Park Station and take Exit 4.
Enjoy your dining with the stars experience!
There you have it! 11 super cool restaurants owned by celebrities Korean pop culture fans won't want to miss! While we certainly won't begrudge you if you're lucky enough to meet your celebrity crush, we must once again remind everyone that stalking celebrities and acting rude around them is not how to get their attention. Now, go forth and may the odds ever be in your favour!