I'm sure many avid foodies will agree that South Korea is one of the best destinations in the world when it comes to culinary culture and food. Indeed, the Land of Morning Calm offers mouthwatering street food, hearty traditional delicacies, and exciting modern-day recipes that will leave your palette wanting more!
But if you're a serious food connoisseur who's always looking for those hidden gems, then this article is for you! Here are some of the top hidden food alleys in South Korea, from Seoul to Busan, and even Jeju, where you can find the best eats that locals themselves know and love!
Want to find out more about the best hidden food gems in South Korea? Head on down to the Korea Tourism Organization booth (5H07) at the 2023 NATAS Holidays! Happening from 11 to 13 August 2023 at Singapore Expo, the travel fair gives avid travellers a chance to find out more about traveling to Korea from the best travel experts in the industry and score awesome deals!
In the meantime, check out this handy ebook to help you plan your foodie adventure in South Korea!
Seoul
Seosulla Street
Seoul is undoubtedly one of the most popular locations to visit in South Korea, thanks to its metropolitan vibes, rich historical culture, and good food. But beyond the usual tourist spots like Myeongdong and Itaewon, true blue foodies should also add Seosulla Street to their itinerary!
Located along the stone walls of Jongmyo Shrine in Jongno District, Seosulla Street is an 800-meter-long alley steeped in history. As you stroll along this route, you'll come across traditional and artisanal shops, as well as bits and pieces of the area's history. More importantly, you'll find trendy cafes and eateries housed within renovated hanoks (traditional Korean houses).
Jjalpajin Memil
One of Seosulla Street's most popular foodie hangout spots in Jjalpajin Memil, a noodle shop that specializes in buckwheat noodles. In fact, there are three different types of must-try buckwheat noodle varieties here!
There's the quintessential naengmyeon — buckwheat noodles in cool, refreshing soup; bibim-guksu, a savory buckwheat noodle dish with a gochujang (Korean chili pepper paste) base that provides a real kick; and buckwheat noodles served with fragrant perilla oil.
Unlike most other eateries which mix buckwheat and flour to make the noodles, Jjalpajin Memil's noodles are made with pure buckwheat, resulting in a firmer texture. Don't forget to pair your noodles with some buckwheat mandu (dumplings) for a filling meal!
Sasa
While patbingsu is arguably the most famous Korean dessert, we recommend sampling some traditional Korean desserts the next time you're in Seoul. Just five minutes away from Jjalpajin Memil, Sasa provides the perfect way to round up your meal.
Housed within a traditional hanok, Sasa is famous for its sumptuous set menu which includes chewy grilled rice sticks (served with sweet malt syrup and powdered soybeans) and paired with non-alcoholic makgeolli (unrefined rice wine). Alternatively, try their gwapyeon — jelly made with fruits and mung bean starch.
If you've still got space for more after dessert, or if you're in the mood for some late-night snacking, head to the famous Gwangjang Market (opens till 11pm), where you can find plenty of popular Korean street food items, including mung bean pancakes, gimbap (Korean rice rolls), tteokbokki (spicy rice cakes), and more!
Yongnidan Street
Another secret food alley in Seoul that foodies will absolutely love is Yongnidan Street, a popular hangout spot for young Koreans thanks to its plethora of trendy eateries serving up international delicacies.
With travel restrictions in place for much of 2020 and 2021, Yongnidan Street's international culinary scene became even more popular as locals flocked to the area to satisfy their overseas food cravings! In time, even more eateries would set up shop here, turning the area into a vibrant "global village".
Sam Sam Sam
One of the must-visit eateries on Yongnidan Street is Sam Sam Sam, a San Francisco Diner-style eatery serving different international cuisines.
The first thing you'll notice is the photogenic interior — warm colors, ambient lighting, and pop culture memorabilia adorn the walls, providing perfect photo spots for your Instagram feed. The atmosphere here is matched by the delicious food on offer, a diverse menu featuring top-quality premium ingredients from around the world.
Some of our favorites include the purple sweet potato gnocchi, the rich California-style lasagna, and the mouthwatering octopus ink risotto!
Quartz Coffee
Speaking of insta-worthy cafes, why not take a short four-minute walk after your meal at Sam Sam Sam for some coffee at Quartz Coffee, a popular hangout spot housed within an antique brick building. Inside, you'll find calming blue decor that give off Korean romcom vibes, perfect for photos!
Since opening in 2020, the cafe has enjoyed plenty of popularity on social media, thanks in no small part to the fact that it is run by an experienced barista who represented South Korea in coffee competitions. You know the coffee's gonna be good!
We recommend ordering the cafe's signature Quartz Latte, made with thick condensed milk for an addictive sweet and salty taste. Alternatively, you can also head to BREADYPOST for their signature butter pepper soft pretzels!
Jeonju
Gaengnidan Street
Did you know that Jeonju is actually South Korea's very first UNESCO City of Gastronomy? No surprise then that it's one of the must-visit cities for foodies! But the question is where can you find the best food in Jeonju? The answer: Gaengnidan Street.
Also known as Gaeksa Street, this hidden alley in Jeonju is where you go to find the best things to eat in Jeonju, whether it be Michelin Guide eateries or hunting for street food in between the alleys of the beautiful Jeonju Hanok Village, which is built in a way that encourages leisurely strolls and exploration.
Hankookjib
Ask any avid foodie, and they'll tell you that one of the must-eat foods in Jeonju is bibimbap, a traditional Korean rice dish topped with various ingredients and served with a slightly spicy gochujang sauce, often served in a hot stone pot.
One of the best places in Jeonju for bibimbap is Hankookjib, a local favorite that was featured in the 2011 Michelin Guide Korea! Hankookjib specializes in serving delicious bibimbap and their version includes hwangpomuk, a starchy mung bean jelly considered one of the 10 Tastes of Jeonju — local dishes that exemplify the city's culinary culture.
Jeonju Waengi Kongnamul Gukbap
Another famous dish of Jeonju is kongnamul gukbap, soybean sprouts soup and rice. While the dish features simple ingredients, the flavors will leave your palette craving more! Many of the shops that specialize in this dish are found in Nambu Market, with Jeonju Waengi Kongnamul Gukbap Jeonmunjeom being arguably one of the best eateries among the list.
While Kongnamul Gukbap can be found in almost every city in South Korea, the Jeonju version is slightly different as rather than cracking a raw egg into the boiling soup, the poached egg is served separately, allowing you to add more flavors to the egg or use it as a dipping sauce.
Wash down your meal with moju, a special mix of makgeolli and local medicinal herbs which give it a sweet, soothing flavor!
After having your fill of Jeonju's famous delicacies, head over to Gyodong Dawon, a traditional Korean tea house set inside a 100-year-old hanok to enjoy some freshly brewed tea and handmade local desserts.
Busan
Huinnyeoul Culture Street
The lovely port city of Busan is also home to a hidden food alley in Korea that is well worth the visit. Known fondly as the "Santorini of Korea", Huinnyeoul Culture Street is an ambient underrated gem filled with trendy cafes, eateries, and insta-worthy murals fronting a stunning coastal view.
A hallmark of success for the country's urban regeneration programs, Huinnyeoul Culture Street has become one of the top hangout spots in Busan, attracting both locals and tourists alike, especially discerning foodies!
Huinnyeoul Jeomppang
Huinnyeoul Jeomppang exemplifies the notion that even the simplest ingredients can make for the most comforting meals. Here at this humble eatery, complete with an awesome view of the ocean, there are only two things to order: a hearty bowl of ramyeon with fishcakes, scallions, and other ingredients, and sumptuous toast loaded with ham and cheese.
For many Koreans of all ages, these two delightful food items are the epitome of comfort food. For some of the older generations, there's even a nostalgic factor in play as the ramyeon is served in nickel silver pots like in the olden days!
Sonmokseoga
If you're looking for a nice, swoon-worthy spot for a date, look no further than Sonmokseoga, an ambient bookstore cafe along the coast that gives off subtle Korean drama vibes.
Apart from the mesmerizing view from the terrace, this two-storey bookstore cafe features a quiet interior with warm lighting, and plenty of reading materials to choose from to go with your cup of coffee. If you'd prefer something with a little more kick, the cafe also sells a selection of alcoholic beverages, though their signature menu item is Gluhwein, a fragrant mulled non-alcoholic wine.
Daegu
Apsan Café Street
Located near Nammyeong Samgeori, Apsan Café Street is the most popular hangout spot in Daegu, especially for younger locals. Here in this hidden alley, you'll find a variety of local and international eateries, as well as picturesque views of Apsan Mountain in the distance. It's also one of South Korea's best hidden gems when it comes to cherry blossom scenery!
Seomun Market
Undoubtedly, one of the best food spots on Apsan Cafe Street is the bustling Seomun Market, the largest market in Daegu, with over 5,000 different shops spanning eight different districts! While the market is traditionally famous for its dried seafood trade, you can also find plenty of delicious local street food during the night!
Some of the must-try foods include sujebi, a hearty hand-pulled dough soup, flat mandu, which is a crispy, half-moon shaped dumpling pancake filled with glass noodles, sweet and savory twisted donuts, and chicken heart skewers.
For those who want to try an authentic Korean delicacy that mostly only locals know about, head to Anjirang Gopchang Alley for decadent grilled tripe (usually pork or beef)!
a.nook Apsan
If you ever find yourself in Daegu during spring, make a.nook Apsan one of your very top locations to visit! This Insta-worthy cafe is famous for swoon-worthy cherry blossom views between March and May, especially when viewed from its second-floor terrace!
Apart from the alluring views, the cafe also serves up delicious coffee and a whole host of freshly-baked goods. Their bagels in particular, are especially popular. We recommend trying their signature ang butter bagel, which is filled with red bean paste; and their cream cheese and scallion bagels.
Jeju
Aewol Handam Coastal Trail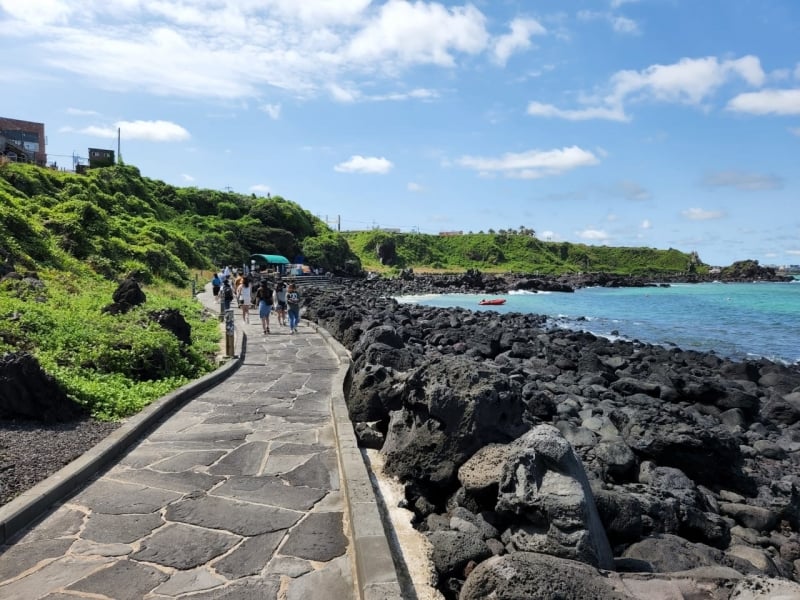 The Aewol Handam Coastal Trail is one of the best-kept secrets of Jeju. This coastal village is famous for its stunning ocean views, and for being home to plenty of trendy restaurants, bars, and cafes. Even K-Pop idols like G-Dragon used to own a few cafes in the area!
Named after the crescent-shaped port at the village, the Aewol Handam Coastal Trail was designated as one of the 31 Hidden Views of Jeju in 2009, so a visit here not only guarantees good food, but great views as well!
Haejeo
If you like Korean barbecue then one of the best things to eat in Jeju is definitely heukdwaeji, otherwise known as Jeju black pork!
This famous delicacy is a must-try in Jeju for foodies because of how unique the meat is — Jeju black pigs are found only on the island and feature fattier and juicier meat that's deliciously tender, especially when grilled to perfection at Haejeo, a popular restaurant featuring marvelous ocean views.
Pair your back pork with salted anchovies (meljeot) to add another dimension of flavor to every bite!
Aewol Eunhye Jeonbok
Apart from black pork, Jeju is famous for its unrivaled seafood, especially fresh abalone. The abalone in Jeju is known for their firm, chewy texture, a testament to the quality of the seafood there. What's more, abalone is such a common ingredient in Jeju that it's used in a variety of dishes, including soups, porridges, and even as a topping for bibimbap!
For a sampler of Jeju's famous abalone and seafood at the Handam Coastal Trail, head to Aewol Eunhye Jeonbok, famous for its abalone bibimbap. And once you're done with your rice, the tip is to pour some water into the hot stone pot to make sungnyung (scorched rice soup), a clear but flavourful soup!
Is that your tummy rumbling I hear? I don't blame you! With so many different types of delicious things to eat in South Korea, it's no wonder we're all feeling peckish while reading this! All that's left to do now is to plan your next visit to check out these incredible hidden food alleys in Korea!
Want to find out more about the best hidden food gems in South Korea? Head on down to the Korea Tourism Organization booth (5H07) at the 2023 NATAS Holidays! Happening from 11 to 13 August 2023 at Singapore Expo, the travel fair gives avid travellers a chance to find out more about traveling to Korea from the best travel experts in the industry and score awesome deals!
In the meantime, check out this handy ebook to help you plan your foodie adventure in South Korea!
---
Brought to you by Korea Tourism Organization