The Land of the Rising Sun is well known for its abundance of sweet treats as well as addictive Japanese snacks. Whilst travelling to Japan unfortunately remains on the back burner for now, thankfully, we can still experience the Land of the Rising Sun from home!
Here are our top picks of Japanese snacks that you can find locally for those of you out there who are obsessed with all things Japan! As they say, Sugoi!
1. Kit Kats
Have a break, have a Kit Kat! This chocolate-covered wafer bar has sent ripples of excitement across the world. It has evolved from the classic milk chocolate bar back in the old days and is now available in an array of flavours galore.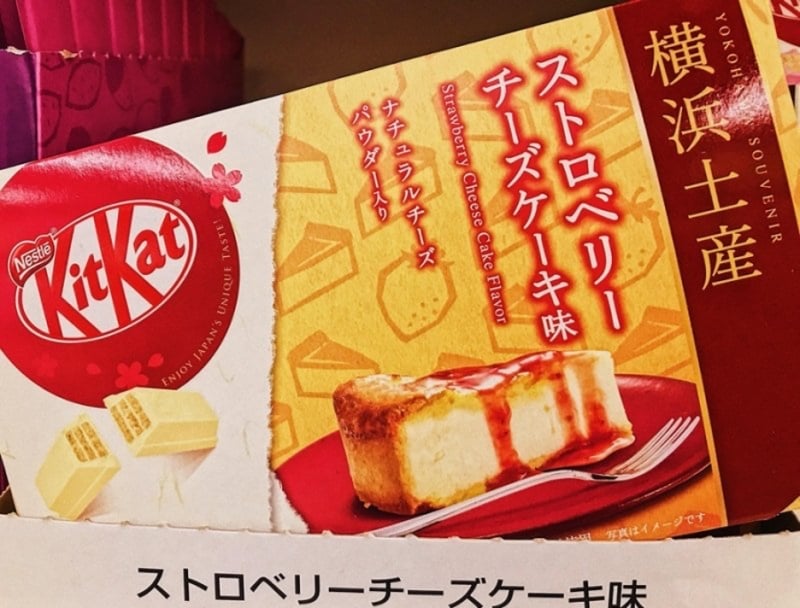 Treat yourself to imaginative flavours such as Strawberry Cheesecake, Matcha Green Tea, Rum Raisin, Purple Sweet Potato, Azuki Red Bean, you name it! For those who have a sweet tooth, we recommend the Strawberry Cheesecake Kit Kat! What with its signature crisp wafer, enrobed in a delightful chocolate coating infused with cream cheese, we can't see it getting any better than this!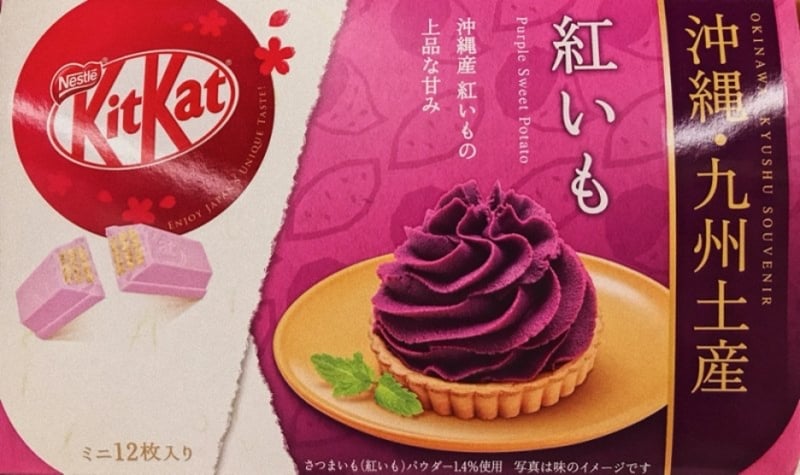 The Purple Sweet Potato Kit Kat is another personal favourite! I chanced upon them in the Marketplace some time back and was ecstatic to discover that it is offered locally as well. These violet wafers promise an authentic Okinawan sweet potato flavour. 
There are even unconventional flavours such as Wasabi and Sake for those who are feeling adventurous! The Wasabi Kit Kat for one is coated with white chocolate blended with premium quality wasabi. This adds a mild spicy undertone to the chocolate goodness, giving it an extra kick. Nevertheless, I would say that this is very much an acquired taste.
2. Daifuku mochi
Its chewy mochi skin is definitely a personal favourite! This ball of sticky goodness is stuffed with generous fillings ranging from chunky bean paste to even juicy fruits.
3. Tokyo Milk Cheese Factory
Even if we are not able to step onto Japan's soil for the time being, these delectable cookies are available for purchase locally as well! Although these heavenly desserts originated in Japan, fans would be ecstatic to hear that Tokyo Milk Cheese Factory has opened overseas branches. Manila, Seoul and Singapore are amongst the places that are home to this legendary Japanese snack. 
Tokyo Milk Cheese Factory offers winning flavour combinations that we never knew we needed in our lives, such as Strawberry and Milk Tea. This spring's limited edition cookies are a pretty, delicate shade of pink. Imagine milk tea-flavoured chocolate blended with rich, high-quality cheese, sandwiched between strawberry-flavoured cookies. 
If that is not your cup of tea, why not try its Salt and Camembert cookies instead? This is a classic combination of fresh, creamy Hokkaido milk and camembert cheese chocolate. 
Another fan-favourite is its Honey and Gorgonzola cookies. Pair these treats with a glass of creamy, fresh milk to complete your perfect afternoon tea break!
These fragrant, crisp-baked cookies pack a good punch the split second you munch on them and are sure to leave you craving for more. Luckily, you don't have to travel all the way to Japan to get a chance to savour them!
4. Pocky
Don't we all love Pocky? This Glico Sakura Cherry Blossom Pocky is as intriguing as it is delightful to look at. Each browned butter scented pretzel is coated with a thick, luscious layer of elegant cherry blossom flavoured chocolate. For those who have been missing the delicate, fleeting blooms in Japan, this snack is just for you! 
5. Cream puffs
Enjoy these luxurious frozen desserts in the comforts of your own home! These Hokkaido cream puffs come in a variety of assorted flavours. The light and airy cream puff is loaded with an explosion of rich custard cream. Munching on one would be sure to magically transport you to Hokkaido's winter wonderland.  
Not only do Japanese supermarkets such as Don Quijote offer cream puffs, you can find these hidden gems in speciality stores as well! This chocolate choux pastry brings the classic cream puff up a notch. Its crisp exterior encases a generous amount of milk chocolate cream as well as sweet chocolate custard. 
6. Cakes
Who didn't go awhhh at this adorable bunny! There's something about Japanese baked goodies that are remarkably adorable! This cute bunny cake simply brings a smile to our faces. If whole cakes are too filling, why not indulge in such mini cakes? These mini cakes make for a well-deserved snack in between your work commitments.
Can't get enough? Indulge in yet another adorable creation! Its doe-eyed gaze is enough to melt your heart.
7. Ice cream
This delicacy deserves a standing ovation! Don't miss out on this Hokkaido soft serve when visiting Japanese supermarkets such as Don Quijote or Isetan! This particular 100% Hokkaido raw milk Honey Soft Serve comes with edible flowers air flown from Japan, along with a honey dropper. Feel free to drizzle unpasteurised Hokkaido honey to enjoy a naturally sweet soft serve. 
8. Umaibo
This is definitely a #Donki-ssential! These are addictive puffed corn bites that come in savoury flavours such as Mentai and Tonkatsu. Nevertheless, there are sweet flavours as well such as Chocolate to satisfy your sweet tooth.
9. Gummies
UHA Cororo Gummy are fruit gummies that burst with the delicate sweetness of the taste of real fruits. These gummies are made from fruit juice and have a chewy centre. They come in an assortment of flavours such as Grape, Peach and more. You can find these at major Japanese supermarkets and convenience stores such as Don Quijote or Tao Kae Noi Land.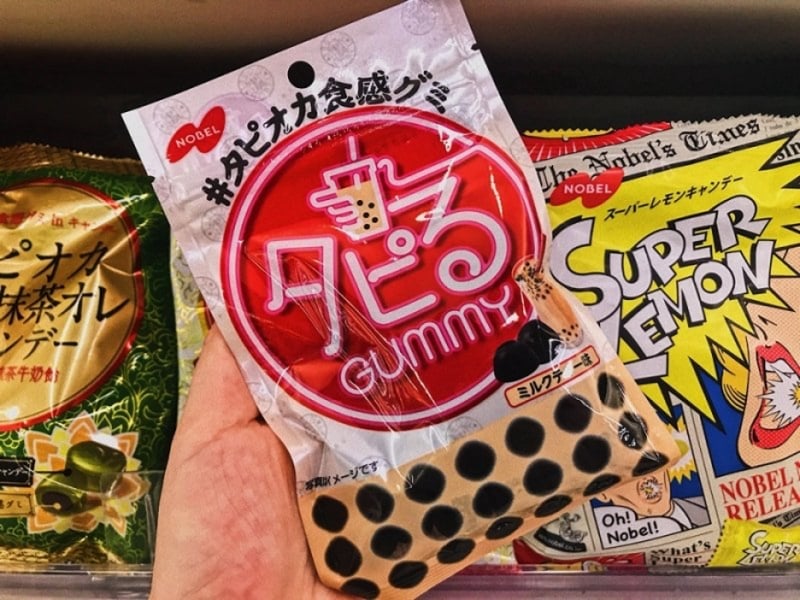 If you are a bubble tea stan, Nobel Bubble Milk Tea Gummies would be right up your alley! Each chewy milk tea flavoured piece tastes like a real tapioca pearl.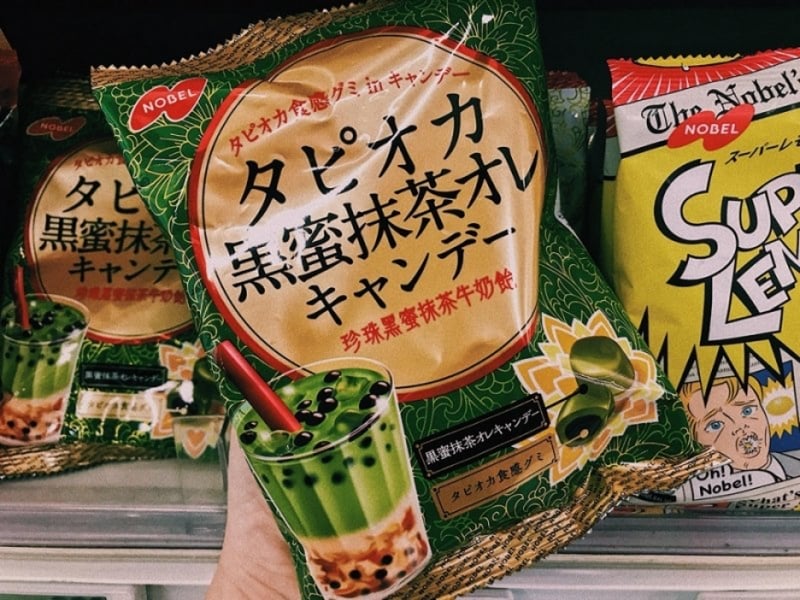 Besides the regular milk tea flavour, there is also the Black Honey Matcha Latte flavour for bubble tea lovers to enjoy. These gummies can be found in local supermarkets such as the Marketplace. 
10. Tohato caramel corn
If you have not tried this, you are definitely missing out in your snacks department! These caramel coated corn bites are reminiscent of popcorn! Nevertheless, these are not your average corn bites as they come in a variety of unique Japanese flavours. These flavours range from its seasonal flavours such as Sweet Potato and Chestnut, to its all-time classic original flavour.
Chomping down on this crunchy corn snack glazed with a layer of caramel is bound to lift your spirits! You can find this umami-flavoured snack in Japanese supermarkets such as Don Quijote. Its cute packaging would be hard to miss! While you are at it, why not load up on other unique flavours such as Choco Crunch, or Milk? You won't regret it!
11. Meiji Apollo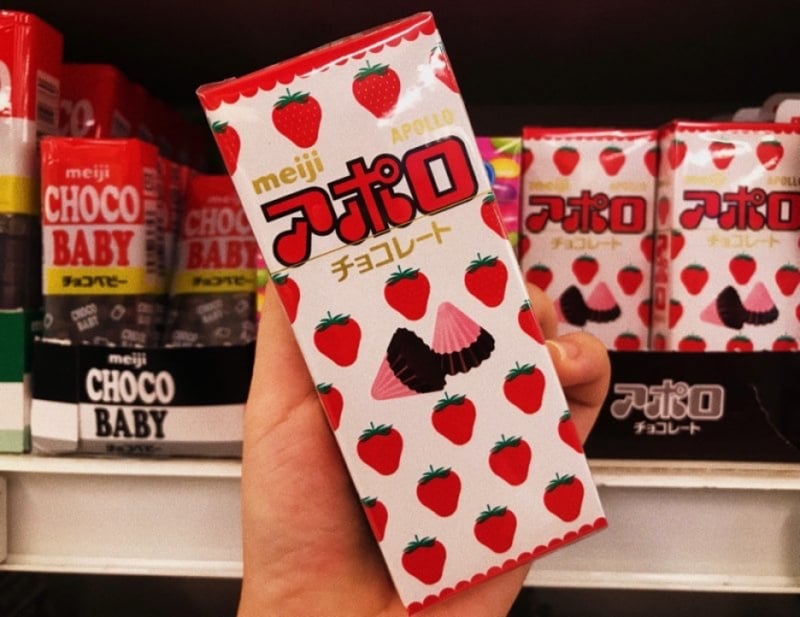 Meiji Apollo is essentially milk chocolate, topped off with a layer of delicious strawberry flavoured chocolate. Growing up, this has definitely been a childhood favourite! 
12. Jagabee
This crunchy and buttery treat that offers the wholesome goodness of premium potatoes is the all-time perfect snack. It comes in rich flavours such as Butter Soy Sauce, Seaweed, Purple Potato and more. You can find these potato sticks in local supermarkets such as Cold Storage. 
Also read: 20 Delicious Snacks from Hokkaido to Buy As Souvenirs
Although travelling to the Land of the Rising Sun is a pipe dream for now, it is a blessing that we can still satisfy our cravings for Japanese snacks by heading down to local supermarkets and specialty stores. At least this is one more thing to look forward to after the circuit breaker!