Visiting some royal palaces, pigging out on Korean barbeque, going full-out Gangnam style, and you think you've pretty much done everything in Korea? That's not the end to it in this vibrant land, or maybe you need to update your list to new and local standards. Here are the top 15 unique experiences every traveller should have in Korea to up your travel game.
Also read: 20 Reasons Why South Korea is a Terrible Travel Destination
1. Drink sweetened soju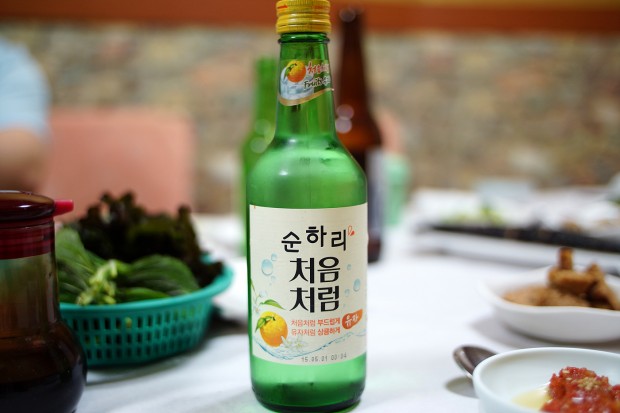 Image credit: Popco.net
Korea is home to the most-consumed alcohol in the world – soju, the country's national alcohol that gives massive hangovers. Relatively cheap in price, it is not surprising to see soju bottles stacked up at a local bar. If you're already familiar with soju, why don't you try out the country's new hype – sweetened soju? They come in various fruity flavours such as citron, blueberry and apple.
Warning: You might lose track of how many shots you're taking since they're so sweet
2. Make a Korean Big Mac and salvage it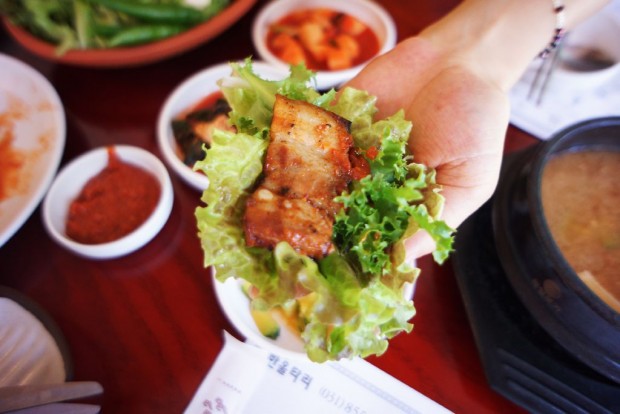 Image credit: GyeongGi-Do Tour
Never heard of a Korean Big Mac? Don't worry. I made it up! Many of you will already know about the wonders of scrumptious Korean barbeque, but if you're going to enjoy the food, have it the right way. When the locals have Korean barbeque, they like to make a ssam, which is basically rice and condiments such as well-cooked meat wrapped in leaves of lettuce, cabbage, sesame or other greens. Don't forget to add ssamjang, a special sauce made out of processed soybean paste.
3. Try out live squid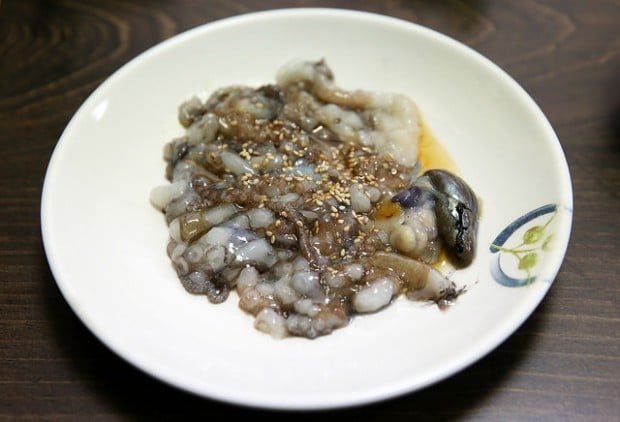 Image credit: Jeon Han
If China has all kinds of ridiculous seafood on sticks, Korea has edible live seafood for you. Visit street stalls in any local markets and you'll be able to try raw squid cut up in pieces. They wiggle around in your mouth as you eat them, so if you're adventurous enough, go for it, but certainly not for the light-stomached.
4. Visit Jeonju for authentic Korean food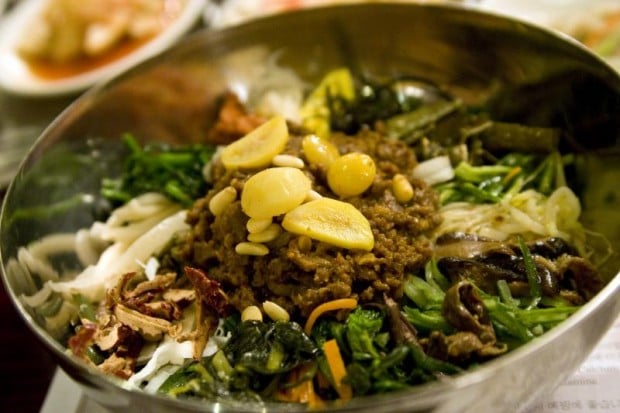 Image credit: Young Sok Yun
Most travellers who come to Korea end up going around Seoul, Busan, or Jeju Island, but Jeonju is definitely a must-visit city for foodies and culture junkies. A city located at the southern part of Korea, Jeonju is often dubbed as the most traditional city in Korea, famous for its old palaces and amazing food. It is the home to the famous bibimbap and miscellaneous authentic Korean food.
5. Visit themed cafés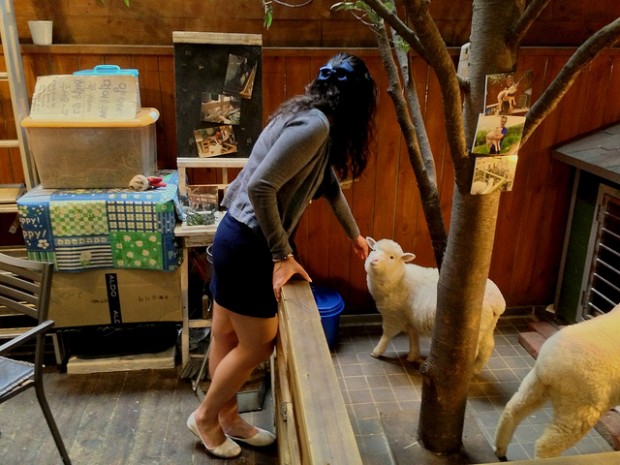 Image credit: stacya
Korea, like Japan, is obsessed with anything cute. The epitome of this? Themed cafés. Korea has a wide selection of themed cafés from pets like dogs and cats to reptiles and lambs, onto dress cafés such as wedding dresses and hanbok cafés. One complimentary drink gets you in this wonder of themed cafés, so make sure to try them out on your next visit.
6. Try on a hanbok
Image credit: Jeon Han
Hanbok, a type of traditional Korean clothing, was worn as everyday apparel among Korean ancestors. Vibrant in colour and distinguished for its clean, artistic lines, hanbok is a must-try option for many travellers. Visit the traditional streets of Insadong in central Seoul and you'll find many places that offer simple photoshoots with you in hanbok, or even a sticker photo booth if you like it that way.
7. Go to a Korean bathhouse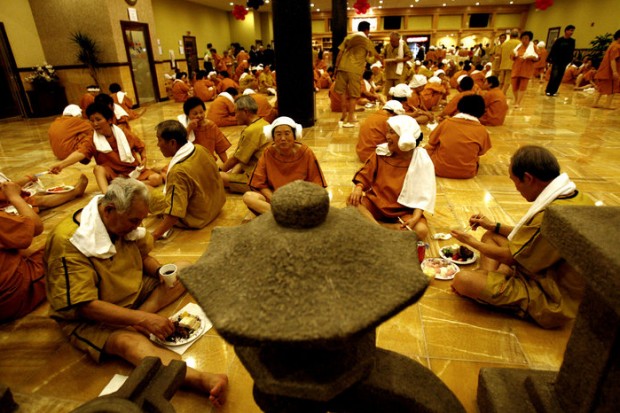 Image credit: Nick Elwood
Have you watched the viral video of The Walking Dead's Steven Yeun on the Conan Show, in which both of them strip down in a Korean bathhouse and go through painful body scrubs? That's it. It's your turn now for some authentic Korean spa experience. Don't forget to make cute lamb towels and put them on your head like the locals do.
8. Feel the artistic vibe in Hongdae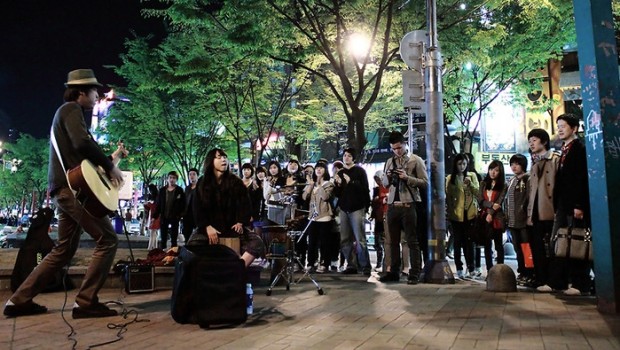 Image credit: ezday
Most tourists visiting Korea would know about Hongdae, since it is a convenient place where food, shopping, nightlife, accommodation and cultural experiences are all available. Upon your arrival at Hongdae, you might recognize the abundance of street performances, pop-up art galleries and exhibitions. Why not spend some time supporting the local indie bands that are performing on the street?
9. Watch the Han River Banpo bridge rainbow show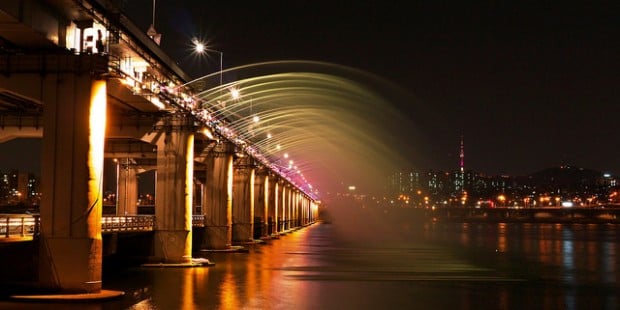 Image credit: travel oriented
Han River, the main river that crosses Seoul, is where the locals love to spend their pastime. With several parks arranged along the river by Seoul Metropolitan Government, you could either enjoy a stroll along the river or go for a picnic during the day, or even visit the Banpo Bridge at Banpo Han River Park at night time for a magnificent "rainbow show."
10. Take a tour of the DMZ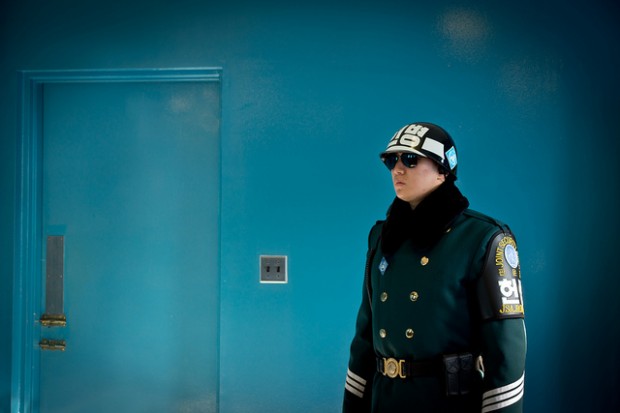 Image credit: Chris Marchant
Did you know that Korea is the one and only divided country in the world? While many refer to South Korea when they say Korea, the troublesome upper half under the infamous Kim Jongeun never stops to threat the world. If you hold a foreign passport, you are allowed to visit DMZ, the demilitarized zone and step in (a tiny bit) into North Korea. It is worth a day trip and many travel agencies offer this tour.
11. Explore around Jeju Island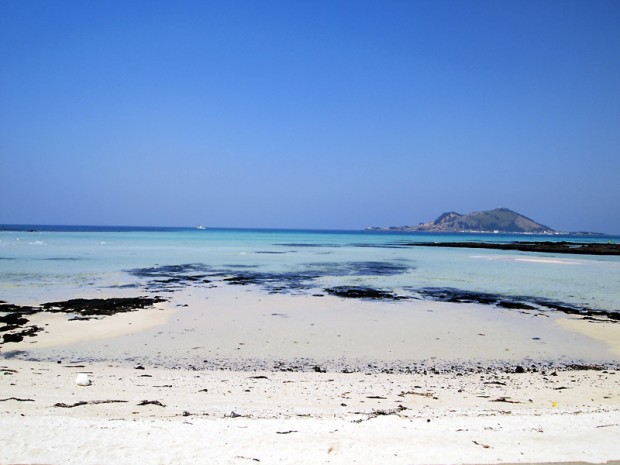 Image credit: zzi
Welcome to Jeju, the country's favourite holiday destination, famous for its sub-tropical climate and eye-dazzling tourist attractions. Located at the southernmost tip of the Korean peninsula, Jeju Island had the honour of making nine of its geological sites to UNESCO heritage sites. Jeju boasts bountiful natural reserves, but its neighbouring island Udo treasures pristine water and beautiful scenery that you might mistake for an island in the Philippines at first sight.
12. Get mud-faced at Daecheon beach
Image credit: Hypnotica Studios Infinite
Every summer at Daecheon beach, a popular beach along the west coast of Korea, join a flood of festival goers for the famous Boryeong Mud Festival, where you can enjoy a variety of mud activities under the sizzling sun. From mud slides to mud pools and not to mention the beauty products made out of mud, Boryeong Mud Festival offers everything related to mud in any form of activity or product you can imagine. There's a nice beach right next to the mud festival site, so if you plan to visit a beach during your trip, don't forget to check out this festival.
Also read: Bizarre, Almost Freakish Festivals in Asia You Have to Experience
13. Challenge yourself to steep hikes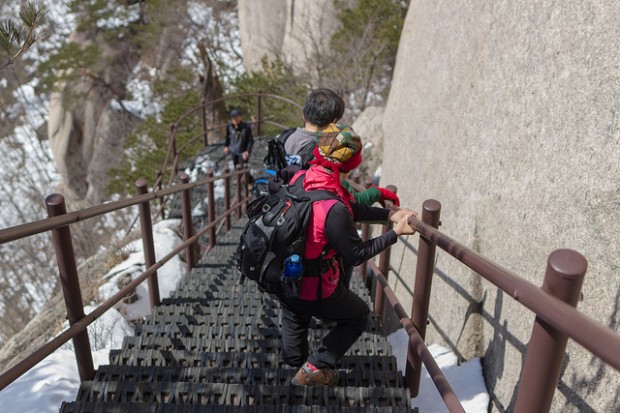 Image credit: Emily Orpin
If you're a hike lover, check out the mountains in Korea. Hiking in Korea is no joke, as the mountains are steep and dangerous. However, a nice maggeoli (rice fermented alcohol) and kimbap (condiments and steamed white rice rolled in dried seaweed) will make up for the after-hike pain. Famous hiking destinations are Seoraksan, Dobongsan and Bukhansan.
14. Shop till you drop in Myeongdong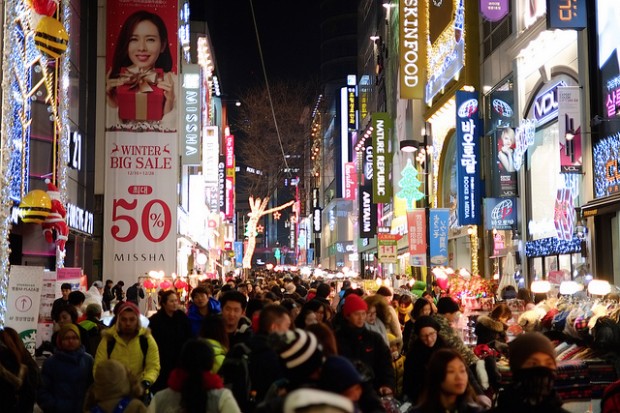 Image credit: el_ave
A big hurrah for shopaholics! You are officially in the land of shopping heaven, where the malls are open till late at night, ready for your "shop till you drop." Although many shopaholics go to Myeongdong for clothing, cosmetics and luxury products, you might want to pay a visit to Namdaemun market, which is a late-night and early-morning market that runs late at night and throughout the break of dawn. Sounds interesting?
15. Endorse the Skyline from N Seoul Tower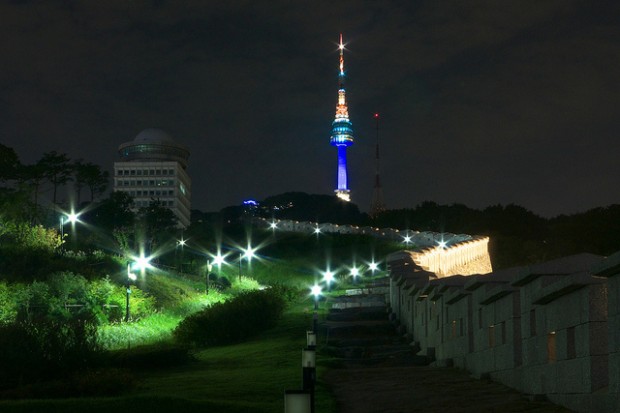 Image credit: travel oriented
Every big city has at least one sky tower, and Seoul is no exception. If you're one of those who love to see the city from high above, visit N Seoul Tower, located in Namsan, central Seoul. On a nice, clear day, you can enjoy a panoramic view of Seoul on the observatory deck. At night between 7:00 P.M. and midnight, the tower illuminates in dazzling colours. Choose which one you prefer; both options are definitely on the must-visit list.