Here's some good news for you. Whether you're going to Seoul on tight purse-strings or in a celebratory mode, here's a scale of five eateries for you to get that amazing fix for your tummy, all according to your budget (You're welcome!).
1. Mapo Mandu
Price: $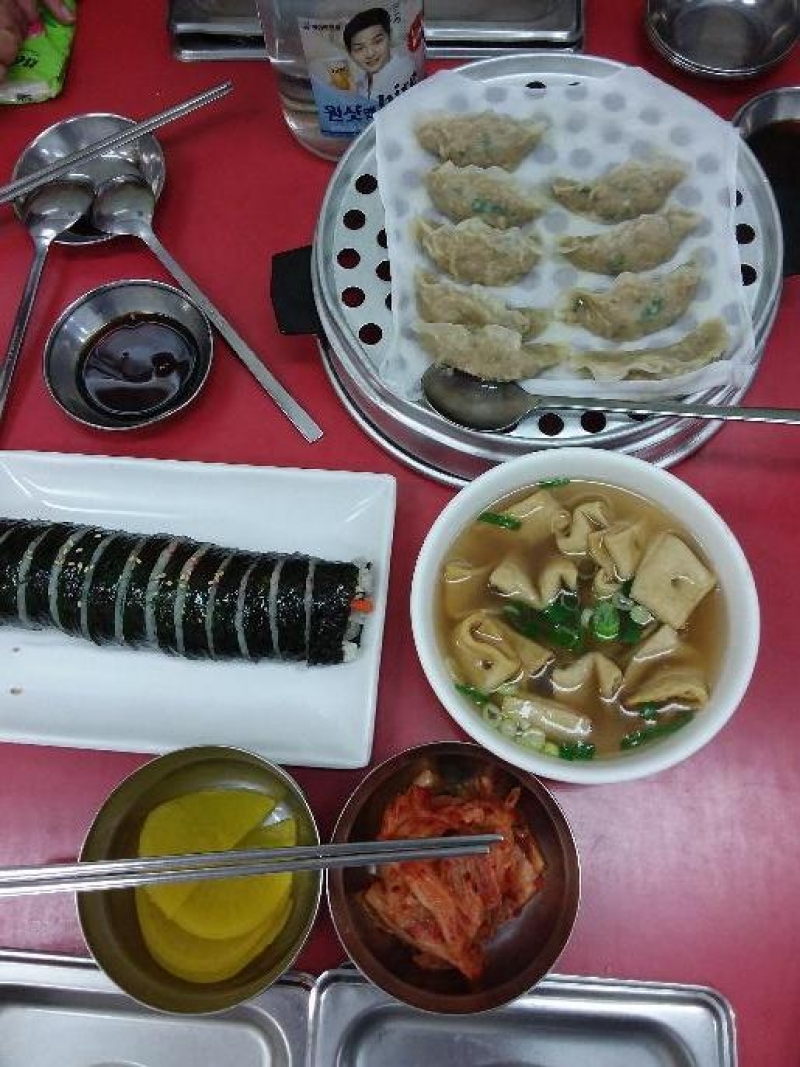 Mandu means 'dumplings' in Korean. If you're starving and looking for something cheap yet filling, here's one mandu place you can't miss. Head to Mapo Mandu for some must-try galbi (pork rib) dumplings. They're so addictive that you won't be able to resist having second helpings, especially when it's just KRW3,000 (~S$ 3.70) for 10 dumplings! If you are up for some dumpling soup, this eatery serves up some scrumptious dumpling egg broth soup too.
Pictured above are the kimbap (which is like sushi) and odeng (fish cake served in a bowl of piping-hot soup, perfect for bulwarking against the cold during spring or winter). The best part? They are priced just as attractively as the signature galbi dumplings. How wallet friendly!
This humble eatery represents convenience and guilt-free indulgence at its best as you enjoy a feast that's both affordable and delicious.
Opening hours: 00:00 – 24:00
Nearest station: Yeouido station (Seoul Subway) Exit 3. "Mapo Mandu" will be in view, on your left, once you emerge from the station exit.
2. Kalchi
Price: $$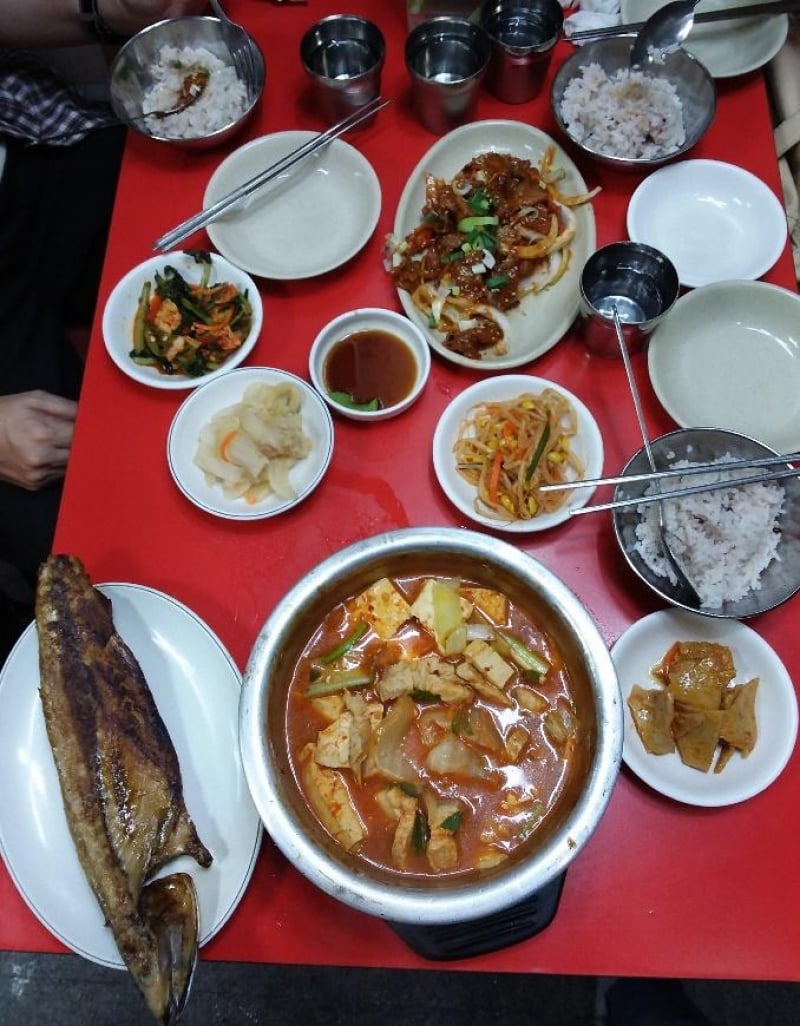 The name of this restaurant within Pyeonghwa Market is well-known due to its 30 year-long history. Here at Kalchi, you can indulge in tantalisingly spicy kimchi soup that is a bang for your buck. At KRW12,000 (~S$14.70), a large portion of soup comes with a generous serving of ingredients including tofu, pork, leeks and of course, kimchi!

Pair the soup with seaweed rice – a refreshing alternative to the conventional white grains available at restaurants – and you have the perfect solution to braving the chilly night breezes of spring.
The chart-topper of our meal was the grilled bulgogi (sweet sauce pork) that cost KRW9,000 (~S$11.10). Of course, I encourage you to try the various types of grilled fish Kalchi whips up too. The grilled saba I decided upon did not disappoint and I'm sure you will enjoy it as well!
Nearest station: Dongdaemun station (Seoul Subway) Exit 9
3. Mister Bossam
Price: $$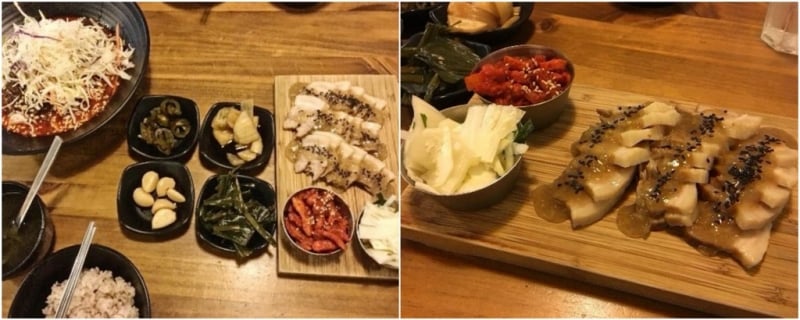 Bossam refers to the style of boiling meat in brine to a tenderness and juiciness that you'll find irresistible. Mister Bossam has three different flavours of bossam meat – plain, garlic (sweet) or spring onion (spicy). You can order their meat platter which encompasses all three flavours and costs around KRW10,000 (~S$12.30).

Besides serving affordable barbequed meat, this place provides free-flow seaweed soup, seaweed rice, and side dishes. Enjoy the soup and rice to your heart's (or should I say, stomach's) content.
Considered a requisite part of every birthday celebration, Korean-style seaweed soup is very different from the renditions available in Singapore, and is hence a rare find locally. So be sure to go for two servings (or more?) while you're here!
Opening Hours: 11.30am to 11pm daily
Nearest station: Ewha station (Seoul Subway) Exit 2
4. Mapo Ok
Price: $$$ – $$$$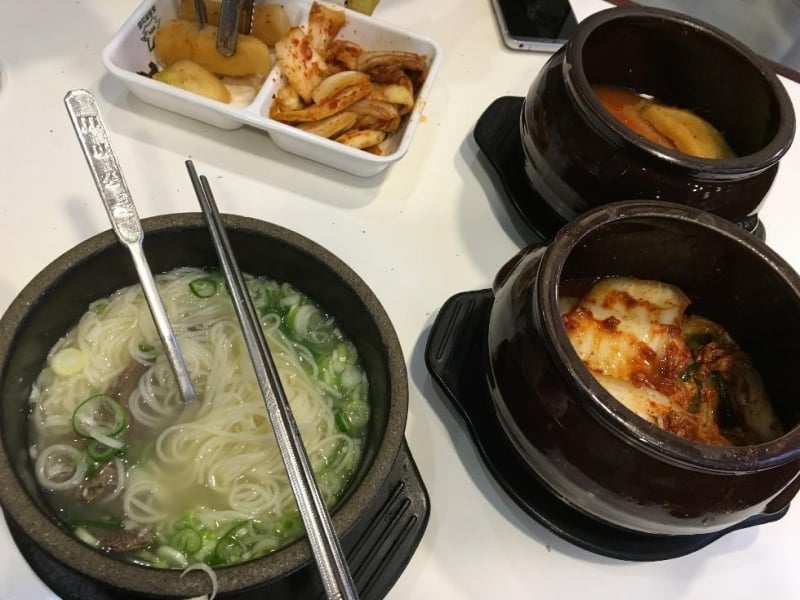 Mapo Ok is the go-to for seolleongtang, or beef soup, as shared by a local I know. This was where I had my first meal in Korea – and the food served here is, I dare say, one of the best I've had in Korea!
You have a choice of putting rice or noodles into your soup, and they provide whopping amounts of kimchi to go with it as well. Can't get enough of kimchi? Fret not for free refills are available! The beef slices in the soup are done to tender perfection as well. With the regular-sized dish priced at KRW12,000 (~S$14.80) and the large-sized priced KRW15,000 (~S$18.40) it will cost you more to patronise this restaurant as compared to the places mentioned, especially if you are travelling as a group. Some cuts of beef on the menu can get rather costly, with prices going up to as high as KRW50,000 (~S$61.50)! Nevertheless, a meal here is definitely worth the money when you're feeling a bit generous and ready to splurge!
Opening hours: 7am to 10pm daily
Nearest station: Mapo station (Seoul Subway), Exit 1
5. Hwanghu Myeongga
Price $$$ – $$$$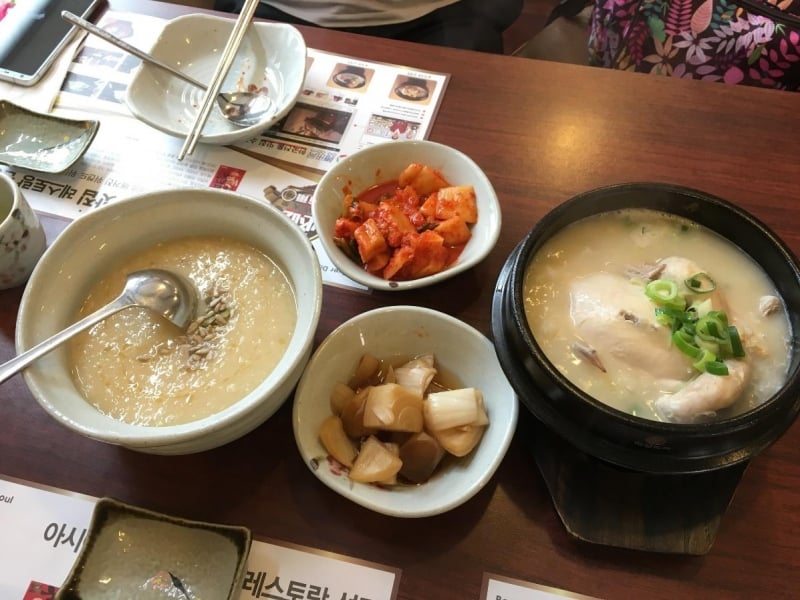 When it comes to a good bowl of samgyetang (ginseng chicken soup), you would probably have heard of Tosokchon Samgyetang. This resturant's legacy is indisputable – perpetuated by word of mouth and facilitated by its convenient location near Gyeongbokgung palace, you will see hoards of tourists congregate here for their dose of samgyetang. However, if queueing gives you a headache, head to Hwanghu Myeongga which serves up samgyetang that's equally good!
I found Hwanghu Myeongga's samgyetang to be intensely wholesome, and thus, a fair competitor to its more renowned counterpart, Tosokchon. Relish the smoothness of the samgyejuk (ginseng chicken porridge) and take your time to savour the broth which is pure heartiness-in-a-bowl. Dishes here range from KRW14,000-KRW40,000 (~S$17.20-S$49.20).
Opening hours: 11:00-21:00 (Last Order – 20:20)
Nearest station: Gyeongbokgung station (Seoul Subway) Exit 3
Whether you're looking for cheap eats or (slightly more) indulgent treats, this list will help you decide on where to go depending on the state of your wallet.