With the ever-growing euphoria of Korean pop culture sweeping the world, South Korea has become one of the most popular travel destinations in recent years. Many of the top destinations like Seoul have seen an increasing influx of tourists. In fact the city now finds itself on the bucket list of many avid travelers. However, located just an hour and a half away from Seoul is a hidden travel gem just waiting to be discovered: Gangwon Province. 
Located in the northeast of South Korea, Gangwon Province is often considered the ideal day trip destination from Seoul. From alluring natural scenery, authentic traditional cuisine, and even famous Korean drama filming sites, there's plenty to see, taste, and do in Gangwon. Given how much there is to experience in the province, we recommend spending more than just a few hours to be able to fully explore this under-the-radar destination. And the best way to do that is to travel around Gangwon Province like a true local! 
Looking to explore Gangwon Province with utmost comfort and convenience? Then consider booking a Gangwon Tourist Taxi to ferry you to the best sights and locations around the province. Not only are you free to travel wherever you like within the province, but you'll also have a personalised mode of transport waiting for you.
The best part is that the Tourist Taxis are affordable too and perfect for small families or a group of friends. This makes it the perfect way to travel in a post-pandemic world!
1. Hang out at Insta Worthy cafes at Anmok Coffee Street
One of the top spots frequented by locals in Gangwon Province is Anmok Coffee Street in Gangneung. Especially popular among the youth and young at heart, this ambient location along Anmok Beach is arguably THE hangout spot in the city. It is also easily one of the must-visit locations in Gangwon. 
As the name implies, the area is filled with plenty of Insta-worthy cafes, each with its own unique aesthetic and theme. Many of these cafes feature comfy al fresco dining areas with spectacular views facing the beach and ocean. It's the perfect place to sip on a freshly-brewed cup of coffee while admiring the amazing views of the coast, especially during sunset!
With so many great cafes to choose from, some of the most popular ones among the locals are Santorini Cafe, America Cafe, Kikirus Cafe, and Bossanova, which is the most popular among Instagram photographers thanks to its relaxing vibes and picturesque decor. 
2. Take a selfie at the top K-drama and Hallyu Spots
Perhaps Gangwon's most noteworthy claim to fame is being the filming site of many of the most memorable Korean drama scenes that we all know and love. Yes, this little gem in the northeast of South Korea is a K-drama fan's paradise with iconic filming locations scattered across the province. Obviously, as many locals will tell you, one of the top activities in Gangwon is to hunt down these famous spots! 
Click here for the best way to explore Gangwon Province 
a) Nami Island
Obviously, we can't talk about famous Korean drama filming spots in Gangwon without mentioning Nami Island! This ambient location is featured in Winter Sonata, arguably the one drama series that kickstarted the global rise in popularity of Korean pop culture. But apart from its K-drama fame, this half-moon-shaped island is a tourist attraction in and of itself. 
Featuring ambient sights throughout the island, Nami Island is a beautiful destination to visit throughout the four seasons. In spring, you'll be able to experience plenty of cherry blossoms while in winter, you'll be treated to whimsical winter scenery. Don't miss the chance to recreate those iconic scenes from the drama! Of course, the best time to visit, according to most locals, is during autumn when you can stroll along the tree-lined paths and admire the fiery autumn foliage. Don't forget your camera! 
What's more, you can even zipline to the island from the zip wire tower! Talk about making a grand entrance! If that's not what you're into, you can bike around the area or go for a relaxing stroll along the riverside paths too. All in all, one of the best destinations to visit in the province. 
b) Jumunjin Breakwater
Another incredible K-drama filming spot that locals in Gangwon Province frequently visit is Jumunjin Breakwater. Fans of the popular K-drama series Goblin will no doubt recognise this location in a heartbeat. After all, it was here where the two main characters famously first met. 
As you would expect, Jumunjin Breakwater is one of the most popular locations on Instagram. Visitors, both locals and foreigners, flock to this rocky pier in order to reenact that iconic scene in the drama. Many even arrive wearing similar clothing and with props! Even if you're not a fan of the drama, the beautiful view from the pier alone is enough to make you swoon. 
In addition, you will find another prominent location nearby: a lonely-looking bus stop. Don't like the simple exterior fool you though because this unassuming structure is the same location that's featured on one of the album covers of super-famous K-Pop idol group, BTS. ARMYs and K-Pop fans alike will surely enjoy visiting this location and trying to recreate the photo that was featured on the album!
Note: Jumunjin Beach is often extremely crowded, especially when it comes to the two locations mentioned above. We recommend arriving early and be prepared to wait in line for your turn.  
c) Yongpyong Ski Resort
Sticking with memorable scenes from Goblin and Winter Sonata, Yongpyong Ski Resort is another location that K-drama fans will simply adore. Often regarded as one of the most famous ski resorts in Gangwon Province, Yongpyong Ski Resort is extremely popular during the winter months. 
Featuring exciting slopes and majestic snow-covered sights, Yongpyong Ski Resort is a true winter wonderland. There are different ski routes to explore and plenty of fun winter activities in the snow, not to mention a lovely gondola ride to help visitors take in the full beauty of the surrounding area. 
What's more, an exciting new attraction just recently opened too! The Balwangsan Mountain Skywalk was launched earlier this year and it's already making a name for itself as one of the most popular attractions at the resort! Built on top of Balwangsan Mountain, it is the perfect spot to enjoy panoramic views of the surrounding mountainous scenery, especially during the lovely months of spring and summer! 
Of course, one of the must-visit locations is Dragon Peak, which is also where many iconic K-drama scenes were filmed at. There, you'll be able to enjoy a warm cup of coffee at the cafe and feast your eyes on the stunning views of the resort from the observation deck! 
d) Sogeumsan Suspension Bridge
One fun spot for adrenaline junkies in Gangwon Province is the popular Sogeumsan Suspension Bridge. Hanging at a height of 100m, the bridge stretches about 200m over a beautiful valley, making it THE longest pedestrian bridge in the country. It is surrounded by majestic mountain scenery and crossing the bridge offers stunning panoramic views of the surrounding area. 
What's more, the suspension bridge also doubles up as another one of Gangwon's K-drama gems. After all, it was the site of a memorable scene in 2020's It's Okay Not to Be Okay. If you remember correctly, it was here where Moon-young (Seo Ye-ji) asked Gang-tae (Kim Soo-Hyun) for a piggyback ride across the bridge! We're not saying you should get your significant other to give you a piggyback ride (in fact, for safety purposes, we recommend not to), but it surely would be a nice place to visit with your loved ones! 
e) Daegwallyeong Pass
If you're looking for a temporary reprieve from the hustle and bustle of city life, then the one location in Gangwon Province that locals will recommend is Daegwallyeong Pass. Located in the Pyeongchang Alps, this lovely location is exemplified by incredibly picturesque views, especially during the winter season. Couple that with the serene atmosphere and you have yourself the perfect nature escape in the mountains! 
Apart from the magical scenery, there are also plenty of attractions worth visiting here. One top attraction is Daegwallyeong Sky Ranch, where visitors can admire lovely meadows and even interact with fluffy sheep among other farm animals. Another location is Samyang Ranch where BTS shot their Winter Package 2021. ARMYs will instantly recognise the spot when they see the iconic wind turbines in the background! 
Also read: Impressive Locations Across Gangwon Province to Admire Spring Flowers
3. Sample authentic Korean food 
If you want to experience Gangwon Province like a true local, then you simply must sample some of the local cuisines here. Known as one of the top foodie destinations in South Korea, Gangwon boasts plenty of authentic and unique delicacies. Each major city within the province has its own representative dish(es) that will surely keep you coming back for more! 
Hop on a Gangwon Tourist Taxi and begin your epic food tour! 
a) Chuncheon
Chuncheon, the capital of Gangwon Province, is affectionately known by locals as the birthplace of Dakgalbi. For the uninitiated, Dakgalbi is a classic Korean dish that consists of chicken that is stir-fried on a large cast-iron skillet. The smoky aroma combined with the tender pieces of marinated chicken is simply a joy for any discerning palette. In fact, I'm getting hungry just thinking about it! I'm definitely adding Myeongdong Dakgalbi Street (the best location for the dish in Chuncheon) to my next travel bucket list in Gangwon!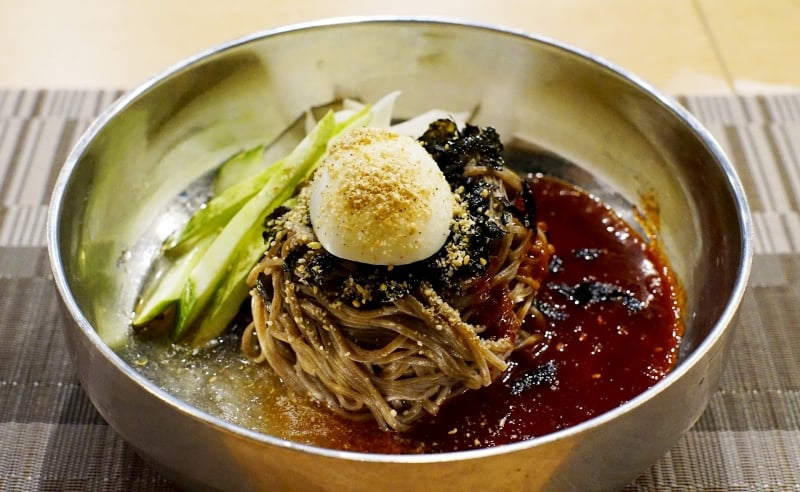 A good dish to accompany any order of Dakgalbi is Makguksu (cold buckwheat noodles), another specialty dish of Chuncheon. After the savoury Dakgalbi meal, the refreshing taste of the cold noodles is a welcome palette cleanser. In fact, one fun activity that locals recommend is making your own Makguksu from scratch at the Makguksu Experience Museum! And yes, you get to sample your own creation at the end too! 
b) Gangneung 
Moving on to the coastal city of Gangneung, one famous delicacy that locals simply adore is Chodang Sundubu. Most of you probably already know that sundubu means soft tofu but what makes Chodang Sundubu so special? The secret lies in the way that the soft tofu is made. 
Primarily found in a village called Chodang (hence the name), Chodang Sundubu is made by curdling freshly-squeezed soy milk with seawater off the coast of Gangneung. The resulting tofu block that's produced is smooth, silky, and boasts incredible flavours. The best way to savour Chodang Sundubu is by eating it as stew (jjigae) but there are also many different ways to prepare it too. In fact, there's even a shop in Chodang that sells sundubu-flavoured gelato! 
As you might have already guessed, the best place to try this unique delicacy is Chodang Sundubu Village. Here, you'll find a multitude of sundubu restaurants that will leave you spoilt for choice! 
c) Sokcho
Sokcho is a coastal city that's located in the far north of South Korea, bordering the East Sea. This makes it an ideal location to sample the freshest, most delicious seafood in Gangwon Province. 
However, locals in the area will tell you that the one dish you must try is Ojingeo Sundae. This unique delicacy of Sokcho is basically squid that is stuffed with sundae (blood sausage). The squid is usually lightly fried to give it more flavour. However, it is the freshness of the squid that makes it such a popular dish. 
The best place to try Ojingeo Sundae is at Abai Village, a fishing village founded by North Korean refugees from Hamgyeong Province during the Korean War. It was also here where the refugee families first introduced the rest of the area to the goodness of Ojingeo Sundae! 
d) Pyeongchang
Pyeongchang is a mountainous region in Gangwon Province that often experiences cold winters and low temperatures. Apart from being the location of plenty of winter destinations, the harsh climate also makes Pyeongchang the ideal place to produce Hwangtae, a unique kind of dried fish that is synonymous with the area and beloved by locals. 
Made primarily using pollock, Hwangtae is often left to freeze-dry over several months in the open air. What results is a fish that is rich in flavour yet extremely tender and fluffy. There are many ways to try Hwangtae, such as as a grilled dish with Gochujang (red pepper paste) or as a soupy dish (Hwangtae Haejangguk) that is known for curing hangovers. 
Another prominent delicacy in Pyeongchang is found in the previously-mentioned Daegwallyeong area. Thanks to the rich alpine pastures, this area is famous among locals for producing Hanu, premium Korean Beef from the Taebaek Mountains. Conveniently enough, you will find plenty of "Hanu Towns" in the area so no matter where you are, you'll be able to enjoy some exquisite BBQ Korean beef! 
4. Escape the city and visit the lovely natural attractions in Gangwon
Thanks to its strategic location, Gangwon Province is truly a natural haven blessed with lovely natural scenery throughout the year. Snowy mountains, lush forests, and breathtaking coastal views are just a few of the mesmerising natural vistas waiting to be discovered in this region. 
a) Seoraksan National Park 
Seoraksan National Park is arguably one of the most famous national parks in South Korea. Well-loved by both tourists and locals, this UNESCO World Heritage Site is a popular day-trip destination to escape life in the city. It is especially popular among avid hikers, with lovely hiking paths that cut through some of the most ambient locations in the park. 
As you would expect at a place like this, Seoraksan National Park is beautiful all year round. Each visit, depending on the season, is sure to offer you a different experience. However, just like Nami Island, many locals will tell you that the best time to visit is during autumn when the area is blanketed in beautiful autumn foliage. 
b) Odaesan National Park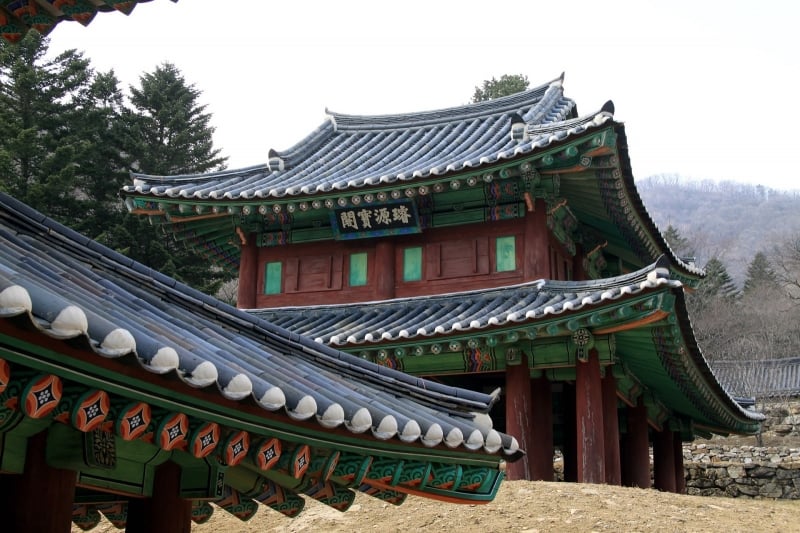 As beautiful and ambient as Seoraksan National Park is, it CAN sometimes be a little bit crowded. After all, it's one of the most popular locations in the country. If you'd like a more authentic local experience with fewer crowds, then head over to Odaesan National Park instead. It may be less well-known, but it is still equally as beautiful. The plethora of beautiful lakes and mountain scenery there will heal your soul. 
Usually frequented by locals, Odaesan National Park is also a great spot for hiking and trekking. As the largest natural forest in the country, Odaesan National Park is home to many wild animals and plants. Your visit is sure to be a therapeutic one filled with the embrace of Mother Nature. However, do take note that the park is occasionally closed when the area is experiencing bad weather. 
c) Osaek Hot Springs Area
Now here's a real hidden gem that only locals in Gangwon Province know about! Tucked away in the southern section of Seoraksan, about 20km away from the city of Yangyang is Osaek Hot Springs Area. Supposedly, the hot springs were discovered by a Buddisht monk way back in the Joseon period. 
The spring water gushes down from high ground and contains high levels of iron and carbonic acid. Because of this, locals believe that the springs contain therapeutic properties that work well against stomach ailments specifically. As you soak in the lovely spring water, take the time to relax and let the water revitalise your body and mind! After all, as local legends say, nymphs used to bathe in the very same hot springs before returning home! 
Apart from the locations mentioned here, there are also plenty of scenic locations throughout Gangwon Province. These include Dawn Redwood Road (breathtaking autumn scenery), Sokcho Beach, and more! 
Click here for the easiest way to explore Gangwon's loveliest sights! 
5. Visit the traditional markets
As any avid traveller will tell you, one of the best ways to experience life as a local is to visit the traditional markets. If you're in Gangwon Province, you're in luck because the area has plenty of rustic, traditional markets. Here, you can fully immerse yourself in the locals' way of life. Many of these traditional markets have been around for many years. You can even say that they have become an essential part of the province's history too. But even if you're not interested in history, you will find that a visit to these markets to be a unique shopping experience!
Whether you're into hunting for authentic street food or looking for a local souvenir at a flea market, the traditional markets in Gangwon province have a bit to offer for everyone. Some of the must-visit locations include Sokcho Central Market (best seafood), Gangneung Jungang Market (famous for their delicious eats), and Pyeongchang Olympic Market. 
6. Spend a magical winter at a ski resort
Some of you might not know this, but Pyeongchang was the host city of the 2018 Winter Olympics! In fact, the 2024 Youth Olympics will also be held in this lovely city! So, it comes as no surprise that this snowy region in Gangwon Province is home to some of the best ski resorts and winter wonderlands in South Korea. When it snows, these world-class resorts turn into tourist hotspots for both locals and foreigners. 
We already covered Yongpyong Ski Resort but some other resorts you should add to your list include Vivaldi Park, Alpensia Ski Resort, and High1 Resort. The latter was actually featured in BTS' 2021 Winter Package. Whether you're a beginner or an expert skier, you'll be able to enjoy the snow-covered slopes at these ambient resorts. And, if you're looking for a romantic evening, many of these resorts offer night skiing activities too! 
Also read: Top 8 Ski Resorts in South Korea's Gangwon Province
7. Visit the alluring temples 
As one of the most culturally significant locations in South Korea, Gangwon Province houses plenty of beautiful temples. Many of these are only known to locals. Many of these temples boast incredible views by the ocean and are true hidden travel gems waiting to be discovered. 
Woljeongsa Temple, in particular, is extremely popular. Featured in Goblin, this ancient Buddhist temple is located in a forested valley with the majestic Odaesan Mountain as its backdrop. To get to the temple, you'll have to travel through a 1km-long path through a forest of tall fir trees. If you visit during the winter, the snow-laden path will seem like a scene out of a fairy tale book! Other temples to check out include Naksansa Temple and Sinheungsa Temple.
Conclusion:
And there you have it, a complete guide on exploring Gangwon Province like a true local! Of course, apart from what's on the list, there's just so much more to see and do in Gangwon. A day trip is fun, but to fully appreciate the wonders of this underrated destination, we recommend a longer stay! The next time you're in South Korea, spend some time in Gangwon and discover its rustic charms! 
For a convenient and fun time exploring Gangwon Province, you simply must consider booking a Tourist Taxi. Combining the ideal self-made itinerary and the convenience of a personal chauffeur, it is the best way to see the best sights in Gangwon and to hop between its major cities. 
At only 20,000 KRW (20USD) for a three-hour hire, it is one of the best options for getting in and around Gangwon Province!
---
Brought to you by Gangwon Tourism Organisation