Hanoi is littered with unforgettable sights. With Hoan Kiem Lake, West Lake, quiet cafes, insta-worthy streets, and tranquil life, this destination is surely on every wanderluster's bucket list. And if you haven't been to this historic city, picking a hotel can be laborious, but we're here to make things easier for you. Depending on your individual needs when visiting this city, we've curated a list of the top 10 hotels in Ha Noi – all based on actual guest reviews.
1. Intercontinental Ha Noi West Lake
The InterContinental Hanoi Westlake is located next to the peaceful waters of the largest lake in the city. It is adjacent to the famous 800-year-old Golden Lotus (Kim Lien) Pagoda – perfect for Instagram shots – and it is situated just minutes away from the Old Quarter.
With the combined comforts of the ever-tranquil West Lake, spacious accommodation, luxurious facilities, and warm Vietnamese hospitality, guests will discover that the InterContinental Hanoi Westlake is the perfect place to stay, whether traveling for business or leisure. Staying here will turn a visit to the City of Peace into an unforgettable experience.
Address: 5 Tu Hoa street, Tay Ho district, Hanoi
Reservations by Phone: +84-24-6270 8888
Reservations email: [email protected]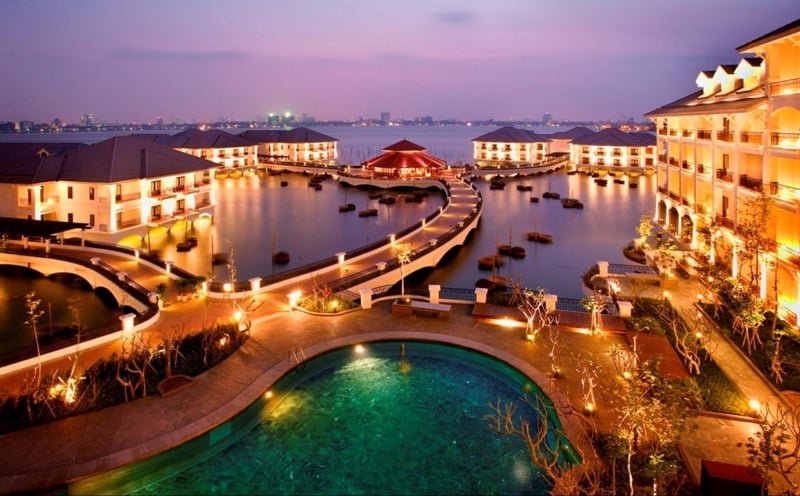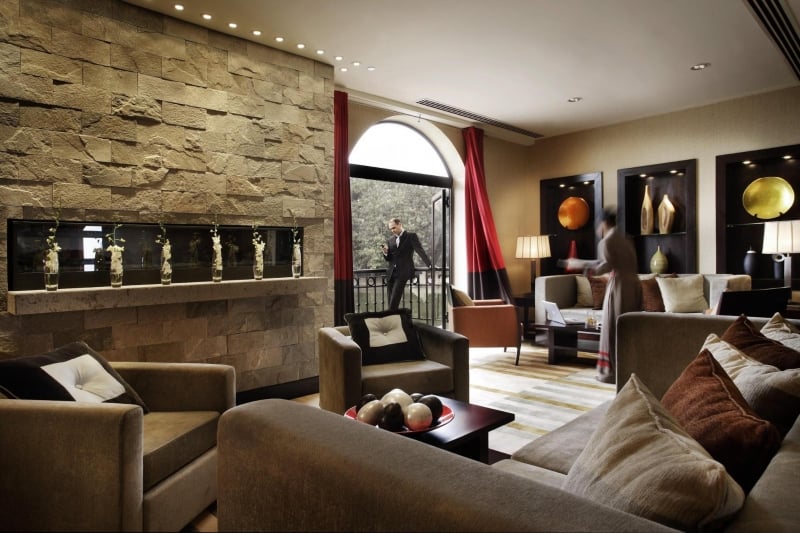 2. Apricot Hotel
Located at the historic Hang Trong Street, Apricot Hotel is set in a prime spot for travellers to explore the quintessence of Vietnamese art and culture. Shrouded in neo-classical designs blended with artistic Vietnamese touches, Apricot's 123 elegant rooms exude luxury in an inviting and intimate atmosphere.
In addition to the hotel's 5-star service, guests can enjoy a cozy breakfast at L'Artiste Restaurant, indulge in a luxurious dinner at Palette Restaurant, be immersed in the delicious afternoon tea at A'telier Lounge, relax at the peaceful Spa L'Art, swim in the Rooftop Pool or sip on a cocktail while adoring a sweeping view of the historic Hoan Kiem Lake at Rooftop Bar One36.
Address: 136 Hang Trong Street, Hoan Kiem District
Contact: +84 24 3828 9595 or [email protected]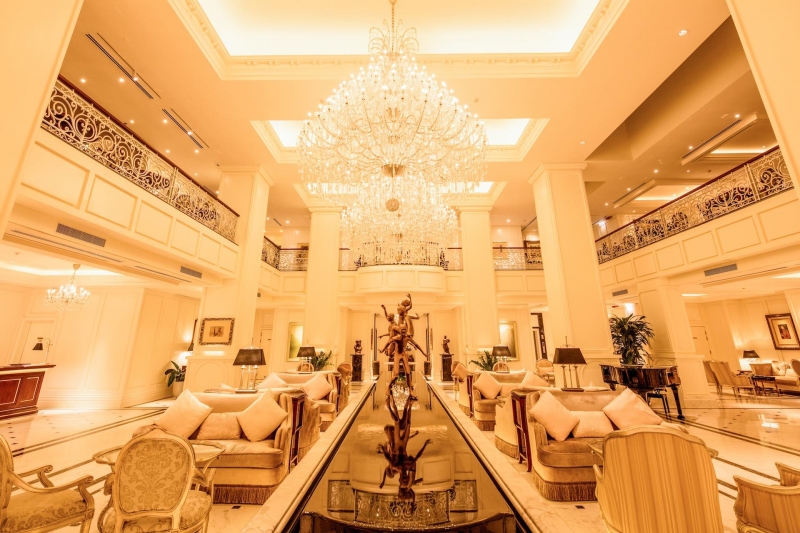 3. Ha Noi La Siesta
Using neutral colours and hues, an Asian-inspired interior with colonial touches creates a sense of harmony and balance. Warm lighting and elegant furnishings give off a calm and a tranquil ambiance.
The hotel is located at central Old Quarter along Ma May Street – a road that is loaded with history. Centuries ago artisans along the southern half of the street sold paper-based products for worship, while the northern end specialized in hemp-based handicrafts.

4. Hanoi Marvellous Hotel & Spa
Hanoi Marvellous Hotel & Spa has 50 rooms – all are equipped with a private balcony and fitted wooden flooring. In addition, this hotel also provides guests with complimentary internet access, babysitting services, airport shuttles, and they also have their own money changer for absolute convenience. Grab a refreshing drink at the bar,or if you truly want to indulge, book a session at the hotel's spa centre.
In addition to all the great amenities, Hanoi Marvellous Hotel & Spa serves up a full range of Asian, European, and traditional Vietnamese food – you can get all these via the hotel's in-room dining service.
Address: 55 Duong Thanh Str, Hanoi
Telephone: (+84) 24 32669240
Email: [email protected]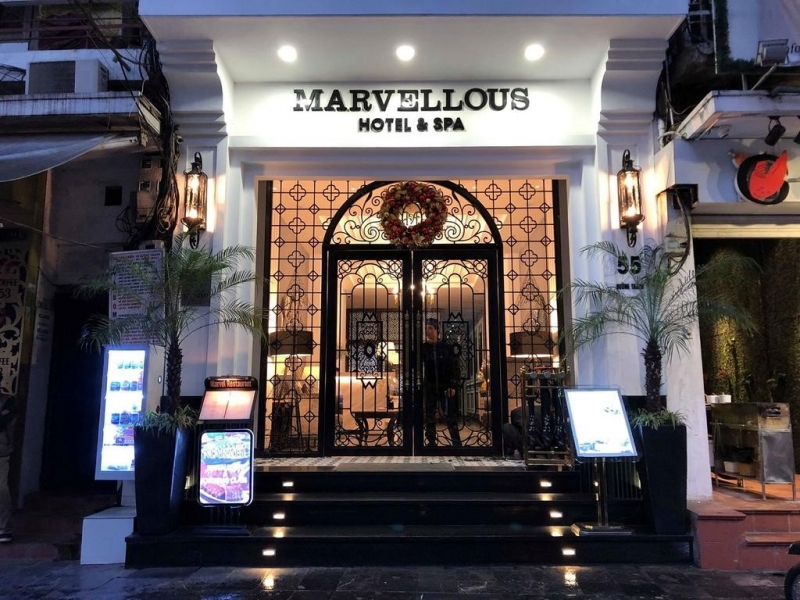 5. Oriental Suite Hotel & Spa
Located in a central location of Hanoi's Old Quarter, Oriental Suite Hotel & Spa is beautifully designed with an emphasis on luxury and comfort. Only 50 metres from the majestic Hoan Kiem Lake, this hotel's outlook is made out of a unique combination of traditional décor and modern facilities.
There are 40 standard rooms at Oriental Suite Hotel & Spa; each one comes with free Wi-Fi connection, a private bathroom, refrigerator, shower, telephone, alarm clock, hair dryer and a flat-screen TV. The juxtaposition of chic wooden furniture and warm hues of the room walls will give you a cozy yet luxurious atmosphere.
Furthermore, Oriental Suite Hotel & Spa also offers high-quality services such as tours, currency exchange and bike rentals. On the F&B side of things, there's a cafe for coffee connoisseurs and a rooftop bar which overlooks the city.
Address: 58 Hang Dao Street, Hoan Kiem District, Hanoi
Phone: 024 3928 6666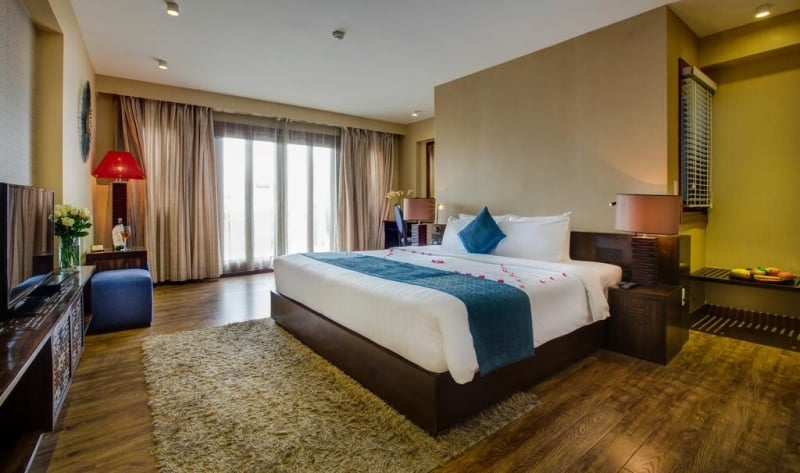 6. Somerset Grand Hanoi
With commercial centres, restaurants, shopping and entertainment outlets nearby, Somerset Grand Hanoi will be great for business and leisure travellers. The 25-storey high building holds spacious and luxurious rooms that are managed by a team of well-trained staff to meet guests' individual needs. Apart from first-class amenities that include a fully equipped business centre, dry sauna, laundry and babysitting services, Somerset Grand Hanoi is home to some of the country's culinary experts – guests have the opportunity to dig into world-class meals while staying here.
Address: No 49 Hai Ba Trung Street, Hoan Kiem District, Hanoi
Telephone: 024 3934 2342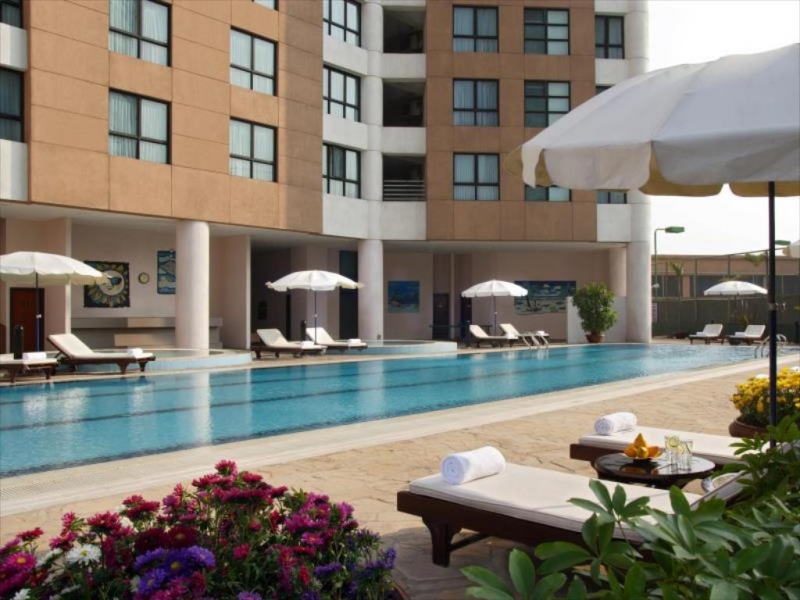 7. Top 10 hotels in Ha Noi: Lotte Hotel Hanoi
For beautiful views of the city – 61 storeys high – Lotte Hotel Hanoi is the place to be for travellers visiting Vietnam for the first time. Conveniently situated mere minutes away from the hottest tourist destinations, it wouldn't take long to check off places to visit on your itinerary.
Apart from its strategic location, Lotte Hotel's interior is both sophisticated and elegant, creating a cozy and comfortable living space – combining Vietnamese tradition and modernity.
There are 318 rooms in this swanky hotel, and to make sure you have a fulfilling stay, its equipped with a spa as well as indoor and outdoor swimming pools. Be sure to check out Top of Hanoi restaurant, Delica-Hans, a bakery and coffee shop, and Pharaoh's Bar & Upper to complete your stay.
Address: No. 54, Lieu Giai Street, Cong Vi Ward, Ba Dinh district, Hanoi
Telephone: +84-24-3333-1000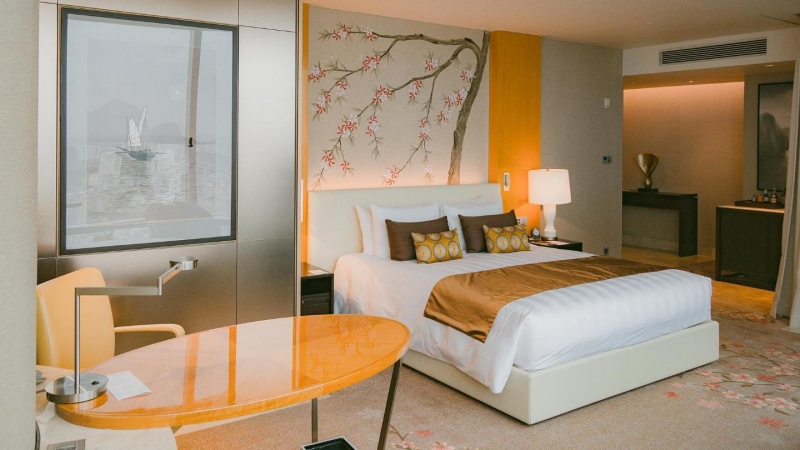 8. Crowne Plaza West Hanoi
Crowne Plaza West Hanoi is a 30-minute drive from Noi Bai International Airport, located in the west of Hanoi City. With the needs of business travellers in mind, the hotel's entire second floor is designed exclusively for events and meetings – fully decked with audio-visual equipment and high-speed Internet access.
The hotel has 393 rooms, including 40 suites with full service and amenities. These high-end rooms are great for travellers who prioritise privacy and/or those staying in the city for extended periods of time. There are swimming pools, bar with an extensive cocktail menu, a fitness centre and even a spa. What truly stands out is the Lackah restaurant that will entice you with its view of a peaceful garden.
Address: 36 Le Duc Tho Street, My Dinh Ward, Nam Tu Liem District, Hanoi
Telephone: 84-24-62706688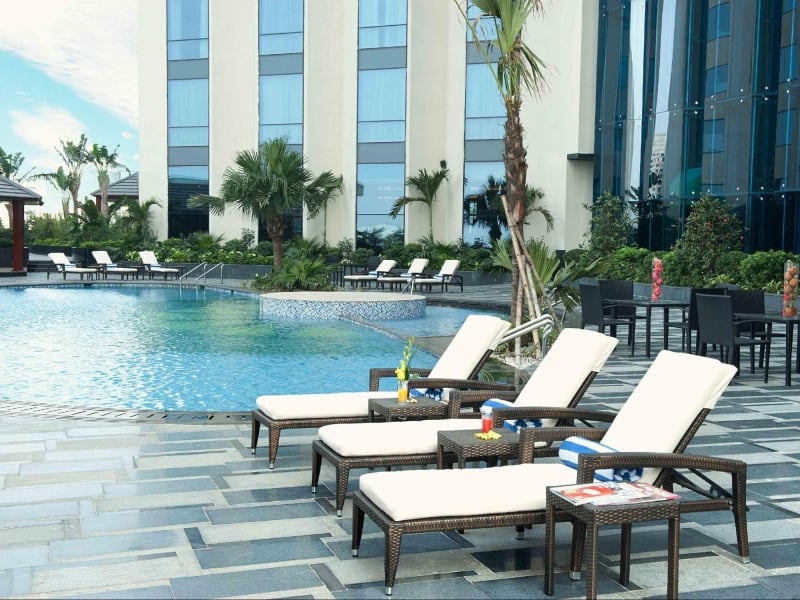 Read more: 10 Delicious Foods to Try in Hanoi, Vietnam as Recommended by a Local
9. Top 10 hotels in Ha Noi: O'Gallery Premier Hotel & Spa
Located in the heart of Hanoi, O'Gallery Premier Hotel & Spa is billed as one of the most luxurious and modern hotels by its guests. All its 70 rooms are fitted with a private bathroom, flat-screen TV, safety deposit box, mini bar, and a wardrobe, but what makes this place special is the hotel's attention to the smallest details. The classic and elegant outlook is a crowd favourite, on top of its extensive list of amenities. These include a spa, arranged tours, airport transfers and restaurants serving up cuisines from all over the world.
Address: 122 Hang Bong Street, Hoan Kiem District, Hanoi
Phone: +84 24 33633333 – Fax: +84 24 37100372
Email: [email protected]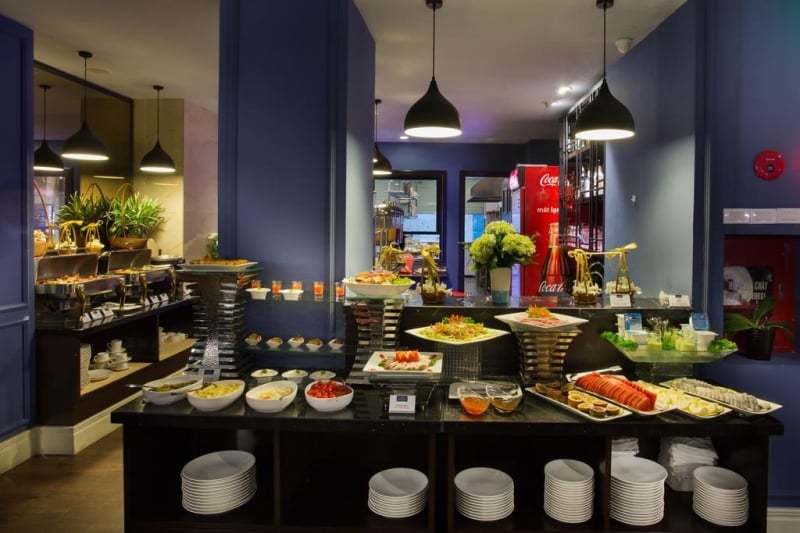 10. Top 10 hotels in Ha Noi: JW Marriott Hotel Hanoi
If the name itself doesn't give it away, JW Marriott Hotel Hanoi is one of the best hotels known for its high-quality services. There 450 rooms, 55 of them are suites, and the hotel's unique architecture that combines nature and traditional construction is something you should see to believe. JW Marriott Hotel is also ideal for conferences, seminars, and exhibitions with 17 meeting rooms, including two large conference rooms. The standout feature that most guests have been raving about is the food. This hotel prepares traditional dishes from France, Vietnam, Korea, Japan, and Italy. If that is not enough, you can indulge in some quality wine at the Antidote Bar.
Address: No 8 Do Duc Duc Road, Me Tri Ward, South Tu Liem District, Hanoi
Telephone: +84 243 8335 588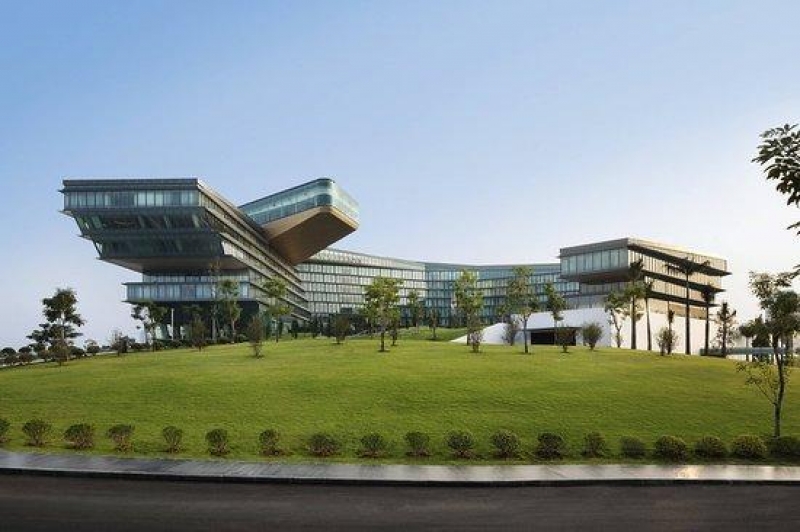 You can also take a look at our Vietnamese Website: Tripzilla Vietnam