Vietnam has a wide array of tasteful tokens that will always remind you of your picturesque, hospitable, and culturally rich visit to the country. From eye-catching ornaments to delicious foodstuff, you can end your trip in Vietnam on a good note with a luggage packed with interesting finds to share with friends and loved ones.
1. Vietnamese silk embroidery
Vietnam has a long history of silk embroidery with its world-famous art houses, such as the XQ Dalat. Embroidery in Vietnam is a form of art, and it's practised and mastered only by the most talented artists. Life-like and aesthetically intricate, these embroidered canvasses which are crafted by the most talented artists in Vietnam, make sophisticated gifts for your beloved family members or someone you look up to. You can find silk embroidery arts in Dalat. Or, you can find folk embroidery arts at provincial art houses and independent art stores.
2. Non la (Vietnamese Conical Hat)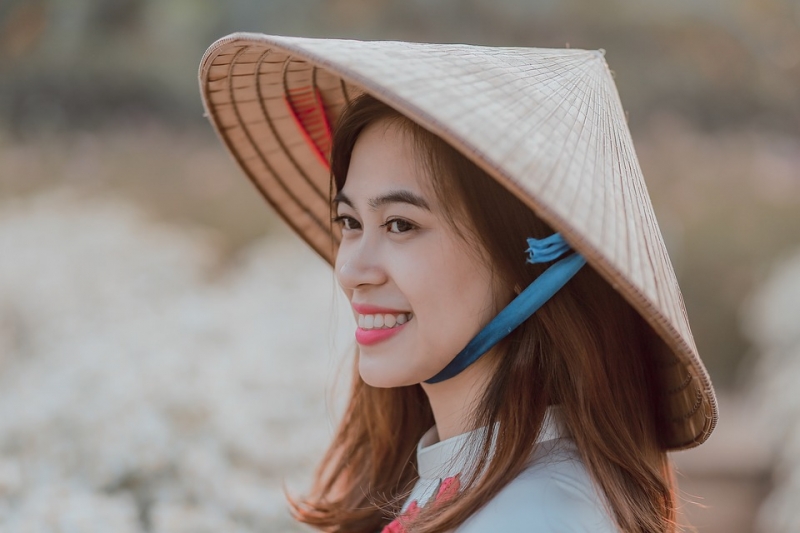 Nothing speaks "Vietnam" like this familiar and traditional accessory. The Vietnamese conical hat has become a symbol of the local people who, regardless of sex, age, or occasion, wear it to protect themselves from the sun and sometimes, just because they are used to it.  There is a wide range of "non la" to choose from, including custom-made hats specifically made for tourists as souvenirs. Although it can be found anywhere, the most famous village for scoring stylized "non la" is Chuong Village (located 36 km South West of Hanoi) and Hoi An city.
3. To he (Clay Miniatures)
"To he" is the traditional toy enjoyed by kids in the countryside. Street sellers used to go around neighbourhoods with a box full of colourful clay made with tapioca flour, glue, and water. In my opinion, "to he" is also a performance art, as some sellers can make miniatures of famous cartoon characters, such as Pikachu and Doraemon right in front of the kids' adoring eyes. You can still find street sellers of "to he" in Hoi An and maybe, old villages on the outskirts of Ho Chi Minh, Hanoi, and older villages in other provinces.
4. Traditional desserts
Shops with rows of assorted traditional sweets or pies are not uncommon in Western Vietnam. These spectacular desserts made with homegrown ingredients and provincial specialities, such as coconut, peanuts, and durian, come in the form of candies, crackers, and dried fruits. Unlike flour-based delicacies, they have unique textures and designs, as well as novel flavours of fresh fruits doused in creamy coconut milk. Choose at least three different kinds of sweets; they're not only tasty, but they also make for unique take-home treats from West Vietnam.
5. Coffee filter and coffee
To enjoy the flavour of their exquisite coffee bean to the fullest, Vietnamese brew their coffee on the spot in tin coffee filters that sit on top of glasses. Freshly brewed coffee then drips into the glass and is drizzled with a layer of creamy and sweet condensed milk. This type of Vietnamese coffee concoctions is becoming one of the most famous coffee beverages in the world. Besides local coffee powder, you can also purchase a traditional tin filter and Vietnamese condensed milk to make your take-home coffee experience truly authentic.
5. Sand paintings
Sand painting is a special souvenir because the art is native to the deprived lands of Central Vietnam. Out of the arid dunes, people in the provinces in Central Vietnam create one of the most sophisticated and expensive arts in the country. These paintings are often made with natural colours with sand collected from sand dunes and beaches across Vietnam. The artists refrain from using artificial colours to preserve the look of the local natural landscape embedded in each work of art. If you appreciate craftsmanship at its finest, the beautifully crafted sand paintings will make excellent additions to your home.