If there's a city in Malaysia that looks like a living and breathing museum, it's gotta be Melaka (or Malacca, as it used to be spelt). Its history is coloured with the magnificent tales of a coastal village's humble beginnings and how its identity changed over decades of colonial occupation by the Portuguese, Dutch, and British. Today, the remnants of its former glory give Melaka its trademark as a UNESCO World Heritage Site.
Fortunately for me, I was able to visit this quaint, vibrant town back in 2018. Although it was only a short feat as part of my Singapore-Malaysia trip, an overnight stay in Melaka was more than enough to make me fall in love with the place. My favourite moment was a late-night walk along the narrow streets of a quiet residential area. There, I gawked at some old houses that seemingly held soulful stories of their past. That night was certainly an unforgettable experience: a peaceful respite of wandering and wondering.
Trips to Melaka are usually only a short side trip as part of a Malaysia (or even Singapore!) travel itinerary. However, having personally been there, I've always regretted not staying longer. This lovely town absolutely deserves a stand-alone trip on its own. That said, let me share with you the best things to do in Melaka next time you visit.
Also read: 13 Reasons Why You Should Visit Melaka Right Now
Every Melaka attraction you should check out
1. Pamper your tastebuds on Jonker Street Weekend Night Market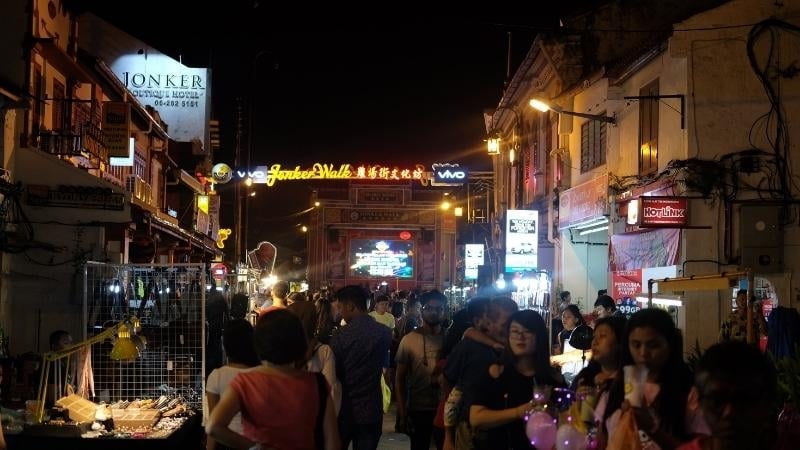 In the morning, Jonker Street looks like an ordinary narrow lane of cafes and some craft shops. But by nightfall, it comes alive as a completely different Melaka attraction. Every Friday and Saturday night, locals set up their stalls here to sell local street food and keepsakes. 
Jonker Street is a long walk with hundreds of bustling stalls and options to choose from, so make sure to pace yourself! Grab a bite here and there depending on what suits your flavour, but don't even think about missing out on the famed chicken rice balls! It's THE food to taste, especially if it's your first time in Melaka. Head over to the local-favourite Chop Chung Hwa Restaurant at the corner of Jonker Street for a taste of the best chicken rice balls in town.
Alternatively, you can also visit Jonker Street in the morning for a peaceful sunny stroll. Get a glimpse of life during the colonial period and see the heritage houses that date back to the 17th century. 
2. Take Insta-worthy snaps at Dutch Square
A simple fact: You haven't been to Melaka if you haven't visited the Dutch Square. It's arguably the most iconic sight and interesting place in Melaka that best represents the city's eventful history. Dutch buildings dating back to the 1660s stand tall around the perimeter, including the Stadhuys — believed to be the oldest Dutch building in Southeast Asia. In a stone's throw, you can also find the British Queen Victoria's Fountain and the Chinese Tang Beng Swee Clock Tower.
A word of advice: Keep your cameras fully charged! These buildings are the centre attraction for photo-hungry tourists. Their walls are painted masterfully with a rosy-red colour, making for a perfect backdrop for a curated Instagram feed. So, before you cross-out Dutch Square in your list of things to do in Melaka, make sure to click a few snaps in front of these picturesque landmarks and watch your friends call you their new travel-influencer buddy. 
Also read: 72 Hours in Melaka: Where to Stay and What to Do
3. Feel the breeze of Melaka on a river cruise
They say travel's one of the best medicines for a stressed-out life. Well, if you're gonna fly away, you'll be glad to go on Melaka's way for a night of cruisin'. On a 45-minute boat ride, relax and gaze at the scenic buildings and the city skyline. A commentary is played during the cruise, so keep your ears open to discover why Melaka was dubbed the Venice of the East by European seafarers back in the olden days.
To avoid the long queues, get your tickets from the official website. Note that their operations start at 9am. and close by 11pm. With so many things to do in Melaka, it's easy to lose track of time, so make sure you've allotted an hour from your itinerary for this cruise. 
4. Reach the sky in the Taming Sari Tower
Tokyo, Macao, and Seoul aren't the only cities proud to have monumental towers in their vicinity. Melaka isn't lagging far behind with its own version of an iconic skyscraper: Taming Sari Tower. Although it isn't as "extravagant" as the others, this gyro tower offers a unique experience of going up and down inside a humongous hydraulic capsule with a rotating 360° viewing deck. Inside, you can get an unobstructed bird's eye view of the whole city. 
If good weather's on your side, you can see farther views during the daytime. From up above, you can spot some more places to visit in Melaka. However, I'd like to suggest riding the tower after sundown to see the charming city lights.
5. Discover the ruins of St. Paul's Church
Getting to St. Paul's Church isn't an easy task by any means. First, you might get sidetracked along the way by various museums. Before you arrive at the church, you'll pass by the Islamic Museum of Melaka, Stamp Museum, and Architecture Museum. Plus, the A'Famosa Fortress is within shouting distance, so you'd probably consider visiting that as well. Third, you'll face a daunting flight of stairs since St. Paul's Church is located on a hill (which is named St. Paul too, FYI). 
Having said that, the historic church and the breathtaking city view that comes along with it make the challenge worthwhile. You'd be delighted to know that while the old church is in ruins, you can still find some interesting century-old tombstones with Portuguese inscriptions!
6. Be face to face with animals at A'Famosa Safari Wonderland
If you'd like to add some wild animal action to your list of things to do in Melaka, then A'Famosa Safari Wonderland is your place to be. Aside from seeing lemurs, cheetahs, tigers, and hippos, you can also avail some of their attractions such as safari adventures, animal presentations, and a monkey-island cruise. 
For short trips in Melaka, it'd be hard to sneak a zoo visit since it could easily eat up a whole day in your itinerary. True enough, I wasn't able to hit the safari action on my first excursion in Melaka. However, I'd definitely go here on my next visit to the city.
7. Watch the sunset at The Shore Sky Tower
For people with acrophobia (fear of heights), The Shore Sky Tower is a hard pass. Aside from being 163 metres high, some parts of the rooftop are glass-floored. Just thinking about walking above those glasses and seeing the streets below my feet make my knees buckle.
That said, if you can brave the heights, The Shore Sky Tower is actually a splendid place to spend an afternoon in Melaka. Aside from basking in a spectacular golden sunset, you can enjoy a scrumptious meal in the Sky Deli Restaurant located inside the building.
8. See the floating Melaka Strait Mosque
Known as Melaka's floating mosque, this gold-domed mosque is a lo to behold especially during the city's golden hours and sundown. While the central dome appears to adopt a Middle Eastern influence, the four corner pillars are topped with a typical Malaysian roof design. 
Melaka Strait Mosque isn't exactly "floating" since it stands on stilts above a shoreside perch. But, when water levels are high, the foundations become hidden underwater and the mosque appears to be actually floating. If you'd like to enter the mosque, do keep in mind to dress modestly and appropriately. Ladies, no need to worry — scarves and shawls required as headcover is available for rent.
9. Discover the beach and sand dunes in Klebang
If you're looking for a Melaka tourist spot that's lesser-known by foreigners, then a visit to Klebang might be a good fit for you. The coastal town is a 10-minute drive away from Melaka. There, you'd find Klebang Pantai, a beach that's rather more popular with Melakans. On weekends, the area is usually flocked by locals who want to enjoy the beach and do some family activities such as flying kites and horse riding.
If you want to skip the crowd, I suggest going on a weekday instead. The shoreline is long enough to find a tranquil spot perfect for an afternoon of dozing off by the beach.
However, the beach isn't what makes Klebang most interesting. If you go a little further south, you'd find a hidden gem that's becoming more and more popular with tourists: the Kleban sand dunes. Well, technically, these are just man-made hills of sand as part of the town's development and land reclamation. It wasn't exactly made with the intention of making it a tourist attraction, but it grew to be one over the years because of its picturesque spots and views.
10. Tour around in a trishaw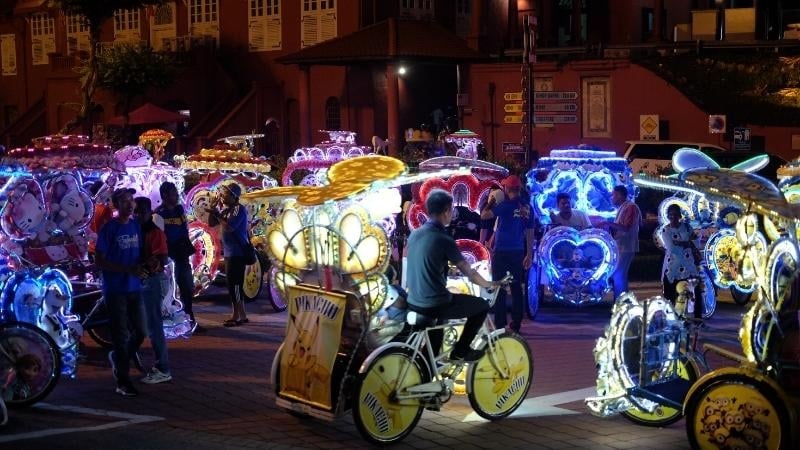 Finally, if you'd like to just lay back, roam, and wander around downtown Melaka, don't worry — its streets wouldn't run out of stories and surprises to fill your day. Lots of hidden shops, cafes, micro museums, and wall arts can be encountered at your every turn.
My suggestion: add a bit of spice to your list of things to do in Melaka by riding a trishaw, a vibrantly-decorated, bicycle-powered rickshaw. You can hire one for a quick tour around the city in the morning or afternoon. At night, however, these flashy rides turn into a groove machine, blasting with local hip-hop music and bright lights that'll sure to turn the heads of passers-by.
Also read: 12 Dos and Don'ts in Malaysia That Travellers Should Know About
That's it! By following this list, you won't miss a beat of Melacca's top destinations. If you're planning to further your Malaysia trip all the way to Singapore, take a look at our travel guide for your reference!
---
Featured image credit: ErmakovaElena via Canva Pro