Melaka, also spelt as Malacca, was one of those places that I'd meant to visit for a while, but just hadn't gotten round to. Having visited several other Malaysian destinations over a few trips, Melaka, for me, was simply another box to be ticked off. I thought it would be easy to see the highlights during a quick side trip from Kuala Lumpur, and that a couple of days was enough to feel like I'd seen the city's best offerings. How wrong I was!
Melaka was one of the most surprising places I've visited, in that I had no real expectations, yet fell completely under the city's beguiling charm. So lovely was Melaka that I ended up adding an extra day to my initial two-day plan, and then another, and then yet another, until I ended up spending a little under three weeks in the city. Melaka grabbed my attention for all the right reasons and is now my absolute favourite Malaysian destination.
Here's why I fell in love with Melaka and why I think you should definitely add it to your bucket list:
1. The charming architecture of the Red Square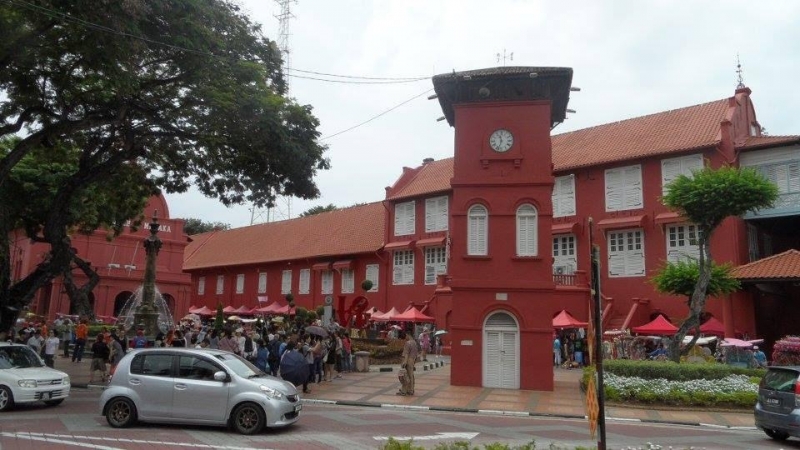 The so-called Red Square, also known as Dutch Square, is one of Melaka's most famous sights. The lovely square contains a number of gorgeous buildings in striking red shades. Built by the Dutch in the mid-1600s, the deep-red building called the Stadthuys was once used for administrative purposes but now houses a museum. It is believed to be one of the oldest Dutch buildings in the east. A tall clock tower, Christ Church, the ornamental Queen Victoria's Fountain, and well-tended flower beds add to the area's beauty. There's also an "I Love Melaka" sign that tourists queue to pose with for pictures. Visit the area early in the morning before the tour buses arrive to beat the heaviest crowds.  
2. The historic and cultural sites are aplenty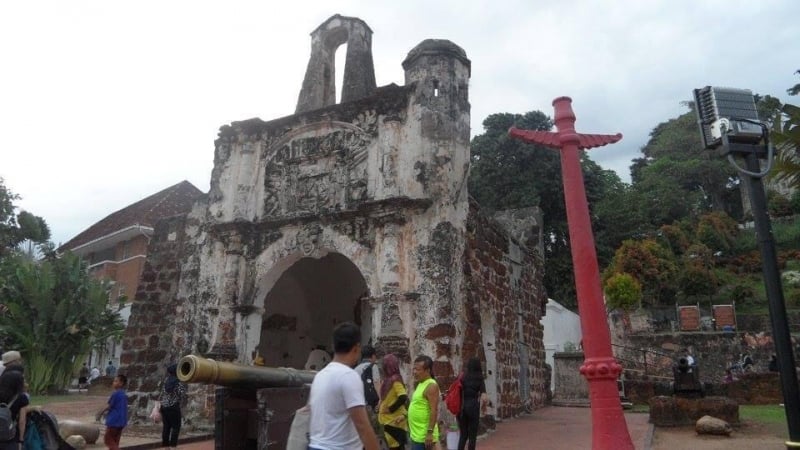 Melaka is known as Malaysia's "Historic State". It has seen Portuguese, Dutch, and British rule over the years and, as with the rest of Malaysia, is made up of a population that includes ethnic Malays, Chinese, and Indians. It is no wonder, therefore, that Melaka has a plethora of historic sites and cultural attractions.  
Visit the small remains of A Famosa Fort, a legacy from the 16th century when the Portuguese ruled the city, and walk up the hill, passing old Portuguese-era gravestones, to the now-ruined St. Paul's Cathedral. Learn the legends that surround the one-armed statue in front of the church, and admire the sweeping views.
Admire the elegant architecture of the Proclamation of Independence Memorial, walk to the outskirts of the city to see the Melaka Warrior Monument, visit the Tomb of Sultan Al Ariffin Syeikh Ismail, see Chinese shophouses dotted around the city, and admire the various architectural styles from different cultures and time periods that now sit side by side along the city's streets.
3. The diverse religious sites…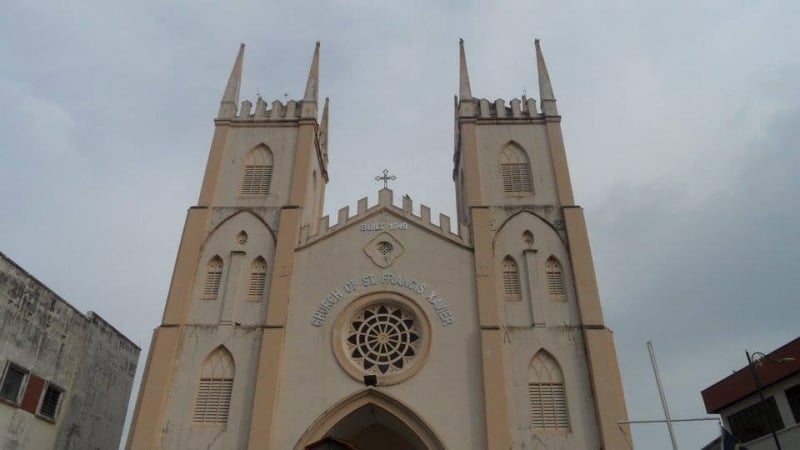 Melaka can count churches, temples dedicated to different faiths and deities, mosques, and a Sikh gurdwara among its places of worship. Harmony Street has a mosque, Chinese temple, and Hindu temple within doors of each other.
In addition to the ruins of St Paul's Cathedral and the red Christ Church, the Church of St. Francis Xavier is a worthy photo stop. The mosques of Kampung Hulu and Kampung Kling are among Melaka's Islamic places of worship, and Sri Poyyatha Vinayagar Moorthi Temple and Sri Muthu Mariamman Temple are among the primary places for Hindu devotees.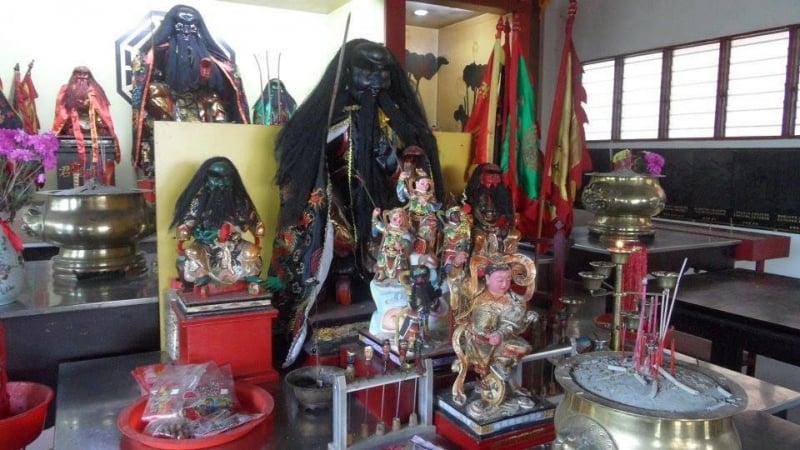 Cheng Hoon Teng Chinese Temple dates back to the 17th century and is one of the country's oldest such temples. Teckchen Choling, Xiang Lin Si Temple, and Chin San Kong Temple are just a few of the many Buddhist temples around Melaka.   
4. Including the "Floating Mosque"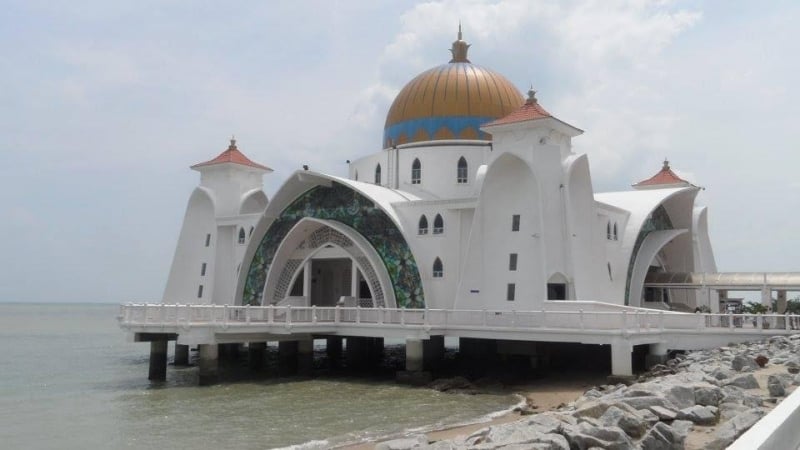 Masjid Selat Melaka is one of the city's most unusual sights, especially when the water levels are high. At high tide, the mosque seems to float magically on top of the water. An impressive sight even at low tide, with the structure's stilts poking out of the waves, the Islamic place of worship features colourful stained glass and elegant arches. Visitors are welcome, though women must wear Islamic dress, including a head covering, available for borrowing from the mosque.
5. The bustling night market and great shopping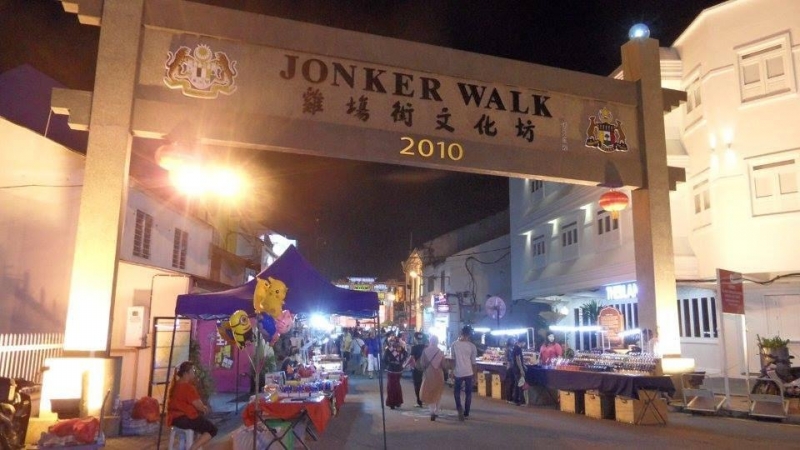 Jonker Walk is a pretty place for a stroll during the daytime, with its varied architectural styles, strong sense of history, and diverse shops and eateries. At the weekends, however, the road transforms into a huge street market in the evenings, with plentiful street food, snacks, and drinks to tempt you. Vendors sell wares like traditional herbs, trinkets, clothing, artwork, and more. The city is also home to several top-class shopping centres if you want some air-conditioned comfort.
6. The abundance of street art
Many people think of Penang as being Malaysia's public art capital and, while the northern city does have lots of creative offerings, Melaka will certainly please all art enthusiasts too. Scenes of local life from the past can be found along the city's walls, and there are old product advertisements painted on pillars and walls. Take a walk alongside the river and you'll find even more eye-catching paintings as well as a spot where old cars have been cut in half and turned into an artistic display. Art can be seen almost everywhere in the main heart of town, including on metal shutters and shop fronts.  
7. The cute antique and bookshops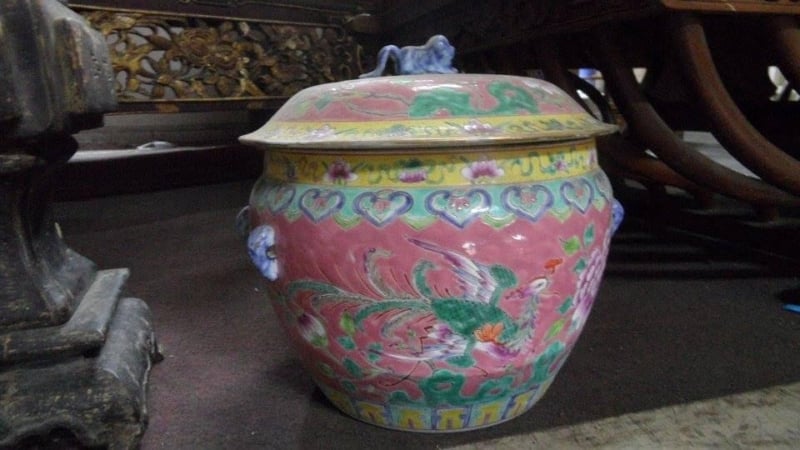 Small storefronts give way to a packed and often dusty treasure trove of historic artefacts and crisp books, their pages sometimes worn by age but the words still as fresh as though they were printed yesterday. They are perfect for browsing and appreciating more of the local heritage and cultures as well as for picking up some unusual and rare keepsakes. I was especially captivated by the antiques shops that contained a large selection of ornate peranakan wares, with ceramics, textiles, mirrors, vases, statues, and more all adorned with the signature pastel shades and floral-like designs.  
8. The cool museums covering different themes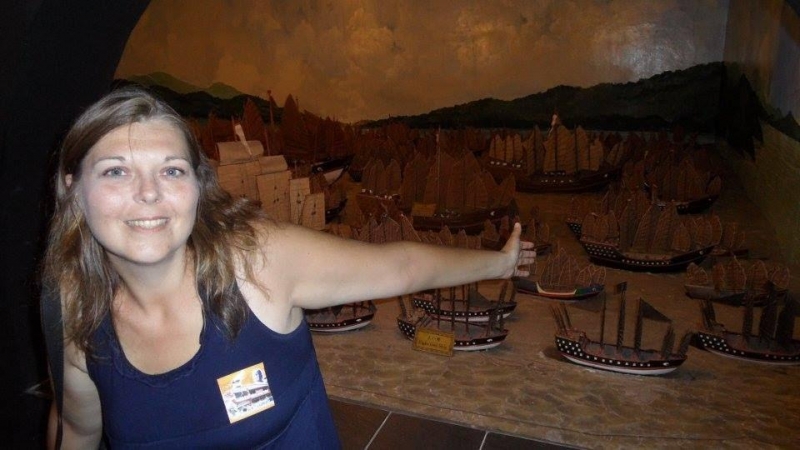 Melaka definitely isn't lacking when it comes to museums and art galleries. No matter your tastes and interests, you'll find a museum to please. My favourite is the Cheng Ho Cultural Museum, with heaps of interesting displays related to life in the past and maritime history. The collection of colourful and rather grotesque masks also caught my attention.
Another of my favourite Melaka experiences was visiting the educational Istana. Also known as the Malacca Sultanate Palace, the glorious wooden building sits in stunning gardens, from where you can enjoy terrific views of the city's taller buildings. Inside tells the story of Melaka's history, with old furnishings, antiques, mannequins in period clothing, textiles, paintings, and more.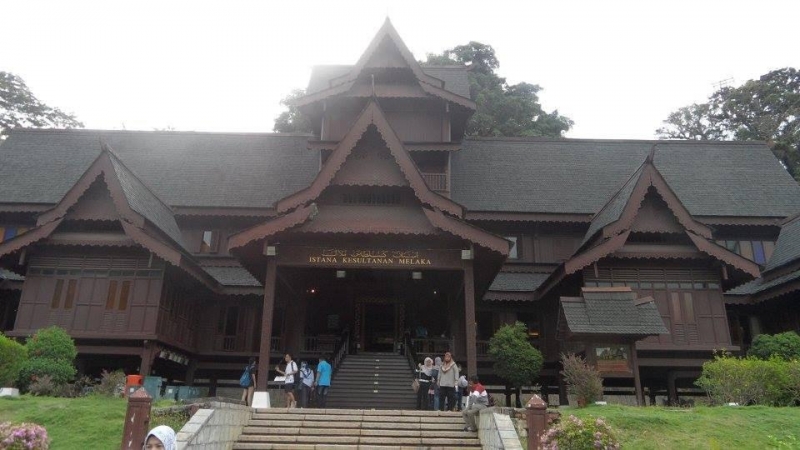 Baba Nyonya Heritage Museum is a top place to learn more about Peranakan culture, and a replica of the ill-fated Flora de la Mer ship is a highlight of the Maritime Museum. Melacca Heritage Centre, the Submarine Museum, Melaka History and Ethnography Museum, Time Machine Gallery, and House of Museums are just a few of the other local museums to add to your itinerary.   
9. The attraction parks for days filled with fun
Fast and tame rides make for a fun day out for the whole family at Melaka Wonderland Theme Park. Not travelling with kids? No problem! You certainly won't feel out of place. A Famosa Resort is another terrific place for a day out, with a water park, Old West cowboy-themed area, a safari experience, and diverse activities such as go karting, horse riding, rock climbing, and paintballing. Animal-loving travellers will surely love the large Melaka Zoo, and fans of the ocean deep should schedule a trip to Shore Oceanarium.  
10. The outdoor activities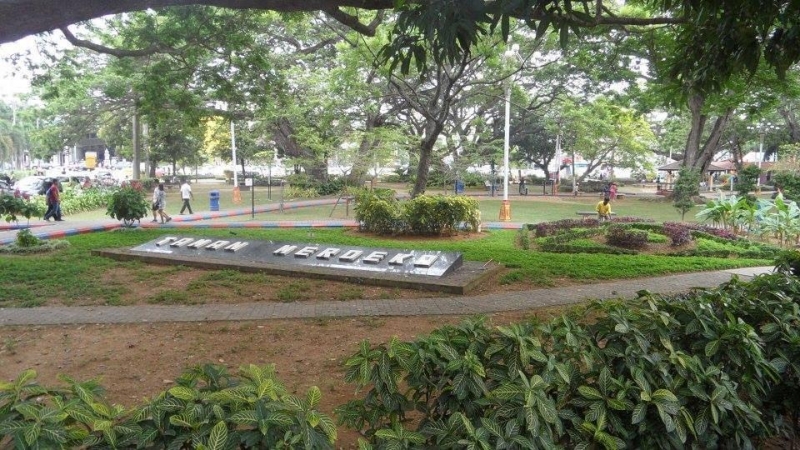 Visit Melaka Tropical Fruit Farm to learn more about local fruit farming techniques, and to see, taste, and pick a wide varity of colourful fruits. Guided tours are available of the grounds and, depending on the time of year, you can expect durian, bananas, rambutan, dragon fruit, coconuts, pineapple, and more. The young and young at heart can get up close and personal with animals in the mini zoo, and scenic lakes add to the enchanting appeal. Alternatively, admire interesting fauna at the botanical garden or meet slithering and flitting creatures at Malacca Butterfly and Reptile Sanctuary. Several parks and gardens around Melaka also invite some tranquil relaxation.
11. The delicious and diverse food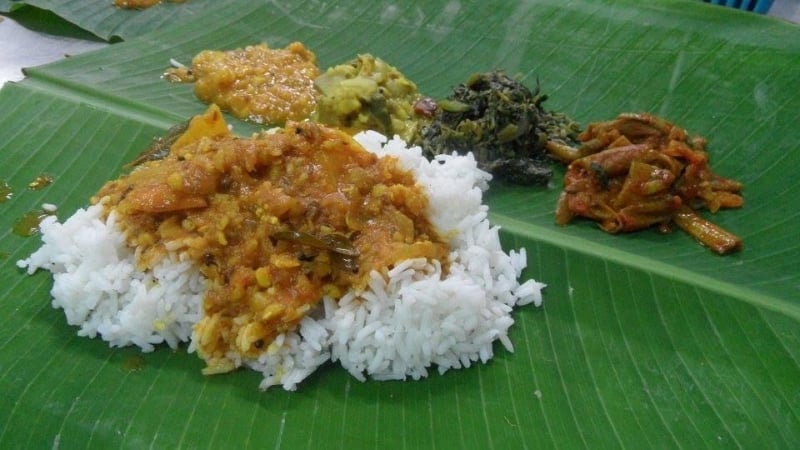 I was in food heaven in Melaka, and just couldn't get enough of the cheap and delicious banana leaf curries available in Indian restaurants across the city, flavourful noodles, mock meats (shout out to the Chinese vegetarian restaurants!), and spicy Malay delights. There's a selection of international fare available if you're craving a taste of home but with so many local delicacies to tempt, there's definitely no reason to ever feel hungry in Melaka! There are snacks aplenty, including traditional Nyona pineapple pastries, Portuguese-inspired egg tarts, and, if you're brave, durian-flavoured everything.  
12. The quirky cafes that are ideal for relaxing
Take some time out to rest and recharge at one of the many cafes located around Melaka. To make the café part of your trip experience, how about visiting one of the city's whimsical themed cafes? Snuggle with huskies at the Huskitory, snap plenty of selfies at the Hello Kitty café, and enjoy some plush toy company at a teddy bear café.
13. The most awesome cyclos in the world!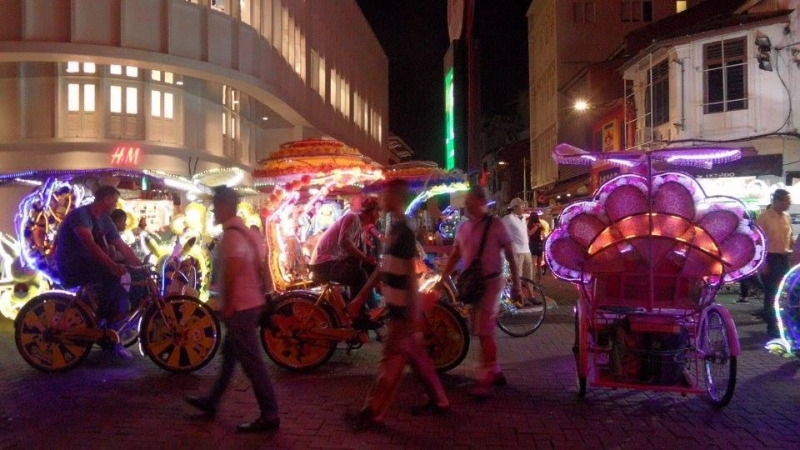 Taking a cyclo tour is a great way to see any city from a different perspective; sit back and relax while being taken down streets that other vehicles cannot access, and let your rider take you to some hidden spots. In Melaka the cyclo experience is made even more magical by the fact that the carts are kitted out with an assortment of cartoon characters. Huge Hello Kitties, Doraemon, and other faces zip through the streets. In the evening, the cyclos switch on their flashing lights and blast music. It's almost like a cyclo rave in the streets of Melaka! I couldn't help but squeal with delight the first few (maybe 30!) times a cyclo went past.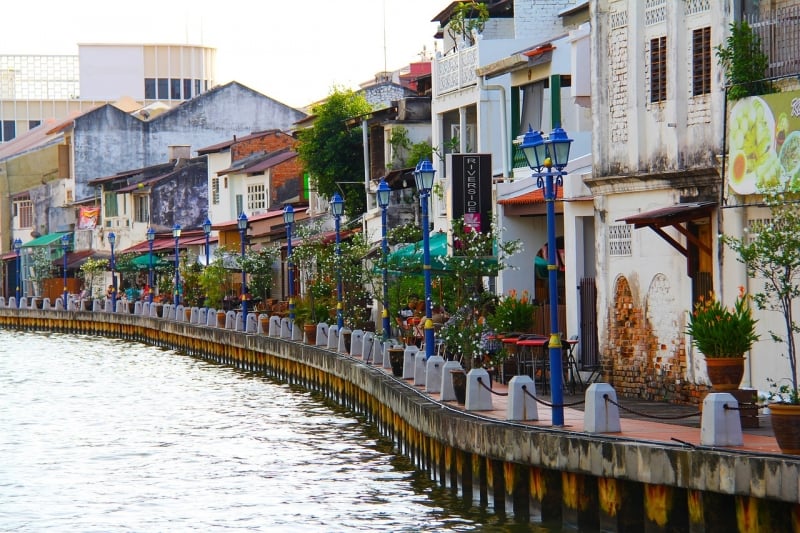 Take a trip along the Melaka River by both day and by night for different views of the city. Test your head for heights at the 42nd floor of the city's tallest man-made tower, Shore Sky Tower, soak up the views from Menara Melaka, step back in time with a visit to the rustic and authentic Kampung Morten, snap a picture with the Dutch-inspired windmill near the Hard Rock Café, and have a fabulous time uncovering Melaka's many gems.