After a traveller in Malaysia has explored the depths of Kuala Lumpur, savoured the delicacies in Penang and scaled the heights of Mount Kinabalu, next on his/her list would be to explore the lesser-known locations. While Malaysia is home to many hidden gems that fit the bill, Mataking Island can be considered the crown jewel of it all.
Conjure the image of a tropical island retreat in your mind and the essence of Mataking Island is what you'll get. Nestled in the Celebes Sea, off the coast of the Malaysian Borneo, Mataking Island is many things in one: remote, pristine, laid-back, and undeniably stunning. It comprises two islands: Mataking Besar and Mataking Kecil. The latter is the smaller of the two, and when the tide is low, a sandbar emerges and one can cross to the adjoining island by foot.
It is a wonder why not more people have Mataking Island on their radar, as they do with the likes of The Maldives. With equally, if not more picturesque scenery plus beaches with sand as soft as powder, luxurious villas, rich marine wildlife, and world-class diving spots, we dare say Mataking Island can be considered "The Maldives of Malaysia".
How to get there
The journey to Mataking Island is rather long, but we promise the destination is wholly worth the wait. Most travellers begin their journey from Kuala Lumpur or Kota Kinabalu, which has flights (AirAsia or Malaysia Airlines) to Tawau, the third-largest town in Sabah. From the Tawau Airport, hop on an hour-long bus ride to Semporna Jetty, located on the east coast. It is a scenic one-hour boat ride to Mataking Island, passing by numerous little islands that dot the surface of the calm sea.
Where to stay
Mataking Island is home to The Reef Dive Resort, a charming hideaway that accommodates up to 100 guests at a time. Despite the name, this resort caters not just to divers, but also to couples, families and friends. You will find four room types: Luxury Beach Villas, Beach Chalets, King Chalets and Garden View Deluxe Rooms.
Don't mind splurging a little? Opt for the top-tier spacious beach villas which come with their own private outdoor jacuzzi and sunbeds facing the sea. Otherwise, pick the beachfront chalets where you can open the door wide open and feast your eyes on the sea views all day. Whichever option you pick, front-row seats to the lapping waves and endless horizon are just steps away.
Resort facilities come alongside the stay, such as Simply 'Enak' Restaurant which serves buffet-style meals, Gekko Lounge Bar which is also a karaoke-singing spot, as well as Jamu Spa & Jacuzzi, the ideal retreat for that much-needed pampering session.
Those who have dietary restrictions, rest assured – the resort staff can, and will go out of the way to accommodate vegan and even gluten-free meals!
Things to do
Here comes the real draw of Mataking Island. Mataking Island is a premier diving and snorkelling spot, serving as the gateway to the incredible world beneath the surface of the sea. With crystal clear waters and thriving marine and coral life, Mataking Island scores as a site for eye-opening discoveries. For non-divers, fret not as Mataking Island offers activities like jungle trekking, sea kayaking, beach soccer and volleyball, as well as lessons for cooking, dancing, handicraft-making and batik painting.
That said, these are some of the best things to do in and around Mataking Island:
1. Explore dive sites
Perhaps you've heard of Sipadan, an oceanic island in Malaysia world-famous among divers. Sipadan Island is an hour and a half away from Mataking Island, with professionally-run dive operations to the same underwater spots that Sipadan Island is so famous for.
Mataking Island is also a short speedboat ride away from many other dive sites, including Hump Head Point, Eel Garden, Coral Garden, Turtle Playground, Lobster Lair and Nudibranch Garden. Three of the most renowned dive sites near Mataking Island are Mantis Reef, Alice Wall and Magic Rick. If days filled with dives are your idea of a perfect vacation, this is your slice of paradise.
Discover the immense variety of marine life in the deep blue sea: pufferfish, lionfish, humphead parrotfish, barracudas, stingrays, eels, clams and even the whitetip shark. Not to mention the hundreds of other fascinating species that you might not recognise! Near Mataking Island, you can also dive amongst shipwrecks!
To ensure a safe and fabulous diving trip, experienced dive staff are imperative. It is therefore a bonus that The Reef Dive Resort comes attached to the PADI 5 Star Dive Centre & Sea Sports Centre. The dive centre has experienced, knowledgeable and friendly guides who are always on the ball when it comes to preparing the gear, boat and the nitty-gritty for each dive. It is also possible to sign up for the PADI Open Water Diver course with the dive school and walk home with a diving cert, on top of great memories.
2. Post your mail underwater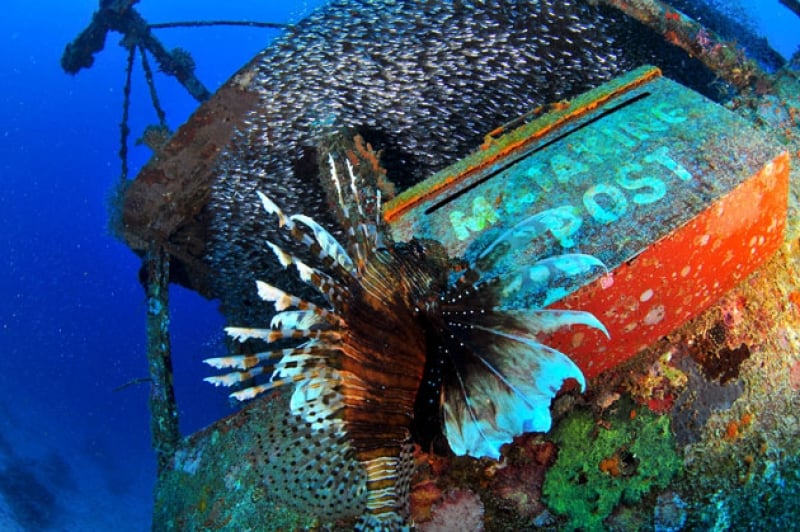 Image credit: Mataking
Did you know that you can actually post your mail… underwater? The Underwater Post Office, accessible from Mataking Island on a site called The Wreck, is built on a sunken fishing boat that doubles up as an artificial reef. And it is not just for show. Of course, you'll need some special waterproof cover for your letter and a rubber stamp which you can purchase from the island's gift shop. The mail can be delivered internationally, so go ahead and write to your loved ones back home. This is the only Underwater Post Office in Malaysia, and it is definitely one for the bucket list!
3. Snorkel off the shore
Not a fan of the deep sea but not afraid of getting wet? Then simply put on a life jacket and snorkel off the shore above the beautiful coral gardens. On the house reef, you'll come almost nose-to-nose with green turtles and fish of all colours. Animal encounters will be aplenty – from octopus to large groupers – even when you're mere metres from shore!
4. Witness turtle hatching
A highlight of many travellers who have been to Mataking Island, turtle hatching is a magical moment that marks the birth of a new life. On Mataking Island is a Turtle Hatchery, and those who visit during the turtle nesting or hatching season could be treated to the sight of baby turtles emerging from their shell and subsequently getting released into the ocean.
5. Climb to the top of King's Watchtower
For a panoramic viewpoint on Mataking Island, scale the 20-metre watchtower where you'll be able to see as far as the islands nearby, including Timba Timba Island, Pom Pom Island and Bohey Dulang Island.
6. While the day away on sandy beaches
A simple activity yet worth mentioning, lazing on the beach is a must-do on Mataking Island. Even better yet – catch the sunset or sunrise on the beach, and walk across its sandy length to discover clear lagoons. We'll let you in on a quick tip: the best beaches are on the western side of the island, as the eastern shore is rockier.
Is Mataking Island safe?
A concern for many travellers heading to this part of Sabah is safety. Piracy is a threat in this region, but to ensure the safety of the guests, there is military presence on the island. Don't be alarmed to see armed personnel around the property and on boats; if anything, guests should feel safer with the tight security.
See you on Mataking Island!
Are you convinced yet?
As Mataking Island starts to blip on your travel radar, keep this in mind: There are many places in the world that are nonchalantly described as a "paradise", but Mataking Island is actually one that lives up to the term.