It might astonish you that while I'm a 20-something Singaporean, I've never been to Melaka. That's right: I've truly missed out on the activities to try and places to visit in Melaka — highly regarded as something all Singaporeans have already explored at least once. However, there's a novelty to seeing the UNESCO World Heritage city for the first time amid a pandemic — just as how people are rediscovering other countries right now. 
Follow me as I bring you along my 48-hour Melaka itinerary to discover the best things to do, especially for first-timers like me! 
Ready to travel to Melaka? We've got an offer for you that'll sweeten the deal! From now till 15 Dec 2022, book a round-trip bus ride from Singapore to Malaysia via the Easybook app and dedicated website, and use the promo code "GOMALAYSIA" to enjoy up to 50% off* your travel tickets!
*Terms and conditions apply. Find out more here.
Also read: Malaysia Travel Requirements: What We Know So Far
Day 1 (Morning): Departure → Freeport A'Famosa Outlet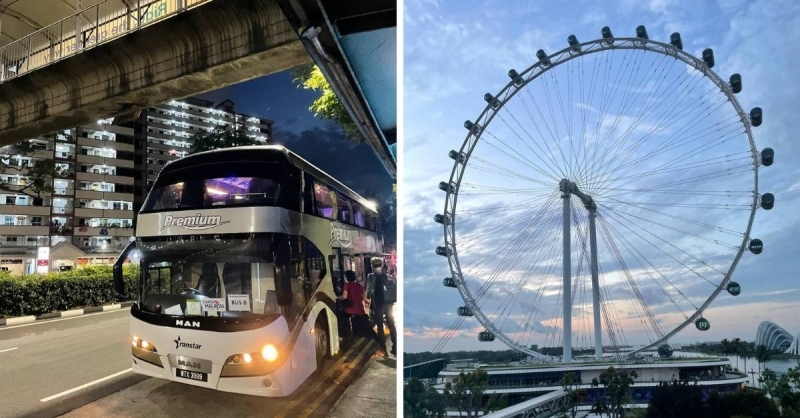 As I sat on my reclining massage bus seat and cruised past the scenic Singapore Flyer at sunrise, I knew waking up at 5am for my departure to Melaka would be well worth it.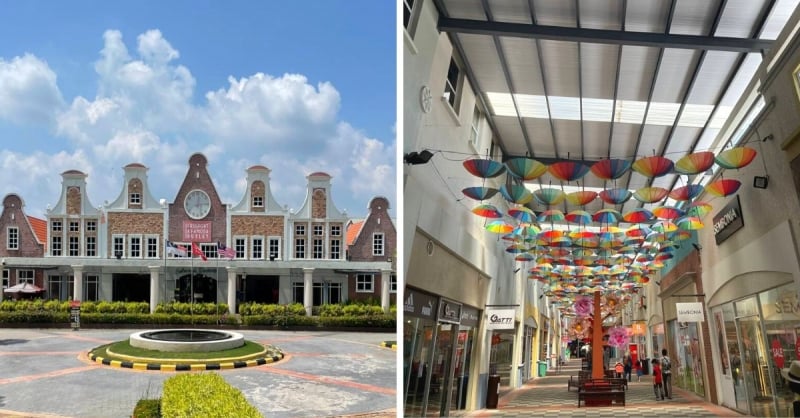 Of course, the ultimate Melaka itinerary begins with shopping. As Melaka's only outlet mall, Freeport A'Famosa Outlet represents the city with its signature Dutch heritage design and is among the gorgeous places to visit in Melaka. When the Dutch took over Melaka in 1641, they built many significant buildings inspired by their own culture. That said, the colonial design remains one of Melaka's distinctive features today. This sprawling open-air mall has plenty of photo ops available: five water features, a lake, four parks and lawns, a windmill, and a carousel. 
As I frequently stopped outside shops to take snapshots, it took me over an hour to get around the whole mall. After wandering through over 80 brands and making a few well-spent purchases, it was time to set off and check into the hotel. 
Since this was a short trip, I wasn't too particular about which hotel I'd call home for two days. Fortunately, Ames Hotel was a lot more breathtaking than I expected! There's too much to say, so I'll leave it at six words: bathtub, rooftop bar, and king bed. 
Also read: Top 10 Things to Do in Melaka for a Complete Experience
Day 1 (Afternoon): Check-in → Pineapple tart and ondeh-ondeh making workshop → City trishaw ride
And hey, it's here in Melaka that gula melaka (a type of palm sugar made from the sap of coconut flower buds) originated. So, it goes without saying that we had to include this in our Melaka activities. 
Just look at the fruits of our labour! The fluffy and glazed finished products couldn't have been a prettier treat. Let me just say, I am no baker, yet the duo instructors made learning and executing really simple! And, what better souvenir is there than one you've made yourself?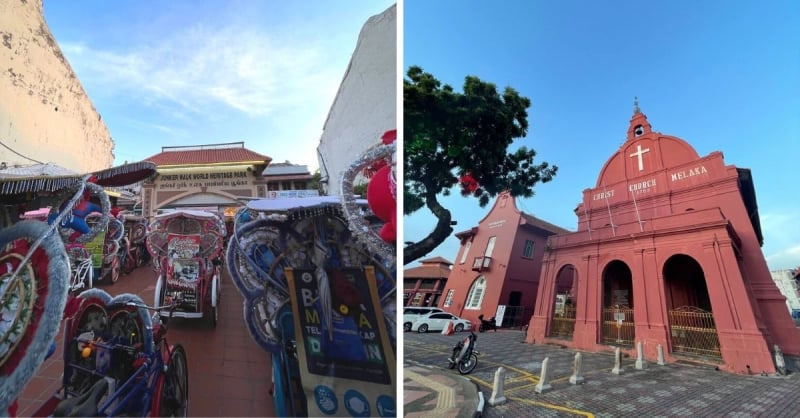 Then, we made our way to the parade of trishaws parked outside the hotel. To be honest, I wasn't sure what to expect when I heard "themed trishaw rides." Be that as it may, I definitely didn't expect pop culture-related themes like Squid Game, Frozen, Hello Kitty, and so on. 
Needless to say, cruising along Jonker Street on my "pimped" ride in a group of 40 garnered giggles and stares. (Trust me, I was laughing, too!). With the gentle breeze and our driver committed to being the best tour guide, I'd regard this trishaw ride as one of the quintessential things to do in Melaka. 
Besides, as I was riding past The Christ Church — Malaysia's oldest functioning Protestant church, oldest Buddhist worship place, and the oldest surviving building built by the Dutch — I couldn't think of a better way to travel around this UNESCO World Heritage site. 
Day 1 (Evening): Seafood dinner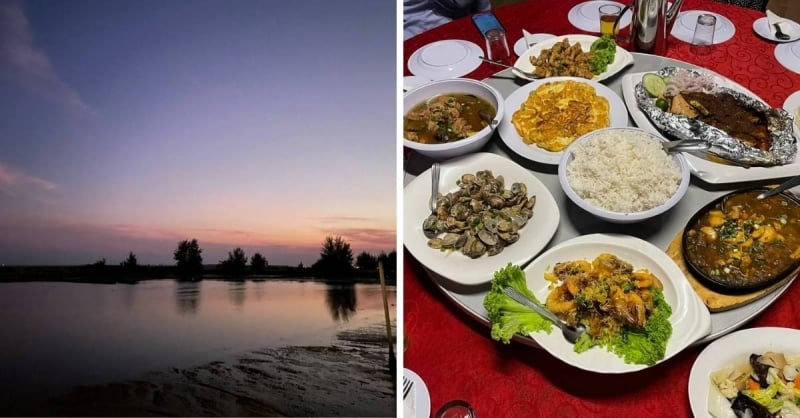 Of course, we couldn't call it a day without a hearty seafood affair at Seafarer Restaurant. Similar to zi char (Hokkien for "cook and fry" dishes influenced by home-cooked Chinese food that are meant for sharing), delectable dishes were served one at a time. The star of the show? The salted egg squid! With a stunning sunset to boot, the scrumptious Melaka food was the perfect end to a long and rewarding day. 
Also read: Where to Travel in Malaysia: Top Destinations From Every State in the Country
Day 2 (Morning): Check-out → Mamee Double Decker Factory
My second (and last) day in Melaka began all too quickly. After savouring deliciously aromatic nasi lemak (aka Malaysia's national dish made of fragrant rice cooked in coconut milk and pandan leaf) for breakfast, it was time to check out. I visited some tourist shops on Jonker Street, then spent the rest of the day with an activity you could only do in Melaka: visiting the first-ever Mamee Double Decker Factory!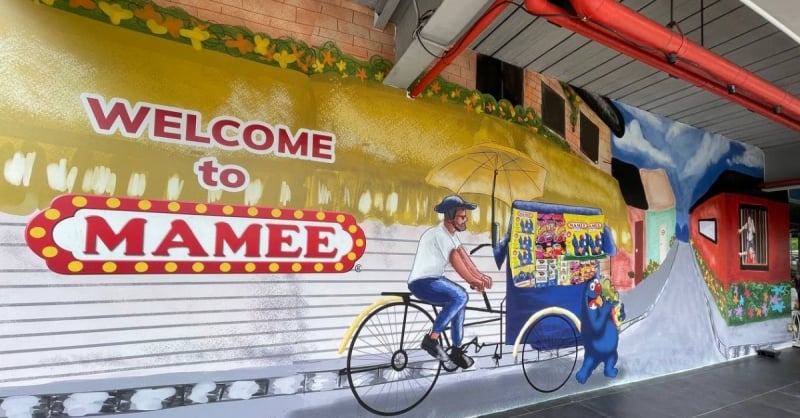 Mamee is arguably Malaysia's most well-known snack brand, which also happens to be from Melaka. Despite its long history of snack production since 1971, their most popular snack is definitely Mamee Noodle. 
I got to witness the never-before-seen production line of this beloved snack from start to end; an experience so exclusive that even phone usage on the tour is strictly not allowed. So, you'll have to take my word for it: This production is something you'll just have to see with your own eyes! 
Day 2 (Afternoon): Jonker Street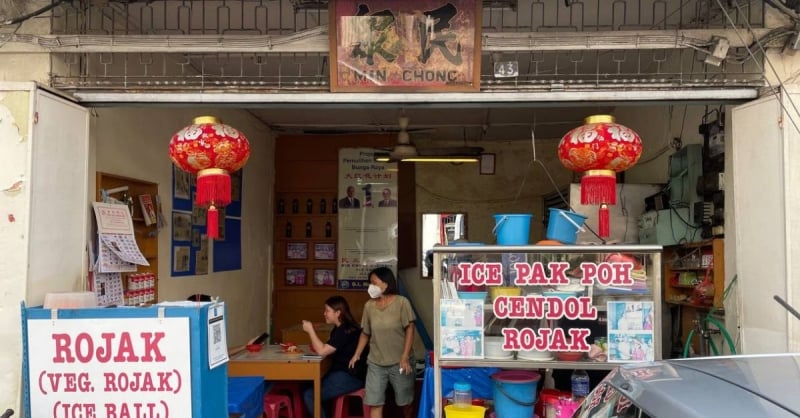 After staring down delectable noodles on a factory belt, I had indeed worked up quite an appetite. So, off we went for lunch along Jonker Street. With no planned dining destination, we wandered around for Melaka food under the bright sun, until we came across Min Chong Hygienic Ice Cafe. You can imagine my relief when I saw an ice-cold dessert amid 32° temperature! 
With the cafe looking almost nondescript, you wouldn't think that a popular chendol store lies behind this exterior. On top of being uncomplicated and tasty, the chendol is priced as low as RM4.50 (~S$1.50), so there's no beating this hidden gem for places to visit in Melaka. 
Pro tip: Visit Jonker Street on a weekend for authentic Melaka food, since many shops aren't open on weekdays!
Also read: A Foodie's Guide to Malaysia: Where and What to Eat in Penang, Ipoh, Kuala Lumpur, and Melaka
Day 2 (Evening): Departure
Before I knew it, my Melaka trip had come to an end. Unfortunately, I'd gone on a weekday and missed the weekend's bustling Melaka activities. So, you bet I'm planning a trip back soon with Melaka being just one checkpoint away! For the next trip, I'm definitely whipping out this Melaka itinerary to show friends and family around places to visit in Melaka. 
See you again soon, Melaka!
Want to embark on an adventure like we did in Melaka? Don't delay, book your bus tickets to Malaysia today with Easybook and enjoy up to 50% savings*!
Available from now till 15 Dec 2022 and valid for bookings made via the Easybook dedicated website and mobile app. Use the promo code "GOMALAYSIA" upon checkout to enjoy 25% instant rebate and 25% Reward Cash.
*Terms and conditions apply. Find out more here.
---
Brought to you by EasyBook. We would also like to thank Tourism Malaysia for inviting TripZilla to join their media trip.
All images credited to Tamlyn Richards unless otherwise stated.