Malaysia and Singapore are both famous for their local delicacies, ranging from chicken rice to laksa. While there are definitely many differences, you cannot deny that there is a considerable overlap between their cuisine due to their common cultural history and proximity. We've picked out 7 shared, iconic dishes from Singapore and Malaysia and narrowed down the best places to get them in each country!

Image credits: http://bit.ly/1h3HlwJ
Keep in mind that choosing the "best" place for any food is always highly debatable and subjective (we can already hear you eagerly typing "overrated…"), so this is obviously not a be-all and end-all list – feel free to give more suggestions and debate it out in the comments below!
Bak Kut Teh
Bak Kut Teh (肉骨茶, Meat Bone Soup) is a popular Chinese soup in Singapore and Malaysia, originating from Hokkien and Teochew immigrant communities in the area. Consisting of pork ribs simmered in a broth of herbs and spices, the fragrant soup is often served together with Chinese tea and paired with a bowl of rice or Chinese fried doughnuts (youtiao, 油条). It is traditionally eaten as a morning meal, and you should probably take the chance to have a bowl of Bak Kut Teh for breakfast when visiting Singapore or Malaysia!
Singapore: Outram Ya Hua Rou Gu Cha Restaurant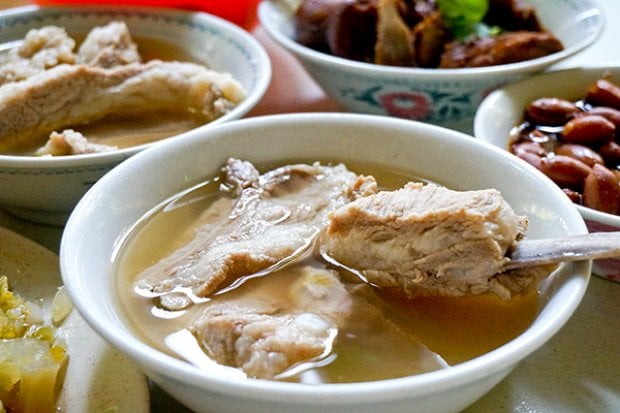 Image credits: http://bit.ly/UHCYPz
Outram Ya Hua Rou Gu Cha Restaurant serves the Teochew style of Bak Kut Teh, where the broth of pork rims is simmered with garlic and pepper, giving the clear soup a strong peppery taste. Outram's Bak Kut Teh stands out for its soup, which is flavourful yet not overly peppery, making it easy to down. For those that prefer the peppery version of Bak Kut Teh and deem the soup as the most important part of the dish, Outram Ya Hua Rou Gu Cha Restaurant is the place you need to go to.
Outram Ya Hua Rou Gu Cha Restaurant
Tanjong Pagar PSA Complex, #01-05/07
7 Keppel Road, Singapore 089053
Other contenders: Ng Ah Sio Pork Ribs Eating House, Founder Bak Kut Teh, Sin Heng Bak Kut Teh, Rong Cheng Bak Kut Teh
Malaysia: Seng Huat Bak Kut Teh (Klang)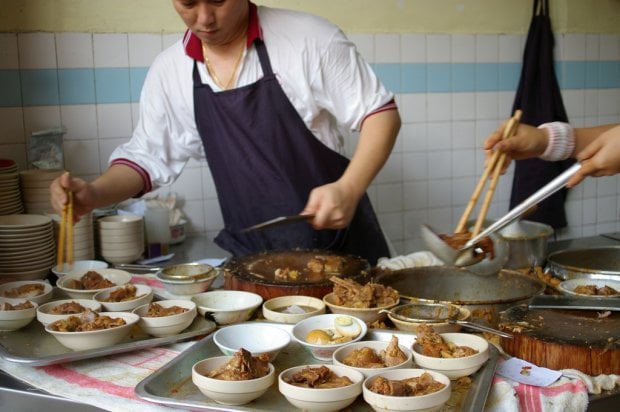 Image credits: http://bit.ly/1kdpIyo
Mention Bak Kut Teh in Malaysia, and you'll most probably be directed to Klang, the hometown of Bak Kut Teh in the country. Seng Huat Bak Kut Teh, also known as Under the Bridge Bak Kut Teh, is supposedly the first Bak Kut Teh stall set up in the area, and has remained a local favourite through the years.
Compared to some of the previously listed Singaporean Bak Kut Teh restaurants, which tend to serve the Teochew, peppery variety of Bak Kut Teh, Seng Huat Bak Kut Teh has a heavier herbal taste to it. If you're looking for authentic and traditional Bak Kut Teh, this "original" stall will be the place to go in Malaysia!
Seng Huat Bak Kut Teh
No.9, Jalan Besar, 41000 Klang
Selangor Daru Ehsan, Malaysia
Other contenders: Teluk Pulai Bak Kut Teh (Klang), Pao Xiang Bak Kut Teh (Klang; but it also has an outlet in Singapore!)
Char Kway Teow
Char Kway Teow loosely translates to stir-fried rice cake noodles, and is made by stir-frying flat rice noodles, together with various other ingredients, including soy sauce, bean sprouts and cockles. If you're on a diet, this is probably a dish to avoid, as its high saturated fat content does not bode well for both your waistline and health. But when Char Kway Teow is as delicious as it is, we'll say it's definitely worth the occasional indulgence!
Singapore: Hillstreet Char Kway Teow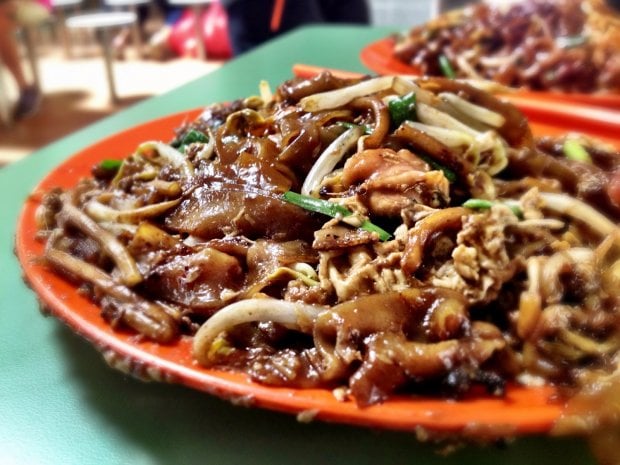 Image credits: http://bit.ly/1qI80WD
Sweet, smoky and fragrant, Hillstreet Char Kway Teow is widely considered to be the best in Singapore and a definite must-try for both locals and tourists. If you're willing to brave the long queues, you'll be rewarded with a plate of piping hot, sinfully greasy noodles that is both sweet and savoury, with all the ingredients cooked to perfection.
Hillstreet Char Kway Teow
Bedok South Road Market & Food Centre, #01-187
Blk 16, Bedok South Road, Singapore 460016
Other contenders: No. 18 Zion Road Char Kway Teow, Outram Park Char Kway Teow
Malaysia: Lorong Selamat Char Koay Teow (Penang)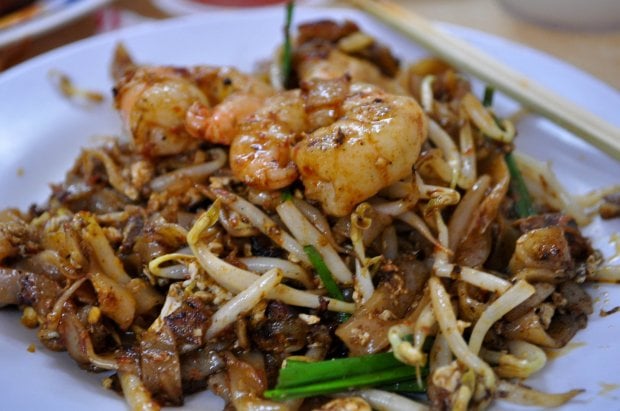 Image credits: http://bit.ly/1kke5pr
Notorious for the long waits and brusque attitude of the chef, it's a testament to the quality of Lorong Selamat's Char Koay Teow that customers are willing to return again and again for the dish. The Penang Char Koay Teow served here differs from the Singapore variety in that it does not utilise sweet sauce, and that chives and prawns are added as part of the ingredients.
The fresh and juicy prawns added to the smooth and fragrant noodles in Lorong Selamat Char Koay Teow make the dish extra satisfying, and if you think you can put up with the level of service, do pay this stall a visit while in Penang!
Lorong Selamat Char Koay Teow
Kafe Kheng Huat, 108, Lorong Selamat
10400 Pulau Pinang
Other contenders: Ah Leng Char Kway Teow (Penang), Kam Heong Kopitiam (Petaling Jaya), Restoran Jamal Mohamed (Petaling Jaya), Robert Char Kway Teow (Petaling Jaya)
Chicken Rice
Chicken Rice is perhaps the most famous Singaporean dish, but it is equally popular in Malaysia, with Hainanese Chicken Rice Balls being a prominent variation of the dish there. Do note that the restaurants listed below may not be serving authentic Hainanese Chicken Rice, but instead other variations of the dish, such as Nga Choi Gai (Bean Sprout Chicken) – purists, beware!
Singapore: Tian Tian Hainanese Chicken Rice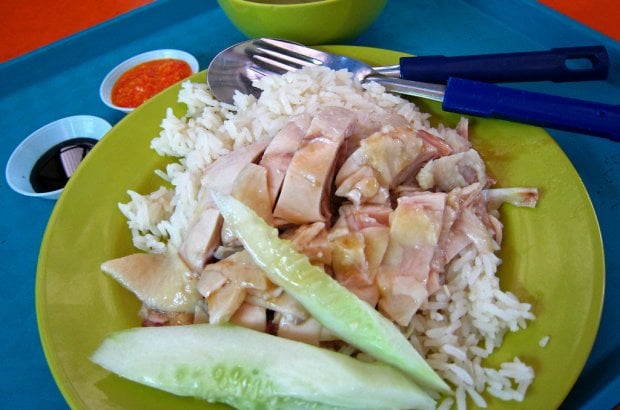 Image credits: http://bit.ly/1mHxF9x
While Chicken Rice may be a constant feature across hawker centres and coffee shops in Singapore, Tian Tian Hainanese Chicken Rice still easily stands out from the crowd. Widely accepted as one of the best Chicken Rice stalls locally, Tian Tian's stall in Maxwell Food Centre commands long queues every day, with many willing to brave the long lines for a plate of their delicious Chicken Rice.
Tian Tian Hainanese Chicken Rice
Maxwell Food Centre, Stall No. 10
1 Kadayanallur Street, Singapore 069184
Other contenders: Boon Tong Kee, Wee Nam Kee
Malaysia: Chung Wah Chicken Rice Ball (Malacca)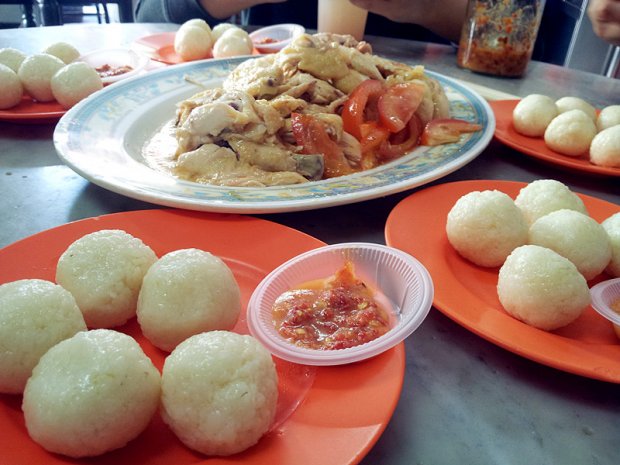 Image credits: http://bit.ly/WHImDN
Considering the variations of Chicken Rice in Malaysia, this was extremely difficult to narrow down. Chung Wah Chicken Rice Ball stood out, however, due to its unique namesake dish that has become a local specialty for Malacca. If you're visiting Malacca, do join the crowds of tourists that seek out Chung Wah for a taste of the fluffy, fragrant, and flavourful rice in their hand-rolled Chicken Rice Balls. Just remember to start queuing early, as they can sell out by 2pm on busy days!
Chung Wah Chicken Rice Ball
18, Jalan Hang Jebat
75200 Melaka
Other contenders: Hoe Kee Chicken Rice Ball (Malacca), Restaurant Loke Yun Ampang (Kuala Lumpur), Restaurant Satellite Ipoh Chicken Rice (Petaling Jaya), Restaurant Yat Yeh Hing (Petaling Jaya), Restoran Lou Wong Tauge Ayam KueTiau (Ipoh), Wen Chang Chicken Rice Restaurant (Penang)
Chilli Crab
This dish was the subject of controversy back in 2009, with its origin being disputed between Singapore and Malaysia. Both countries were keen on claiming this famous dish as their own, and it's easy to see why – Chilli Crab is one of the most iconic cuisine in this region, with hordes of tourists flocking to seafood restaurants to tick it off their "must-eat" list.
Singapore: Jumbo Seafood Restaurant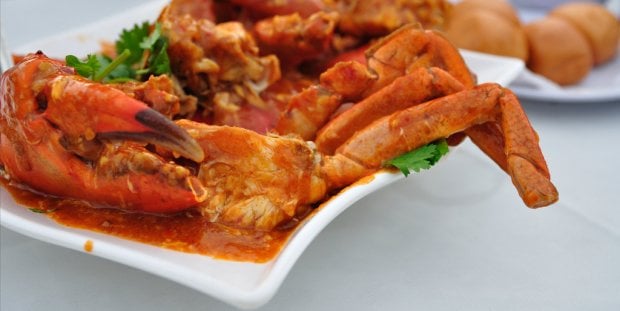 Image credits: http://bit.ly/1pdZeJl
A long-time favourite for both locals and tourists looking to fill themselves up with Singapore's signature Chilli Crabs, you won't go wrong with visiting Jumbo Seafood Restaurant for this dish. The tangy, sweet yet spicy chilli sauce paired with the perfectly cooked crabs makes for a heavenly combination, and you can also order steamed buns to scoop up any leftover gravy. The standard of Jumbo's Chilli Crabs has remained consistently high over the years, cementing its position as one of, if not the top seafood restaurant to go for Chilli Crab in Singapore.
Jumbo Seafood Restaurant
#01-07/08, East Coast Seafood Centre
Singapore 449883; other outlets
Other contenders: Red House Seafood Restaurant, Tung Lok Seafood, Long Beach, Melben Seafood
Malaysia: Mei Keng Fatt Restaurant (Kuala Lumpur)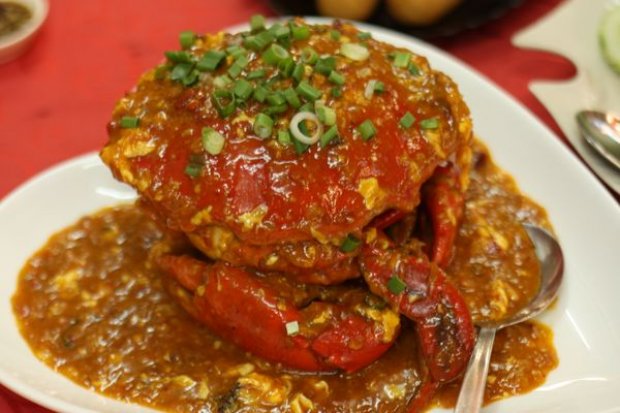 Image credits: http://bit.ly/UuwAuK
A staple of Malaysian cuisine, seafood restaurants serving Chilli Crabs are aplenty in the country, and one of the most popular places to get this dish would be Mei Keng Fatt Restaurant in Kuala Lumpur. Eating the tender, succulent meat of their fresh crabs, covered with the deliciously thick chilli sauce, is a gastronomic experience not forgotten easily.
Mei Keng Fatt Restaurant
1, Lorong Awan 6, Kuala Ampang
68000 Selangor
Other contenders: Green View Restaurant (Petaling Jaya), Fatty Crab Restaurant (Petaling Jaya), South Pacific Restaurant (Petaling Jaya)
Laksa
Laksa is a dish in which we can see the variations between Singaporean and Malaysian cuisine. While it may be the same dish, the two countries interpret it differently, such that the Malaysian version is usually referred to as Penang Laksa, in order to differentiate it from the Singaporean-style laksa, often referred to as Katong Laksa. While Katong Curry Laksa is coconut-based and thus sweeter, Penang Assam Laksa is fish-based and more sour.
Singapore: 328 Katong Laksa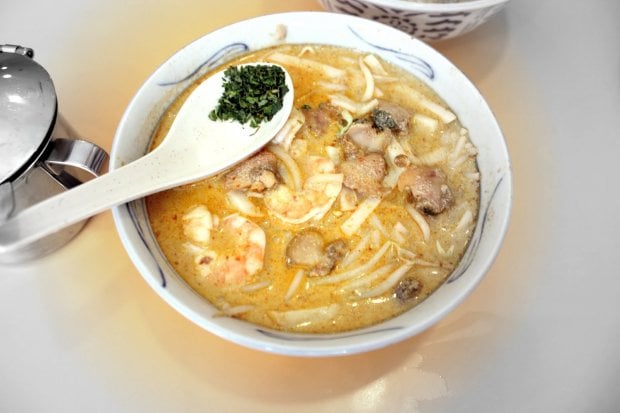 Image credits: http://bit.ly/1zp851V
Selected by popular vote as one of the top three hawker stalls to face off against Gordon Ramsay in the 2013 Hawker Heroes Challenge, 328 Katong Laksa's reputation in Singapore is evidently impressive. The sweet and spicy curry broth is rich and flavourful, with the thick and springy vermicelli cut up such that just a spoon is needed to savour the bowl of Katong Laksa. The prawns and cockles in the broth also enhance its flavour, making it a truly appetising meal in a bowl.
328 Katong Laksa
53 East Coast Road
Singapore 428770
Other contenders: Sungei Road Laksa, Roxy Laksa, 49 Katong Laksa, 928 Yishun Laksa
Malaysia: Pasar Ayer Itam Laksa (Penang)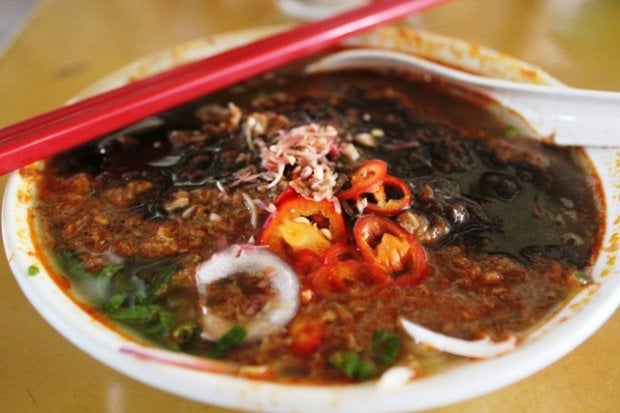 Image credits: http://bit.ly/1xsCR7f
To look for the best Penang Assam Laksa, it's obvious that we will need to look to Penang. While Malaysia has many other variations of Laksa, Penang Laksa is probably the most famous, and in particular, Pasar Ayer Itam Laksa in Penang is acclaimed as the best place serving this dish.
Located at Ayer Itam Market, the thick, sour soup of the Laksa brims with flavour, from sweet, sour, to spicy. The generous amount of mackerel, together with the thick prawn paste and aromatic lemongrass makes for a mouth-watering bowl not to be missed. For a fix of authentic Penang Laksa, this legendary stall is where you need to go.
Other contenders: Nan Guang (Penang), Kek Seng Coffee Shop (Penang)
Nasi Lemak
Nasi Lemak can be said to be Malaysia's national dish, and with the substantial Malay population in Singapore, it's no surprise that this is a commonly eaten dish in both countries. The versatility of Nasi Lemak makes it suitable for all, with a variety of side dishes that can be served with the Nasi Lemak rice, ranging from cucumber slices to fried chicken.
Singapore: Selera Rasa Nasi Lemak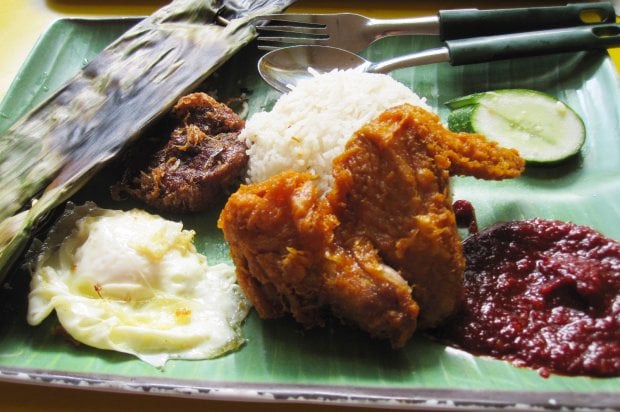 Image credits: http://bit.ly/1rMj9oO
Widely proclaimed as the best Nasi Lemak in Singapore, you'll be able to spot Selera Rasa Nasi Lemak easily thanks to the endlessly long queues in front of their stall at Adam Road Food Centre. Don't be deterred by the queue, however, as the high quality of their ingredients make the wait worthwhile. The aromatic basmati rice is appropriately the highlight of the dish, with the well-separated and fluffy grains making every bite deeply satisfying.
Selera Rasa Nasi Lemak
Adam Road Food Centre, Stall 2
2 Adam Rd, Singapore 289876
Other contenders: Chong Pang Nasi Lemak, Punggol Nasi Lemak, No.1 Adam's Nasi Lemak
Malaysia: Village Park Restaurant (Petaling Jaya)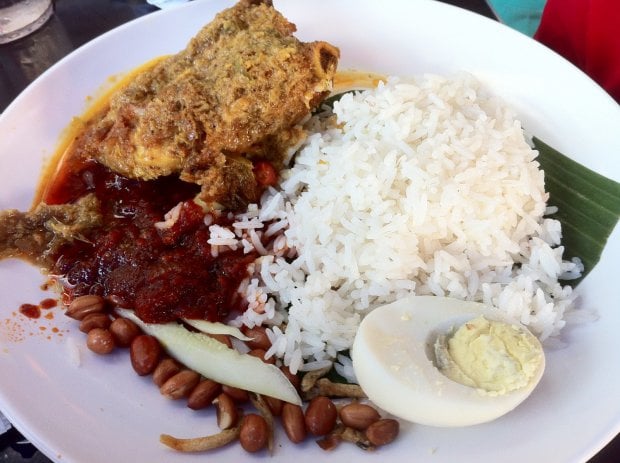 Image credits: http://bit.ly/1oEBPED
The quality of the rice is of utmost importance to Nasi Lemak, and Village Park Restaurant will not disappoint in this respect. Their rice is soft and fragrant, going perfectly with the other side dishes on the plate. Village Park's fried chicken, which is marinated overnight using a secret recipe, will be the must-try side dish, with many customers praising the combination of its crispy skin and tender meat.
Village Park Restaurant
5 Jalan SS 21/37, Damansara Utama
47400 Petaling Jaya
Other contenders: Nasi Lemak Antarabangsa (Kuala Lumpur), R.A Nasi Lemak (Kuala Lumpur), Suri Nasi Lemak Panas (Petaling Jaya), Mak Jah Corner (Ampang Jaya)
Wonton Noodles
Wonton Noodles (or Wanton Noodles) is a Cantonese dish popular in various Asian countries, including Singapore and Malaysia. Served either "dry" or in a hot broth, the egg noodles are paired with wontons, char siew (roasted pork) and leafy vegetables. For noodle lovers, this dish will be something to put on your to-eat list!
Singapore: Kok Kee Wanton Noodle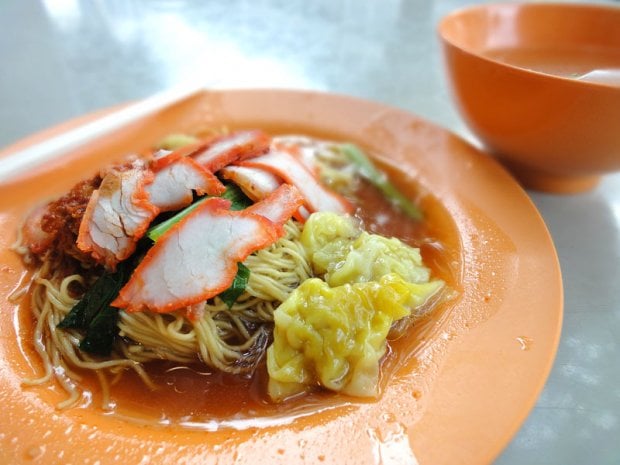 Image credits: http://bit.ly/1l98ugK
The springy noodles of Kok Kee's Wanton Noodles are simply addictive, explaining the persistent queue of both locals and tourists. While its other components may not match up as well to its competitors, the flavourful noodles with the special gravy sauce have made Kok Kee's Wanton Noodles many Singaporeans' favourite. Kok Kee Wanton Noodles is located in Lavender Food Square, which will be closing at the end of 2014 – grab your chance and try a plate of their noodles before they move out of their current location for good!
Kok Kee Wanton Noodles
Lavender Food Square, #01-06
380 Jalan Besar, Singapore 209000
Other contenders: Eng's Wanton Mee, Nam Seng Noodle House, Redring Wanton Mee
Malaysia: Koon Kee Wantan Mee (Kuala Lumpur)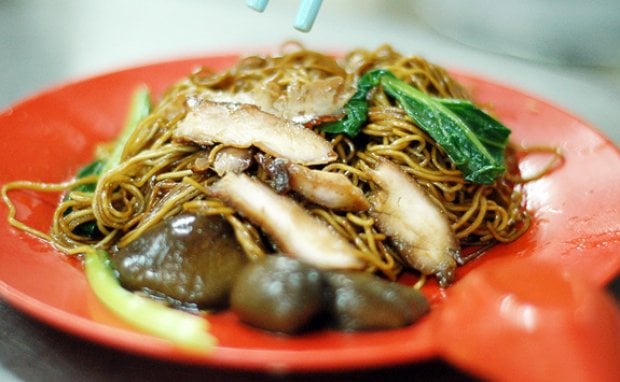 Image credits: http://bit.ly/1rzY6T5
Koon Kee Wantan Mee is located in the middle of Jalan Petaling, Kuala Lumpur's famous food street, and is itself perhaps the most famous stall selling Wonton Noodles in the capital city. The generous portions of chewy, wet noodles together with the perfectly grilled char siew and savoury sauce make it a dish not to be missed, and visitors looking to get a taste of this Chinese delicacy will be well-advised to try out this stall!
Koon Kee Wantan Mee
No 95, Jalan Hang Lekir
50000 Kuala Lumpur
Other contenders: Hung Kee Wantan Mee (Kuala Lumpur), Hooi Kee Wantan Mee (Bentong, Pahang), Koon Kee Wantan Mee (Petaling Jaya)
Is your stomach growling yet? Time to make your way to both Singapore and Malaysia, and try out the best of the same food in both countries! And don't forget to tell us who serves the best!
Drop us a comment on your personal recommendations as well!
Also read: Dinner Time! 15 Delicious Singapore Local Food You Cannot Afford to Miss