The first time I travelled to East Malaysia was to visit Semporna, a diving paradise in Sabah. As someone who grew up in the Peninsular, the things I knew about Sabah and Sarawak were often just superficial information from textbooks and the internet. Since my last trip was mainly centred around water activities, I did not get to learn much about the people and the food there. This time around, I wanted to truly experience the culture and the beauty of Borneo. Therefore, my friend and I visited Sarawak's capital city, Kuching, which is also affectionately known as the City of Cats (how cute!).
In this article, I will share my Kuching itinerary and food recommendations that will hopefully inspire your inner wanderlust to travel to this underrated destination in Malaysia!
Also read: Sarawak Food Trail: 12 Dishes in Kuching You Must Try!
My Kuching itinerary and travel tips
Day 1
Before travelling to Kuching, I recommend booking a car rental in advance online. This is because public transport in Kuching is still under development, and taking e-hailing services like Grab is not so convenient if you want to go out late at night. 
Also, most premises in Sarawak — particularly restaurants and street vendors — still prefer cash over cards. So, remember to bring enough banknotes as well.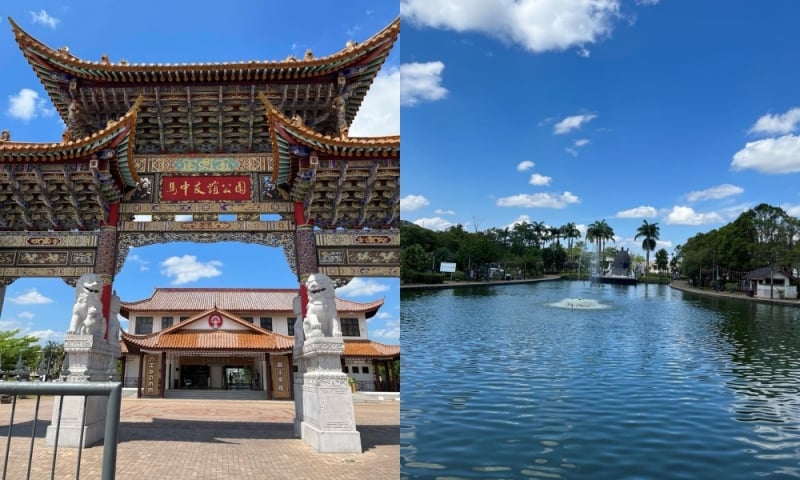 The first day of my Kuching itinerary was simple yet fulfilling. Once we arrived at Kuching International Airport and got the car, we immediately drove to the Malaysia-China Friendship Park which is only about 15 minutes away. The park boasts a lake, a massive statue of the famous Chinese explorer Zheng He, a bubble tea chain (Chagee) with ancient Chinese architectural style, and other structures that incorporate the same traditional and vibrant architecture. 
Perhaps because it was a weekday afternoon, there were not many people. So, I was able to enjoy my bubble tea peacefully while overlooking the scenic lake. 
Then, we checked into our hotel — The LimeTree Hotel, which was not too far from the city centre. The price of this three-star hotel was around RM140 (~S$40) per night. We chose the hotel mainly because of the free parking and location. However, there are many other options that cater to every type of traveller, whether it's budget-friendly accommodation or a more luxurious stay.
After settling down, we went to the Kuching Waterfront. This one's a serene spot for visitors to relax, walk along the Sarawak River, and take pictures of the city's iconic landmark — the New Sarawak State Legislative Assembly Building. There's also the 335-metre-long Darul Hana Bridge, which I went up to get a closer view of the building and a panoramic view of the river and sunset. At night, an array of colours illuminates the building. Accompanied by its reflection in the water, it truly is a stunning sight to behold!
There are some stalls in front of the waterfront where you can get delicious street snacks for as low as RM1 (~S$0.30). For dinner, we had seafood and midin at Topspot Food Court. If you're wondering what is the must-try food in Sarawak, the answer is midin. It's a type of wild fern with a crunchy texture exclusively available in Sarawak, and it tastes the best when cooked with garlic or belacan. (Ah, I'm craving a plate of midin now as I type!).
Day 2
Our Day 2 of the Kuching itinerary began with a bowl of yummy Kolo Mee from Chinese Barbeque Specialist. Sarawak Kolo Mee comes in two types: one with clear sauce and another with red sauce. I prefer the former as it is not as sweet. The stall is operated by an old man, with one bowl of Kolo Mee served with soup priced at only RM5 (~S$1.50). And I'm not kidding when I say this was one of the best dry noodles I've had in my life!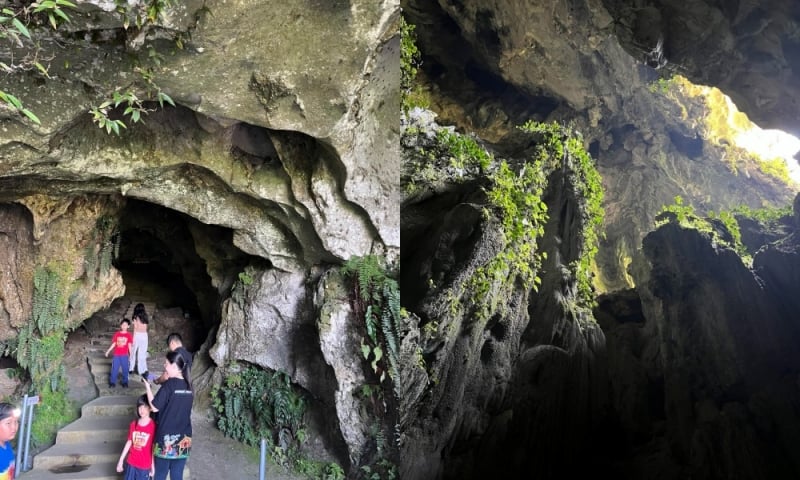 On the way to our first destination of the day — the Fairy Caves in Bau —we passed by a lot of adorable cat statues by the road. Fairy Caves is home to limestone formations with millions of years of history. I recommend wearing grippy shoes if you plan on visiting since you must climb up steep stairs to reach the main chamber. The entrance fee to the cave is only RM1 (~S$0.30).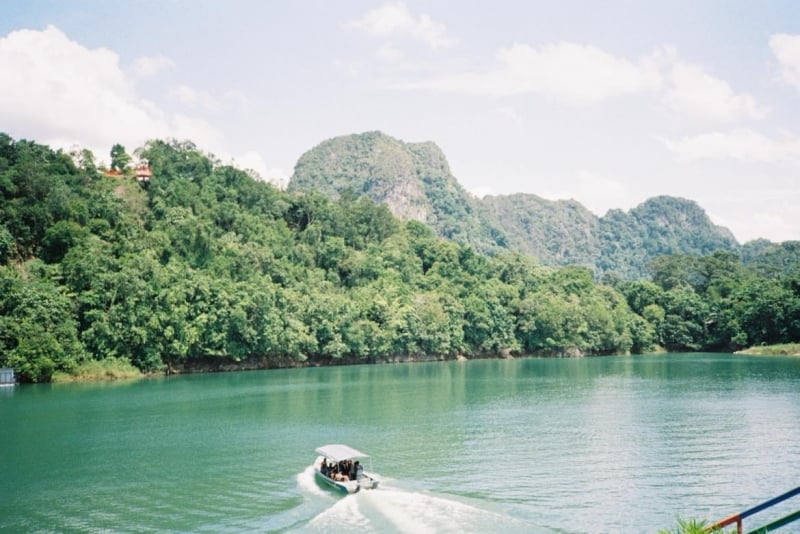 Not too far away from Fairy Caves was our next stop — Blue Lake aka Tasik Biru. We only stopped for a while to cherish the lovely scenery, but you can also pay to cross an inflatable bridge to reach a Chinese temple.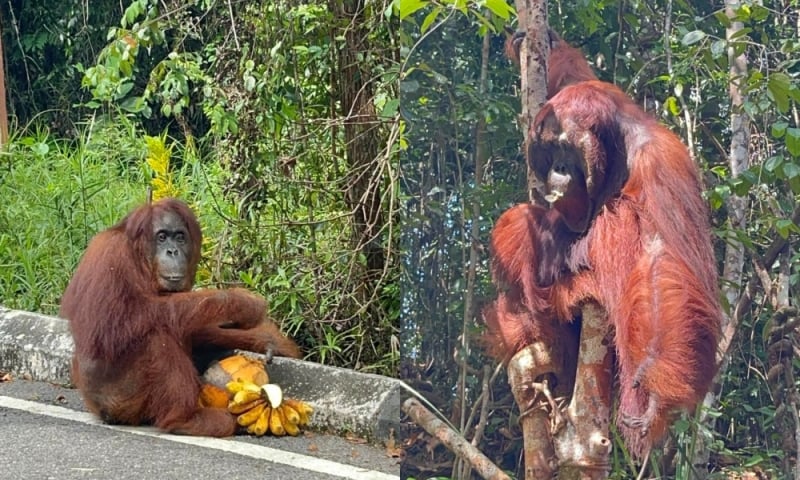 Then, we went to Semenggoh Nature Reserve, which I think was one of the highlights of Day 2. We got to see not one, but four orangutans here! We even got to silently watch two of the orangutans up close, which was a very unique experience for me. The ticket price for a Malaysian adult is RM5 (~S$1.50) and RM10 (~S$3) for foreigners. I recommend topping up another RM10 to get the buggy ride (which I also did), so you can save time. 
TripZilla Tip: The visiting hours of Semenggoh Nature Reserve are 8am to 10am and 2pm to 4pm. Avoid coming outside of these hours as you won't be able to enter.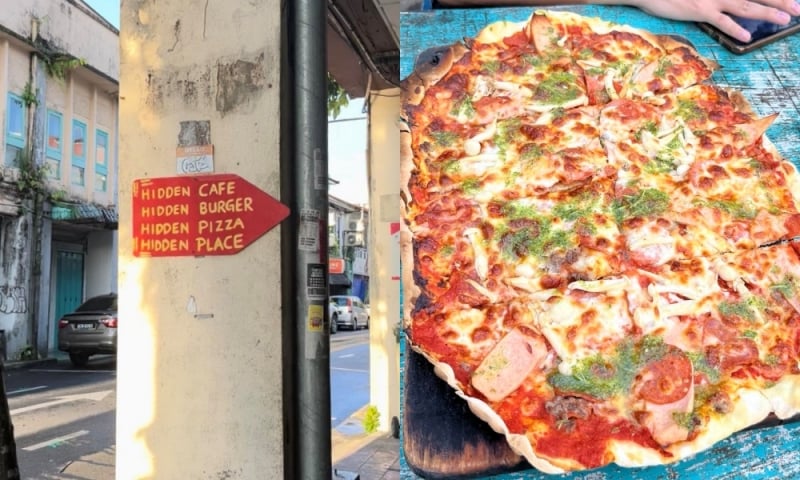 We went back to the city centre to look for a decent dinner place, and we literally felt like hitting a jackpot when we discovered this hidden pizzeria at the back of an alley! Operated by a boss from Montenegro, this pizzeria called Balkanico serves huge, mouth-watering Balkan-style pizza for only RM20 to RM39 (~S$5.85 to ~S$11.40). 
Also read: 10 Unique Delicacies in East Malaysia That Every Foodie Needs to Try
Day 3
Day 3 was another day in Kuching where I fell in love with Sarawak's local cuisines. Only a few minutes' walk from our hotel is Estay Cafe, a kopitiam specialising in Foochow delicacies. We had the popular Sibu kampua mee which I thought had a similar taste to Kolo Mee, but with a softer, less chewy texture. 
I also ordered one kompia, aka fried Fuzhou bagel filled with seasoned pork. It tasted like a fried version of char siew pao, very yummy! Apparently, Sarawak is also famous for its pandan three-layered milk tea. It has a refreshing taste and is worth a try for those who are here for the first time.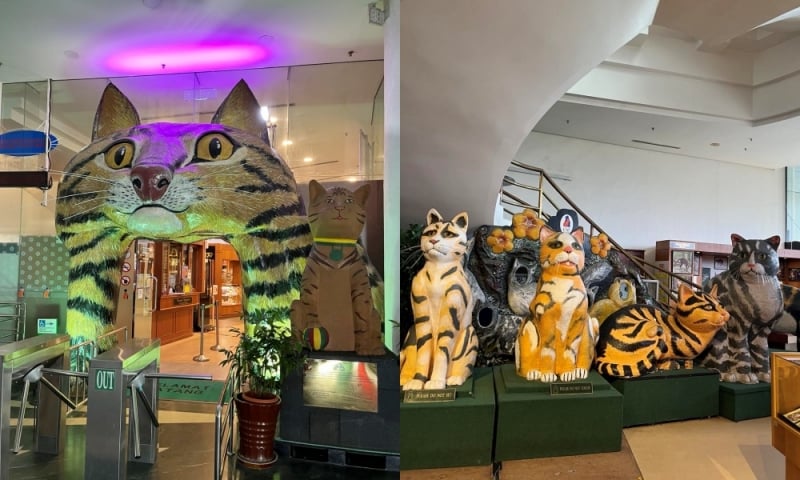 We headed to the Kuching Cat Museum afterwards. The entrance fee was RM3 (~S$0.80) per adult and RM2 (~S$0.60) for children aged 3 to 12 years old. Here, you'll be greeted by a lot of cat statues, cat pictures, small cat collections, and even cat specimens. It was fun learning about cats and there's a booth selling cat-related souvenirs for as low as RM1 (~S$0.30).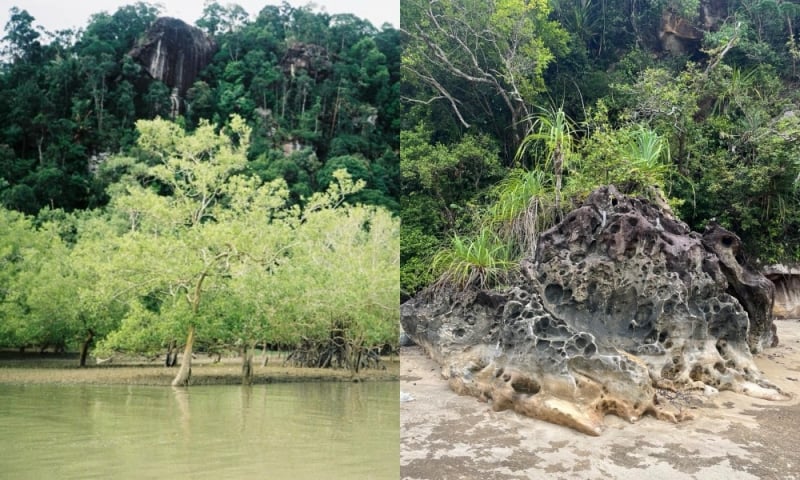 Our next destination was Bako National Park. You have to drive about 30 minutes from Kuching city centre to reach the jetty, then take a 20-minute boat ride to get there. It was around 2pm when we arrived and the last returning boat was at 4pm. That said, we only had less than two hours to explore the place. Thus, I don't recommend coming in the afternoon, unless you're staying overnight in the park. We shared a boat with another couple, and it cost around RM250 (~S$73). 
Bako National Park is renowned for their wildlife like the proboscis monkeys, aka the adorable long-nosed monkeys, but you have to be really lucky to meet one. Aside from the sea and the unique rock formations, we didn't get to meet any animals, so I felt a little disappointed. 
We eventually went back to town to have dinner at a restaurant called Borneo Delights. I ordered Manicai bee hoon (sweet leaf vegetables with vermicelli), stir-fried pako, and ayam pansuh (bamboo chicken) — all native Sarawak dishes that can rarely be found in the Peninsula. The owner also let us try tuak: a type of rice wine made by the indigenous people. It tasted like Japanese sake, but milder. Alcohol lovers, don't miss out!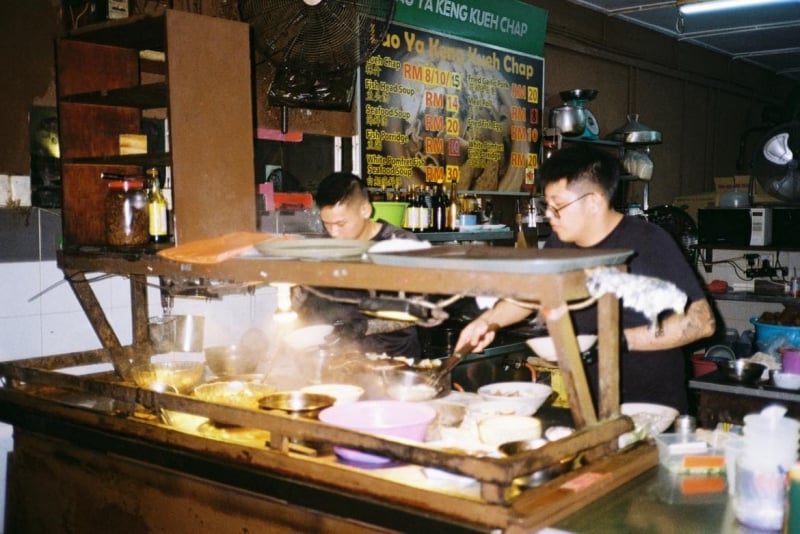 For supper, we had kueh chap at Lau Ya Keng Foodcourt. They say this place has more than a hundred years of history. It did indeed look like a time-honoured traditional stall. The chefs cooked kueh chap soup in one big pot, then served it together with thick rice noodles, pork meat, and eggs. Just like that, another day went by.
Day 4
Day 4 was the most hectic yet fruitful day in the entire Kuching itinerary. For brunch, we went to Sin Chong Choon Cafe, which is around a 15-minute drive from the city centre. Here, we had the famous Sarawak laksa and kampua mee again. 
I also realised that aside from the slightly different accents, locals here in Kuching use different phrases for certain things compared to West Malaysians. For instance, in KL, an economy rice stall is called "zap fan" or "mixed rice." But here, it's actually called a "fast food" stall.
After around an hour of driving, we finally arrived at the Sarawak Cultural Village and Damai Beach. These two destinations are just a minute's walk away from each other. Damai Beach is free to visit, whereas an adult ticket for Sarawak Cultural Village costs RM85 (~S$24.80). After taking some photos by the beach for my Instagram feed (which, you know is obligatory when you're at a beach), we went inside the village to visit its living museums. 
TripZilla Tip: I recommend buying Sarawak Cultural Village's tickets online, as the price is slightly higher if you buy them at the counter.
Home to eleven houses that showcase Sarawak's rich culture, here is where you explore the different houses that belong to various Sarawak native communities. For example, the Bidayuh Longhouse, Orang Ulu Longhouse, Iban Longhouse, Melanau Tall House, and Penan Hut. But that's not all, there will be actual people from respective ethnic tribes in the houses. They will demonstrate how they cook, or how they create craftworks like Iban's traditional clothing made using a weaver.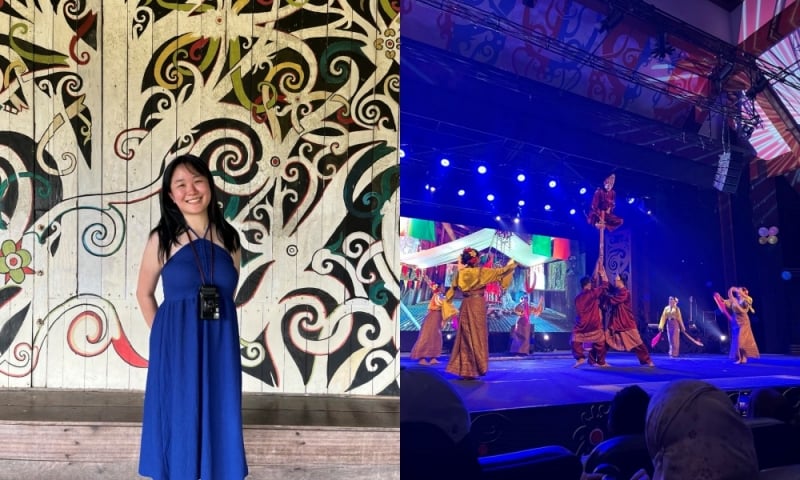 Our journey at the village ended with a fun cultural performance by the native communities. Although many online reviews state that this place is overrated, I personally think it's worth visiting, especially if you're keen to learn about Sarawak's extraordinary culture like me. 
Note: There are two cultural show times in Sarawak Cultural Village daily, which are 11.30am to 12.15 pm and 4pm to 4.45pm.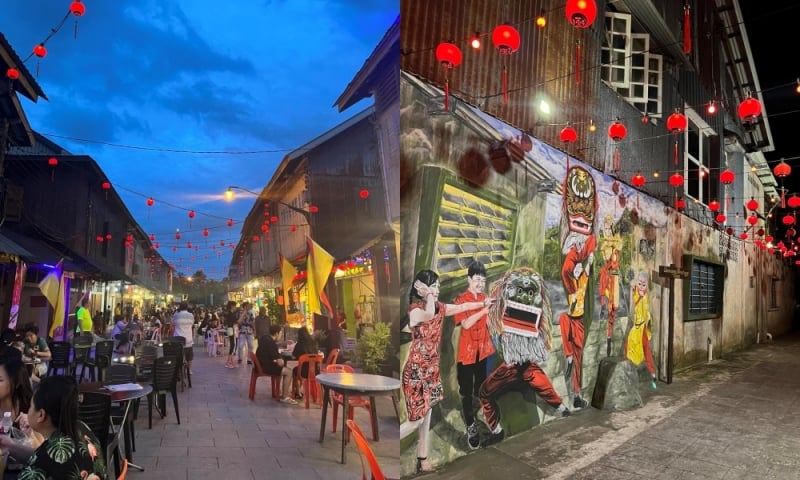 In the evening, we went to Siniawan Old Town Night Market in Bau, which is lowkey my favourite place out of this Kuching 5 days 4 nights itinerary. This quaint old town with red lanterns hanging along the street and charming wall murals will transport you back in time. 
There are many stalls selling local food and street snacks. I even got to try pitcher plant rice, fried quail, and pork satay, delicacies that some may call "exotic" and are hardly seen in KL. What's better than the scrumptious flavour, is that they are all very cheap. 
Besides, I saw something that immediately sparked my interest — the Matterhorn drink! This sweet and sour iced lime juice with cendol is a refreshing beverage you can't find anywhere else but in Kuching. I also had other food such as apam balik, midin, ABC (ais kacang), and fried sweet potato balls. It goes without saying that this place is a foodie's paradise! We also talked to some of the locals, everyone here was very cordial, which made us feel warm and welcomed.
Note: Siniawan Night Market only takes place every Friday, Saturday and Sunday night. So remember to time your visit right!
Day 5
Before travelling, I thought that I would have ample time to explore with a 5D4N Kuching itinerary. However, I was wrong! There are definitely a lot more places to visit, things to do, and most importantly, delicious food that I haven't got to try. And since our flight was at around 12pm, we only had enough time to visit one place on Day 5 — the Borneo Cultures Museum.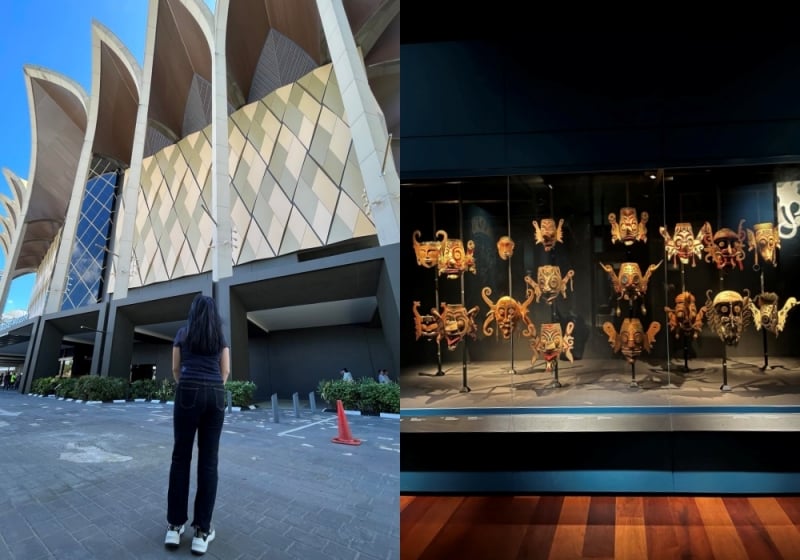 Normally, Malaysian but non-Sarawakian visitors have to pay an entrance fee of RM20 (~S$14.60). Foreigners, on the other hand, will have to pay RM50 (~S$5.80) to enter. However, since it was coincidentally Sarawak Day when we went, everyone was granted free access to the museum! 
Borneo Cultures Museum looks aesthetically pleasing inside and out, and it features a wide range of artefacts and exhibits that reflect Sarawak's history and culture. I was most impressed by the kelirieng: a type of sophisticatedly crafted timber used as burial poles by the indigenous people. There's also an enchanting giant moon replica in the middle of the museum, in conjunction with the Museum Of The Moon exhibition at that time. 
TripZilla Tip: Borneo Cultures Museum boasts five storeys, with each floor dedicated to different art exhibitions. I recommend sparing around two to three hours of your time here, so you can explore more comprehensively. 
Recommended souvenirs for your Kuching itinerary
Many travellers would bring home Sarawak's black and white peppers, as they are pretty famous amongst Malaysians. (Though, truthfully, I can't taste the difference). Besides peppers, I recommend buying kek lapis: a type of sweet, colourful layered cake that comes in various flavours. I also recommend buying handmade crafts such as woven bags or softwood keychains from the locals. If your loved ones like alcohol, tuak makes a nice souvenir, too.
Also read: Sarawak: The Do-It-All Destination for 5 Types of Travellers
That pretty much sums up my whole itinerary in Kuching, Sarawak. So if you're a West Malaysian like me and have never been to this part of Borneo, it's time to plan a trip there and experience all the scrumptious local food and stunning vistas by yourself. And for international travellers, just know that Malaysia has so much more to offer beyond Kuala Lumpur and the iconic Petronas Twin Towers!
---
All images are credited to Cecelia Chang.