Turkey's city of Antalya is located along the beautiful shores of the Mediterranean Sea. A great base for exploring other parts of the gorgeous Turkish Riviera, there's also plenty of attractions to keep you in the city for at least a few days. You'll have no problem finding somewhere great to stay, and there are plentiful restaurants, cafes, and shops. A major harbour in the past, the city is brimming with historic sites as well as modern conveniences.
Here are some of the best things to see and do when visiting Antalya:
1. Stroll around the harbour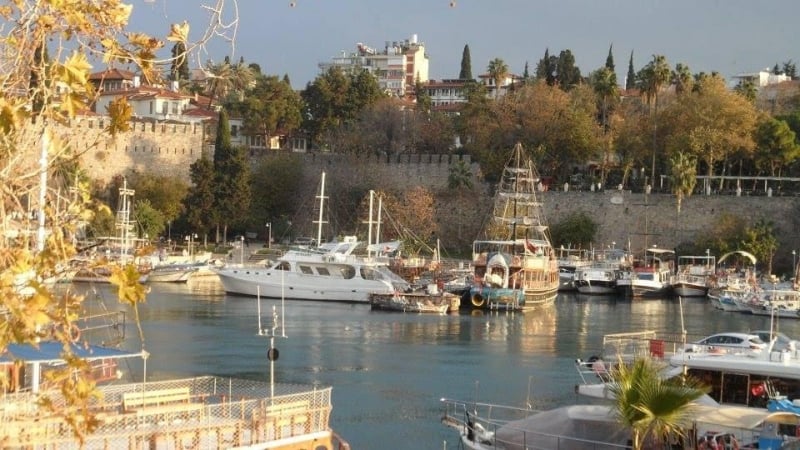 Antalya's harbour is surrounded by high walls, with the strategic location having been fortified by the Romans. Day-to-day life in the area has centred around the harbour since times of old. Today, though not as essential for transporting goods by water as it was in times now passed, the harbour is still a lively hub in the city. Restaurants, cafes, and shops surround the water, and there are plenty of places to sit and admire the views. Speedboats, private yachts, pleasure craft, and traditional wooden vessels, known locally as gullets, now bob on the waters, taking the place of cargo ships and fishing boats.
2. Look down at the harbour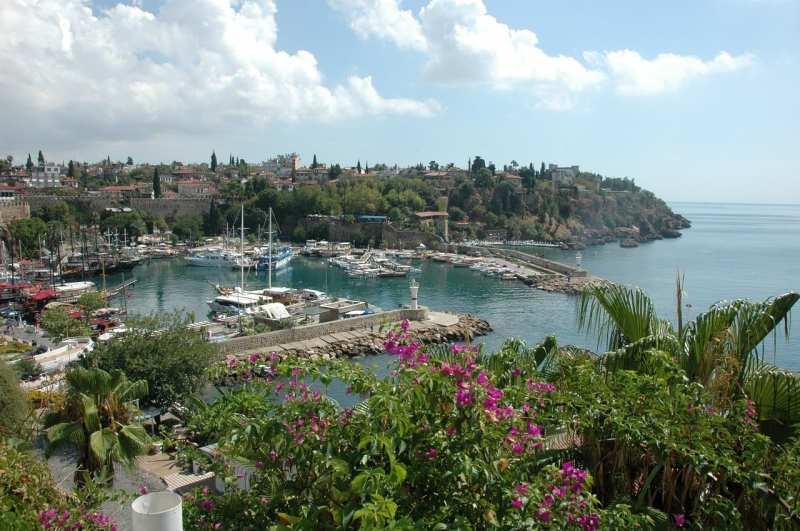 Although walking around the harbour is a pleasant way to pass a few hours, there are several higher vantage points that offer great views and let you fully appreciate the size and layout of the once-vital maritime area. High stone walls protect the harbour on three sides, while the deep blue of the ocean stretches for as far as the eye can see on the fourth side.   
3. Join a boat trip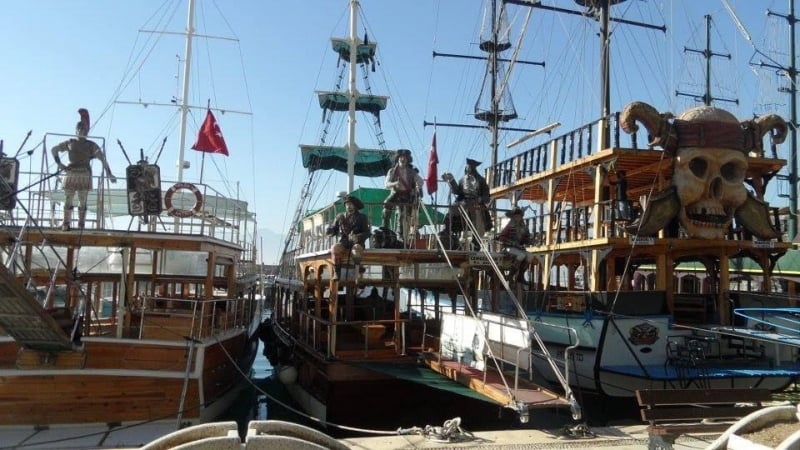 Several operators offer fun cruises and trips on the sea. Sail around the coast by day or by night on a party boat, soaking up the sights, mingling with others, joining in with various party games, drinking, and being merry. Some party boats include lunch, some have foam parties, some have discos … there are many ways to have fun on the water! Hop aboard a pirate boat for a swashbuckling time! There are boat trips to the Green Canyon or along the Manavgat River, island excursions, and multi-day cruises that include a variety of destinations.
4. Sunbathe on Antalya's beaches
There are several pleasant beaches within easy reach of the city centre and they are especially popular in the warmer summer months. Konyaalti is one of the busiest beaches in Antalya, though its long length makes it fairly easy to find a spot of sand away from the crowds. Lara Beach also draws the crowds, boasting fine sands and a good array of activities and amenities close to hand. Cirali Beach has a pebbled shore and a laid-back vibe, while the more off-the-beaten-track bays of Phaselis boast clear waters and a combination of sand, pebbles, and rocks.
5. Wander through Antalya's Old Quarter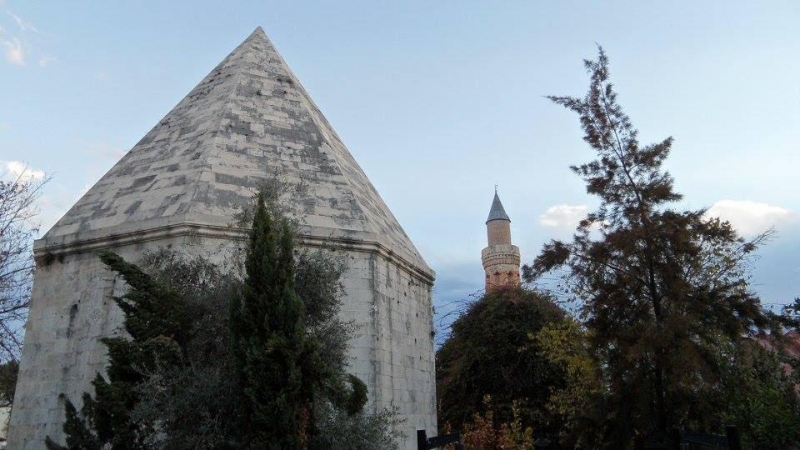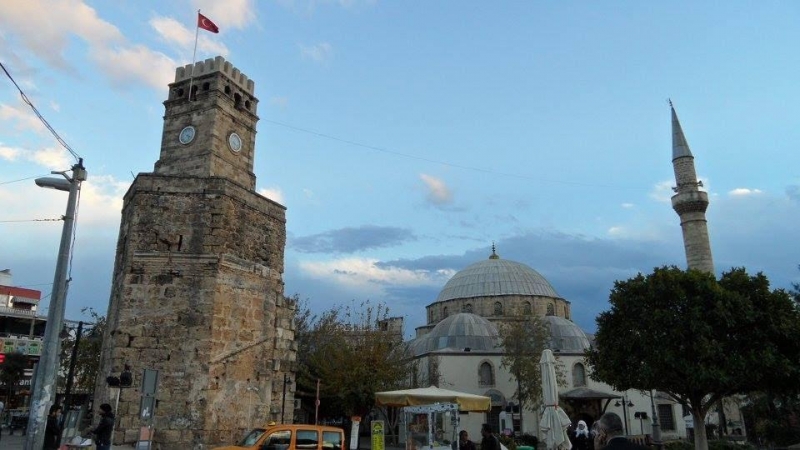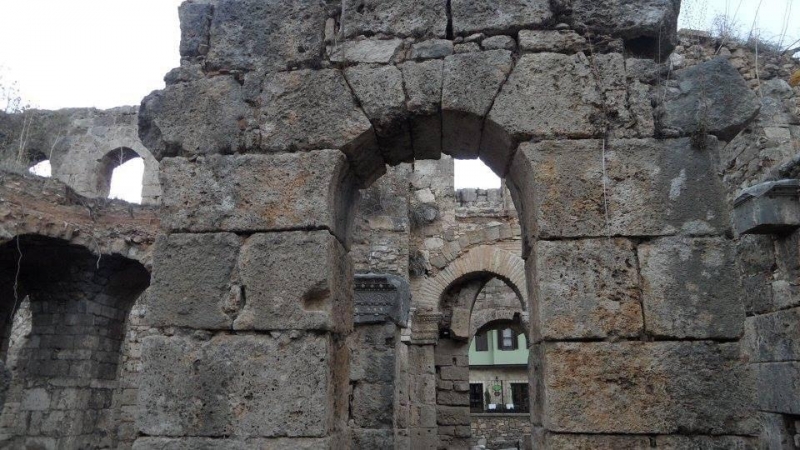 Antalya's atmospheric old quarter of Kaleici sits above the high walls that surround the harbour. Providing terrific views of the harbour and the sea, the quaint streets are filled with old buildings and ruins, many of which were built during the Hellenistic period. There are a number of mosques too; most are only open to Muslim worshippers, though non-Muslims can still admire the architecture from outside. Hadrian's Arch, Hidirlik Tower, Karatay Madrasa, Kesik Minare (the Broken Minaret), and the Yivli Minaret are among the highlights.     
6. Climb the Forty Stairs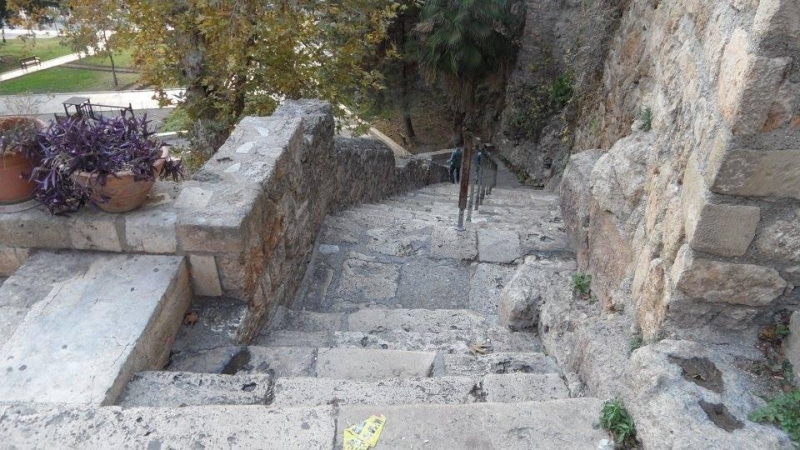 More than simply a convenient way of travelling between the lower harbour and the upper old town, the Forty Stairs have a historic story. Emperor Aleksios of the Byzantine Empire made an agreement to leave Antalya to the Venetians. The Venetians built the steps up and into the high protective wall and there are two vaulted chambers beneath the steps.    
7. Relax with a Turkish bath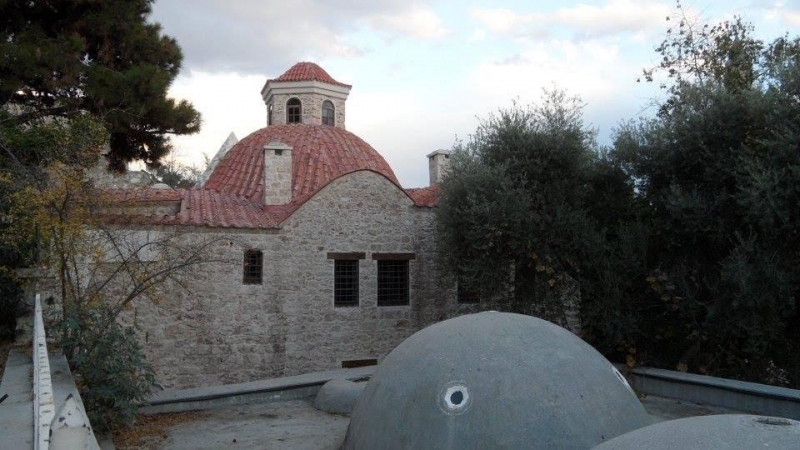 There are a number of Turkish bathhouses in Antalya, some traditional along with more modern spas. Segregated by gender, you can steam away all worries and grime before having an invigorating scrub to make your skin truly glow. If you want a wider range of therapies and treatments, there are fancy spas for the ultimate pampering and bliss.
8. Admire Duden Falls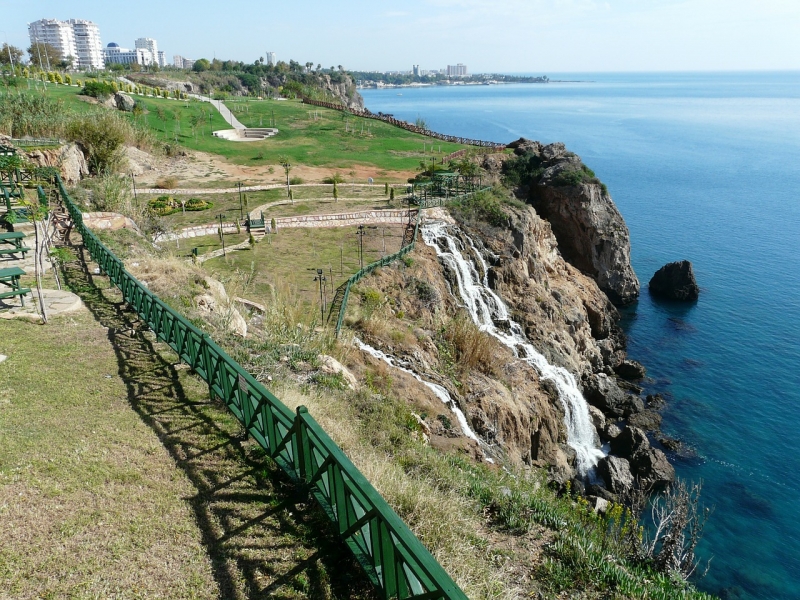 A short way outside of the city centre, Duden Falls is best seen from the sea. Take a boat ride past the falls to fully appreciate the beauty of the water cascading over the top of a high cliff to meet the ocean below. Swimming is possible close to the bottom of the cascades. You can also see the falls from land and follow a number of walking trails through nature.
9. Unwind in Karaalioğlu Park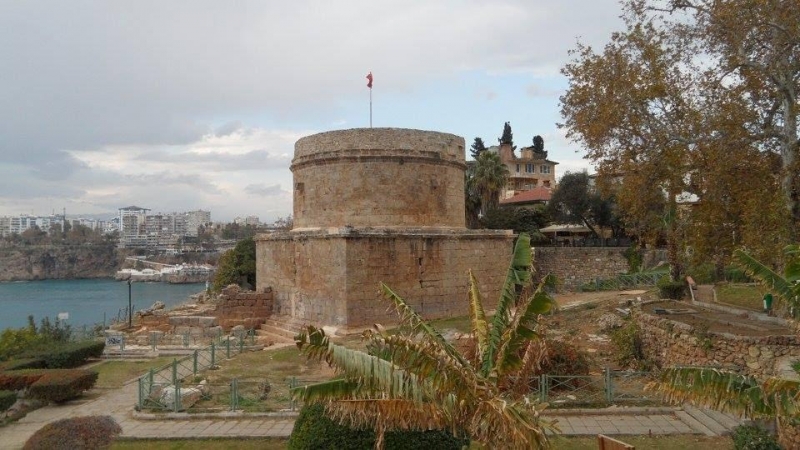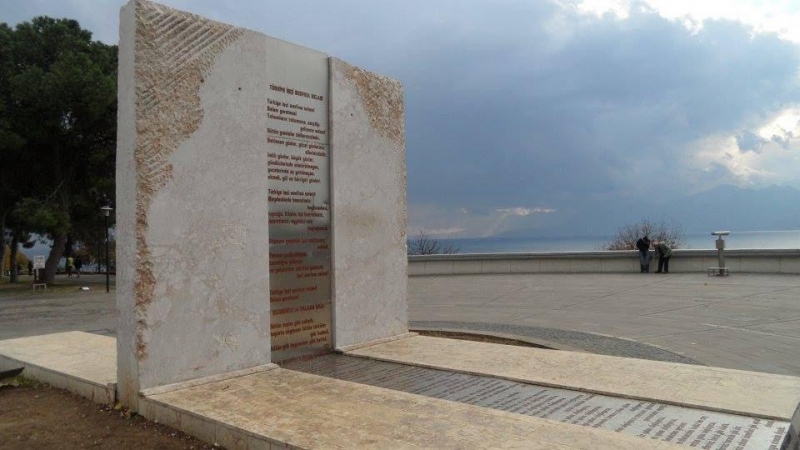 Karaalioğlu Park is a large public space with a diverse range of leisure options. Sitting next to the coast, you can enjoy terrific ocean vistas and stroll along patches of rocky coastline. There are large expanses of grass where you can relax and kids can play, and plenty of trees provide some welcoming shade on a hot summer's day. There are interesting statues, monuments, and fountains, along with colourful flower beds and an ancient Roman tower.
10. Spot interesting statues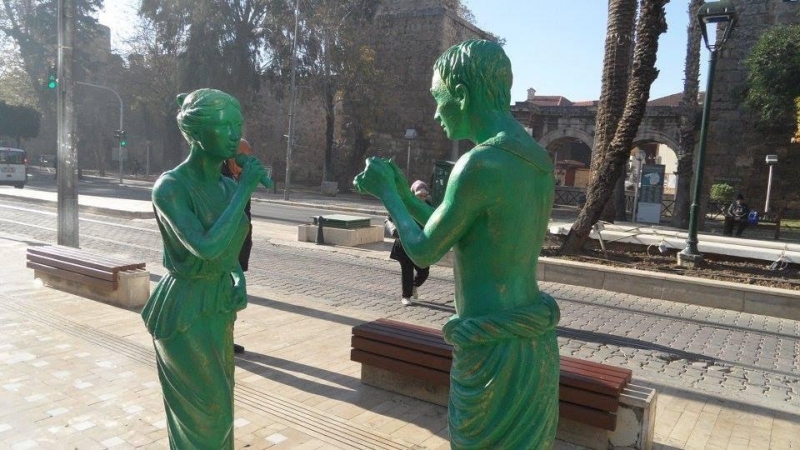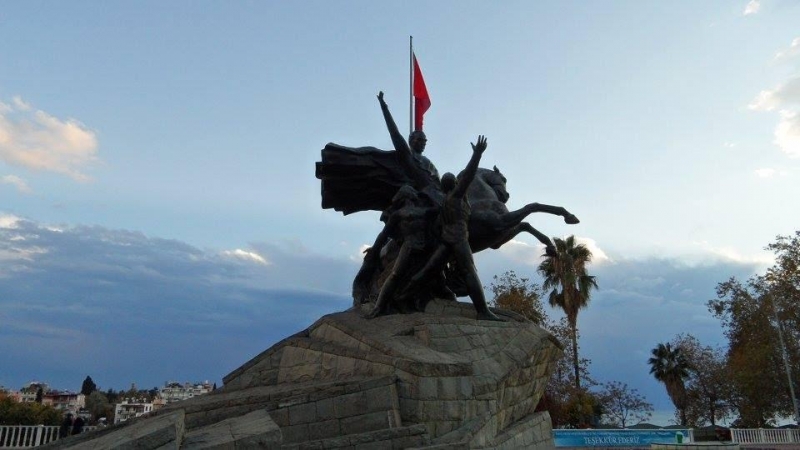 Antalya has a good amount of public art installations, with older monuments and statues found near more modern pieces. You'll come across historical figures, scenes that show traditional life, memorials, contemporary abstract works, and more.
11. Pick up souvenirs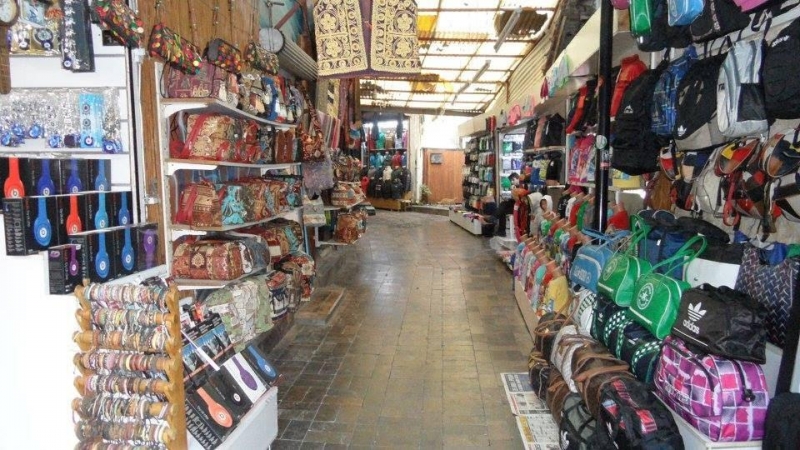 There are plentiful opportunities to shop in Antalya, with a range of stores and markets both big and small. You'll find a typical selection of souvenirs and gifts, such as dainty tea sets, jewellery, bags, and nargile pipes (also known as hookah and shisha pipes). Items featuring the blue and white Turkish eye are generally popular. People with a sweet tooth are sure to be delighted by the many gift boxes of confectionary and sweet treats like Turkish Delight and baklava.      
12. Try local cuisine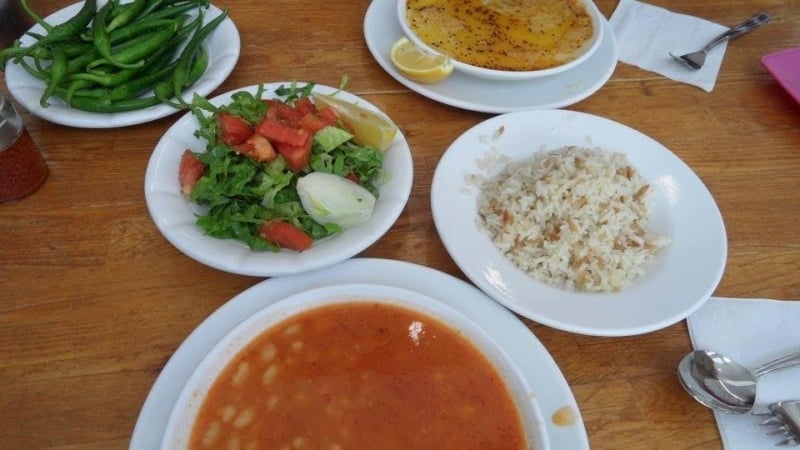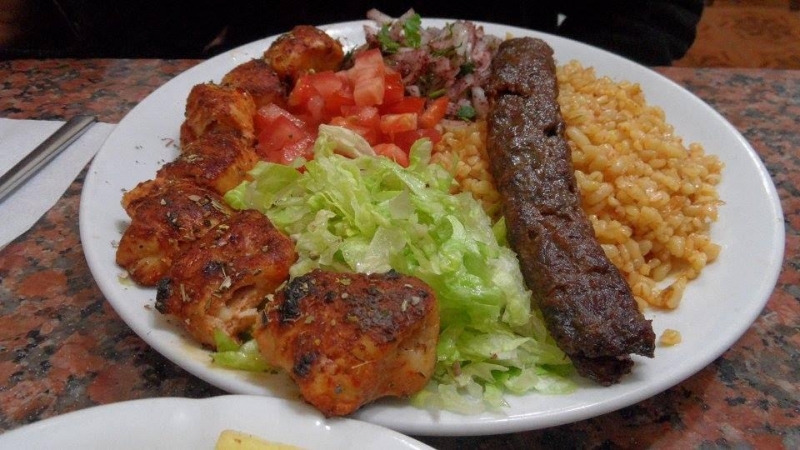 You'll find many places to dine in Antalya, with numerous restaurants offering quick and easy Turkish fast food such as kebab, the cheese-topped bread of pide, dolma (stuffed leaves and peppers), the stuffed pasty of borek, and lahmacun, which is often referred to as Turkish pizza. Many dishes make full use of the delicious ingredients associated with the Mediterranean and, unsurprisingly, there are many fish and seafood meals to tempt you. There are local specialities to try too, including piyaz (or Antalya bean salad), domates civesi (a rice dish with onion, mint, and fried green tomatoes), and sac kuvurma (chunks of lamb or goat fried with peppers, onions, and tomatoes). Feeling more adventurous? Order a bowl of kelle paca corbasi—the soup contains the head and trotters of a sheep or goat.
Other things to do in Antalya
Families can have fun days out at Aqualand water park, Antalya Zoo, and Antalya Aquarium. Ataturk Evi was the official local home the nation's first president and Antalya Museum is a top place to get an overview of Anatolian history. Nature lovers are sure to love the Green Canyon. Antalya has a thriving night scene, particularly at weekends, where you can dance the night away in a disco, chat over a nargile pipe, enjoy a cocktail while gazing at the ocean, listen to live music or chill in a beer garden.