Nothing is quite as magical as a getaway in Cappadocia. An otherworldly landscape dotted with ancient valleys, rolling hills, rocky labyrinths, and the famous fairy chimneys, this sprawling region in Turkey's Central Anatolia is a worthy addition to anyone's bucket list. Hike the sweeping valleys, witness breathtaking sunsets, and drift over the storybook landscape on a hot air balloon. Sounds enchanting, right? 

Locals have long carved caves and homes out of the sandstone rock formations, some available as one-of-a-kind Cappadocia Airbnb rentals for travellers hunting down an authentic stay for their vacation. Others prefer modern accommodations; you'll find these throughout the region, too. From centuries-old cave houses to beautiful stone homes, there's a picture-perfect Airbnb for everyone in beautiful Cappadocia. 
Also read: 7D6N Turkey Itinerary: Istanbul, Cappadocia, and Ankara
Best Cappadocia Airbnb stays for a magical vacay
1. This secluded art house tucked inside ancient caves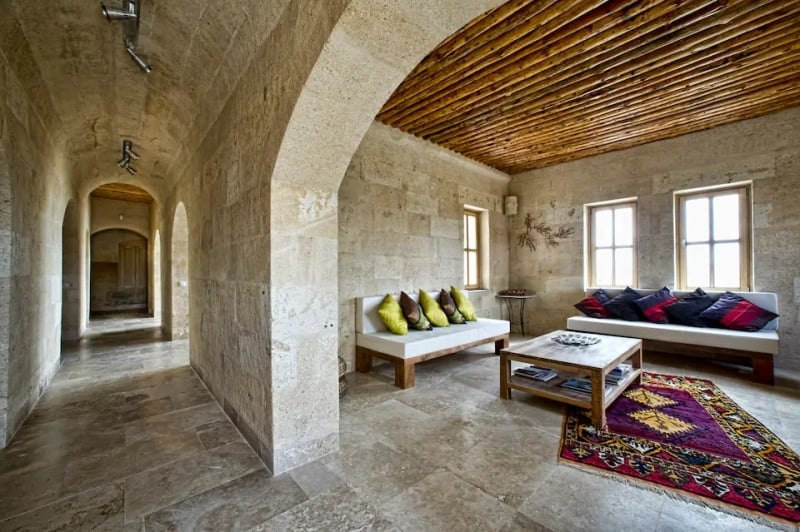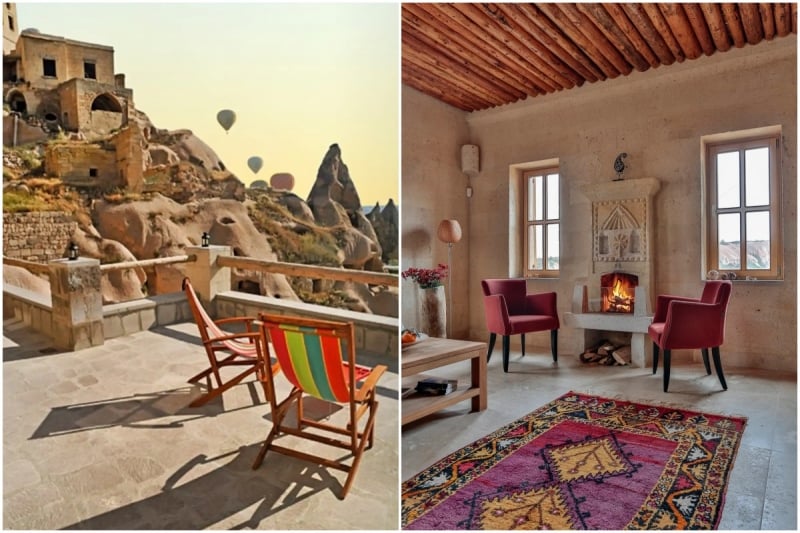 Listing name: ART RESIDENCE CAPPADOCIA
Listing type: Cave
Max. no. of guests: 6
No. of bedrooms: 3
Live like a local in this beautiful cave house in Uchisar surrounded by Cappadocia's idyllic ancient caves. Every corner is beautifully designed, blending luxe modern comforts, old-world architecture, and authentic local flavour. One of the rooms was carved out hundreds of years ago! Still, the views of Mount Erciyes and Pigeon Valley are undoubtedly the highlight of this Cappadocia Airbnb. Truthfully, we could stare at the surreal scenery all day. 
2. This majestic stone estate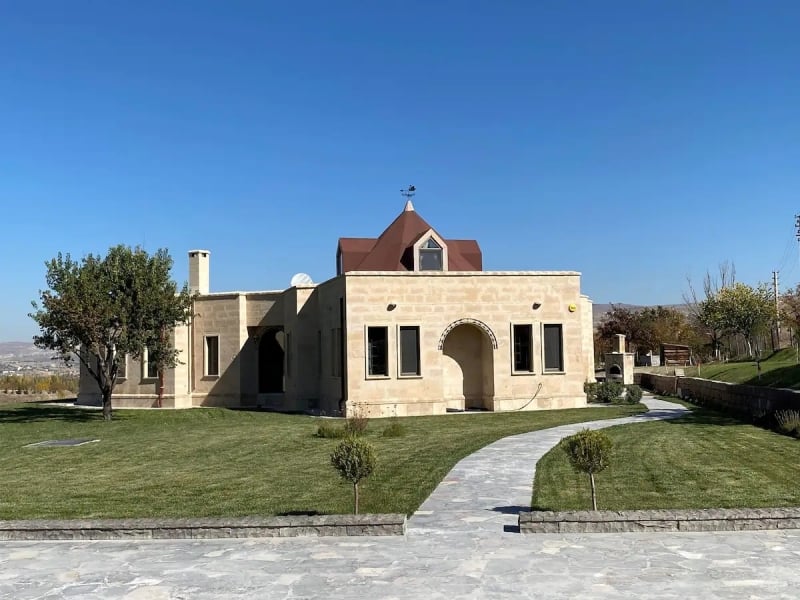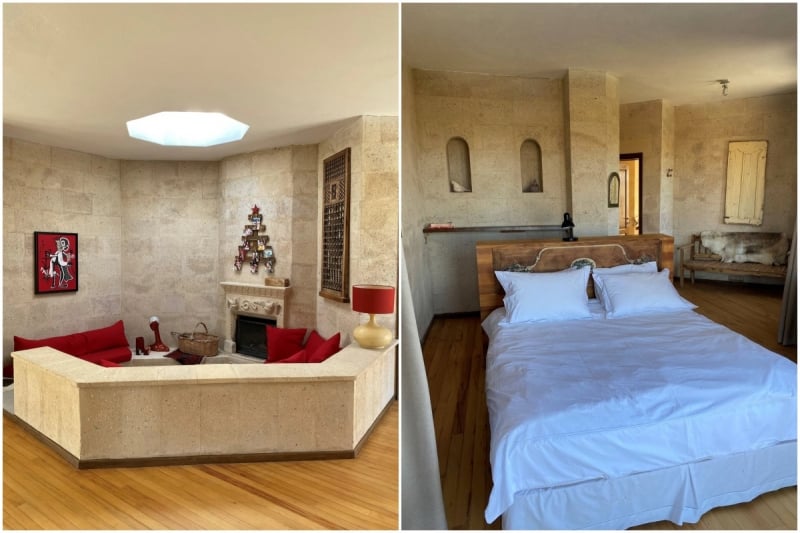 Listing name: Swan House Cappadocia
Listing type: Entire villa
Max. no. of guests: 9
No. of bedrooms: 4
Not your typical Airbnb in Cappadocia, Turkey, right? Nevertheless, the Swan House in the ancient village of Mustafapasa offers one of the best accommodations in the region. The house is thoughtfully designed for comfort and style: every bedroom has its own ensuite; the kitchen is well-stocked with cooking essentials; the cosy living area has a fireplace perfect for chill nights indoors; and there's even a swimming pool for extra-hot summer days! 
TripZilla Tip: Wake up early to watch the hot air balloons float up the sky during sunrise. 
3. This dreamy Cappadocia Airbnb cave house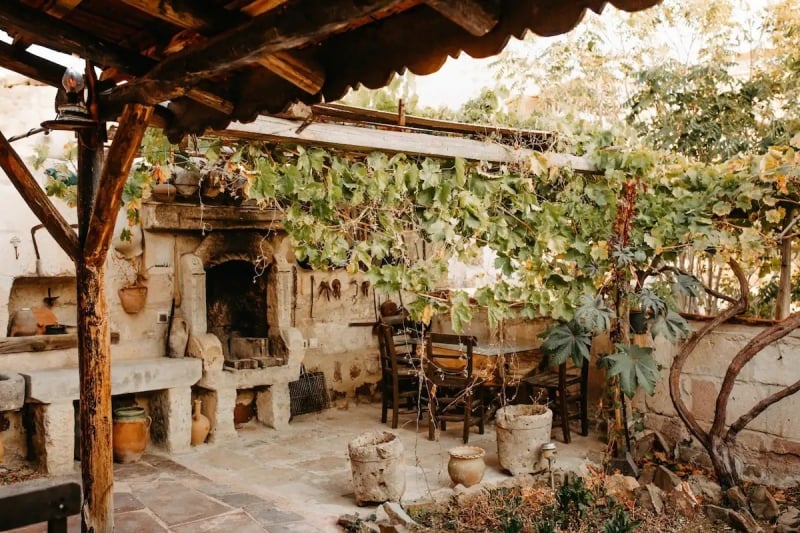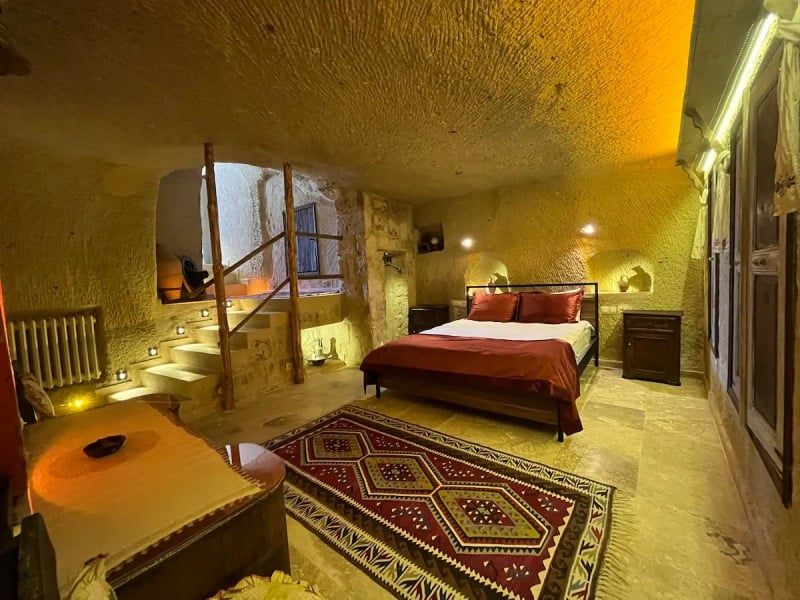 Listing name: Fairy Chimney House
Listing type: Entire home
Max. no. of guests: 10
No. of bedrooms: Studio
The magical "fairy chimneys" define this part of Turkey; the spindly rock formations sprout from the ground like mushrooms, each one oddly shaped and unique. And so, when you're thinking about where to stay in Cappadocia, why not book an actual fairy chimney as your home away from home? 
You'll have plenty of choices throughout the region, but one of the most charming fairy chimney rentals is this 300-year-old original cave house in Ortahisar. The town is famously home to Ortahisar Castle, the tallest fairy chimney in Cappadocia — and amazingly, you can see this magnificent fortress from your Airbnb! Besides the lovely views, the rental features a comfy bedroom, a lush private garden, and an outdoor kitchen.
4. This solar-powered cabin in the heart of nature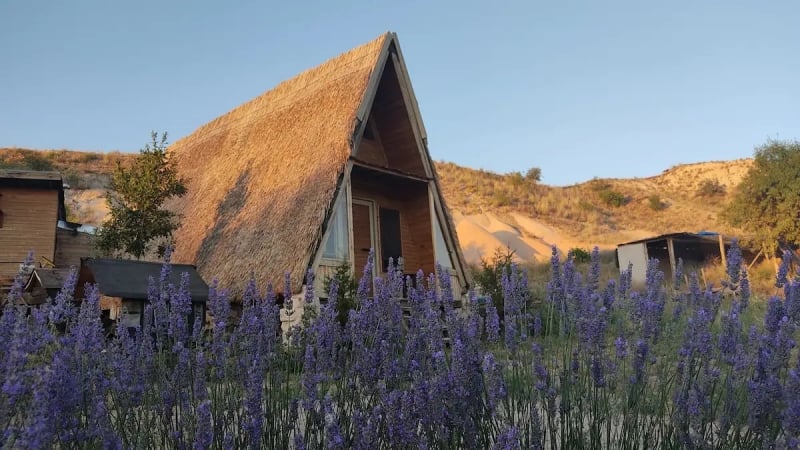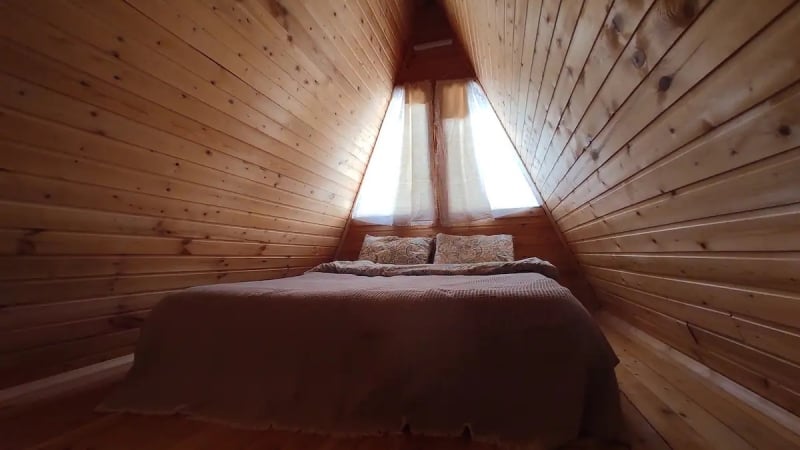 Listing name: Peaceful Valley Chalet – Near the town
Listing type: Entire bungalow
Max. no. of guests: 4
No. of bedrooms: 2
A tranquil spot on the outskirts of Ortahisar, this charming A-frame chalet is a cosy escape right in the middle of the captivating landscape. It's the ideal Cappadocia Airbnb for travellers eager to spend time in nature. 
Previous guests hail the scenic surroundings, saying that the patio and backyard offer the perfect front-row seat to sunrises, sunsets, and hot air balloons in the sky. Dogs, ducks, and peacocks roam outside — a delightful sight for kids and adults, alike! Inside, everything is pristine and well-appointed. 
5. This gorgeous Cappadocia Airbnb overlooking fairy chimneys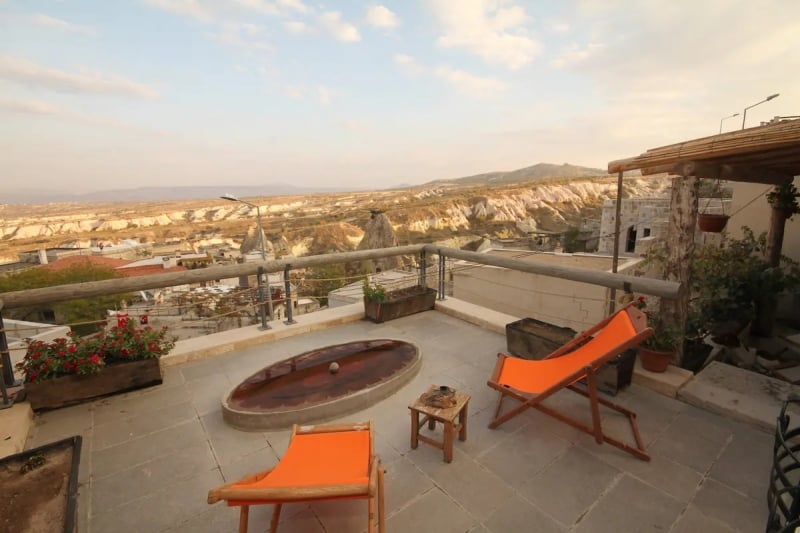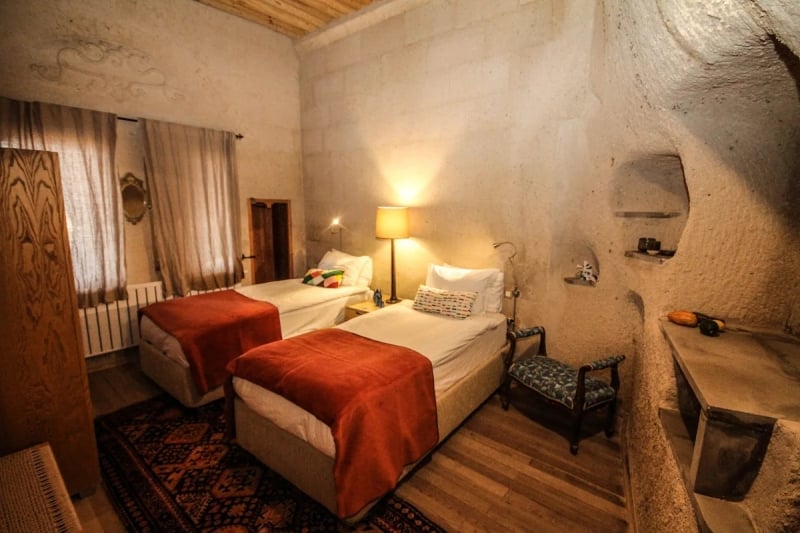 Listing name: Badem House
Listing type: Entire home
Max. no. of guests: 4
No. of bedrooms: 2
An Airbnb in Cappadocia, Turkey with the best views? Check. Travellers will find themselves completely mesmerised by sweeping vistas of fairy chimneys and mountains from the balcony of this picturesque cave house. Plus, the home is also appointed with excellent amenities, including two fireplaces, modern bathrooms, and a dining area on the balcony with a barbecue.
Additionally, the house is very accessible. Although this Cappadocia Airbnb is in a quiet corner of Uchisar, you'll only have to walk a few minutes to enjoy the restaurants and cafes in the town centre. No wonder previous guests gave it rave reviews!
6. This space in a Goreme cave hotel for luxury travellers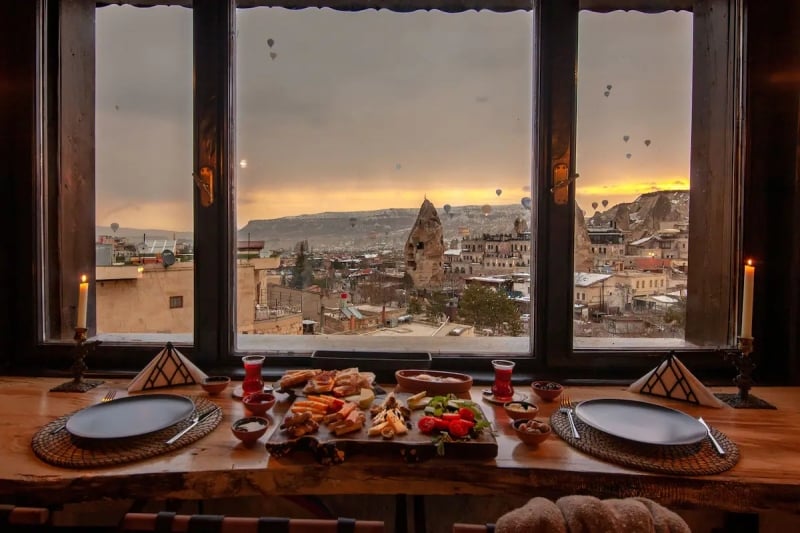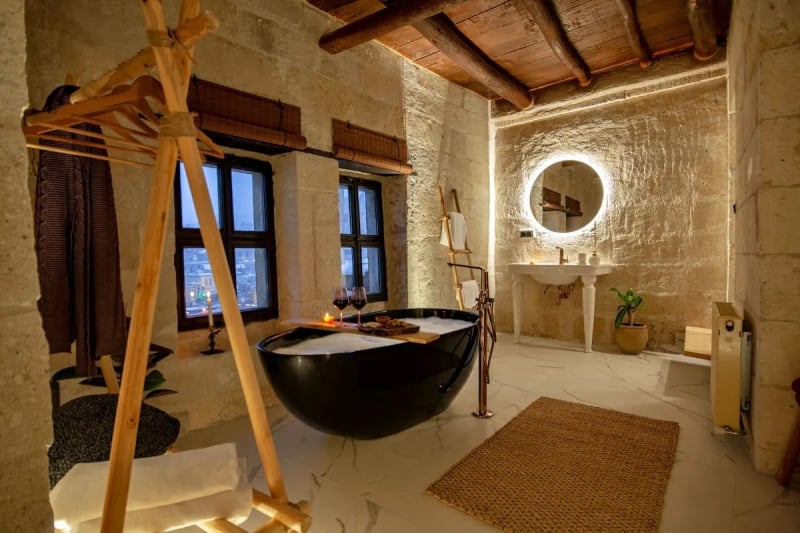 Listing name: Sato Cave Hotel- Delux Stone Room With View
Listing type: Boutique hotel
Max. no. of guests: 2
No. of bedrooms: 1
Yes, ancient caves can be deluxe, too. A good example is this boutique hotel in Goreme offering beautiful rooms appointed with luxury touches. Our favourite feature? Definitely the tub. Bubble baths with a glass of wine and swoon-worthy views sound like the best night in, if you ask us! 
While eating a hearty Turkish breakfast on the shared terrace, sit in awe of the picture-perfect hot air balloons rising over the valley. Plus, previous guests say everything in this Cappadocia town is a short walk away from this Airbnb in Goreme.
7. This cosy suite in an old stone house for solo travellers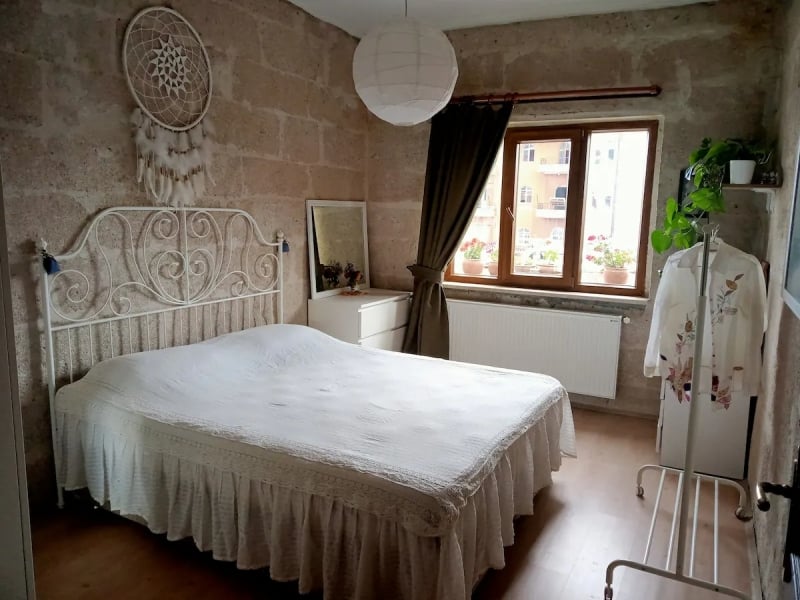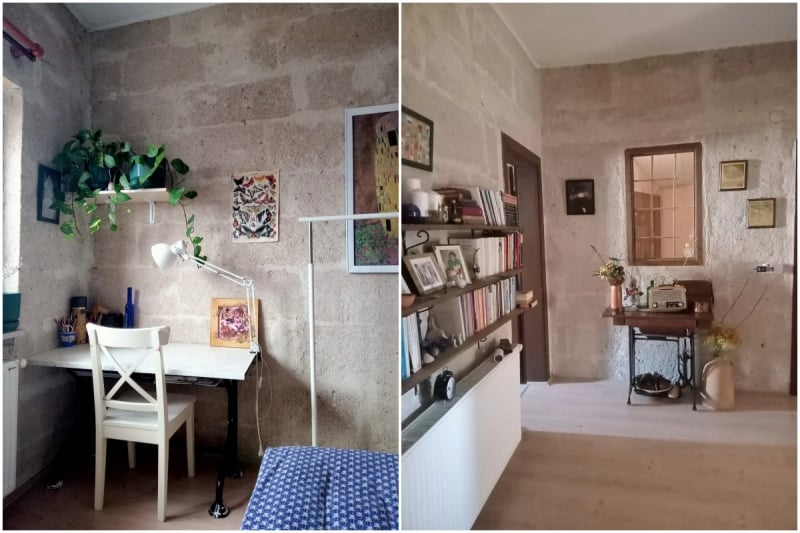 Listing name: Your Friend's Home / Old Stone Hause
Listing type: Room in a rental unit
Max. no. of guests: 1
No. of bedrooms: 1
Exploring Turkey on your own? Then, this dreamy bedroom in a stone house may be an excellent fit. Common spaces and the bathroom are shared between you, Airbnb Host Özlem, and her roommate, but you'll enjoy privacy inside your lovely room. Pretty interiors fill the space, while a desk offers a quiet workspace for digital nomads. Located in the quiet town of Avanos, this Cappadocia Airbnb is only a bus ride away from touristy Goreme.
8. This contemporary flat for groups on a budget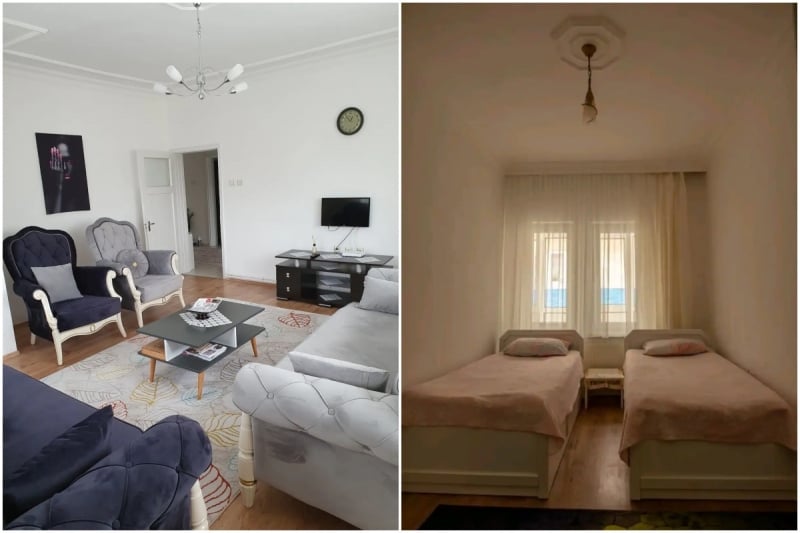 Listing name: White House
Listing type: Entire rental unit
Max. no. of guests: 6
No. of bedrooms: 3
Travellers looking for an Airbnb in Cappadocia for a more modern experience in Turkey can book this sprawling apartment in Urgup. Designed for total comfort and convenience, it comes equipped with modern comforts, such as a heater, a full kitchen, a television, a washing machine, and free WiFi. Not to mention, this is one of the best wallet-friendly Airbnbs in Cappadocia! Amazingly, it only costs a fraction of other rentals in the region. 
The house is well-positioned, too. It's about 15 minutes from the town centre on foot, but there's also a mini-market right in front for quick purchases. 
9. This serene abode with breathtaking views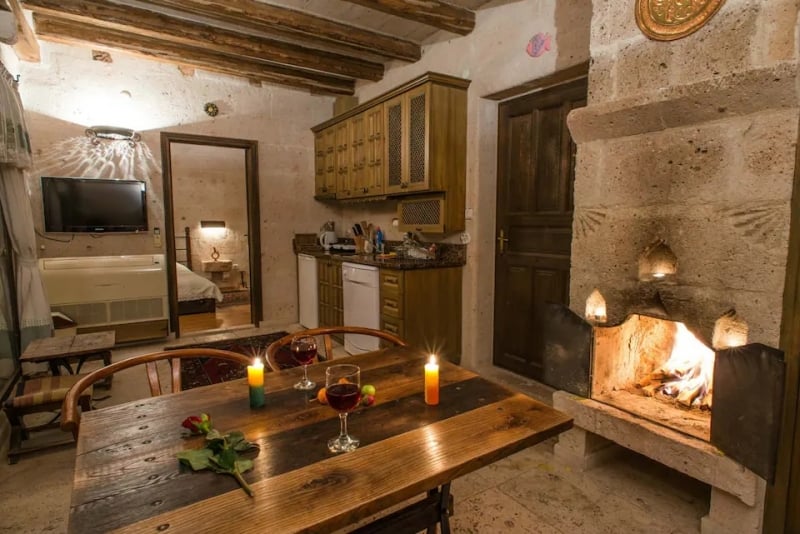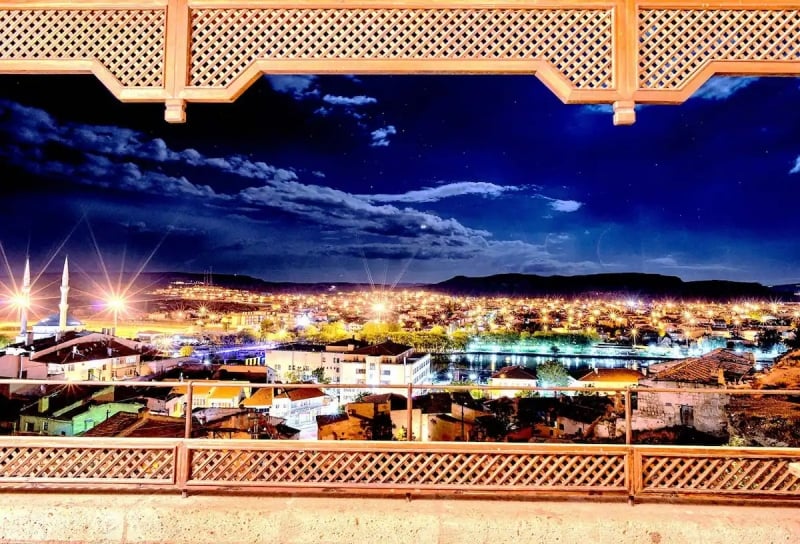 Listing name: Kurnished Stone House with Private Terrace and Fireplace View
Listing type: Entire home
Max. no. of guests: 4
No. of bedrooms: 1
Every night, come home to a tranquil space in this delightful stone house. It's a hidden gem in Avanos; the owners painstakingly designed the home, and many of the materials you'll find inside were handmade by local artisans. In other words, this Cappadocia Airbnb is one-of-a-kind. 
Plus, we can't imagine a more Instagrammable place to rest at the end of the day! Sit back, prop up your feet, and relax on the terrace; the views will make you want to never leave this spot. 
10. This enchanting Airbnb room in the heart of Goreme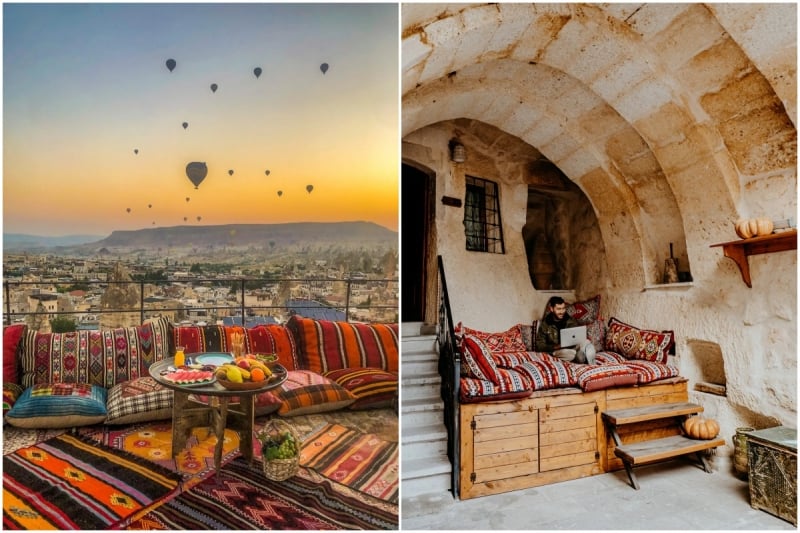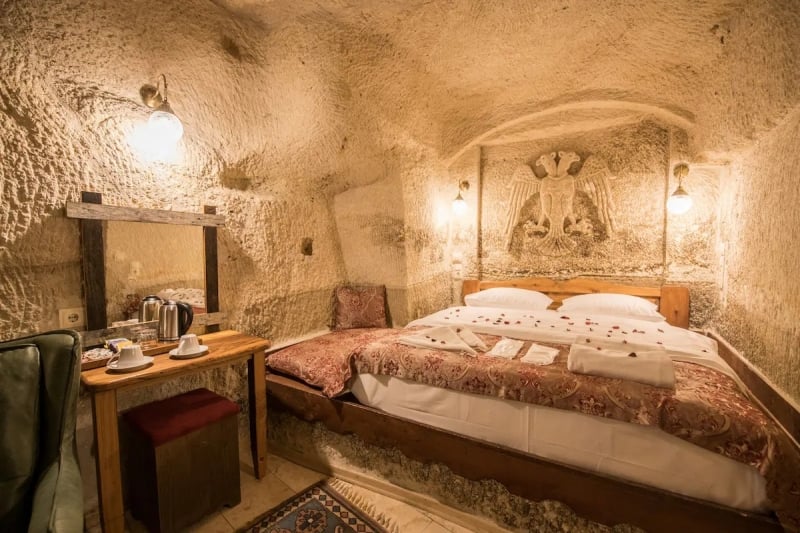 Listing name: Charming Cave Hotel
Listing type: Place to stay in a bed and breakfast
Max. no. of guests: 2
No. of bedrooms: Studio
It's probably impossible to name the best Airbnb in Cappadocia, but this family-run boutique hotel in Goreme is certainly in the running. Dubbed the Charming Cave Hotel, it lives up to its name. It's far too easy to love the exquisite interiors, thoughtful hosts, and the breakfast spread that previous guests can't stop raving about. And that sunrise view? No words. The panoramas alone are worth the flight to Turkey!
Also read: 8 Airbnb Listings in Istanbul Where East Meets West
As you can see, there's no need to stress over where to stay in Cappadocia. Make that bucket-list vacation happen ASAP! It's time to book your flight to Turkey and your Cappadocia Airbnb for a dream getaway we're sure you deserve.
Got a property you'd like TripZilla to feature? Inquire with us here.
---
This article contains affiliate links. When you book through these links, we may earn a small commission at no additional cost to you. All images courtesy of the respective property listings.