Feeling all sentimental writing this leg of my adventure because for many who know me personally, Turkey has always been a country I've wanted to visit. Many ask what exactly do I see in Turkey and I can't really tell you straight why I love Turkey so much but I hope this blog post will somehow show you why. It is not just about the culture, food, people. It is something deeper, something I don't know how to put it into words. Of course, many thanks to Huiming for planning this trip together with me. 🙂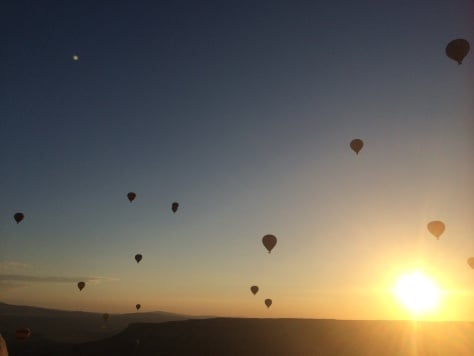 For Turkey, it is very important for you to plan your route well because Turkey is really huge and travelling from one city to another can take up to 10 hours. For us, we decided to take a round trip from Istanbul > Cappodocia > Denizli (day trip)> Izmir > Istanbul.
1. Getting the right ticket
a. Flight
We caught a flight from Athens to Istanbul via Pegasus Airline. The flight costs around 97 EUR (SGD 173) and is cheaper to book in advance. We also booked domestic flights (Istanbul > Kayseri (Cappodocia) & Izmir > Istanbul) because we had so limited time in Turkey and travelling via plane would cut down on our travelling time. Domestic flights are really affordable. Flying from Istanbul to Kayseri (Cappodocia) costs around SGD 60 and from Izmir to Istanbul costs around SGD 53. So book early because it can be even cheaper! In particular, I liked how Pegasus Airline provided us 20kg check-in luggage for free! That aside, I like how it flies to many places at affordable prices.
b. Bus
Within Turkey, it is best to take bus from one city to another. Internal city bus agencies are everywhere in any cities of Turkey eg. Metro, Pamukkale etc. So you don't have to pre-book the ticket online. You can just head into any bus agency to book your ticket. Booking it one day in advance would be advisable to avoid undesirable time slots/seats. We took a 10 hours bus ride from Cappodocia to Denizli (55TL = SGD32) and a 3 hour bus ride from Denizli to Izmir (23TL = SGD13) via Metro (bus company name). It is important to choose your seat wisely. We chose the last row and ended up having not enough leg space and having to cross our legs to sleep fml. For the best seats, choose the front row seats! Most buses will have wifi but connection is weak and there will be a coffee boy on the bus to serve you coffee and tea.
Remember to buy some snacks and water too. It is a 10 hours ride guys. I think one of the most important things to take note while travelling is to always keep hydrated. Even for someone like me who doesn't drink a lot of water, I really forced myself to drink up because of the changing environment that we were experiencing and the last thing you want in the trip is to fall sick.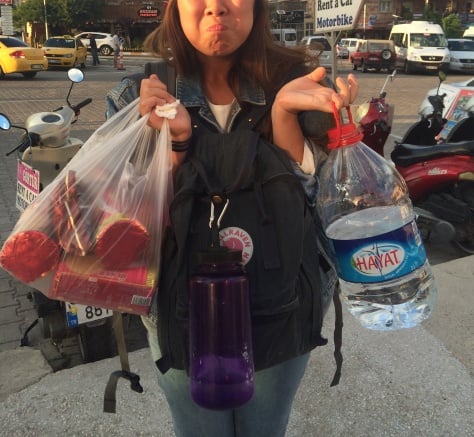 2. Getting a shelter
As usual, we airbnb-ed in Turkey too. One very important thing is to check the location and reviews. If you are in Istanbul, it will be best if you stay near Taksim Square which is often called the heart of Istanbul. You can hop on the shuttle bus called Havatas just outside the airport (both Atatürk Airport (IST), Sabiha Gökçen Airport have this shuttle) for 13TL and it brings you right to Taksim. So similarly you can board the shuttle back to the airport. As for Cappodocia, it will be best if you stay near Goreme (the main town in Cappodocia). It is really convenient because the coach terminal is here so you can board your coach to the next city easily. We stayed in this cave hotel and from the window, you can see the hot air balloon rising every dawn. It will be good to stay around Alsancak, the main street in Izmir. Accomodation costs us SGD 181 for the 6 nights here.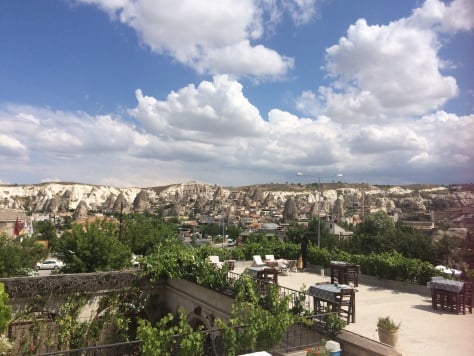 3. Getting around
Getting around in Istanbul isn't much of a problem because it's a city. Easy to navigate also by foot too. We basically walked around Istanbul because walking is the best way to explore. There are trams and buses and metro around. But we felt that we can save on that because all the attractions are considerably near to each other/concentrated in one cluster. Walking in Istanbul really requires tons of energy and a pair of good walking shoes because this city is basically built on slope with significant gradient. (REALLY SUPER STEEP) So forget about heels/shoes that give you blisters because they are not practical at all.
And because it is a city, Istanbul is very commercialized. There are bound to be shop-owners pushing for sale/tour packages, random strangers going to extent of approaching you and inviting you for tea (you know they are up to no good) and also to the extent of pestering/pulling you into their shop. Just ignore them and walk on. And for Asians like us, they like to play the guessing-where-you-are-from game. So just let them guess and tell them you are from Singapore and not China. Remember to haggle down the price because they tend to jack up the price by quite a bit.
We rented a car in Goreme because without a car, you are basically crippled because to explore in Cappodocia one doesn't simply walk as the area is too big. Besides that, there are no buses and metro around (it is not a city fyi). Sure, there are tour agencies around but we felt that renting a car would be more exciting because we can go where we want go and be really flexible about the time.
The price range here is much more expensive than in Istanbul because of the demand-supply theory. The main town is basically set up just to cater for tourism and like what our host said, many of the locals do not live here anymore. There is only one grocery shop in that town so know what to expect.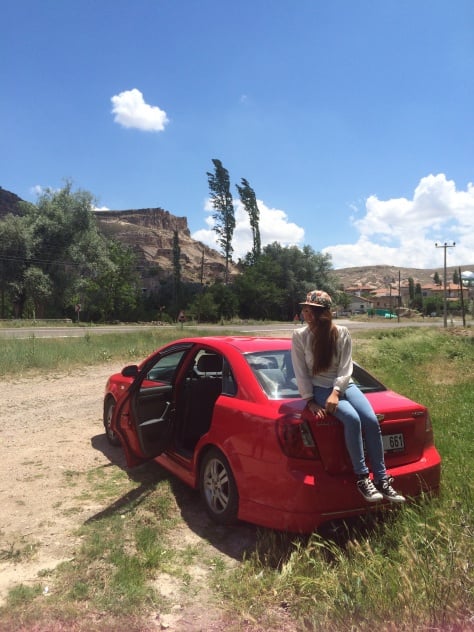 a. Where to go / what to do in Istanbul
Istanbul (Ancient Constantinople) is an amazing city. It was used to be the capital city of Roman, Latin, Byzantine and Ottoman empire, used to be one of the wealthiest and largest city in Europe so can you imagine how rich its culture and heritage are?
Galata Bridge
The bridge that spans across the Golden Horn in Istanbul. Golden Horn is the major urban waterway that separates the historic centre of Istanbul from the rest of the city, and forms a natural, sheltered harbour that as historically protected Greek, Roman, Byzantine, Ottoman and other maritime trade ships for thousands of years.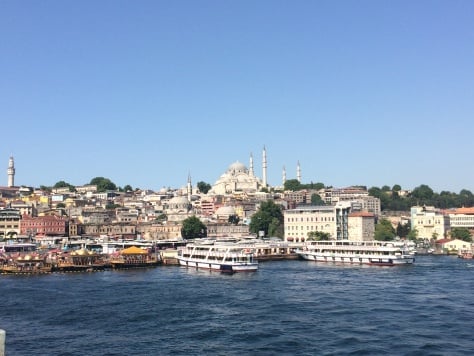 Hagia Sophia
Even if you are not a history junkie like me, it's still a must to go here because you will never see such an architectural masterpiece like this elsewhere in the world. Admission fee of TL30 (approx. SGD17). Basically this place served as an Eastern Orthodox cathedral then converted to a Roman Catholic cathedral under the Latin Empire then converted again to a mosque. It was then secularized and opened as a museum now. So traces of Christianity and Islam can be found everywhere here.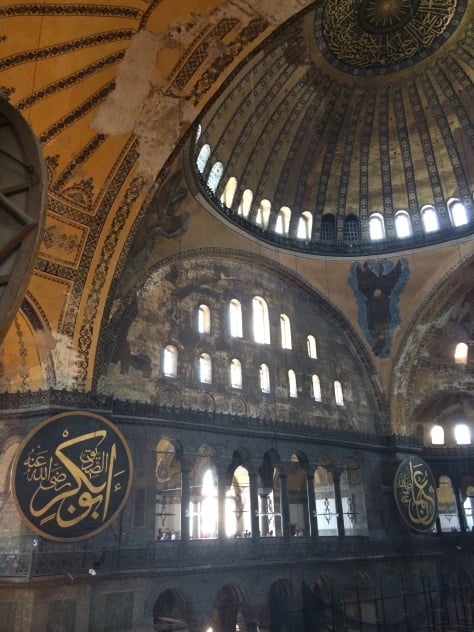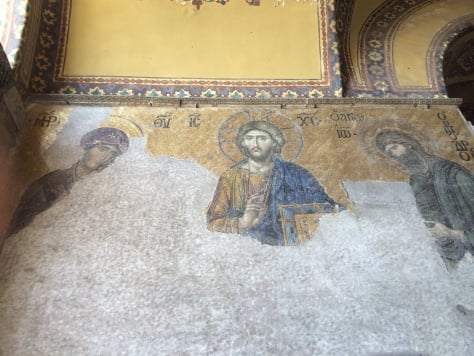 Also read: Hagia Sophia: Iconic Structure Where Christianity Meets Islam
Blue Mosque (Sultan Ahmed Mosque)
Right opposite to Hagia Sophia. There are 6 minarets that can be spotted from afar. Built by Sultan Ahmed to reassert Ottoman empire, this is again one of the most impressive mosques I have ever seen. Remember to observe some basic rules like wearing appropriately. Removing of foot wears and wearing of hair scarf are necessary. You will have to wear a sarong when you are wearing shorts. Sometimes the mosque is closed for prayer so the best time to go is at 3pm. Admission is free.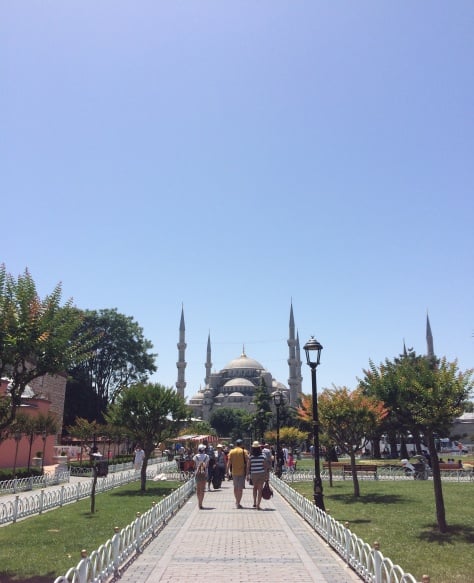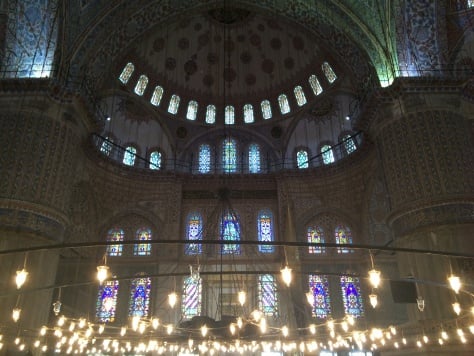 New Mosque (Yeni Mosque)
It is situated on the Golden Horn, at the southern end of the Galata Bridge, and is one of the famous architectural landmarks of Istanbul.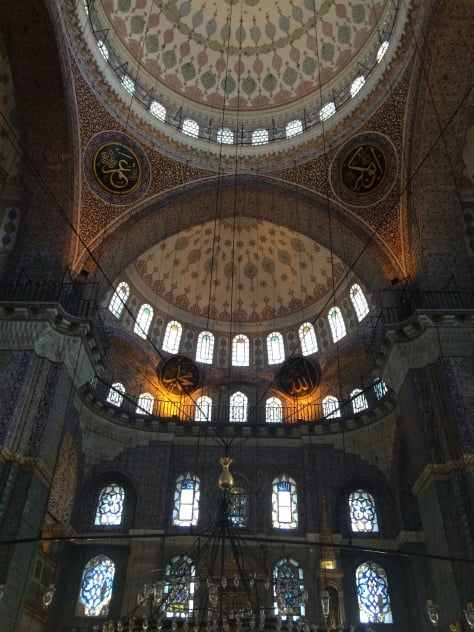 Grand Bazaar
The Grand Bazaar is one of the largest covered markets in the world with 60 streets and 5,000 shops. It is insanely large. Please take note of all the tips I provided previously. Brace yourself because it is super applicable to this place. Huiming and I had a time of our life entertaining all the shop owners that thought we were from China and dealing with pesters etc.
Also read: What Can I Buy With SGD 1 In Turkey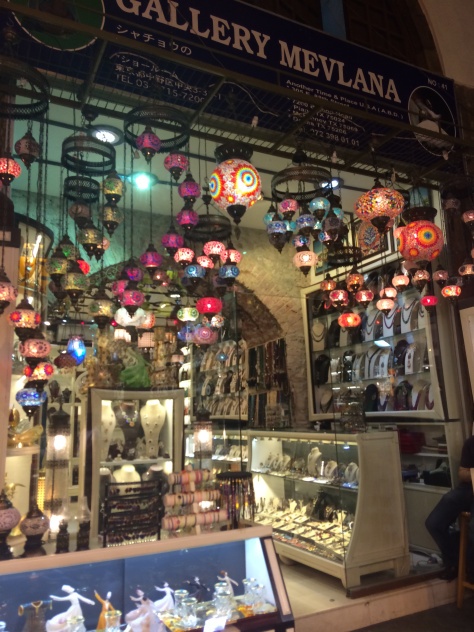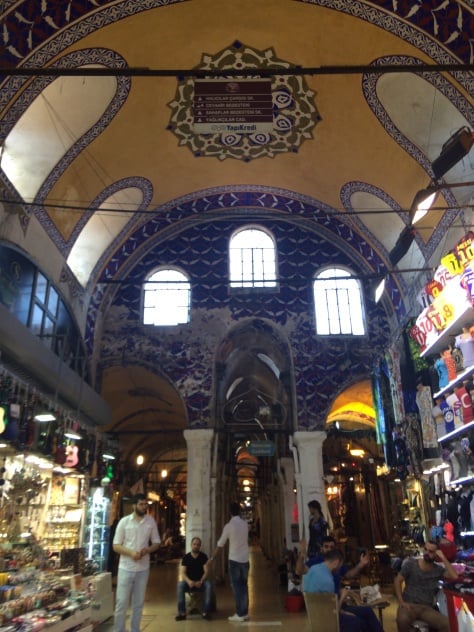 Spice bazaar
Not the same as Grand Bazaar. It is nearer to the New Mosque which is closer to the Galata Bridge. It is also known as the Egyptian market which sells mainly spices.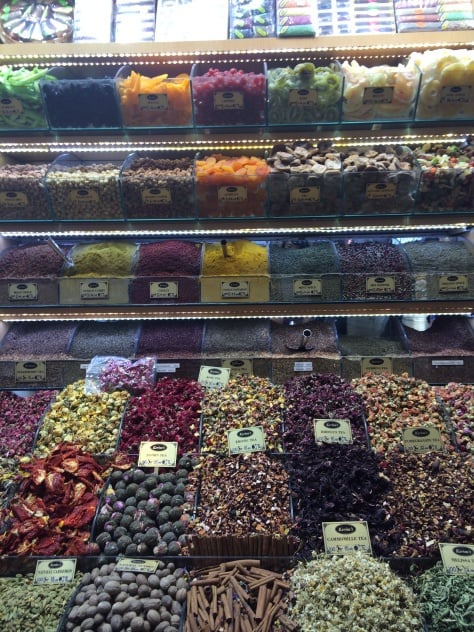 Taksim Square and Beyoglu/Istiklal Street
The heart of Istanbul. It is the city centre of Istanbul, something like the Siam area in BKK just that it is 10 times bigger. It is literally a city that doesn't sleep. Shops are still open at night with pubs, eatery, cafes, shops along the street. It is also the major shopping district in Istanbul.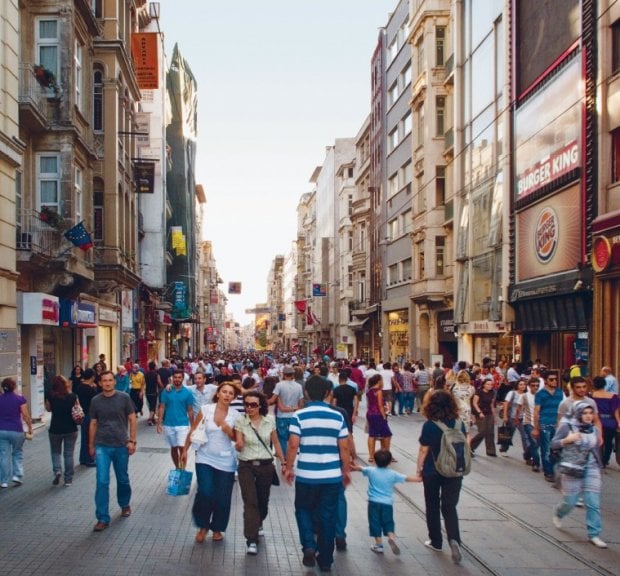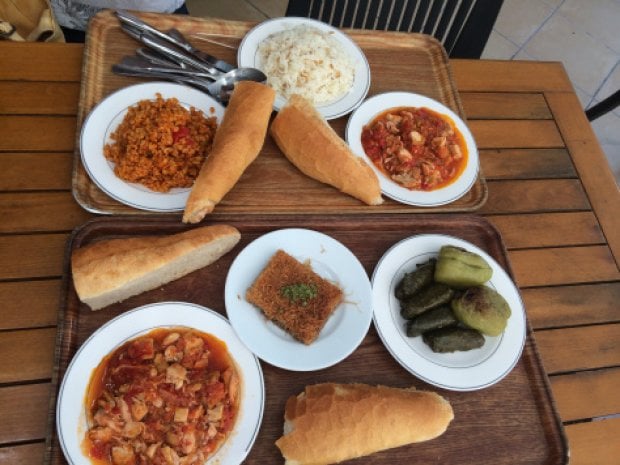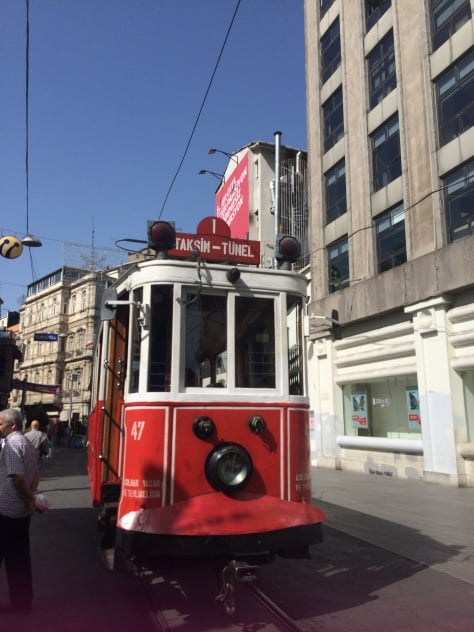 Topkapi Palace
Where all the sultans of Ottoman empire stayed. It also contains important holy relics of the Muslim world.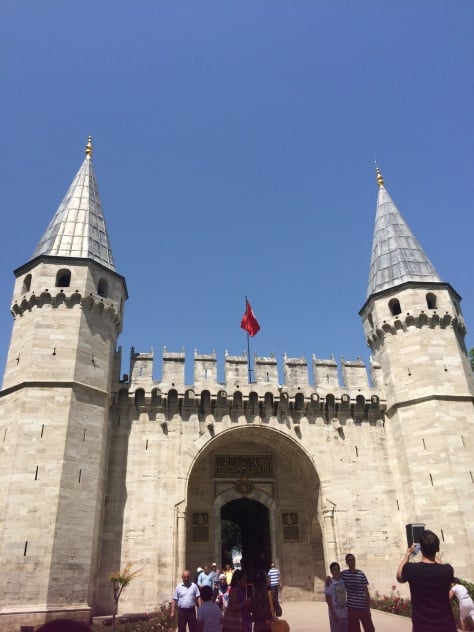 b. Where to go / what to do in Cappodocia
Take a hot air balloon over Cappodocia
Highlight of my entire trip! Cappodocia is a historical region, famous for its cave, rocks and valleys. It is just so beautiful and to able to fly over it is so surreal. Especially when you witness the amazing sunrise from many feet above ground level, the world just feels right in place. I know it might be exaggerating to some but this is exactly how I feel because I always wanted to sit in the hot air balloon that even my wallpaper is the hot air balloon that I Googled and it's something like a wish come true for me. I always suspect that the photos in Google are photoshopped but omg it is really that beautiful.
We contacted the hot air balloon company via our host in Cappodocia and he did all the necessary arrangement for us even when our flight was delayed for 4 hours which caused us to miss the supposed date of flying. The payment (EUR 165 / SGD 265) is paid directly to the air balloon company on the date of flying so no transaction between the host and us. The flying is subjected to weather conditions and it is the best to fly in summer time. It is definitely safe if you listen to instructions given by your pilot. Yes it is certainly pricey but it's a lifetime experience so go for it!
After flying, we had a ceremony to celebrate our successful flight and all of us are given a certificate to say that we have officially flew over Cappodocia. We were also literally carried by the crew and thrown into the fluffy balloon when we were in the midst of packing the balloon into the basket.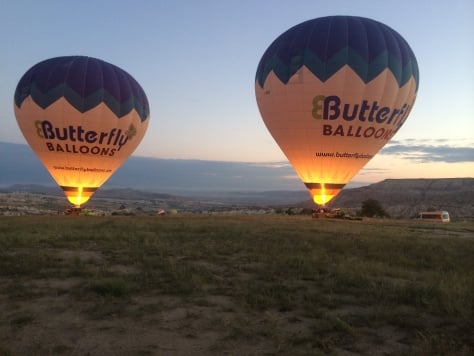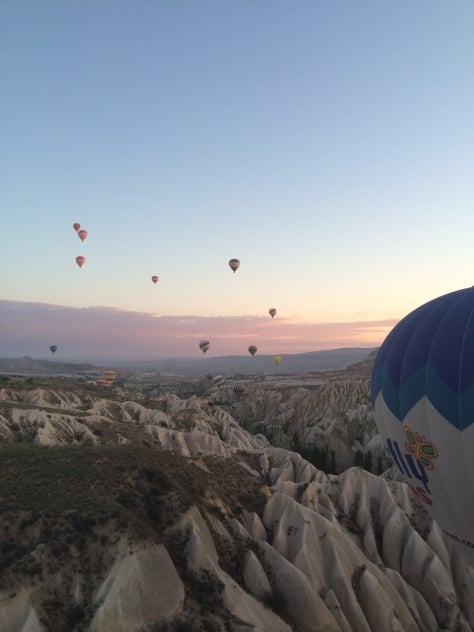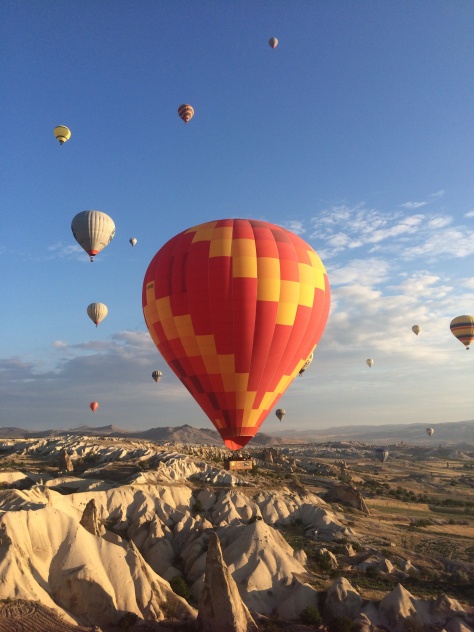 Road tripping to other towns
We rented a car (TL 170 / SGD 98) for this and drove our way to Urgup, Ihlara, Selime, Avanos and Zelve to see all the different kinds of rock formations and then chased the sunset in Rose Valley. There were mats for us to see and wait for the sunset! Some of the rocks in Cappadocia had eroded into hundreds of spectacular pillars and minaret-like forms which we called mushrooms. Villagers carved out houses, churches and monasteries from the soft rocks of volcanic deposits. Don't assume the cave is hot, it was surprisingly cooling and well-ventilating. Kudos to sciences and wisdom of ancient people.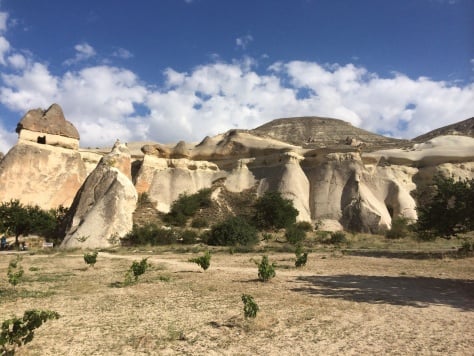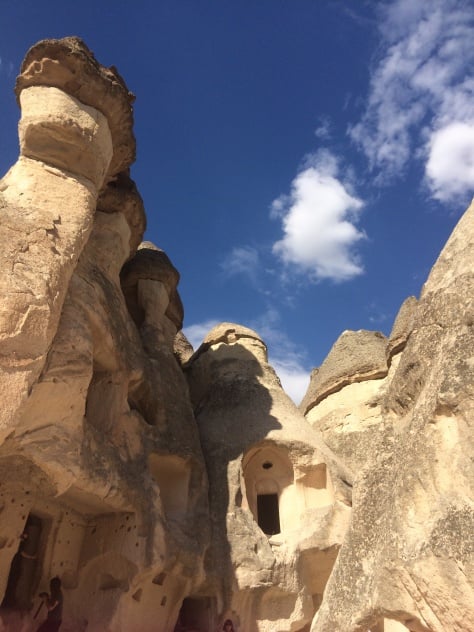 Shopping at Goreme (Main town)
Super tourist area. Places to get water, rent a car, book coaches, eat etc.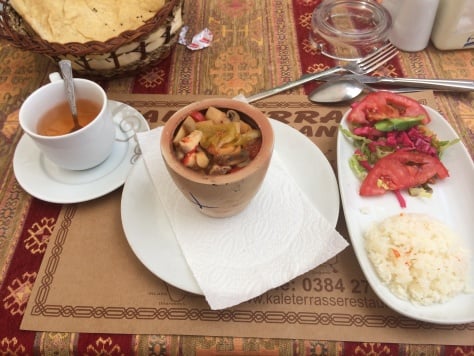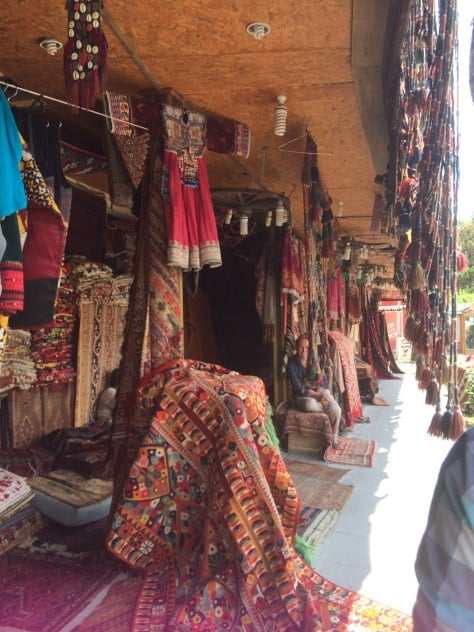 c. Where to go / what to do in Denizli
We took a 10 hour bus ride from Cappodocia to Denizli and only stayed there for 3 hours before taking a 3 hours bus ride to Izmir just for Pamukkale. Yes that was how worthy Pamukkale is. The main attraction in Denizli is just Pamukkale and many visitors came here just for this. Recommended for a day trip.
Pamukkale
Pamukkale – Literal meaning of cotton castle in Turkish, is a natural site. It contains hot springs and travertines, terraces of carbonate minerals left by the flowing water. The ancient Roman and Byzantine city of Hierapolis was built on top of these white "castle". Admission fee of TL 30 (approx. SGD 17). No shoes allowed so it's best to wear slippers that day.
Also read: Hot Spring Paradise Found in Pamukkale, Turkey!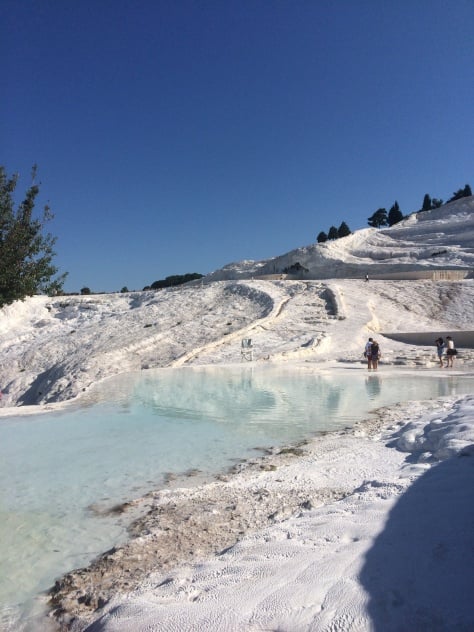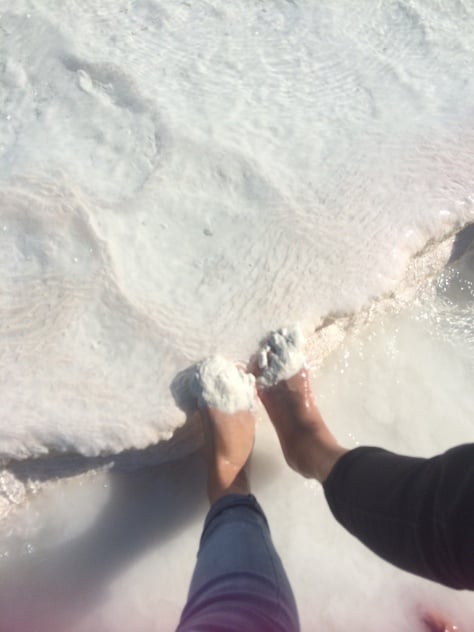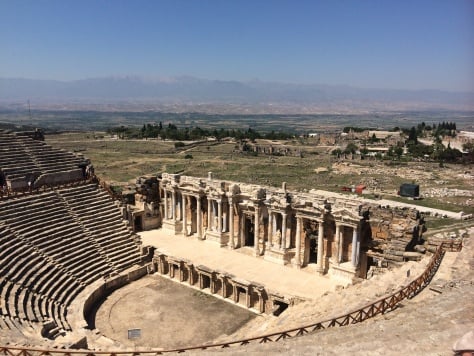 d. Where to go / what to do in Izmir
We went to Izmir just for Ephesus. It is really important to plan your route in Turkey well because the attractions are all scattered everywhere. As we stayed one night in Izmir, we had the opportunity to explore the city centre of Izmir (Alsancuk). Izmir is a cosmopolitan city with metros, shopping centres and high rise buildings everywhere. Izmir harbour is nearby too.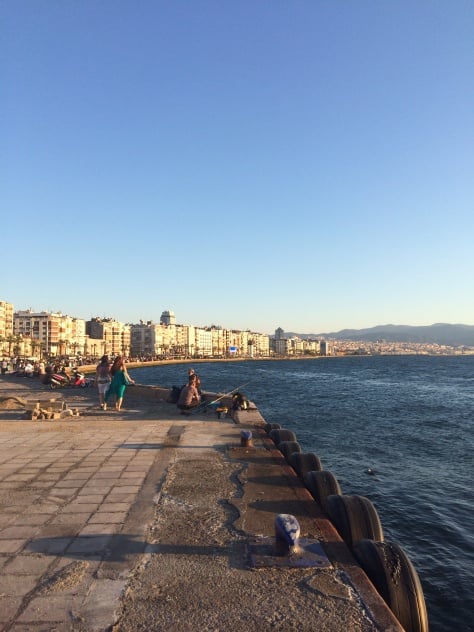 Ephesus
Ephesus –  an ancient Greek city. So basically ruins but it was impressive because of the large scale. Imagine all the ancient live here. It was scorching hot and flooded with tourists. So tag along with some tour group and listen to free explanations. To go to Ephesus from Izmir, you will have to board a train at Basmane Station to Selcuk. (TL 6 / SGD 3.5 return) Admission fee of TL 30 (approx. SGD 17).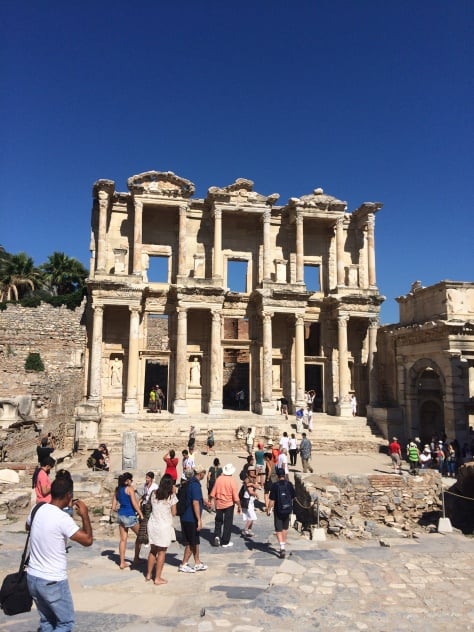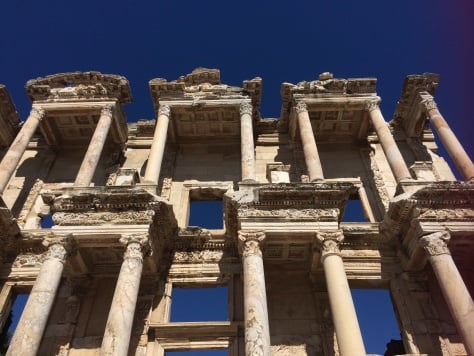 —————–
Yay! Finally done with my guide on Turkey and I hope it helps you in your planning because Turkey is quite tricky in the sense that the country is so big, there is just so much to see and all of the attractions are scattered around. So plan wisely! I took a circular route, flying into Istanbul, immediately flying to Cappodocia, bus to Denizli, bus to Izmir and flying back to Istanbul. (Istanbul > Cappodocia > Denizli (Pamukkale) >Izmir (Ephesus) > Istanbul. I'll suggest to take coaches/buses in Turkey because it brings you directly to the attractions you want to go (more convenient even though longer time). Taking a plane is only encouraged if you have limited time because from the airport, you will still need to travel a distance to reach the main attractions.
When I left Turkey for Budapest, I was really sad because this leg had by far been the most exciting one. From having our flight delayed that caused us not being able to fly in the hot air balloon on the stipulated date, to experiencing an explosive being thrown just a few metres away from your face, to roadtrippin' on the highway at 110km/hr to flying in the hot air balloon. There is just so much about Turkey that made me feel so attached to it after 7 days. Everybody knows I am scared of cats and Turkey had loads of them and having them to brush through my legs when I am eating is just omgggg but I managed to overcome that. I used to cry when cats do that to me but I didn't cry this time which I guess was an improvement. I fell down a lot of times walking along the steep slope of Istanbul. We even experienced blackouts in the district we were staying and the block opposite us just threw a box of candle and lighter into our balcony. Isn't that sweet? And having the time of our lives entertaining the Turks that think we are from China / weak women who are easily being taken advantage of.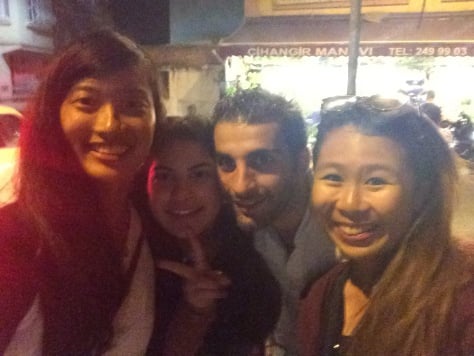 The meeting of our wonderful hosts, Atilla and his sister in Istanbul who showered us with tons of love and care was one of the highlights in this leg because they really went out of the way to make us feel at home by helping us to print boarding passes, hanging out with us for the whole day, buying us beer almost everyday and most importantly, allowing us to experience the authentic Turk lifestyle and teaching us Turkish vulgarities which came in handy when shop owners came pestering us.
Also read: Turkey: New e-Visas for Group Travellers!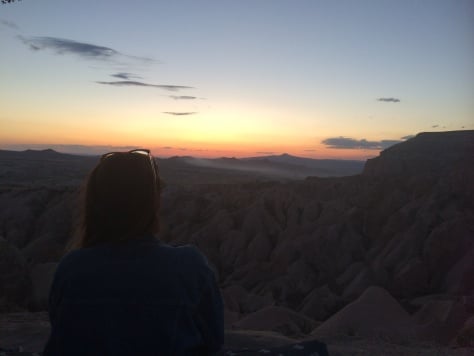 I really love Turkey now because of all these memories I had for this place. Before I came here, all I was going after was to just tick off attractions I want to visit after learning about their history. But when I was there, I really felt what is called 'living at the moment'. I realised in Turkey, I didn't take as much pictures as I did for my previous leg because I was so absorbed into that moment. I just wanted to be in that moment, all that experiences be it good or bad. Till we meet again, Turkey. I'll be back in no time. 🙂
Contributed by buttergoesbudget.