With borders open and winter coming to a close, travellers around the world are getting ready to chase the cherry blossoms. These gorgeous spring flowers are most often associated with Japan, but did you know that the Taiwan cherry blossom season starts earlier? If you can't wait to catch a glimpse of pastel pink paradise, here's a complete guide for viewing cherry blossoms in the Heart of Asia! 
Also read: 14 Best Places to See Cherry Blossoms Outside Japan & South Korea
Best viewing spots for cherry blossoms in Taiwan
1. Yangmingshan National Park – Taipei and New Taipei City
Just a short bus ride away from Taipei city centre is Yangmingshan National Park, which is ideal for travellers pressed for time. Yangmingshan cherry blossom spots are a must-see, as you'll be greeted by the magnificent sight of mountains covered in a coat of these vibrant pink flowers. On the outskirts of the park is Pingjing Street Lane 42, a quiet alley which is among the first places cherry blossoms appear in Northern Taiwan. 
While touring the park, you can also snap Instagrammable shots of the famous Yangmingshan Flower Clock: an intricate arrangement of native flowers located near the park's west entrance. As a bonus, there is the annual Yangmingshan Flower Festival (keep scrolling to see the 2023 schedule). This 60-year-old festival puts on display cherry blossoms of different varieties, including cold cherry, Taiwan cherry, yaezakura, and Yoshino cherry.  
Best time to go: February to March. 
Also read: 12 Breathtaking National Parks & Other Nature Attractions in Taiwan
2. Alishan National Forest Recreation Area – Chiayi
To experience a dreamy train ride under a curtain of pink, board the Alishan Forest Railway as it winds around a peaceful mountain landscape. Located in Chiayi County, Alishan National Forest Recreation Area is one of the most popular spots for cherry blossom viewing. Alishan cherry blossoms are mainly of the Yoshino variety, a hybrid known for its fragrant, pale-pink flowers. 
Located a 30-minute drive away from Alishan, the mountain town of Shizhuo is worth a stop for its short but mesmerising Sakura Trail. Cherry blossoms here are of the showa variety and bloom in late February. Apart from the Sakura Trail, Shizhuo has four other trails which offer incredible views of the town's sprawling tea fields and the sea of clouds over Alishan. 
Best time to go: March to April
3. Wuji Tianyuan Temple – New Taipei City
Wuji Tianyuan Temple is a heavenly cherry blossom spot at the foot of Datun Mountain in New Taipei City. The temple's five-tiered Altar of Heaven pagoda makes for a stunning backdrop when framed by delicate branches of cherry blossoms. 
However, do note that cherry blossoms are not visible from the front of the temple. Head to the back of the temple to wander under an ethereal canopy of pale-pink Yoshino and tricolour cherry blossoms. 
Best time to go: March 
Opening hours: 6am to 10pm
4. Wuling Farm – Taichung
Nestled in the alpine oasis of Shei-pa National Park, Wuling Farm is one of the most idyllic places to view cherry blossoms in Taiwan. The farm was established in 1963 to employ retired veterans, but it was only in 1993 that they began planting cherry blossoms. Today, it holds over 21,000 cherry trees of more than 10 varieties. 
Apart from sakura viewing, visitors can hike along the nearby Bird-watching Trail, Tea Garden Trail, Bird and Butterfly Watching Trail, and Taoshan Waterfall Trail, which leads to the 50m-high Taoshan Waterfalls. 
Best time to go: February to early March
Opening hours: All day
Note: Wuling Farm has a daily visitor limit of 6,000. Visitors may acquire passes to visit the farm by booking a group tour or accommodation at the farm. Day-trip visitors can also get passes that are bundled with public bus tickets for various routes heading to the farm. Buses on these routes depart from Taipei Main Station, Taipei City Hall Bus Station, Yilan Bus Station, Loudong Bus Station, and Sanxing Township Sports Complex. 
5. Tai-an Police Station – Taichung
Dubbed the "most beautiful police station in Taiwan," Tai-an Police Station in Taichung is known for the 60 yaezakura trees in its parking lot. Upon blooming, these transform the otherwise mundane police station into a romantic dreamscape. On the opposite side of the road, visitors can grab a bite from the pop-up snack stalls that open during cherry blossom season. 
Best time to go: Late February to mid-March
6. Wulai Scenic Area – New Taipei City
The Wulai Scenic Area is famed for its cherry blossoms, hot springs, and Atayal aboriginal culture. Every spring, travellers flock here to see the pink flowers in full bloom and framing the breathtaking Wulai Falls. This indigenous settlement is just a 40-minute bus ride from Taipei city centre, making it perfect for a relaxing day trip. 
Start your trip by eating your way through Wulai Old Street, where you will find many stalls selling traditional aboriginal food and drinks. After filling up on bamboo tube rice, wild boar sausages, and millet wine, you'll have more than enough energy for the 20-minute walk to the falls. Just cross the bridge on the southern end of the street, turn left, and the road there will take you straight to the waterfall. 
To end the day, soak in the Wulai hot springs, which are believed to be beneficial for the skin. For a luxe experience, book a private room at one of the hot spring hotels in the area. These establishments may be pricier, but you'll get to enjoy the peace and quiet, along with views of the Nanshi River. 
Best time to go: February to March
Opening hours: 10am to 5pm (Wulai Old Street)
Also read: 25 Taipei Souvenirs that You Should Definitely Buy & Bring Home With You
7. Formosan Aboriginal Culture Village – Nantou
The Formosan Aboriginal Culture Village in Nantou County transforms into a cherry blossom wonderland in early spring. Located near the famous Sun Moon Lake, the theme park makes for a great add-on to any Central Taiwan itinerary. During the season, visitors can take a cable car ride over hills adorned with pink blossoms, and watch traditional song and dance performances. 
Lamps are also lit up at night to illuminate the cherry trees, forming an enchanting scene. The park invites visitors to bring lanterns to admire the nighttime cherry blossoms. 
Best time to go: February to early March. 
Opening hours: 9.30am to 7pm 
8. LOHAS Park – Taipei
Easily reached by MRT, LOHAS Park in Neihu District is a convenient place to view Taipei cherry blossoms. The park's Neigouxi Cherry Blossom Trail is lined with 300 cherry trees planted by the borough chief and volunteers. Thanks to their efforts, park visitors can stroll under a charming canopy of yae, showa, Yoshino, and Taiwan cherry trees. 
Best time to go: February
Opening hours: All day
Also read: 35 Best Things to Do & Places to Visit in Taipei
Cherry blossom festivals in Taiwan
The Taipei city government is organising 12 flower events in 2023. Not all of the events are dedicated solely to cherry blossoms; there are also festivals celebrating the beauty of roses, azaleas, chrysanthemums, and other blooms. 
One event that would be a shame to miss is the LOHAS Neihu Cherry Blossom Festival, which lights up LOHAS Park's cherry trees at night. The soft golden glow from the lamps gives the cherry blossoms a surreal beauty that is sure to make any visitor linger after dark. The festival celebrates these lovely pink blooms with art installations, dance performances, and stores around the park selling sakura-themed products. 
Another popular event is the Yangmingshan Flower Festival, which puts on display numerous varieties of cherry blossoms and azaleas. This makes it a perfect one-stop-shop for flower enthusiasts. For 2023, there will be a street dance competition, an art exhibition, and special discounts at 50 stores in the area. 
Last but not least, there is the Formosan Aboriginal Culture Village Festival. Here, visitors may enjoy folk song and drum performances, as well as a tea party. However, the tea party requires booking two days in advance and charges a fee of NT$500 per person. 
Also read: 12 Spring Destinations to Spot Lovely Flowers in Bloom
Taiwan cherry blossom festival dates
LOHAS Neihu Cherry Blossom Festival: 3 to 28 Feb 2023
Yangmingshan Flower Festival: Feb 11 to Mar 19 2023
Formosan Aboriginal Culture Village: Feb 6 to Mar 5 2023
Where to stay during the Taiwan cherry blossom season
1. This stylish Airbnb in Chiayi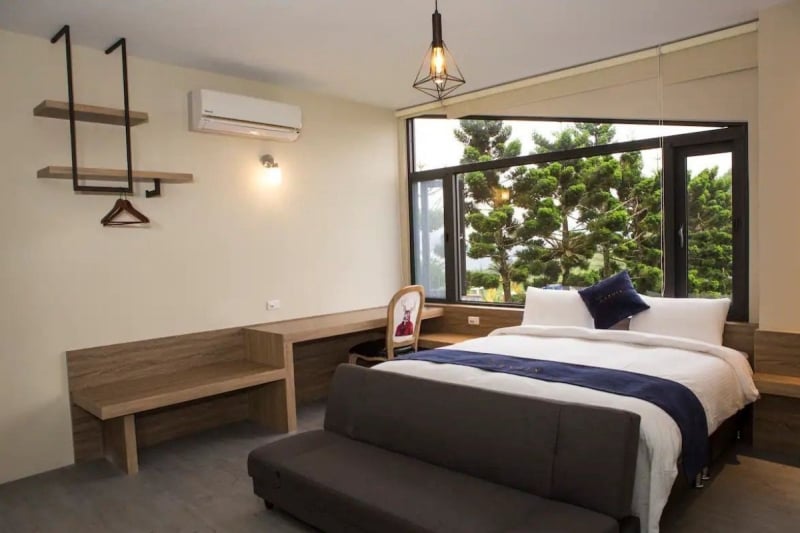 Zengin Cafe is a sleek, minimalistic Airbnb located less than 3km away from the Alishan Sakura Trail, making it an ideal stay for cherry blossom chasers. The accommodation's 4.93 rating can be chalked up to its experienced host, who has been praised by reviewers for his outstanding hospitality. The private room can fit up to two guests, who will sleep on a double bed. It also comes with a complimentary breakfast.
2. This cosy cabin near Sun Moon Lake 
This rustic Airbnb is near the Formosan Aboriginal Culture Village and Sun Moon Lake. Its quaint wooden interior and lovely patio will help you unwind after a day of sightseeing. The house is within walking distance of the Ida Thao Bus stop, bike rental shops, the cable car station, and the Ida Thao night market. It can accommodate four guests with two double beds, and provides free parking. 
3. This hot spring hotel in Wulai District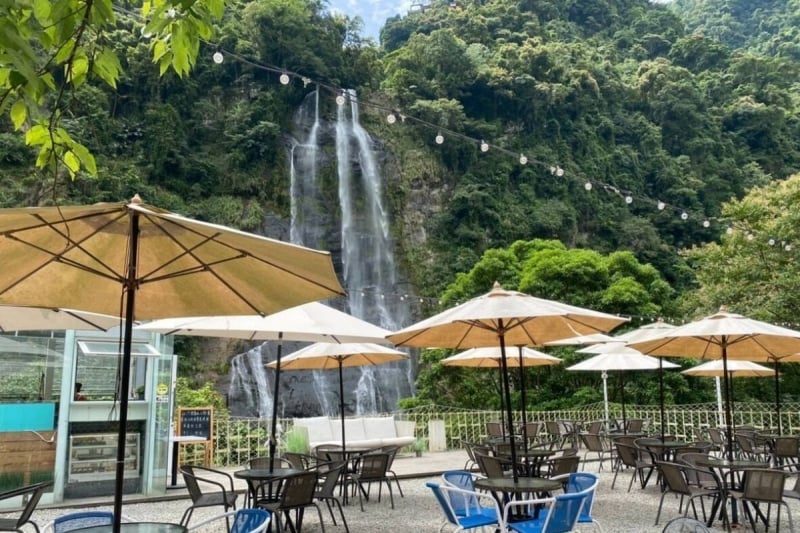 Wulai's name is derived from the Atayal term uraikirofu, meaning "steaming springs." That said, you can't leave this cherry blossom spot without soaking in one of the area's hot springs. Lvchen Hot Spring B&B offers six hot springs of different styles. Located high up on Xiluoan Road, this Airbnb offers views of Wulai Old Street and the Central Mountain Range. 
4. This gorgeous apartment in Tamsui District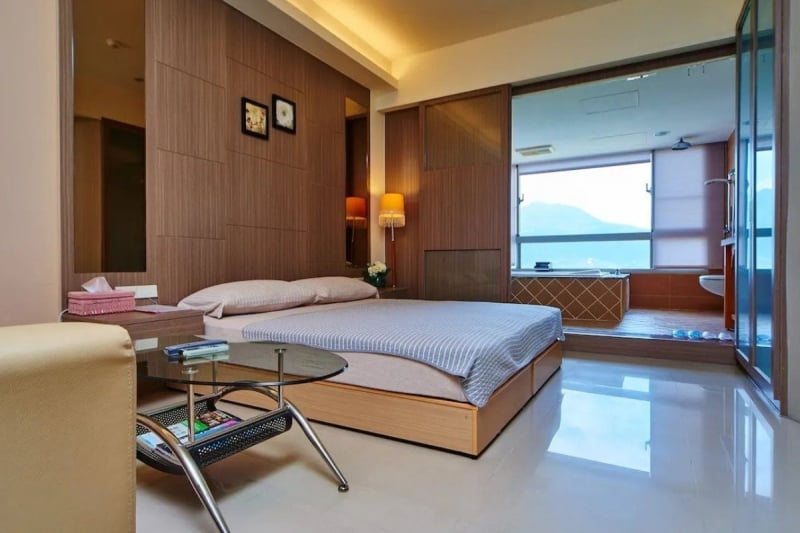 This Airbnb apartment with awesome river views is located in New Taipei City's Tamsui District: the same area where you can find the Wuji Tianyuan Temple, a popular cherry blossom viewing spot. The accommodation has a spacious garden balcony and a bathroom with a stunning mountain view. Guests will also have access to a shared sauna, hot tub, and free washer. 
5. This Airbnb in Alishan with an unbelievable mountain view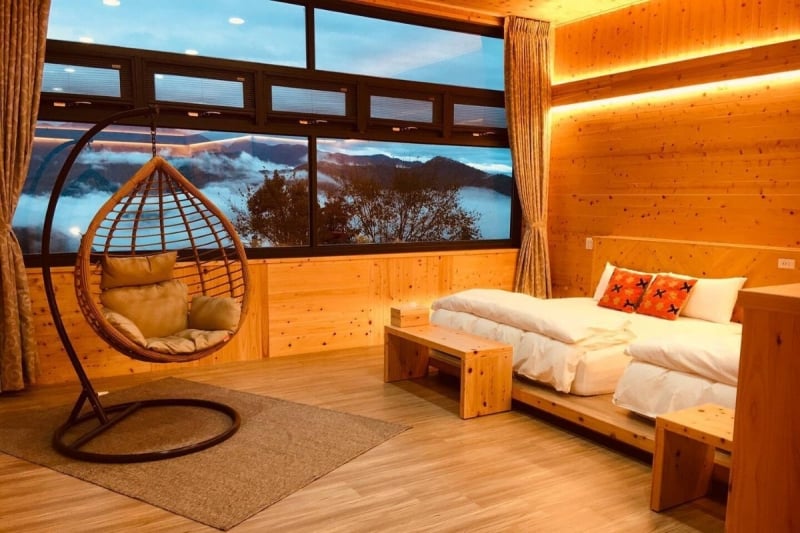 Located in the Alishan National Scenic Area, this Airbnb is one where you can admire the mountain from the comfort of your bedroom. Furnished with fragrant eucalyptus wood, the accommodation combines natural beauty with a modern flair, providing guests with a stay to remember. 
Tips for viewing Taiwan cherry blossoms
1. Check the flowering period for the sites you intend to visit
Unlike South Korea and Japan, Taiwan does not have an official cherry blossom forecast. This means that you need to do some research beforehand so that you won't leave disappointed. First, decide which areas you intend to visit. Then, check the cherry blossom season for each place. Some release their own cherry blossom forecasts on their tourism platforms. But if such forecasts are not available, then you can also monitor their respective geotags on Instagram.  
Also read: Taiwan Cherry Blossom 2023 Forecast: When & Where to See Them
2. Don't go too late in the spring
Warmer temperatures brought by climate change are causing cherry blossoms to bloom earlier, which also means that they disappear earlier in the year. Taiwan cherry blossoms can start appearing as early as January in northern areas like Taipei and Yangmingshan. Places in Central Taiwan, like Taichung and Nantou, will experience cherry blossom season from February to April. 
3. Bring along warm but lightweight clothes
Cherry blossoms in Taiwan start blooming at the end of winter. Fortunately, Taiwanese winters are not as cold as those in Japan and South Korea. Here, temperatures range from 14°C to 20°C in February. You won't need a heavy winter coat, but bring along warm clothes that you can layer — especially if you're headed to mountainous areas with colder temperatures. 
4. Book hotels and train tickets in advance
Cherry blossom season is a busy time for the travel industry in Taiwan. To make sure you get to visit the places you want, it's a good idea to book well in advance.
5. Learn about the different types of cherry blossoms in Taiwan
While they may all look similar to the untrained eye, Taiwan's cherry blossoms come from more than a dozen varieties. Learning a little about these varieties can make your trip more engaging as you'll be able to tell them apart. 
The most common kind you'll see are the Taiwan cherry blossoms, which have a distinctive darker pink shade. Also known as the Taiwanese Mountain Cherry, this is a native variety with a wide distribution over the island. Another native breed is the Wusheh cherry, which has small, delicate flowers the colour of snow. 
Other common types you may encounter are: the Yoshino cherry, which has pale-pink blooms; and the yaezakura, a catch-all term for cherry blossoms which have more than five petals. Cherry blossoms are usually distinguished by colour, flowering period, and the shape of their branches. 
6. Try to go before or after the Lunar New Year weekend
It just so happens that the first appearance of cherry blossoms in Taiwan is in late January to early February, which often coincides with the Lunar New Year holiday. That said, scenic areas tend to get packed with both local and foreign tourists. If you don't want to fight for photos, avoid this busy period when planning your trip. 
Also read: Cherry Blossom Season 2023: Must-Know Tips & Essentials
How to get around in Taiwan
Public transport
Taiwan's major cities are connected by the Taiwan Rail Administration Network (TRA). For TRA trains with assigned seating, it's advisable to buy your tickets in advance. This is especially important since you'll be travelling during the Taiwan cherry blossom season, when throngs of tourists flock to the country's scenic areas. In addition, the Taiwan High Speed Rail connects eight major cities along the west coast of Taiwan. 
Within Taipei, you can get around on the MRT and city buses. Your best bet is to buy an EasyCard from the airport MRT service centre or an MRT station. The EasyCard is a contactless smartcard that can be used on most forms of public transport.  Some shops may also accept it as a mode of payment. However, the Taiwan High Speed Rail accepts only co-branded bank EasyCards, and limits EasyCard payment to non-reserved seating. 
Car rental
Renting a car may be a good option for travellers who wish to go to cherry blossom spots that are not easily accessible by public transport. To rent a car in Taiwan, you will need an International Driving Permit and a passport. 
Driving is on the right-hand side of the road in Taiwan, and most companies will only rent to drivers aged 21 or above. Since driving in big cities like Taipei can get stressful, it is best to pick up your rental car only when you're going to tour the countryside. 
Also read: Tokyo Sakura Season Guide: Everything You Need to Know for Your Trip
Catching the Taiwan cherry blossoms before they fall may require some research, but it's not impossible. With the handy tips in this guide and a little hard work, you too can witness a spectacular explosion of pinks, whites, and reds during the Taiwan cherry blossom season. 
When you return from your trip, why not share which place you think has the best cherry blossom in Taiwan? Recommend your favourite spots to view Taiwan cherry blossoms on our Facebook page!