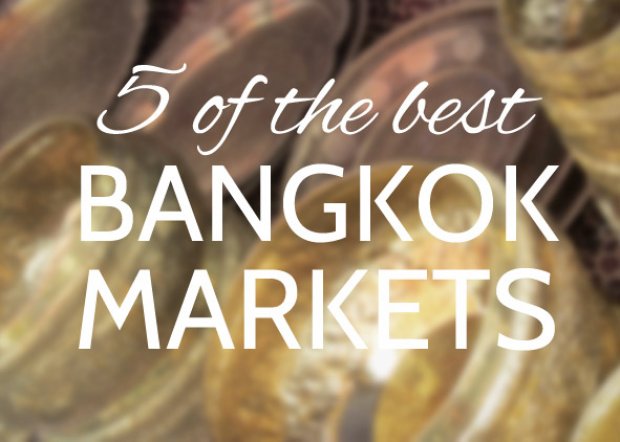 Bangkok is known for its over-the-top shopping malls. Heck – the biggest, Siam Paragon, is one of the largest shopping centers in Asia and home to not only stores and restaurants, but a giant movie theatre, aquarium (where you can swim with the sharks) and car showrooms (like Lamborghini or Aston Martin). If that isn't enough, it was also the world's most-Instagrammed place in 2013 (it hit the #2 spot in 2012 after the Bangkok Suvarnabhumi Airport got #1).
Also read: Extremely Useful Bangkok Travel Guide
However, though the malls are impressive, they still can't beat the city's markets when it comes to atmosphere and character where you can see and experience a side of Thai life and culture that's been around for centuries.
From small, local fresh markets hidden away from tourist eyes to the largest weekend market in Thailand selling everything from paintings to puppies, they form the heart of the capital. Heading to the Big Mango? Here are five of the best markets in Bangkok I always recommend:
Chatuchak weekend market (ตลาดจตุจักร)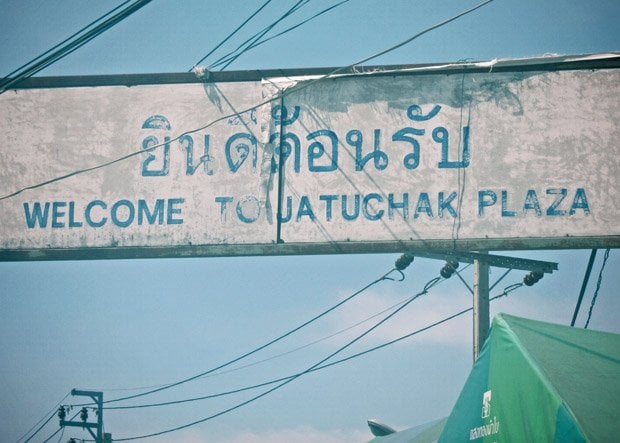 Let the shopping begin…
If you make it to one market in Bangkok have it be this one! Opened in the early 80s, the 35-acre (68-rai) area of Chatuchak Market, commonly called JJ Market, is home to more than 8,000 market stalls. 8,000! It's Massive.
And overwhelming. Especially for your first time visiting I'd suggest going fairly early in the morning to allow plenty of time to wander, explore and get lost. The market started out mainly as a wholesale market, but over the years has grown to become a landmark institution in Bangkok. It certainly draws in the tourists, but it's very much a real, active local market that appeals to the Thais as well – it's not a tourist trap whatsoever. Unfortunately, while the market is open a few times throughout the week, the main market days are Saturday and Sunday – so plan your Bangkok stay accordingly!
Also read: No More Curfew! 8 Things to Do at Night in Thailand
From bags to buttons, clothes to candles, snacks to sunglasses – JJ Market has it all
As with any other market in Thailand (actually, really just anywhere in Thailand…) there are plenty of food options for both snacks and sit down meals. It's a good place to come and buy souvenirs (cheaper than on Khao San Road) and things in bulk. Many younger Thais come for the cheap new and used clothes and accessories and there's also a sizable art, home decor and furniture section where you can get goods for a fraction of the price of what they'd be at home…you just have to then deal with shipping.
When: Saturday and Sunday, around 6:00 a.m. to 6:00 p.m.
Where: Kamphaeng Phet 2 Road, close to Mo Chit Bus Station (the 'Northern' Bus Station)
How to there: By far the easiest, cheapest and fastest way to get to Chatuchak Market is by using the BTS (Skytrain) or MRT (subway). Get off at BTS Station: Mo Chit or MRT Station: Khampaeng Phet. If you're not staying close to a station, like if you're near Khao San Road, you can grab a cab or take a local bus (Bus #3 from Phra Athit road, a couple of blocks north of Khao San gets you there) but there will be traffic! The first time I ever stayed in Bangkok, on Khao San, I somehow managed to find the right bus and get there….but the traffic back was so bad that I got off the bus and started walking after an hour. If you can make it to a station instead, do it!
Also read: To Tuktuk, Taxi, BTS or Bus When Getting Around Bangkok?
Dalat Rot Fai (ตลาดนัดรถไฟ)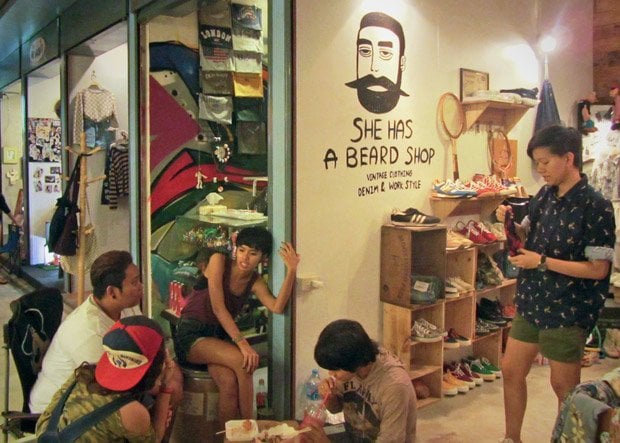 Permanent shops are mixed with street stalls and a flea market feel at Dalat Rot Fai
Originally situated by the train tracks close to Chatuchak Market, Dalat Rot Fai (da-laat rote fie) meaning "Train Market" is now located at a more permanent location southeast of the city centre near Seacon Square (a shopping centre that taxi drivers should know about but that isn't frequented by tourists).
Also read: Bangkok's Hipster Hangout: Dalat Rot Fai
Probably the coolest market in Bangkok, Dalat Rot Fai (sometimes spelled Talad Rot Fai, Talat Rot Fai or Tarad Rod Fi) attracts the city's hipster crowd with stall after stall of vintage finds, used clothing, handmade products, bars and coffee shops. Here you can grab a beer, get a tattoo, buy some second hand shirts and show off your Volkswagon all in the same night.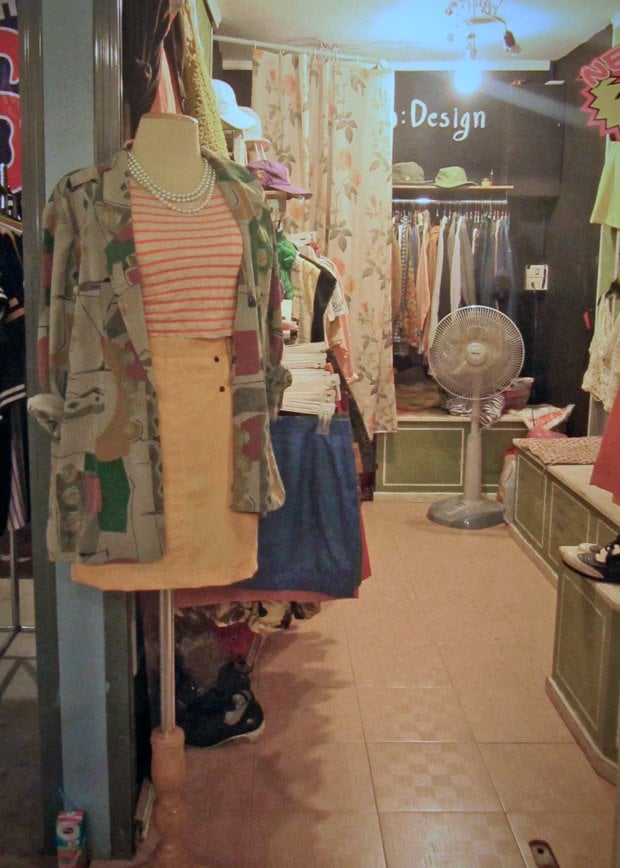 Second-hand clothes at Talad Rot Fai
There are also plenty of electronics accessories, food, gift items and some souvenirs for travellers, but the real draw is simply the market's atmosphere and people watching. It's bigger than you'd expect – probably the largest market I've ever been to after Chatuchak, and a great place to just hang out on a Friday night. While it's not far out of the city centre, you also won't see many foreigners at all but instead will get to check out the country's young crowd with its unique quirky/retro/cute style. You can see more about the market (though it's mostly in Thai) on its Facebook Page.
When: Thursday – Sunday, 5:00 p.m. to 1:00 a.m.
Where: Srinakarin Road behind Seacon Square
How to get there: BTS with a short taxi ride or cab it all the way. If you're taking the Skytrain get off at On Nut or Udom Station. A taxi from there to the market will cost about THB 60 (approx. SGD 2.4). If you're going with people, just take a cab! It will be less hassle and cab fares in Bangkok are surprisingly cheap, especially when split between people.
Khlong Lat Mayom Floating Market (ตลาดน้ำคลองลัดมะยม)
One of the major tourist attractions in Bangkok is its famous floating markets. Historically the city and surrounding area was completely filled with sprawling canals and life was lived on the waterways. Today's floating markets are examples from an earlier time and now mainly used for tourists – both foreign and Thai. There are still several markets to choose from however, and while well-known spots like Damnoen Saduak have been completely turned into tourist traps, others like Khlong Lat Mayom, just outside of downtown, have more of a local draw.
Also read: Exploring the Grand Palace and Khlongs of Bangkok, Thailand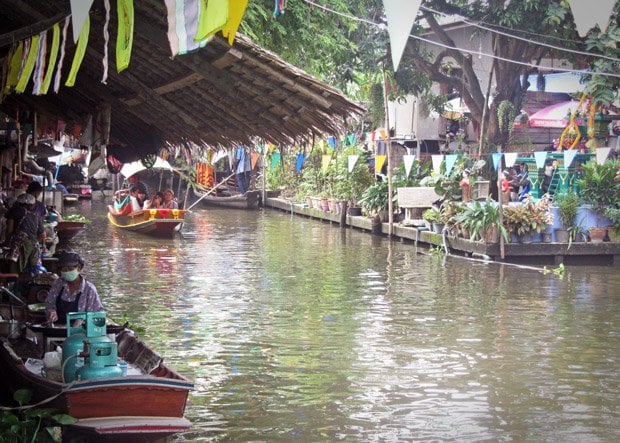 Best boat ride ever
At Khlong Lat Mayom floating market, held on the weekends, you won't get the postcard-worthy pics you've probably seen before, but you will get to enjoy an afternoon out of the city, a glimpse into Thailand's watery past and snacking on plenty of Thai treats with other Bangkokians.
Come with an empty stomach – the food available at the market is both wide ranging and mouth watering – and be sure to take the long tail boat ride through the surrounding canals. At BHT 20 a person (about SGD 0.60) for 30 minutes, you'll see a softer, more rural side of Bangkok that you probably didn't know still existed.
When: Saturday and Sunday, around 9:00 a.m. to 4:00 p.m.
Where: The market is located on Bang Lamad Road in Thonburi (across the river from the main part of Bangkok)
How to get there: Take the BTS Silom Line to Wongwian Yai Station then get a taxi to the market for about 100 baht. (We had no problem finding a taxi to take us back to the BTS station.)
Pak Khlong Talat (ปากคลองตลาด)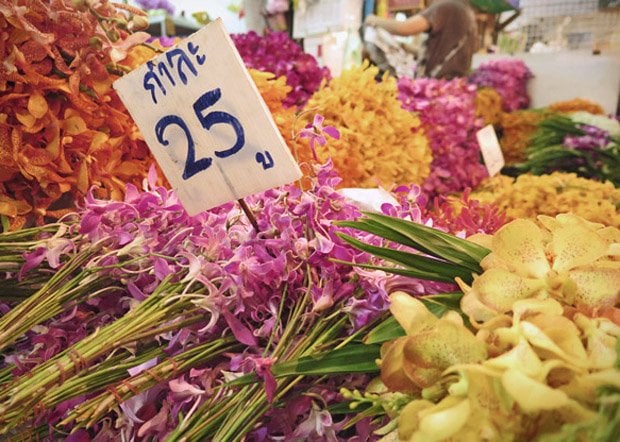 These bunches of orchids at Pak Klong Talat were less than SGD 0.80
Pak Khlong Talat is the city's largest flower and produce market. Here vendors sell wholesale flowers, fruits and vegetables to customers that then take the fresh finds throughout the city and country…and they do it every day. Well, night actually. The market is surprisingly quiet during the afternoons, but picks up late at night (think 10:00 p.m. – 1:00 a.m.) and around sunrise with buyers getting plants and produce to use the next day. The variety, and quantity, of produce and plants available are astounding – and colourful. You'll see bags of marigold heads and jasmine blossoms in bulk, towers of freshly-made flower offerings and individual bouquets and arrangements sold at retail value. Even if you're not a flower fan, the sheer amount goods available and palpable energy is impressive.
Also read: 15 Delicious Street Food in Bangkok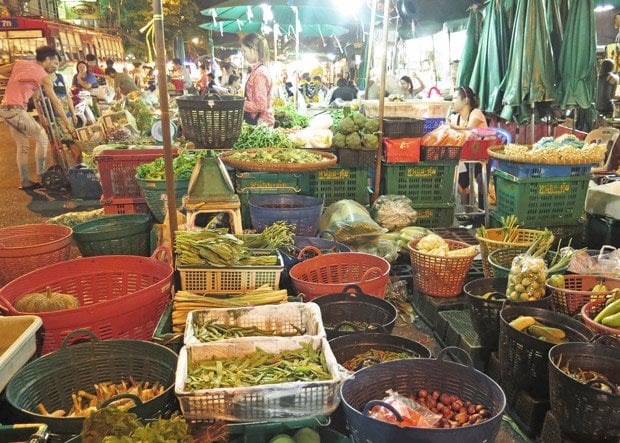 Alive and kicking at 10:30 p.m.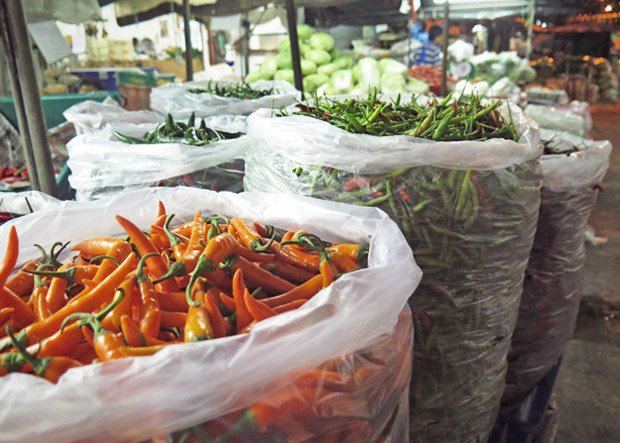 Bags of fresh chilies
Visitors are welcome to wander around the inside market, stalls and streets, but just be aware that during the market's busiest times it can get quite chaotic and vendors will be hustling back and forth and with hand trucks and large bunches of fruit and flowers trying to get their jobs done – stay out of the way!
Also read: 5 Must-Try Food Places in Bangkok
When: All day, everyday but the best times to go are late at night or before sunrise – not the most convenient, but worth it!
Where: Chak Phet Road and adjacent sois (side streets) close to Memorial Bridge (just south of Wat Pho)
How to get there: You can easily walk to the market from the Grand Palace and Wat Pho, although if you combine your visits it won't be during the most interesting part of the day for the market. You can take the Skytrain to Saphan Taskin station then take the Chao Phraya Express boat to stop #7, Rajinee or simply get a taxi or tuk tuk driver to take you to Pak Khlong Talat.
Amulet Market (Near ท่าพระจันทร์ – Moon Pier)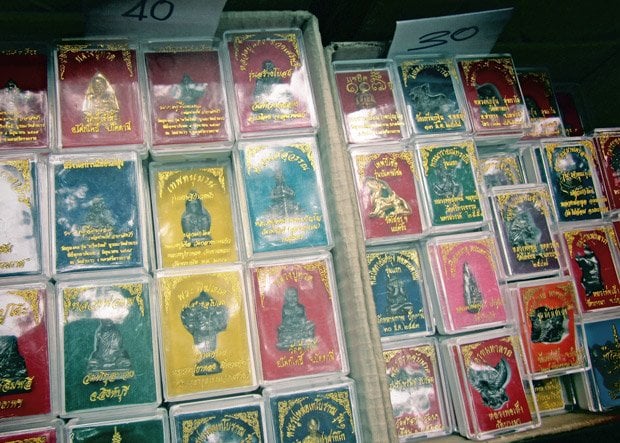 Boxed amulets in Bangkok
Many Thais believe in the magical and protective powers of Buddhist amulets. While the Buddha himself didn't encourage others to put faith in talismans, Thailand has a long history of creating and respecting these amulets, which has turn into a surprisingly big business. Believers seek out specific pieces made by monks that they respect and prices skyrocket for popular ones, especially if they were created by a monk who has since passed away. Made from a variety of materials including powder, wood, metal and bone, the amulets also feature a range of shapes, designs and motifs often including ancient Pali symbols or the faces of the monks who made them…though there are some that are a little more sinister.
Also read: Thailand Fast Facts – Where To Go and Handy Travel Information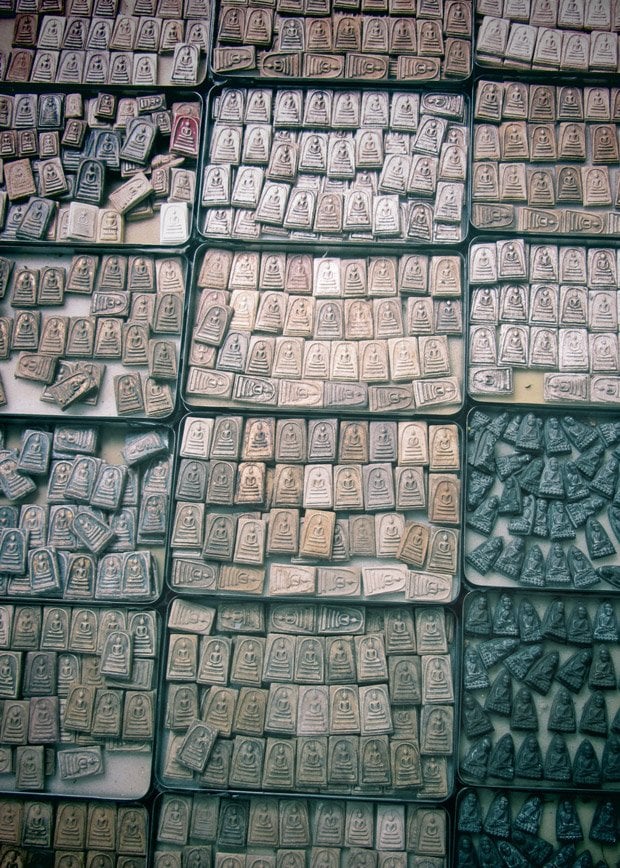 Take your pick
Wandering the streets of one of the country's largest amulet markets, within walking distance of the Grand Palace near the river, visitors can start to see the amulets' importance and prevalence in Thai culture with stall after stall of the good luck charms and their accessories like chains, necklaces and decorative cases.
When: Daily, early in the morning until early evening
Where: Near Phra Chan Road, next to Thammasat University. The market isn't in just a specific spot, but general area…you'll know you're getting closer by the number of amulet vendors set up on the sidewalk.
How to get there: This is another good place to visit the day you head to the Grand Palace and Wat Pho. To get to the area, take the BTS at Saphan Taksin Station then grab the Chao Phraya Express Boat to Tha Mahathat (the closet stop to Moon Pier and Pra Chan Road.
Have you spent time in Bangkok? Which markets did you enjoy the most? Which would you skip?
Contributed by Paper Planes.