Inspiring poets and painters alike, Sun Moon Lake gets its name due to Lalu Island, a small island that divides the middle of the lake into two parts: one part resembling the shape of a crescent moon, the other appearing as a round sun; hence, Sun Moon Lake. 
Today, this incredible lake beckons to visitors with its clear waters, intricate pagodas, glorious mountain vistas, and some of the most spectacular biking trails in the world. Located in Yuchi Township in Nantou County, Sun Moon Lake makes a popular day trip from cities such as Taipei and Taichung. 
Whether you're an aspiring photographer or a casual biker who wishes to witness the beauty of this lake up close, Sun Moon Lake is definitely a sight for sore eyes — and boy, do our eyes really miss seeing Taiwan right now. For your travel bucket list to this mirror-like lake, take note of these iconic spots to visit!
Also read: 20 Fun Things to Do in Taiwan on Your First Trip
1. Shuishe Pier
The nearest train station to Sun Moon Lake is Taichung Station. Upon arriving at Sun Moon Lake, you can visit three main piers for sightseeing: Xuanguang Pier, Ita Thao Pier, and Shuishe Pier. 
But perhaps the most scenic of all three is Shuishe Pier, attracting many visitors for its captivating views of Sun Moon Lake. Here, a romantic walkway leads to the ferries that float in the turquoise water. From the edge of the pier, you can glimpse the mountains in the distance, an excellent backdrop for your morning walk. 
For first-time visitors to Sun Moon Lake, Shuishe Pier is a great starting point. You can dedicate several hours to exploring the restaurants, bars, lakeside resorts, and souvenir shops around the pier. But even without spending a single cent, you can also go for a leisurely stroll and soak up the mesmerising scenery along the shore. Feel free to take as many photographs at this serene pier — they'll make excellent souvenirs during your trip to Sun Moon Lake! 
2. Taiwan Adventist College
Located in the Yuchi Township of Nantou, the Taiwan Adventist College is only a 15-minute drive away from Sun Moon Lake. Upon arriving at the campus, you'll find beautiful foliage and plenty of green spaces to roam to your heart's content. 
Between the tree-lined paths and the benches that allow for restful breaks, Taiwan Adventist College has earned a reputation as one of the most picturesque campuses in Taiwan. Indeed, it makes a calming escape from busy city life, as well as a pleasant spot for gatherings with friends and family. 
3. Sun Moon Lake Bikeway
Taiwan has firmly established itself as a bike-friendly country over the last decade. In fact, one of the most scenic biking routes in Taiwan — if not, the world — can be found near Sun Moon Lake. Running for as long as 6.4km, the Sun Moon Lake Bikeway offers breathtaking views of the lake, the lush forest, and the lofty mountains of Central Taiwan. 
Not only can you enjoy the sights of the lake by hopping on a ferry, but you can also bike around the lake for an exhilarating adventure. Cycling on this waterfront path lets you whiz past stunning vistas of nature — almost as if you're gliding over the water itself. 
Sure, the dramatic rise and fall of the terrain might be a bit tedious for newbie bikers. But who doesn't love a challenge? 
4. Ci'en Pagoda
Rising above the trees on Shabalan Mountain, the amber tower of Ci'en Pagoda is a majestic sight that can be recognised almost anywhere around Sun Moon Lake. Built in the traditional Chinese style, this landmark features a 46-metre-tall pagoda and twin spiral staircases that ascend to 12 floors. Should you climb the steps to the highest floor, you can enjoy spectacular lookouts over the treetops and the surrounding terrain. 
We'll let you in on another secret about this place. From late April to early May, Ci'en Pagoda becomes a popular spot to watch black-winged fireflies at night. Dazzling mountain fireflies also make an appearance from October to November. 
5. Xiangshan Visitor Center
What if you wanted to admire Sun Moon Lake from a distance? Among the major tourist attractions at Sun Moon Lake, the Xiangshan Visitor Center is well-loved for its smooth and polished architecture, which creates a stunning contrast overlooking Sun Moon Lake. Here, you can rent bicycles, snap gorgeous photos, or take a break from sightseeing to explore the café nearby. 
Designed by Japanese architects Norihiko Dan and Associates, the Xiangshan Visitor Center stands out for its sleek and modern appearance. Meanwhile, the green lawns and curved design are meant to reflect a harmony with nature.
6. Wenwu Temple
No trip to Sun Moon Lake in Taiwan would be complete without appreciating the cultural attractions of the area. Perched dreamily on the northern edge of Sun Moon Lake, Wenwu Temple is a sight to behold with its tall marble gate, Chinese stone lions, peaceful courtyard, two gardens, and three temple halls. Against a bright blue sky, the vermillion rooftops of this Confucian temple make a striking image. 
Here's an interesting backstory about Wenwu Temple. In its very early days, the only way for the locals to access this temple was to ride a boat towards the nearest pier and then climb an intimidating flight of 366 steps — so steep and intimidating, it was called the "Stairway to Heaven." Today, you can still see the engravings on the steps that mark out each day of the year. 
7. Sun Moon Lake Ropeway
Need a lift? The Sun Moon Lake Ropeway is a scenic gondola lift and cable car service that connects the Sun Moon Lake Youth Activity Center to the Formosan Aboriginal Culture Village, an outdoor museum dedicated to the culture and traditions of Taiwanese indigenous tribes. 
When the sky is at its clearest, you can watch as the exquisite beauty of the lake reveals itself during your seven-minute journey. 
Want to take your sightseeing up a notch? For the ultimate cable car experience, you can take the Sun Moon Lake Ropeway during the cherry blossom season in Taiwan. It's definitely an activity worth adding to the bucket list! 
8. Hanbi Trail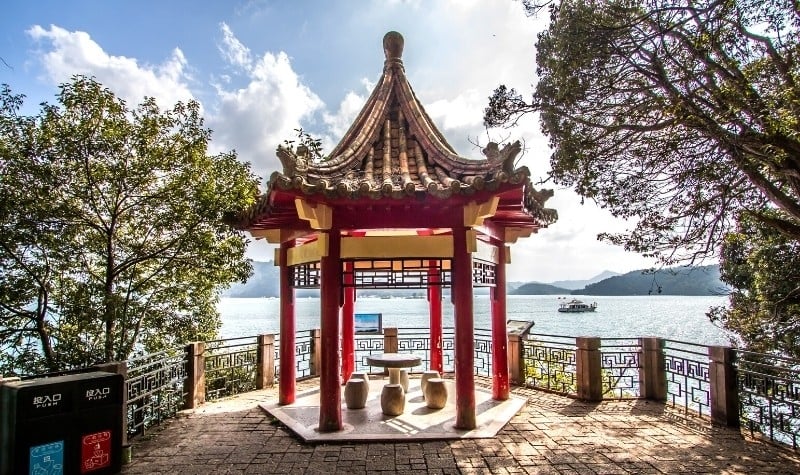 For hiking enthusiasts and outdoor junkies, Hanbi Trail spans around 1.5km of road while greeting you with views of the lake from different vantage points. Lasting for around an hour and marked with signposts, Hanbi Trail is ideal for tourists and photographers who want to capture quiet and calming scenes along the way. Be sure to keep your eyes peeled for any native birds that might cross your path! 
Hanbi Trail also leads you to the Chiang Kai-Shek Pier, possibly the most scenic destination in the entire area of Sun Moon Lake. Walk here during sunset or nighttime, and you'll get to see the lanterns along the pier reflected in the still waters below. Standing on this pier, you can't help but soak up the absolute sense of peace and serenity. 
Also read: Taiwan Travel Guide: The Best Places to Eat, Shop, See & Play!
Don't you just miss Taiwan? For your future visits to Taiwan, don't forget to count a visit to Sun Moon Lake in Yuchi Township, Nantou County! Share your photos with us and tag us on IG: @tripzillamag!