Everyone knows that Taiwan is a foodie's heaven. But did you know that Taiwan also has a bustling beauty industry? Of course, South Korea and Japan are no doubt the bigger players in the market, but Taiwan's reputation has been steadily growing over the years. In fact, it has started to steal the spotlight! Nowadays, you can find Taiwanese beauty brands everywhere in Asia.
So next time you're in Taiwan, stock up on these ten skincare or makeup products that Taiwanese girls swear by!
1. Miss Hana Waterproof Eyeliner
Miss Hana is known for the quality and affordability of its products, and the number one must-buy is this eyeliner. There's a reason why it was featured in several beauty talk shows and why every makeup artist in Taiwan has at least one of this in their bag. It comes in four different shades with selections of matte or glittery finish. It is also absolutely smudge-proof – my best friend has the oiliest eyelids and it works wonders for her!
Where to buy: At any 86 Shop (a Taiwanese beauty store).
2. MKUP Real Complexion Cream
I've seen way too many viral videos of this cream. It's advertised all over social media, on Instagram and Facebook, and even in the news. Although it claims to be a skincare product, it gives a whitening effect that corrects the skin tone and makes you look fresh, while moisturizing and repairing the skin. This is why it is specifically targeted at lazy women who want to look presentable without having to put much makeup on.
Where to buy: At any 86 Shop, S3 Beauty Store or Poya.
3. UNT Nail Polish
Although it's a cosmetic brand with a variety of makeup and skincare products, UNT is most well-known for its broad range of high-quality nail polishes. It has elegant neutrals to edgier glitter polishes in all the colours you can possibly think of. Oh, and they offer free worldwide shipping, how about that!
Where to buy: On the UNT official website, or at any Cosme, Tomod's or Watsons store, even at Family Mart!
4. Makeup brushes from Lam Sam Yick
Here's a quick story about the brand: Lam Sam Yick used to sell calligraphy brushes back in Fuzhou, China, but after the fall in demand, they relocated to Taiwan and started selling makeup brushes instead. The brushes are luxuriously soft and come in cute designs and shapes! The Clean Acne Bye-Bye Brush is their bestseller; it's designed to literally reach into your pores and remove your blackheads!
Where to buy: On the official website, in shopping malls or at certain Watsons outlets.
5. Face mist from Kuan Yuan Liang Lufa
If you're a big fan of face mists, you will love this one. Completely natural and safe to use either on the bare skin or over makeup, this facial toner infused with luffa plant extract will moisturise and heal your skin in ways that you cannot imagine. What's even better is that it costs less than US$2!
Where to buy: At any Cosme or Watson shops.
6. Face masks from My Beauty Diary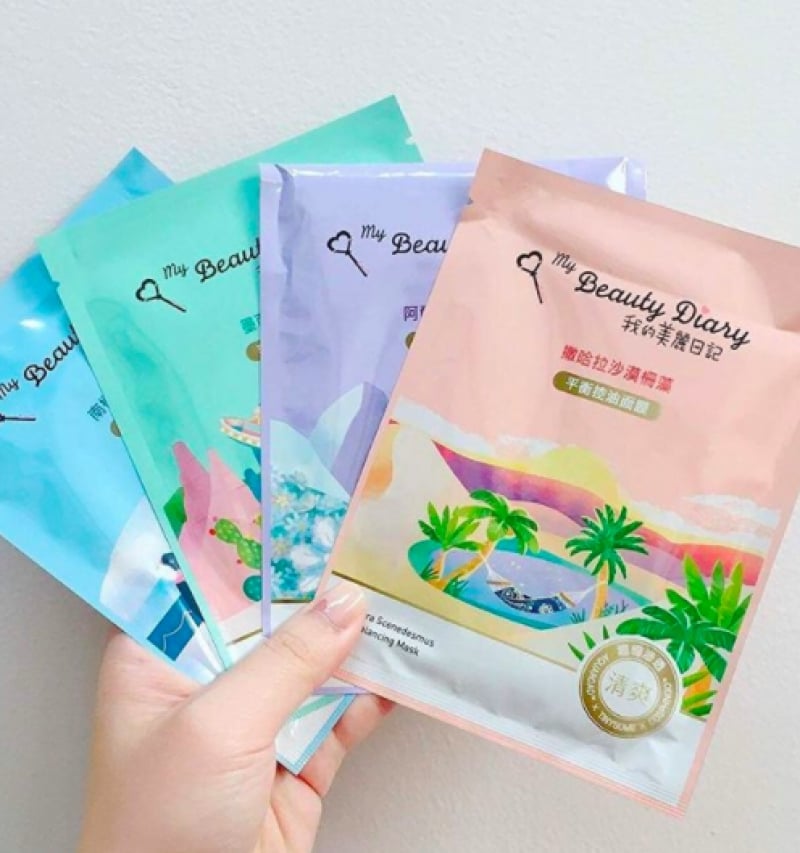 South Korea may be the leader of face masks, but Taiwan also has its reputable brands and they are all extremely affordable. Locals stock up on face masks whenever they go to a beauty store. My Beauty Diary is one of the prominent brands, with its constantly evolving packaging and overwhelming variations. In fact, it's now wildly popular around Asia! Be sure to stock up while you can, because the same product could be twice as expensive in Singapore or other countries.
Where to buy: In any beauty shop!
7. Eye masks from L'Herboflore
When shopping at a drug store, you will definitely spot this brand thanks to its colourful eye-catching designs. The eye masks are especially popular. They're oddly (but smartly) shaped to fit perfectly around the eye area so it can nourish the skin with proteins and vitamins. L'Herboflore also has an extensive range of other types of masks, such as those for the neck, hands, feet and even the bust area. Be sure to give the Camellia Nourishing Hydromask a go!
Where to buy: In any beauty shop.
8. Night serums from Dr. Cink
Dr. Cink is one of the biggest medical skincare labels in Taiwan, riding on the trend of dermatologically certified formulas. It's well-known for its top-selling serums: The Hydrating Serum and Restore Replenishing Night Serums. However, the products come with a premium price tag, so if you're looking for something more budget-friendly, try the next option below.
9. Serums from Neogence
Neogence is another brand created by local experts in dermatology and biomedical technology. Their products are highly efficient in addressing skin problems and the star product is The Hyaluronic Acid Hydrating Essence.
Where to buy: In any Cosme, Watsons or SaSa outlets.
10. Skincare products from Bevy C.
Bevy C. takes an interesting alternative approach to skincare: instead of focusing on how to get impeccable skin, it comes up with products to enhance the lasting power and appearance of your makeup. The creams and serums are used as a pre-makeup regime and protect your skin from harmful makeup ingredients. Try their Lumiwhite Moist Up Elixir Essence Primer to prep your skin before makeup!
Where to buy: On the official website or at any Watsons store.
When shopping for skincare products in Taiwan, look out for ingredients that are popular with the locals: ginger, silk, pear and also snail. Facial masks and serums are especially popular.

Happy shopping!