There's no denying that South Korea is on everyone's travel radar right now – and rightfully so. However, once you've shopped your way through the K-beauty mecca that is Myeongdong or bar-hopped around Gangnam's trendy watering holes, what else is there to discover?
As it turns out, a lot. 
South Korea is truly a fascinating mix of old and new; cool and quirky. For one, did you know that there is an entire village dedicated to tofu in the coastal city of Gangneung? I spent a whole week in summer exploring these cities neighbouring Seoul – like Pyeongchang, Gangneung, and Chuncheon, just to name few.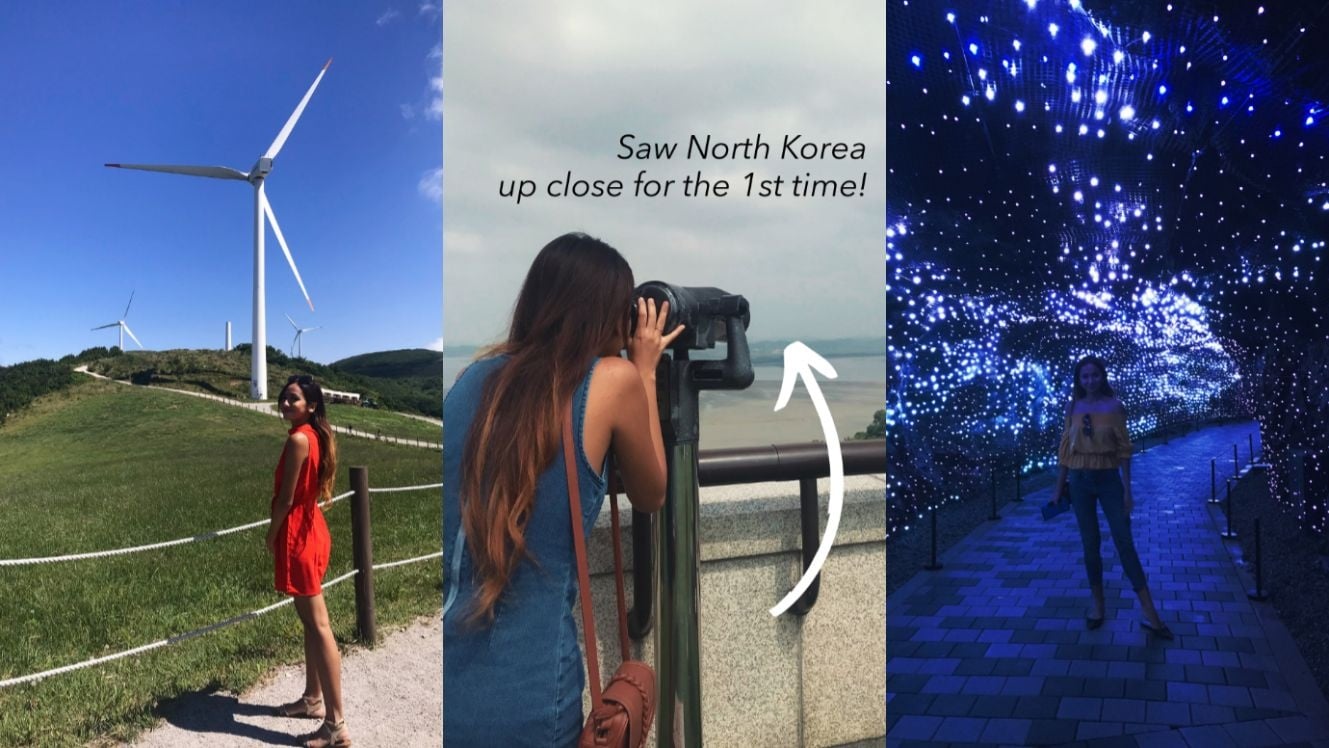 Most of these cities are a short hours' drive away from Seoul, so they make for perfect day trips or a quick weekend escape. As the skyscrapers pave way to stretches of valleys and greenery, you'll not only discover an alternative side to Korea but also a taste of how food specialties differ across the towns. 
From a truly fascinating day trip down to the Korean Demilitarised Zone to stumbling upon hidden gem surf spots in Gangneung, dive deep into these exciting, albeit 'un-touristy' experiences in Korea the next time you visit! 
PyeongChang
A three hours' drive away from the Incheon International Airport lies beautiful Pyeongchang, host of the 2018 Winter Olympics.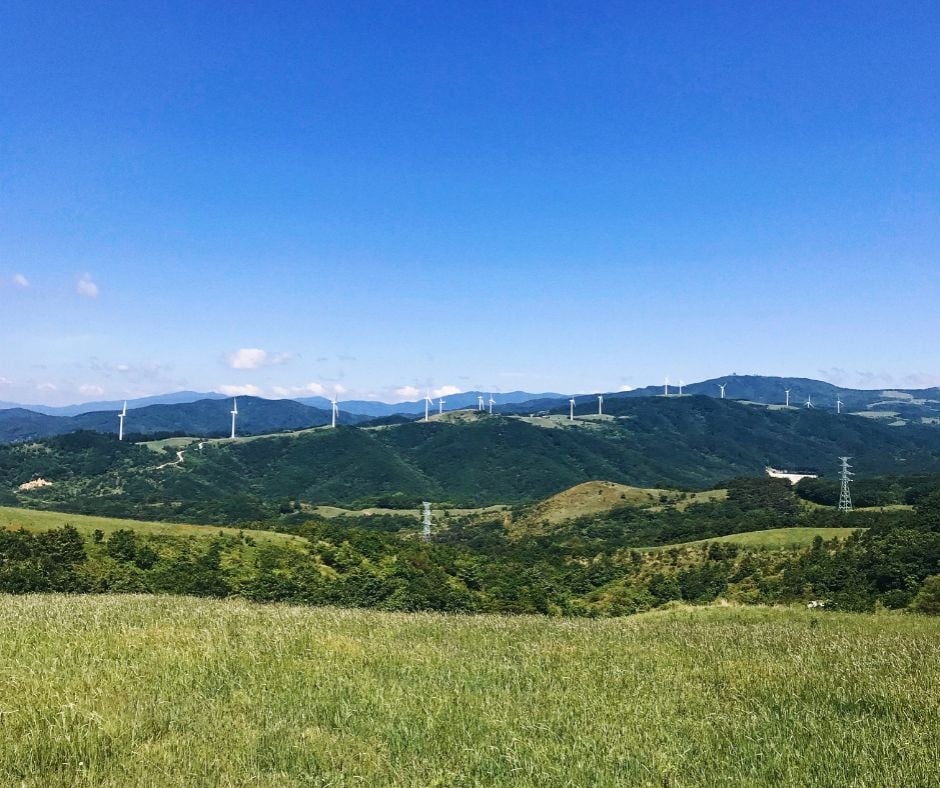 Although Pyeongchang might call to mind snowy peaks and winter activities, the city is packed with a chockfull of activities you can still enjoy even during the warmer months. Rich in tradition, brimming with hearty authentic Korean food, and filled with rolling green fields that seemingly stretch on for miles, Pyeongchang was quite literally a breath of fresh air. 
1 – Learn how to make tofu the authentic Korean way at Jeonggangwon 
Perhaps the best way to delve into Korea's rich and diverse culinary tradition is at Jeonggangwon.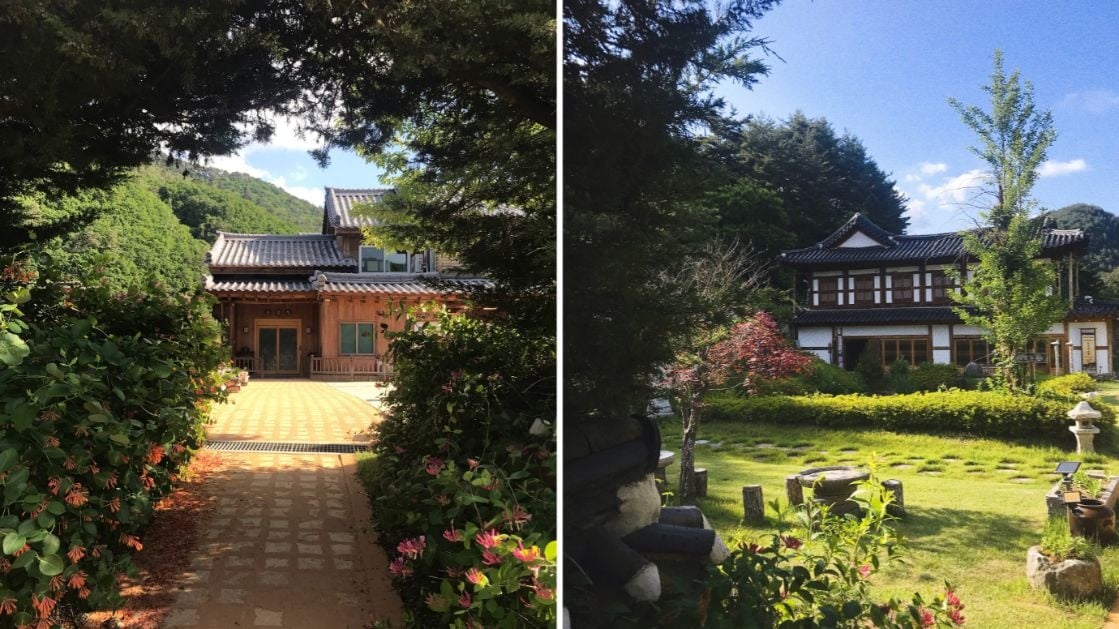 Housed in a traditional quaint hanok, this cultural center prides itself on preserving Korea's heritage through its food museum, hanok stay, cooking classes and more. At Jeonggangwon, I got to witness the art of traditional tofu-making first-hand – a surprisingly arduous affair, I might add.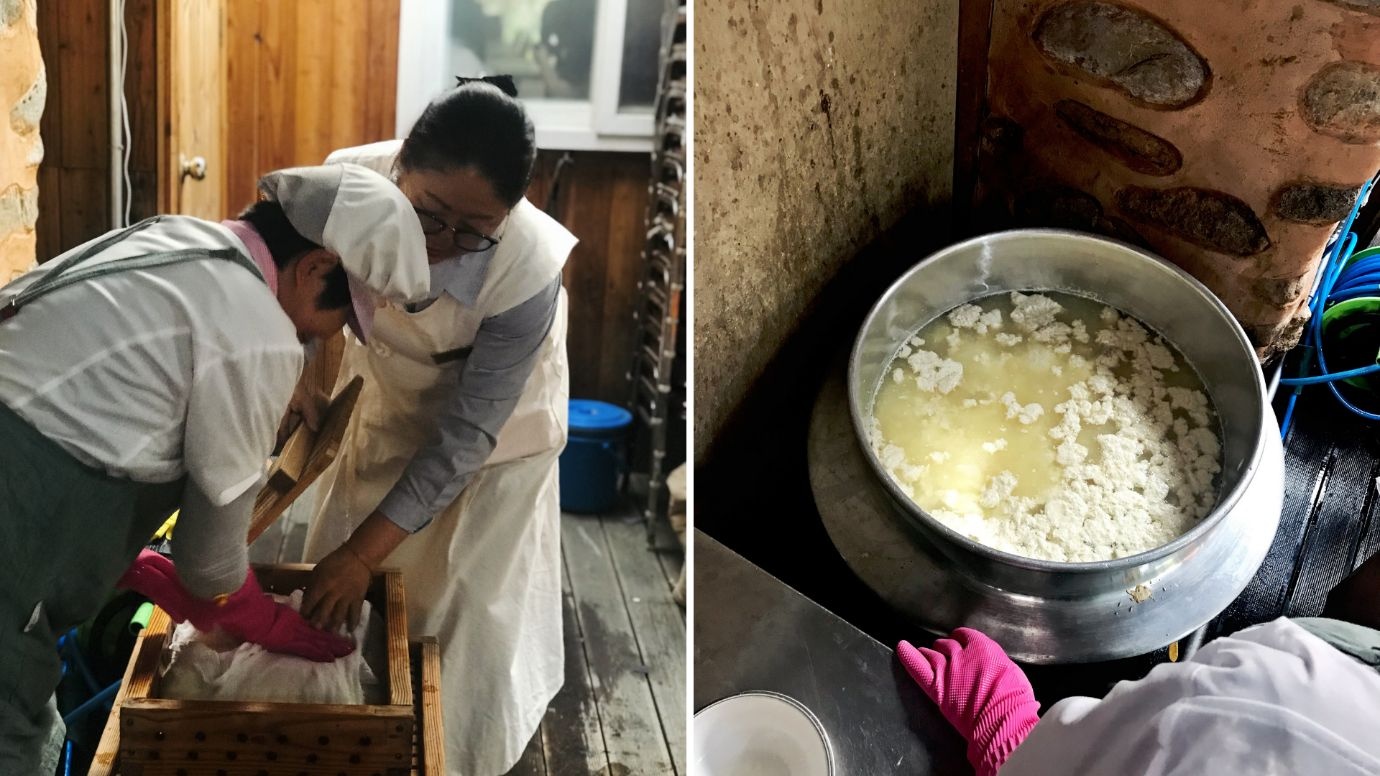 As it turns out, behind every serving of tofu at Jeonggangwon are the cheeriest Korean ajjuma who meticulously knead, boil, drain and re-boil the tofu. Meeting the spirited and adorable ajjumas was definitely a highlight for me (don't be fooled by the petite frames – tofu-making looks deceptively easy!)
Mind you, there's nothing like eating warm freshly-made tofu – whether consumed on its own or along with the condiments offered, it was absolutely silky and delicious.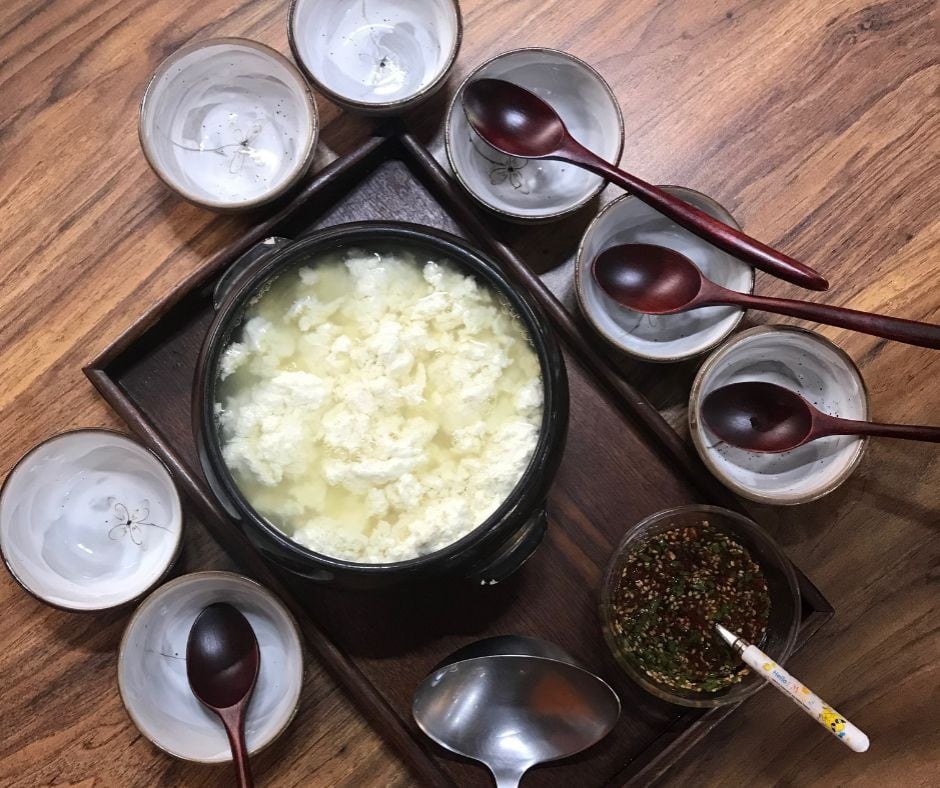 2 – Experience an exquisite traditional 'banchan' style dinner at Jeonggangwon  
Following the tofu-making demo, we were treated to a splendid Korean banchan-style dinner. Cooked with produce grown and harvested on its grounds and surrounding mountain areas, this exquisite dinner is as fresh as it is delicious. 
Also read: "The Beginner's Guide to Banchan"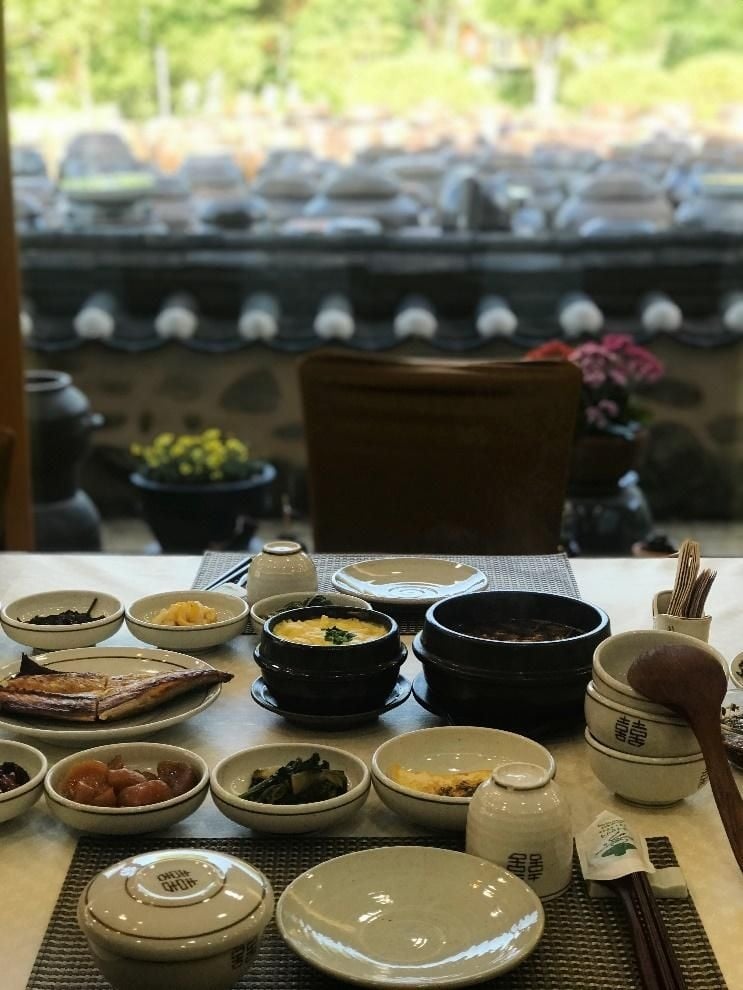 As Jeonggangwon is tucked in amidst lush green valleys, this meant that our exquisite dinner also came with breathtaking views. Fun Fact: Jeonggangwon is also famous for being a film location for K-drama series 'Sikgaek'!
Address: 21-4, Baekokpo-ri, Yongpyeong-myeon, Pyeongchang-gun, Gangwon-do
3 – Get up close with adorable farm animals, windmills & more at Daegwallyeong Sky Ranch 
Sprawled over 10 million sqm, Daegwallyeong Sky Ranch is Asia's largest ranch.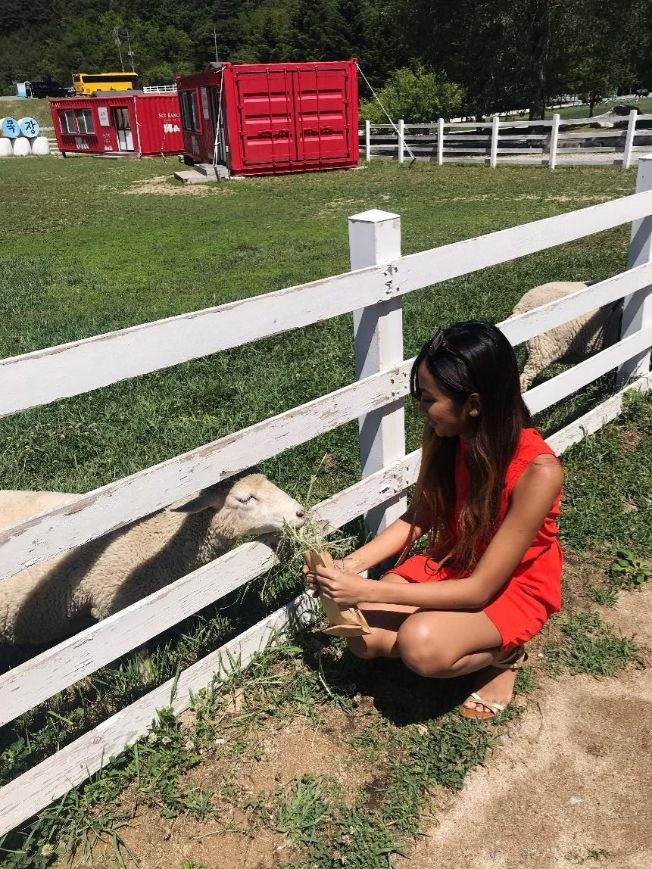 You'll see everything from grazing horses and milk cows to wild deer and squirrels dotting the rolling green hills and fields – it's as though you've stepped into an idyllic postcard.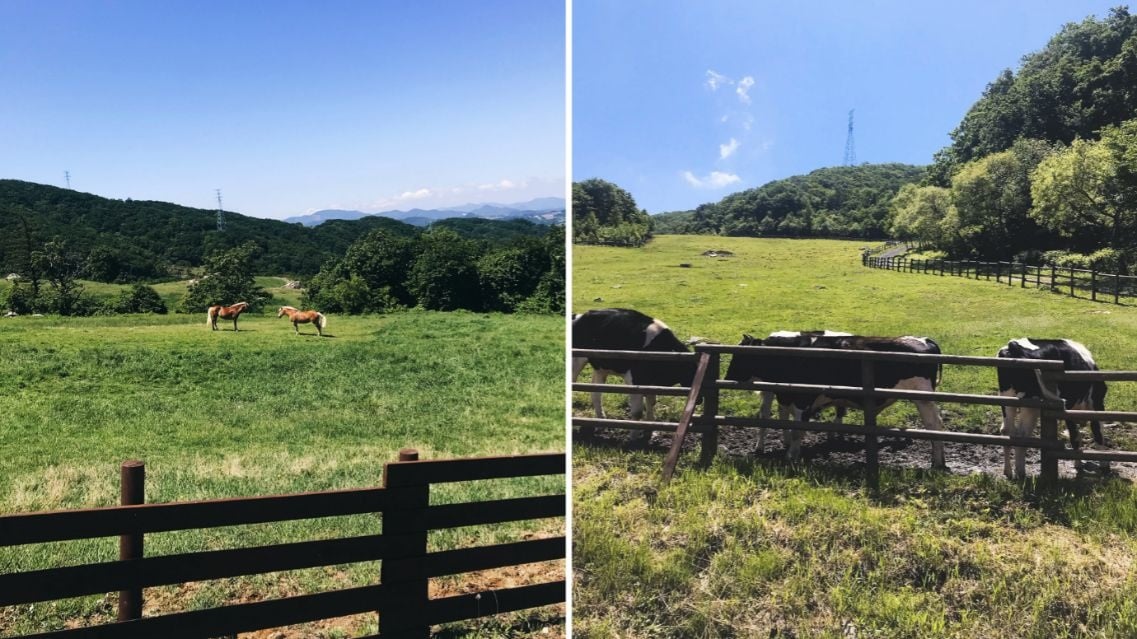 There's plenty of family- and kid-friendly experiences you can try too like feeding the ranch animals, boarding a ranch carriage through the hills and more!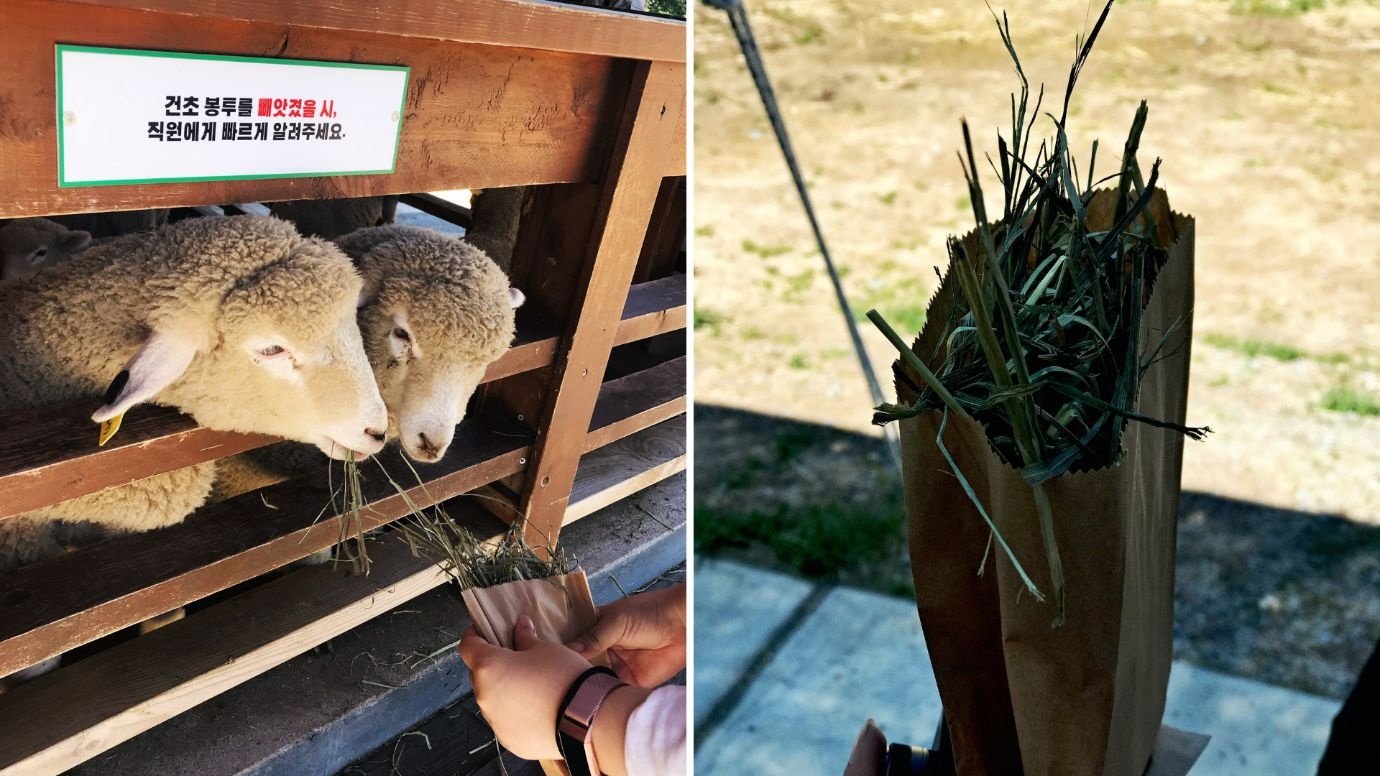 The ranch is set among the hills and to get to the peak, you'll need to board a tractor carriage that takes you to the top. Once you're at the hilltop however, you'll be greeted by panoramic views of Pyeongchang and the 60-metre tall windmills that dot the hills.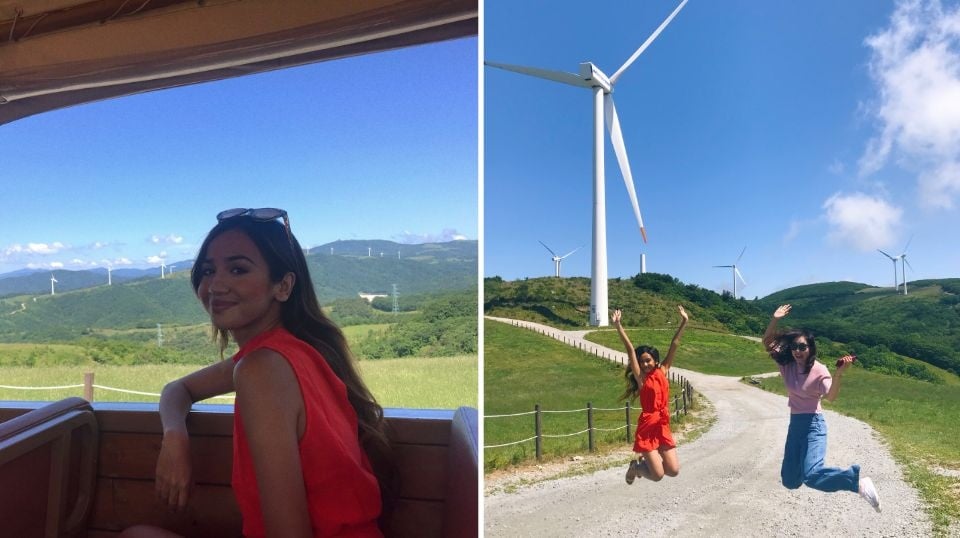 The Daegwallyeong Ranch is so incredibly scenic – so it's comes as no surprise that it's a popular filming location used in shows like "Running Man", "Cinderella and the Four Knights" and also as the backdrop for a Korean Air commercial. 
Address: 458-23, Kkotbadyangji-gil, Pyeongchang-gun, Gangwon-do 
Opening Hours:  9am to 5:30pm (Admission ends an hour before closing)
Admission fee:  ₩6,000 (Adult), ₩5,000 (Child). Additional charges apply for the tractor ride (₩6,000 per adult, ₩5,000 per child) and feeding experience (₩2,000 for a bag of hay). 
4 – Enjoy an organic Insta-worthy brunch spread at KKrovei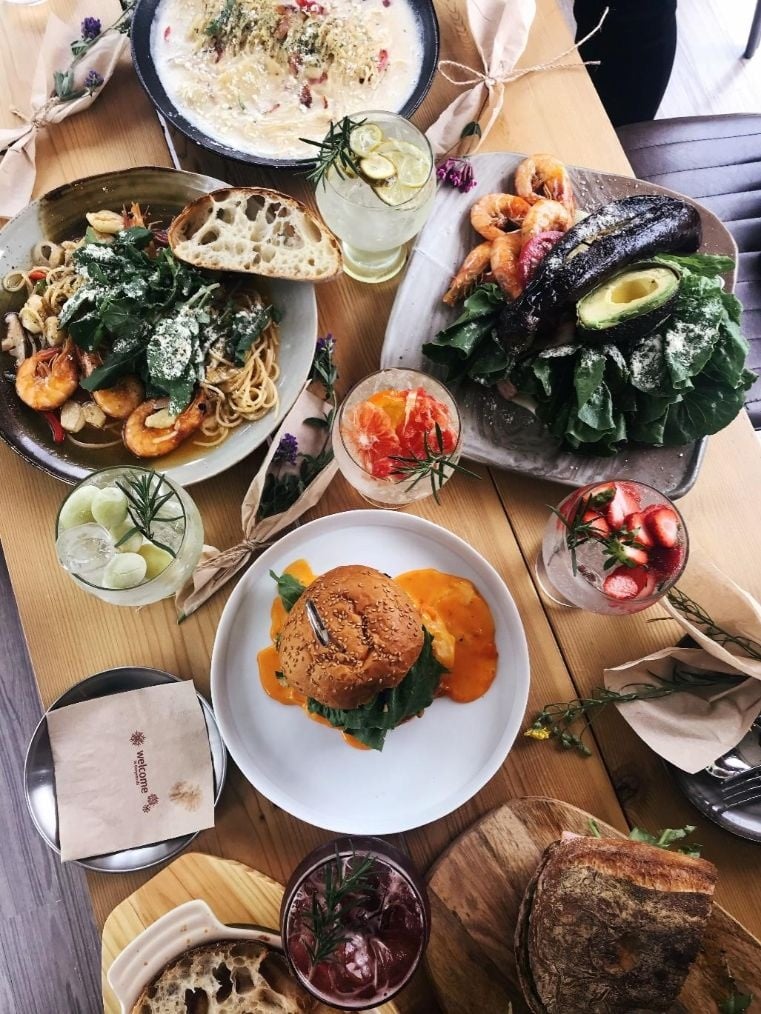 This charming two-storey brunch spot is owned by a Korean husband-wife duo. I was impressed by their wide selection of fresh homemade jams whipped up from produce locally grown on the garden next to the café! Its hand-written menu (a nice touch, I thought) features classic Western café grub like generously-portioned pastas and sandwiches, and fresh fruity cordials.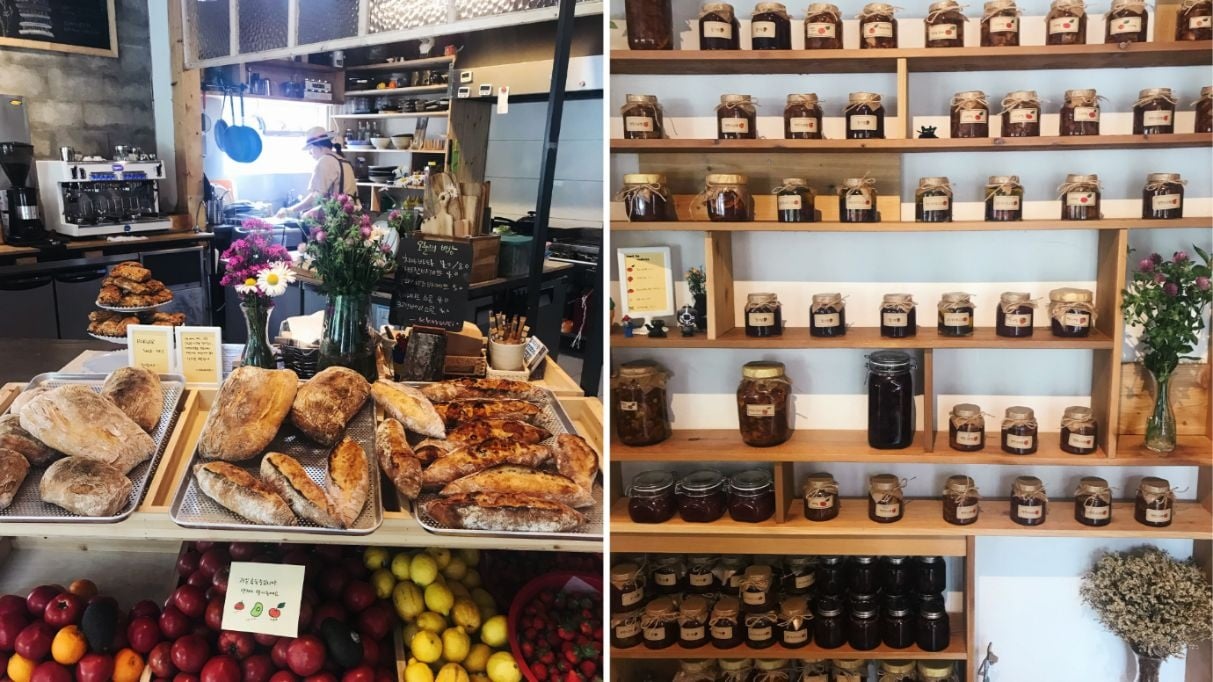 Tip: Seat yourself next to the café's massive floor-to-length windows on its second floor to snap that perfect brunch Instagram!  
Address: 780-3, Mu-i-ri, Bongpyeong-myeon, Pyeongchang-gun, Gangwon-do
5 – Get K-rafty at Mooee Arts Center 
It was also in Pyeongchang that I visited Mooee Arts Center and got my first taste of the local Korean art scene. The sprawling arts hub had a massive lawn at its front, where you'll see impressive contemporary sculptures, and a main building which houses numerous exhibitions and artist studios.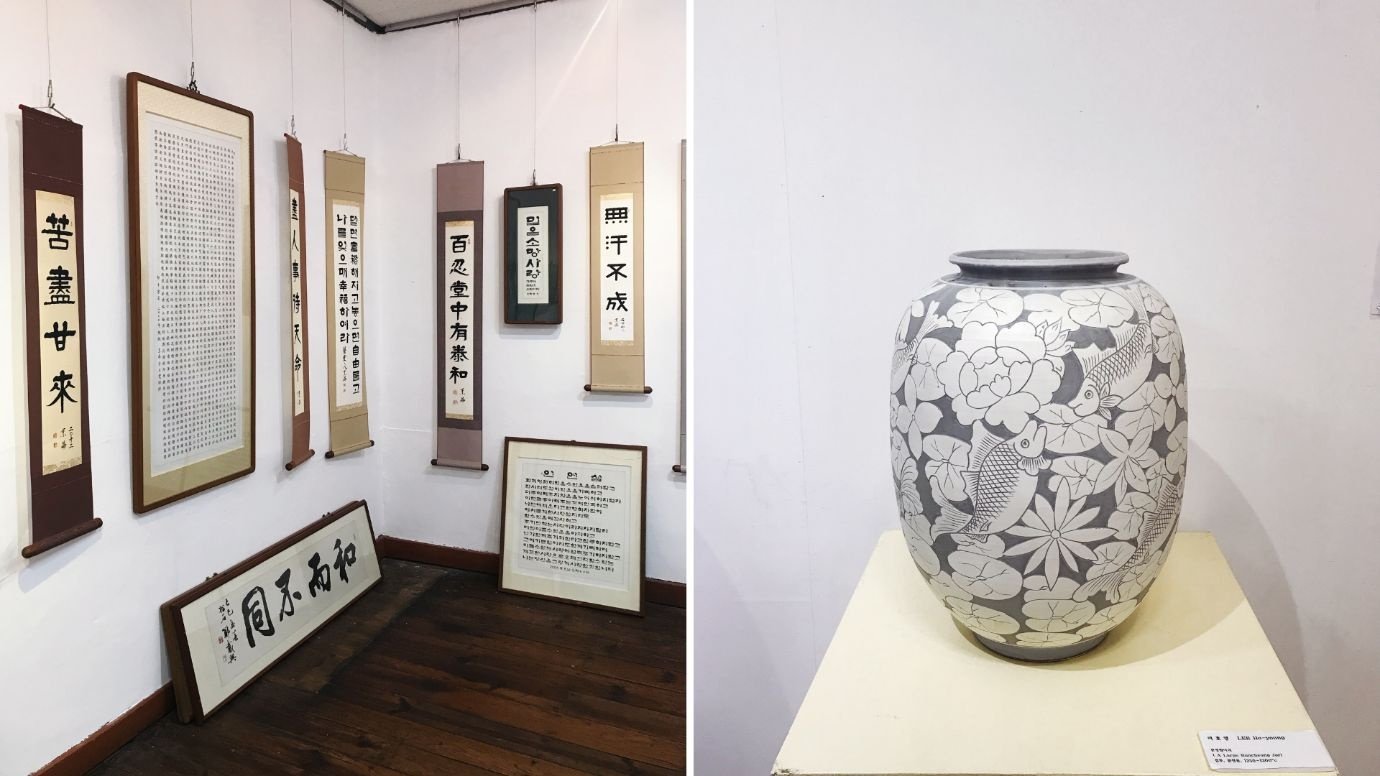 I got the chance to meet an esteemed Korean artist, who's reputed for his mung bean paintings. There are also hands-on crafts you can try, like making a pressed flower necklace and more!
Address: 233 Saripyeong-gil, Bongpyeong-myeon, Pyeongchang-gun, Gangwon-do, South Korea
6 – Try buckwheat pancakes, a delicious Pyeongchang speciality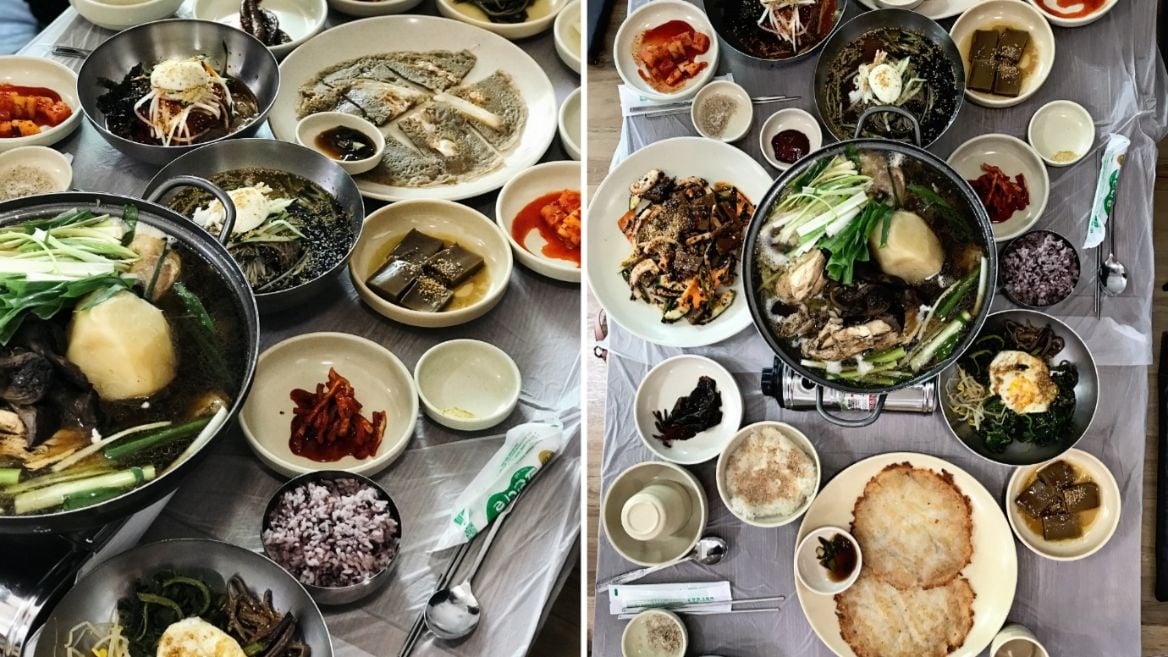 While in Pyeongchang, sink your teeth into the region's specialty – the ridiculously scrumptious buckwheat pancake. For arguably one of the best pancake dishes in the city, head down to Du-il Makguksu, an award-winning yet unassuming restaurant popular among locals for makguksu, a type of Korean buckwheat noodle. While you're here, order a steaming bowl of whole herbal chicken soup (which I can imagine to be a delight in Pyeongchang's colder months)… and also its satisfying crispy potato pancake! 
Address: 151-4, Duil-ri, Jinbu-myeon, Pyeongchang-gun, Gangwon-do
The Korean Demilitarised Zone
It's no secret that South Korea's relationship with its northern counterpart is a complicated and tricky one, to say the least. If you're a political buff or are simply curious for a peek into what life in North Korea looks like, I'd highly recommend a visit to the Korean Demilitarized Zone.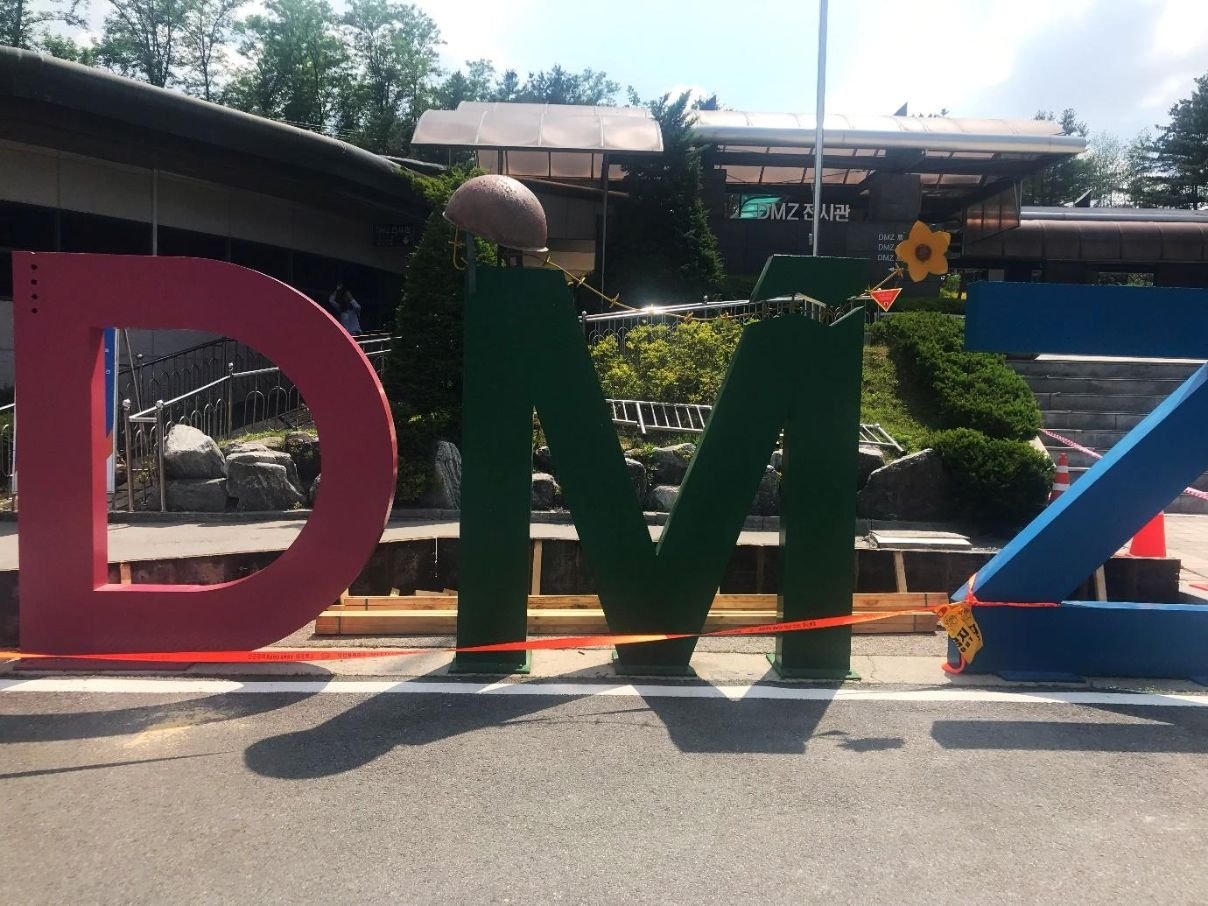 The Korean Demilitarized Zone (DMZ) is a 248-kilometre land border between South Korea and North Korea. Created in 1953 after the end of the Korean War, this political demarcation is 2-kilometres away from the North and South each and is as close as you can get to the border between the two Koreas. 
Only about an hour's drive away from the city center, I was surprised to find that DMZ is actually surprisingly close to Seoul. There are various English-speaking tour groups that facilitate guided tours around the DMZ, taking you through to historically significant landmarks like Dorasan Station, Imjingak Park, Third Infiltration Tunnel and more. 
7 – Sneak a rare glimpse into North Korea at the observatories
The Odu Reunification Observatory allows a rare glimpse into North Korea through the many telescopes stationed at the observation deck.
I spent quite a while at the deck fascinated by what I saw through the lens: expansive farmlands with cottages in between, and the occasional farmer I spotted working on the fields. It was pretty surreal.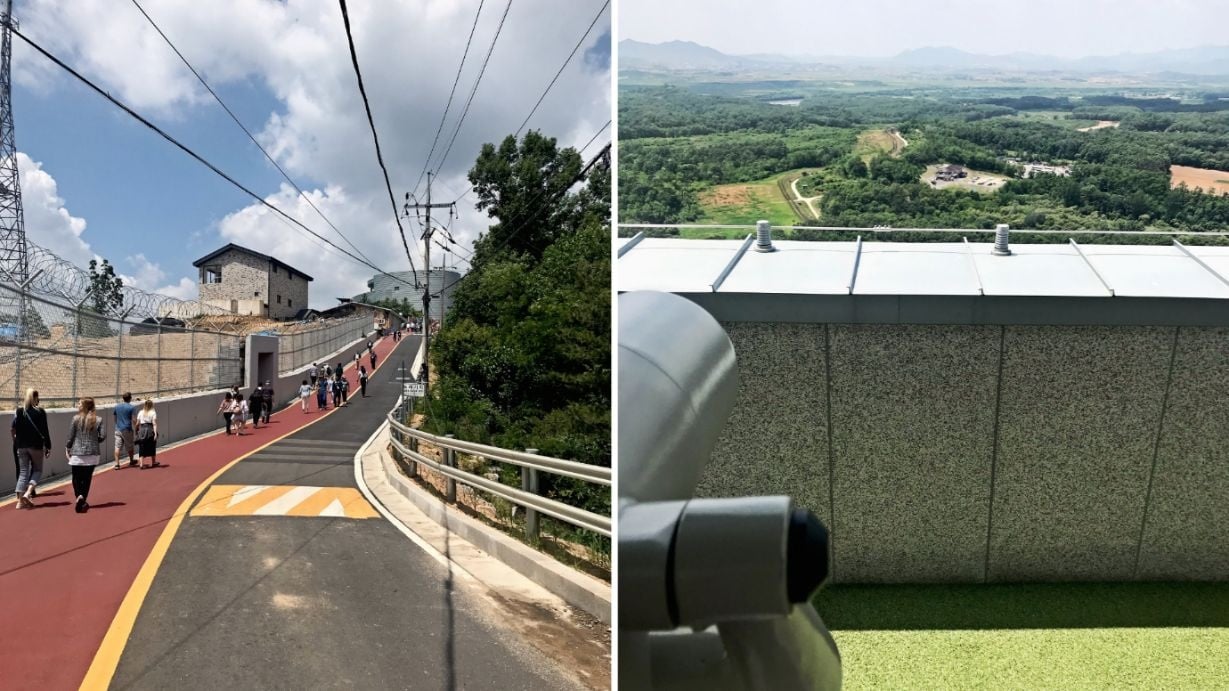 The Dora Observatory also has a similar observatory deck (pictured above on the right) with telescopes. This time, you'll get an even clearer view into North Korea. From the observatory, you'll get to spot identifiable landmarks including the Kim Il-Sung Statue, Cooperation Farm and more.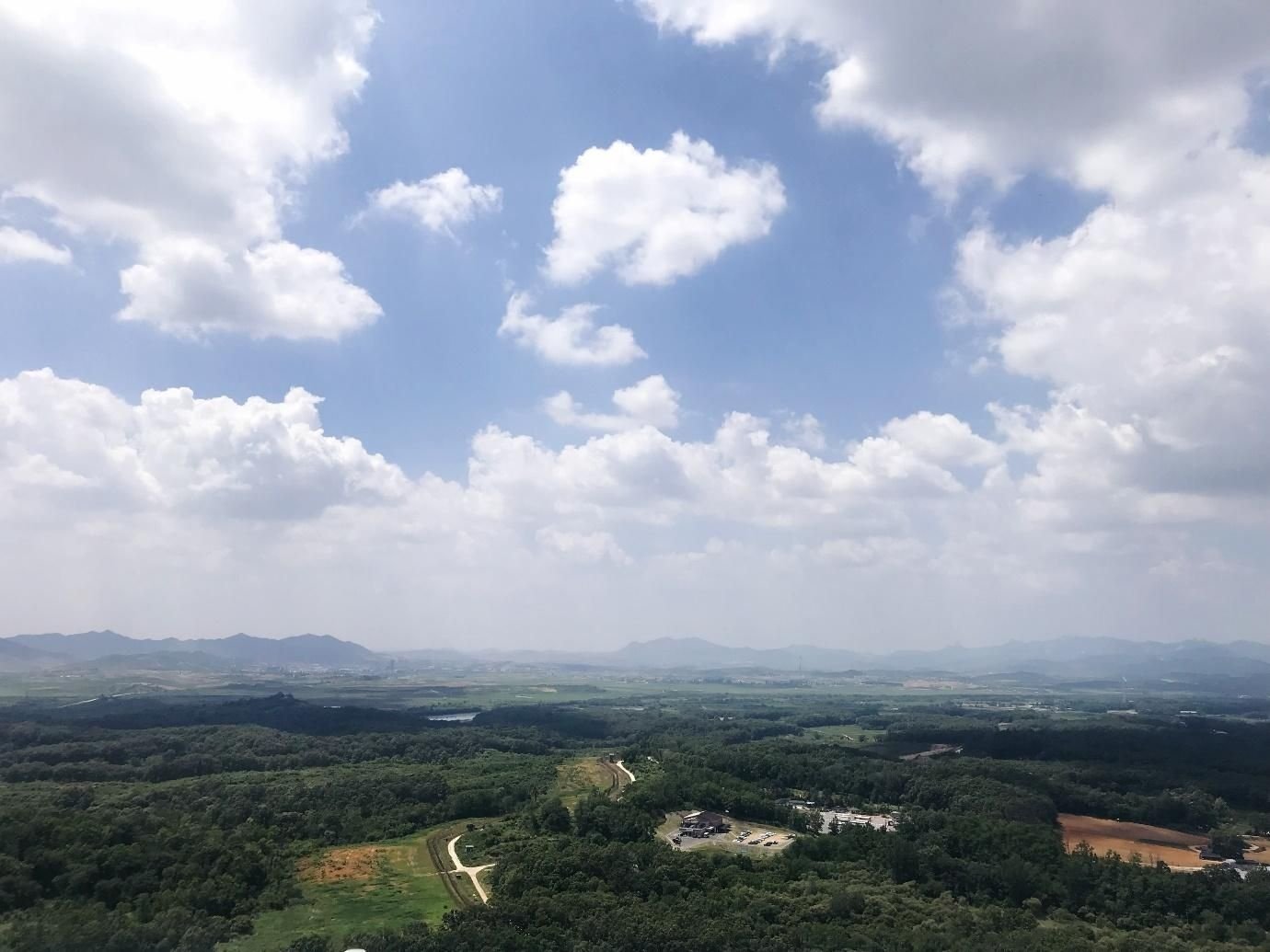 And yes, that's a panoramic shot I took at the Dora Observatory of North Korea's outskirts from my smartphone camera – no zooming required! 
Address: Seongdong-ri, Tanhyeon-myeon, Paju-si, Gyeonggi-do
8 – Go through a tunnel secretly dug by the North Koreans leading into South Korea
During the tour, I learnt that the South Korean authorities have discovered a few infiltration tunnels secretly dug by North Korea. You can actually go through one of the tunnels known as the Third Tunnel of Aggression, located in Paju near the Dora Observatory.  
Only about a 100kilometres from Seoul, this tunnel was discovered in 1978. Today, a total of four tunnels crossing the DMZ built by the North have been found, although it's been suspected that there are more.
Photography isn't allowed within the tunnel, so soak up the experience as much as you can! I'd recommend wearing comfortable shoes and clothing as the tunnel hangs pretty low and steep at points. Tip: When you're in the tunnel, always remember to wear the helmets provided lest you risk a few head scrapes – especially if you're tall!  
Address: Je3ttanggul-ro, Paju-si, Gyeonggi-do
9 – Get a 'symbolic' North Korean visa stamp at Dorasan Station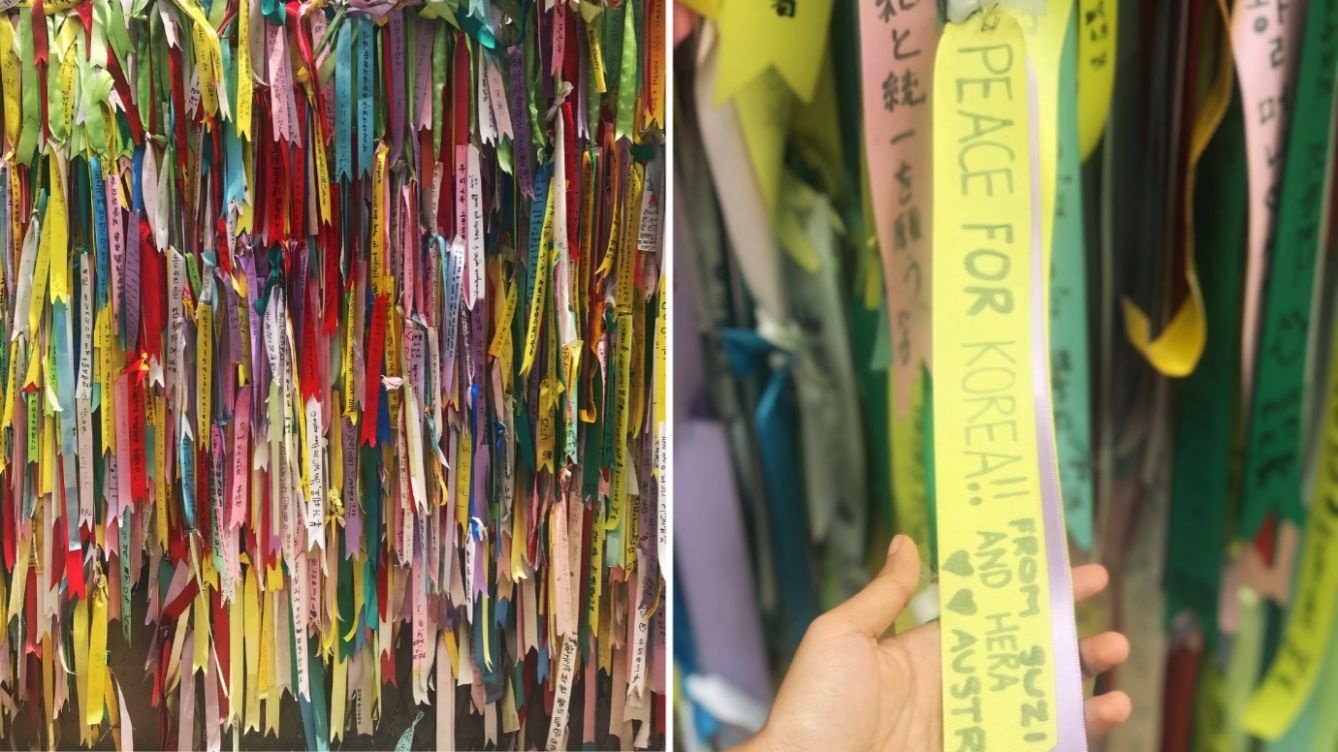 Amidst all the tragedy of war and politics, an air of optimism hangs at the DMZ. In Imjingak Park, you'll find the Freedom Bridge which bears innumerable prayer ribbons from visitors around the world that read with messages of hope and unification for both the North and South.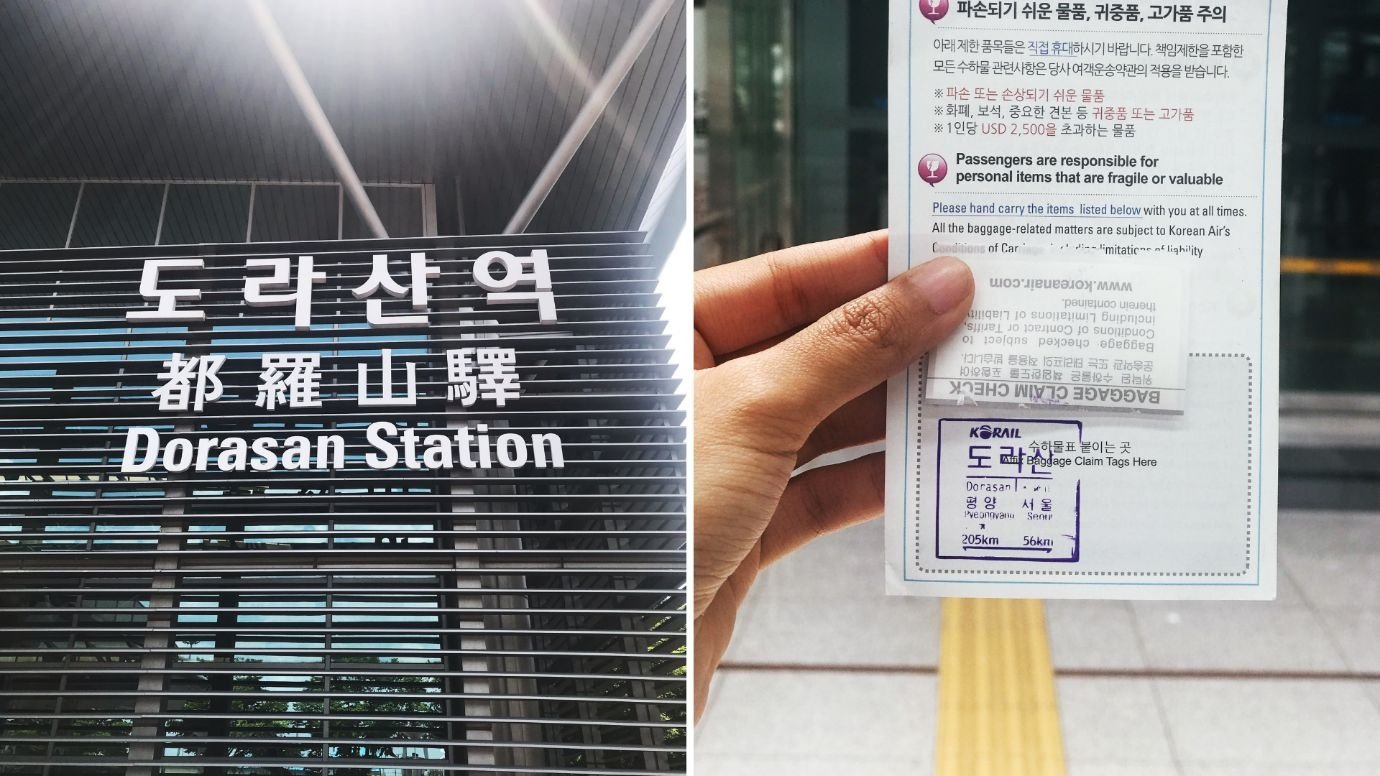 Dorasan Station is a now-defunct station and is the northernmost stop on South Korea's railway line. This sleek and modern rail station was completed in 2002 but  offered freight trains only for a brief period between Dorasan and the North Korean border. When tensions began escalating between the two Koreas again, the station was shut and is now frequented by curious tourists visiting the DMZ.
Within the large and airy terminal, you'll find signs that point to Pyongyang, and also a counter where you can get a 'symbolic' North Korean visa stamp (pictured above on the right).
Address: 307, Huimang-ro, Paju-si, Gyeonggi-do
Throughout my time spent at the DMZ, we were accompanied by a defector Hana Kim, a former Literature schoolteacher a who had fled North Korean in 2011. Through Hana, I'd learnt about the difficult circumstances that pushed her to leave home, how she was first escaped through Laos, China and Thailand before eventually arriving to South Korea two years on. 
All in all, my experience at the DMZ truly defied my expectations. Although the border is highly militarized and it was worlds apart from the sleekness and bustle of Seoul, it felt safe and was an incredible opportunity to better understand the nuances of the political situation between the two Koreas. 
Gangneung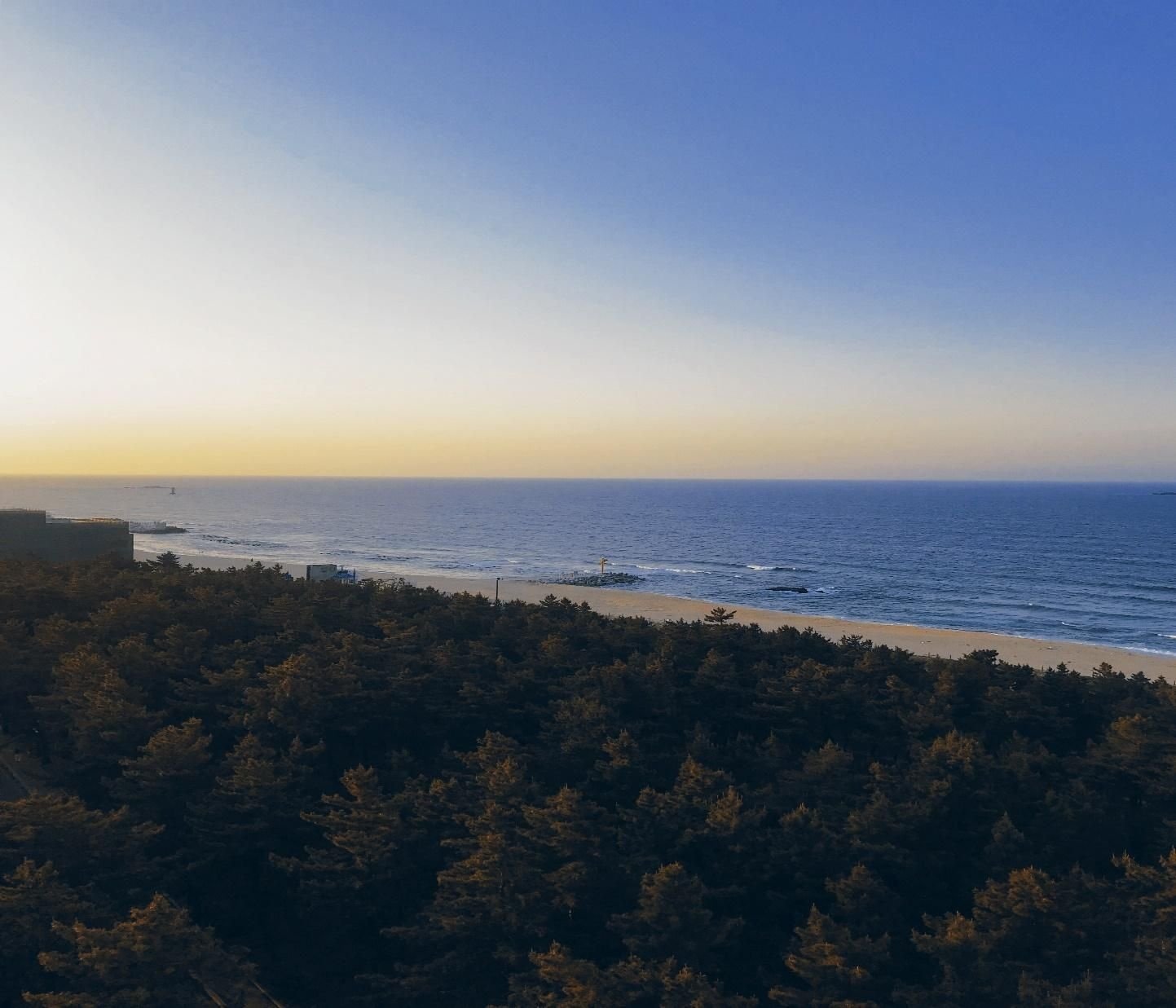 While South Korean cuisine has become synonymous to the likes of kimchi and bulgogi, there's so much diversity to their food. Head to Gangneung, a coastal city famous for its white-sand beaches and turquoise waters, and you'll find out why it's also increasingly gaining a reputation as "tofu town". 
Sundubu (translates: fresh tofu) is a speciality in Gangneung. It is here you'll find all things tofu, running the gamut of tofu-specialty diners, tofu desserts, tofu street art – even an actual tofu village called 'Sundubu Village'! 
10 – Discovered a strong K-coffee culture brewing at Terarosa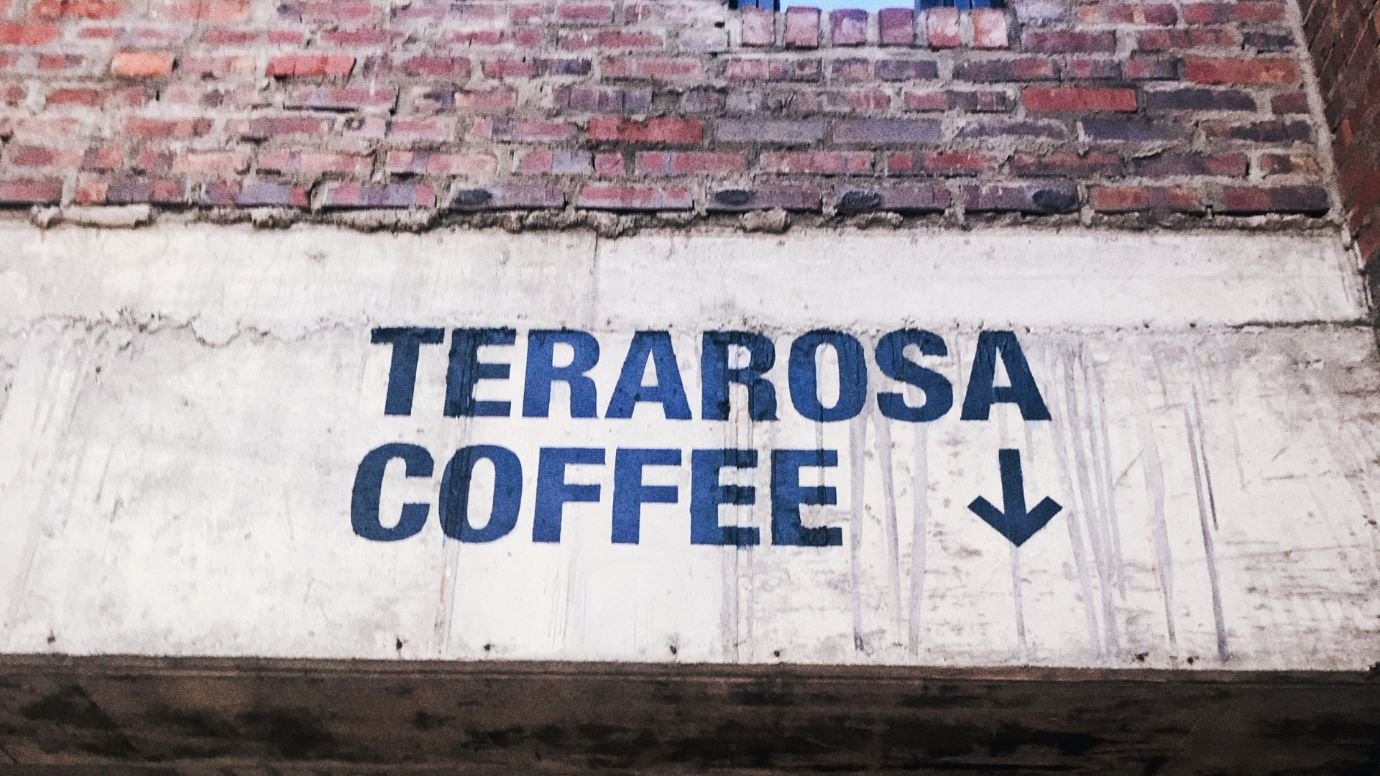 Terarosa is easily one of Korea's most recognisable coffee brands. Having first opened in Gangneung in 2002, it's the largest specialty coffee brand in Korea, with about 10 branches all over the country.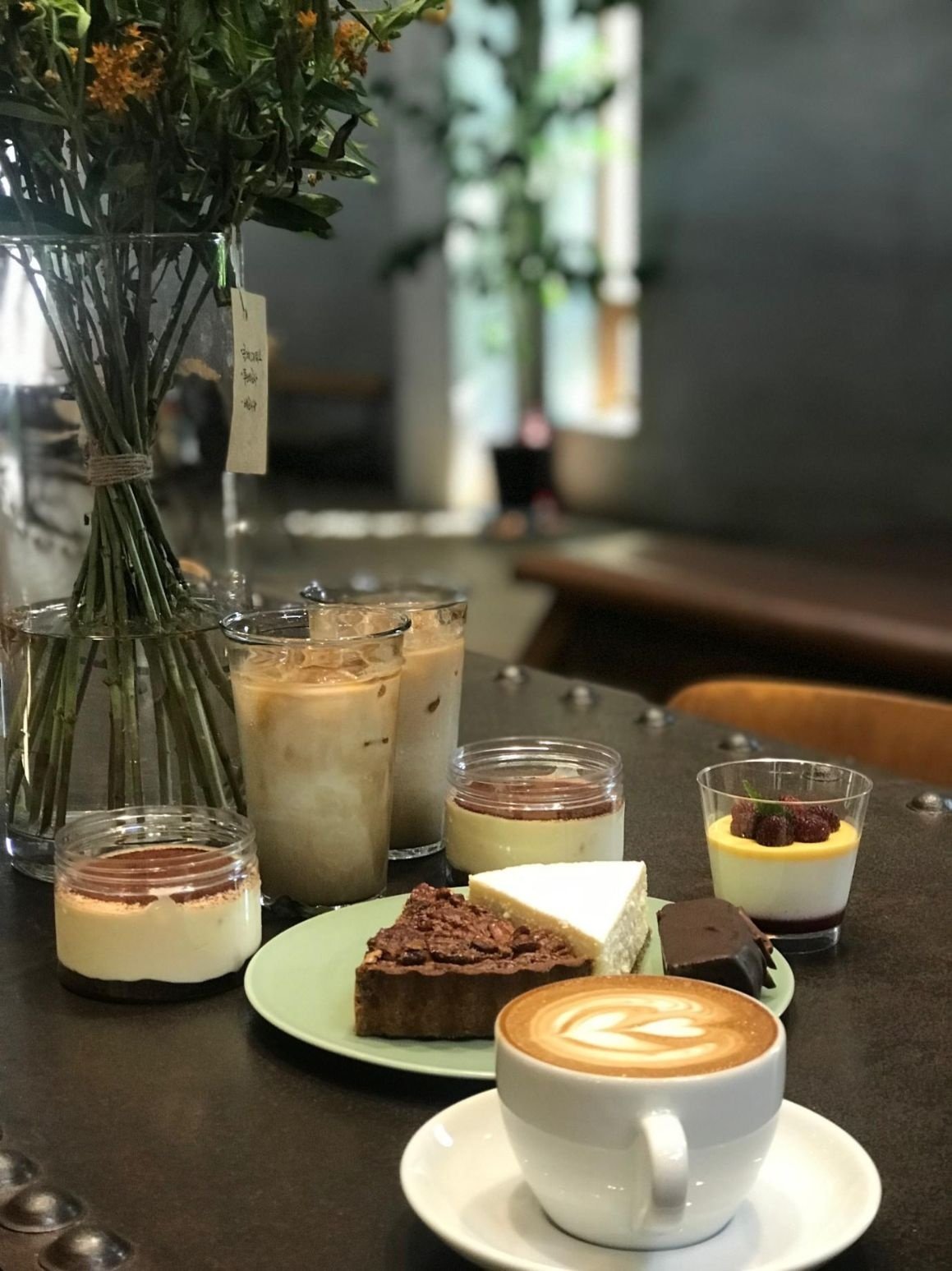 The spacious Terarosa Café and Museum is a flagship café-meets-coffee history museum. The cafe serves everything from drip coffee, espresso drinks and a delicious dessert menu as well. (Try the pecan pie – it's so good.)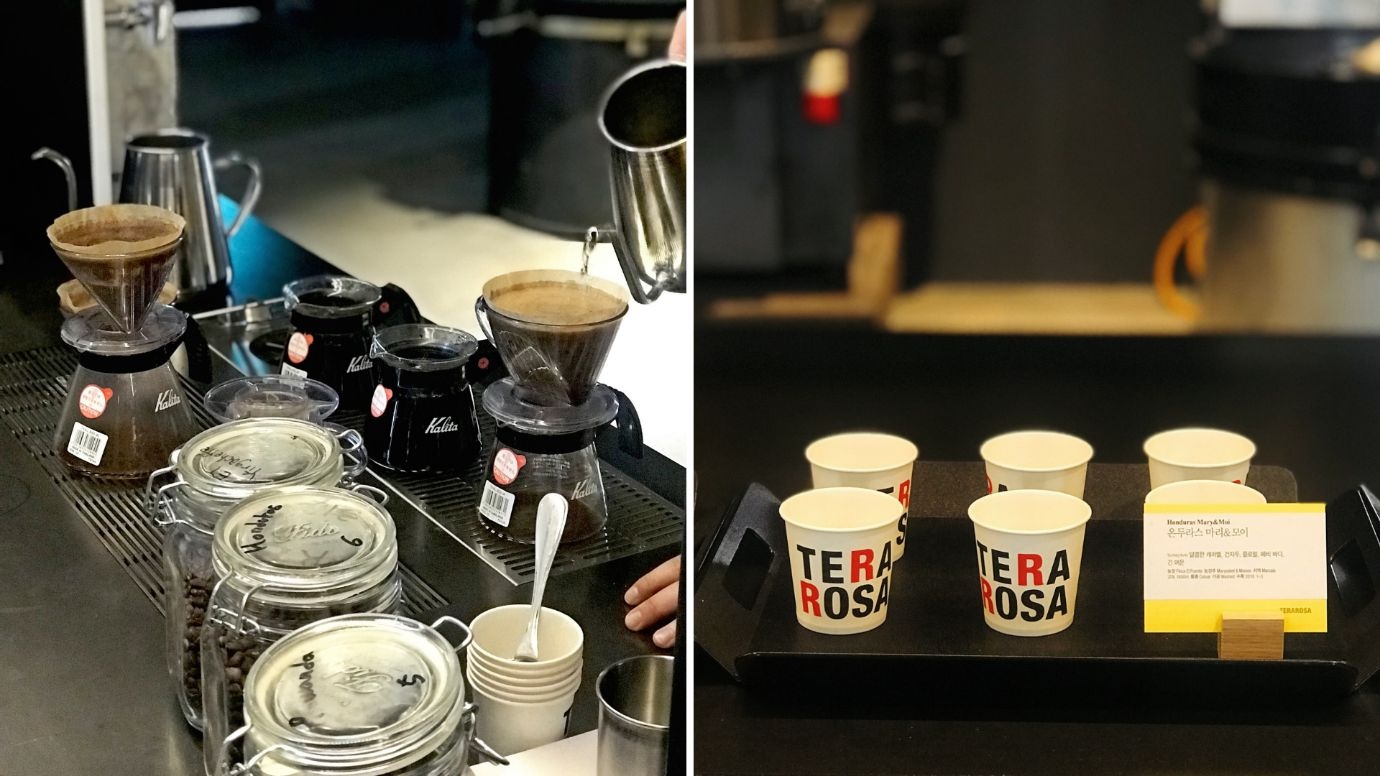 My favourite part was the Terarosa Museum tour, which was a fascinating educational insight into the world of beans, brews and everything in between. More of a coffee history museum, I spent a delightful afternoon not only learning about Terarosa's coffee philosophy but also an insight into the fascinating history of coffee.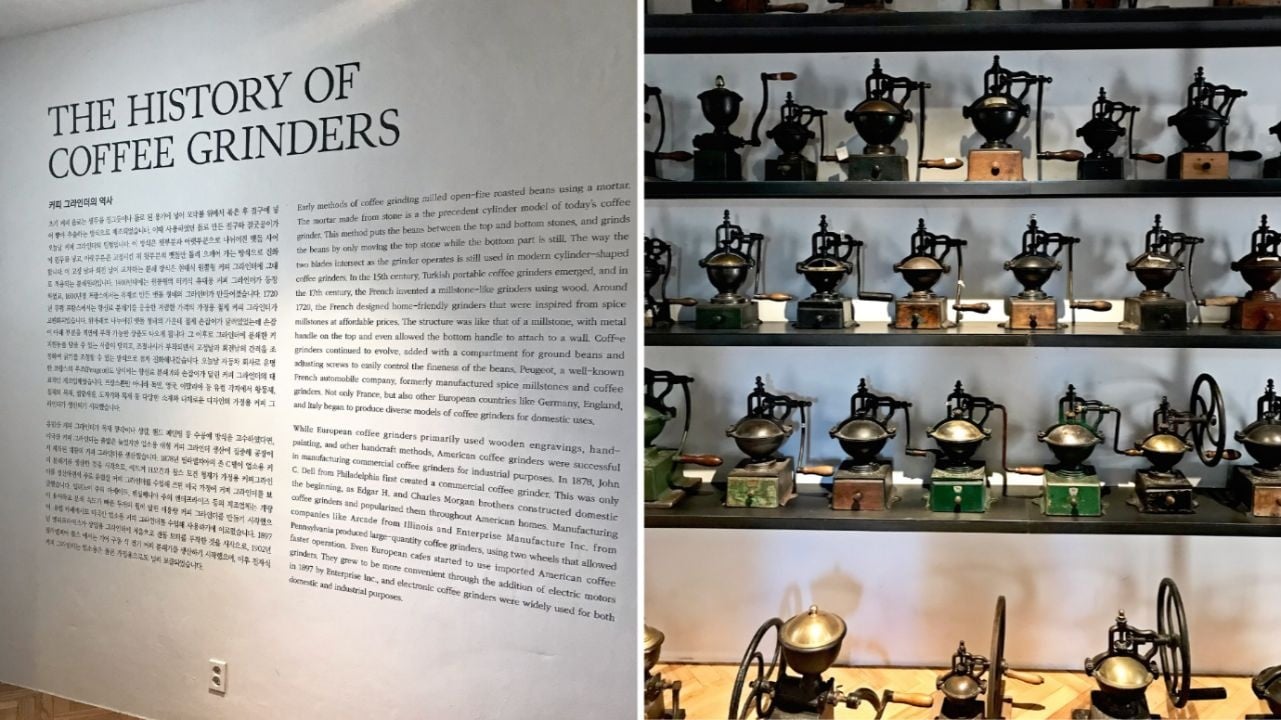 I went on the guided museum tour which takes you through the various stages of the coffee-making and selection process in Terarosa. Although the tour is only conducted in Korean, the incredibly detailed exhibits are written in English so fret not!  
Address: 7 Hyeoncheon-gil, Gujeong-myeon, Gangneung City
11 – Had 'soy' much fun exploring a 'tofu village'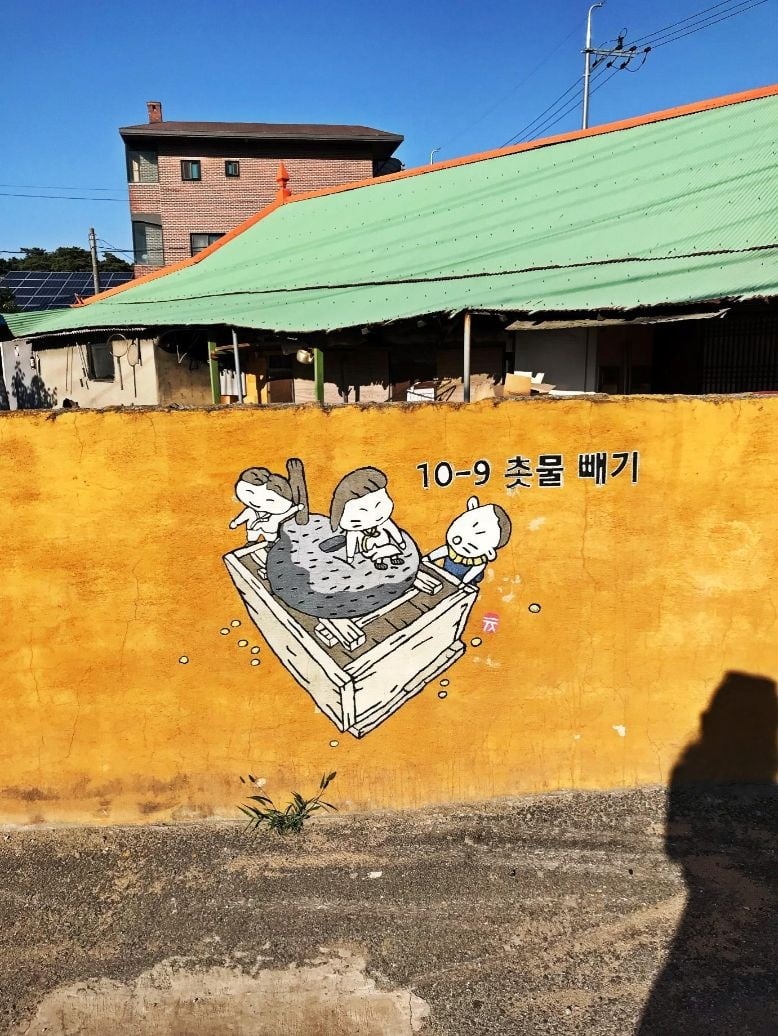 If there's anything I've taken away from my week in Korea, it's that I've underestimated how much Koreans love their tofu – or dubu. Chodang Sundubu Village might be the closest thing on earth to a tofu haven. Located south of Gyeongpo Beach, this village is famous for its sundubu (fresh tofu).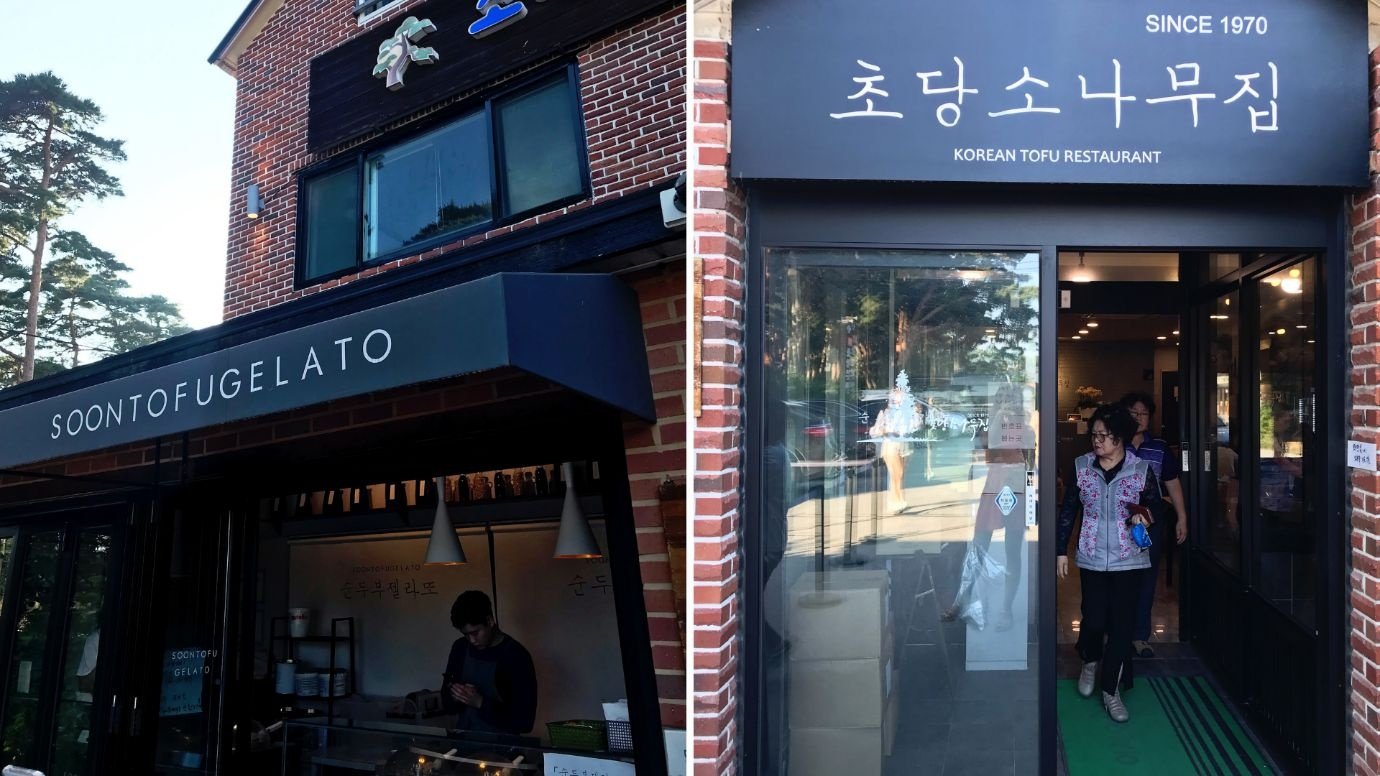 Here, you'll find all things tofu: there are street walls lined with tofu murals, tofu eateries, a tofu gelato store. I wasn't kidding when I said this is the closest thing to a tofu haven. PS. It's also incredibly vegetarian-friendly!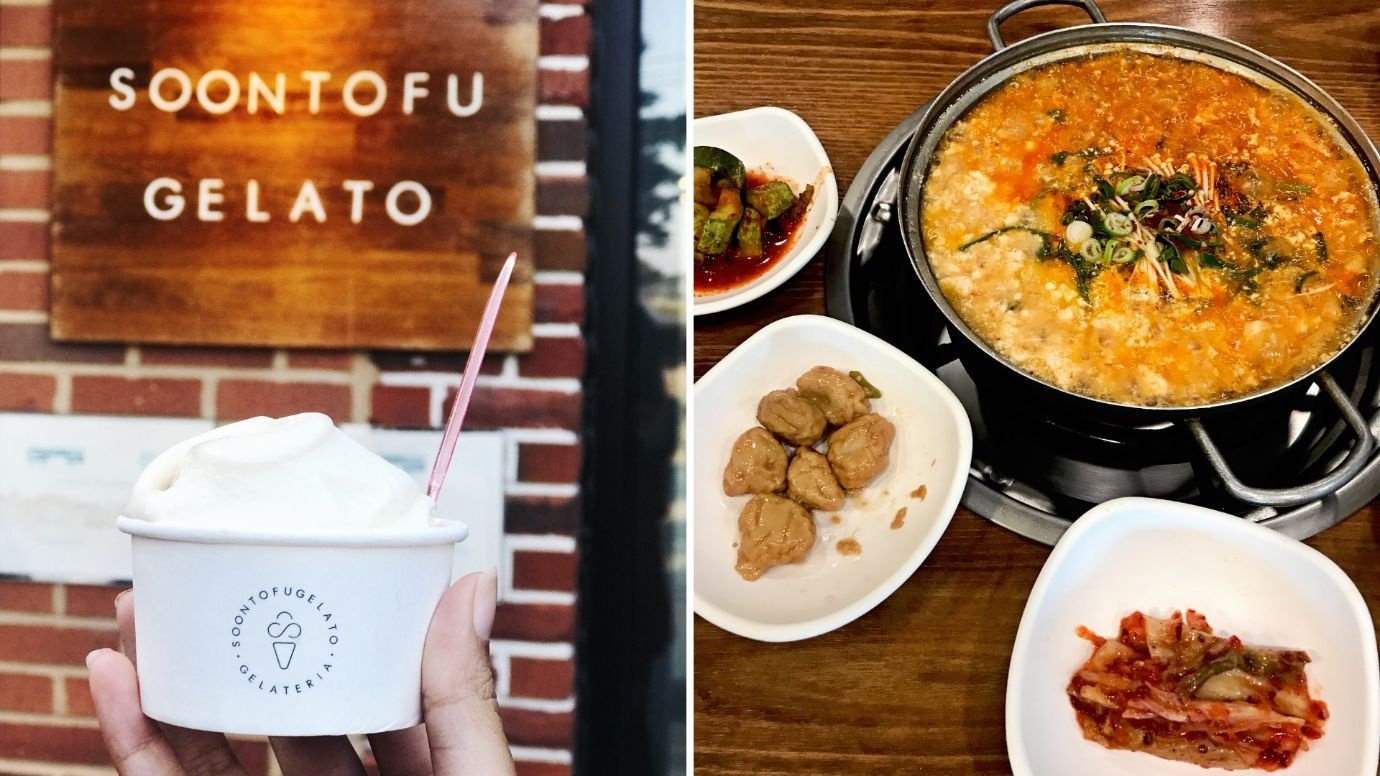 12 – Recreate an iconic Korean drama scene at Youngjin Beach 
If K-drama is your guilty pleasure, you're probably familiar with the iconic breakwater scene from the wildly popular series, Goblin. This shot was actually filmed in Gangneung's Youngjin Beach! There are several breakwaters along the beach, so look out for the one right in front of the Goblin sign (you can't miss it!) and recreate this iconic scene. And if you're not into K-drama, the beautiful beach and glistening turquoise waters still make for a lovely stroll and great photo op!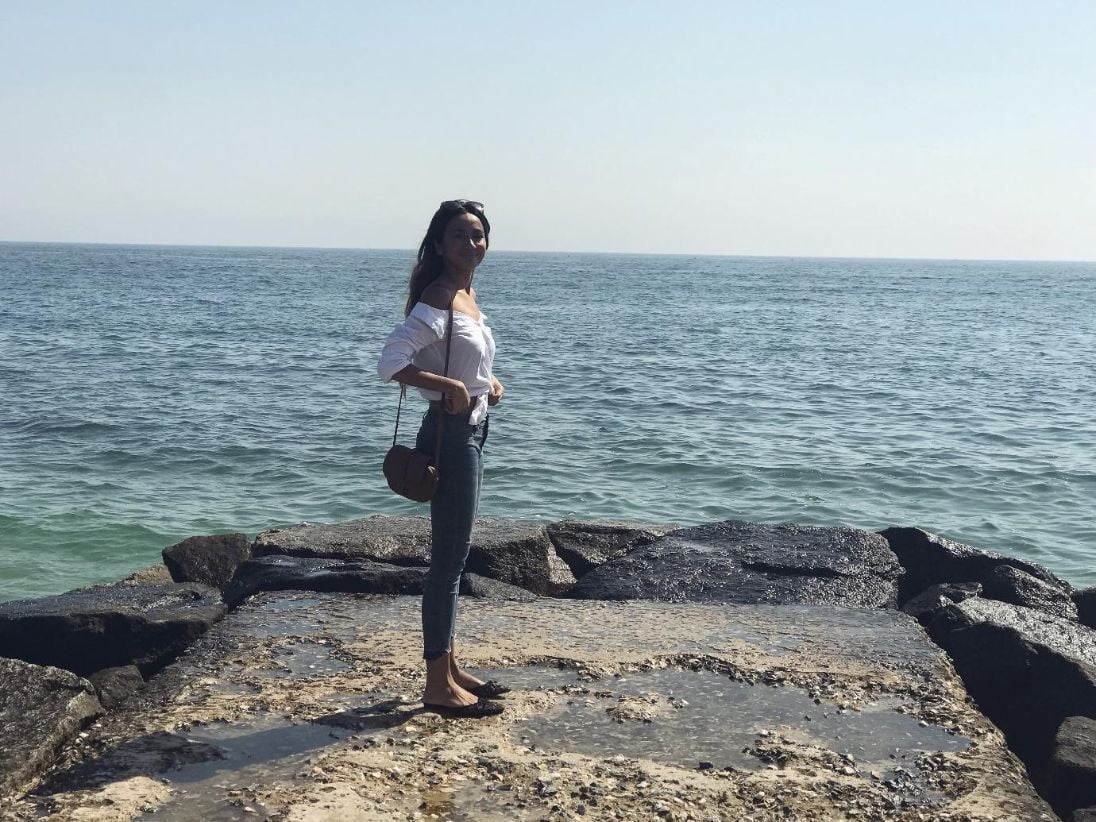 A short drive away from Youngjin Beach is Jumunjin Beach – another popular tourist attraction in the city. This beach is the filming location for K-pop sensation BTS' music video! You'll easily find the bus stop sign, often dubbed the "BTS Bus Stop", right at the beach.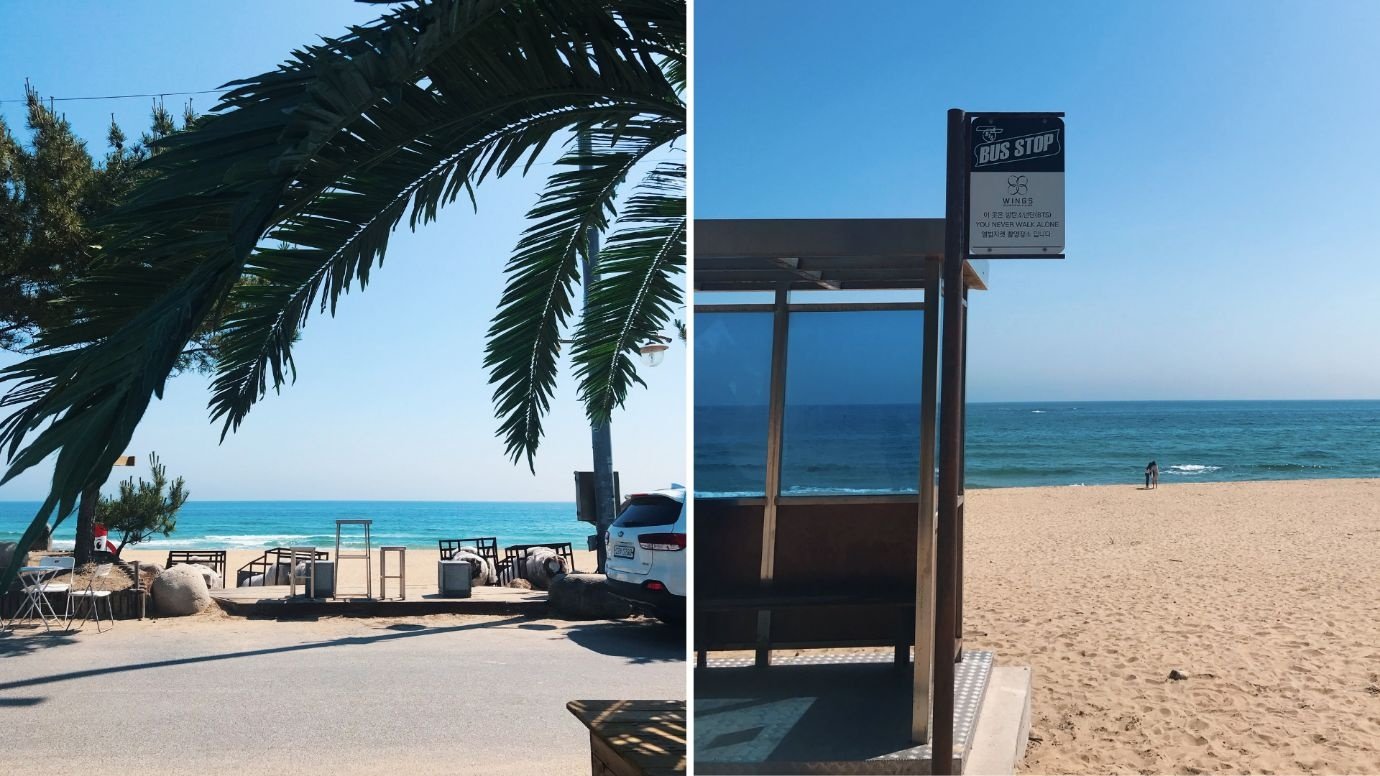 Spend your day strolling across the picture-perfect coastline and – if you're a BTS fan – capture that perfect Instagram moment at the bus stop! 
Address: 1609 Haean-ro, Jumunjin-eup, Gangneung-si, Gangwon-do
13 – Stumbled upon a surprising beach and surfers' paradise at Jumunjin Beach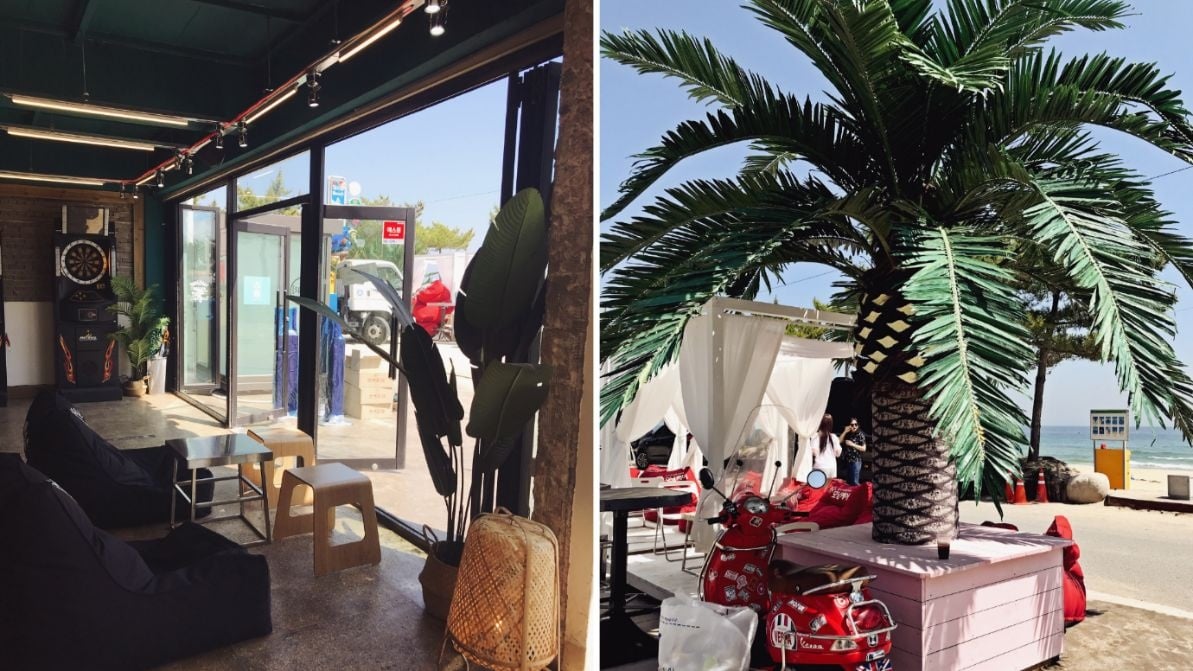 I was also surprised to discover a stretch of beach cafes and surfer bars at Youngjin Beach – a completely happy accident! These brightly-hued and delightfully summery cafés have everything from dart machines, lounge chairs, beach umbrellas and more for you to enjoy a sun-drenched day in sunny Gangneung.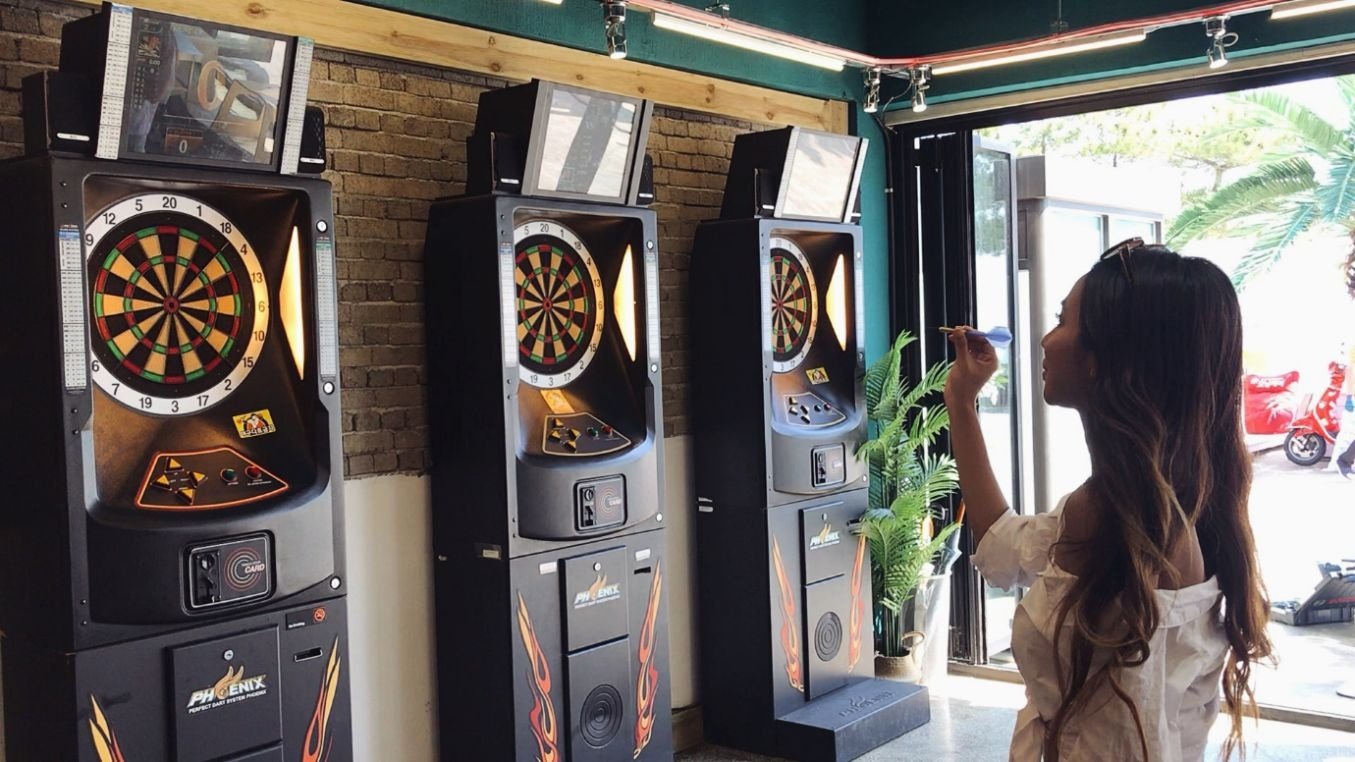 Address: 1609 Haean-ro, Jumunjin-eup, Gangneung-si, Gangwon-do
Chuncheon
It turns out that Chuncheon actually translates to "a small stream that flows during spring" – isn't that lovely? Only an hour's drive from Seoul (or an hour and half by subway) is Chuncheon, home to the increasingly popular Nami Island and tiny French cultural village, Le Petite France.
14 – Marvel at larger-than-life novels and more at Gangchon Rail Park 
Chuncheon is also home to Gangchon Rail Park, one of the city's major attractions. Up until 2010, it was a fully functioning train station before being converted into the rail attraction it is today. The park has an inexhaustible array of things you can do, like biking along a 40-minute course along the old rail tracks through Korea's beautiful countryside, or experiencing the themed tunnels. The aptly-named "Party Tunnel" pulses with bright strobe lights and disco music and the more muted and romantic "Love Tunnel".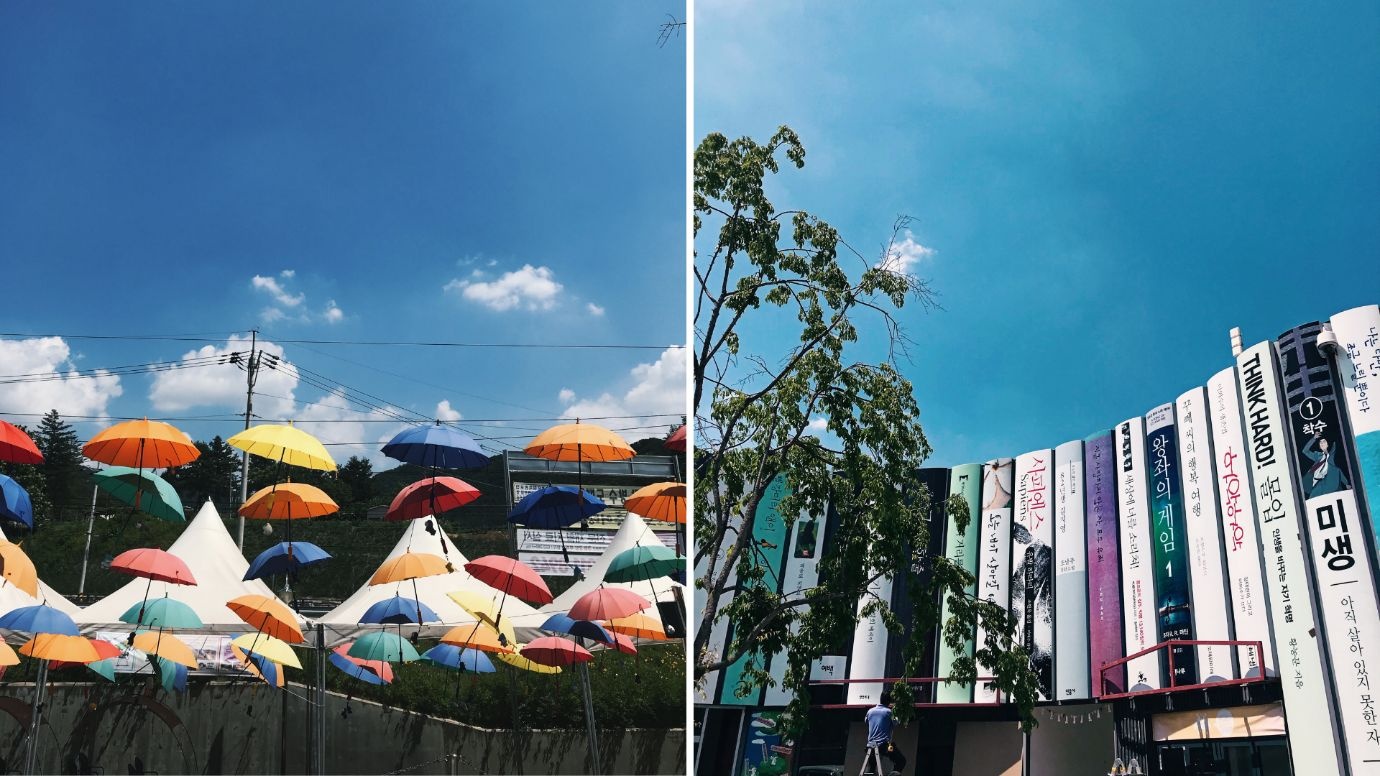 Gangchon Rail Park is not short of great photo spots, like the larger-than-life installations of famous novels (pictured above) so be sure to have your camera ready. For the bibliophiles – can you spot your favourite novel above?! (I caught sight of mine – the Korean translation of 'Sapiens' by Yuval Noah Hariri.) 
Address: 1383 Gimyujeong-ro, Sindong-myeon, Chuncheon-si, Gangwon-do
15 – Drool over dak galbi, a delicious local Chuncheon dish
While Gangneung is famous for its tofu, Chuncheon's signature dish is their dak galbi – which might be my new favourite Korean dish.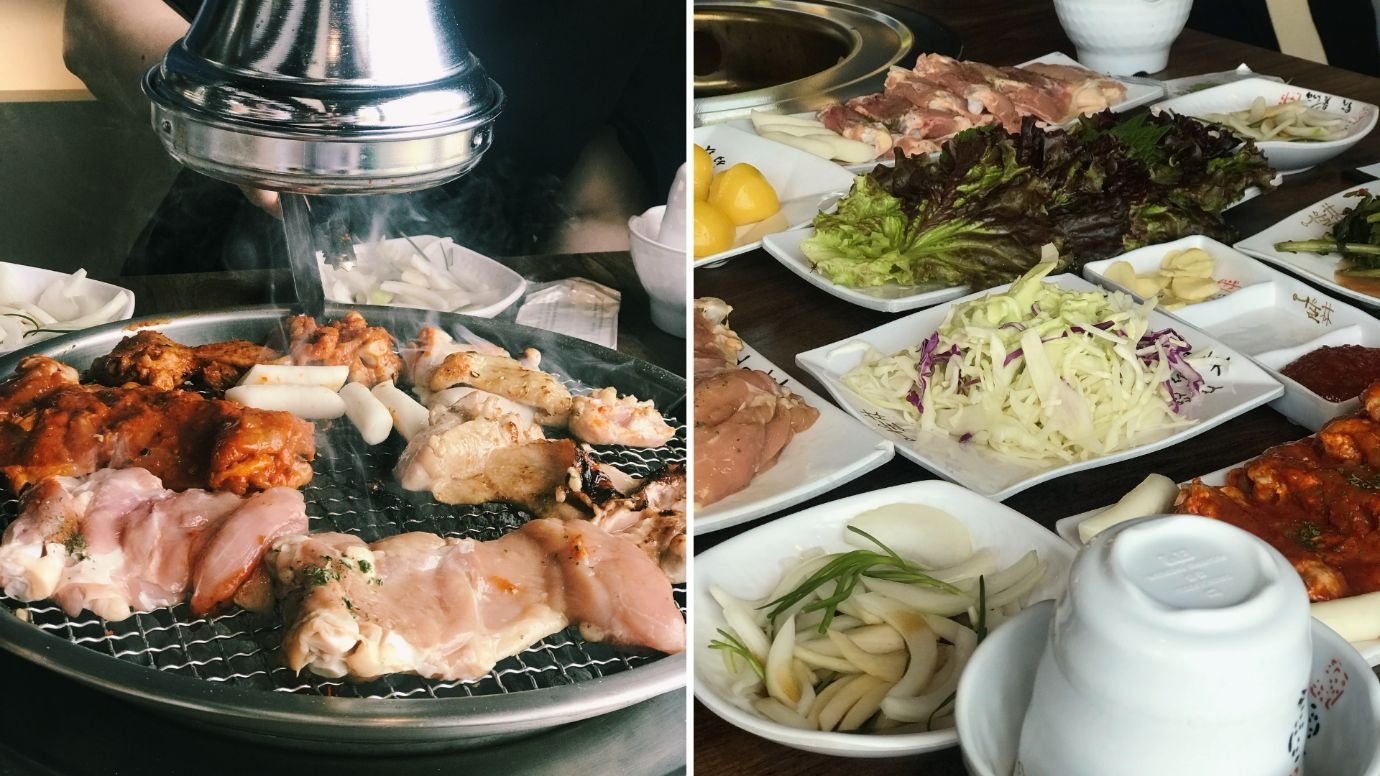 We stopped by Chuncheon Dakgalbi for an epic Korean barbecue. Dak galbi consists of marinated chicken, gochujang sauce, rice cakes, cabbage, sweet potato and sesame leaves often served in barbecue style, where pieces of marinated chicken are cooked over an open grill.
With beautiful sweeping views of surrounding Chuncheon right by our table, this is a barbecue feast you wouldn't want to miss out on when you're in the city.
Gwangmyeong
16 – Watch a former mining cave and war shelter come to life at Gwangmyeong Cave
It's hard to imagine that Gwangmyeong Cave was ever once a mine (and also later a shelter during the Korean War). After all, with its iridescent light cave spaces and multimedia shows, it looks more like a contemporary art space than a former mining site. (There's also a 190-metre long wine cave here, which carries over 170 types of wine from wineries across the country!)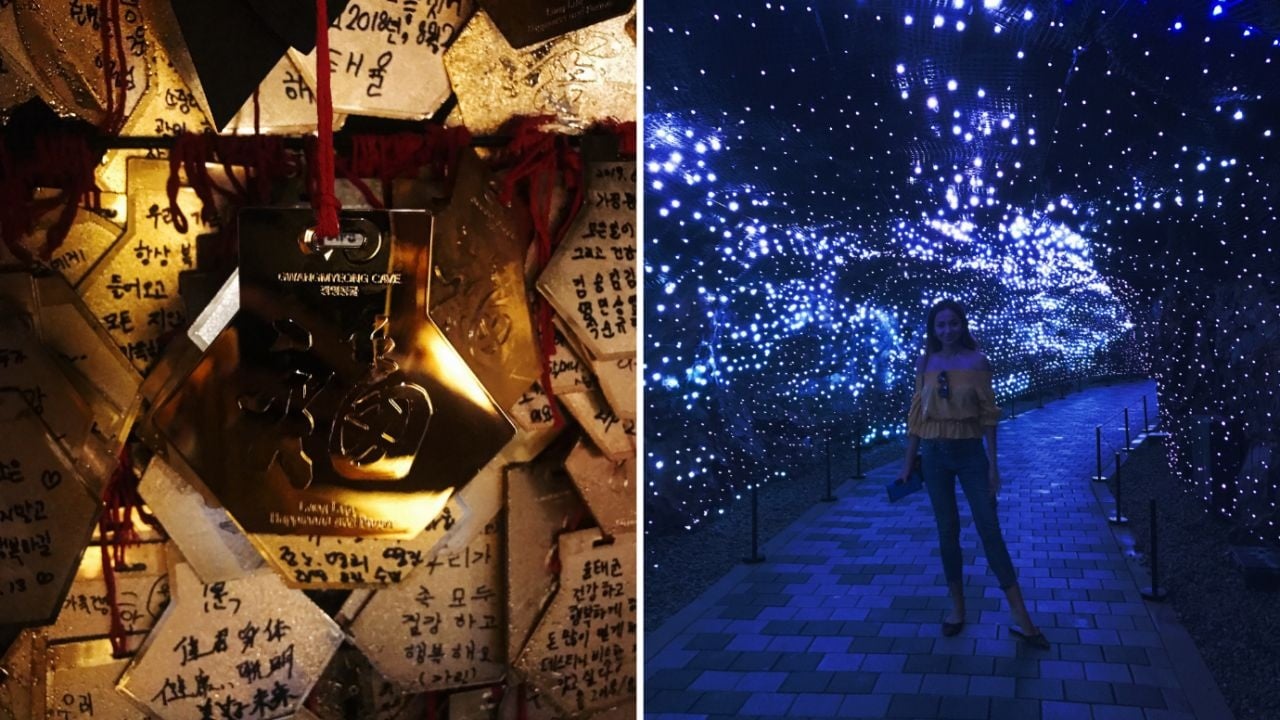 While you're here, keep an eye out for the Girl Statue of Peace. Located right to the left of the cave entrance, this symbolic statue is a sombre reminder of the sexual slavery of Korean women by the Japanese during World War II. Similar statues of the seated young girl can also be found around South Korea.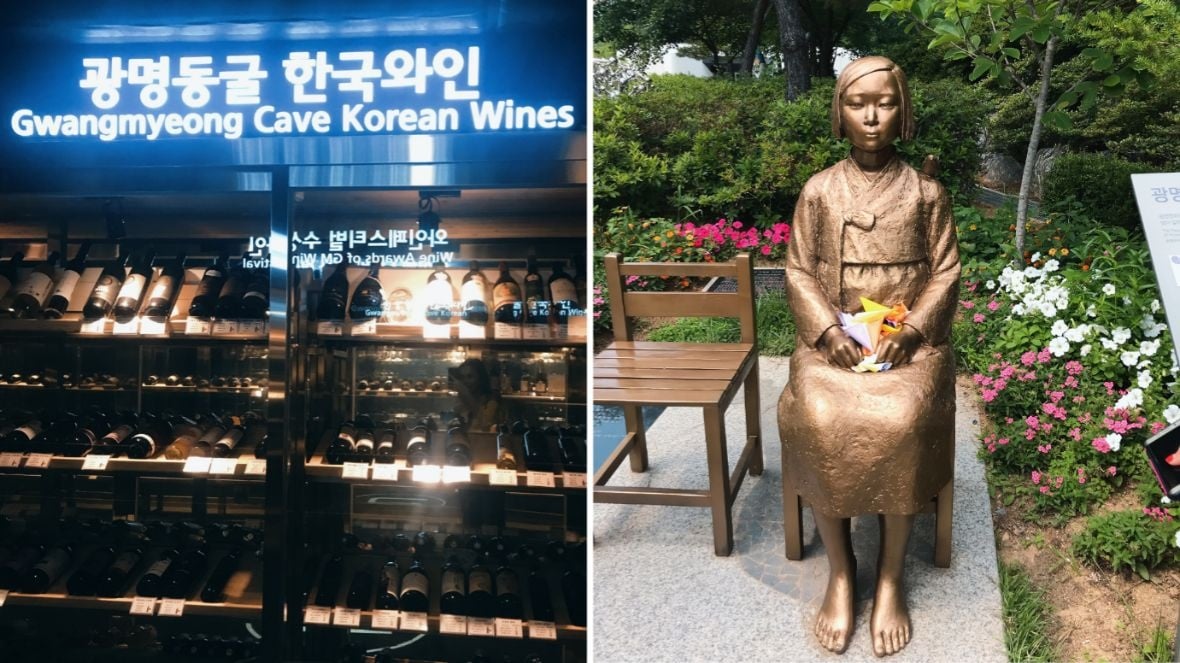 Address: 142, Gahak-ro 85-beon-gil, Gwangmyeong-si, Gyeonggi-do
See You in South Korea! 
Whether you're a political buff, culture vulture, or a self-confessed foodie, South Korea brims with a plethora of fascinating, alternative experiences every travel junkie will love. If you're planning a return trip soon, make room in your itinerary for these experiences for a whole different taste to the country! Annyeong! 
Big thanks to Korean Tourism Organisation for facilitating this trip!