Unless you've been living under a rock, you've probably at least heard about the new BTS song Dynamite. Fresh, explosively upbeat, and absolutely feel-good, it's the first-ever all-English song from the K-pop boy band! The music video doesn't disappoint either; it even reached a record-breaking three million peak concurrent viewers on its first day. Brimming with retro aesthetics and soothing pastel hues, BTS' Dynamite music video is a homage to the disco era during the '70s to '80s. (Michael Jackson dance moves, for starters.) 
Indeed, both song and music video make for a fantastic pick-me-up amidst these trying times. And if you find yourself playing the latter on loop, you've probably wondered where the filming locations are. Well, it's entirely shot in a studio, as proven by the behind-the-scenes. But guess what? We've found some real-life counterparts! Granted, most of these are in the United States, especially since the MV draws inspiration from sunny SoCal. Yet, we made sure to also add some from Asia and even Europe — some of our picks might surprise you! 
Retro places that look like those in BTS' Dynamite music video
1. That doughnut shop exterior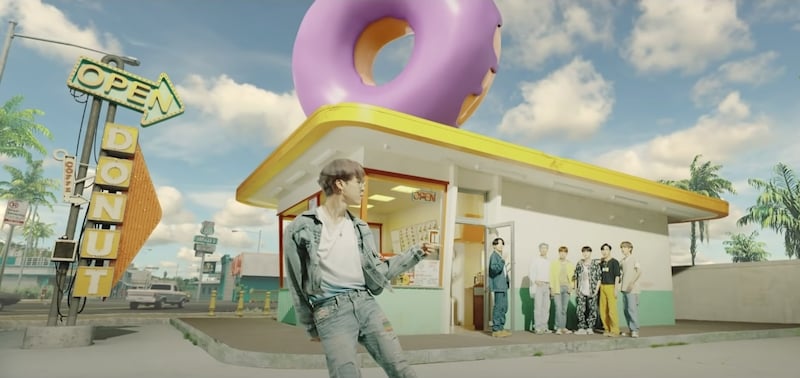 If you've heard of (or even visited) Randy's Donuts, then it's probably what first comes to mind as you watch this scene in BTS' Dynamite music video. From the shape to the gigantic doughnut on the roof, they definitely had the bakery-slash-landmark building down pat! You can find this in Inglewood, California, near Los Angeles International Airport. 
This iconic SoCal attraction has been around since 1953. It has also made an appearance in other music videos like  Red Hot Chili Peppers' Californication and blockbusters like Iron Man 2. Oh, and guess what? There's a newly opened Randy's Donuts branch in Seoul, as well. 
Also read: 10 Instagram-Worthy Los Angeles Airbnbs for Your Next Trip to La La Land
2. That doughnut shop interior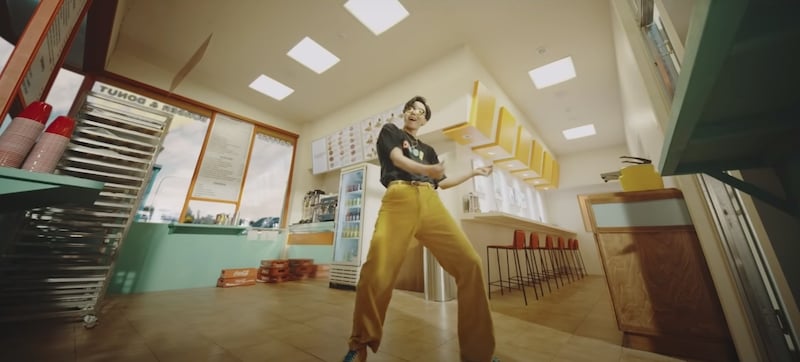 If you over find yourself in Tucson, Arizona, we recommend grabbing a bite at Welcome Diner. Don't you just love those interiors? We can totally imagine J-Hope dancing around here while waiting for his order. 
As for the exterior of Welcome Diner, we know it doesn't look anything like the ones in BTS' Dynamite music video. Still, don't you think it would fit right in with the aesthetic?
Another similar interior is that of Howley's Restaurant in West Palm Beach, Florida. It's been around since the '50s, so you can definitely say it's an institution by now. 
Don't you think it looks a lot like those charming diners we see on TV? And don't even get us started on those distinctly mid-century-style bar seats. 
3. That record store interior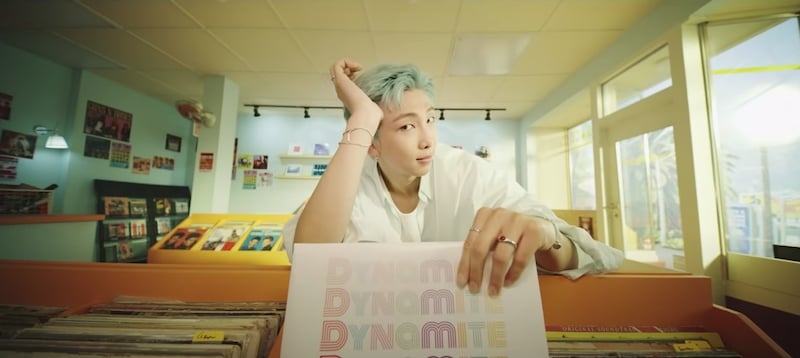 Yup, RM really was holding a Dynamite vinyl record — pretty cool, right? Sure, this location in BTS' Dynamite music video is more straight-forward and nothing unusual. Although, we gotta admit, we like how the walls match his hair colour! As far as real-life counterparts go, we recommend this record store in Seoul called Rm360. (It's destiny, we tell ya!) 
Rm360 specialises in secondhand records that are sourced directly from the US. Apart from records, they also sell streetwear t-shirts, figurines, and indie magazines. What's extra cool about it is that sometimes, there are DJs and producers working on their music at the store — while manning the counter, too! You can find this in the Bangbae neighbourhood (Bangbae, Bangtan… get it?). 
Also read: 8 Hipster Hangouts in Seoul for Those Not into K-Pop or Shopping
4. That record store exterior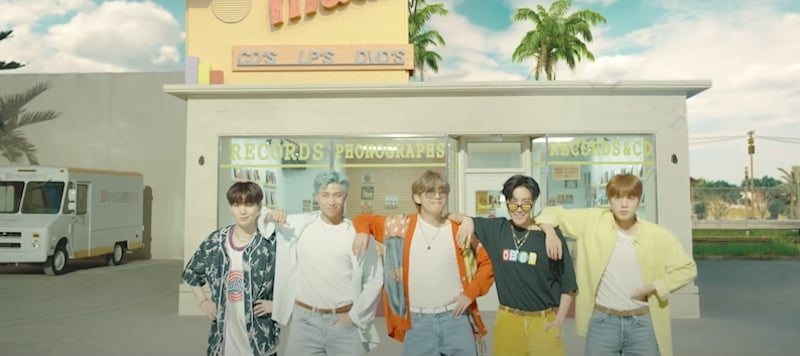 We don't know about you, but we definitely dig the minimalism of this structure. It's one of those Instagrammable spots that you'd be crazy to not take a photo with! Fortunately, there's a café in Bangkok that's quite similar to this record store in BTS' Dynamite music video. 
It's called Common Room x Ari, and it's situated in one of Bangkok's hippest neighbourhoods. In fact, Ari is your best bet for a non-touristy experience, with its chic cafés (such as this!), street stalls, and galleries. 
5. That park with a 'Surfing with sunset' sign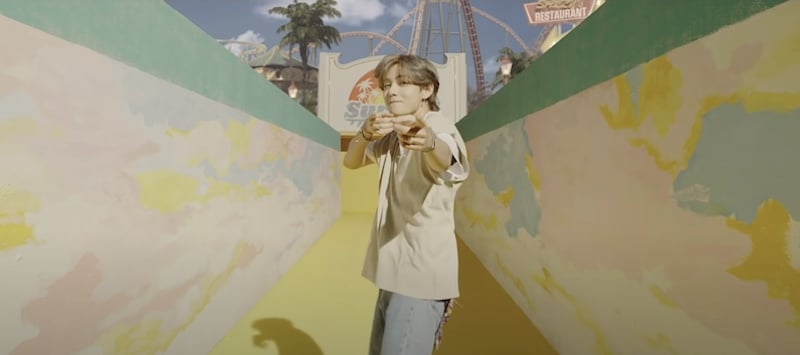 Head's up: this exact location appears mostly in the B-Side (or alternative) version of BTS' Dynamite music video. The original one barely showed it, except during the last few scenes. TBH — we're not really sure if this one is supposed to be like a skateboarding section (that V somehow had all to himself!). Nonetheless, it does remind us of St Kilda Skate Park in Melbourne. 
Soft pinks and sorbet yellows hues? Check. Palm trees in the background? Check. Speaking of the background — notice that amusement park behind V? Well, we're definitely getting Santa Monica Pier vibes!
To be specific, it's the oceanfront Pacific Park. This world-famous amusement park is constantly brimming with vibrant colours that complement the exciting rides and attractions all around. 
6. That basketball court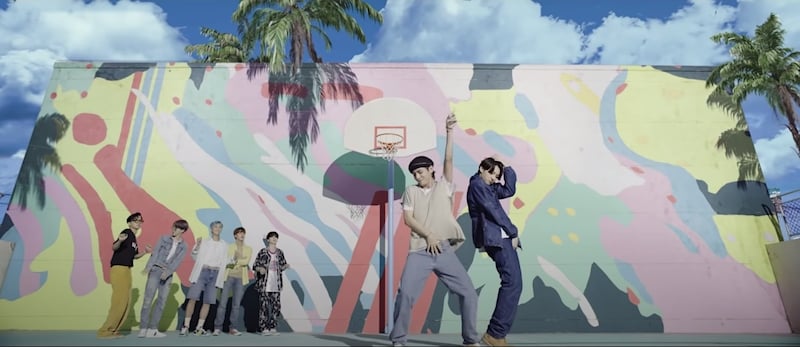 Don't you just love that rainbow of pastel hues on the basketball court walls? We know we do. Also, don't you think it's super reminiscent of the one at Choi Hung Estate in Hong Kong? So, yes, if you're looking for a reason to visit Hong Kong once it's safe again, this should do just fine. 
Meanwhile, in the heart of Paris, there's the Duperré Playground. You'll find it nestled between a high school and a residential building in the Pigalle neighbourhood. 
It's probably the most colourful and aesthetically pleasing basketball court we've ever seen! Do you think Suga would approve? 
7. That disco entrance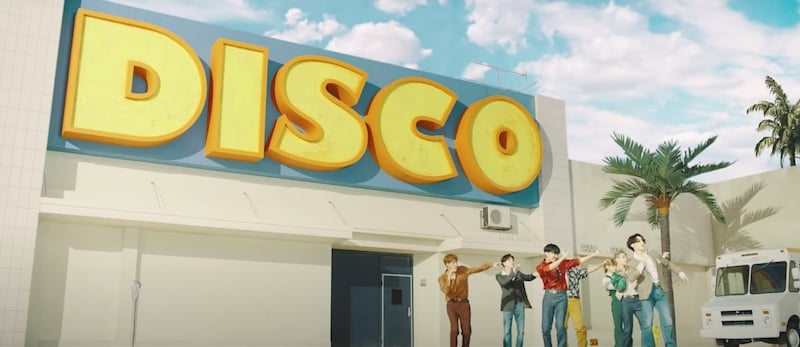 Okay so, unfortunately, we couldn't find a still-existing disco that's designed quite like the one on BTS' Dynamite music video. But hear us out — we've found several lookalikes that are equally Instagrammable spots! For starters, there's the über-trendy Tartine Manufactory in San Francisco. 
This café is situated inside a former warehouse in the artsy Mission District. In fact, it's actually an ice cream shop, bakery, restaurant, bar, and coffee shop, all rolled in one! If that doesn't convince you to visit this place, then we don't know what will. 
Meanwhile, the American Southeast also has something to offer. Check out this hidden gem of a boutique in Nashville, Tennessee! It's called Old Made Good, and it offers a lot of locally made items, from artworks and furniture to vintage apparel. Come for the Dynamite-esque storefront, stay for the treasure trove of rare items. 
And finally, we have Les Puces du Canal: an open-air market in Villeurbane, France. Similar to the previous spot, it's also quite the must-visit for rare and/or antique finds. Oh, and FYI — it's the second biggest flea market in the country! Though, since it's often packed with hundreds of vendors, you might not be able to reenact the boys' dance moves here. 
Also read: Beyond the Capital: 8 Incredible Cities to Visit in France Other Than Paris
8. That meadow with some rainbow-smoke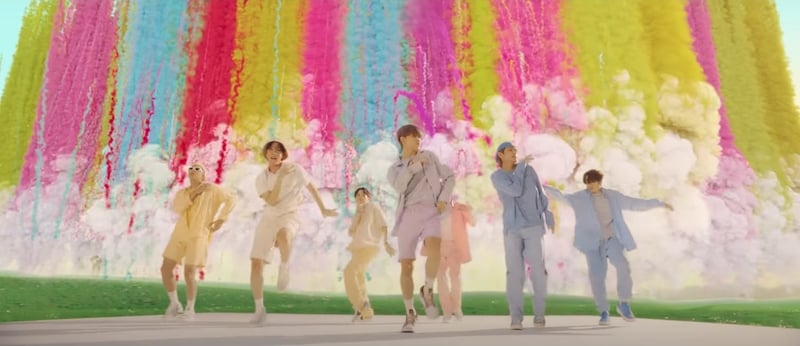 And as for this penultimate location with a vibrant array of colours? We'll let you guess where (or how) it came about. Clue: two words, eleven letters.
Yet, it does remind us a lot of the famous Vinicunca in Peru. Otherwise known as the Rainbow Mountain, its unique mineralogy creates this marbling effect. Notice those stunning layers of red, green, golden yellow, and blue!
Also read: 14 Newly Trending Instagrammable Places Around The World To See In 2020
The travel destination that is (probably) the main inspo
Venice Beach
This sunny neighbourhood in Los Angeles is, without a doubt, the main inspo for the set of BTS' Dynamite music video. Equal-parts colourful, artsy, and stylish, Venice Beach is your best bet if you want to experience all things lively and free-spirited. Think of it this way: the music video settings are like pastel-filled, whimsical versions of this California tourist spot. 
Once you're there, make a beeline for the Venice Beach Boardwalk: a mile-long street where you'll see street performers, murals and art installations, eclectic shops, sports areas, and of course — cafés and restaurants. Its entrance features the iconic suspended 'Venice' sign, which you'll definitely want to take a photo with! 
A final note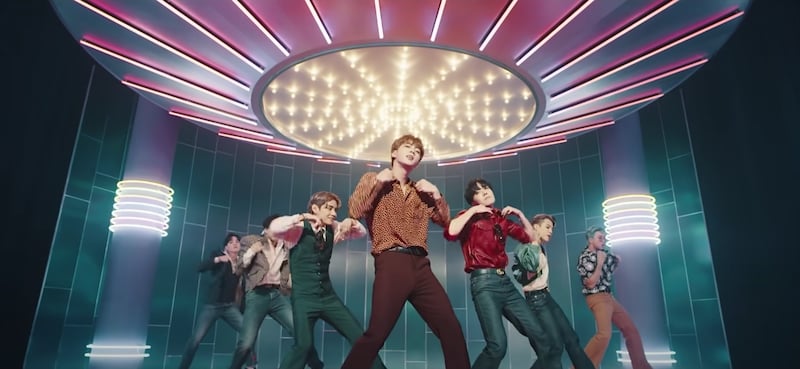 You might have noticed that we didn't have any real-life locations that resemble Jungkook's poster-filled room, V's ice cream truck, or even the disco house from inside (pictured above). Well, we hate to break it to y'all, but these are sort of in a broader category. If anything, we're amazed by how the set designers' came up with these and made them look totally #aesthetic! But hey, leads are appreciated. (*Wink.*) 
Also read: Here's How The South Korean Government Helped K-pop Rise to Global Fame
From retro places to more modern Instagrammable spots, which of these would you like to visit first? Alternatively, are there any other destinations that you think are real-life versions of the ones in the chart-topping MV? Feel free to share your thoughts in the comments! 
---
All music video images are credited to Big Hit Entertainment.