It's hard not to reminisce about our favourite travel moments in Korea. After all, it has been forever since we've had authentic Korean experiences — from hanok villages, exhilarating rides at Everland, or even a warm Korean barbecue meal.  Don't fret, though. You can relive the thrill of exploring Korea's popular destinations sans flight tickets right here in Singapore! 
Whether you're searching for spots that make you feel like you're in Korea, or locations perfect for recreating classic K-drama scenes, these places in Singapore will give you the Korean vibes that will make you go, "Jinjja?"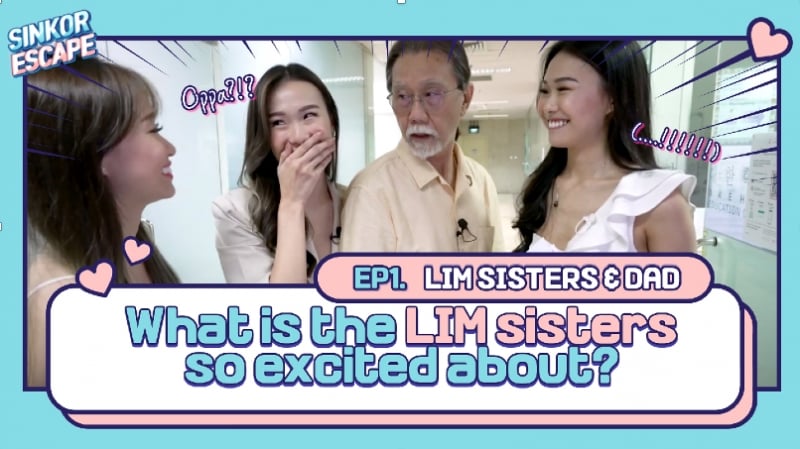 Watch SINKOR Escape EP1 here!
Missing Korea? Get a chance to take home attractive prizes such as food vouchers and dance class trials that will make you relive your favourite Korea travel moments right here in Singapore!
Simply share a picture of anything related to Korea on your Instagram or Facebook.
Post your past travels or even your own exploration of the Korean culture in Singapore.
Embark on your own (Singapore-Korea) SINKOR Escape!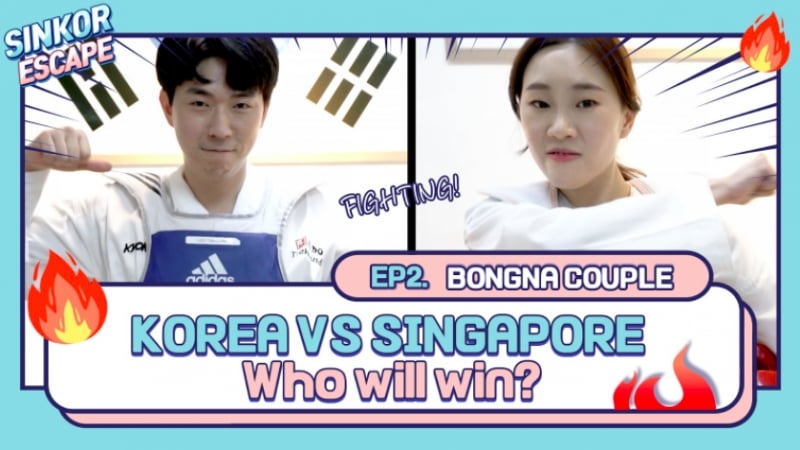 Watch SINKOR Escape EP2 here!
Rather than await the day you can travel to Korea again, why not get into the mood by starting your (Singapore-Korea) SINKOR escape now? Who would've known that our Little Red Dot has so many places that exude Korean vibes? Being the cosmopolitan city it is, you'd be surprised at the many Korean experiences you can have just by venturing around Singapore.
From digging into a sumptuous Korean BBQ spread to making traditional Korean handicrafts, there are plenty of places and activities in Singapore for you to find your own piece of Korea. Follow us as we embark on a Korean journey around Singapore that is sure to leave you feeling closer to being in Korea again!
Places in Singapore that will remind you of South Korea
1. Daehan Education Center
Established in 2006, Daehan Education Center sought to be the first-ever Korean Language Center in Singapore owned and run by native Koreans. Over 15 years, students from all walks of life have come to learn more about Korean through the guidance of highly trained educators. Their objective? To share Korea's rich cultural history alongside mastery of the beautiful language. 
Apart from just being a language institute, Daehan Education Center exposes its students to Korean culture and practices through various events that incorporate Korean songs, dances, games, and food into the celebrations. Rings a bell doesn't it? That's because it's similar to COEX Artium in Seoul where people gather to feast their eyes upon theatrical and musical performances conducted all year round. This makes the COEX Artium a frequent hangout for certified K-pop fans! 
They also partner with leading Korean organisations in Singapore to provide students with exciting travel and work opportunities. You'll certainly gain a deeper grasp of Korean culture here while sharpening your Korean language skills on your next visit to Korea! 
Also read: 15 Easy Korean Words & Phrases Every K-Drama Fan Should Know! [PART ONE]
2. Hanjip Korean Grill House
Do you really love Korea if you don't enjoy Korean BBQ? We all know that Korean BBQ places in Singapore are abundant. Whether you're a school kid looking for an affordable Korean BBQ with free-flowing drinks, or someone who is looking for a premium grill, there's a place for everyone when it comes to Korean BBQ. 
If authentic Korean food in a luxurious setting piques your interest, head over to Hanjip Korean Grill House. This family-friendly eatery boasts a mouthwatering array of classics such as Haemul Pajeon (seafood pancake), Yukgaejang (spicy beef soup), and fried chicken — you have yourself a delectable meal that will fill you and your loved ones to the brim. What's more, Hanjip Korean Grill House has a wide variety of options for those who love Korean food, but would like to chow down on something other than grilled meat. 
Looking to take your tastebuds on a Korean adventure? We highly suggest stopping by this place. Not only can you whet your appetite with good food; you can also feast your eyes on the stunning decor which amalgamates modern designs with eye-catching murals and paintings reminiscent of traditional Korean art styles. A sight for sore eyes indeed!
3. Madame Tussauds K-Wave Zone
K-drama fans, this is for you. Connoisseurs of K-dramas past and present are bound to recognise these stars at the K-Wave Zone at Madame Tussauds Singapore. Get up close and personal with the wax figures of big names such as Kim Woo Bin, Suzy Bae, and Song Seung Heon. Better still, the backdrop of Bukchon Hanok Village — a quaint Korean traditional village nestled on a hill in Seoul — sets the stage for a memorable, highly Instagrammable visit. Plus, it is adorned with cherry blossoms in the brightest hue of pink, adding to the allure. 
Obviously, standing in the same room with these celebrities can make you fall head over heels for them even more! The uncanny resemblance to their real-life counterparts makes Madame Tussauds a cut above the rest when it comes to recreating these well-loved celebrities. 
Moreover, K-Wave Zone's Korea-inspired interior design makes visitors feel like they've literally travelled to Korea once again. It's easy to forget that you're in Singapore while you get lost in the moment with these dazzling stars. 
Also read: Fangirls (And Guys) Can Swoon Over Hallyu Stars And Relive Korea Adventures At K-Wave Zone In Madame Tussauds Singapore
4. Korea Artiz Studio
Calling all lovebirds, prepare for your big day with Korea Artiz Studio! This studio encompasses a Korean-style wedding shoot, topped with extravagant outfits and a chic look to celebrate your new chapter in life. Playful and stylish, they have different seasonal colours and pre-wedding shoot offerings to choose from. 
 Founded in Busan, South Korea in 2008, Korea Artiz Studio has grown into one of the most popular wedding photography brands worldwide. Located across three continents and seven countries, and totalling to 45 branches globally, they curate the most endearing couple shoots executed by professional teams trained to capture your picture-perfect moments. 
At Korea Artiz Studio, photographers or 'Seonsaengnim' (teacher) are handpicked and required to go through rigorous training and study to bring out the best of each shoot. The cherry on top; with beautiful backdrops like Seoul Grand Park, Gwangyang Maehwa Village and Camellia Hill, you can have your destination wedding photography all without leaving the Little Red Dot.
Not sure where to have your pictures taken? Look no further because Korea Artiz Studio has got you covered to add a touch of Korean fabulousness to your special day!
5. Ildo Taekwondo
Speed and agility. These are the elements of Taekwondo that give rise to powerful strikes and jaw-dropping kicks that martial artists specialising in this age-old craft produce. From as early as the 1940s, Taekwondo has cemented its place among the world's formidable martial arts, where students from all backgrounds come together to hone their skills (and kick some wooden boards while they're at it). 
With Taekwondo as Korea's national sport, it's easy to see why attending a class at Ildo Taekwondo can bring you back to good days in Korea. Its literal translation is "the way of the hand and foot", and this art is practised by approximately seven million people worldwide. Don your 'Dobok' (Taekwondo training uniform) and prepare to pick up a new hobby! It's a sport ideal for people from all walks of life and makes for a fun-filled activity you can get into with your family, friends, or partner. 
Fun fact: Korea is home to Taekwondowon — the world's only professional taekwondo venue where all things Taekwondo is shared. Spanning 3,300 square kilometers, it's almost ten times the size of South Korea's national stadium.
6. Studio De S
Studio De S is Singapore's first-ever K-pop performing arts school. Boasting a team of professional dance and vocal instructors, Studio De S is where you want to be to live out your K-pop idol dreams. Additionally, these instructors have a wealth of experience and have gained recognition across ASEAN countries with their spectacular performances. 
Live out the glitz and glamour of K-pop entertainment as you pick up a new hobby through the studio's classes and workshops. Plus, this will also give you a behind-the-scenes experience of our beloved K-pop artists' journey to success. 
7. Gangnam BBQ
Wondering which Korean restaurant to check out with your friends when at the eclectic enclave of Tanjong Pagar? Make a beeline for Gangnam BBQ — the snaking queues bear testament to how good their food truly is. 
Here, you can indulge in an authentic Korean barbecue experience that uses traditional charcoal fire to impart more flavours to the overall meal. With an impressive array of fresh seafood and premium meats that will sizzle on the hot grill, you won't be able to resist a second round. Feeling adventurous? Order the long rice dish: a 50cm Kimbap stuffed with pork and beef best shared with your pals. 
You can even kick your K-BBQ session up a notch with some drinking games. In case you aren't aware, they are such an integral part of Korean culture. So, consider switching things up with a game of Baskin Robbins, Titanic, and Instinct. Simply ask the benevolent staff and they'll be happy to guide you on how to go about playing these popular drinking games in Korea. It'll be more fun than a barrel of monkeys.
8. SOOLSOOL Jeju Art Cafe
Head down to SOOLSOOL Jeju Art Cafe nestled in the vibrant enclave of Tanjong Pagar for a familiar taste of Korea — all without leaving the Lion City. With a mouthwatering array of dishes and a bevy of alcoholic beverages at this newly-opened restaurant, your craving for authentic Korean nosh will slowly dissipate. 
Here, you can tuck into comfort food such as Korean Ginseng Chicken Soup and Bibimbap served with an assortment of the freshest vegetables. The level of spiciness in these fares certainly hits the spot and imparts a level of 'shiokness'.
Make room for their steady supply of craft beer — the showstopper here. The trendy cafe's selection of beer is inspired by the different cities in Korea; you can quaff booze such as Nami, Itaewon, and Gangnam. Cool, right? Each concoction is infused with unique flavouring ingredients to make things a little bit more interesting during your drinking session. Alternatively, opt for Dalgona coffee if you aren't in the mood for alcohol. The dreamy whipped texture of the beverage is complemented by crunchy biscuits for that extra oomph. 
The laid-back vibe here is reminiscent of Cafe the Container on Jeju Island. Tourists from all over often flock to this unique haunt to vivify their Instagram feeds with aesthetic vacation shots. The winning shot? Its unusual exterior that resembles a jumbo orange basket. Plus, one can fill their own basket with mandarin oranges while basking in the nature of beauty.
9. Korea Plaza
Home to Korea Tourism Organization Singapore office, Korea Plaza is teeming with all things Korean. Regular courses are held here for the public to learn more about Korea and its culture. They include Korean Language Classes, Korean Food Making, and many more. You'll get to cook up a storm by the time you've completed the cooking class! Must-tries include Tteokbokki (Korean rice cake), Kimchi, and Haemul Pajeon (seafood pancake). 
Furthermore, you can try on a traditional Korean hanbok for a photograph or two at no cost! Soak in the traditional Korean atmosphere while you don this attire. Recreate the classic look, just like how tourists dress up and stroll among traditional hanok villages in Korea. Don't forget to take lots of snaps!
Tip: If your love for Korea knows no bounds, become a K-friends member today! You can avail of discounts, sign up for exclusive classes and events, and receive the most updated information about Korea. Psst, membership is free for KTO members so don't say we bojio! P.S — the website is under construction but you can find out more here.
10. Coney Island
The beloved Coney Island in Singapore gives you Korean vibes from the get-go. Alternatively known as Pulau Serangoon, this 133-hectare island is located off the northeastern coast of the island. From beaches, obstacle courses, and cycling paths, this undisturbed land away from the city is a perfect retreat for a relaxing Sunday out. Furthermore, there are many picturesque walking trails for you to learn about Singapore's biodiversity, or simply smell the flowers to destress after a long week at work. 
Coney Island's tranquility mirrors that of famous Korean tourist hotspots like Jeju and Nami Island. Jeju Island, formed out of a volcanic eruption some two million years ago, is now home to gorgeous views, lazy beach days, and adventure trails to embark on. Teeming with verdant greenery, the natural scenery is not a far cry from what Coney Island offers, too. Think nature paths lined with towering trees and gentle seaside wind in your hair, much like what you'll experience at Nami Island.
On the other hand, resplendent coastal roads in Jeju, like the Aewol Handam Coastal Trail, reminds one of the breathtaking boardwalk that looks out to the reposeful beach at Coney Island. Go on romantic bicycle rides, or maybe go all-out K-drama on your significant other and plan a declaration of love under the pouring rain. 
11. Lakeside Garden Lalang Fields
This lalang field at Lakeside Gardens is part of Jurong Garden's vast ecosystem of greenery. With mini green hills that bask in the sunshine, this dreamlike scenery is one straight out of a movie. The garden is highly accessible by public transport, or if you're up for it, you can venture around the whole vicinity of Lakeside Gardens before arriving at this gem. Cue "young, wild, and free" Instagram captions! 
Remember those classic K-drama scenes where lovers stand among swaying grass, staring into each other's eyes with the original soundtrack playing in the background? Lucky for you, this lalang field at Lakeside Gardens gives you the chance to do the same thing! Taking in the sights will take you right back to the picturesque Haneul Park overflowing with pampas grass. Perched on the highest point of World Cup Park, the former landfill area commands a view of the hills in the horizon. 
At Lakeside Garden Lalang Fields, you can catch a glimpse of the Lone Tree, too — a sculpture inspired by Jurong's industrial origins. Interestingly, the tree is made up of recycled iron reinforcement bars salvaged from old park pathways. Talk about green design! 
Don your Sunday best and strike a pose with the wind in your hair to recreate your favourite Korea travel moments. If anything, this is probably the best place in Singapore with Korea vibes!
Get more out of your SINKOR Escape
Now that you know all of these places in Singapore with Korean vibes, it's time to get snapping! Korea Tourism Organization is hosting a giveaway, where 10 lucky winners can get their hands on the following prizes:
Option 1: Beginners class (4 x 1 hour lesson) from Studio De S
Option 2: $70 dining voucher at Gangnam BBQ
Option 3: 2 drinks + 1 canvas painting at Jeju Art Cafe
All you have to do is:
Watch SINKOR Escape episode 3 here. 

Share a picture of anything related to Korea on your Instagram or Facebook. It can be from your past travels or even your own exploration of the Korean culture in Singapore. Make sure your account is not private.

In your caption, include "I watched SINKOR Escape 3!" and a simple description of your picture, along with a mention of your favourite activity from the episode.  

Specify the prize option you wish to win.

Tag KTO'S Instagram (KTO_Singapore) or KTO'S Facebook (Korea Tourism Organization Singapore) and like TripZilla's Instagram (@tripzillamag).

Include the hashtags #SINKOREscape #KTOSingapore #VisitKorea. If you consent to the reposting of your picture, include the hashtag #repost to be entitled to a free goodie bag from KTO. 
Contest runs from 22 June to 25 July. Winners will be picked and announced by Korea Tourism Organization on its official Facebook and Instagram pages. 
*Note: Giveaway is applicable to Singapore residents only. Also, participants should own the copyright of the photo used.
A slice of Korea in Singapore
With stunning natural scenery and vibrant street culture, it is not hard to see why South Korea remains one of our favourite destinations. Embark on an adventure to visit these places in Singapore with Korean vibes! That way, you can get a taste of your favourite destination even while borders are still closed. Top off your local exploration with a little creativity, and you might get to bring home a piece of South Korea to quell your wanderlust just until we can travel again.
Have a picture that oozes Korean charm? Share it with us! Remember, 10 lucky winners will walk away with lovely prizes that will help to set the mood for their next Korea trip. That could be YOU! 
---
Brought to you by the Korea Tourism Organization Singapore Office.