Who can forget their student days? All those hours spent reading books at the library, wandering aimlessly around the buildings, and falling asleep on benches while waiting for the next class to start. Yet cracking open a dusty textbook seems more tempting in certain parts of the world, where the natural splendour and architectural beauty of the campus play huge roles in motivating people to study. 
If studying abroad is part of your future plans, why not consider South Korea? From the prestigious 'SKY' universities to the exquisite quads that starred in your favourite K-dramas, the top universities in Seoul combine academic excellence with awe-inspiring surroundings. And hey, if it just so happens that a few Korean idols and celebrities have attended these universities, that's a pretty good bonus, too! 
Also read: 8 Things to Expect When Studying in South Korea
1. Korea University
College admissions in South Korea are known for being notoriously competitive. Likewise, Korea University has thousands of students jostling for a spot each year. Belonging to the legendary trio of 'SKY' universities in Seoul, Korea University is an elite academic institution that gives many Korean graduates a headstart in their careers. That's why it's one of the toughest universities to get into, along with Seoul National University and Yonsei University.
Additionally, Korea University offers excellent programs in law, journalism, economics, mathematics, and other cutting-edge fields. 
Seen from afar, the Western architecture can make it feel as if you're entering the grounds of a palace. Indeed, the campus looks even more stunning in the fall, as the reddening trees provide the perfect background for the Main Hall and the Graduate School Library.
Famous alumni include Kim Yuna, Sukhee Kang, Bae Jong-ok, Kim Ah-joong, and South Korea Prime Minister Chung Sye-kyun. 
Address: 145 Anam-ro, Seongbuk-gu, Seoul, South Korea
2. Yonsei University
Founded in 1885 by Christian missionaries, Yonsei University is a private research university with one of the most beautiful campuses in South Korea, if not all of entire East Asia. The main campus is situated in a quiet and wooded area in Sinchon, bursting with cherry blossoms in spring. 
For its positive impact on society, Yonsei University ranked 47th in the Times Higher Education (THE) Impact Rankings 2020. 
Widely coveted among the 'SKY' universities in Seoul, Yonsei University enjoys its fair share of competitive spirit. Just like the ongoing rivalry between Cambridge and Oxford, Yonsei University often goes head-to-head with Korea University in both academics and sports! 
As you take in the campus scenery of Yonsei, keep an eye out for Appenzeller Hall, Stimson Hall, and Underwood Hall. If these buildings look familiar to you, that's how you know you're a true K-drama fan! When these lecture halls aren't nurturing the minds of the next generation, they serve as filming locations for popular K-dramas, such as Reply 1994, Romance is a Bonus Book, Extraordinary You, and My Sassy Girl. 
Famous alumni include Bong Joon-ho, T. K. Seung, Lu Han, Son Yeon-jae, Park Jin-young, Kim Dong-ryul, Baek Jong-won, Han Seung-soo, Charles King Armstrong, and Han Kang.  
Address: 50 Yonsei-ro, Sinchon-dong, Seodaemun-gu, Seoul, South Korea 
3. Sungkyunkwan University
Speaking of filming locations, the name of this university might ring a bell! Built in the Joseon Dynasty in 1398, Sungkyunkwan University was founded in an era when Korean women were not allowed to be educated — a fact that became the premise for the KBS historical drama Sungkyunkwan Scandal. 
Today, of course, all students are welcome to enter Sungkyunkwan University. Even more impressive, this university has over 600 years of experience in shaping the next experts and leaders in South Korea.
Upon visiting the university, you'll notice that many landmarks from the original Sungkyunkwan campus have been preserved to this day. For traditional Korean architecture, you can stop by Myeongryundang Lecture Hall and the state examination hall of Bicheondang.
Alternatively, you can take a relaxing stroll through the university's courtyards and walking paths lined with ginkgo trees. On an autumn day, the vibrant foliage really makes the entire campus come to life!
Famous alumni include Song Joong-ki, Joo Won, Bae Yong-joon, Kim Hye-soo, Shin Ye-eun, Moon Geun-young, Go Ah-sung, Cha Eun-woo, Lee Min-jung, Kim Nam-joo, and Seo Ji-hye. 
Address: 25-2 Sungkyunkwan-ro, Myeongnyun 3(sam)ga-dong, Jongno-gu, Seoul, South Korea
Also read: Korean Drama Bucket List: 17 K-Dramas That Will Take You Around the World
4. Kyung Hee University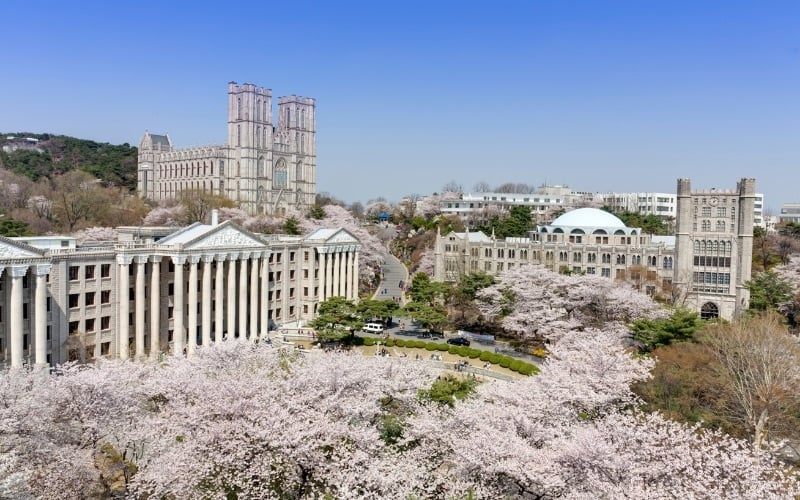 It's hard not to be mesmerised by the Neoclassical buildings and sprawling gardens at Kyung Hee University, whose vast campus inspires so many people — this writer included — to camouflage as a student and study there! Also, if you drop by the university between late March to mid-April, you'll even get to witness thousands of cherry blossom trees in bloom. 
Interested in visiting Kyung Hee University? The main campus is located in Dongdaemun, while the other two campuses can be found in Suwon and Gwangneung.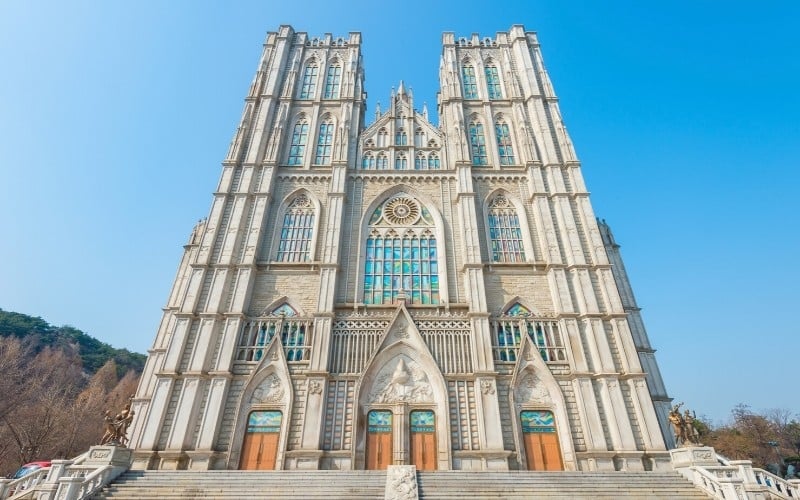 Meanwhile, Kyung Hee University's architectural feats include the Grand Peace Palace, which appears as the spitting image of The Cathedral of St. Michael and St. Gudula in Brussels, Belgium. Apparently, Kyung Hee's founder Dr. Choue Young-seek became so fascinated by this Gothic cathedral that he insisted on creating a replica just like it in Seoul! 
Famous alumni include Gong Yoo, Cho Kyu-hyun, Shim Chang-min, Bang Yong-guk, Kang Dae-sung, Kim Tae-ri, Park Yoo-chun, Go Joon-hee, and South Korean President Moon Jae-in. 
Address: 26 Kyungheedae-ro, Hoegi-dong, Dongdaemun-gu, Seoul, South Korea
5. Ewha Womans University
One of the most highly respected universities in Seoul, Ewha Womans University was founded by the American missionary Mary Scranton to be an academy of enlightenment and higher education for women. Since its early beginnings in 1886, the university has paved the way for instructing and empowering women leaders. 
Presently, Ewha's campus complex features a combination of modern and traditional architecture. Many tourists like to walk along the steps leading to Pfeiffer Hall, the most photographed location on the campus. At first glance, the staircase appears like a valley composed of stainless steel and glass. But the deeper you venture into the campus, you'll find that the Gothic-style buildings give the university an old-world touch.  
Ewha Womans University also happens to be a stone's throw away from a vibrant shopping district in Seoul. Boasting a dizzying array of activities, Ewha Womans University Shopping Street contains hip cafés and boutiques where you can shop for the latest fashion grabs, trendy souvenirs, and Korean beauty products at affordable prices! 
Address: 52 Ewhayeodae-gil, Daehyeon-dong, Seodaemun-gu, Seoul, South Korea
Also read: 30 Fun Things to Do in Seoul on Your Very First Visit [Updated 2019]
Certainly, higher learning has never seemed as appealing as it does when we imagine studying at these universities in Seoul. They almost make you want to travel back in time to those carefree student days, don't they?