I write this sitting on a sunlit deck with the pool on my left and an endless stretch of deep blue ocean on my right. Sounds like a dream? Kind of. Yet, everyone — myself included — thought I was insane to sign up for the World Dream Cycle Cruise. After all, riding the high seas on the World Dream Cruise was just one aspect of this particularly exhilarating journey.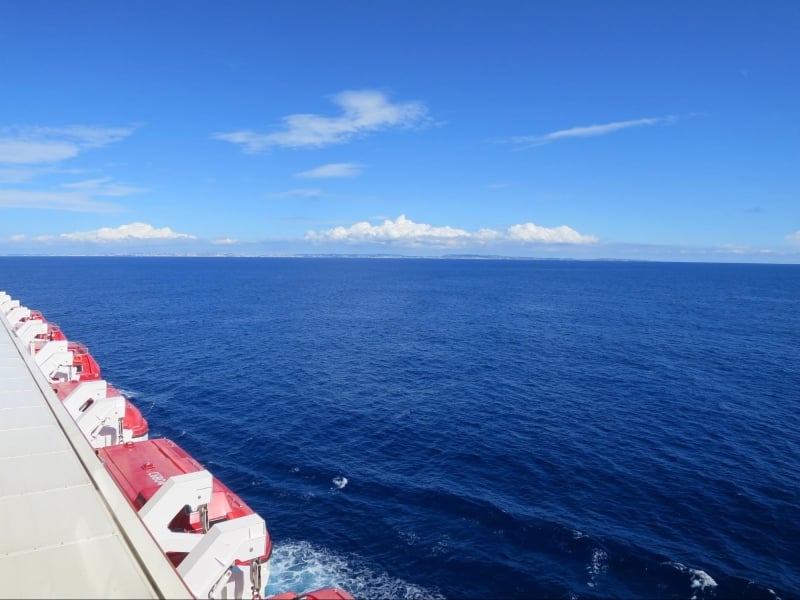 This was a trip that more or less revolved around cycling. It began with the Sun Hung Kai Properties Hong Kong Cyclothon but also allowed me to explore Okinawa on a bike when the cruise docked. Let me be the first to say that this isn't a holiday for those who don't love a challenge.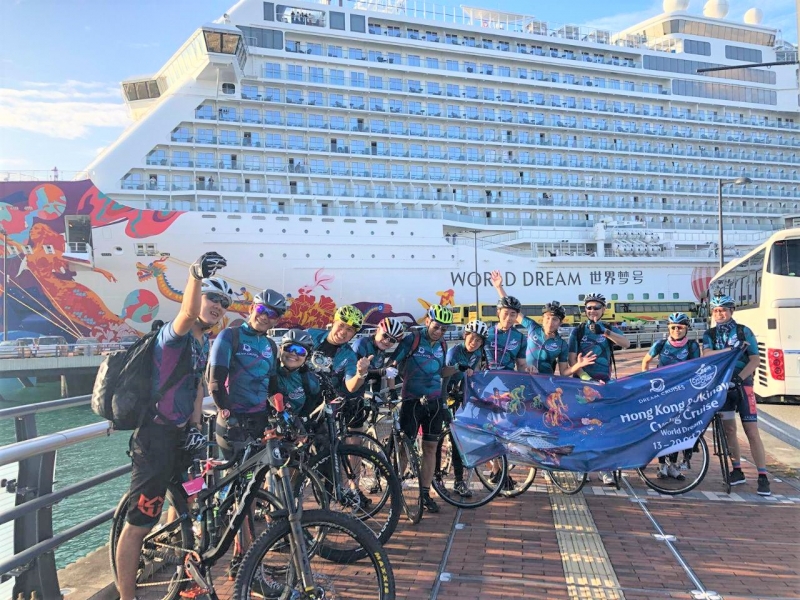 Whether you're a hardcore cyclist or simply someone who's game for adventure, getting an incredible workout with an insane view is pretty awesome as far as vacations go. You have to admit: The cycling part is one of the World Dream Cycle Cruise's most unique features because when else are you going to get ferried to different Okinawan islands to explore them on a bike? Here's how it went down.
Hong Kong
The Sun Hung Kai Properties Hong Kong Cyclothon is one of Hong Kong's biggest cycling events and is an answer of sorts to Singapore's OCBC Cycle. It draws hardcore cyclists from all over the world for the chance to pedal through Hong Kong's charming streets and of course, a shot at glory, be it personal or for their country.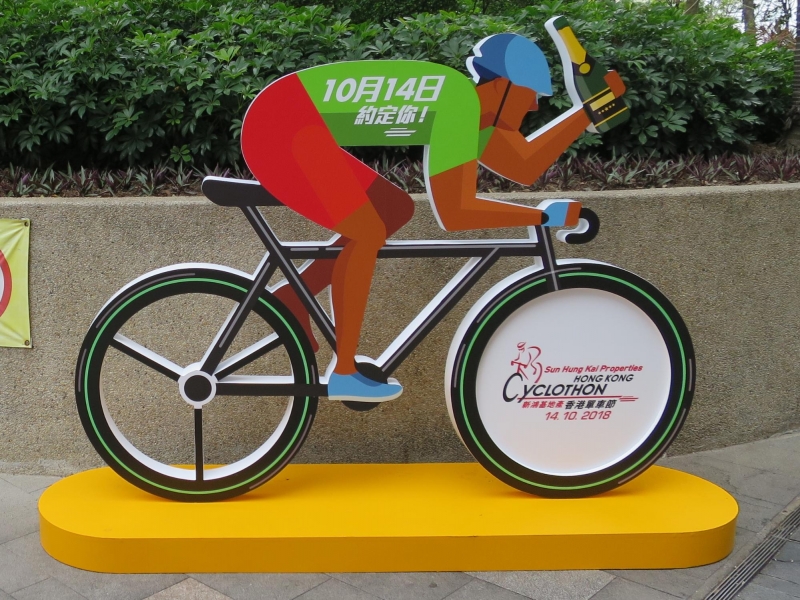 While you don't have to be a pro at cycling to join this event since there are multiple categories, the World Dream Cycle Cruise automatically placed us in the 50km race. So it was sheer terror at the prospect of being woefully unprepared that fuelled me to train for it in the months leading up to the race. Although I must say that the management of the event did their best to allow everyone to cycle at their own pace so that even a cycling noob like me could hold her own and enjoy herself out there.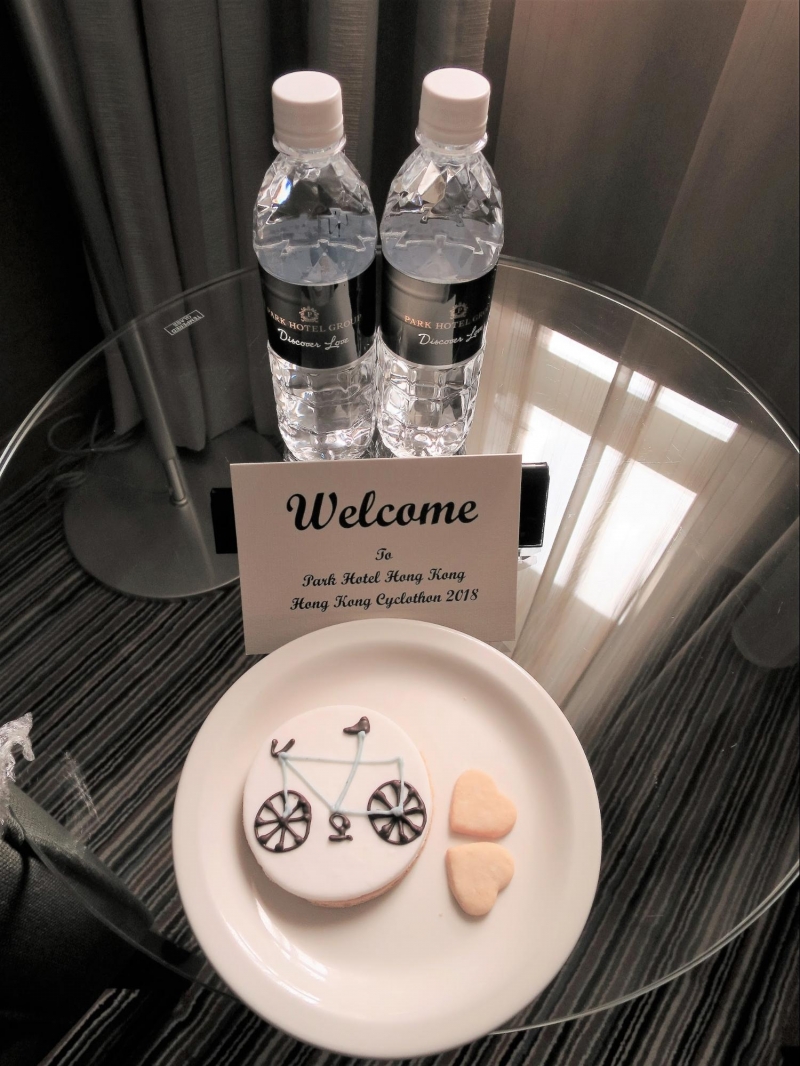 Landing the day before the cyclothon meant that we hit the ground running; getting our bikes fitted, and going for the cycling proficiency assessment at the snazzy Whitehead Velodrome all within half a day. As with all big events, things started off slightly messy and we would have liked to have gotten a bit more rest instead of going for a cycling test at night, seeing as we would have to be up at 4am the next morning to cycle 50km.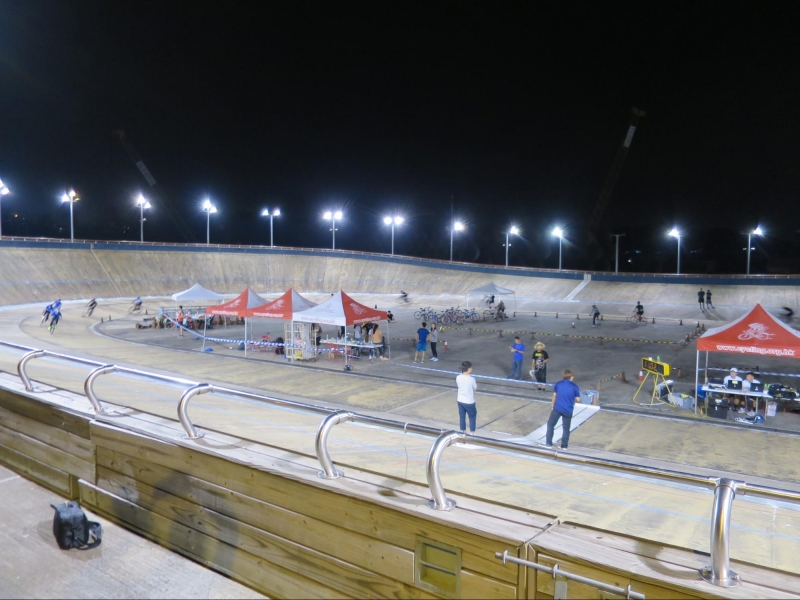 Nevertheless, we all passed (I don't know if they could have failed us considering that we had already flown over to participate?) and before we knew it, it was the big race day!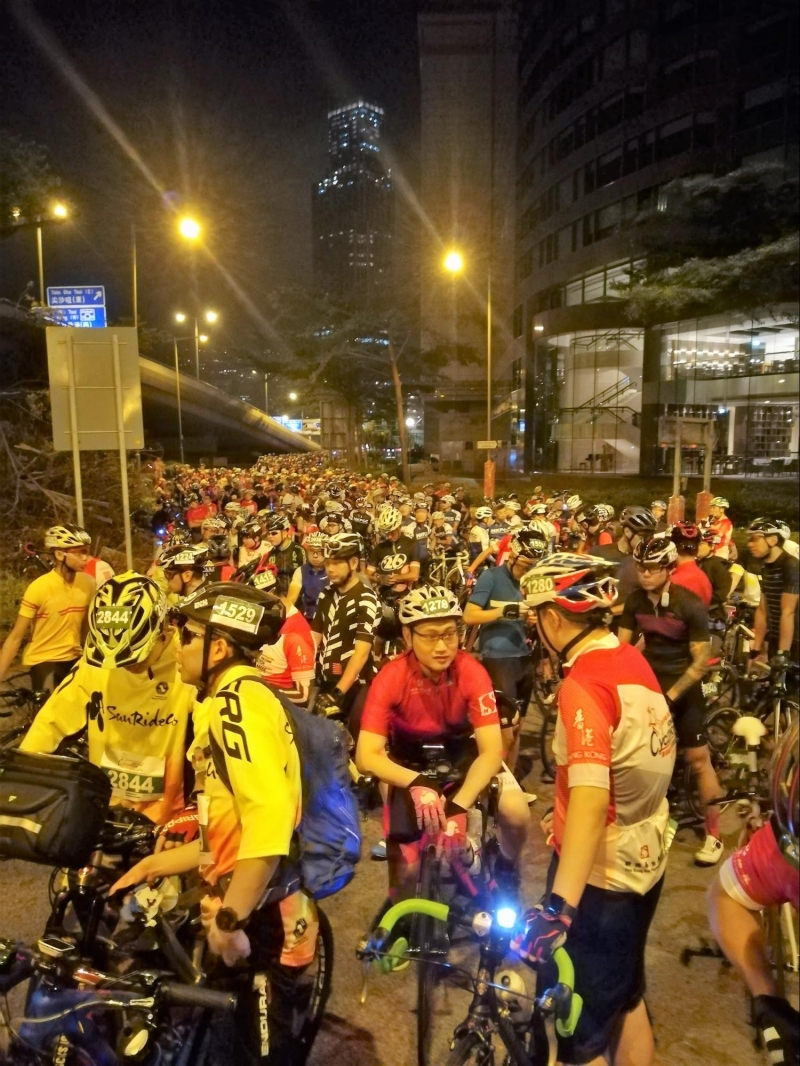 We began at the crack of dawn, gathering alongside about 5,400 participants at the starting line in Tsim Sha Tsui to embark on a 50km route that would take us all the way to Tsing Ma Bridge and through Eagle's Nest Tunnel. With the roads closed, we got the novel chance to whizz down expressways and through tunnels that would have otherwise been crowded.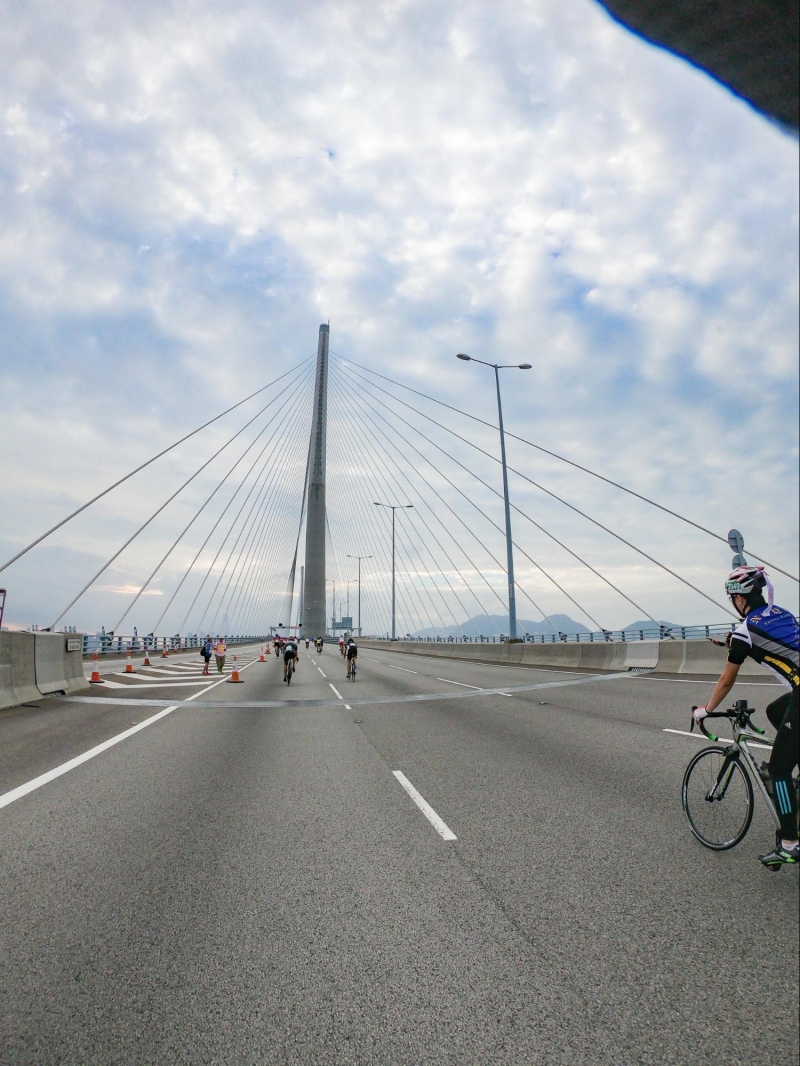 Image credit: Seth Tan
Though the ride was gruelling, the sights were unbelievable. There's something magical about having dawn creep up along the misty Hong Kong skyline as you pedal across the impressive Stonecutters bridge. I was too busy trying to stay alive so I wasn't able to take many photographs; you'll have to take my word for it! Or better still, go for the cyclothon to experience it yourself!
Flying by high-rise buildings on a bike might seem like something you can get in any city, but trust me when I say that Hong Kong's towering skyscrapers, container harbours, and fog-shrouded mountains create a biking experience that's hard to find anywhere else.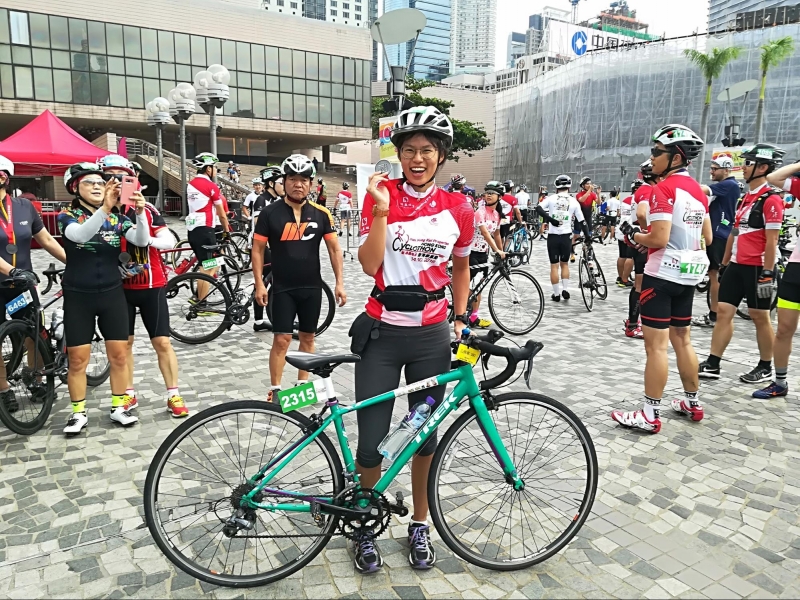 My only gripe about this event is that they had to heed such strict timings for the road openings that many people were not given the chance to finish the entire course, which was rather disappointing.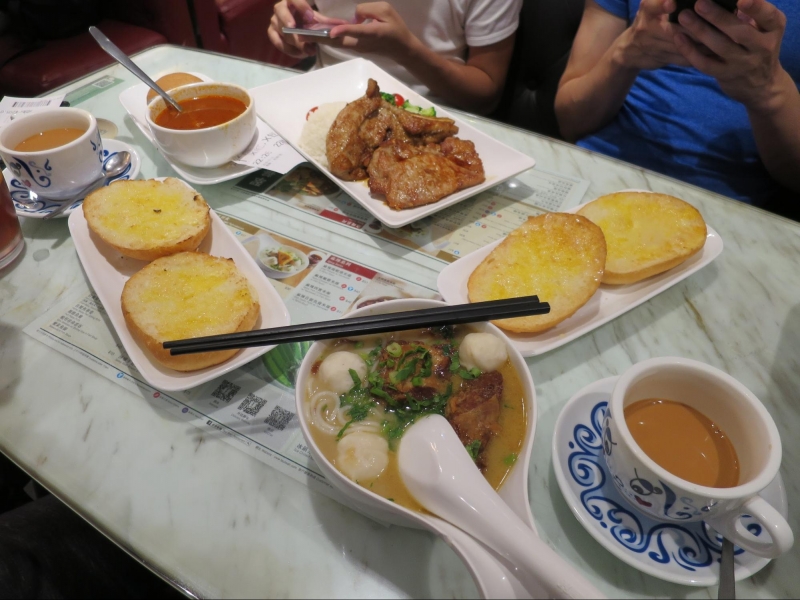 Of course, it wasn't all work and no play in Hong Kong! Even though we only had two nights there, we sought out the best grub like the true foodies we were and succumbed to the siren call of multiple bubble tea shops.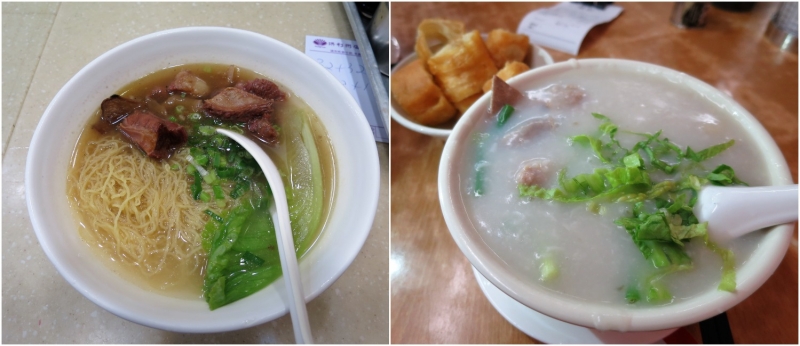 When in Hong Kong, how can you forgo traditional favourites like beef brisket noodles and congee?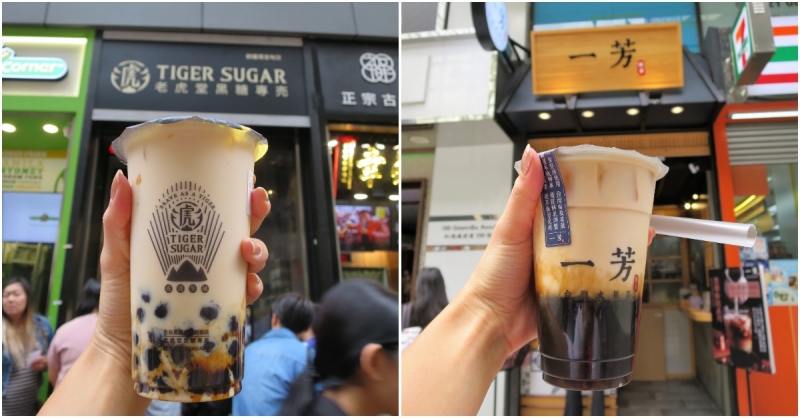 Initially slightly skeptical of the bubble tea hype in Hong Kong, I now stand corrected since it has delivered some of the best bubbles I've had in my life. Bubble tea in Hong Kong seems to be on a whole other level, with bubbles that aren't cloyingly sweet, just the right balance of chewy and soft, and compliment the tea perfectly.
Okinawa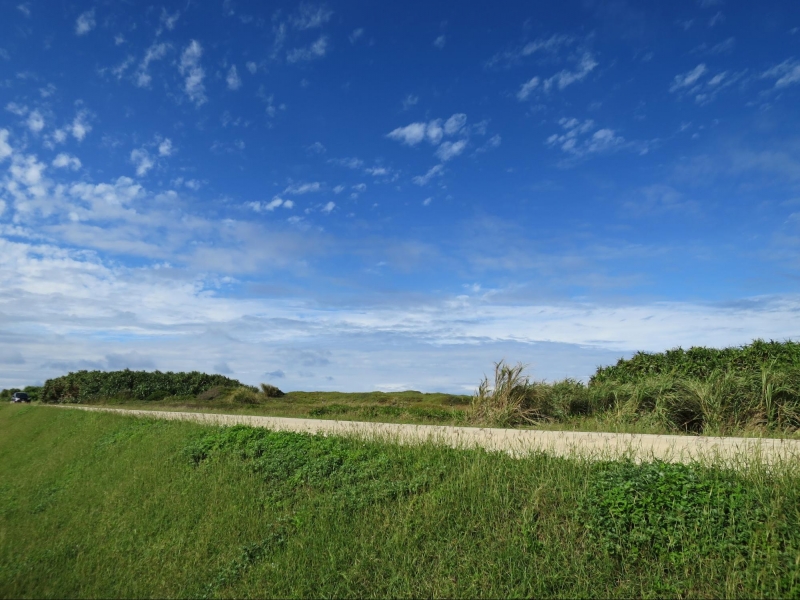 The first thing you need to know is that Okinawa is unlike the rest of Japan in quite a few aspects. A sub-tropical set of 160 islands, the climate is similar to that of Hawaii and so the weather, the ways of wearing traditional clothes (like the kimono), and the food tend to deviate from what you've come to expect from Japan.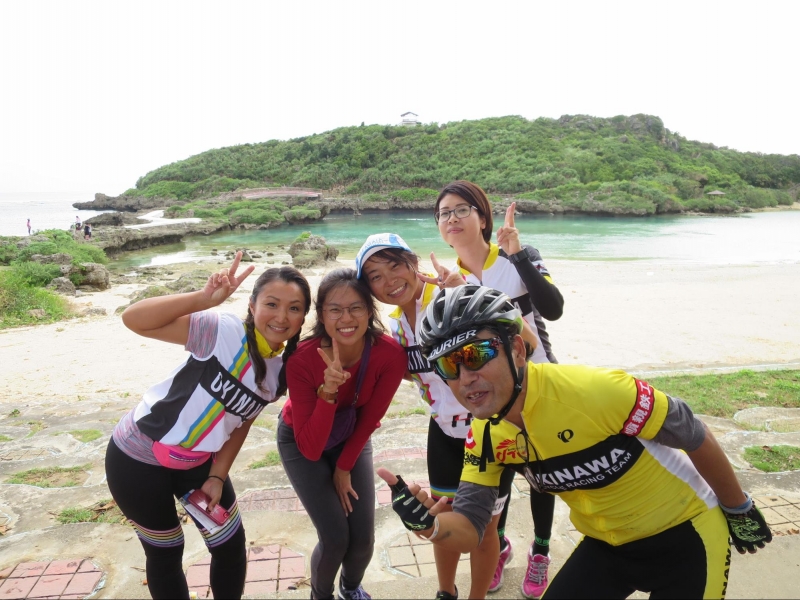 What remains the same though, is that the people are unfailingly polite, the streets are wonderfully clean and neat, and the food is almost painfully good.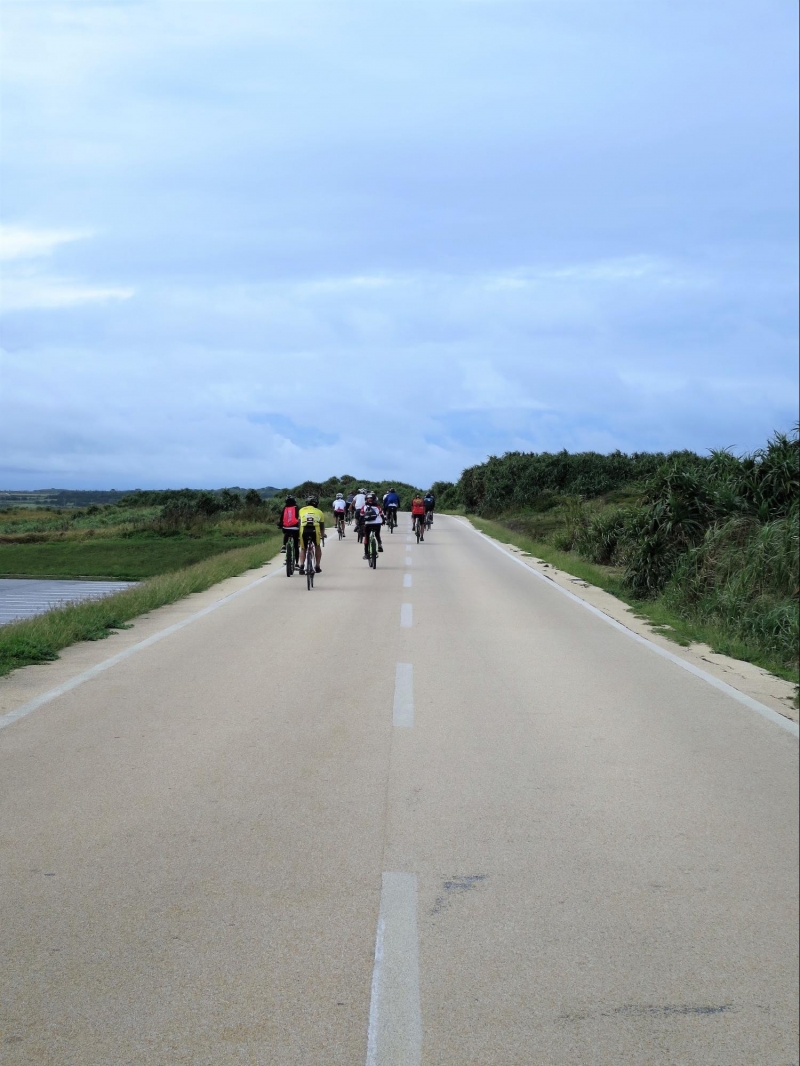 Cycling in Okinawa is a pretty amazing experience given that the hassle of transporting your bike (or renting one) is all taken care of by Dream Cruises. It's way faster than going on foot and you still get to go at your own pace. This means you can actually stop to admire something that catches your eye rather than try to snap a blurry photo while attempting to avoid the reflection from the bus window.
Naha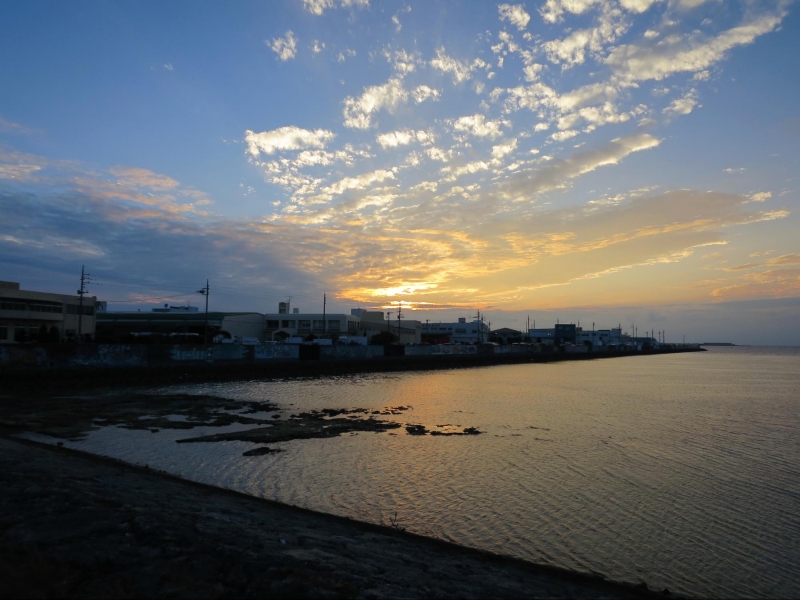 Our first stop was Naha and right off the bat, we caught a breathtaking sunset spreading out across a picturesque coastline. We hit up the American Village, which is a nostalgic fusion of Okinawa's culture and their take on the American style — a product of American rule in Okinawa after the Second World War.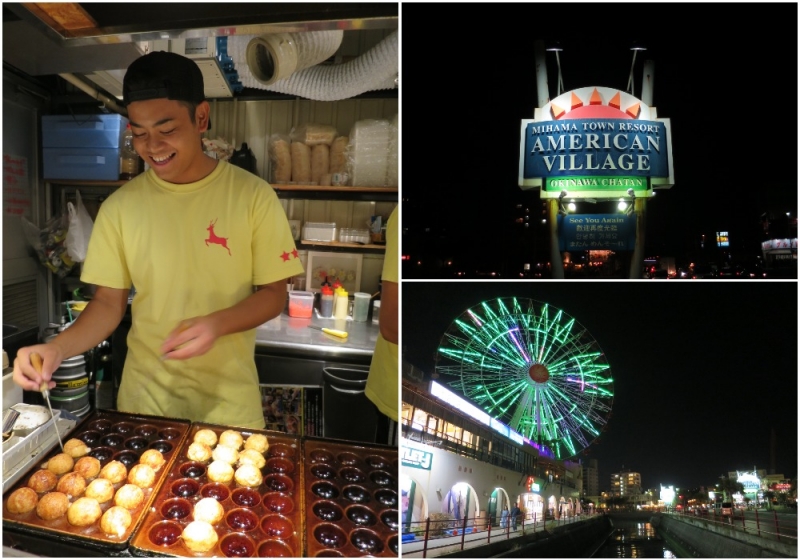 We were greeted by dazzling, colourful lights that illuminate the various Americana restaurants and shops, some selling Western food and others selling familiar Japanese delights like takoyaki. With the singing of street performers pervading the air, it made for a quaint hangout that's good for eating and shopping!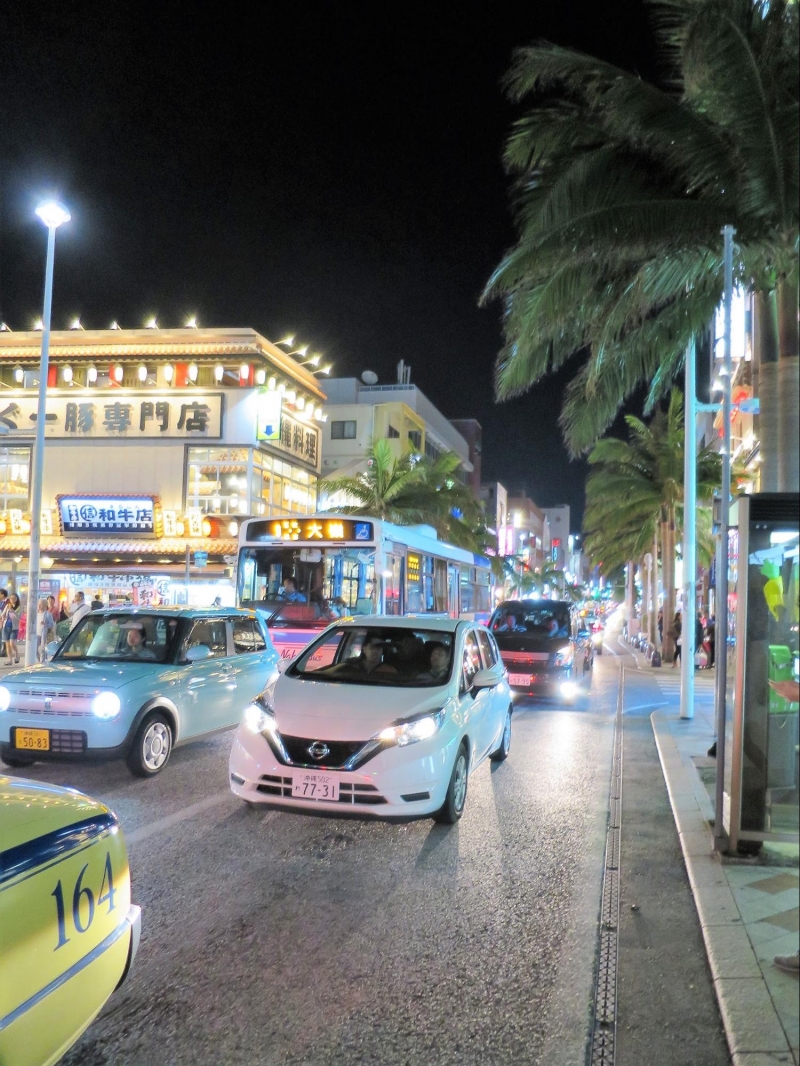 Following that, we cycled to Kokusai Street, which was a stretch of brightly lit road like a beacon in the dusk. It was hard not to be bowled over by the two kilometres worth of road paved with buzzing shops, restaurants, and bars thronged with tourists and locals alike.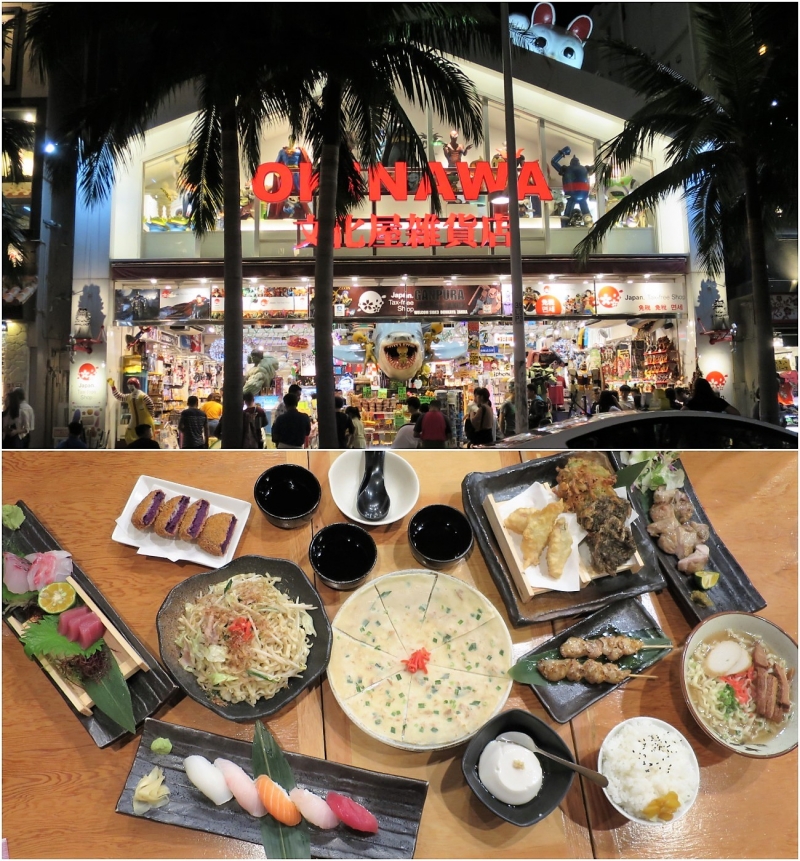 The palm tree-lined street really seemed like something out of a Hollywood film but instead of cafes, you'll find incredibly fresh sushi and sashimi (Naha is an island after all), lots of uniquely Okinawan cuisine like jimami tofu, vinegar seaweed, and an explosion of beni-imo (purple sweet potato) products.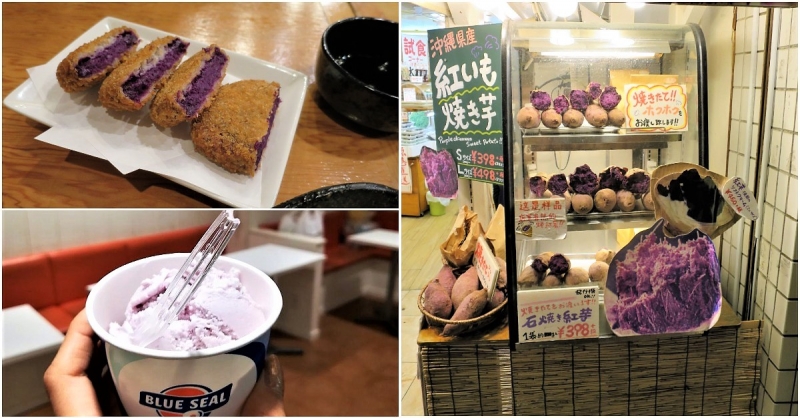 Beni-imo is not just a brilliantly Instagrammable shade of violet, it also tastes amazing. Whether in a croquette or served as creamy ice cream, we couldn't get enough of the subtle flavours and gentle sweetness of this lavender hued sweet potato.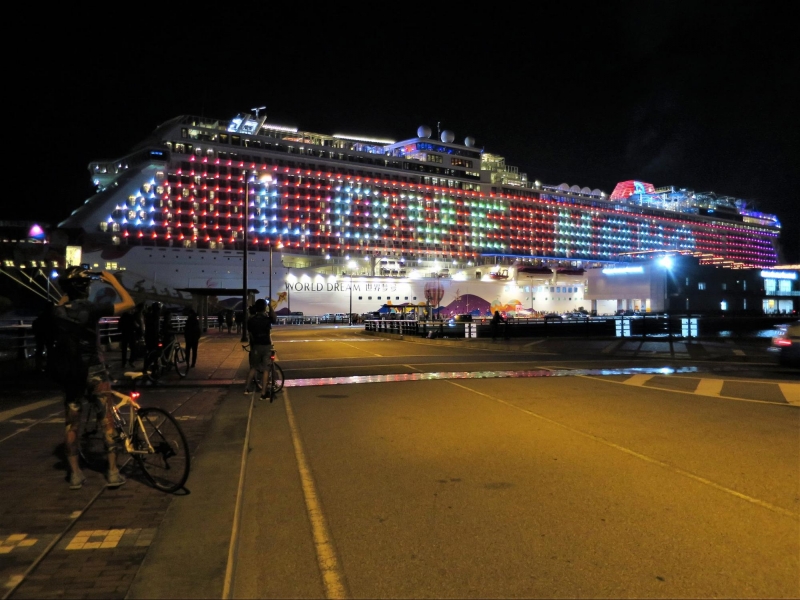 Sadly, we didn't have as much time as we would have liked there as we had to get back on the cruise lest it departed without us!
Miyakojima
Thankfully we had another day of cycling in another island, Miyakojima, which led us to even more dreamy beaches and ocean views. Despite it being a wet morning, we pressed on and arrived rather drenched at Sunayama Beach. Slightly hidden away, Sunayama Beach was enchanting, with a curious cave at one end and crystalline waves rolling in to kiss powdery sand.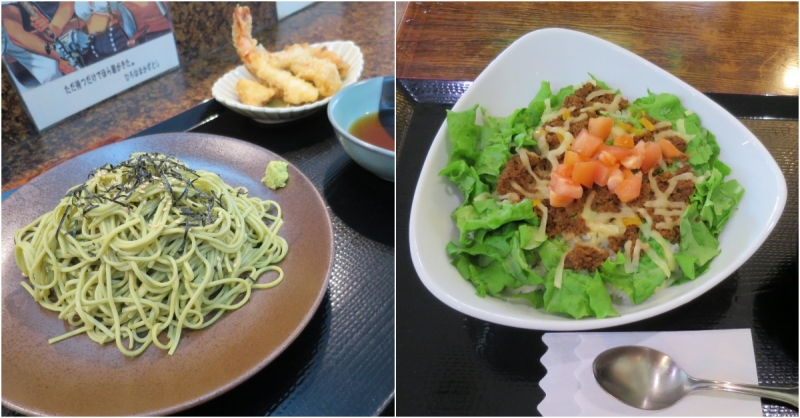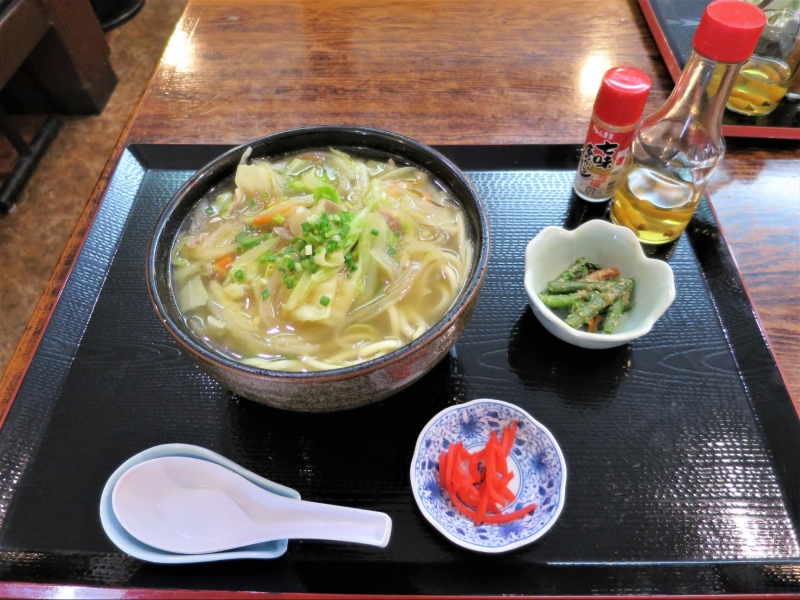 Lunch was at a restaurant named Modern Time located in Daiichi Miyako Hotel serving delightful local nosh like taco rice (American influenced), soba, and champon. Champon is the Okinawan version of ramen featuring slightly thicker noodles, a light broth, and stir-fried meat and vegetables instead of the regular ramen toppings. Piping hot, flavourful and homely, it was a godsend on a cool morning.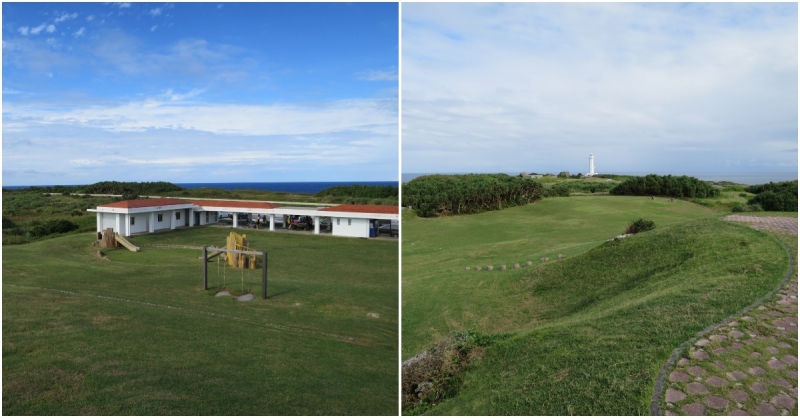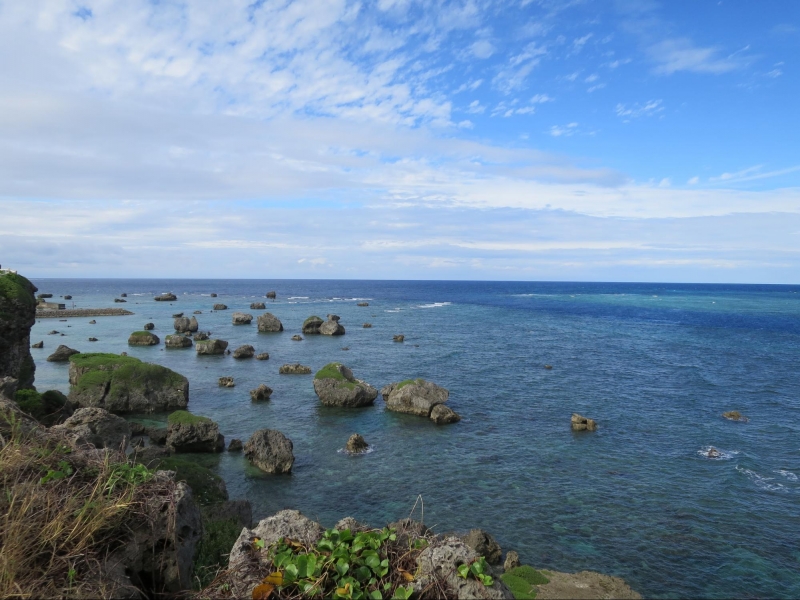 Afterwards, we took the 20km cycle to Higashihennazaki Cap, which had an ivory lighthouse, a charming playground, and an absolutely sublime view of the ocean crashing into the rock face below. The cape edges out into the blue, providing you with stellar 360 perspectives of the coastline and the endless horizon.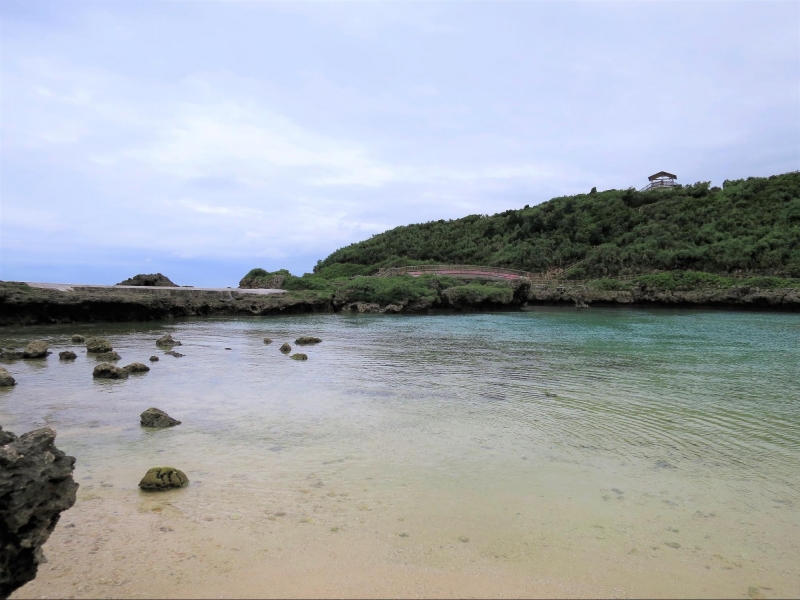 It was quite a shame we didn't have more time to take a dip because our next stop, Ingya Marine Garden Park, was apparently a popular diving spot. This didn't come as a surprise given the ridiculously clear water. The sea pools in a small lagoon overlooked by an extension of the island that seemed modeled after traditional Japanese gardens, complete with a charming bridge and a sightseeing tower.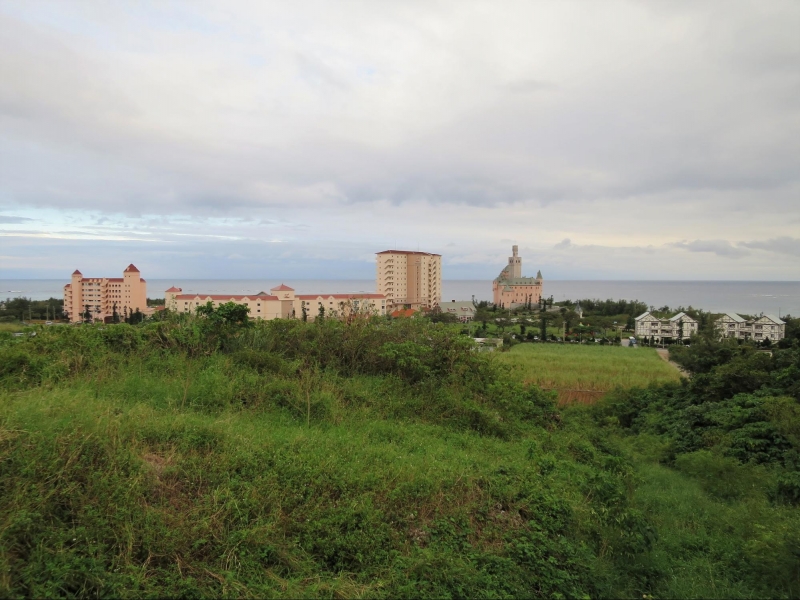 We also caught a glimpse of the Ueno German Culture Village as we headed back to the ship, and the medieval architecture made it look like a fairytale setting. Definitely, a stop to make for my next trip here!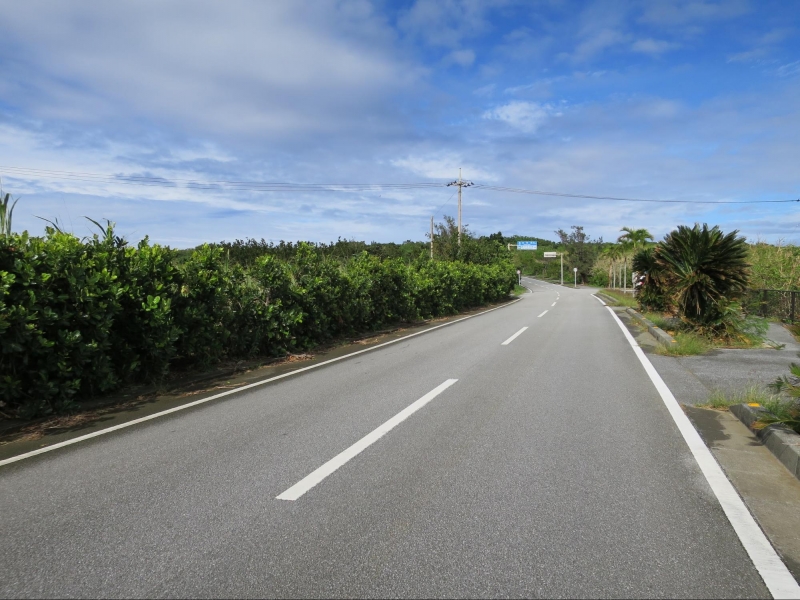 We cycled a total of over 100km in Okinawa and while my legs definitely felt it, it didn't feel that far as I was distracted by the stellar view. Cycling in Okinawa is surreal and feels like something out of a Studio Ghibli movie as you have acres of countryside that sprawl into rolling hills and sugarcane plantations. Here and there, you'll also spot some goats and giant wind turbines. To be riding past sunny fields and along an empty road is incredibly surreal. From spectacular landscapes to beautiful beaches, our two days in Okinawa felt like a whirlwind romance that left me head over heels for this resplendent set of islands.
Dream Cruise
The World Dream Cruise is Dream Cruises' biggest and newest ship to date and we were one of the lucky few to wander its enormous facilities before it even turned a year old. This being my first cruise, my brain struggled a little at first to comprehend how a structure so mammoth could possibly stay afloat in water. It was like seeing an entire megamall casually coasting over the waves like there weren't roughly 3,000 people inhabiting it. Radical.
Do note that wifi has to be purchased on board the cruise and you can choose between several packages to suit your usage.
Accommodation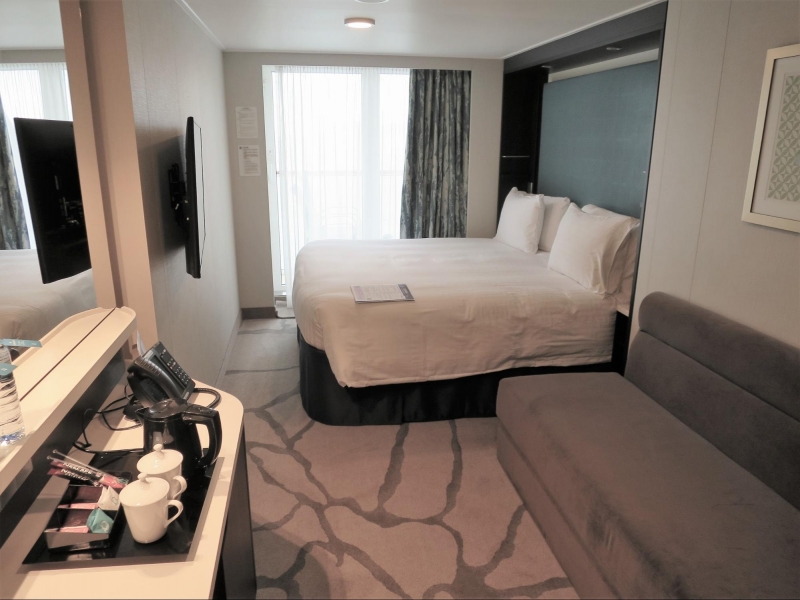 I've heard stories about cramped ship accommodations so imagine my relief when I opened the door of my Balcony Stateroom to find an incredibly spacious area complete with an excellent view of the ocean. The comfy bed and plush pillows along with the gorgeous sea view made leaving my room quite a struggle. But it was a happy problem.
Facilities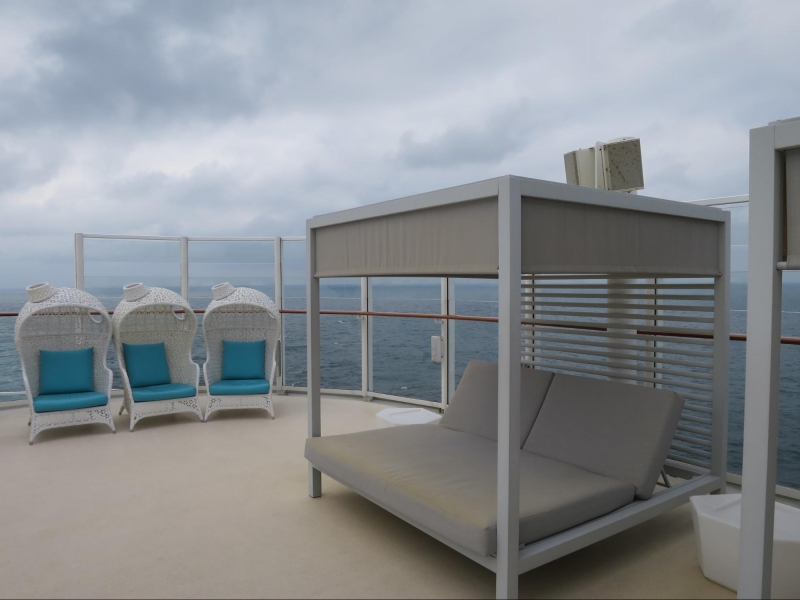 I'll be honest and admit that I brought more than one book because I thought it would be so boring on the cruise that I would be reading all day. No book was read because between hopping on and off for day trips in Okinawa and the variety of facilities, there really wasn't much time for any reading to be done.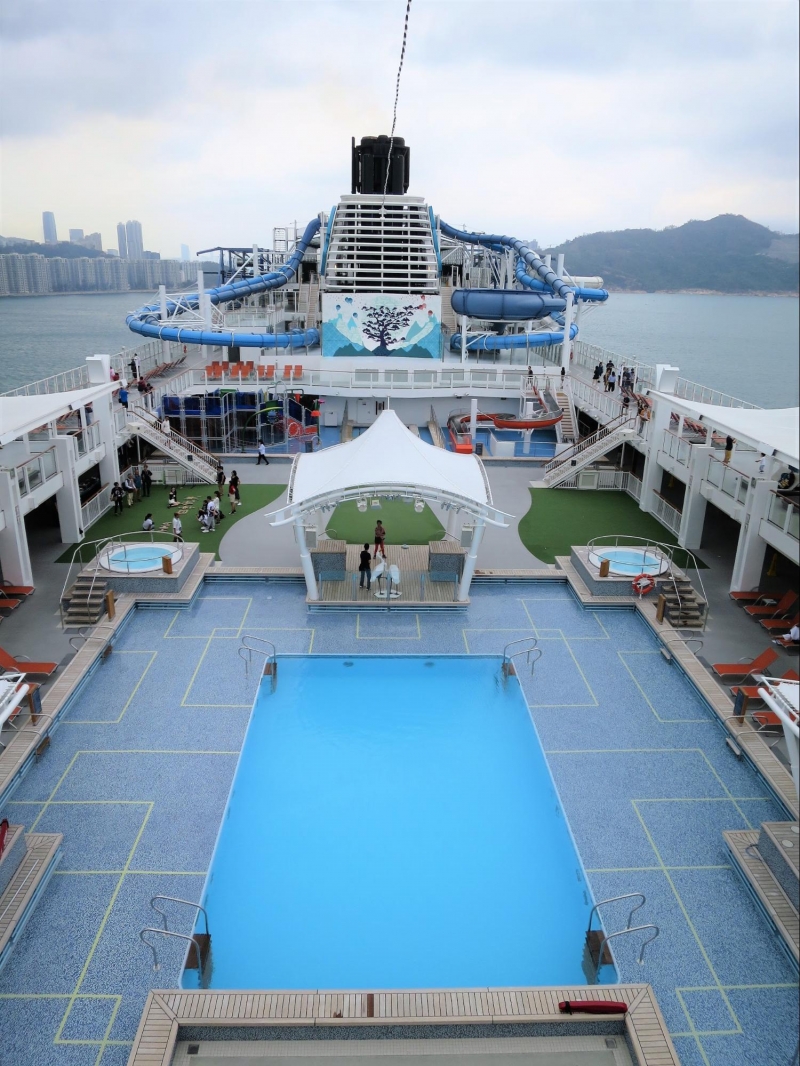 The pools and jacuzzis may seem like a good idea but they're often so packed that your best bet is to go for the water slides, which vary in complexity but have all been certified as 100% fun and adrenaline-inducing.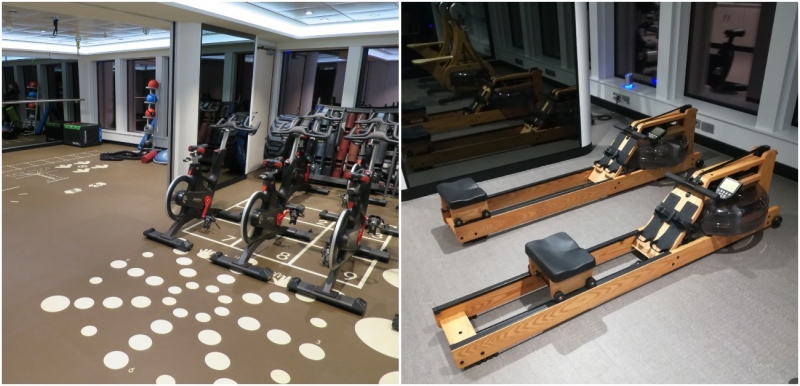 You have your usual culprits at the Crystal Life Spa like the gym, which is all clean and new, and the massage centres (yes, plural, and they're usually fully booked) which I have on good authority are so relaxing that the only thing you can do after is stagger into bed and sleep. You can choose between Asian and Western spas and there's even a salon!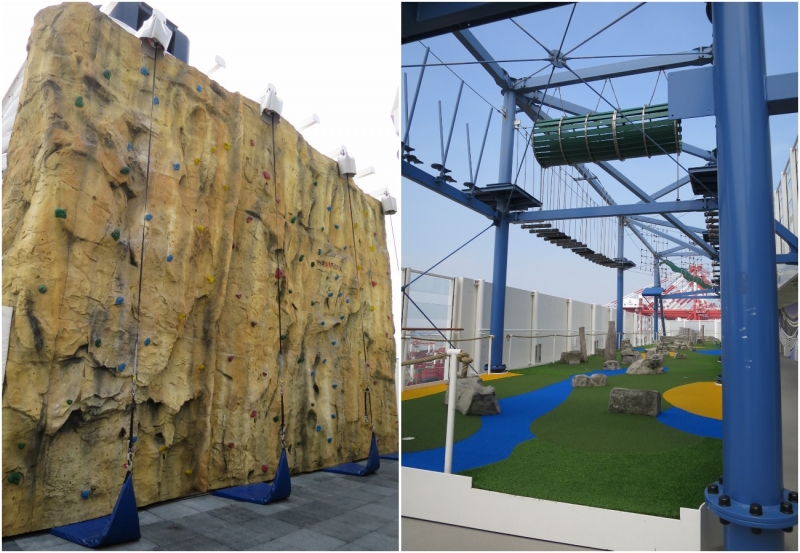 More unique are high element features such as ropes courses and a rock wall, which will offer you an even more brilliant view of the ocean once you're up there. There's also a basketball court, ping pong tables, a mini golf course, and a giant chess set so there's really something for everyone.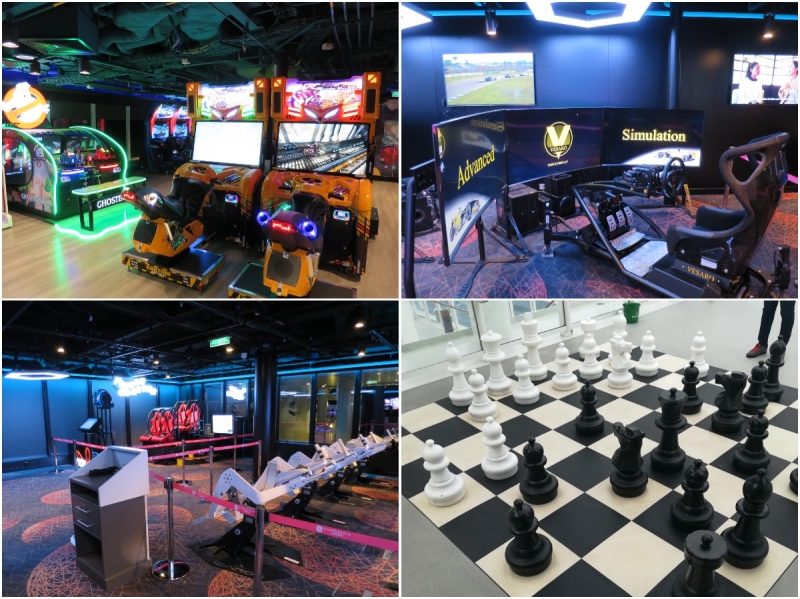 On days that were rainy or too windy to venture out onto the deck, we stayed in and made good use of the massive Virtual Reality room with things like zombie shooting games, car racing simulations, and even a roller coaster simulator. If virtual reality isn't for you, there's an arcade, karaoke, and a mini library that you can check out as well.
Entertainment
Here's a cruise hack: Read the Dream Daily newsletter that's delivered to your room because that gives you the low down on all the events going on for the day, including games that you can participate in, crazy sales, and other activities like dancing or fitness classes.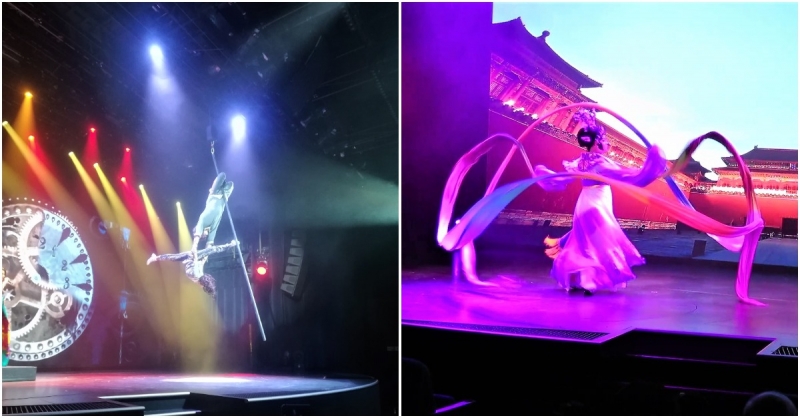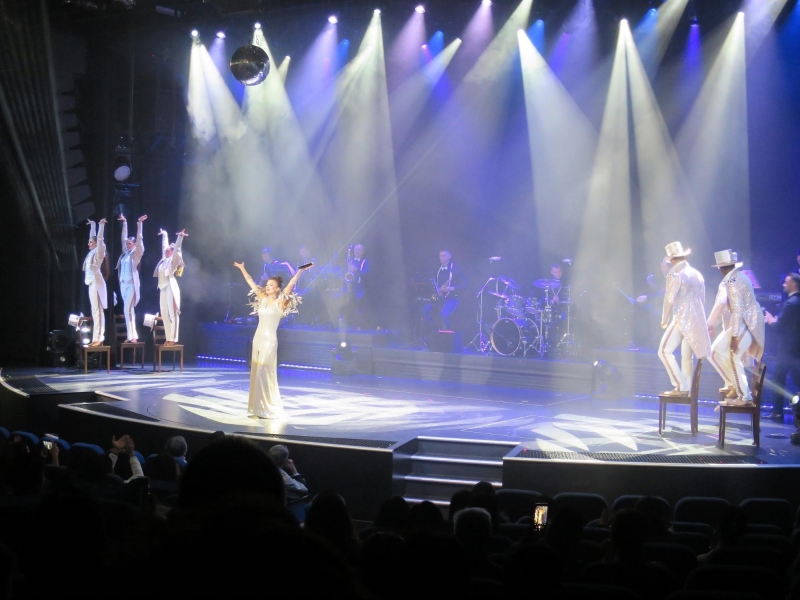 There are three main shows held in the Zodiac theatre that you should sign up to watch, free of charge. And they're very well executed! I have to commend the excellent dancers in the production, Sonio because they were truly out of this world. Their timing was impeccable, their moves were clean, tight, and exploding with charismatic energy, and they delivered such a dynamic performance that it was impossible not to love it.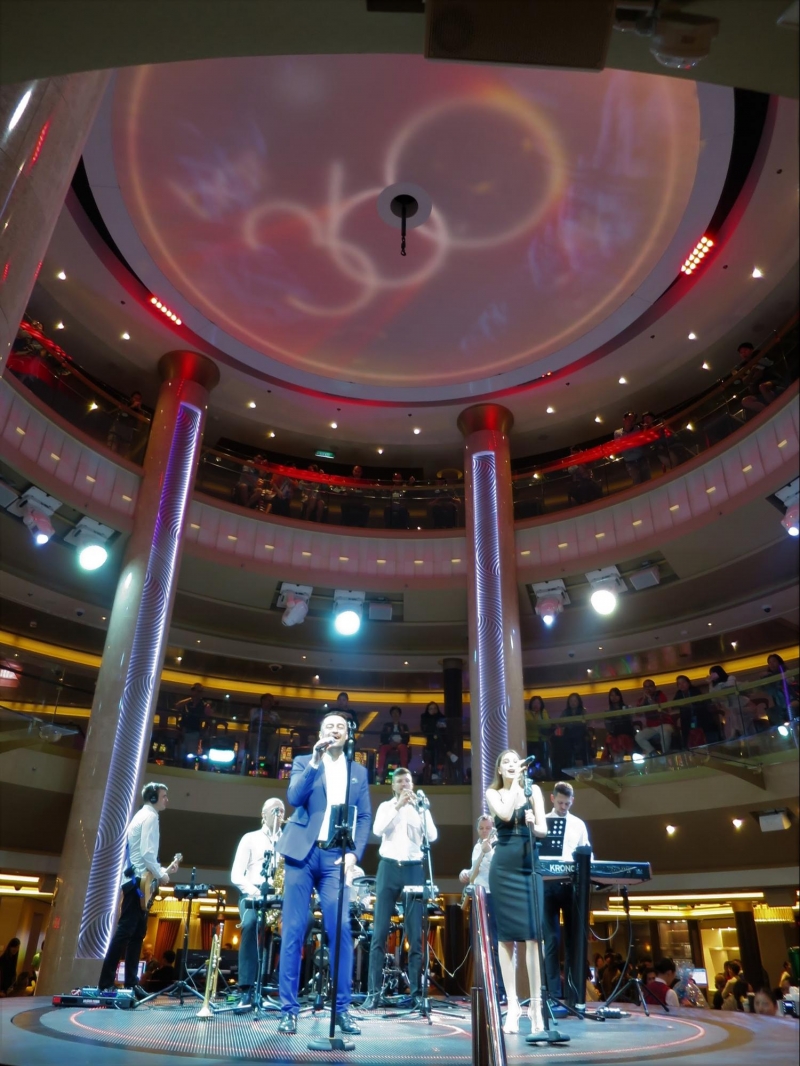 We were also serenaded by live performers at the various stages around the ship. There were cool nights out on the deck, where we jived to the upbeat tunes of the Endless Summer Band. We also chilled at the bar with the more sultry Bandit crooning their hearts out.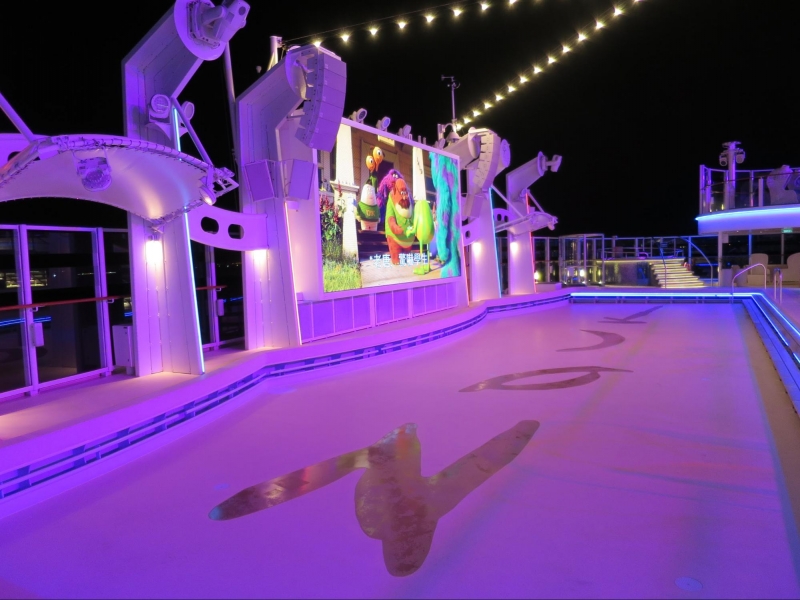 On one end of the ship is a sizable Zouk deck that looked very promising with a dance floor that could be filled with water and neon lights. However, most of the evenings it was used for movie screenings so that was slightly anti-climatic. Watching movies on the big screen while all cosied up under the stars was still a pretty cool experience, though!
While we didn't get to experience the fireworks show on the last night, we were assured that had the weather been good enough and the fireworks set off, they were made of completely edible and biodegradable material. I honestly couldn't tell whether we were more thrilled by the prospect of dazzling fireworks or being part of some mass feeding of marine life.
Dining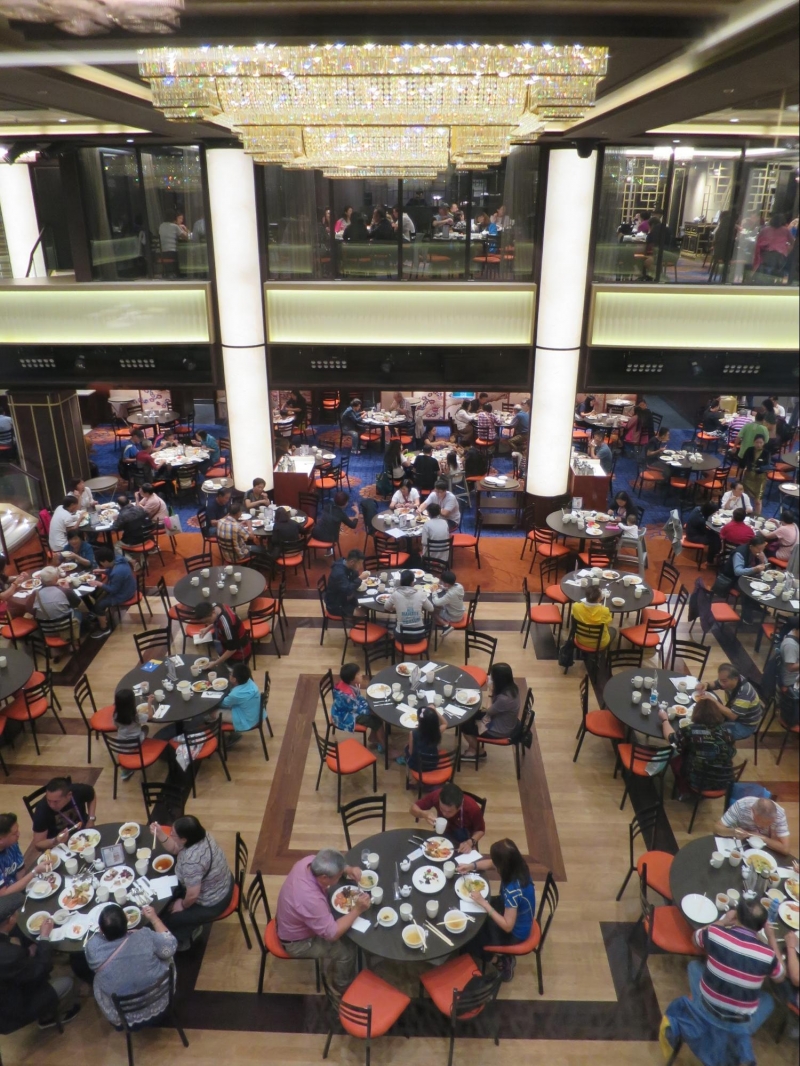 There are three dining areas in World Dream that are included in the package and while they tend to get pretty packed at mealtimes, I never went hungry! Dream Dining Lower is set in a splendid ballroom with large chandeliers and you'll find a fusion of Asian and Western cuisine laid out in a buffet style.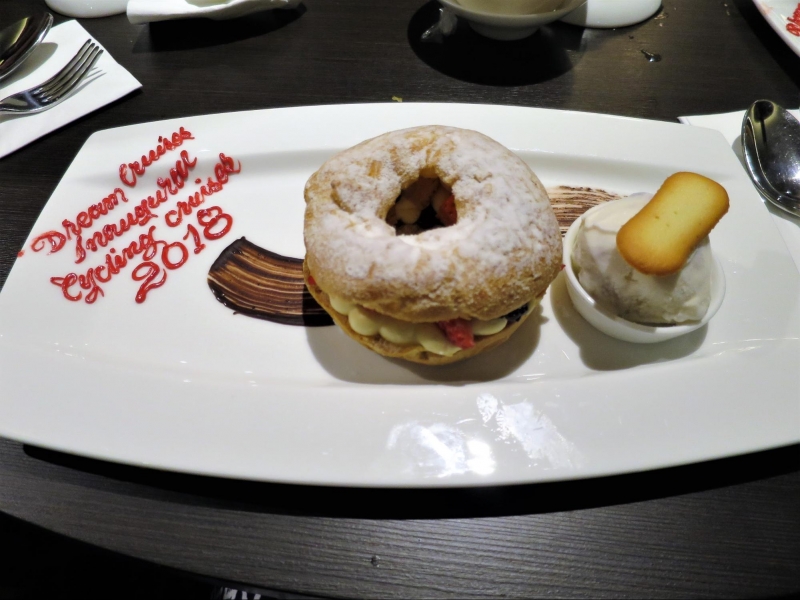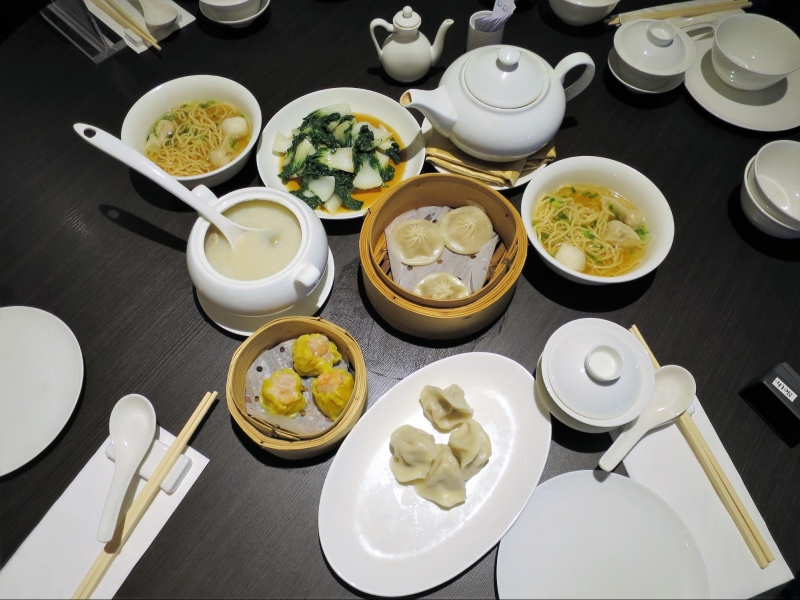 Dream Dining Upper serves Chinese cuisine and is where we had our welcome meal on the first night. The food wasn't the best Chinese I've had in my life, but it was pretty decent and I was pleasantly surprised when I found that they had a wonderful array of dim sum, congee, and noodles one morning.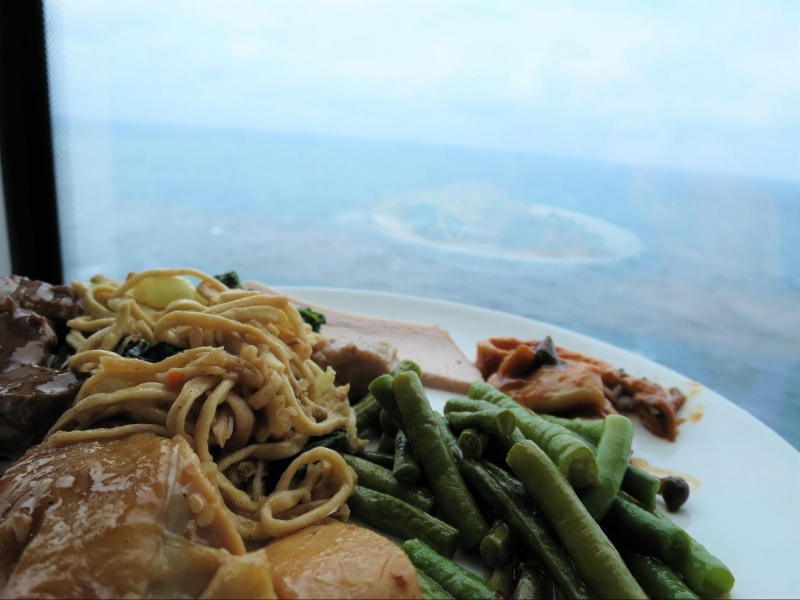 The biggest dining space is Lido, which is an international buffet and you can't really go wrong with that. Once I got over the crowd, I was mainly impressed by the quantity and variety of dishes that the kitchen delivered throughout the opening hours.
There were also other restaurants, cafes, and bars scattered around the ship should you find yourself suddenly craving for Japanese food or some afternoon tea.
Wrapping Up
All in all, this trip was one crazy ride — literally! From the cyclothon (in which I was quite out of my depth) to the long rides in Okinawa, this trip pushed me way out of my comfort zone. Call me crazy, but I loved it. The comfortable World Dream Cruise was definitely a huge plus and a pretty fun way to travel.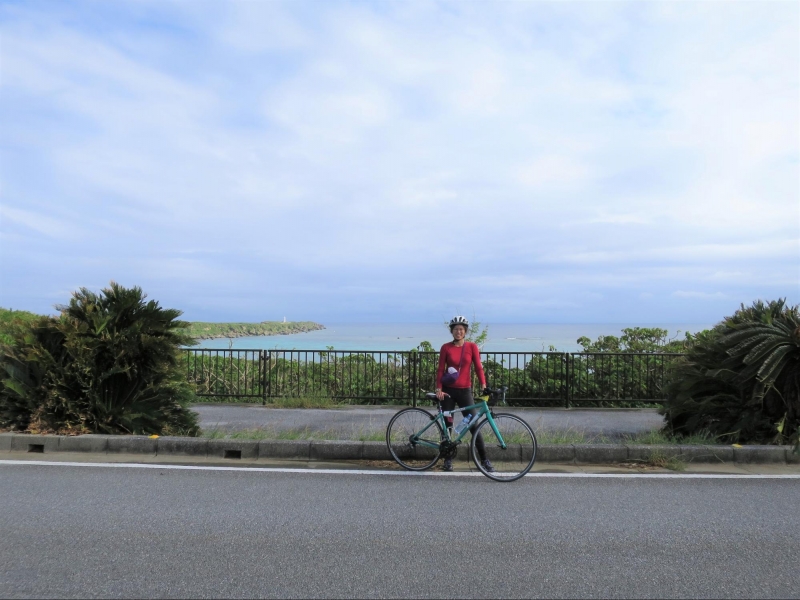 As someone who doesn't cycle regularly, I'll admit that cycling does seem like an awesome way to see a country, given the positively marvellous views that we were treated to as we pedalled in both Hong Kong and Okinawa.
That said, the World Dream Cycle Cruise is the definition of 'Work hard, play hard', and while it was a kaleidoscope of fun activities and mind-blowing sights, it totally tested my physical and mental boundaries so remember to train hard for it!
A big thank you to Dream Cruises for making this lovely trip a possibility!
Also read: 10 Irresistible Destinations You Can Cruise To For Your Next Holiday – Take Your Pick!