Contributed by A Burmese Abroad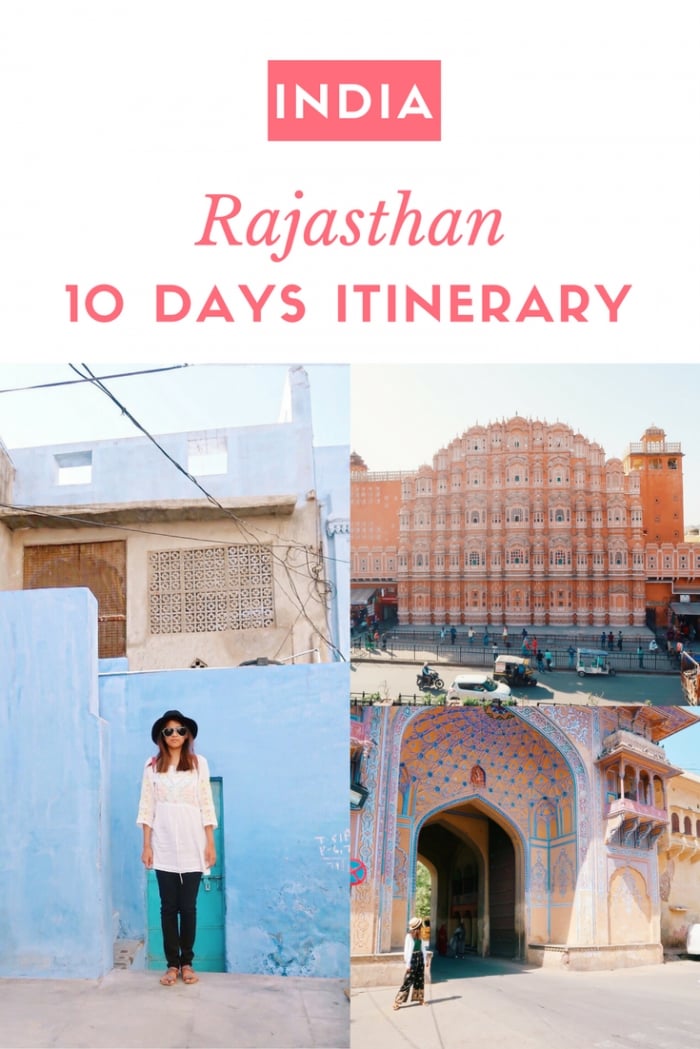 India was once on my travel wish list until I finally managed to strike it off a few weeks ago. During my trip, I spent 10 days mainly in the state of Rajasthan and I had a wonderful time. I hope this guide will be helpful to you if you are planning to go to India in the near future.
Why did I choose to travel to Rajasthan?
India is such a huge country – in fact, it is the seventh largest country by area and the second most populous country in the world. Therefore, I had to choose carefully what I wanted to see during the time I had. There are stunning beaches at Goa, verdant mountains in Kerala, the glorious Himalayas and much more. But for me, the answer was simple. India is famous for its colours and where else is more colourful than Rajasthan state, which is home to fairy-tale palaces and majestic forts to colourful festivals and epic deserts?
Where is Rajasthan located?
Rajasthan is a northern Indian state bordering Pakistan. Do not worry, it is absolutely safe. It is easily accessible from Delhi by plane, bus and train. There are even luxury trains if you are interested, but they are super expensive at more than US$600 a night per person.
Suggested route
Day 1-2: Delhi
Day 3-4: Jaisalmer
Day 5-6 Jodhpur
Day 7-8: Jaipur
Day 9-10: Agra and back to Delhi
Other places you can visit in Rajasthan
DAY 1-2: DELHI
Delhi, the capital of India, has a population 18.98 million. This place is famous for its notorious scams and crazy traffic.
Top places to see in Delhi
Red Fort: As the name suggests, it is a red sandstone fort. Red Fort was commissioned by Emperor Shaha Jahan (of Taj Mahal fame) and it took 10 years to build.
Jama Masjid: This is one of the largest mosques in India.
India Gate: The India Gate is a war memorial for 82,000 soldiers of the undivided Indian Army who died in 1914-21 during the First World War.
Lotus Temple: This structure is made up of pure white marble. The architect chose the lotus as it is the symbol common to Hinduism, Buddhism, Jainism and Islam.
How to travel out of Delhi
Train to Jaisalmer: Overnight train (the duration of the journey varies from 17 hrs 45mins to 12hours 40mins)
Train to Jaipur: 6 hours
Train to Jodhpur: 11hours
Train to Agra: 3 hours
Useful tips
Unless you don't mind the crowded streets, I would suggest leaving as soon as you can. Rest well and get enough sleep to continue the journey. Unfortunately, I did not travel to Delhi as I took a direct flight to Rajasthan. However, I am including Delhi in this itinerary as many travellers would fly here if they're travelling to India.
DAYS 3-4: JAISALMER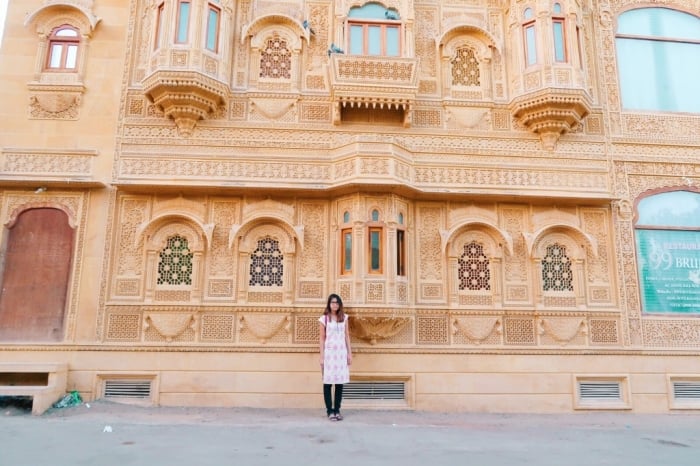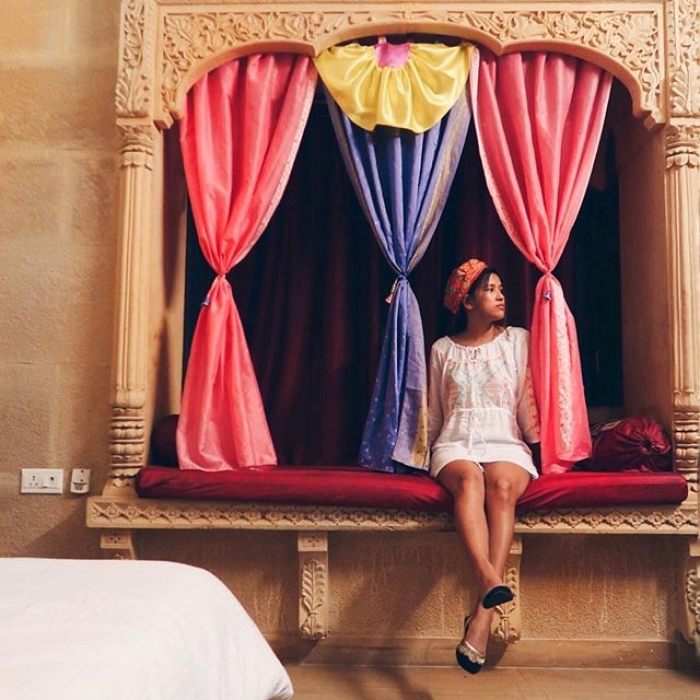 Jaisalmer is also known as the "Golden City" or "Yellow City" because of the colour of the sandstones. It was once a busy town with traders along the silk road. There is no direct flight available to Jaisalmer, and the nearest available airport is at Jodhpur. Jaisalmer is unique and different from the rest of the places that you will visit as many of the houses here are finely sculptured. It is a small town and you will stand out as a tourist. Almost every single person on the street will ask you,"Where are you from?" or "Do you need help?" or they might greet you with "Namaste". Some of them might also offer you a free ride, but do be wary of these few.
Top places to see in Jaisalmer
Jaisalmer fort: Jaisalmer Fort is one of the largest fully preserved fortified cities in the world. It basically means there are people who live inside the fort.
Jain Temple: These temples are famous for their intricate carvings and architecture.
Desert Safari: You can spend a whole night or an evening in the Thar Desert at Jaisalmer and enjoy the Camel Safari, Jeep Safari, and a musical evening. All guesthouses will offer this and you can choose the package that meets your budget.
Jaisalmer Lake: This is my favourite place in Jaisalmer. This beauty is such a peaceful lake that you can just sit and understand the art of doing nothing.
Places to visit if you have time
Kothari's Patwa-k0 Haveli Museum
Patwon Ki Haveli
Bada Bagh (to catch the sunset)
Top outdoor activities
Parasailing and paramotor gliding in the desert
Where I stayed in Jaisalmer
Hotel Tokyo Palace Jaisalmer: A little old but a great place with friendly people. It is within a walking distance from the fort. They offer free pick-up to and from the train station which was really convenient.
How to travel out of Jaisalmer
Train to Jodhpur: 6 hours
Train to Jaipur: 11 hours
Useful tips
There are international hotels available in Jaisalmer and they are really well-priced compared to the ones in the big cities. If you are thinking of splurging for a day to two, I highly recommend to do it in Jaisalmer. Another option is to stay a night in the luxury camp in the desert.
DAYS 5-6: JODHPUR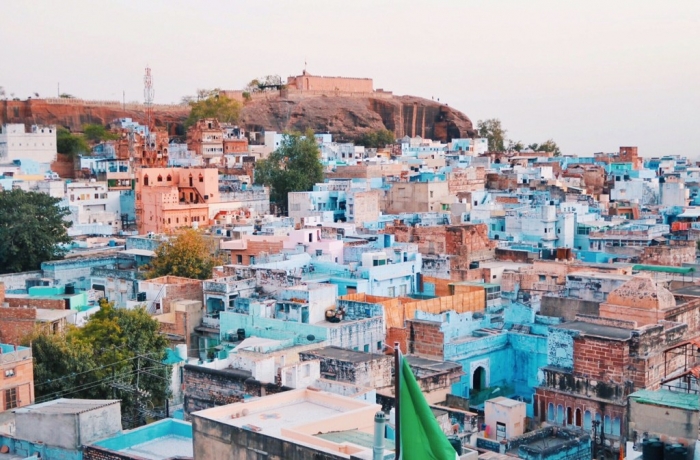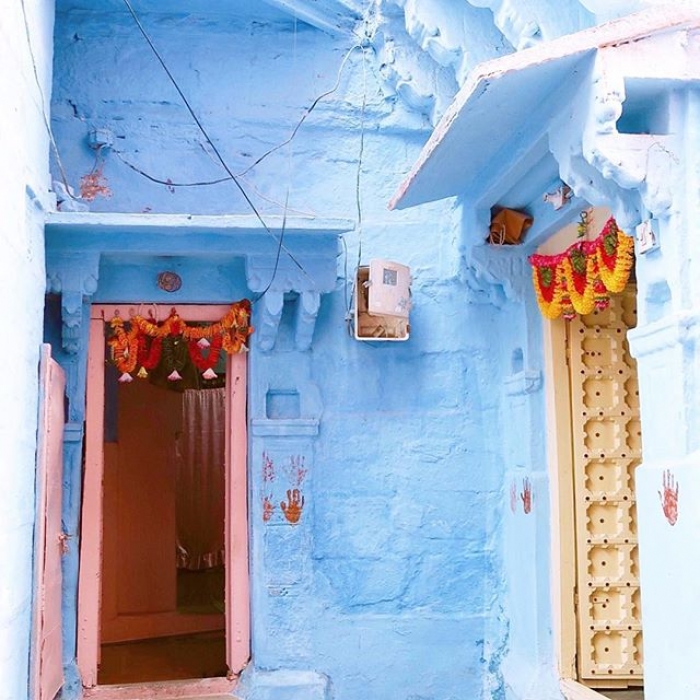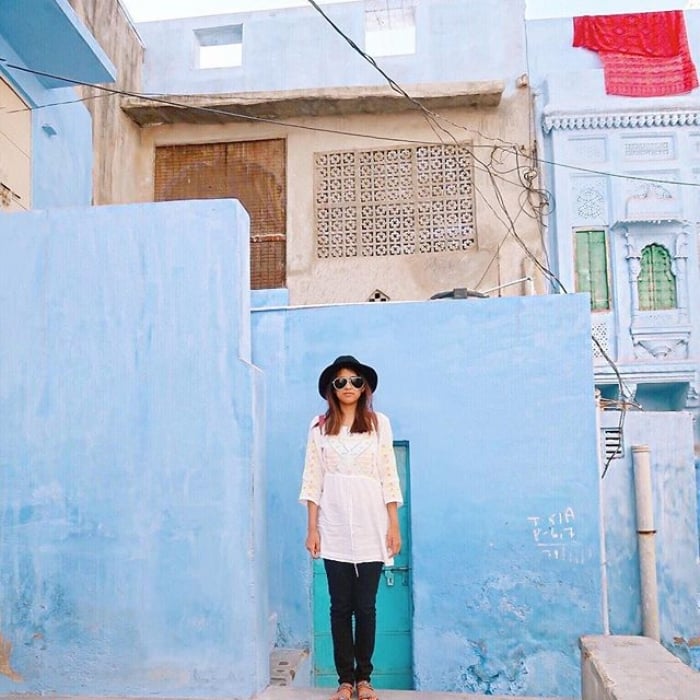 Jodhpur is also known as the "Blue City" because of its famous blue-painted houses. It is the second largest metropolitan city in the state.
Top places to see in Jodhpur
Mehrangarh Fort: This is one of the largest forts in India and the most impressive one that I have seen. The palace and museum are preserved very well.
Jaswant Thada: This is the white marble memorial of the 19th-century ruler. It is located a walking distance from the fort and has a lovely garden.
The Step Well – Toorji Ka Jhalara: A must-visit place with amazing architecture.
Places to visit if you have time
Mandore Garden: This beautiful garden with lots of monkeys is a little far from the rest of the attractions. It is a shame that this place is not well-maintained.
Clock Tower and Sardar Market
Top outdoor activities
Zip lining (or flying fox)
Where I stayed in Jodhpur
Singhvi's Haveli Hotel: This 17th-century carved sandstone haveli (mansion) is located a 10-minute walk from Mehrangarh Fort. There are lots of Haveli homestays in the whole of Rajasthan and I highly recommend that you stay in one of those if you want to experience Rajasthani-style heritage.
How to travel out of Jodhpur
Train to Jaipur: 5 hours
Useful tips
There are two parts of Jodhpur  – the old and new city – and I recommend staying in the old part of the Jodhpur where the blue houses are. The pollution is really bad in Jodhpur, so it is recommended bringing a scarf to protect yourself.
If you have limited time in India or do not wish to endure a long train ride just to experience a camel ride in the sand dunes, then make a trip to Osian, just 60km from Jodhpur.
Also read: India on Two Wheels: Road-Trip through Rajasthan
DAYS 7-8: JAIPUR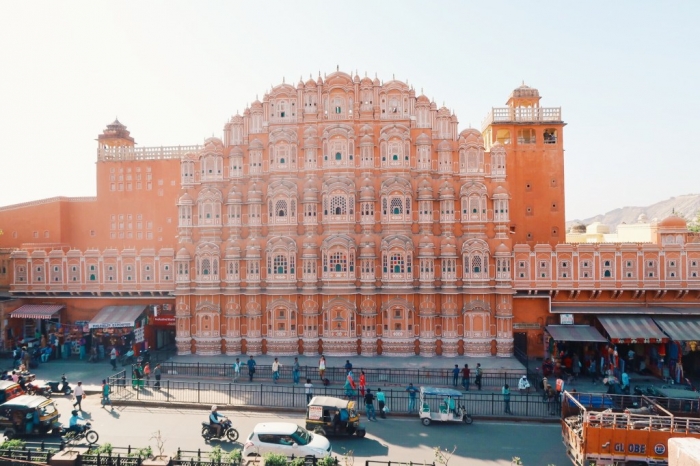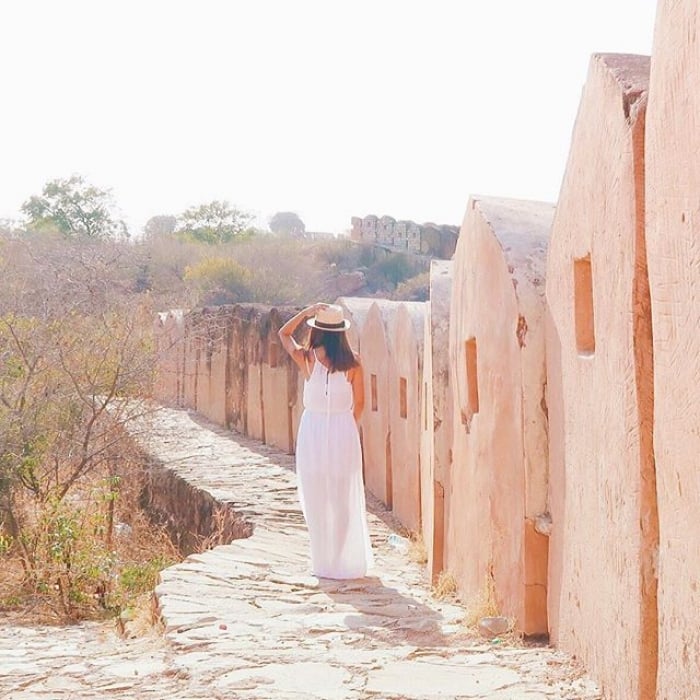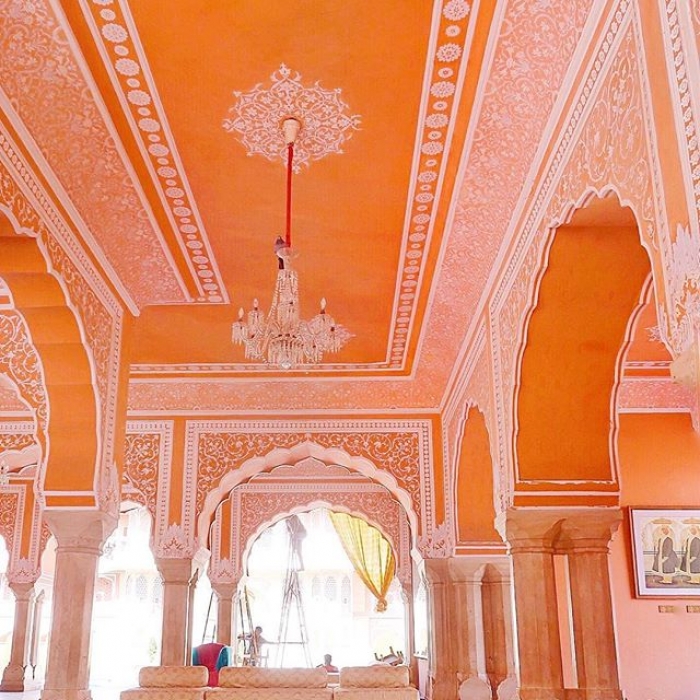 Jaipur is the capital of Rajasthan state and it is also known as the "Pink City". It is my most favourite city amongst the places which I visited in India. There are so many things to see here that have so much character. I was instantly amazed at how beautiful every place is.
Top places to see in Jaipur
Amer Fort and Palace (also known as Amber Fort): Amer Fort is very crowded with tourists because it is part of Golden Triangle tour (Delhi-Agra-Jaipur) that many people follow. The view from the fort is amazing!
Hawa Mahal: Hawa Mahal is also known as the "Palace of the Breeze". It is a high screen wall built so the women of the royal household could observe street festivals while unseen from the outside.
Nahargarh fort: This place might remind you of the Great wall of China. It is located on the highest hill in Jaipur and the view of the city from the fort is impressive.
City palace: A complex of courtyards, gardens and buildings. The complete entry ticket to the palace was super expensive (INR 2,500) so we only managed to visit the courtyards which were still beautiful. During our visit, there was a wedding preparation going on, so it was super messy too.
Bapu Bazar: This bazaar is a lively shopping destination with a variety of Rajasthani products on offer.
Places to visit if you have time
Jaigarh Fort
Jantar Mantar
Albert Hall
Birla Mandir
Monkey Temple
Top outdoor activities
Hot air ballooning
Elefantastic (fun activities with elephants)
Where I stayed in Jaipur
Nahargarh Palace Hotel: This hotel is located in a congested area but I wouldn't complain because it is right at the base of Nahargarh fort. It is an affordable and clean place with very hospitable people.
How to travel out of Jaipur
Train to Agra: 4 hours
Useful tips
If you plan to do some shopping in India, I highly recommend to do it in Jaipur as the prices are cheaper and the variety is better too. Go shopping late in the morning when the traffic is still bearable; it gets pretty crazy in the afternoon.
DAYS 9-10: AGRA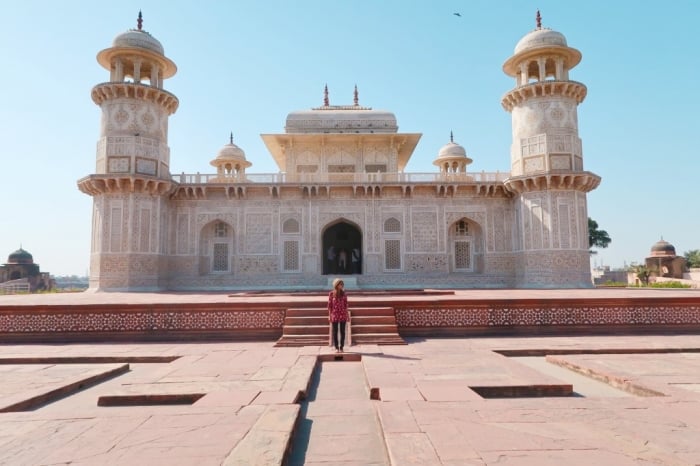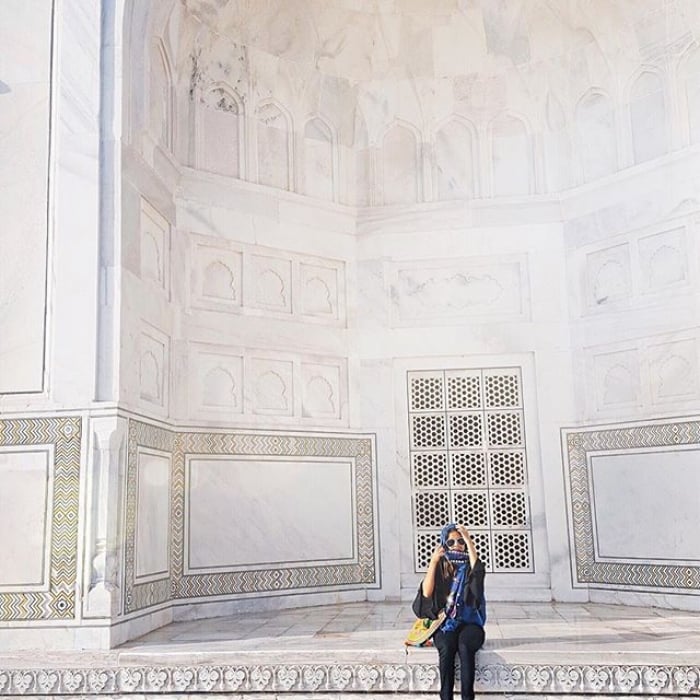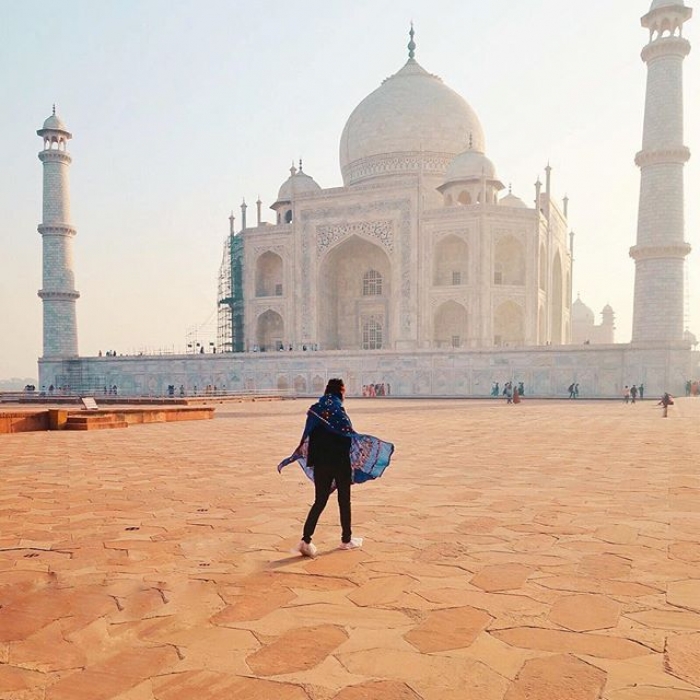 Agra, the city of the Taj Mahal, is in the north Indian state of Uttar Pradesh. Due to the high volume of tourists, Agra is a place for touts and people looking to separate you from your money. People from all over the world visit Agra to see India's most famous building – the Taj Mahal. Sadly, pollution here is one of the worst in the world.
Top places to see in Agra
Taj Mahal: Taj Mahal is actually not a religious building; therefore, there isn't a strict dress code here for ladies. It is one of the most well preserved and architecturally beautiful tombs in the world and also one of the masterpieces of Indian Muslim architecture.
Agra Fort: The fort is similar to the Red Fort in Delhi, but considerably better preserved.
Tomb of I'timad-ud-Daulah: Also known as baby Taj. The garden layout, use of white marble and inlay designs look similar to those in the Taj Mahal.
Mehtab Bagh: The botanical garden that gives you an opportunity to view the Taj away from the crowds of tourists. It also gets crowded during sunset so it is highly recommended to go early before the sunset.
Places to visit if you have time
Top outdoor activities
Boat ride in Yamuna River
Where I stayed in Agra
Zostel Agra: Very well located as it is within walking distance to the Taj Mahal. If you are travelling alone or want to experience the hostel culture and meet up with other travellers, this is a great place. They arrange lots of tours and you can easily find other travellers to split the cost of transportation.
How to travel out of Agra
Train to Delhi: 4 to 5 hours
Useful tips
There are very strict rules and regulations at the Taj Mahal so please read through them before you visit to avoid any entry delays. The entry ticket can be bought online in advance and Citizens of SAARC and BIMSTEC countries can get them at a discounted rate.
Lastly, for the peace of mind, I highly recommend looking up car rental companies and pre-booking your car – if you're opting for this mode of transportation. It will definitely be worth the extra money.
I hope this guide has been useful for you! Don't forget to share it with your friends who are interested in visiting India soon.
Also read: 5 One-Week Rajasthan Itineraries Perfect for First-time Visitors to India