A holiday in Seoul never disappoints the avid shoppers and food junkies! This city comes alive at night with locals and tourists heading out to hunt for bargains and devour sumptuous snacks. The heart of the action is Seoul's bustling night markets, and here's our best five!
1. Seoul Bamdokkaebi Night Market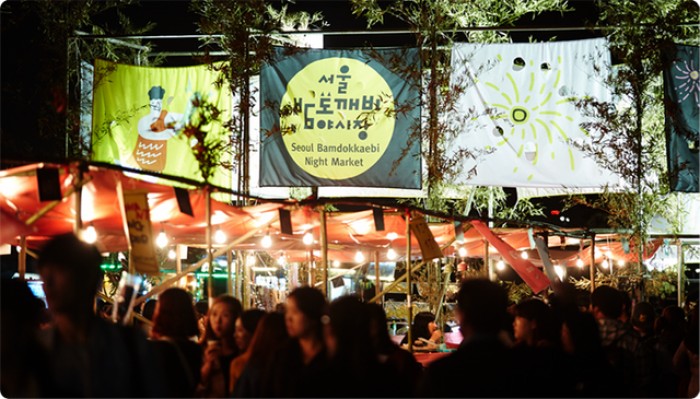 Image credit: Trazy.com 
First opened in Yeouido in October 2015, the Seoul Bamdokkaebi Night Market is often referred to as the market that "opens at night and disappears by morning". Bam means night in Korean, while dokkaebi refers to a mythical character of Korean folklore and fairytales that appears at night to trick humans and disappears in the day, thus the name.
This year, it will be held at the following places: Yeouido Hangang Park, Banpo Hangang Park, Dongdaemun Design Plaza (DDP), Cheonggyecheon Stream, and Oil Tank Culture Park. Since the market is not constrained to a single location, which we feel makes this market unique of its kind, visitors can expect different experiences across the different venues. They are held every Fridays and Saturdays at different times of the year between March to October.
Please note that they are closed from 19 July to 4 August 2019, and will reopen 9 August 2019. The market at Oil Tank Culture Park concluded in May 2019.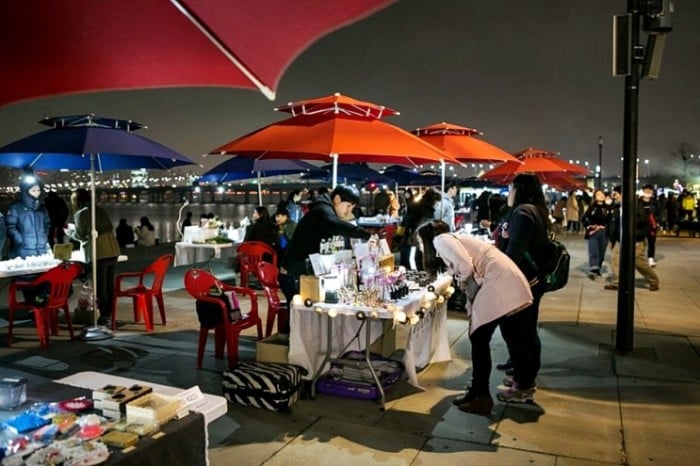 Image credit: Daily Stroy
Dongdaemun Design Plaza (DDP)
At the Dongdaemun Design Plaza, one can take in the exuberant night scene in the mid of the enticing aesthetic of Dongdaemun. You can find dishes prepared by young chefs and trademarked handmade items to young Korean buskers and unique fashion shows. In line with its creative angle, there is also a dedicated photo area which reflects the architecture of DDP. 
Yeouido
If you are looking for more traditional and cultural experience, the Yeouido Night Market will be the best option. Apart from the huge array of food choices — offered by young chefs as well — which include chopped steaks, pork belly sandwiches and pineapple shrimps, all whipped up and served in a creative way, visitors can also enjoy traditional performances from around the world set against the nightscape of the Hangang River. You can also purchase cultural handicrafts and other handmade items! There is also the World Zone, where international souvenirs, which goes by monthly themes, are on sale. 
Cheonggyecheon
This market sees more tourists due to its central location, but don't let that put you off! Here, there are plenty of local bites to try, ranging from traditional dishes to modern ones. There's also a retro aspect to it thanks to the Memory Lane Project, a permanent event that brings nostalgia to the fore with its '30s and '40s vibes.
Banpo Hangang Park
Lovebirds might want to set this at the top of their priority list, as the market offers romantic night views and a fountain. There are performances to enjoy on top of shopping, and you can get hands-on with your partner (not cheekily, of course!) at the Romantic Art Zone, where you can express your artistic talents together.
Markets opening hours vary, between 3pm to 4pm in the afternoon till 11pm to 12am at night. If you are looking forward to the Seoul Bamdokkaebi Night Market next year, be sure to check the dates before making your way down!
2. Dongdaemun Night Market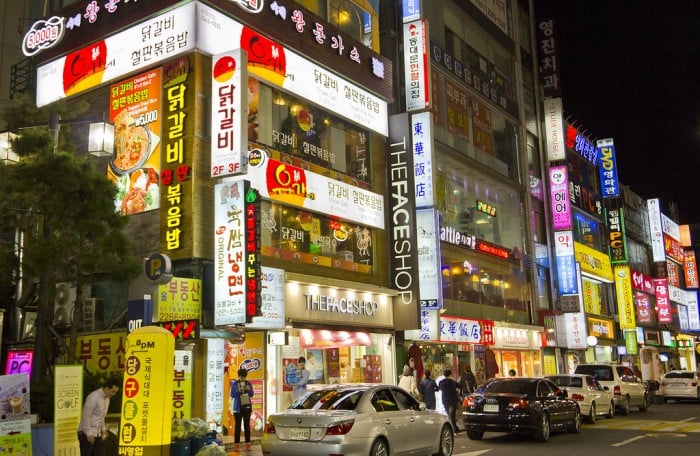 Image credit: Kaizer Rangwala
One of the most patronised shopping districts, Dongdaemun is hard to miss. Dongdaemun boasts multi-level fashion plazas such as Doota, Migliore, Hello apM and Good Morning City, selling anything from apparels, stationery, souvenirs and not forgetting… food. These malls are open around 10am in the morning till 5am the following day.
Be sure to step out of these retail enclosures. The space gleams with neon and the air fills with loud music — the outdoor stage comes to live with regular dance performances and concerts. And then, there is more shopping to be done.
The Open Market
The Open Market, often recognised by their bright yellow tents, draws in crowds to the quiet streets at 10pm with endless rows of leather apparels and shoes, bags, souvenirs and other items that are sold at discounted rates. The Open Market is just one outdoor shopping outlet that is located near Exit #4 of Dongdaemun History and Culture Park Station.
Pyounghwa Fashion Town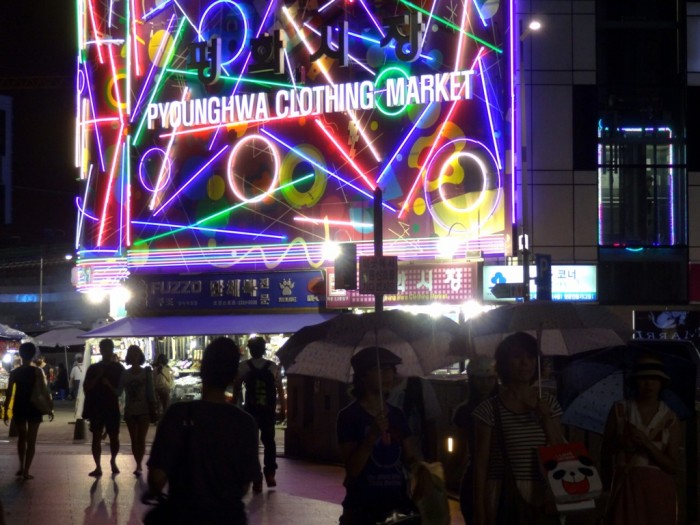 Image credit: Wikipedia
A walk along the Cheonggyecheon Stream at 9pm will bring you to Pyounghwa Fashion Town that has been known for selling fashion clothing and accessories since the end of the Korean War. According to the official Korean Tourism website, North Korean refugees in 1953 began selling clothes made from army uniforms of American soldiers. In the hope of survival through such means, their market was named Pyounghwa, that translates to peace, in faith that no more wars will occur in the country.
Divided into four districts — Gu Pyounghwa, Shin Pyounghwa, Dong Pyounghwa and Cheong Pyounghwa, the Pyounghwa Fashion Town is a historic fashion venue that sparked the growth of the shopping district of Dongdaemun we know of today. All outdoor markets also close around 5am.
3. Myeongdong Night Market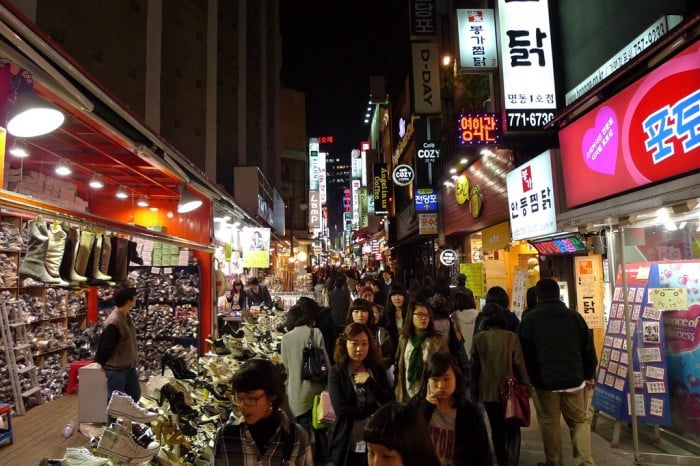 Image credit: Roger Walch
Myeongdong is probably a name that is all too common, but it still deserves a mention. After all, it is one of the most popular areas patronised by tourists visiting Seoul for the first time. Well, why not? Myeongdong is home to two anchor department stores — Lotte and Shinsegae — and many stores line the area selling clothes and accessories. The area is also famous for its cosmetic line-up. You will be able to find every Korean cosmetic brand in Myeongdong!
But that aside, let's talk about food, shall we?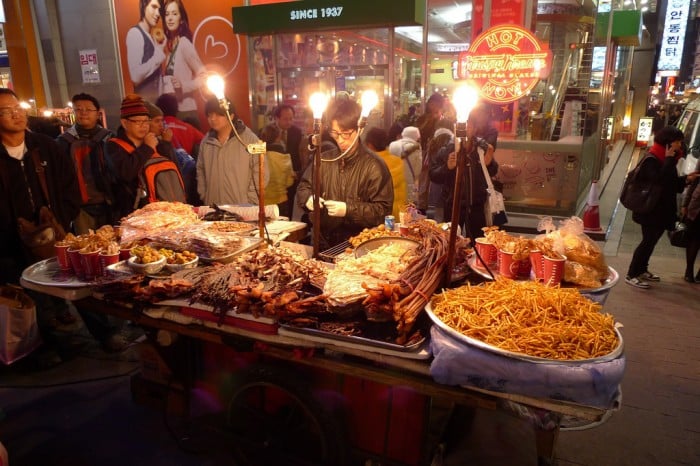 Image credit: Roger Walch 
At around 5pm, street vendors set up their stalls for the night market along the main street. Here, you can find all sorts of Korean street food — tteokbokki, Korean fried chicken, baked chestnuts, Korean egg bread called gyeranbbang, and much more. The stalls here close earlier around 10pm unlike the other markets but that should not deter you from exploring it.
4. Namdaemun Night Market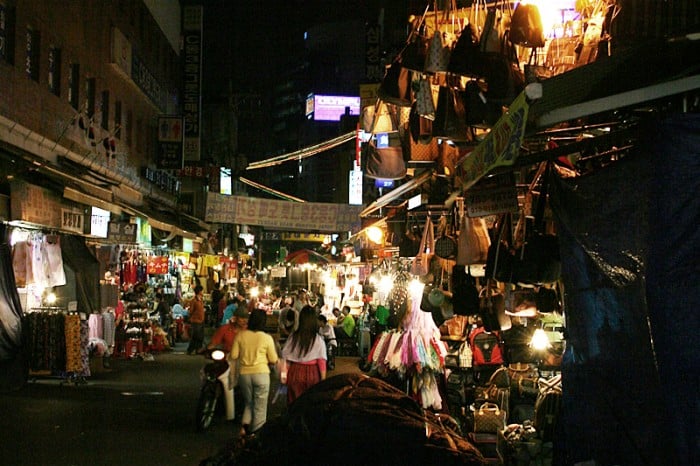 Image credit: d'n'c'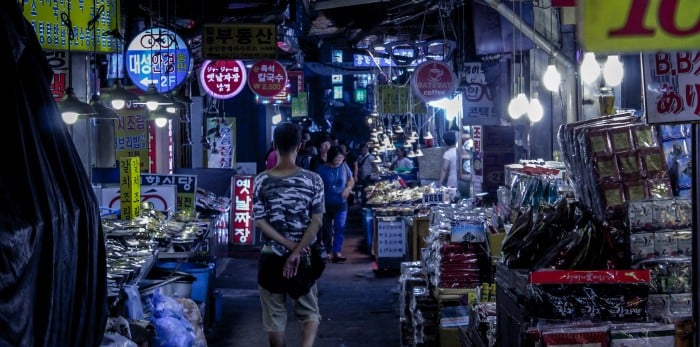 Image credit: Doug Sun Beams
Namdaemun is another open-air market that sees crowds at both day and night from 10am to 5am. It is said that you can find anything that you need here — clothing, handicrafts, accessories, shoes, hardware, electronic appliances and what not. But of course, that list misses out one important commodity — food! While most stores open all night, some vendors work according to their own hours, and a lot of shops may not be open on Sundays.
The shopping spaces in Namdaemun are not necessarily outdoors. There are shopping centres like Sungyemun Imported Goods Shopping Centre that sells, as its name suggests, imported goods like electronic appliances and other miscellaneous goods; Daedo Shopping Centre that sells anything from imported goods, men, women and children clothing, and food to natural and artificial flowers; Daedo Arcade for children clothing such as jeans, T-shirts and shoes at affordable prices. These are just a few!
You can also check out the Mesa Shopping Centre that was the first shopping mall built in the district. With 32 floors with 9 underground, the family shopping mall also offers dining avenues at any of the 50 over restaurants that cater traditional Korean cuisines as well as fusion feasts. Be sure to check out the restaurant on the 16th floor that gives a brilliant view of the Namsan Mountain and Seoul N Tower. The mall is opened from 10am to 5am, and is closed on the first and third Sundays of each month.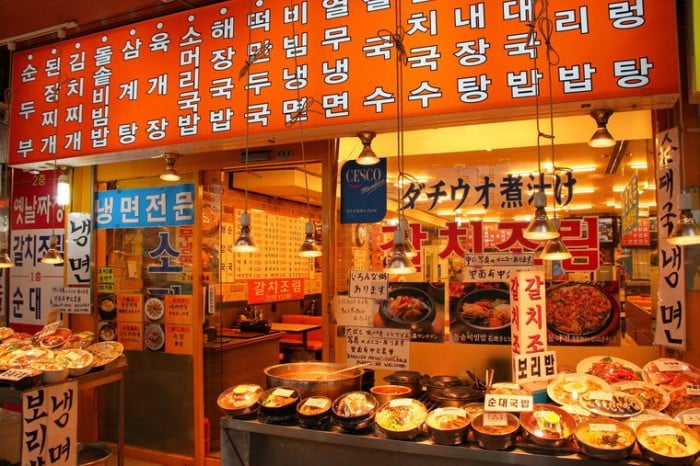 Image credit: herr_hartmann 
The food stalls that line the streets in Namdaemun's food alley offer a wide range of dishes such as dried cuttlefish, anchovy and octopus, braised scabbard fish, chopped noodles, dumpling and shellfish soup, skillet-fried mung-bean pancake, bibimbap and many other interesting delicacies. The Restaurant Alley also boasts a great range of Korean restaurants!
5. Gwangjang Market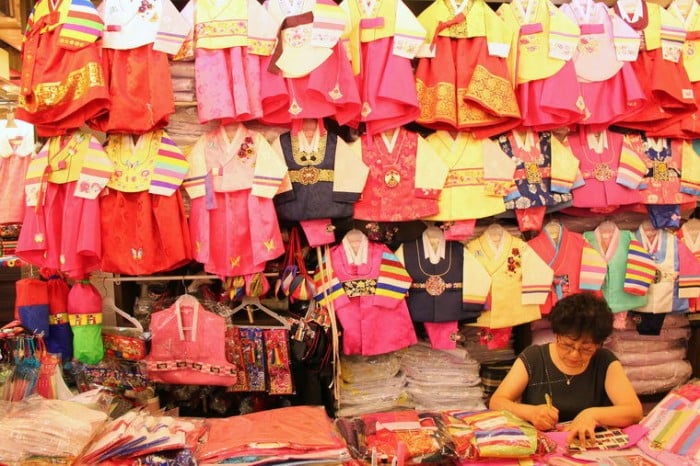 Image credit: herr_hartmann
The oldest market in Seoul, Gwangjang Market, established in 1905, is a popular go-to place among Korean shoppers, yet it is still lesser known to tourists. Gwangjang Market is situated at the corner from Dongdaemun Gate. If you had been shopping at Dongdaemun, you should take a kilometre walk down to this traditional Korean market.
While the higher level boasts a splendid collection of fabrics and textiles (the market is known for selling the traditional Korean attire, hanbok), the street level is equally enticing when night falls — the food alleyway, meokja-golmok, opens up for both the fabric sellers and foodies touring around the area.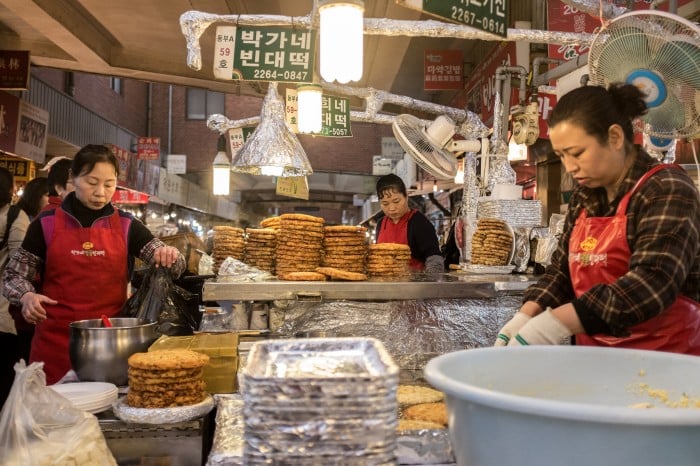 Image credit: Chris Gu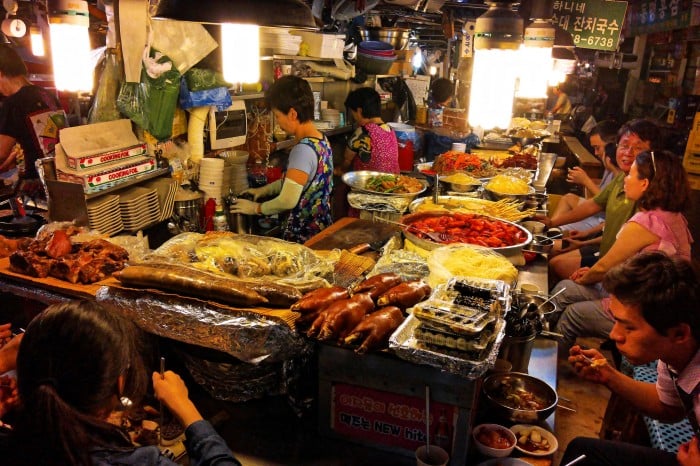 Image credit: tongeron91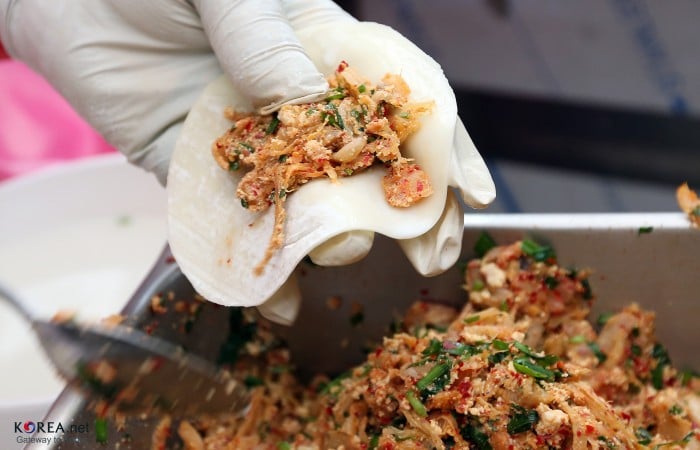 Image credit: Republic of Korea
From freshly cooked noodles and dumplings, tantalising meat and seafood to Korean mung bean pancakes (bindaetteok) and spicy rice cakes (tteokbokki), the food alleyway is like a food haven, with steam rising out from each of the tiny kitchens, all busy preparing delicious Korean street food for their eager and hungry visitors. Fresh sashimi anyone? You can have some beer or soju with it too!
The market is open all night — so if there is still time on you after exploring Dongdaemun, give this market a try!
If you've visited Seoul often enough, do you know of more exciting night markets not mentioned here? Share your experiences with us — you'd excite many more travellers, we bet!