On your next trip to Korea, why not kill two birds with one stone? Aside from immersing in Korea's intrinsic culture (read: hanbok-clad palace visits), witness these quaint Europe-infused villages too! No need to bring your Euros because Korea brings Europe to you. Here is a list of five villages in Korea that will bring your dreamy European travel fantasies to life!

1. Edelweiss Swiss
Symbolic of traditional Swiss architecture, Edelweiss Park can be mistaken to be a carbon copy of some of Switzerland's iconic small towns. Fun Fact: Edelweiss is the name of a little white alpine flower indigenous to the Swiss Alps!
Nestled in Gapyeong, this Swiss-themed village reflects native elements such as cuddly Bern bears, nutcrackers and the Swiss cross to mimic the traditional Swiss feel.
Chocolate and cheese lovers can also delight in the exciting hands-on programmes held at the numerous museums present. Switzerland, after all, is home to some of the world's finest (read: absolutely drool-worthy) chocolates and cheese. You should make a dash for the Swiss Chocolate Museum first; it's pure "Charlie & The Chocolate Factory" vibes here! Be sure to pamper your taste buds and fill those bellies up.
Surrounded by lush greenery, majestic mountain peaks and vibrant flower-laden gardens, the blissful landscapes here are absolutely postcard-worthy.
How to get there:
Do visit during weekends or public holidays as you can avail the free direct shuttle bus service from Cheongpyeong train station to Edelweiss Park! On other days, you will have to rely on taxis (higher costs, yes) to travel from the train station to Edelweiss Park.
2. Petite France
Emulating a distinctively French cultural village, this small little hill town in Gapyeong boasts a vibrant array of colourful buildings that exude typical Mediterranean vibes. Feel like as if you were magically whisked away to the picturesque French countryside! Let the full pastel blooms and perfectly-manicured shrubs adorning the paths enchant you as you leisurely stroll around.
Along the narrow streets, you'll find chic cafes, antique museums, galleries (bookmark Gallery Quatre Saisons), classy theatres hosting French performing arts — hello, Marionette House! — and even fine terraces that offer swoon-worthy panoramic views. Let the cosy laid-back ambience coupled with the jazzy French melodies perfect the illusion of your mini rendezvous with Europe here in Korea.
How to get there:
You can easily access this charming village by hopping on an intercity bus to Cheongpyeong from Dong Seoul Bus Terminal or Sangbong Bus Terminal. From there, connect to a local bus bound for Goseong-ri. Alternatively, ride the Gapyeong City Tour Bus directly to Petite France.
3. German Village
What makes the German Village so special? Time for a brief history lesson! Founded back in the 1960s, this mini town in Namhae-gun County was where miners and nurses took up residence upon returning from work in Germany. Bearing names such as the Goethe House, Heidelberg or Morgenstern (very characteristically German indeed), these distinct orange-roofed houses here were all constructed using materials imported from Germany.
Coo at the picturesque sights of the serene coasts in the distance, before satiating those hunger pangs with some mouth-watering bratwursts. Pair them with an authentic German Pilsner and you might be fooled into thinking that you're at one of Frankfurt's best pubs.
How to get there:
To get to German Village and experience all things German, take an intercity bus from Seoul Nambu Terminal or Dong Seoul Terminal to  Namhae Intercity Bus Terminal. Then, board a local bus to Namhae-Mijo and alight at Naedongcheon bus stop. It's about a 600-metre walk along the road towards the village.
4. Provence Village
This quaint little town in Paju will charm your socks off. Famous for its rich herbs, Provence Village will greet you with its aromatic and fragrant herbal scents. Another main highlight to sniff out would be the artisan European bakeries that sell top-notch bread, cookies and cakes made from natural ingredients. Highly recommended: the signature garlic bread fresh from the oven!
Aside from the tantalising food options, spend time exploring the beautiful art studios and speciality ceramic shops. Go gaga at some of the precious handmade ornaments and intricate handicrafts. Take home a memento or two here!
How to get there:
Commute easily to Provence Village via bus from any one of these train stations. Take bus 2200 from Hapjeong (Line 2), Baekseok  (Line 3), Madu (Line 3) or Daehwa Station (Line 3) and get off at Seongdong Intersection bus stop.
5. Fairytale Village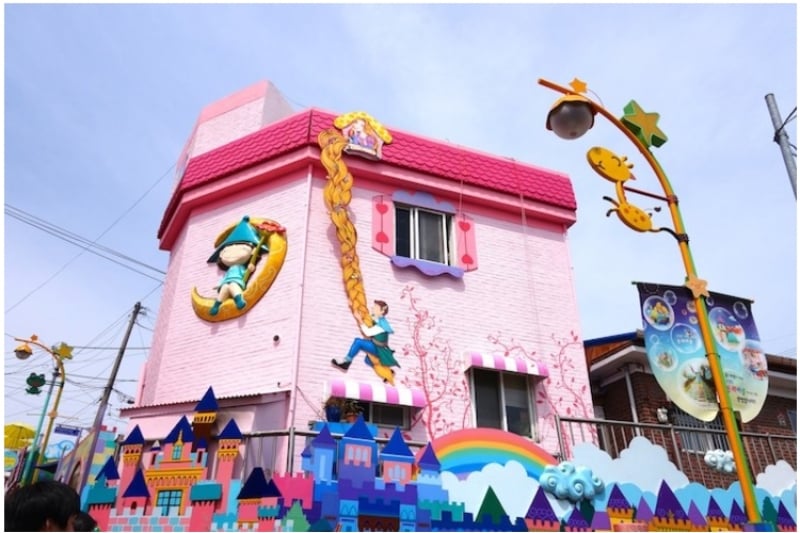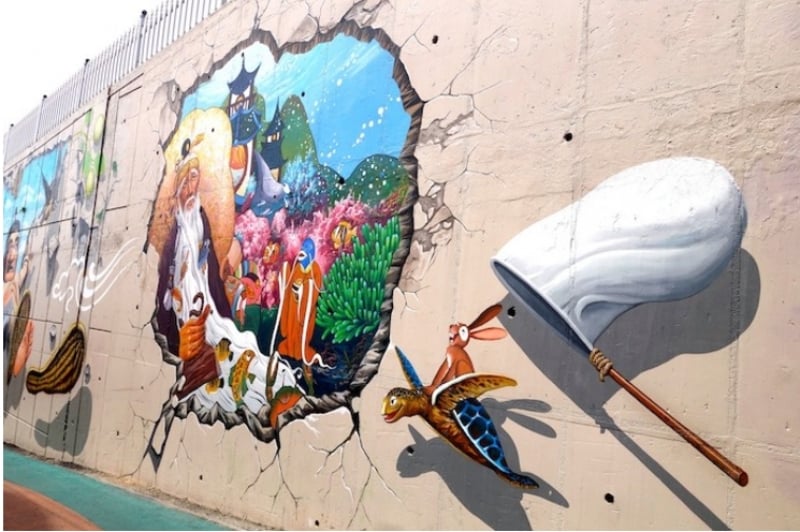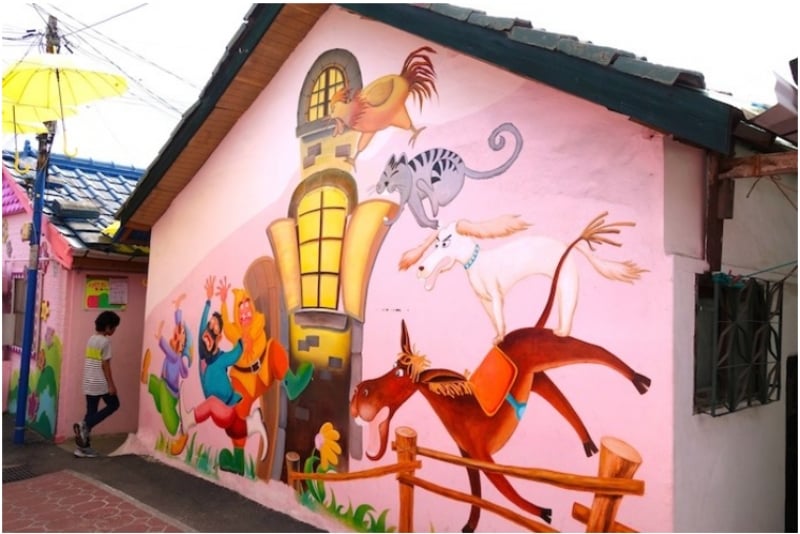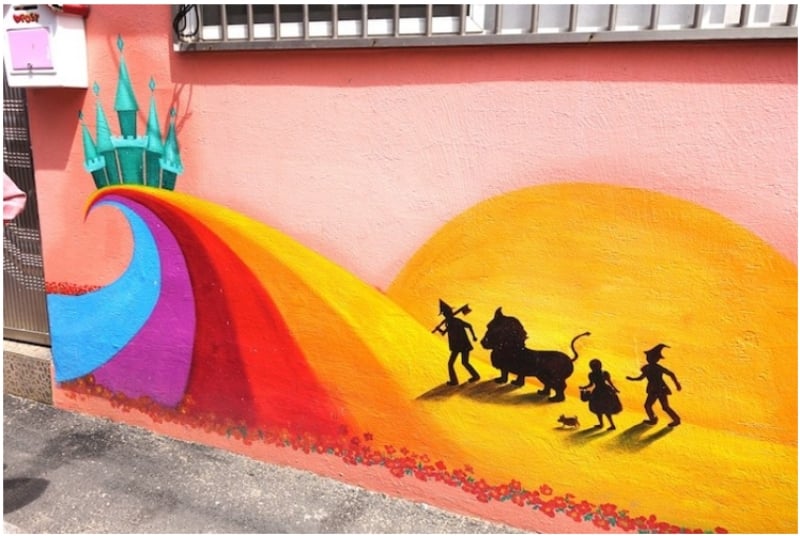 In a bid to revive the dilapidated housing areas in Incheon, the Songwol-dong Fairy Tale Village came to life and brought about pangs of nostalgia to both the young and young at heart! The village is an explosive burst of rainbow with mesmerising murals and realistic character depictions of Wizard of Oz, Disney Princesses and countless others.
Here, fences are vibrantly painted over, poles are transformed into magical "beanstalks", lamp posts are decorated with life-sized figures, and cuddly mascots are sauntering around. Trail them for a commemorative picture or two. This whimsical village will bring out the kid in everyone!
How to get there:
Make your way to the dreamy Songwol-dong Fairy Tale Village from Incheon Station on the Seoul Subway Line. Take Exit 2 and walk straight for about 200m (about 10 minutes) before turning right into Donghwamaeul-gil road, where you'll spot the entrance. You can't possibly miss the striking rainbow hues!
Visit Europe in Korea
Why go to great lengths (and incur hefty spending) when you can find bits and pieces of Europe right in Asia? Incorporate these ooh lala! sights during your upcoming trip to Korea!
We figured you'll just need to see it to believe it!