What's 24 hours in Itaewon like? We're here to show you!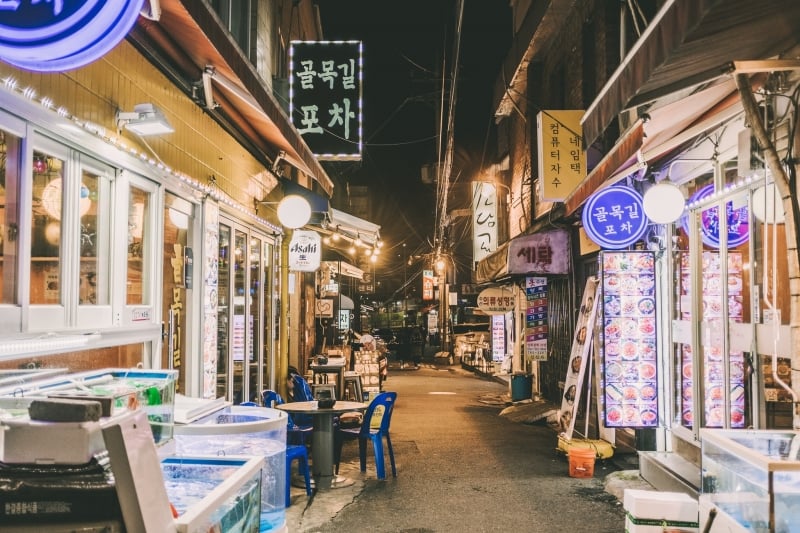 Itaewon is best described as the epicentre of foreign cultures in Seoul — which is to say that the streets here are filled with surprises for the adventurous traveller. While the seedy reputation of this buzzing district might be long gone, it certainly hasn't lost any of its charm or excitement. If this is your first time in Itaewon, we've compiled a comprehensive guide on how to spend one full day in Seoul's most famous "foreigner district".
Also read: First-Timer's Guide to Itaewon: 8 Things to Do in Seoul's Global Culture Hub
Early morning: 8am
Assuming you kick off your 24 hours at the crack of dawn, you'll likely want to get your caffeine fix. Rather than default to one of the major coffee chains, head to Anthracite Coffee Roasters instead. This Itaewon institution has all the hallmarks of the quintessential Korean cafe, with its high ceilings, industrial ambience, and tastefully minimalist decor. There's even a touch of greenery to temper the raw, exposed concrete surfaces. You can grab a pastry for breakfast, too.
Mid-morning: 10am
Now that you've had your java fill, what better way to spend the morning than by learning about the events of yesteryear? For a primer on Korean history, start off at the War Museum. This memorial facility contains various exhibitions halls which showcase wartime stories from Korea's involvement in conflicts through the years. Opened in 1994, the Museum houses more than 33,000 wartime exhibits — from armaments used during the Joseon Dynasty to modern era weapons. Somewhat sombre yet highly educational, this institution paints a picture of how South Korea came to be the nation it is today.
Mid-day: 12pm
As you inch towards noon, you'll no doubt have built up an appetite from meandering around the War Museum, so head back to the heart of Itaewon to fill up on something scrumptious. The Flying Pan Blue has long held the title of "Best Brunch in Seoul," and with good reason. Its tantalising menu consists of French Toast variations, the classic Eggs Benedict, pancakes and light sandwiches, making this a one-stop brunch shop. Don't hold back, because you'll need the energy for the next leg of your Itaewon exploits!
Early afternoon: 2pm
What would a trip to Seoul be without some shopping? Itaewon is similar to many of its neighbouring districts in that there are fashion outlets to cater to almost every taste, from big brand retail shops to niche, boutique outlets flogging the latest trends. The best spot to get your retail therapy fix is the Itaewon Shopping Street, stretching for 1.4km all the way towards Hannam-dong. Feel free to adjust your schedule accordingly, especially if you want to spend more time shopping. You only have 24 hours in Itaewon after all!
Late afternoon: 4pm
With the shopping ticked off the list, grab your tickets to the most stunning sunset viewpoint in Seoul! The Seoul Namsan Tower, an icon of the city, is a short hop from the centre of Itaewon, easily accessible by bus or taxi. You could hike up, but given that you're trying to conserve energy, we'd suggest you take the cable car up. The digital observatory offers some stunning views over the undulating Seoul metropolis. It truly is spellbinding, so take it in before you move on to dinner.
Evening: 7pm
As dinner time rolls around, you might be wondering how best to satiate your appetite. The great part about being in Itaewon is the enormous selection of foreign cuisines to choose from. From Indian, Mexican, Greek and even Turkish, the wide range of international cuisine choices caters to discerning palates. A personal favourite and somewhat of an institution is Braai Republic, a South African-run restaurant which serves an extensive selection of hearty South African dishes — mostly grilled meats and often very generous portions.
Late evening: 9pm
At this stage, you're probably wondering where to get your night started. Itaewon certainly isn't short on bars but for a slow tipple before a big night out, you're best off checking out the following three establishments: Hidden Cellar, Flower Gin, and Blacklist. Hidden Cellar's drinks selection is pretty much unmatched in these parts, and with an assortment of bar games and karaoke, it's a great way to get your night going. Blacklist is a touch more sophisticated, with an impeccable list of bourbon and whiskey, while Flower Gin specializes in all things related to that juniper spirit. While away a couple of hours here before you get ready to head out and dance the night away.
It would be remiss of us not to include that ever-so-popular expat haunt, the beloved Thursday Party. It's a popular chain across the country, and for good reason. There's nothing but good times to be had here, from the drinks specials to the welcoming crowd and feel-good music selection. You won't go wrong by visiting here on your night out in Itaewon. Now, if your music tastes are little more niche, then you might want to check out Soap, a household name in the Seoul clubbing scene. They host various EDM and hip-hop DJs, and even sell their own line of merchandise should you wish to take a piece of the club home with you. For the deep house heads, there's LIVIN' — a relative newcomer to the Itaewon club scene but a venue that's already had some world-famous DJs spin their decks
Dawn: 6am
As the sun comes up over this 'global village,' you'll probably be feeling the strain from an entire day's exploits. Why not rest your weary body at Itaewon Land, a well-known jjimjilbang just off the nightlife strip? This five-storey sauna is a fantastic yet affordable way to detox from the copious amounts of alcohol you've consumed the night before. Besides, it wouldn't be a truly Korean trip without a visit to the sauna, would it?
Also read: 30 Fun Things to Do in Seoul on Your Very First Visit
As your 24 hours in Itaewon draws to a close, you can rest knowing that you've made the most of your time here. We hope that our guide to going non-stop for 24 hours in what is, without a doubt, the most cosmopolitan enclave in South Korea will help you plan your next trip to Seoul!