Gwangjang Market has long been a staple on the Seoul market scene. As the largest market with more than 5000 vendors, throngs of visitors flock to this  Korean market week in and week out. Not just the largest market but the oldest, too, as it was first established in 1905.
It most recently shot to fame with an episode in the highly acclaimed Netflix documentary, Street Food. Netflix fame aside, 광장시장 is one of those places that you should strongly consider visiting if you have a few hours to spare when you're in Seoul, and we're going to tell you why.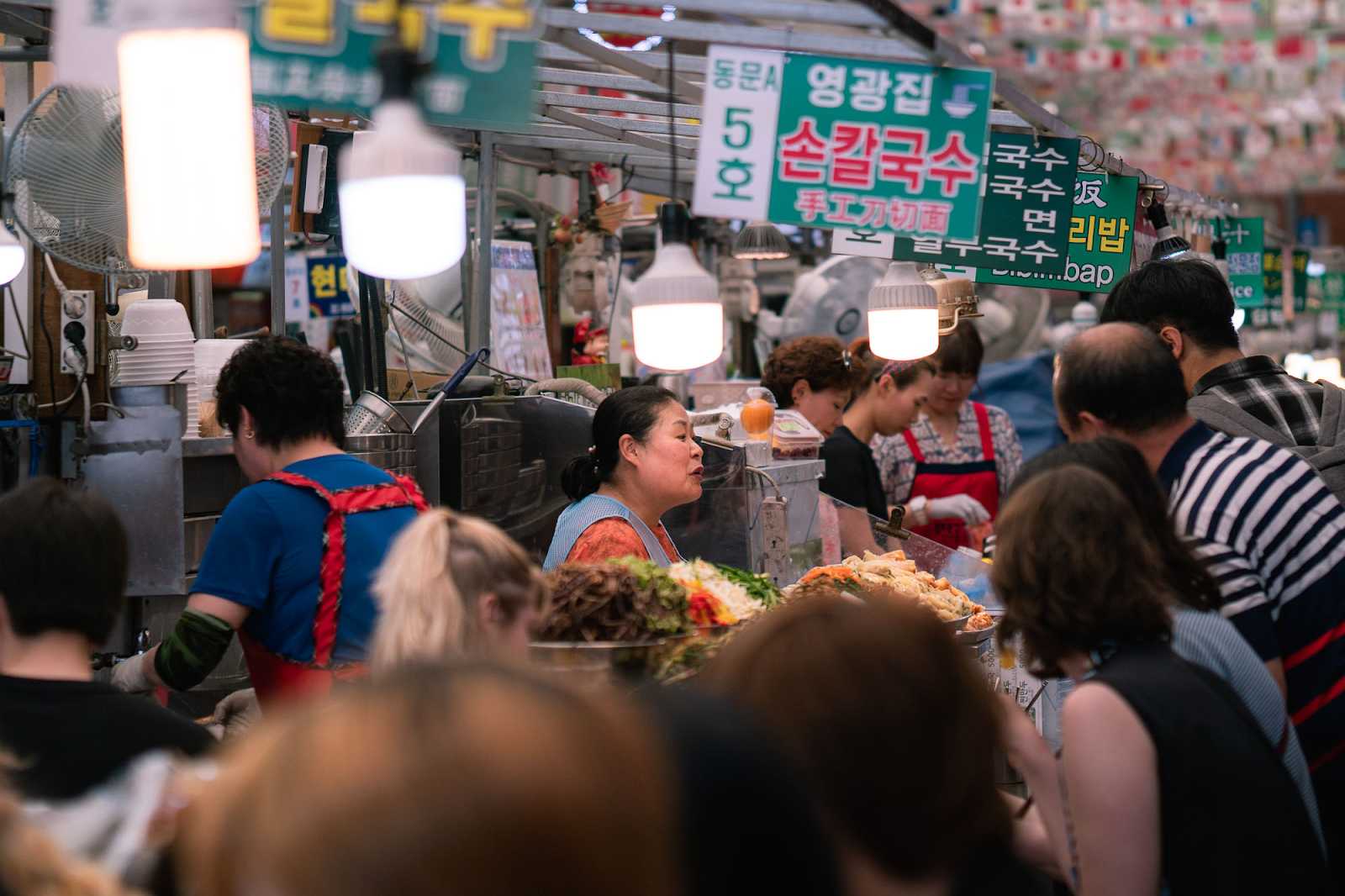 Firstly, you'll need to find your way there. You're in luck, because Seoul's super-efficient public transit makes this a breeze. You've got two main options, subway or bus. For the subway, jump off at Jongno 5-ga Station and take exit 7. Alternatively, you could get off at Euljiro 4-ga, take exit 4 and take a short walk over the Cheonggyecheon Stream. By bus, your best bet is using Google Maps to tell you which bus routes stop at the market.
As far as markets go, Gwangjang has it all. From textiles to souvenirs, dried foods to fresh produce, vendors hawk a mind-bogglingly huge array of items. The real gem of the market, however, is the food court. This is the centrepiece, the piece de resistance if you will – a sprawling hive with stalls and benches scattered in all directions. Despite the chaos, everything seems to operate smoothly and orders are sent out just as fast as they're taken. This all makes for an immersive market experience.
You might be overwhelmed at the sheer selection of mouthwatering market dishes to try, so let us help you with these six South Korean foodie recommendations for your next visit to Gwangjang Market.
Mandu / 만두 (Dumplings)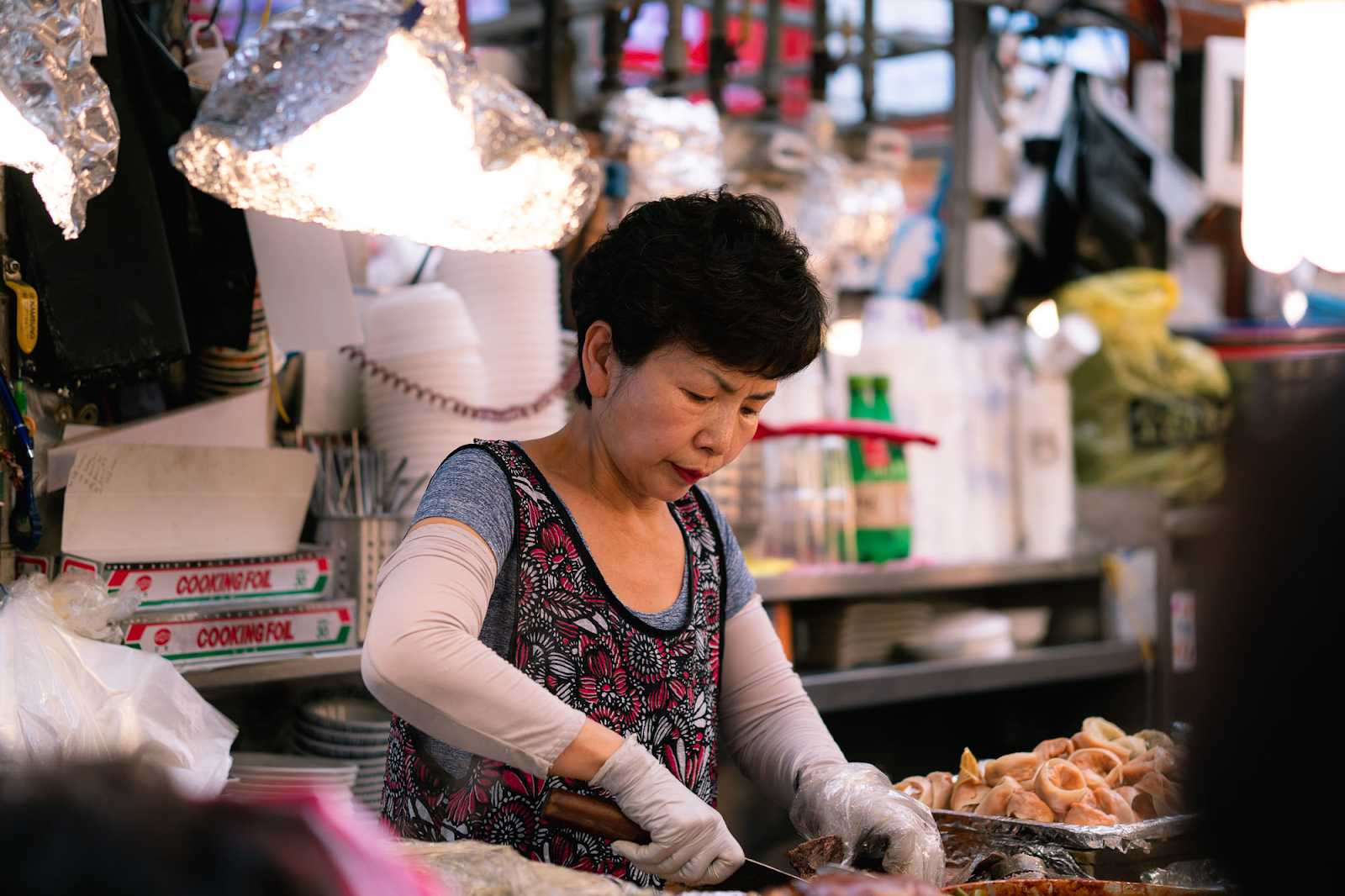 As far as comfort food goes, mandu is up there with the best. It's a deceptively filling street food bursting with flavour, whether you go for the smash-hit kimchi dumplings or prefer yours filled with minced beef – you won't be disappointed.
Prices: From W3,000 for a serving of six.
Naengmyeon / 냉면 (Cold buckwheat noodles)
Naengmyeon is one of those ingenious Korean culinary inventions. Picture this: It's the middle of summer in Seoul, temperatures are well into the mid-thirties and you're absolutely famished. Enter naengmyeon, a cold noodle dish made from buckwheat noodles, topped with fresh, crunchy veggies and a hard-boiled egg. The shredded ice keeps the noodles cool, while the spicy pepper flakes add a welcome kick.
Prices: From W8,000 per serving.
Kimbap / 김밥 (Rice rolls)
The humble kimbap is a snack revered across the country, and to many newcomers might resemble some sort of sushi. Don't ever dare mention that, however, as kimbap is so much more than a Korean imitation of a maki roll! While it may be as simple as rice and fillings wrapped in seaweed, the 'narcotic' kimbap at Gwangjang Market is truly addictive. Sprinkled with sesame seeds, you dip the kimbap rolls into a tantalizing sauce made from soy sauce, mustard and vinegar. Once you start popping these in your mouth, you'll have a hard time stopping.
Prices: From W3,000
Dakbal / 닭발 (Chicken feet)
Dakbal are chicken feet, but not as you know them. Deboned to leave only the skin and tendons behind, it's difficult to describe the texture of this Korean delicacy. It's definitely sinewy but retains some crunch, while the spicy sauce that it's slathered in will have your eyeballs watering. In Korea, dishes like dakbal are known as anju, that is, accompaniments to alcohol. A drinking food, if you will. These are meant more like snacks and one mammoth serving is usually enough to comfortably feed two people, so bring a market buddy along for this taste adventure. You won't be hard-pressed to find a vendor selling this dish, as it's available at a good few stalls in Gwangjang Market.
Prices: From W5,000
Bindaetteok / 빈대떡 (Mung bean pancakes)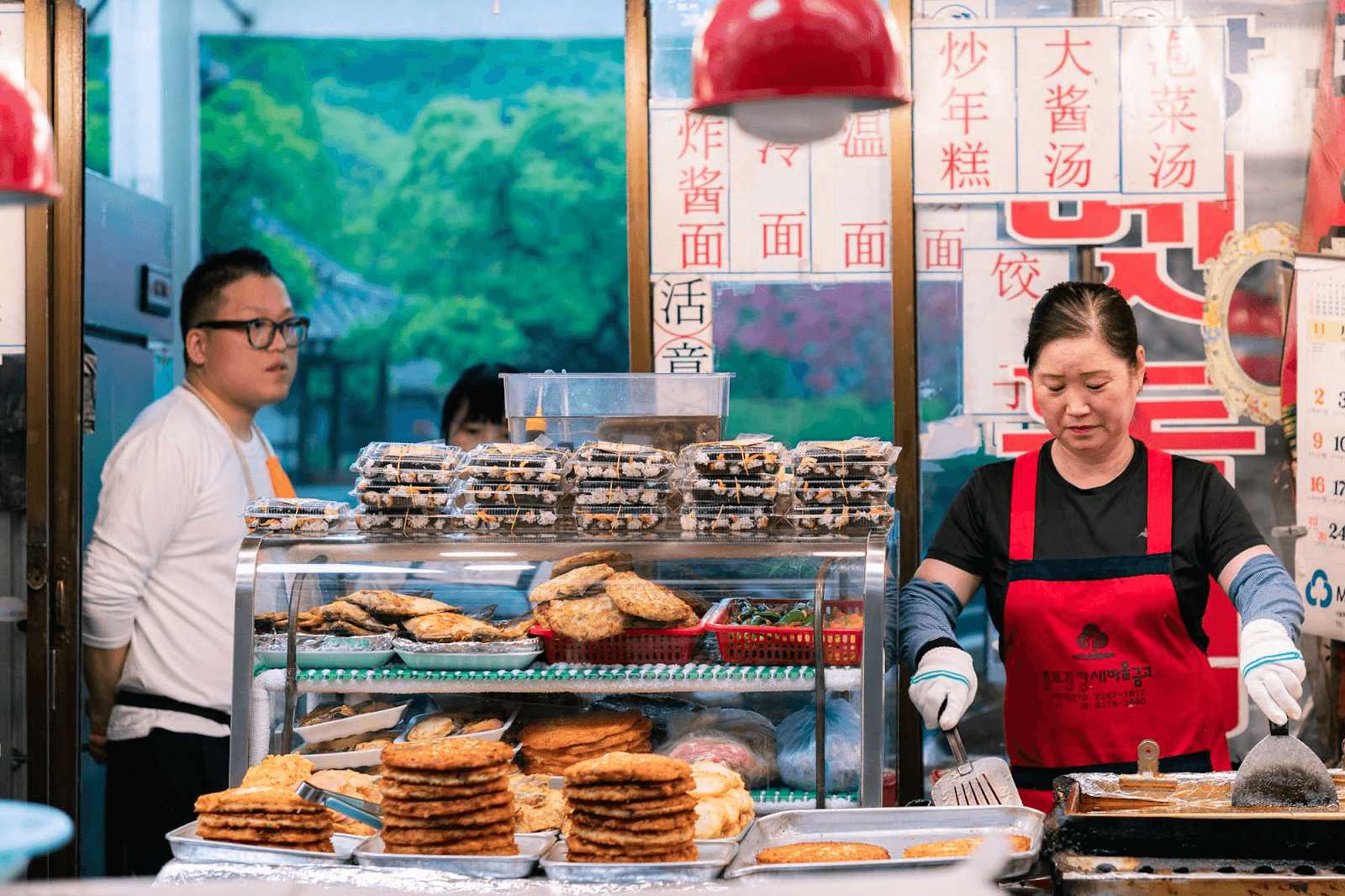 Bindaetteok is golden brown pan-fried goodness, and Gwangjang Market is one of the best places to try it. It's a pancake packed with mung beans, peppers, onions and if you'd like, kimchi too. Fair warning, this can be very rich because of the copious amounts of oil used to fry it, but as the crispy exterior gives way to soft mung bean filling, you'll be reminded why this street food is such a taste delight. Again, this dish is pretty much ubiquitous in the Gwangjang Market food area, so take a stroll around and see where the crowds are sat to get an idea of the best outlets.
Prices: From W3,000
Bimbimbap / 비빔밥 (Mixed rice)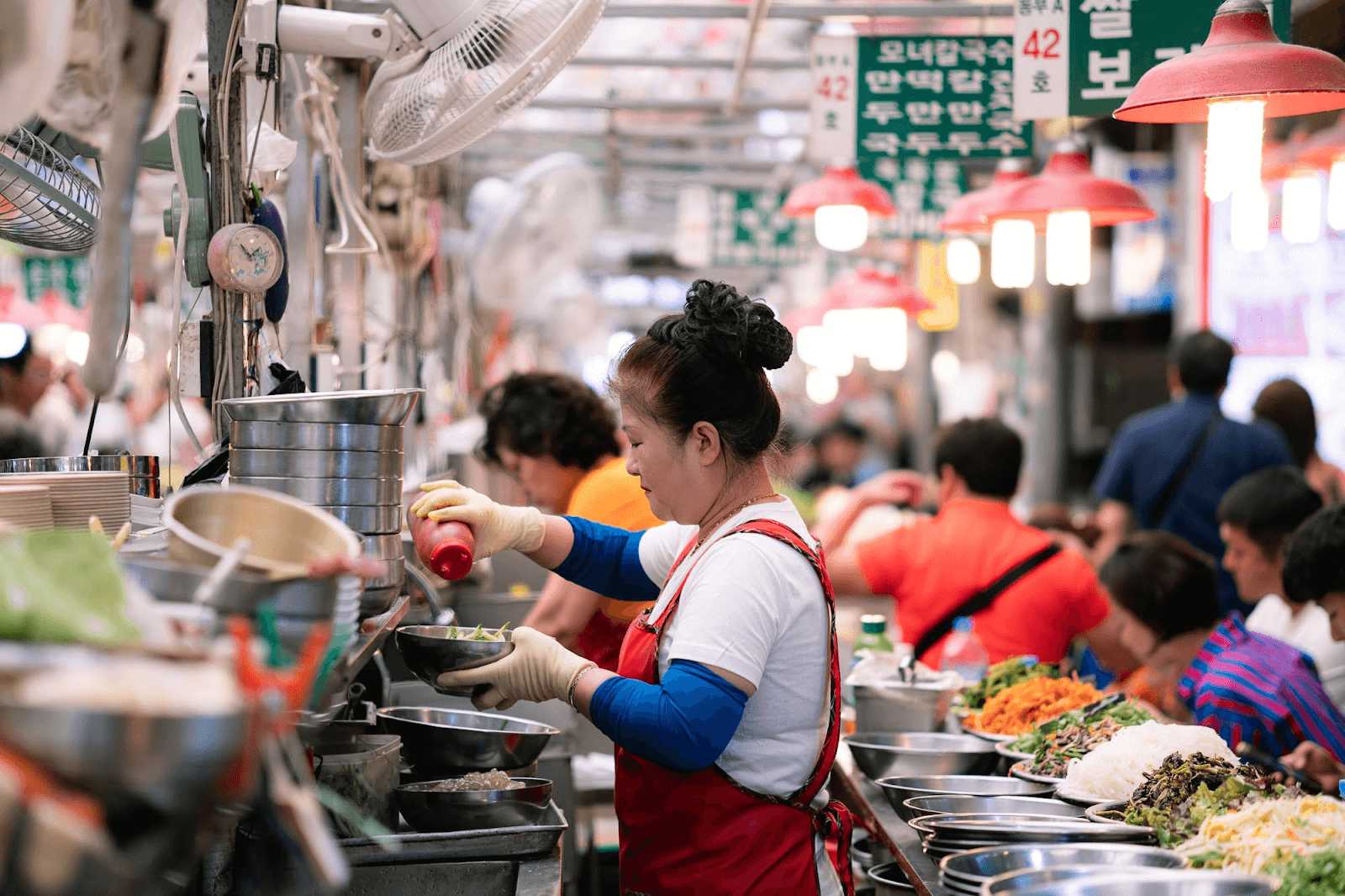 Sure, Jeonju might be the spiritual home of Korean bibimbap, but Gwangjang Market is the next best place to get your fill of mixed rice. The crunchy, pickled veggies, shredded meat strips and perfectly yellow egg yolk fuse with a healthy portion of red pepper paste (or gochujang) to create an wholesome and hearty meal. Word has it that Stall 39 is the go-to spot in Gwangjang Market for the best bibimbap, so keep an eye out for it amongst all the colourful flags and bright shopfront signs.
Prices: From W8,000
The food at Gwangjang Market is as tasty as you'll get in South Korea, and it definitely deserves an hour or three of your time when you're in Seoul. Which dish will you be trying out first?
Also read: 30 Fun Things to Do in Seoul on Your Very First Visit [Updated 2019]