It seems like Seoul is gaining in popularity among travellers, and many of them are very keen to try out the most delicious food around town. My first guide on where to eat in Seoul has 13 recommendations and also a neat list of food alleys at the end. In this post, I'll be giving 10 recommendations on places to eat in Seoul.
Here we go!
Also Read: 10 Bizarre and Controversial Delicacies to try in South Korea
1. Mukshidonna 
I've actually had special food requests coming from friends after my first guide on where to eat in Seoul. It seems like tteokbokki is a popular. There are many variations in spelling: tteokbokki, ddukbokki, dukbokki… I can always get "gettteok" right, because that actually means rice-cake, but I keep forgetting where there's a double k at the back or not. Anyway, it seems like tteokbokki is the most widely accepted romanised version.
I reckon most first-timers to Seoul would probably check out Samcheong Dong, which is also one of my favourite places. There's quaint little shops and lots of unique cafes, ahhh…. Take me to Korea now!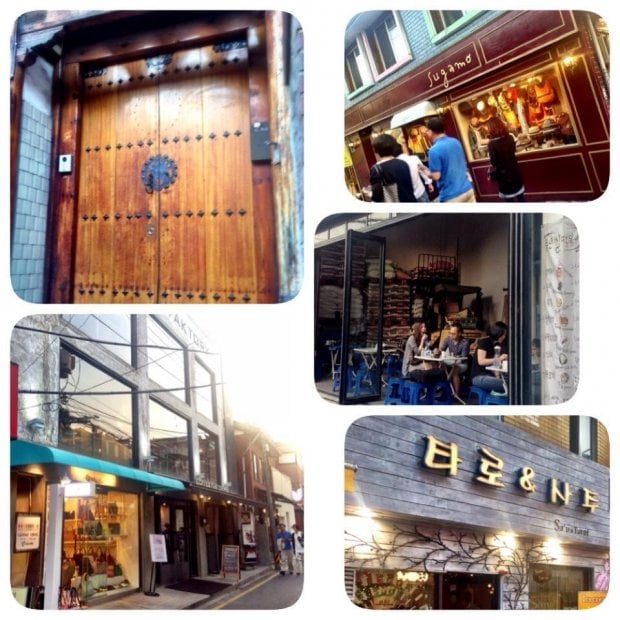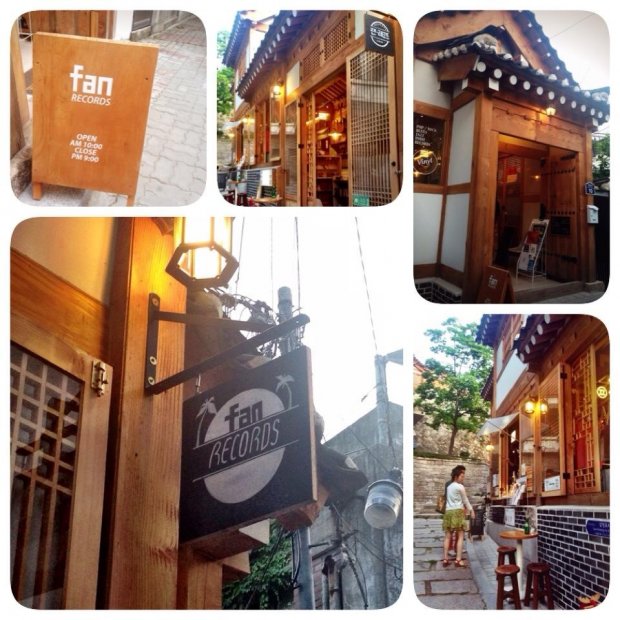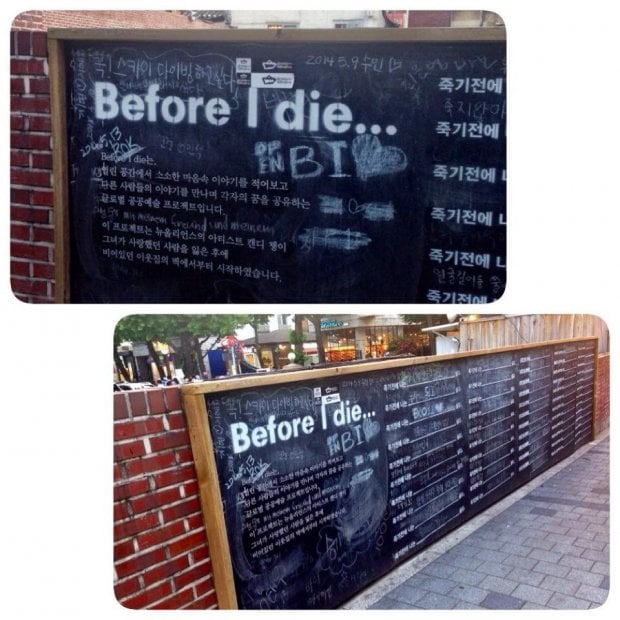 Also, you cannot miss Bukchon Hanok Village at Samcheong-dong too, which offers plenty of photo opportunities.
So, now back to tteokbokki! The reason I brought up Samcheong-dong is because I wanna talk about this popular tteokbokki chain called Mukshidonna.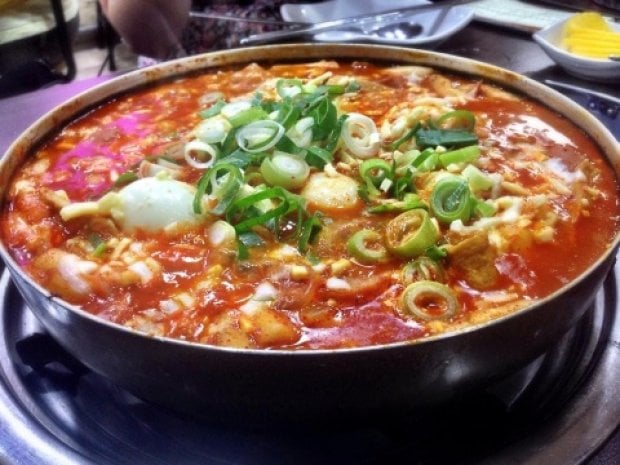 The name Mukshidonna is really interesting because in Korean, each of the four words translates into (Muk)Eat, (Shi)Rest, (Don)Money, (Na)Leave (먹쉬돈나)! It's effectively telling diners to eat, rest a little but, pay up and get out.
This chain has been around for some time and the original shop is the one located in an obscure alley in Samcheong-dong. It's quite popular with the locals and also increasingly, foreigners too. If you go during meal times, be prepared to wait! There are wooden benches outside for you to sit and wait, and turnaround is fairly fast.
I recommend going during off-peak hours like maybe in the late afternoon for tea break or something.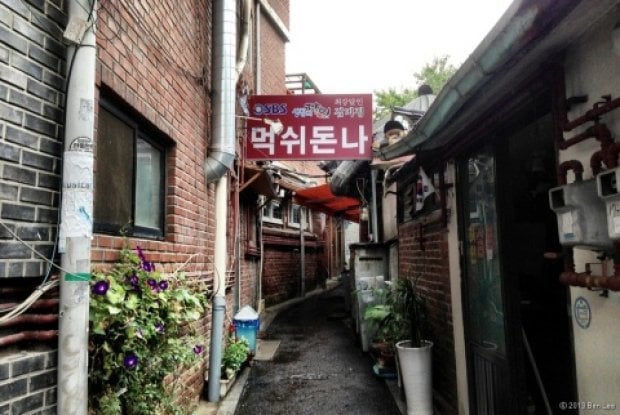 While waiting in line, you'll be given the menu and you are expected to be ready to order by the time it's your turn. Here is the menu.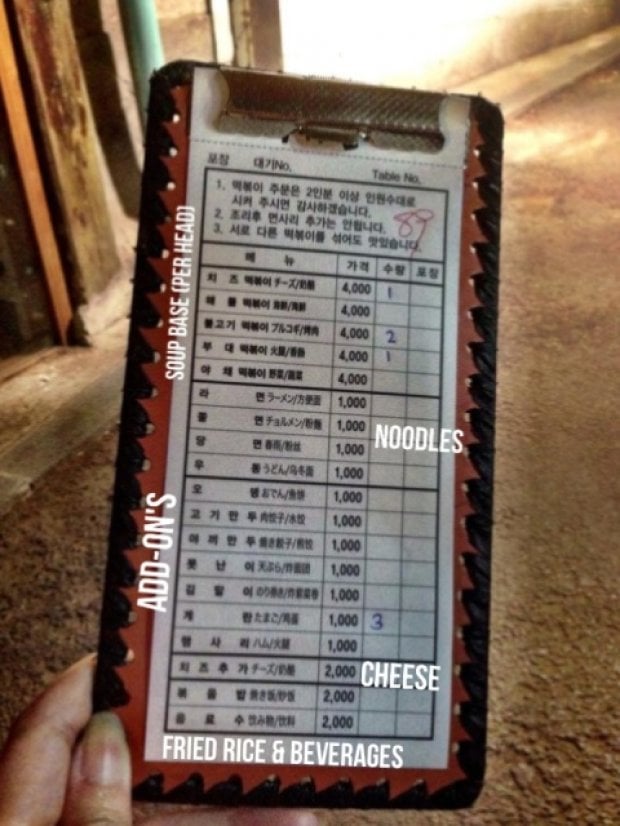 The menu is divided into five parts and there are also Chinese translations.
The first part lists the available soup bases, and it goes by per head. Each serving is 4,000KRW, so if there're three people in your party, then it's 12,000KRW. For soup base, you get to choose between Cheese (치즈), Seafood (해물), BBQ meat (불고기), Army stew (부대) (i.e. budaechigae style with cheese, ham and sausages), and Vegetable (야채).
Then you can pick which noodles you want in the second part. Koreans seem to like adding ramyeon to their tteokbokki, and this combination is called rabokki. In case you can't read Chinese, Ramyeon (라면), Glass noodles (당면) or Udong (우동)… And oh, a gentle reminder not to leave the noodles boiling too long and eat them first before they will become soggy and ruin your tteokbokki.
The third part's choosing what add-ons you want. Many people like to add dumplings (고기만두), fried dumplings (야끼만두) and egg (계란).
Then the fourth part is to indicate if you wanna add cheese to your tteokbokki.
The last part is the option to have fried rice and drinks. If you're not terribly full, I recommend trying the fried rice. How it works is after you finish the tteokbokki, the staff will use the remaining sauce in your hotpot to 'fry' the rice for you.Try it!
I recommend checking out the original Mukshidonna outlet at Samcheong-dong.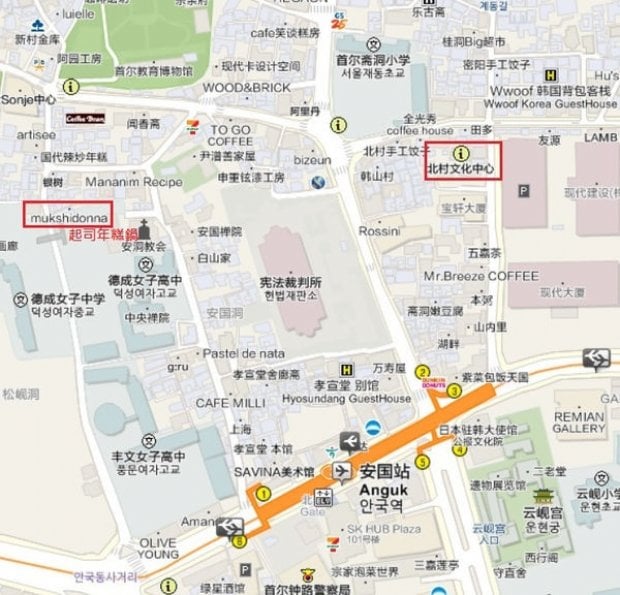 Image Credits: angelwy5451
For detailed directions on how to get to the original Samcheong-dong outlet, refer to this site.  You can also visit the Hongdae outlet, or the Sinchon outlet.
Don't want Mukshidonna and prefer more straightforward and simple tteokbokki?
Also can! I usually eat at the small tteokbokki stall at Myeongdong's underground shopping, between Exits 2 and 3. Manned by a mother-and-son team, their sauce is nice (though a tad spicy for me!) and portion's quite reasonable. I often stay at guesthouses around Myeongdong, and would sometimes takeaway tteokbokki from this stall. You can also ask for soup which is free.
Some of you may also have heard about the tteokbokki alley in Sindang. Yes, there's actually a street that's lined with tteokbokki shops. I've not been there, but some of my friends have, and they say some of the spiciest of spicy tteokbokki can be found there. You can always check 'em out and let me know!
Mukshidonna (먹쉬돈나 본점)
Hours: 11:00am to 8:30pm (I believe it is closed every first and third Sunday of the month, so please check if going on Sundays!)
Tel: +82-2-723-8089
17-18 Anguk-dong, Jongno-gu, Seoul
서울특별시 종로구 안국동 17-18
Subway
Anguk Station, Exit 1
Go to the right once out of Exit 1 (towards Olive Young). At the end of the street, take right to the street next to Pungmoon Girls' School. Go straight up the street and before CU (convenience store) at the entrance of the small alley, you should be able to see Mukshidonna.
2. Yoogane (요가네) Dakgalbi
Yoogane Dakgalbi is a lifesaver chain. For days when you really have no idea what to eat, Yoogane (read as yoo-ga-nay) is a good choice. It's a chain with many outlets dotted around Seoul. There are already two in Myeongdong and I've eaten at Yoogane at Hongdae and Hyehwa as well.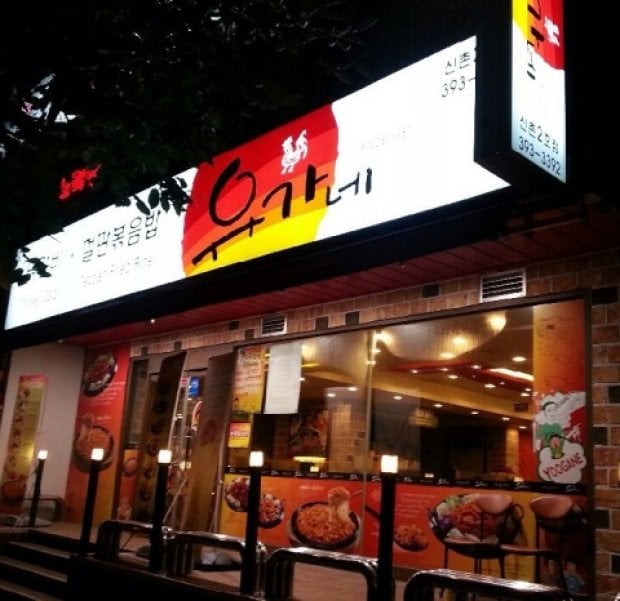 Yoogane originated from Busan and it's been around since 1981. In fact, Singaporeans might even be familiar since Yoogane has expanded to our shores already.
You can have a one-pot meal in Yoogane. Remember what I'd taught you in my previous post? Dak means chicken. Galbi generally refers to the rib area. So dakgalbi is basically chicken from the ribs cooked in spicy (and also sweet) sauce. Other than the delicious nice chicken in the equally delicious nice sauce, what people like about this dish is how there's lots of vegetables in it. In Yoogane, you can have a really hearty meal at very affordable prices!
You meal can be as simple as just dakgalbi, and you can also order add-ons, like mozzarella-stuffed rice cakes, sweet potatoes, rice and noodles. Personally, I prefer the rice over the noodles. You can check out the menu here.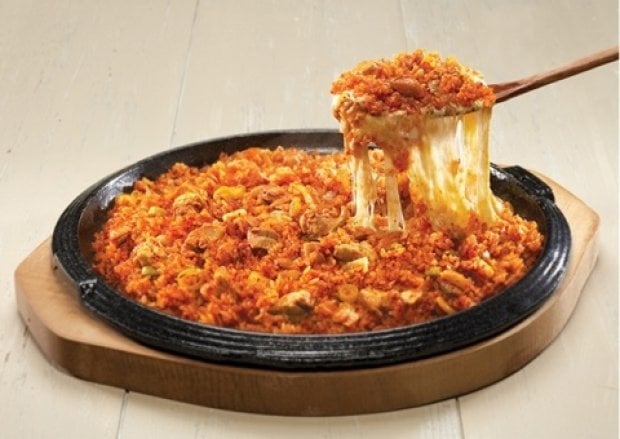 The staff will pan-grill your order at your table, so you can sit back and relax. In fact, while waiting for the food to be cooked, you can help yourself to the self-service salad bar. They have coleslaw (which is basically lots of cabbage, usually) and sometimes also soup.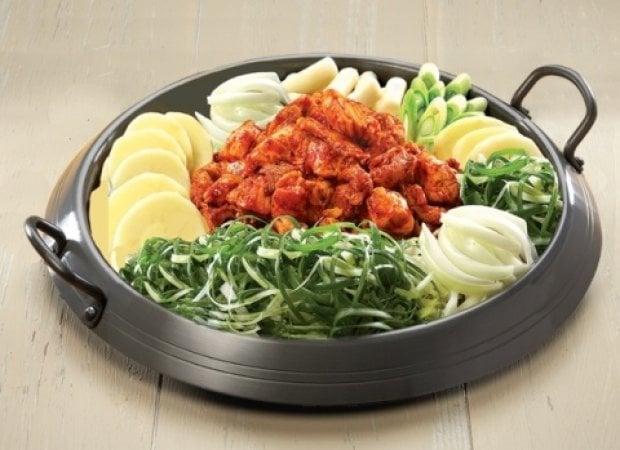 I remember the first time I tried Yoogane was, maybe, three years back. I ordered fried rice and the staff served it in the shape of a heart!
Look out for this very striking orange and yellow logo. It should be easy to spot at least one Yoogane outlet during your trip since they're everywhere!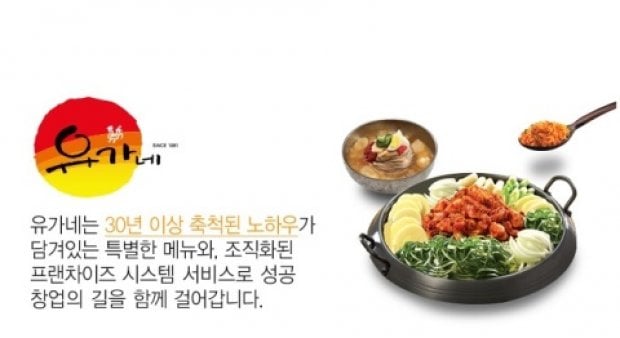 Yoogane (Myeongdong 1)
66-6, Chungmuro 2-ga, Jung-gu, Seoul
Yoogane (Myeongdong 2)
3-1 Myeong-dong 2-ga, Jung-gu, Seoul
Subway: Myeongdong Station, Exit 8
Make a left and continue for 250 meters to reach the restaurant on the right. Then make a right after Uniqlo and continue walking till you reach the restaurant.
3. Butterfinger Pancakes
I don't know about you, but I absolutely love flour – anything that's bread, buns and pancakes. Have I mentioned pancakes already?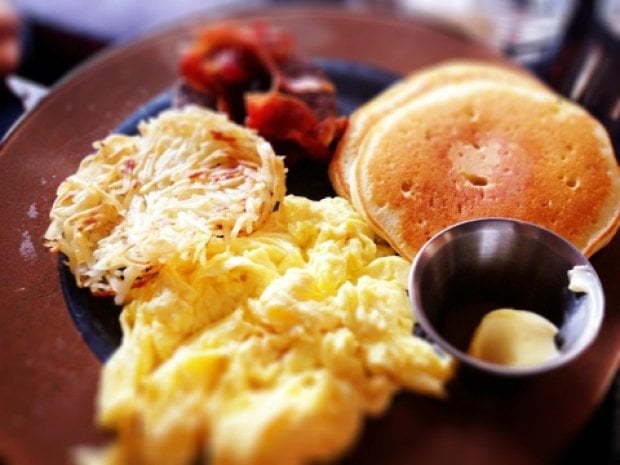 Back when I was living in Australia, I would go to Pancake Parlour and have savoury pancakes for meals. I don't think we have any decent pancake specialty restaurants here in Singapore.
If you love pancakes as much as I do, you can check out Butterfinger Pancakes in Seoul! They are like the pioneer of the whole American pancake diner concept and they have been around since 2006!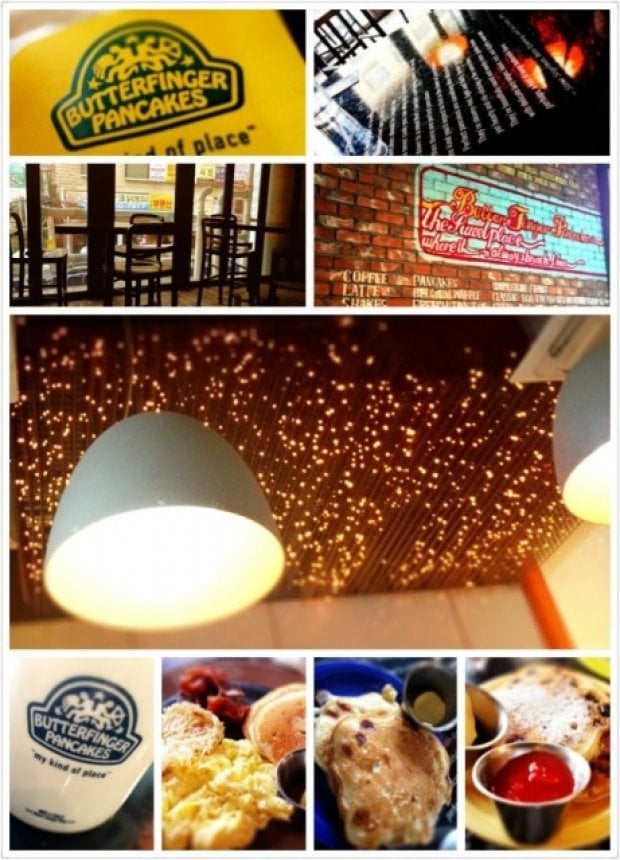 I believe there are three Butterfinger Pancakes outlets in Seoul. Here are the addresses:
9 Jeongja-1-dong Bundang-gu Seongnam (031-785-9994)
85-6 Cheongdam-dong Gangnam-gu Seoul (02-3448-1070)
1317 Seocho-dong Seocho-gu Seoul (02-532-5740)
I've been to the Gangnam outlet, so I'll share the directions to get there:
Butterfinger Pancakes (Gangnam branch)
Hours: 07:00am to 03:00am
Tel: +82-2-3448-1070
88-9 Cheongdam-dong, Gangnam-gu, Seoul
서울시 강남구 청담동 88-9번지)
Subway: Gangnam Station, Exit 10
Walk straight till you reach the corner of the road (The Body Shop). Turn left into the lane next to The Body Shop, and keep going, you should see Burger King. Butterfinger Pancake should be on your left.
Also Read: 6 Most Uniquely Themed Stays in South Korea
4. Noryangjin Fish Market 
Noryangjin Fish Market is the wholesale market where you can buy seafood on the cheap. You can either bring the seafood home to cook, or you can go to one of the restaurants on the second level and have them prepare the food for you.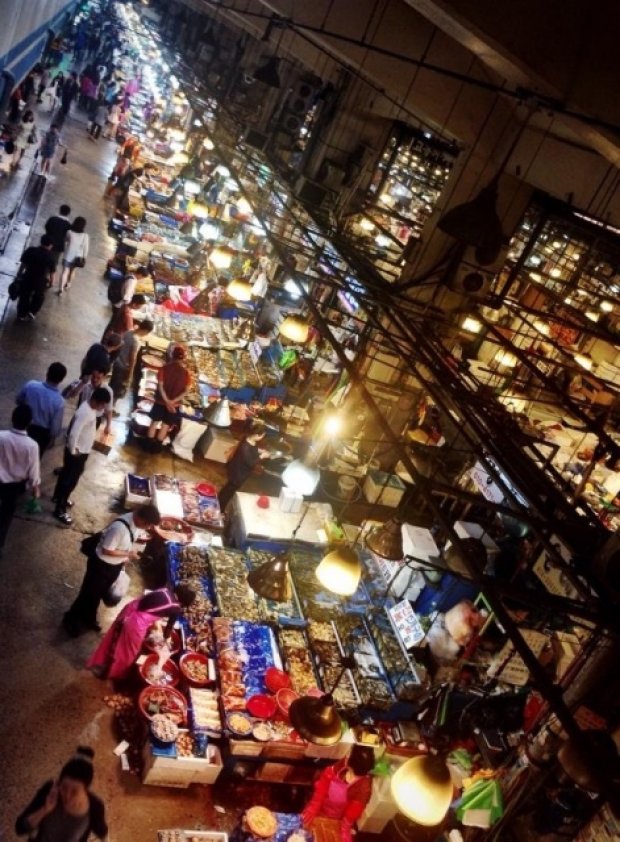 I find this place rather intimidating unless you're going with a local friend. The stall operators can be quite aggressive and one can feel quite lost and overwhelmed in Noryangjin Fish Market..
I don't cook and am not at all familiar with food prices, so I can't even tell if the prices quoted to me were high or not. For all of my eleven trips to Korea, I had only been to Noryangjin three times. Each time, I had a local friend with me, or at least someone who can speak Korean.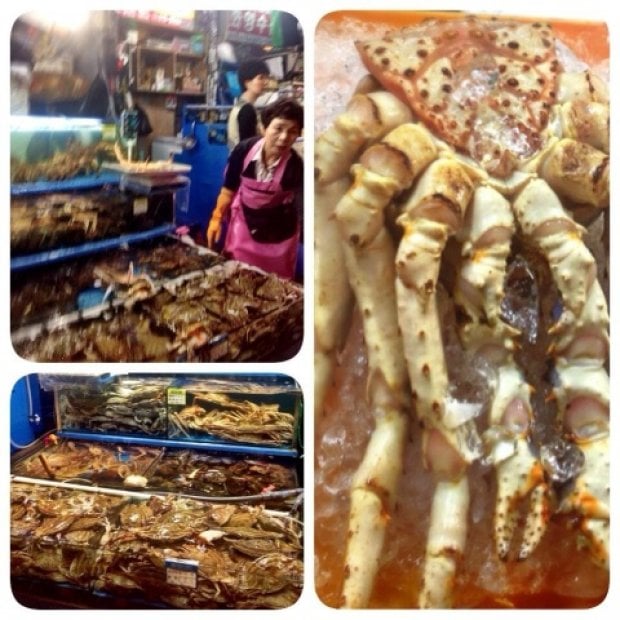 That said, it's quite an interesting experience to wander around a wholesale markets like this. There are also lots of photo opportunities too.
I'll share everything I know for those who are interested in visiting Noryangjin Fish Market. The seafood sold is seasonal, some season you get lots of crabs and another seasons you get oysters. It's best to check out what's in season before you go, so that you know what to zoom in on.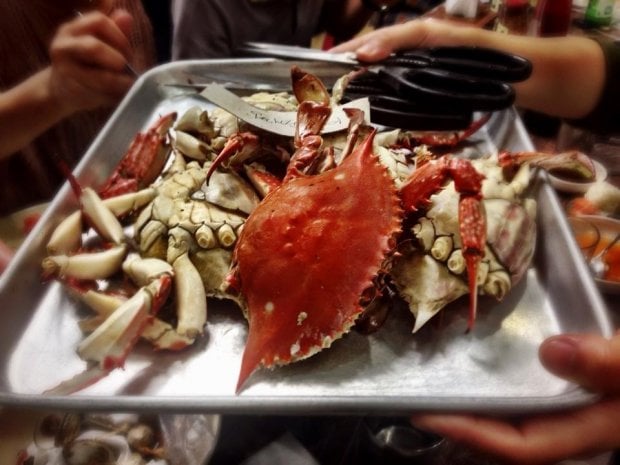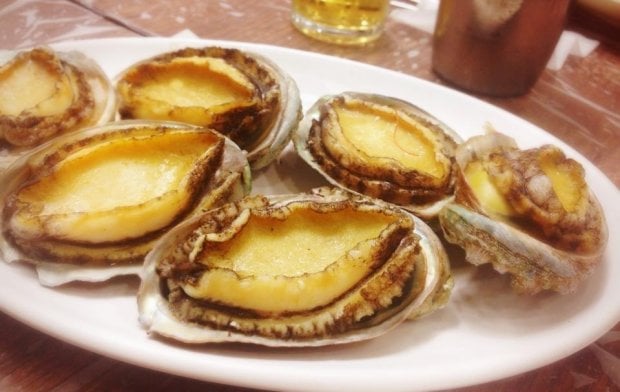 Abalone, salmon sashimi and sea urchin are really really cheap. You can get three abalones for 10,000 KRW and a whole big slab of salmon for just 20,000 to 30,000 KRW.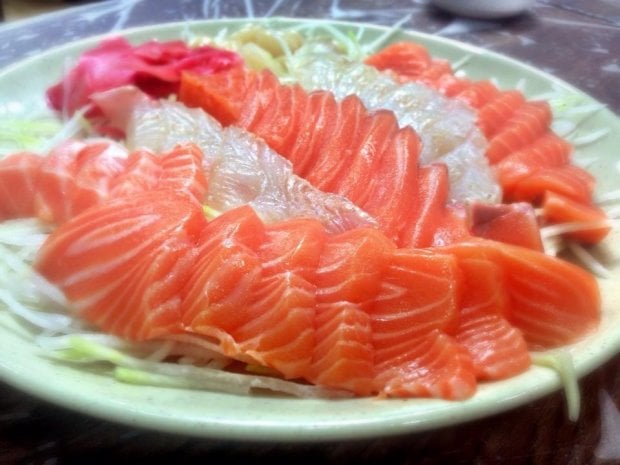 Quite a number of the stalls hire Chinese staff, so they can speak Mandarin. Anyway, just check out the seafood prices and buy whatever you feel like. If you suspect someone's overcharging, just walk away and buy from another stall. There are plenty of choices, and you don't really need to haggle.
Once you're done with your "shopping", you can proceed upstairs to where the restaurants are. They will charge you anything from 3,000 to 5,000 KRW per head to prepare your food. And most of the restaurants also serve spicy fish stew. Very good, quite spicy and quite expensive. You might want to check the prices before ordering.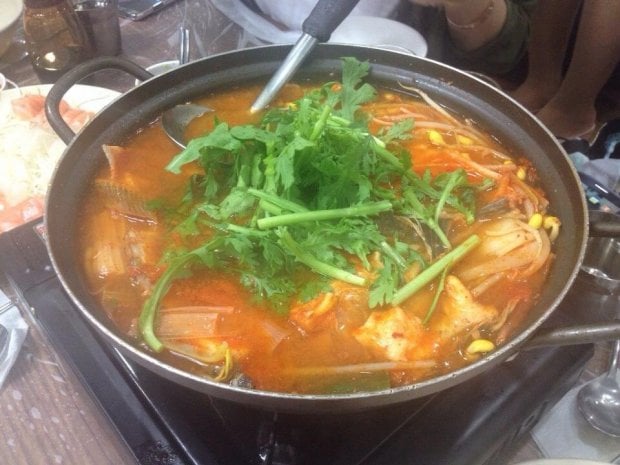 And oh, one bonus tip: while you're at Noryangjin, don't miss out on Ogane pancake.
Noryangjin Fish Market
Subway; Noryangjin Station, Exit 1
Take the overhead bridge and you will find the market at the other end of the bridge (linked to Noryangjin)
5. Isaac Toast
Isaac Toast is also a chain with outlets dotted all over Seoul. There's one in Myeongdong – just take either Exit 2 or 3 and walk towards the left of Pacific Hotel. The Issac Toast outlet in Myeongdong is a takeaway stall.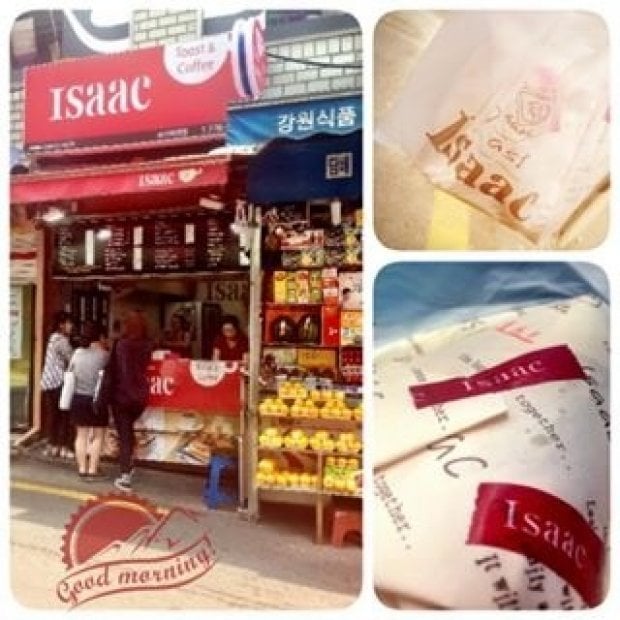 It's apparently quite a popular joint with the locals, and they serve wonderful toasts of a huge variety! They even have a menu in English. If you happen to stay at a hotel or guesthouse with an Isaac Toast nearby, try it for breakfast. You won't regret it, and you can eat it while it's fresh!
6. Star Cafe Miss Lee
Those of you who had watched CN Blue Yong Hwa and SNSD Seo Hyun on We Got Married might be familiar with this place. I didn't watch it, but the couple had apparently visited Miss Lee's Cafe during one of the episodes.
As far as I know, there're three outlets in Seoul: Hyehwa, Myeongdong and Insadong. I personally like the Hyehwa outlet the most. If you like, you can still check out the Myeongdong and Hyehwa outlets, which are more convenient in terms of location.
In case you didn't know, Daehango (大学路) is actually within the Hyehwa precinct. This is traditionally an artsy area with lots of small theatres and play housese, earning its name of Play Mecca. There are also many small character cafes and many eating places in Hyehwa. I'd say it's quite a nice place to while away the evening or night.
Miss Lee's Cafe doesn't really serve the best food or anything, but it's a themed cafe and it's a really nice one. Supposedly modelled after cafes in the 70s, there're many old school memorabilia around the cafes. Other than that, they are also famous for the notes and wishes from customers that are hung and pasted all over the cafe. Really, all over it.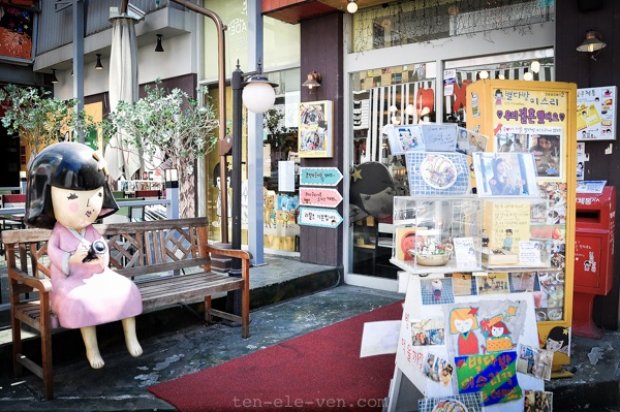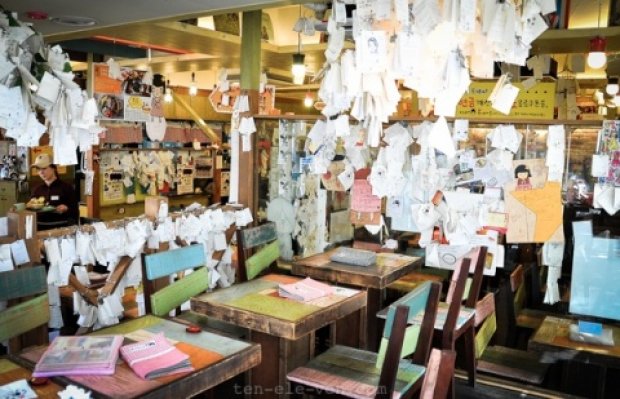 Image Credit: ten-ele-ven
This is a nice place to go for tea or snacks. They have herbal tea and also traditional Korean rice snacks and bingsu! The portion's rather big, but it isn't very cheap.
If you're hungry, then I recommend the dosirak, which is old school lunch box. You will actually receive a metallic tin lunch box and inside is piping hot rice, kimchi, spam and a fried egg. You're supposed to shake the box vigorously before opening it. It may look like a mess after all the shaking, but trust me, it's a nice gooey mess!
Miss Lee's Cafe, Hyehwa
Jong-no gu, Dong-Soong dong 1-74, Seoul,
Also Read: 10 Must-Try Street Delicacies in Seoul
7. Hakrim Dabang (學林茶坊)
The drama of the year's quite possibly You from the Star, starring Jeon Ji Hyun and Kim Soo Hyun. In the drama, KSH's character is 400 years old, so it's befitting that he went to a really old teahouse.
Like Hakrim Dabang.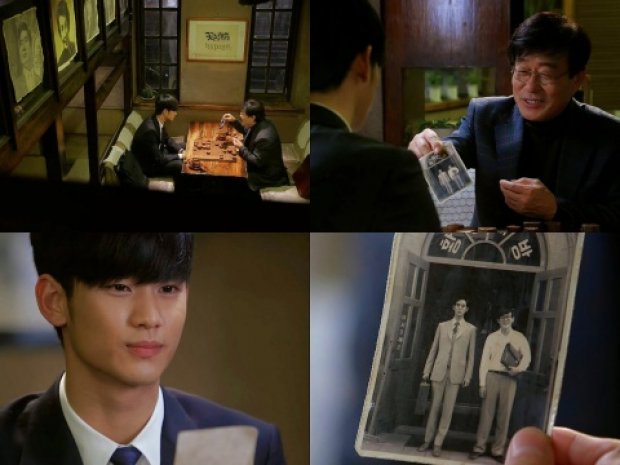 Hidden on level two of a rather nondescript building, Hakrim certainly has a scholarly air about it. This place seems to have a calming effect, and you feel as though time slows down when you're there. I like it very much.
This teahouse has been around since 1956; it is the oldest teahouse (or cafe) in Seoul. Over the years, I am very sure Hakrim underwent some renovation or upgrading work. Still, I am so glad they didn't attempt to "modernise" the design of the cafe.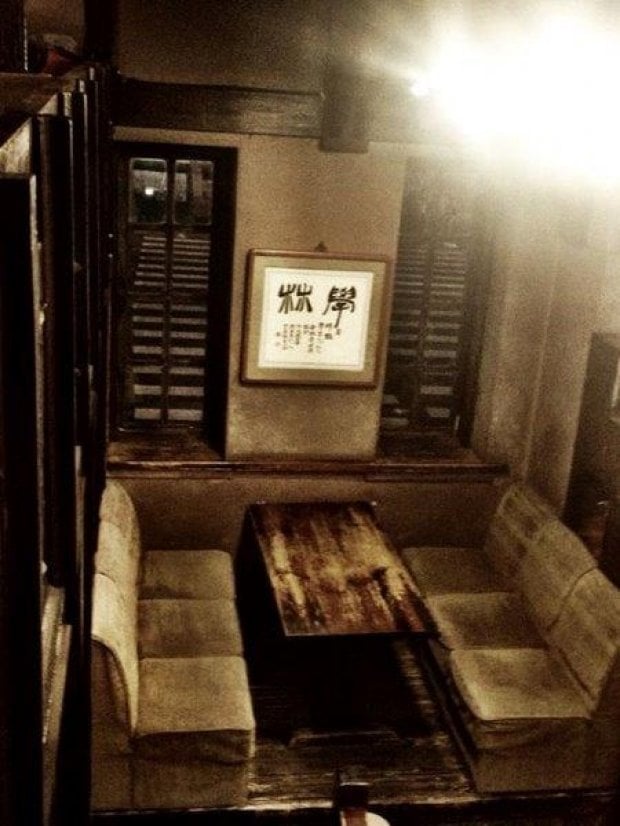 Many Seoulites have discovered and re-discovered this gem of a place after the drama. And overseas fans too have been making their way there. I only hope Hakrim is able to retain its original colours. I've seen too many F&B establishments lose their lustre the moment they start being very commercialised or pandering to kpop and kdrama fans.
I was just there in the middle of the year, and happy to report that all's fine! The only thing is that too many people wanted to sit at that booth where KSH had sat in the drama! The special booth seat is right below the calligraphy of the cafe's name in Chinese.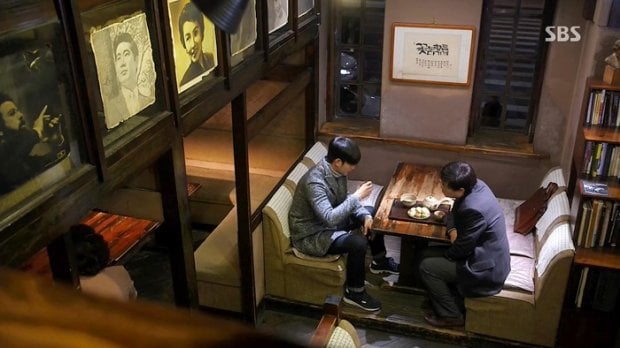 Anyway, it's a lovely place with lovely coffee and they also have the mightiest cream cheese cake!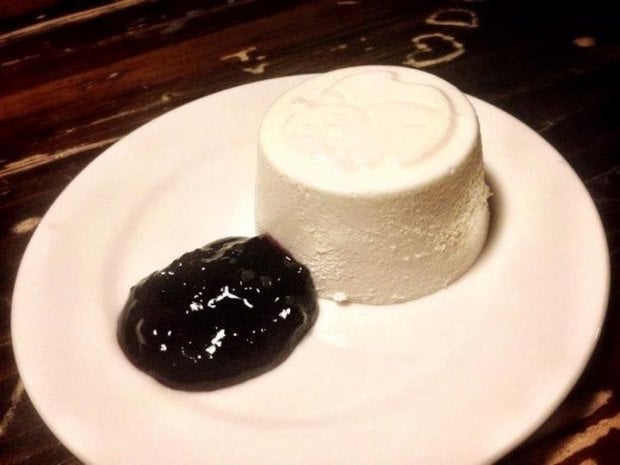 Hakrim Coffee 학림다방
Hours: 10:00am to 00:00mn
94-2 Myeongnyun 4(sa)ga, Jongno-gu, Seoul
서울 종로구 명륜4가 94-2
Subway: Hyehwa, Exit 3
Turn back and walk straight; the Café is located along the main street and look for the signage
Or Hyehwa, Exit 2
Just cross the traffic light and Hakrim should be right in front of you.
8. Beans Bin
One of the loveliest things about Seoul is the abundance of cafes. The themed ones are super cute – there's Hello Kitty cafe, Rilakuma cafe, Charlie Brown and more.
I really like Beans Bin. It's a chain of cafe, and they serve really fabulous waffles which comes with Haagen Dazs ice-cream.
The chain can be found all around Seoul: there's one in Myeongdong, one in Samcheong-dong, one in Hongdae… so you should be able to find one very easily.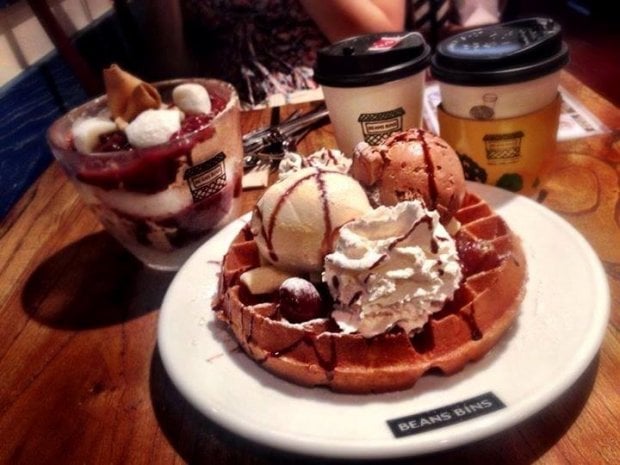 What to order? Naturally, waffles!
One more tip: come winter, Beans Bin also serve hot mulled wine (Vin Chaud) and it's really yummy! Korean winters are really bitter cold and nothing beats being warmed up by Vin Chaud when you're freezing.
9. N Grill
For many visitors in Seoul, especially first-timers, one of the must-go places is Namsan Tower. Yes, that's the place where you often see K-drama couples buying love locks.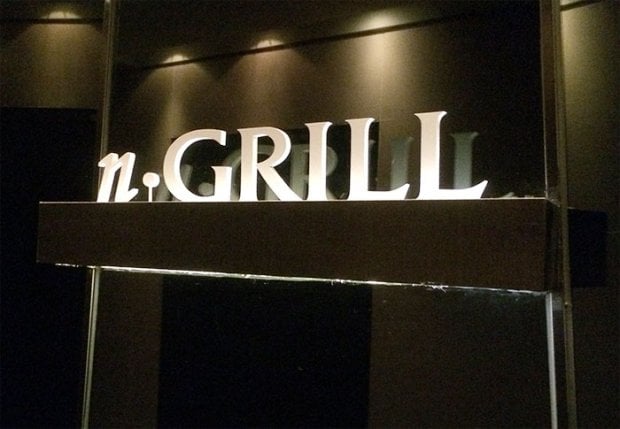 If you're celebrating a special occasion, just feel like a nice meal with nice ambience, or if you wanna enjoy a nice view up at namsan, then you can consider having a meal at N Grill.
I've had dinner at N Grill twice. The set dinners are actually very value-for-money considering it's a full course French dinner at such a swanky, revolving restaurant. If you don't want to splurge,  consider the set lunches, which start from 45,000 KRW. Seriously, the set lunch is a fantastic deal for the food quality and venue, if you ask me.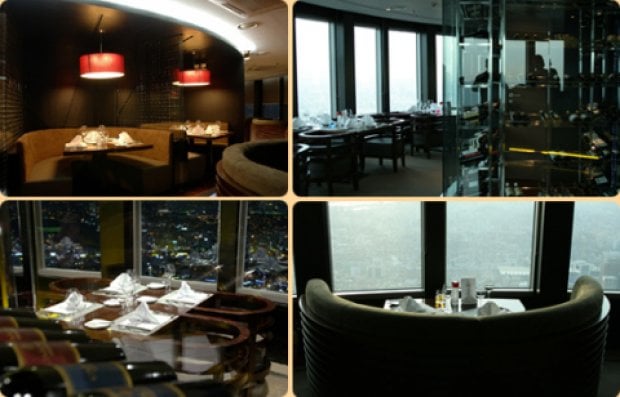 N Grill is a revolving restaurant and it sits at the top of N Seoul Tower. It offers fabulous views of the city.
Click here to check out the set lunch and dinner.
N Grill
1-3 Yongsandong 2(i)ga-dong, Yongsan-gu, Seoul
Tel: +82 2 3455 9297
Mon to Fri: 11am – 2pm, 5pm – 11pm
Sat & Sun: 11am – 11pm
Subway: Myeong-dong, Exit 3
Go south along Toegye-ro 18-gil street to the Pacific Hotel and turn left. Walk along Toegye-ro 20 gil street until you see the Ministop. Turn right to walk along Toegye-ro 20-na-gil street. At the end of the street, you will see the stairway to the cable car.
10. Gwangjang Market
Someone asked me where to eat bibimbap in Seoul. I did eat at one of the (supposedly) best bibimbap restaurants before. I'd tried jeonju bibimbap at Gogung (故宫) in Myeongdong.
Maybe I have a lousy tastebud. Although I felt that it was good, I didn't think it was exceptionally good. Guess when it comes to bibimbap, I like mine hearty and with home-cooked feel. So I actually like the bibimbap at Kimbap Cheonguk best! You can choose from beef, vegetable or even spicy squid.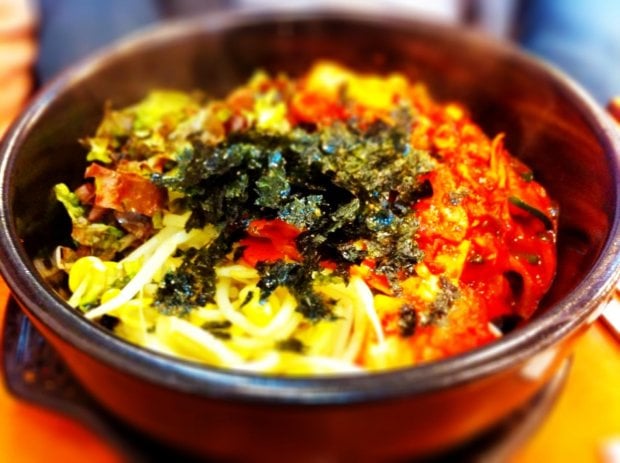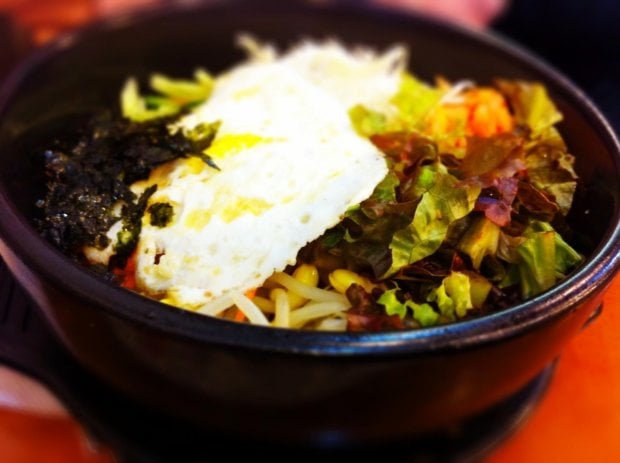 Anyway, just in case that friend's reading this in search of bibimbap answers… Hey, you can try Gogung in Myeongdong, or you can also check out this list of the best bibimbap restaurants in Seoul.
Otherwise, just go to Kimbap Cheonguk or Gwangjang Market!
Gwangjang Market is the oldest traditional markets in Seoul, and the food section's very much alive and thriving, day and night.
The face of Gwangjang Market is quite different in the day and in the night. When night falls, you can actually see people rolling up their sleeves and having a drink after work. Makgeolli, soju, beer… just name your poison.
Also Read: Seoul Guide to Drinking: Where to Go for Soju and Makgeolli
Gwangjang Market is a myraid of sights, sounds and taste, quite exciting. It can crowded but that's all part of the experience, I suppose. Go have a feel of the very local Seoul.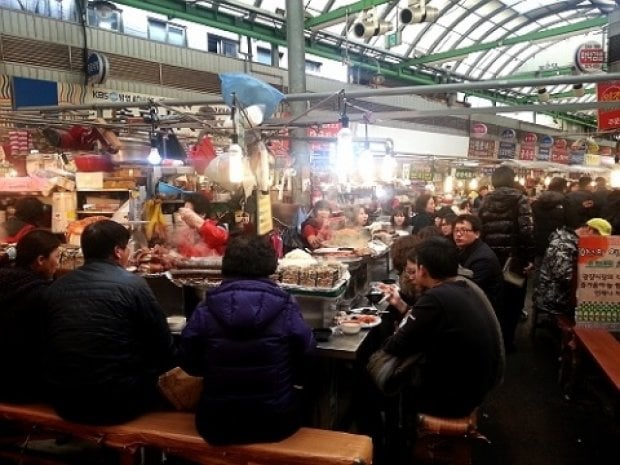 The best things to eat here would be bindaetteok (mung bean pancakes), and almost every other stall seems to be selling these. Mayak kimbap (mini kimbaps) are also popular, as are soondae and tteokbokki.
And yes, bibimbap too! They are super fresh since they are prepared on the spot.
I know there are Running Man fans amongst you, they had filmed an episode here before too!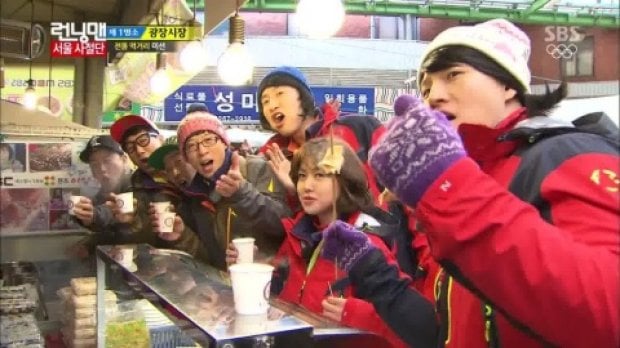 Check out Stall #47 for bibimbap!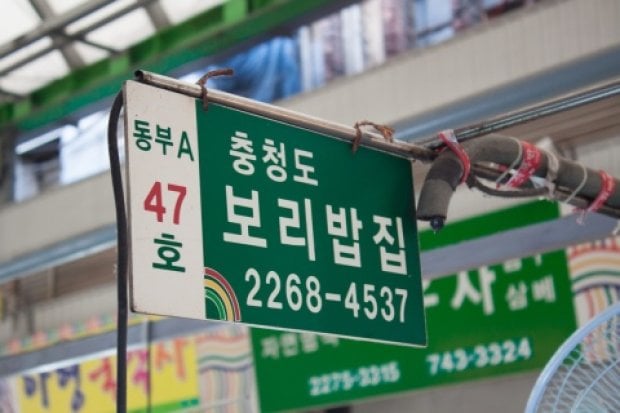 Gwangjang Traditional Market (광장시장)
Hours: 7:00am to 10:00pm
(Hours may vary by store, 10:00am to 9:30 pm for food stalls)
6-1 Yeji-dong, Jongno-gu, Seoul
서울특별시 종로구 예지동 6-1
Subway:
Jongno 5-ga Station, Exit 8
Eujiro 5-ga Station, Exit 4
Also Read: 8 Reasons Why Travellers Keep Going Back to South Korea
If you're not in Korea already, do check out these awesome Korea travel deals before you go. If you're on a tight budget, find out how you can travel Seoul on a Budget in 2015.
Contributed by HappieBB