Travelling isn't new or a rare indulgence for Kamla; just in the past four months, she and her partner Robin have been on four trips to four different countries. And yet, their one-week trip to Egypt was something special, especially for this Filipina traveller, online English teacher, and self-published author who was visiting the ancient land for the first time.
Trips came and went for Kamla in 2022, but she marked seeing the Pyramids of Giza as the highlight of her year. She recalled, "Even from afar, the sight of the pyramids got my heart pounding: Like love at first sight." Keep reading to find out more about fitting the highlights in a six-day Egypt itinerary, plus a couple of insider tips about getting the best value out of your bucket-list trip. 
Also read: Inside Egyptian Pyramids: How It Really Looks Like
Travelling from the Philippines to Egypt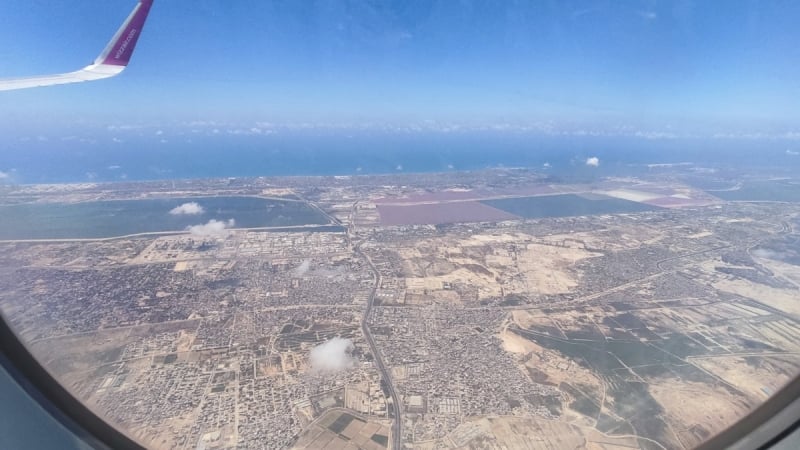 Egypt is a world away from the Philippines. It's not easy to get to, with no direct flights between the two countries. To get to the African country, Kamla flew to Dubai and hopped on to Abu Dhabi, before finally landing in Alexandria.
Tiring? Definitely. Especially if you're in a time crunch like Kamla and Robin, who had to rush from Dubai to Abu Dhabi to catch a flight to Egypt. The pair took a bus, which dropped them off in the middle of nowhere. Instead, they had to catch a ride with a local.
Travellers who don't mind spending a bit more can take a cab to minimise the chances of things like this happening. But as seasoned travellers, Kamla and Robin prefer living like a true local. As Kamla put it, "We like to think like a local, and a local probably won't take a taxi."
Kamla's one-week Egypt itinerary
Days 1 to 3: Alexandria-Cairo
After landing in Alexandria, the couple went straight to the middle of the action in Cairo. The original plan was to spend more time in Alexandria for the iconic (and now modernised) Library of Alexandria, but they opted to skip it in favour of spending three nights and two full days in the capital.
Cairo is a sprawling urban landscape that's a pleasure to explore, according to Kamla. It's easy to be mesmerised by a city where the past mixes with the present with little abandon, where you can navigate ever-bustling alleys lined with street food stalls and cafes as a silhouette of a pyramid looms on the horizon. 
This desert destination is especially fascinating to Kamla because it's so different from her home in Manila. Delighted at the new sights and sounds, she shared being surprised at the taxidermy, "You'll see stuffed animals in surprising places as if they were real. I saw a fox on a sidewalk on a street in Cairo and a monitor lizard on the ceiling of a small shop."
Egyptian Museum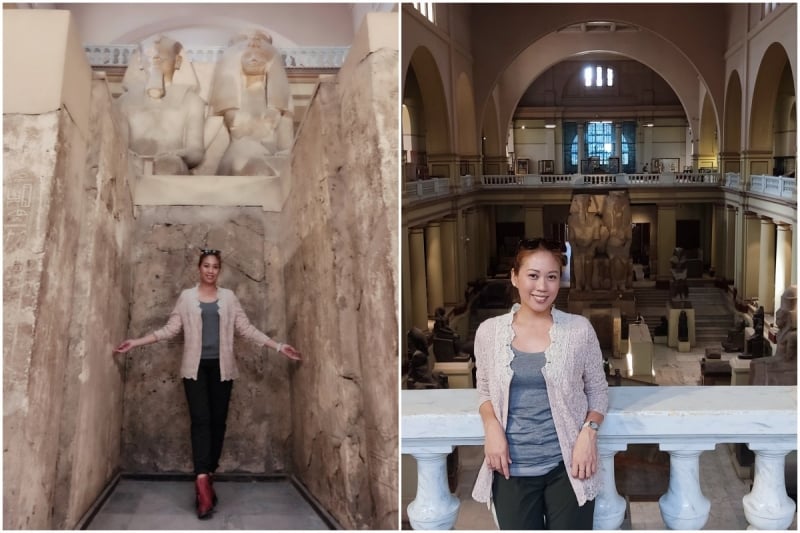 One of the must-visit sites in Cairo for Kamla is the Egyptian Museum. Famous for being the oldest archaeological museum in the Middle East, it houses the largest collection of Pharaonic antiquities in the whole world. The expansive museum is home to over 170,000 artefacts, including burials of nobility, statues of great kings, papyri, and jewellery.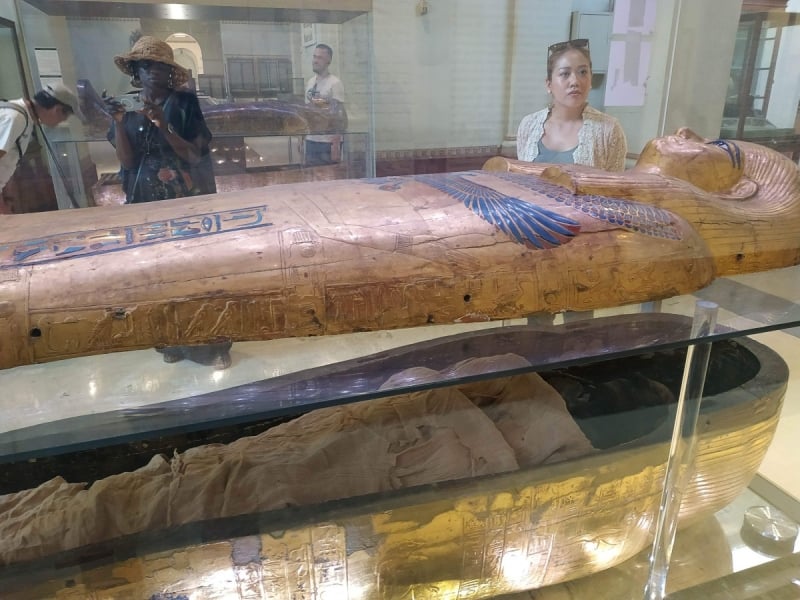 "It was gratifying to see the nation's ancient treasures and to be up close to mummies of all types, of children and even animals," Kamla explained. While exploring the many galleries, the ancient statue of Akhenaten caught her eye: The male pharaoh who fathered multiple children was portrayed with a female physique of breasts and wide hips.
In 2023, the new Grand Egyptian Museum (GEM) is slated to open with the largest collection of Egyptian artefacts in the world. Many of the exhibits in the Egyptian Museum, including King Tut, will eventually be moved into GEM upon completion of its construction.
Pyramids of Giza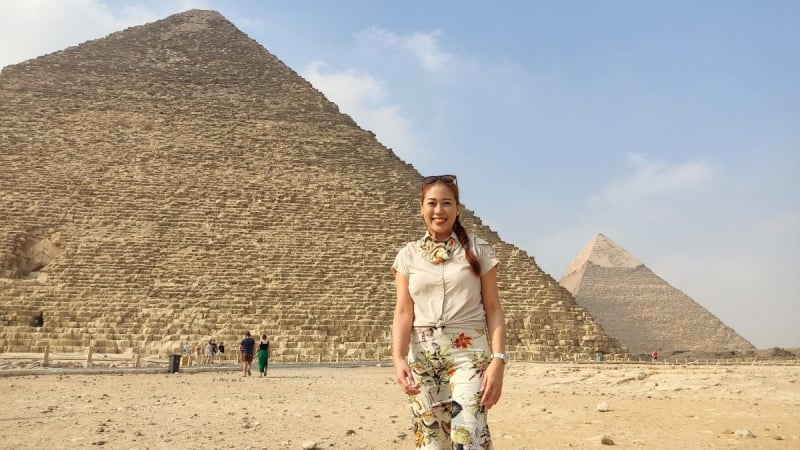 And of course, seeing the Pyramids of Giza is at the top of every tourist's Egypt itinerary in Cairo. Even for the worldliest of travellers, there's no overstating the grandeur of the millennia-old pyramids. It doesn't matter if you've pored over photos of the Great Pyramid of Giza all your life — nothing compares to seeing it in person.
"I was in total awe," Kamla recalled getting a glimpse of the pyramids for the first time during their trip to Egypt. "Most of the journey ultimately happens in your brain and how it processes and imagines how it would have been like, living through the sands of time. It's amazing how it's been made to last."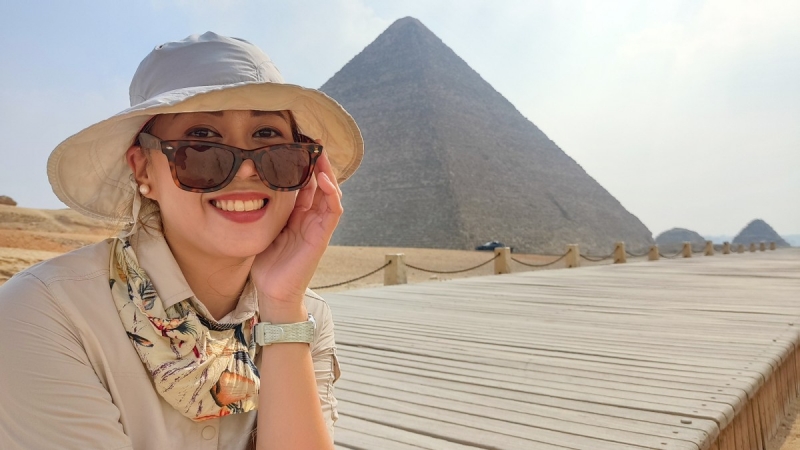 Inside, it's quite small and cramped — these are tombs, after all. But inch away from fellow tourists, close your eyes, and let the chatter fade away, and maybe you'll feel the weight and the whisper of the ancient stones.
Pro tip: If possible, visit the pyramids at night, when they're illuminated in beautiful lights. In the darkness, the modern world disappears from plain sight, making the ancient structures stand out as they must have done in the distant past. 
Days 4 to 5: Luxor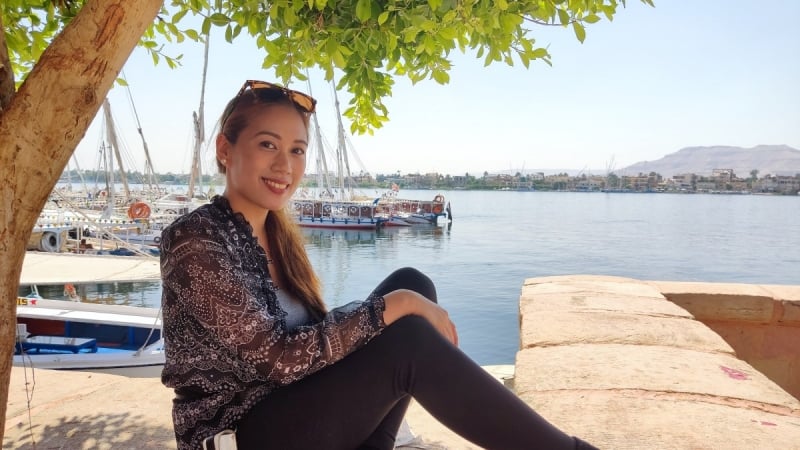 Although Cairo was the centrepiece of their Egypt itinerary, Luxor ended up being just as rewarding as a destination. Known as ancient Thebes, it's almost like a living museum, with ruins of Egyptian temples sitting in the heart of the modern city.  
Luxor and Karnak Temple Complexes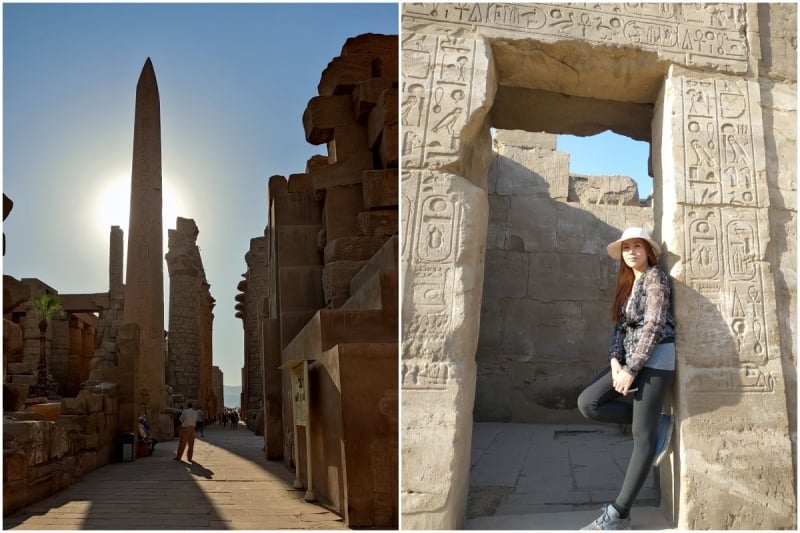 Sitting on the east bank of the Nile River, the temple complexes of Luxor and Karnak are two of the world's most incredible ancient sites. Here, you'll find a staggering amount of millennia-old monuments and intricate temples worth walking through in a single day.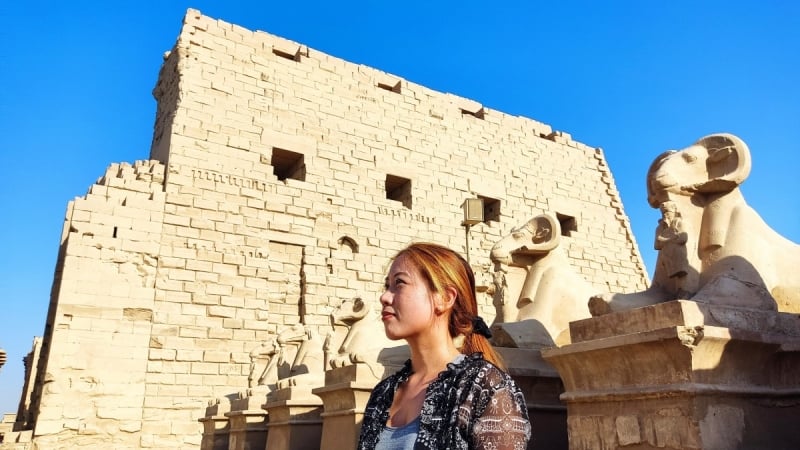 For Kamla, one of the many highlights was the Avenue of Sphinxes, a three-kilometre road that connected the Luxor and Karnak temple complexes. Hundreds and hundreds of majestic sphinxes line the avenue, defying age and watching over this historic path for the past thousand years.
Valley of the Kings
On the other side of the Nile, the Valley of the Kings is the land of the dead. Sixty-three beautifully painted royal tombs occupy this valley on the West Bank, the burial site of well-known pharaohs like Tutankhamun, Seti I, and Ramses II. Many tombs were looted in the past, but detailed hieroglyphics and vibrant paintings remain well-preserved. 
If you have the time, head on to the nearby Valley of the Queens where many pharaoh's wives were buried.
Day 6: Hurghada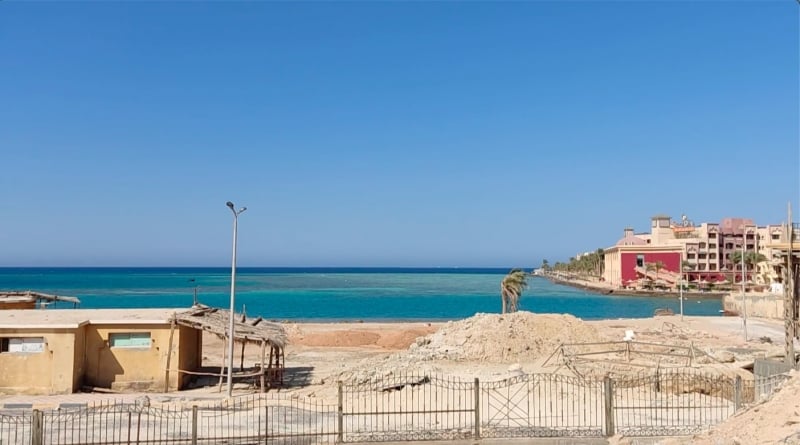 On the last morning of their Egypt itinerary, Kamla and Robin headed to Hurghada, where they'll be flying out in the evening. A coastal city fronting the Red Sea, the city boasts some of the best beaches and dive sites in Egypt. 
This time, the couple didn't really have the time to dive. However, Kamla and Robin were hoping to enjoy a bit of time sunning on the public beach. Unfortunately, the public beach was closed on the day they stopped by. Still, a day by the Red Sea is a pretty nice way to cap off a trip to Egypt!
Tips for backpackers travelling in Egypt
Ask for the Egyptian menu
From high-end establishments to local haunts, Egyptian restaurants will typically have two different menus on hand: an English one for foreign tourists and another in Arabic for locals. The food is the same, but the prices are wildly different. Expect higher prices on the tourist menu, of course.
With a little ingenuity, travellers can try to get the cheaper version. One way you can subtly ask for it is by telling the waiters you're trying to learn Arabic and would appreciate the local menu. You can also ask them to teach you how to read Arabic numbers.
"Just download a chart of local numerals on your phone and familiarise yourself with it," Kamla suggested.
Or, as Robin suggested, you can simply befriend people around you and ask for local-friendly costs. Being too pushy isn't a good look. But if you're nice, locals will be much more inclined to offer more reasonable prices.
Consider train travel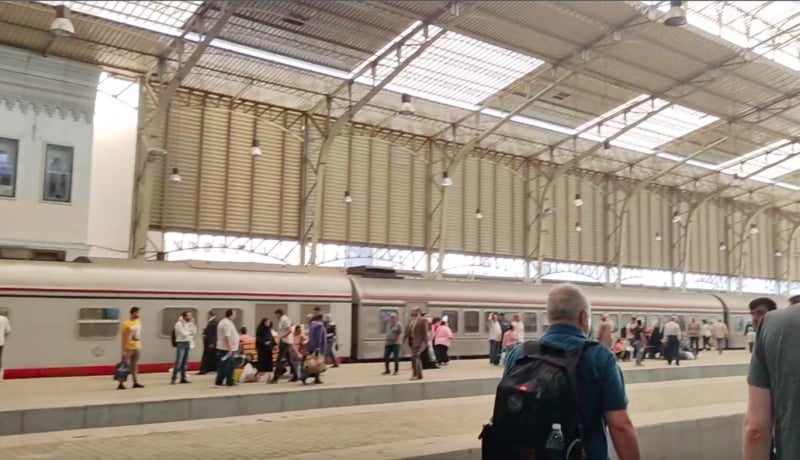 Short on time and money? Opt to travel by train instead of going on the famous Nile River cruise. Although you'll miss out on the luxurious cruise experience à la Death on the Nile, train journeys across Egypt are much more affordable for backpackers. It's also faster, which is especially important if you don't have much time to spare on your Egypt itinerary.
Stay alert on prices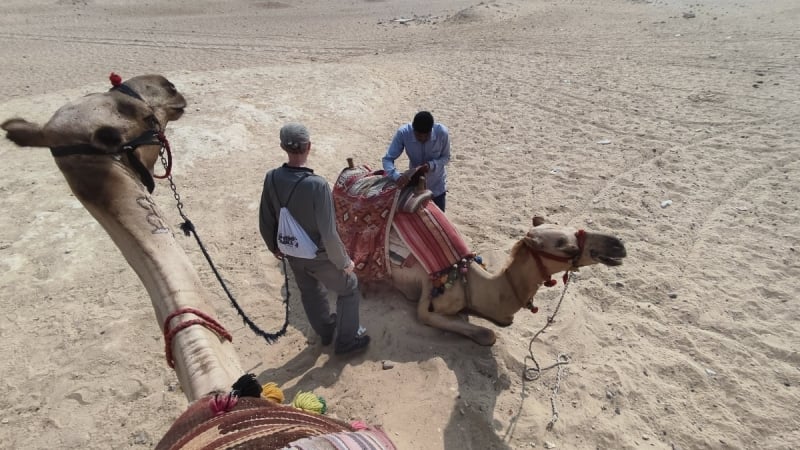 As a major tourist destination and an economy heavily dependent on tourism, Egypt is — unsurprisingly — a centre of enterprising locals. Prices tend to be fluid. Some hawkers try to squeeze as much cash as they can from unsuspecting tourists travelling in Egypt. As Robin described, it's a "game" to most of them. While some can be sneaky about it, many are good-natured locals just trying to get by.
Camel rides in Giza are notorious for inflated prices, so come ready to negotiate. Kamla recalled agreeing on a price before starting the tour, and being charged twice the amount at the end of the ride. When this happens, keep your cool. "Tell them that you'll call the officials, and they'll back off after that," she advised.
It's best to be wary, though, especially when it comes to offers that seem too good to be true. Even the official security of temples will sometimes offer to escort you to what they'll tell you is a special area — even when there's nothing to see.
Plan your trip way ahead of time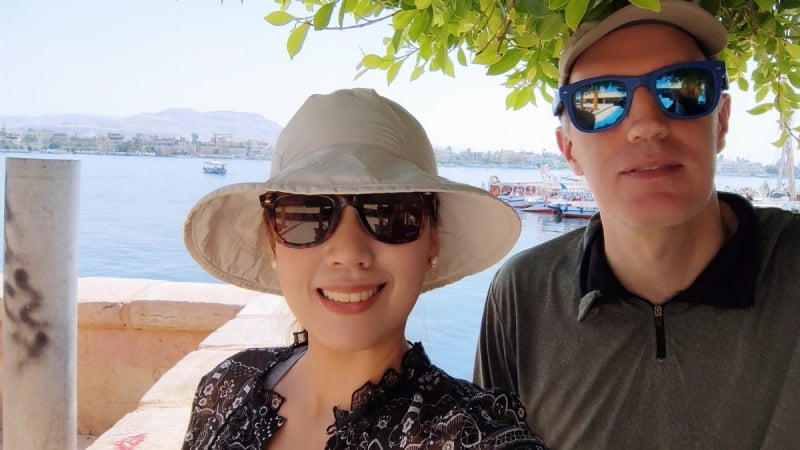 Kamla and Robin plan well ahead of time, booking one-way flights a year before their scheduled trip to Egypt. The pair took advantage of ultra-cheap promos on a local airline in the Philippines. Planning so far ahead, they scored one-way tickets to Dubai at only around ₱2,000 (~$36).
"And then you can book return flights when another promo pops up," Kamla explained. "Wizzair, Ryan Air, and Easyjet are some of the go-to cheap flight options around Europe and North Africa."
Hop on to Turkey and Morocco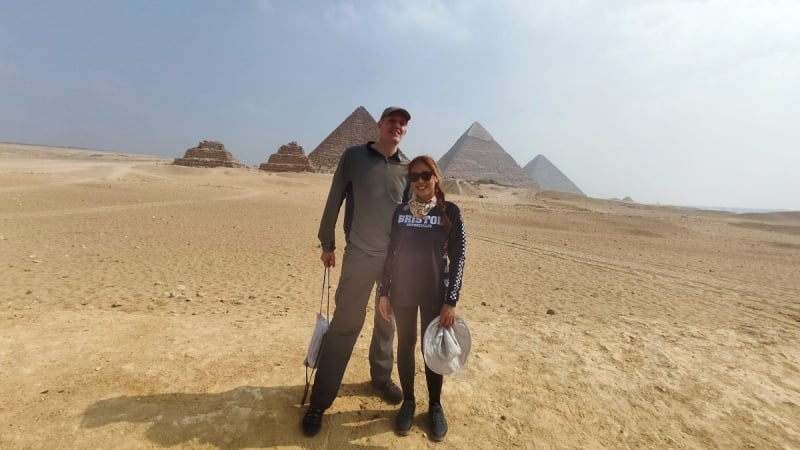 Flying halfway across the globe takes a lot of time and money. Travellers making their way to Egypt might as well make the most of the effort, right? Extend your vacation to nearby countries like Turkey and Morocco to maximise the price of your flight.
According to Kamla, exploring multiple countries makes the costs of international flights much more worth it. Flying to Egypt is pricey — and more flights to nearby countries will only add a fraction to the total costs.
For Kamla and Robin, the sojourn to Egypt was only one leg of a months-long trip around the world. It included stops in Turkey and Morocco, plus a few months in Robin's native United Kingdom. She even spent a few days in Albania by herself!
Also read: 8 Airbnb Listings in Istanbul Where East Meets West 
Working on your own Egypt itinerary? The magic of this African country lies in wait. 
Do you have your own travel story you'd like to share? Find out how to be our next Featured Traveller here.
---
Images are credited to Kamla Villanueva, unless stated otherwise. Her novel The Sky Dweller: and the Search for Whiloms is available on her website and Amazon.