Thailand might seem like just a place to feast on cheap food and get most of your shopping done, but there's so much more to do in this country! Step away from the usual activities, and seek out more immersive experiences both in and outside of the more touristy places.
Also read: Top 10 Tips to Make the Most of Your Thailand Trip
Let me assure you: stepping off the beaten path in Thailand can be more rewarding than the usual shopping jaunt to the usual Bangkok malls! Here are 8 ways you can live like a local in Thailand:
1. Speak (basic) Thai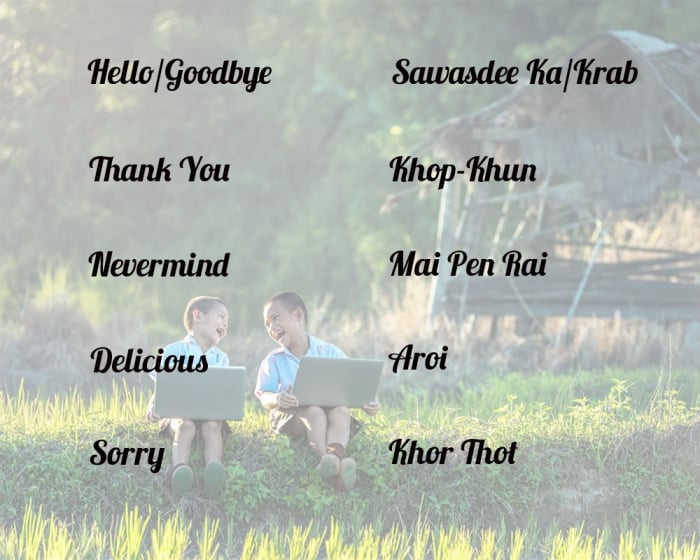 There's no better way to start living like a local than to speak the local language! And in the case of Thailand, it's obviously good to start learning some Thai. Not only will it make communicating with the locals easier, some Thais might be so impressed that they'll instantly warm up to you!
Besides the commonly-known "sawasdee ka/krab" (for females or males respectively) as used for both greetings and farewells, replace your "thank you" with "khop khun" and your "how much" with "tao rai". Take it a step further as well, and astound Thai shopkeepers by counting to ten ("neung, song, saam, see, haa, hook, jet, baat, gow, sip"). Another useful phrase to learn is "mai pen rai", which roughly translate to "nevermind". The phrase is used for more than clearing misunderstandings; however, it's also a polite response to a "khop khun"!
2. Stay in a Thai Village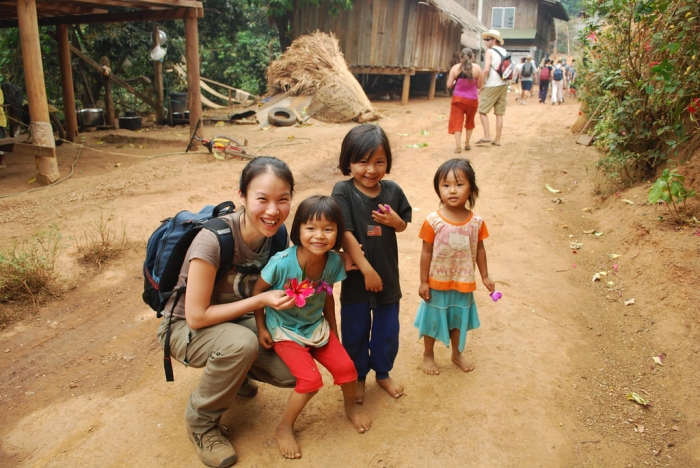 Thailand is more than just the big cities (Bangkok, Chiang Mai) and the beach resorts (Krabi, Phuket). Experience the rural life by staying with a host family in one of the country's many villages! Most Thai tour agencies offer homestay experiences to a wide selection of places, from seaside hamlets to mountain settlements. These tour agencies also provide a translator as well, who would be with you throughout your entire village stay, making communicating with the villagers significantly easier. Places offering homestay experiences are common around Chiang Mai, the most popular being the eco-tourism village of Mae Kampong.
3. Learn To Cook Thai Cuisine
Everyone eats Thai food, but very few non-locals know how to cook it. Bring yourself closer to living like a Thai by enrolling into a local cooking school! Most Thai cooking schools offer half-day courses for guests, which generally involve a thorough study of the ingredients involved and hands-on cooking. Every class is usually different, with schools rotating the dish to be taught every day. There is one thing that is always guaranteed at the end of each class – you get to taste your own cooking! For the best instruction, seek out the cooking schools in Bangkok; I personally recommend Silom Thai Cooking School and Amita Thai Cooking Class.
4. Work in a Thai Rice Farm
Take local immersive experiences to the next level by diving into the rural life! With Thailand being the world's second largest exporter of rice, it is almost inevitable that you should try your hand at farming rice. Tigerland Rice Farm, situated near Chiang Mai, offers visitors an opportunity to be a rice farmer for almost a week! Experience planting rice with the farm's six-day Rice Planting Experience in the wet months of June and July, or visit in the dry months of October to December for a six-day Harvesting Experience. The best part: both packages include lodgings and meals, as well as transportation to and from Chiang Rai International Airport!
5. Eat Street Food
While you can get decent Thai food at any local restaurant, only the country's street food offers the truly authentic Thai culinary experience. Seek out the various vendor carts scattered across the streets of Bangkok and Chiang Rai, which sell a variety of local dishes, from the spicy tom yum goong (shrimp soup) to the addictive kluay tod (deep-fried bananas). For the daredevils, try the local delicacy – insects! You can feast on the popular bamboo worms, or go for something crispier with fried spiders. Carts selling cooked insects are rarer, but you can definitely find a couple in Khao San Road or Pahurat near Bangkok's Chinatown district.
6. Ride Bangkok's Motorbike Taxi
Living like a Thai local doesn't necessarily mean that you have to be stuck in a traffic jam for hours as well. Instead of getting around Bangkok with a taxi (too expensive) or a tuktuk (too touristy), try the more authentic alternative: a motorbike taxi! These motorcyclists know Bangkok inside out, and will take the fastest route to your destination quickly. Motorbike fares are also much cheaper than taxis or tuktuks! The first two kilometre costs the initial fare of 25 baht, and subsequent distances cost five baht per kilometre.
You can easily spot the motorbike taxi drivers by their numbered orange vests, and they tend to be found in more crowded areas such as metro stations or shopping malls. Do remember to wear a safety helmet during your ride – you can easily get a hefty fine for not doing so!
7. Learn Muay Thai
The most authentic place to learn Muay Thai is obviously its country of origin. Besides, how else to further blend in with the local crowd than to pick up the local martial art? Unleash the fighter in you, and enroll in the local Muay Thai gym! Feel yourself becoming stronger and fitter after a session or two under the gym's intense training regime, as well as being better able to defend yourself. Do try one of the gyms in Bangkok, such as Tiger Muay Thai and Kombat Group Pattaya, as the trainers in those gyms can speak English fluently, making any instruction easier to follow.
8. Haggle at Night Markets
Visiting the night markets in Thailand's cities is something every tourist does, but deviate from the usual crowd by doing what the locals do, and that is to haggle hard. From grabbing the latest fashion accessories to purchasing vintage curios, bargain rigorously and wisely in the night markets. You can even up your haggling game by impressing the stall-owners with basic Thai phrases, which will surely get them to lower their prices further! You'll be surprised by how much of a steal you can get your goods for – the final price difference can be quite significant!
Also read: 10 Super Cool Bangkok Night Markets You'll Never Get Sick of Visiting
Surprised by how immersive your visit to Thailand can be? Well, take the path less-travelled, and try out these above experiences for a more memorable vacation in the Land of a Thousand Smiles! For more information, visit Tourism Authority of Thailand's (TAT) official website and their Facebook page.
After all, once you cast aside your tourist self, and start experiencing life like a local, your stay in Thailand would certainly be more rewarding.
---
Brought to you by the Tourism Authority of Thailand Singapore Office.