Contributed by The Grammar Fuhrerin
I love stories.
The one thing that reconciles my two opposing loves to curl up at home to read and to travel as far as I can go is the love of a good story.
I collect stories.
Sometimes I find them in books.
Sometimes not.
Which is why though I consider myself a bookworm, you won't find my nose stuck in a book for more than an hour at a time.
I get up and stretch and take a walk outside, hoping to chance upon a story.
And whenever an opportunity arises, I pack my bags and travel.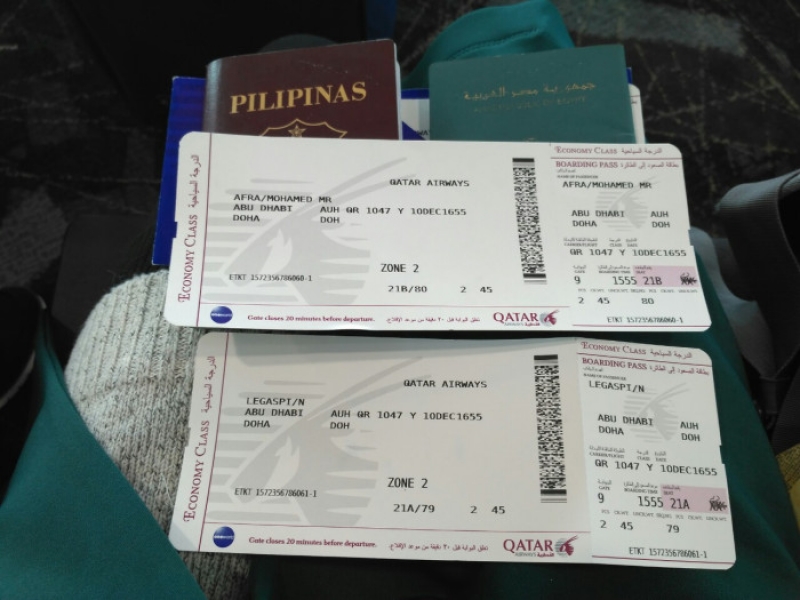 Kind of like a few days ago when I was in Egypt spending a full month touring, eating, making odd gestures to make up for my inability to speak more than 20 Arabic words…
Koshary + Shawarma + Kebab = My Egyptian Vocabulary
… But mostly, collecting stories.
This blog contains some of the stories I have not only had the pleasure to listen to but also to live and breathe in.
This is Part 1 of my 3-Part blog chronicling my Enigmatic Egyptian experience.
Also read: Solo in Egypt: 7-Day Itinerary and Costs
Giza Pyramids
Two days before Christmas, Adam's Mama organised a full day trip to Giza and Cairo. She asked a family friend, Iman, to drive us from our home in Tanta to the capital and back.
Our first stop was the Giza Pyramids.
But first, a quick trivia question: How many pyramids are there in Giza?
There is, of course, the Great Pyramid of King Khufu.
And the Pyramid of his son, King Khafre.
And still another one for his grandson, King Menkaure.
But there are not just 3 Pyramids in Giza.
Also read: Grand Egyptian Museum: Next Big Thing After The Pyramids
There are as many as 9, if you're like the resident tour guide who counted the Mastabas (burial structures for the nobles), a fun fact even a born-and-bred Egyptian like Adam missed out on history class.
The Giza Pyramids were just crawling with enterprising locals with not-so-subtly-hidden agendas.
For one thing, we were duped into hiring a hantoor (a horse-drawn carriage) for Adam's Mama and me.
And two horses for Adam and Iman.
In addition to paying the entrance fee, conniving "tour guides" kept passing us around, each one asking for a tip before handing us to the next "tour guide."
That sort of tricky business initially dampened the pyramid experience, but in the end, it was worthwhile coming face to face with the last surviving of the Seven Ancient Wonders of the World.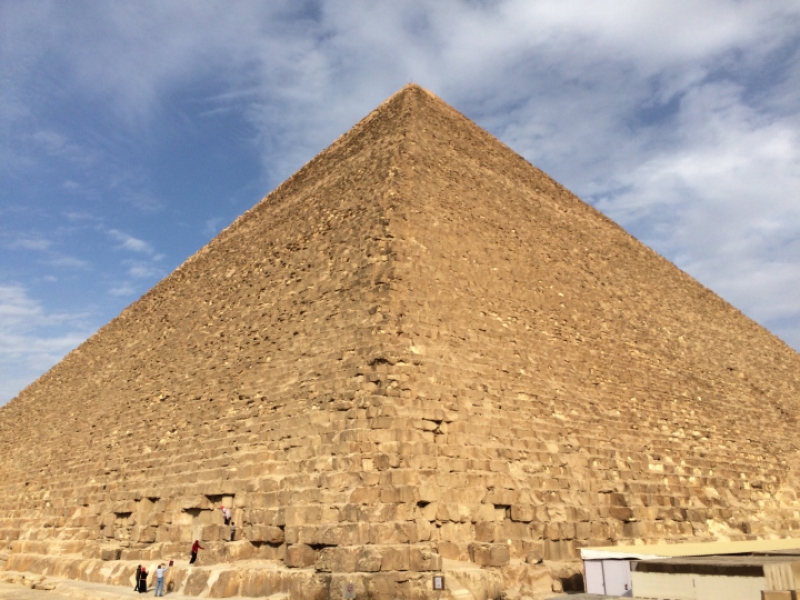 We met our nth tour guide of the day standing at the foot of King Khafre's Pyramid.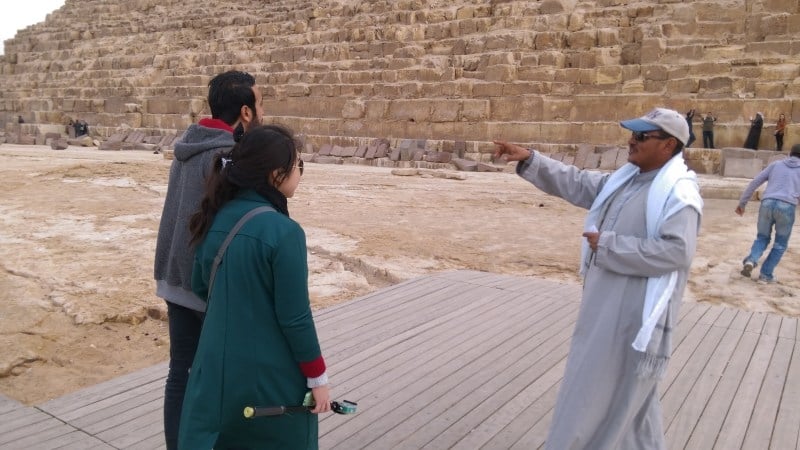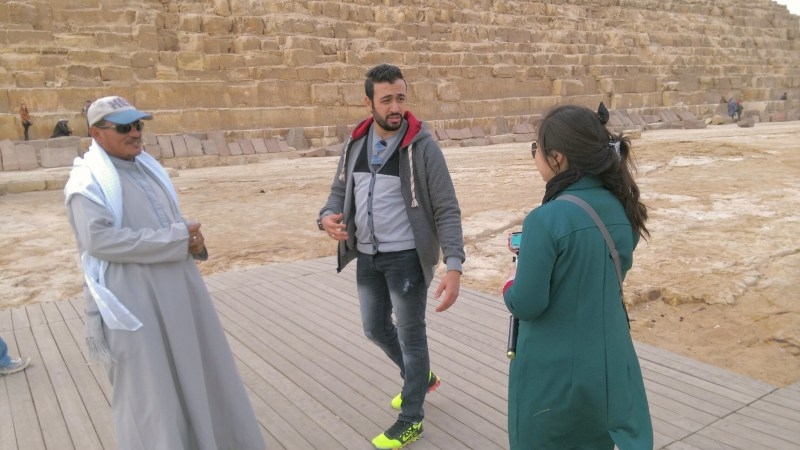 He was the only one who actually provided much-needed historical tidbits, first in English and then in Arabic.
Now, having had a brief stint teaching high school history, I've read a significant amount of material on the Giza Pyramids and ancient Egyptology in general, but some key knowledge still struck me.
Like how the main entrance was constructed in such a way that you had to bow your head in reverence to the king (but mostly not to bump your head on the ceiling).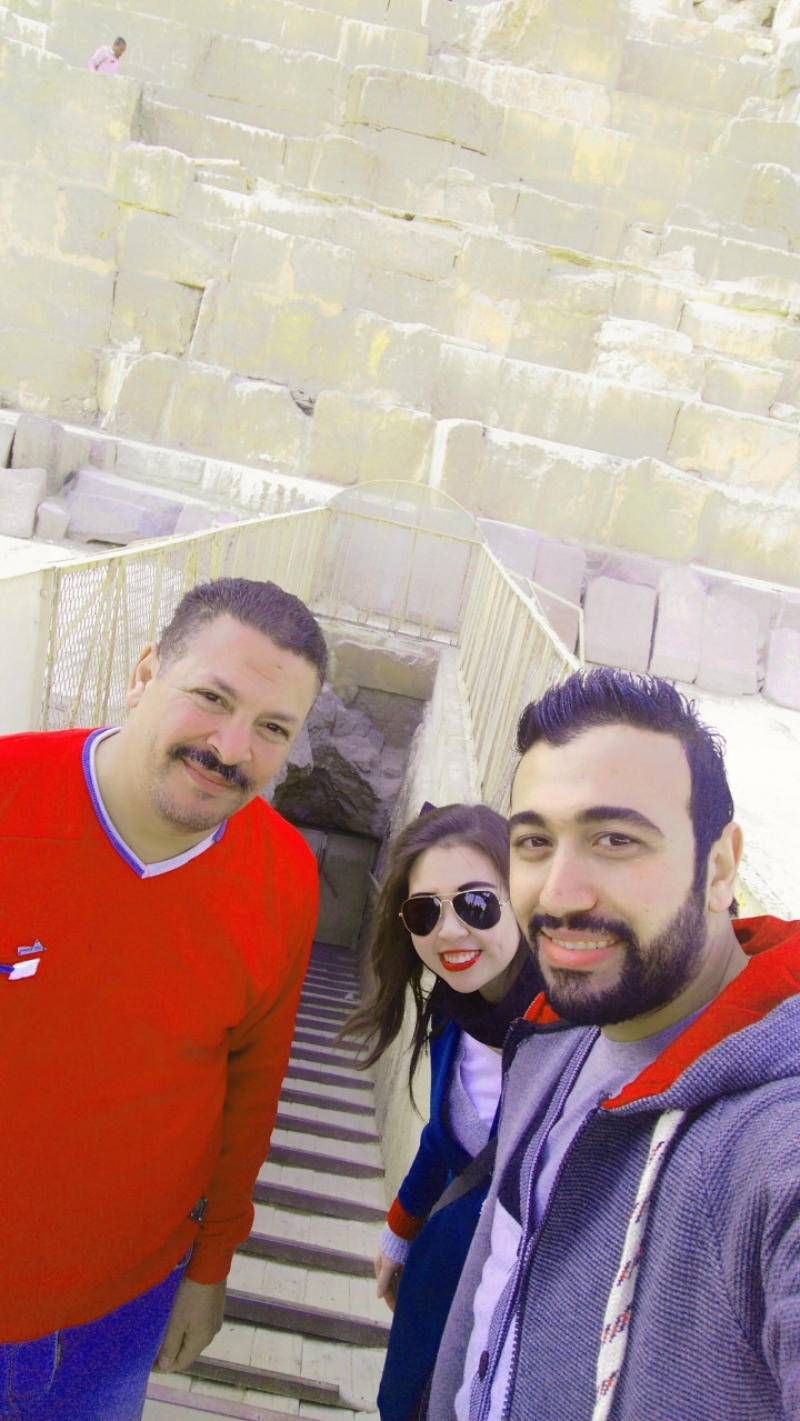 After his speech, the tour guide invited us to ride a camel, conveniently leaving out the part about the 100 Egyptian Pounds per person charge.
I was about to make a pass.
It's not that big of an amount, but we'd been extorted enough for the day.
"If you don't ride a camel in Egypt, it will be as though you never came to Egypt at all."
Adam's camel was a very happy sort of camel, always smiling for the photographs.
Mine nearly threw me off as soon as I seated myself between his humps.
I was terrified throughout the whole ride which lasted from the northern face of King Khafre's Pyramid to the southern face and back.
But getting down from a camel with an attitude (or any camel for that matter) was even harder than getting up.
You had to hold on tight and lean back to counter Newton's Law of Inertia.
Unfortunately, just when I started feeling pretty good about myself for not falling off a camel, I jumped way too soon, and my feet exploded with pain.
I then limped my way back to the group where the tour guide greeted me with a prophecy.
"One day, you will return to the Pyramids and ride the camels once more with your twin children."
Egyptian Museum, Cairo
The mother of all museums, the Egyptian Museum houses the largest collection of ancient Egyptian antiquities.
By the time we reached it, it was already 3 o'clock, having spent a lot more time than anticipated at the Giza Pyramids, on top of multiple bathroom breaks along the way.
Adam's Mama and I were what I'd like to call Bibi buddies.
Bibi is, apparently, Arabic baby talk for "pee."
Being women, we could not just bibi on the side of the road (I'm looking at you, Adam, and your Tarzan yell).
We had to help each other find decent toilets in gas stations, bread factories, and even a mosque.
Of course, a detour meant extra time, but we were Bibi Buddies for life.
Here's a travel tip for you: If you ever decide to go to Egypt yourself, don't rush. Egyptians rarely ever do.
Also read: 10 Awe-inspiring Mosques Around the World Worth Visiting
And you'll just end up sorely disappointed.
Learn to live in the eternal present.
Unless you arrive an hour before the museum's closing time like we did.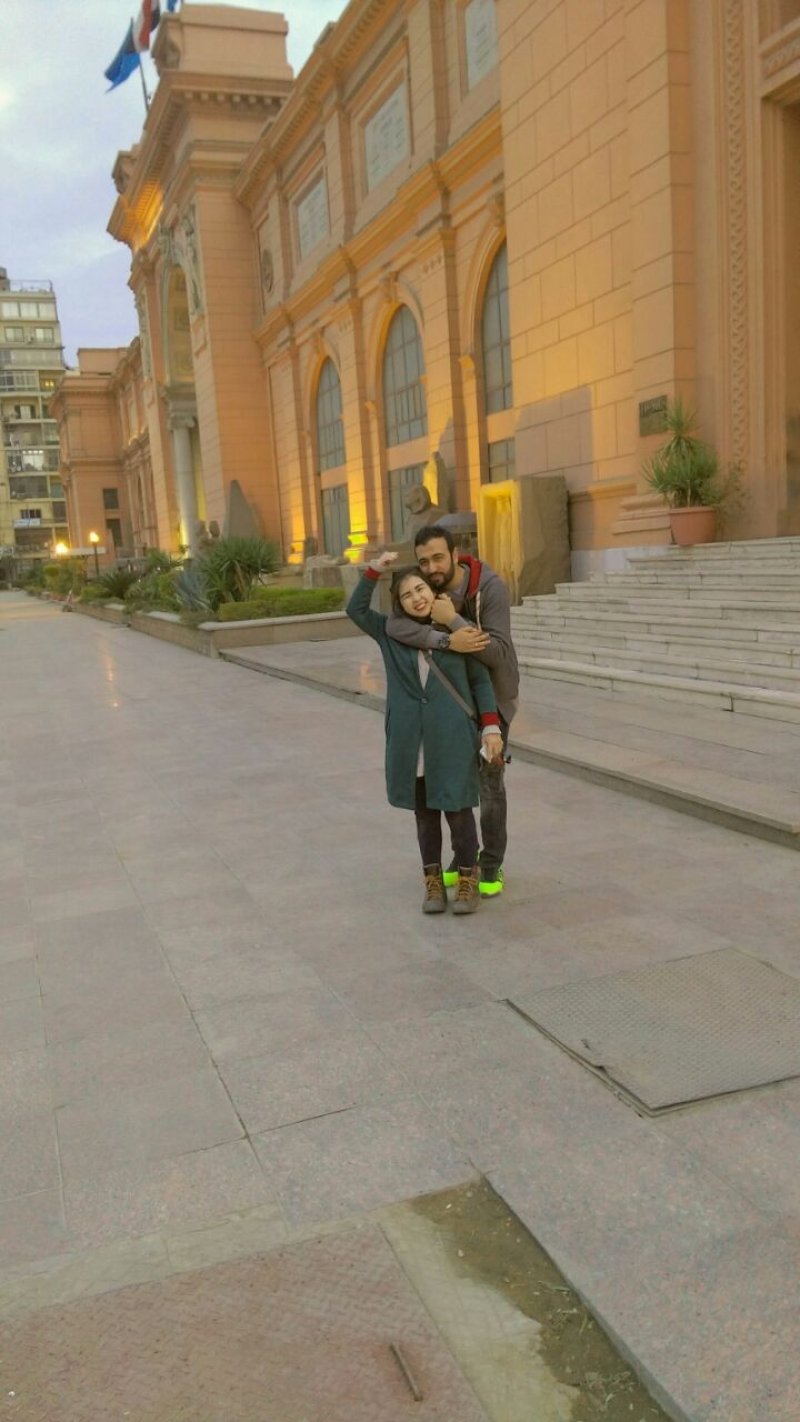 We ended up heading straight for the kill: The Mummy Gallery and the Gallery of Tutankhamun.
Now, access to these two galleries are excluded from the main entrance fee, so additional tickets had to be bought to see millennia-year-old royal celebrities the likes of Ramses II.
And Hatshepsut, the King who actually turned out to be Queen.
(Disclaimer: These photos of Ramses II and Hatshepsut were taken from external websites, due to the Museum's strict no photograph policy inside the Mummy Galleries.)
After exploring each of the galleries located on the East and West Wings of the First Floor (and maliciously sniggering at one royal mummy with an enlarged… organ – also purported to be his cause of death), we went in search of King Tutankhamun's Death Mask.
Also located on the First Floor, King Tut's Gallery contained a staggering showcase of wealth.
Over a hundred pieces of priceless jewellery encased in glass and sarcophagi made of wood and gold and hand-carved with intricate hieroglyphic inscriptions.
Also read: Manshiyat Naser: The Garbage City of Egypt
And at the centre of it all, King Tutankhamun's solid gold Death Mask.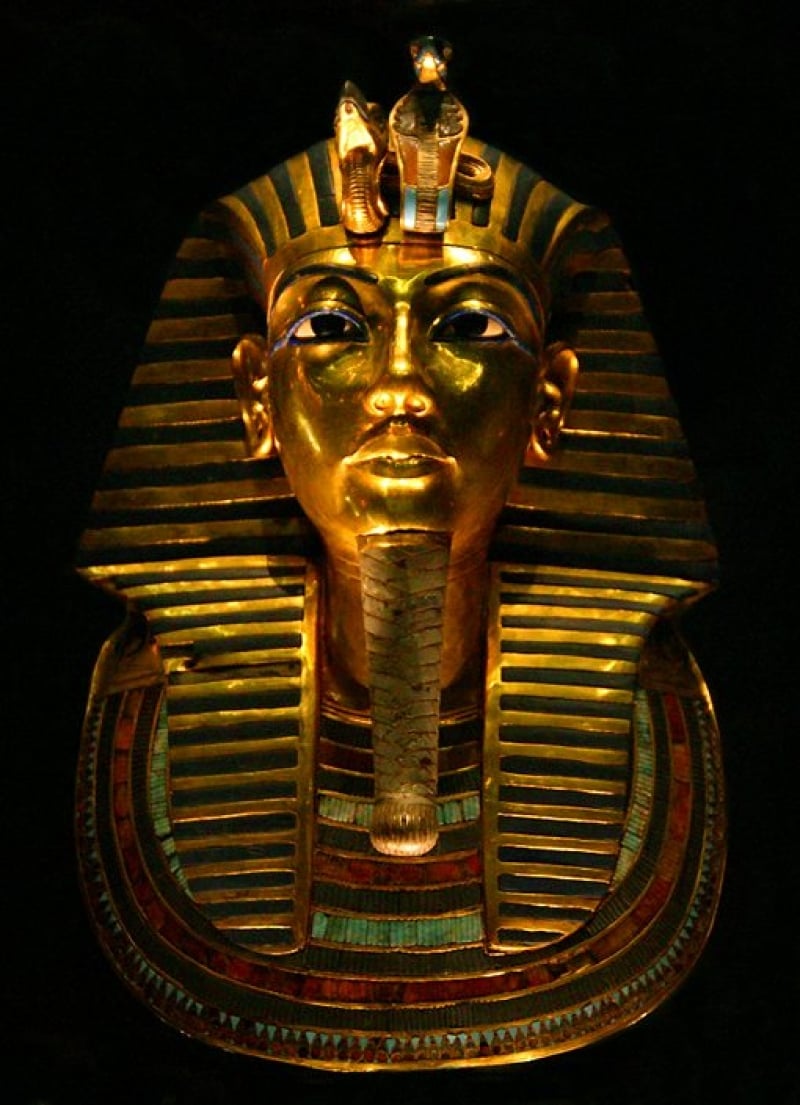 (Disclaimer: This photo was taken from an external website, due to the Museum's strict no photograph policy inside the King Tutankhamun Gallery.)
Outside, his larger personal belongings were also on display, like his reclining bed.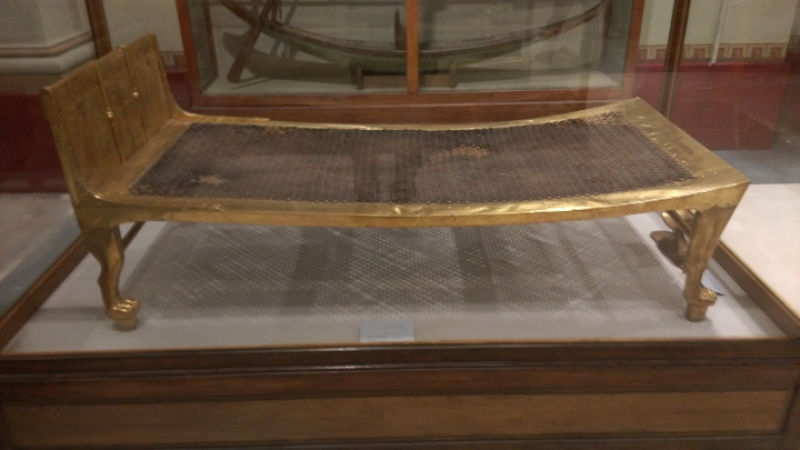 And his golden chariot.
Even in death, King Tut had the ultimate man cave.
Khan El Khalili, Cairo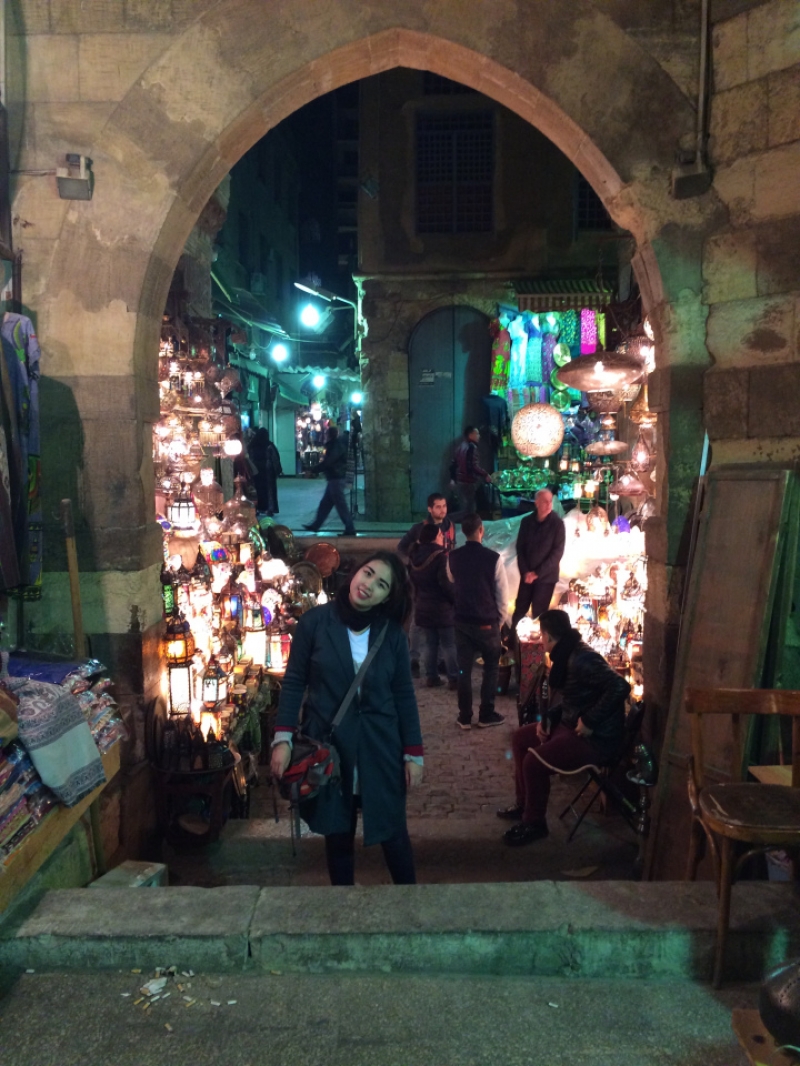 Khan El Khalili is arguably Cairo's most famous bazaar selling souvenirs of every shape and size.
It was the last stop of our full day trip in the capital.
I was more than a little overwhelmed by the pyramid miniatures and pharaoh figurines that I wound up buying nothing but four ballpens topped with golden Nefertitis and Tutankhamuns.
"We came all this way to Khan El Khalili and all you got are pens!" Adam complained between scoops of koshary from a takeaway bowl.
And he was right.
It was ridiculous how hard it was for me to shop when everything I wanted was right in front of me.
The only problem was, I didn't know where to start!
We kept going forward until we reached the end of the bazaar's narrow alleyways and into one of Cairo's oldest streets, Al Muizz.
By then, dusk had fallen all over the city, and Al Muizz's charming Medieval Islamic buildings lit up.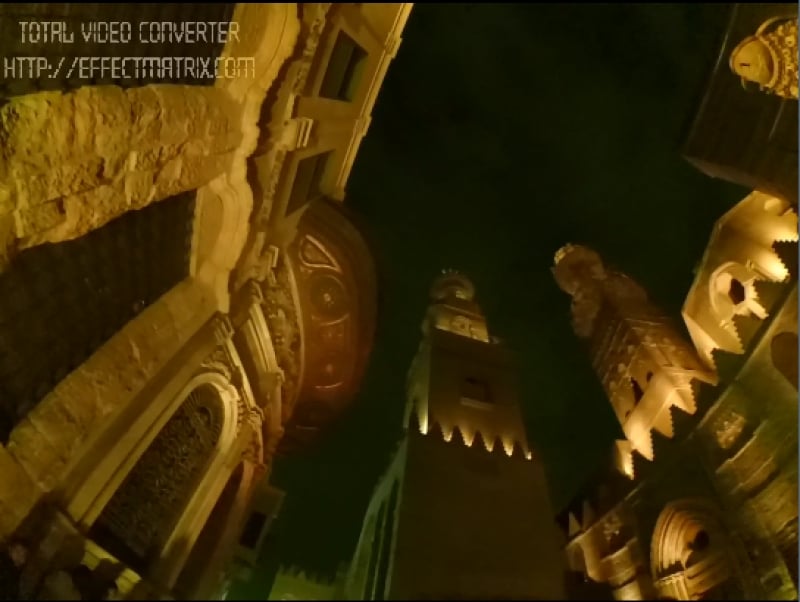 Tourists were not the only ones strolling down the street-turned-open-air-museum, but so did the locals themselves, rightfully proud of their heritage.
After breathing in some much needed fresh air, I decided to drag Adam, his Mama, and Iman back inside Khan El Khalili for one last shopping sweep.
We stopped at one particular shop manned by a father and son duo.
The son was in his 40s, easily the more engaging of the two, and helpfully pointing out the shop's most quirky souvenir pieces.
Not that the shop needed further introduction. It already stood out from the several hundred others.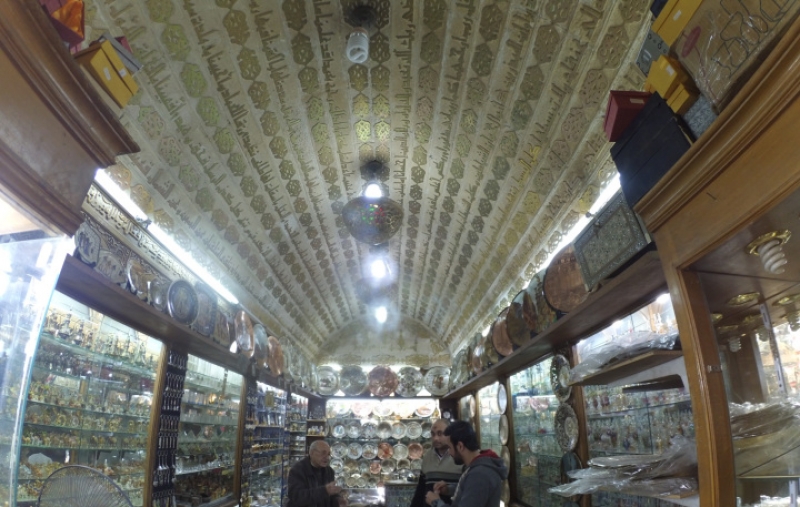 The ceiling was inscribed with Quranic text and fully stocked from top to bottom.
A small table occupied the centre of the shop, its chairs providing customers with a much-needed break from all the shopping and warding off of pesky merchants which a trip to Khan El Khalili entails.
Adam's Mama was the first to seat herself comfortably, while Adam and I tinkered with everything the shop had to offer.
Whenever we liked something, we would place it on the table in front of Mama who would haggle for the best price, first with the shop owner's son (whom she easily defeated), and then with the shop owner himself, an 80-year-old with sharp business acumen (though not as sharp as Mama's!)
Watching Mama haggle was pretty amusing because it showed a completely different side of her.
She was totally in her element, bringing down my glass pyramids, decorative plates, and miniature sarcophagus to almost half their original price.
And all this she did while sipping a cup of tea which she made the shop owner buy for her.
So much win!
We walked away with at least 10 kinds of souvenir pieces and 500 Egyptian Pounds worth of savings.
On the way out, I spotted a jewel-encrusted pyramid ashtray from another nearby shop.
All I could think of was that it was perfect for my dad.
Following Mama's lead, I confidently haggled and brought the price down from 250 to 200 Egyptian Pounds, but Mama still made me walk away when the shopkeeper refused to budge further.
We found one last shop which sold the exact same ashtray.
The shop owner was so impressed by Mama's haggling skills (she brought down the price all the way to 160 Egyptian Pounds), that he brought her a gift, a basket from which she took two keychains to remind her of her awesomeness.
As an extra reward for being World's #1 Mom (and Shopper), Adam carried Mama's bag for her.
Stay tuned for Part 2 of Enigmatic Egypt.