Istanbul, the city that straddles both Europe and Asia, is a fascinating destination in its own right. Its spectacular sights, rich heritage, and unique amalgamation of Eastern charm and Western allure beckon to be explored. With so many things to do and places to see, finding the right place to put up is key — you can be at the heart of all the action and have a plethora of attractions on your doorstep. That's why we've rounded up a list of Airbnb rentals in Istanbul that'll make you witness the city like never before. 
Come along and discover the best Airbnb options in Istanbul. Trust us on this, you'll wish you never have to bid adieu to this majestic city in Turkey. 
Also read: 5 Beautiful Places in Turkey You Need to Visit
Top Airbnb vacation homes in Istanbul
1. This stunning duplex with commanding views of the Bosphorus Strait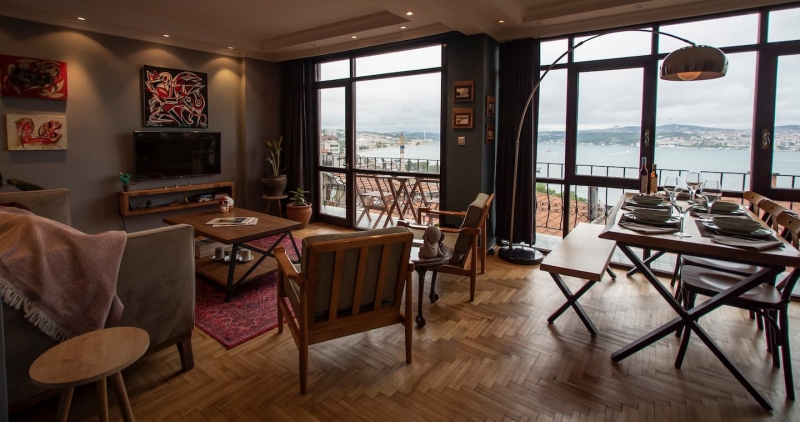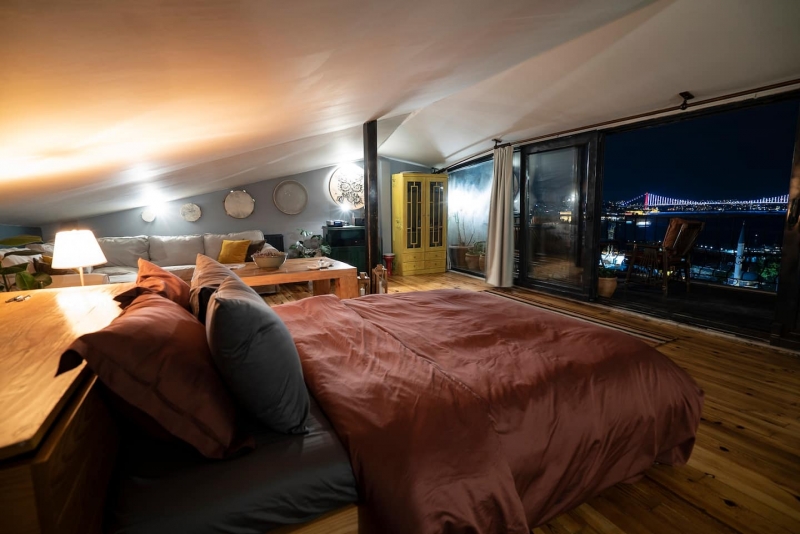 ​​Listing name: Panoramic Bosphorus View · Dublex · Terrace
Listing type: Entire home 
Max. no. of guests: 6
No. of bedrooms: 2
The Bosphorus Strait connects the Asian part of the city to its European counterpart, making it a strategic location. Now, imagine staying at this prime spot where you can feast your eyes upon the waterway and feel the breeze in your hair during your sojourn. That can be a reality if you put up at this stunning Airbnb duplex in Istanbul. With two bedrooms, well-appointed amenities, and a patio that looks out to the strait, you can get about your day with an unparalleled setting to set the mood.
If you're travelling with a large group, secure the bedroom outfitted with a king-sized bed on the upper floor. Why, you may ask? It boasts floor-to-ceiling windows overlooking the coruscating seascape. Nightfall is illuminated by the iconic Bosphorus Bridge lighting up in a cadence of colours — a sight to behold from your exclusive sanctuary. 
2. This rustic loft in the heart of the city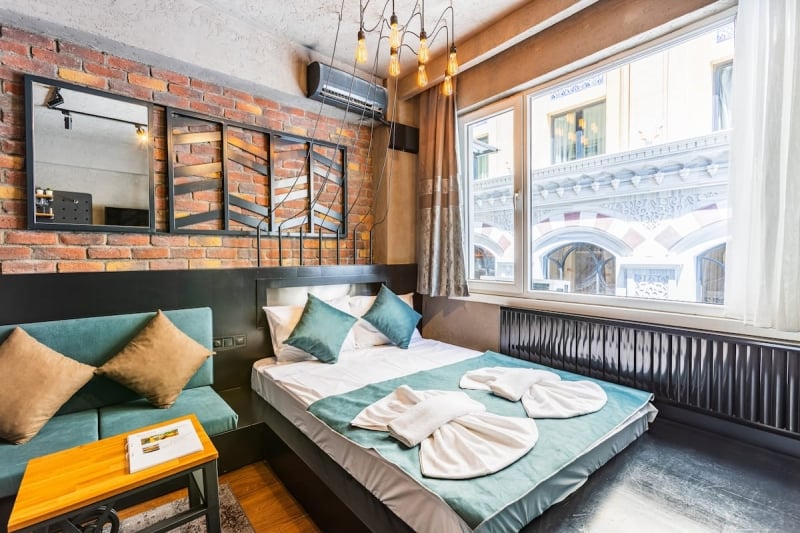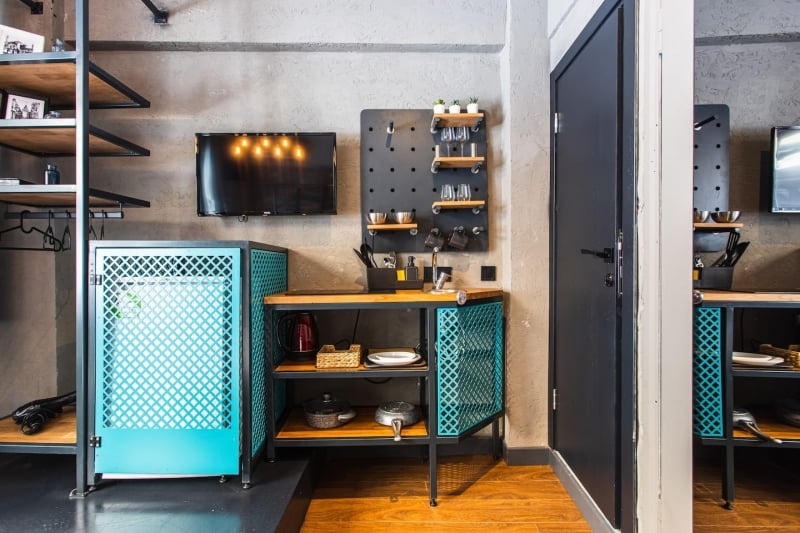 Listing name: Loft Industrial Studio with Wifi 4FLOOR-DSINFECTED
Listing type: Entire home 
Max. no. of guests: 2
No. of bedrooms: 1
Oozing with old-world charm, this Airbnb in Istanbul is the stuff of dreams. You can look forward to a compact space brimming with everything you need for a comfortable stay. Think of the likes of a fully-equipped kitchenette, ample seating space, complimentary WiFi, and both aircon and central heating. Perhaps the most attractive aspect is that it is within walking distance of a plethora of tourist attractions and public transport services. Plus, you can avail of a special discount at the host's restaurant downstairs. 
3. This modern and immaculate nest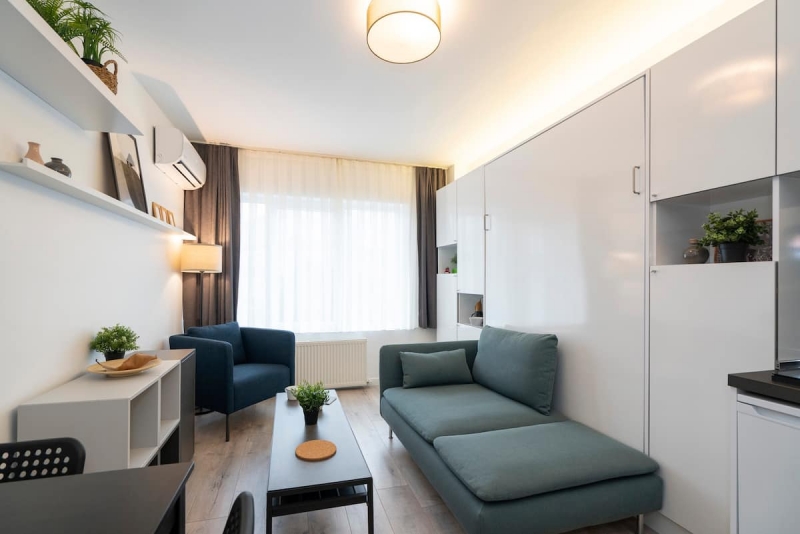 Listing name: G1 Compact Flat
Listing type: Entire home 
Max. no. of guests: 2
No. of bedrooms: 1
One look at this modern dwelling and you may be under the impression that you're holing up at a serviced apartment backed by a world-class hospitality brand. Here, the clean silhouettes paired with warm accents create a relaxing atmosphere that's ideal for your break. While you will never feel like leaving the comfort of your own holiday home, you will be pleased to know that its accessible location in Istanbul makes it easy for you to get to just about anywhere. 
4. This tasteful retreat at the heart of Istanbul's most famous street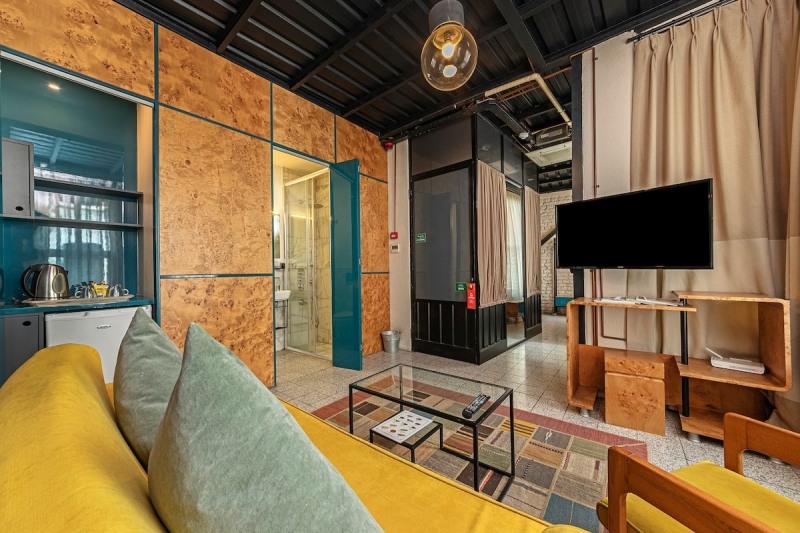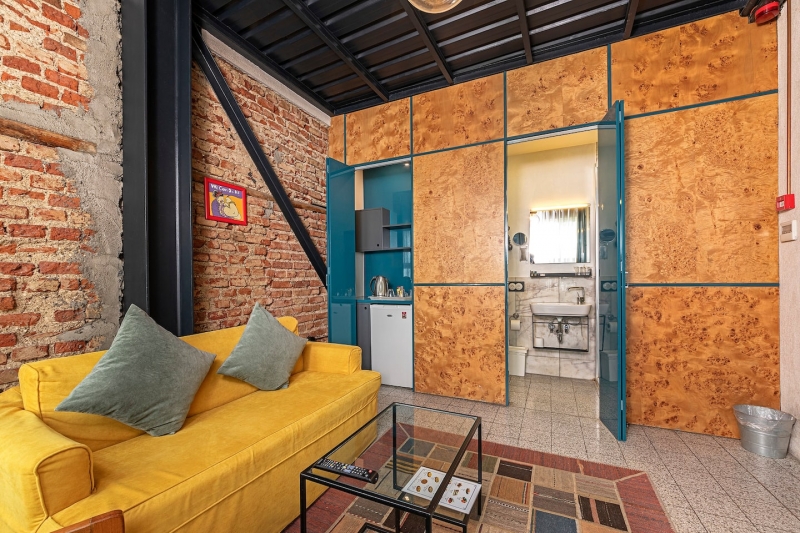 Listing name: Retro Design 1 – Raven Suite 1+1 Taksim Istanbul
Listing type: Entire home 
Max. no. of guests: 2
No. of bedrooms: 1
Vibrant and vivacious just like the street it is nestled in, this Airbnb listing in Istanbul will keep you in high spirits. Apart from its splashes of colours and quirky furnishings, you can reach Taksim Square in just two minutes. For the uninitiated, this famed district is where you can dive into a flurry of activities such as shopping, eating, and partying. And, when you stay close by, there is no reason for you to miss out on a whale of a time. 
5. This charming abode with an expansive balcony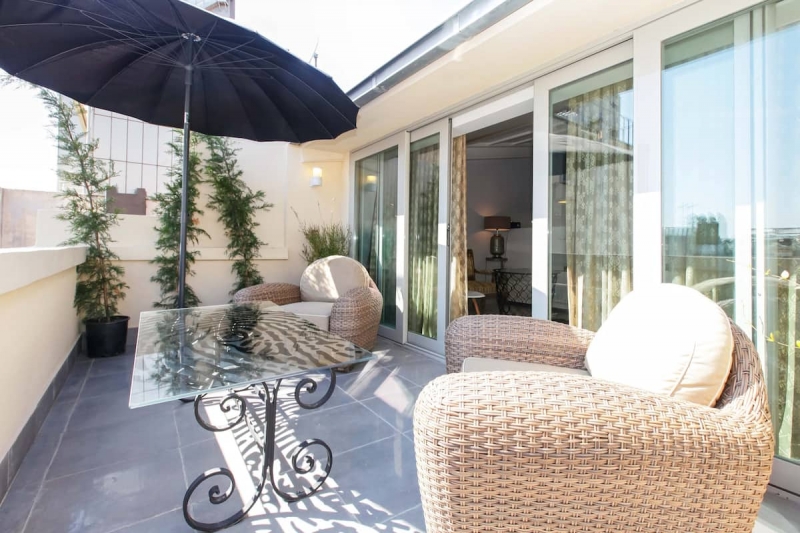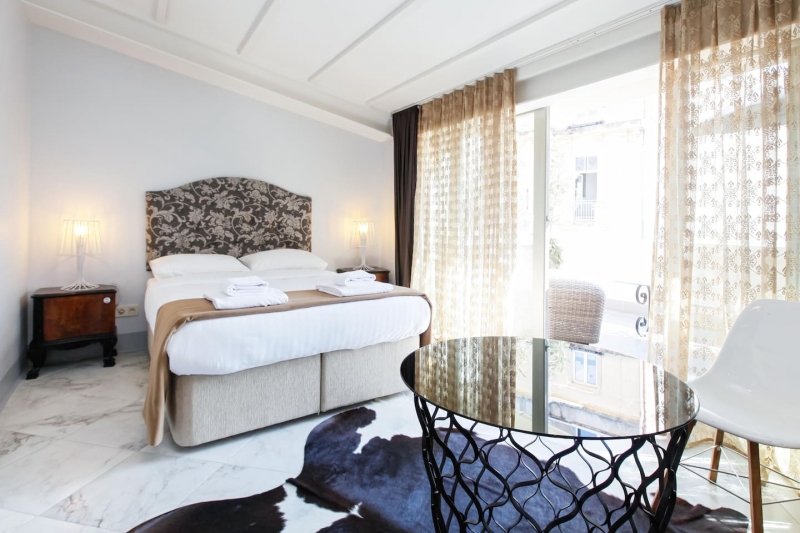 Listing name: Couple friendly, Cute Roof w terrace in Beyoglu
Listing type: Entire home 
Max. no. of guests: 2
No. of bedrooms: 1
If a great location is at the top of your list, you'll be in for a treat at this gorgeous space. Situated in Beyoğlu (the European side of the city), this Airbnb in Istanbul lets you wander the quaint streets and while your time away with a multitude of endeavours. Make your way to the Dolmabahçe Palace, Istiklal Caddesi, and Galata neighbourhood with ease. 
Once you have soaked up the historical district to your heart's content, retreat to your exclusive space and unwind at the open-air balcony. Alternatively, catch up on your favourite Netflix shows — there is complimentary WiFi and satellite television for you to enjoy. 
6. This chic studio with an artistic flair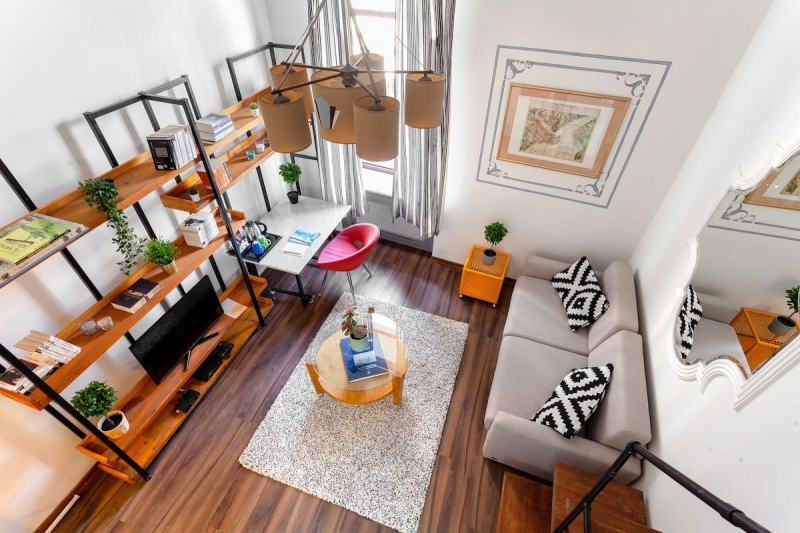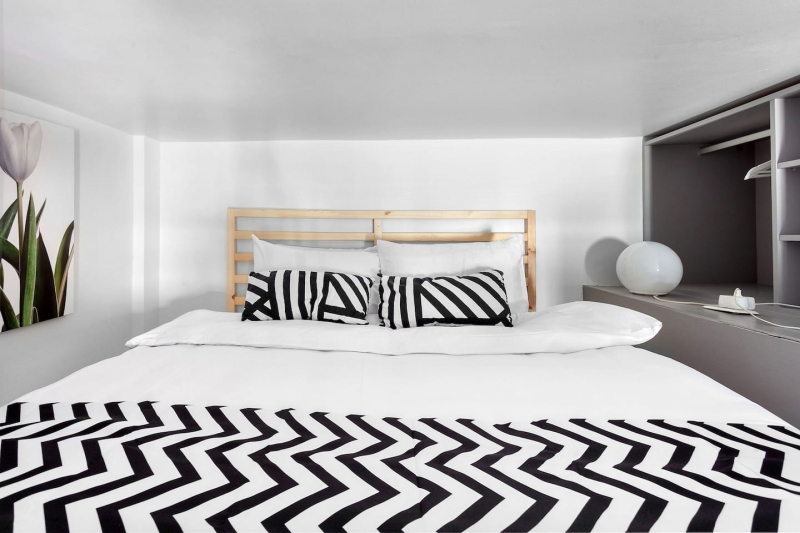 Listing name: Cozy and Minimalist Apartment in Center | B1
Listing type: Entire home 
Max. no. of guests: 3
No. of bedrooms: 1
This super-chic Airbnb in Istanbul has so much to offer, without costing an arm and a leg. Well-furnished — check. Instagram-worthy — check. Functional — check. A great location — check. Our favourite part: The separate section for your bedroom, which you can access by an industrial-style staircase. How cool is that, seriously? Also, you will not be far off from a variety of attractions including mosques, churches, and shops.
7. This gorgeous unit with an open-air terrace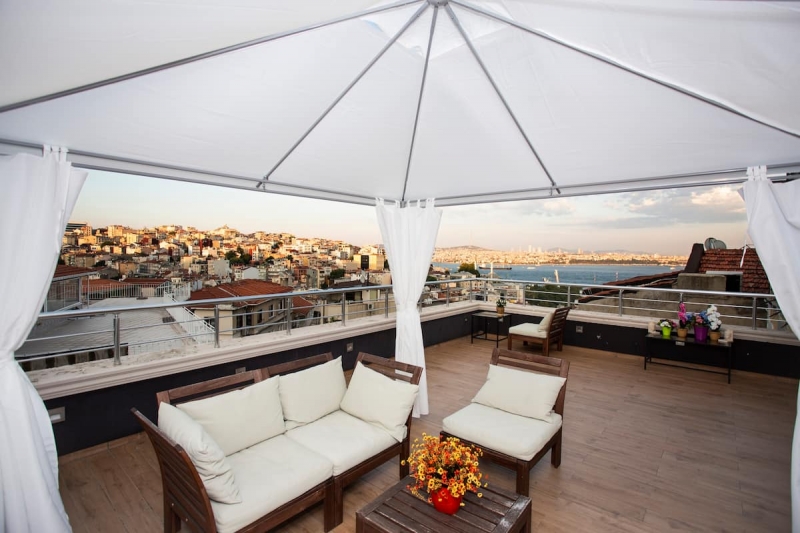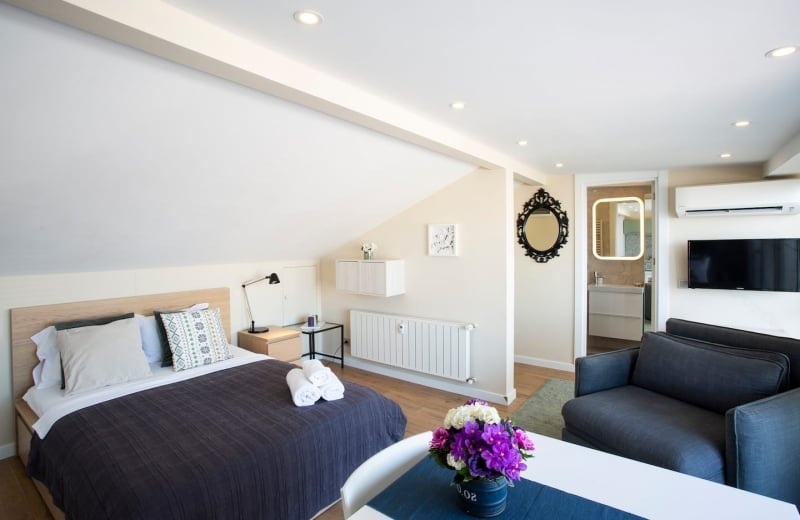 Listing name: Breathtaking Seaview and Big Terrace (9)
Listing type: Entire home 
Max. no. of guests: 3
No. of bedrooms: 1
The highlight of this Airbnb listing in Istanbul is its spacious terrace, complete with a cabana where you can indulge yourself in breathtaking views of the reposeful sea. And if that isn't enough, the Superhost has arranged a multitude of amenities to see to it that guests enjoy a comfortable stay that'll leave an indelible impression. Top it off with the raving reviews from over 170 guests, and you know you have a steal. 
​​8. This heavenly quarter with a Turkish bath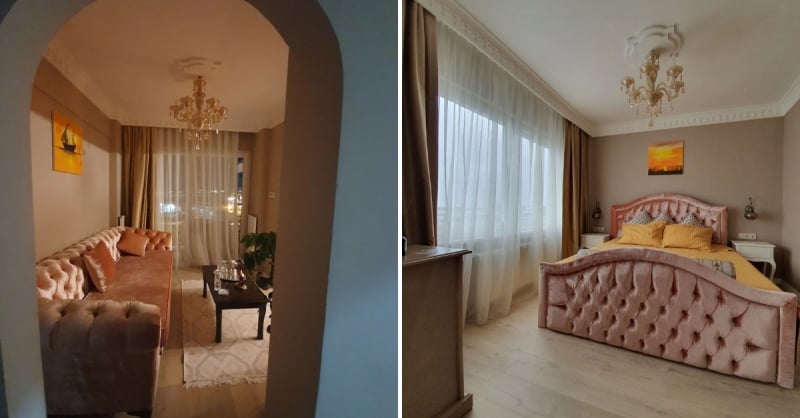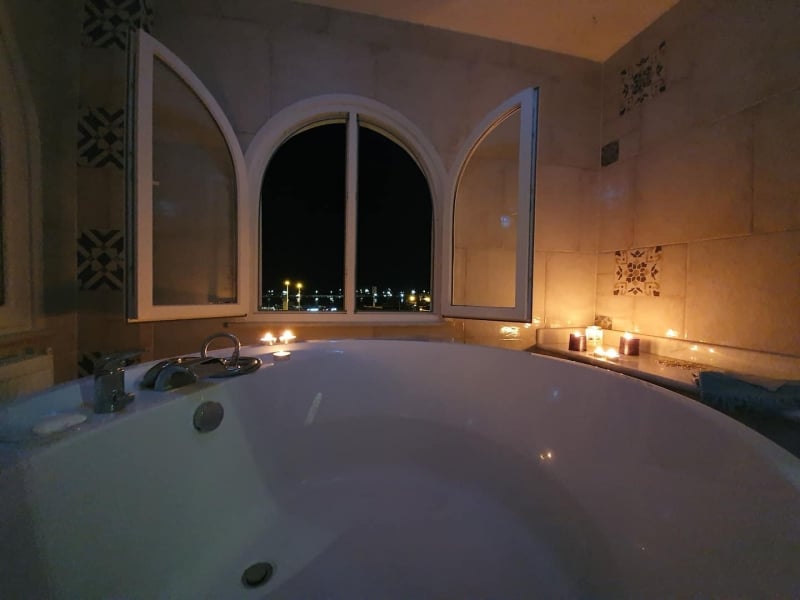 Listing name: Sea view flat – includes Turkish bath in Old Town
Listing type: Entire home 
Max. no. of guests: 2
No. of bedrooms: 1
After traversing the Kumkapı quarter in the Fatih district of Istanbul, unwind with a good, long soak to melt away all the knots in your muscles. With a hammam situated in the master suite of this Airbnb and an awe-inspiring sea view which you can peek at from the window to boot, there is no need for you to pencil in an appointment at any spas. With the addition of luxurious furnishings that extend to every nook and corner of the house, you can live life on the regal side. 
Also read: 15 Airbnbs in Croatia for a Relaxing Mediterranean Holiday
Have you decided which of these Airbnb listings in Istanbul will be your home away from home? Let us know in the comments section!