For foodies around the world, Malaysia is a treasure trove that needs no introduction. This Southeast Asian gem is home to tantalising street food and local cuisine that will thrill, excite, and stimulate even the most sophisticated palettes. In fact, Malaysian food is so diverse that most people, even Malaysians, sometimes have trouble deciding what to eat. 
So, if you're a traveller fresh off the plane, you're probably wondering: What to eat in Malaysia? Trust me when I tell you, even locals ask that question at least twice every day. Don't worry though because here is your friendly, neighbourhood local travel guide to help! Here are the 15 staples of Malaysian food that you need to try! 
Also read: Snacks in Malaysia: 10 Delicious Grubs That You Can Buy Online!
1. Nasi lemak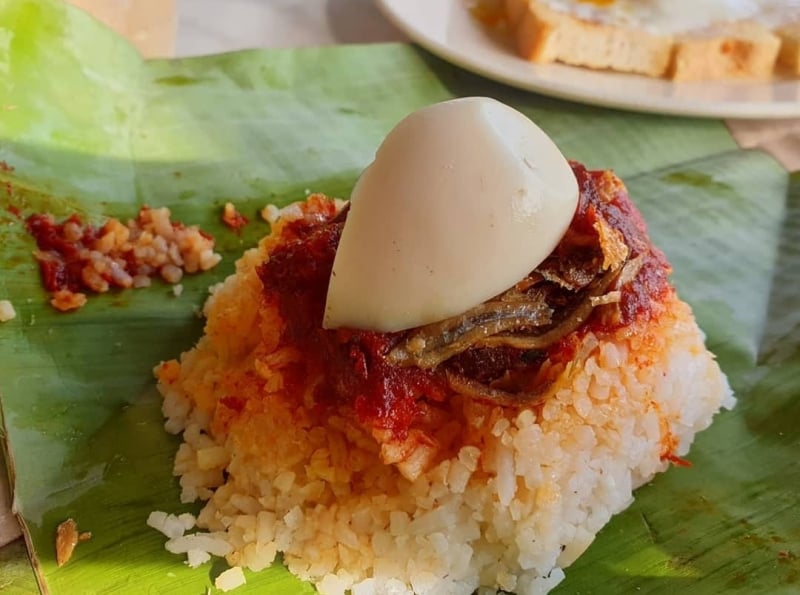 Obviously, we HAVE to start with nasi lemak. Not only is it considered Malaysia's national dish but it is also often considered a breakfast staple in this food haven! That being said, nasi lemak can be enjoyed any time of the day, for lunch, dinner, even for tea and supper! 
This fragrant dish consists of rice cooked in coconut milk and topped with spicy-sweet sambal, crunchy fried anchovies, peanuts, and half a hard-boiled egg. The fluffy rice, infused with the sweet aroma of coconut milk, goes extremely well with the kick of the sambal. The texture of the anchovies and peanuts further elevates this simple dish to food-orgasmic heights!
Psst! Here's an expert tip from your local foodie! While you can find nasi lemak served in plates at a variety of restaurants, the best, most authentic nasi lemak is usually served wrapped in banana leaves. They are often sold at roadside stalls and should cost no more than RM3 (about S$1).  
2. Nasi kandar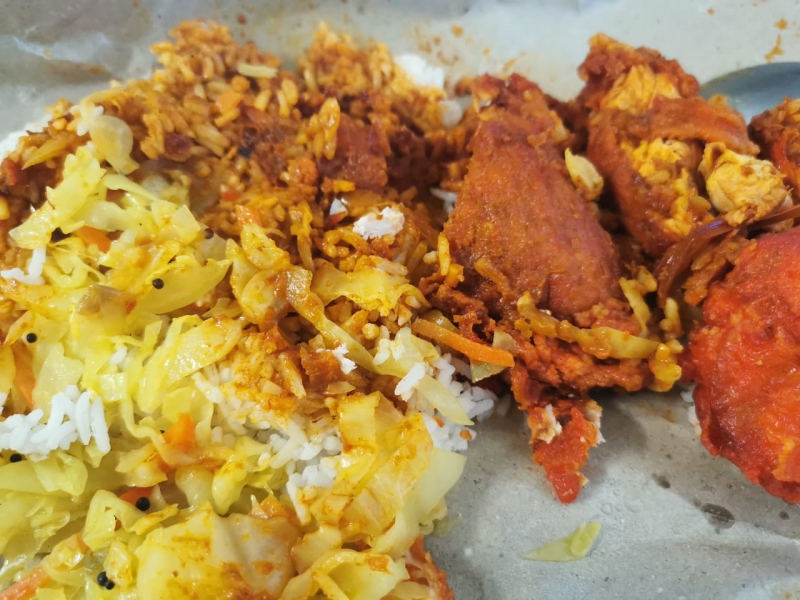 Usually, when Malaysians think of nasi lemak, their minds subconsciously also think of nasi kandar. It's a weird word-association thing that I'm sure most local foodies can relate to. For me, even though nasi lemak is the national dish, nasi kandar is the Malaysian food that best exemplifies the country's racial diversity.
A typical meal of nasi kandar comes with rice topped with your choice of dishes. The most typical combination is fried chicken + stir-fried cabbage in turmeric, and a fried egg, even though other dishes, derived from the different cooking styles of Malaysia's multiracial community, are also available. 
Usually, you simply point out what you want to the server behind the food counter. The BEST part about nasi kandar though, is at the end when you say, "kuah campur". This roughly translates to "mixed gravy." Watch as the server floods your plate of rice with a mixture of hearty curries and sauces. This is what makes nasi kandar such a beloved dish. You HAVE to try it!
3. Rendang
Guys, say it with me: Rendang should not be crispy! For those of you who don't know the reference, this is a phrase that rose to infamy in 2018, when a Malaysian contestant on Masterchef UK prepared chicken rendang and was told by the judge that it was "not crispy." 
Malaysians, along with Indonesians, and Singaporeans, showed a rare glimpse of culinary unity and rushed to the defense of the dish. After all, rendang, being a traditional dish that involves braising and slow cooking meat (usually beef or chicken) in coconut milk and spices, was never meant to be "crispy" in the first place. 
Instead, it is best enjoyed when paired with a plate of fluffy rice. The rich and creamy sauce (or whatever is left of it after most of it evaporates) and the tender meat is truly a sensational experience for the palette! I daresay that rendang is also one of the most popular Malaysian dishes that is enjoyed by all races and ethnicities in the country! 
4. Laksa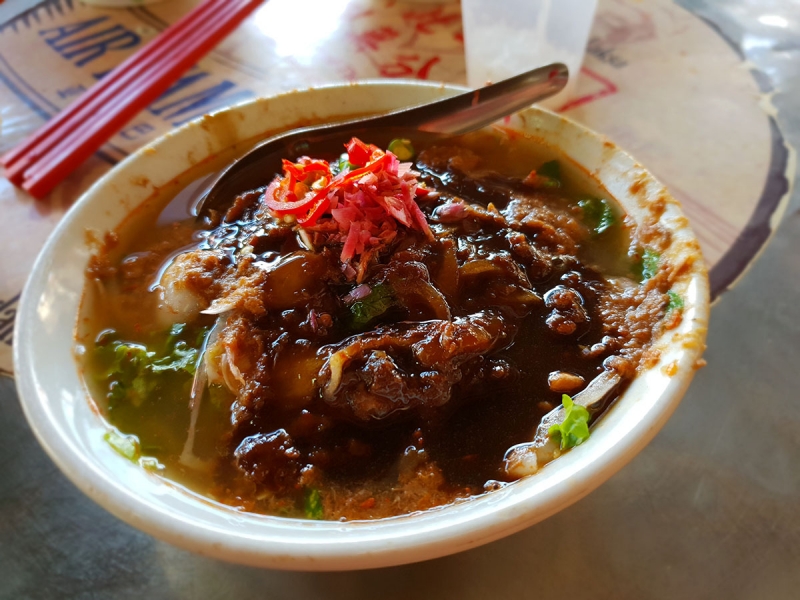 Another staple of Malaysian food that you need to try is laksa. It's hard to describe exactly what laksa is. Not because I don't know how to, but more so because I'm not sure WHICH laksa to describe! 
You see, in almost every region of Malaysia, there is a different kind of laksa. There's Penang's famous assam laksa, Johor's unique spaghetti laksa, the typical laksa noodles of Kuala Lumpur, and Sarawak laksa which was famously hailed as "the breakfast of the gods" by the late Anthony Bourdain. 
Personally, as a Penang boy, I love Assam laksa. It is sour, spicy,  savoury, and topped with minced mackerel and fresh mint for a blast of minty freshness. That being said, Sarawak laksa, served with fresh, juicy prawns, is pretty good too! 
Also read: 9 Different Types of Laksa in Malaysia and Where to Find Them
5. Char koay teow
Speaking of Malaysian food that is popular in Penang, char koay teow is another staple you can't miss. If you watch Uncle Roger frequently, I'm sure you remember the phrase "wok hei," or "breath of wok" as the Malaysian comedian calls it. Basically, wok hei refers to stir-fried food that is infused with a smoky aroma and flavour. 
Char koay teow is one of the Malaysian dishes that best capture the essence of wok hei. It is a simple dish, consisting of flat rice noodles, pork lard (not always), bean sprouts, fresh shrimp, and egg (although other ingredients are sometimes also added). 
Stir-fried over high heat in a seasoned wok, the resulting dish is a mouth watering experience bursting with flavour in every bite! Penang is the most famous destination for char koay teow. And no, this time, I'm not going to be neutral and say that other locations have good char koay teow too. Penang char koay teow is the best. End of. 
6. Nyonya cuisine
Now, THIS is the kind of Malaysian food staple that will keep you coming back for more. The Baba Nyonya (or Peranakan) community is a unique ethnic group in Malaysia that descends from the interracial marriages between Chinese settlers and local Malays in the country from centuries ago. 
Their culture incorporates both Chinese and Malay customs and traditions that is reflected in their traditional clothing, furniture, architecture, and yes, you guessed it, food. Nyonya cuisine is a kind of Malaysian food that is enjoyed by many and features dishes that exemplify the fusion of Chinese and Malay culinary traditions. 
Some of the must-try dishes include pongteh (meat stew that is usually made with chicken or pork), jiu hu char (stir-fried turnip with cuttlefish), and bubur cha cha (a sweet dessert made with yams and sweet potatoes). Even the aforementioned rendang and laksa have Peranakan roots! 
7. Roti bakar
When it comes to underrated local favourites, roti bakar is a breakfast staple in Malaysian food that only locals and seasoned travellers know about. It's basically toast with butter and kaya (coconut jam) served with two runny soft-boiled eggs. 
The way to eat this properly is to first season your eggs (they usually come in their shell so you can have the satisfaction of cracking them into your bowl) with soy sauce and pepper. Mix them up and then dip your crunchy roti bakar into the mixture. The mixture of flavours and textures is simply incredible! It is one of the simple pleasures of life in Malaysia. 
8. Roti canai
A different kind of roti (which means bread, by the way) that is a breakfast staple (even though it can be eaten anytime) is roti canai. Roti canai is Indian flat bread that is cooked to crispy perfection on a flat iron griddle with margarine or ghee. It is usually served with aromatic dhal, although some people prefer it with spicy fish curry or even sugar. 
Roti canai, which means bread that is rolled thinly, is called such because of the preparation before it goes on the grill. The cook will work the dough and stretch it out thinly, before tossing it in the air a few times. This makes the roti canai lighter and fluffier. 
Apart from the original version, there is also roti telur bawang (with egg and onions), roti pisang (with bananas), and roti bom (topped with condensed milk). 
9. Roti John
Completing our trio of rotis is this unique dish called Roti John. Often found in Ramadan Bazaars and night markets in Malaysia, Roti John is basically Malaysia's own version of Subway! 
Served in a baguette style loaf that has been toasted with butter, Roti John consists of fried egg (omelette usually), minced meat, and onions. It is topped with sweet chili sauce and mayonnaise, making this sinfully delicious Malaysian food staple a sloppy culinary experience. My suggestion is to have some tissues ready because you WILL need it once you're done! 
10. Ramly burger
I know what you're thinking: What's that? A burger as a Malaysian food staple? No way! I hear you but Ramly burger is different and something that is uniquely Malaysian. And this is where it pays to have a local guide for this sort of thing. Ramli burger is often sold from roadside stalls and is a staple for supper. 
This late-night snack (or meal) is made using meat patties (chicken or beef) from Ramly, a local frozen food company whose meat patties are so popular, they became their own Malaysian staple. 
The patties are grilled to juicy perfection on a hot iron griddle and sandwiched between heavily-buttered buns. It is then drenched in mayonnaise and chili sauce before being topped with some shredded lettuce, onions, and tomato. If you were my friend and you're visiting Malaysia, I would definitely include this in your food itinerary. 
11. Satay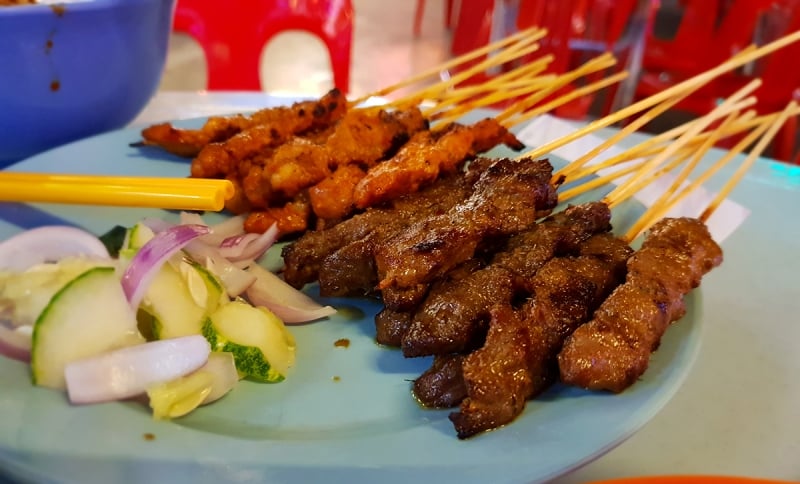 Staying with savoury meat dishes in Malaysia, satay is a popular food that I'm sure many of you already know. It is basically meat on a stick (usually bamboo skewers) that is grilled over a charcoal flame. The meat is often basted in a sweet, savoury glaze as it cooks, and served with hearty peanut sauce, cucumbers, and ketupat, which is rice cake wrapped in palm leaves.
The most common satay in Malaysia is chicken satay, although beef, lamb, fish, and even pork satay is available if you know where to look. That being said, personally, the best satay you will ever taste is found in Kajang (Selangor). Just go up to a local and say "satay stadium mana?" and they'll point you on the way! 
12. Rojak
Of course, Malaysian food isn't all just savoury meats and hearty curries. We love fruits too! Rojak is a…not-so-healthy fruit salad. You see, even though the ingredients consist of fresh guava, turnips, pineapples, and fried tofu, the salad is dressed with a spicy, sweet sauce made with palm sugar. Needless to say, this is one salad that is actually calorie-dense! 
That being said, it IS a refreshing Malaysian food staple that works well as an afternoon snack. The crunch of the fresh fruit combined with tangy sauce is the perfect way to wake your taste buds in the afternoon. 
13. Pisang goreng
On the topic of afternoon snacks, a Malaysian favourite to pair with your afternoon tea is pisang goreng. Essentially, it is a ripe banana that is coated in dough and deep fried until golden brown. The exterior is crunchy as anything else while the inside contains a sweet piece of banana that almost melts in your mouth. 
Usually, stores that sell pisang goreng also sell a variety of other fried Malaysian snacks. These include fried yams, fried sweet potatoes, cekodok (fried dough balls with banana), fried spring rolls, and more. So you can basically make your own variety pack for tea! 
14. Ais kacang
Wanna know what MY favourite tea-time combination is? Pisang goreng + ais kacang. Malaysians reading this are probably chuckling already because they do it too. 
Ais kacang is a traditional Malaysian dessert. It consists of shaved ice and is topped with different syrups, peanuts, kidney beans, sweet corn, grass jelly, and other colourful ingredients. In a country like Malaysia where most days are unbearably hot, an ice-cold dessert like this is a God-send. So, when you're in Malaysia, you definitely need to try it too! 
15. Cendol
Another icy dessert that is a Malaysian food staple is cendol. Made with palm sugar, coconut milk, and green rice flour jelly, this simple but satisfying dessert is most popular in Penang. It is often served chilled and sometimes, it also comes with a piece of durian! 
Now, I like durian, and I like cendol. I DON'T like the combination of the two. But, if you'd like to try, you can! Oh, and speaking of…
Bonus: DURIAN!
Yes, durian is a polarising fruit. I know that. Those who like it love it, and those who don't, are sorely mistaken — sorry, I mean, dislike it with a passion. However, since Malaysia is one of the main exporters of durian, the King of Fruits is definitely a Malaysian food staple to try when in the country. 
After all, fresh durian tastes vastly different from durian that has been frozen and shipped around the world. Musang King is my favourite durian. It is sweet but with a bitter aftertaste. My tip for durian? Try the fruit and nothing else. Stuff like durian cheesecake and ice cream are nice, I just think that durian in its original form is simply the best. 
So much to eat, so little time!
And there you have it: 15 Malaysian food staples that you need to try when in the country! Of course, Malaysians reading this are probably getting ready to comment on how food X, Y, and Z, are missing from the list. 
I know, my fellow Malaysians, I know. But there are so many different kinds of food in Malaysia that I can't possibly list them all at once! Instead, this list should be treated as the essential list from which to start your culinary food adventure in Malaysia. After that, this food haven is your oyster to explore!