Are you a hardcore K-drama enthusiast who watches almost every k-drama out there? WE FEEL YOU! Korean dramas (affectionately known as K-dramas) have gained world-wide recognition over the last decade, with every streaming site racing to broadcast the latest episodes aired in Korea. If you've always wished that you could step into the shoes of your favourite K-drama star – now you can!

Call up your K-drama loving girlfriends and turn fantasy into reality at these 10 K-drama filming sites found all over Korea. 
Get ready, the fangirling starts NOW.
1. Wolmido Island, Incheon
Filming site of: Descendants of the Sun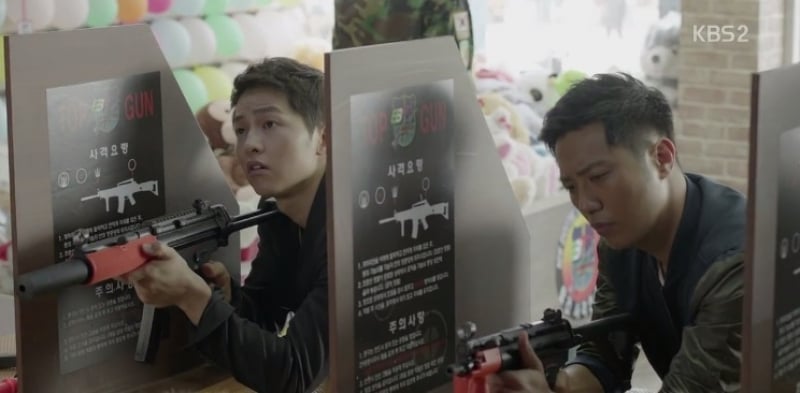 Remember the first few scenes of the drama 'Descendants of the Sun (DOTS)' where Captain Yoo Si-jin and Sergeant Major Seo Dae-young played in a shooting range and won the iconic DOTS soft toys? The shooting range is actually a part of an amusement park in Wolmido Island, Incheon. Play the part with your girlfriends and relive this very moment!
While visiting the park, remember to get your fill of fresh seafood at a cheaper price, relax on the beach and go to one of the many cool cafes there to chill. Another cool thing to check out is the sunken jetty located just off the pier, which has a great view of the sunset.
How to get to Wolmido Island 월미도: Take Seoul Subway Line 1 to Incheon Station and exit at Exit 1. Proceed to take bus number 2 and get off at Wolmido Island bus stop.
2. Daepohang Port Light House, Sokcho
Filming site of: Strong Woman Do Bong Soon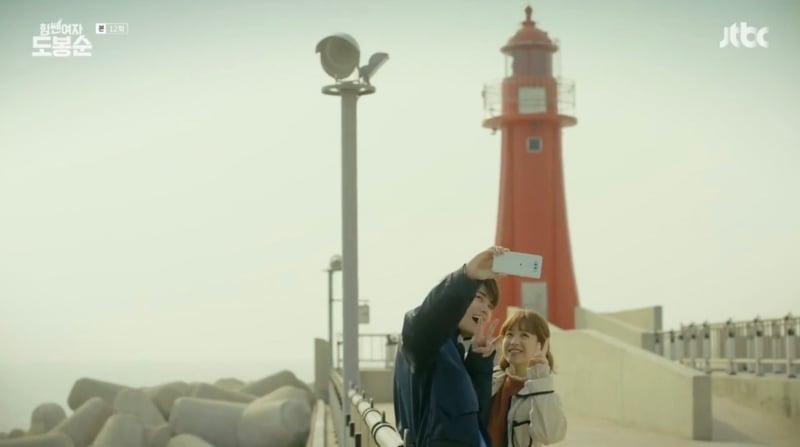 Remember this adorable scene where Ahn Min Hyuk and Do Bong Soon from the drama 'Strong Woman Do Bong Soon' went for a date at the beach side with the bright red lighthouse in the background? It is located in Sokcho, a coastal city where Seoraksan mountain is also located. Hit two birds with one stone and travel to Sokcho to witness Korea's iconic mountain and where the two lovebirds had their first date at.
Do also try the city's speciality dish, dakgangjeong (bite pieces of sweet and spicy chicken), which is perfect to munch on whilst strolling around Sokcho.
How to get to Daepohang Port Light House 대포항:  Take an intercity bus from Seoul Express Bus Terminal to Sokcho for approximately three hours and take bus no 1, 3, 5, 7 or 9 from across Sokcho Express Bus Terminal. After a short two to three minutes ride, alight at Daepohang Port.
3. Jumunjin Beach, Gangneung
Filming site of: Goblin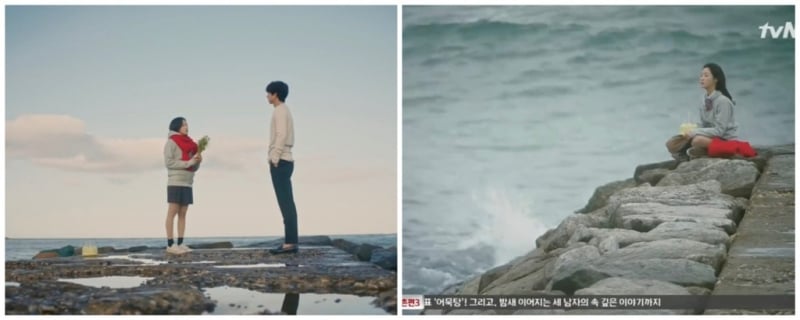 Gangneung is another coastal city located near Sokcho, and is the filming site of Gong Yoo's recent k-drama. Yes, the iconic scene of 'Goblin: The Lonely and Great God' where Ji Eun Tak first summoned Kim Shin was filmed in Jumunjin Beach, Gangneung.
While taking photos in the iconic place, do not forget to try Gangneung's fresh seafood and have some coffee at the coffee street in Anmok beach, located just down the coastline from Jumunjin Beach.
How to get to Jumunjin Beach 주문진해변: Take an intercity bus from Dong Seoul Bus Terminal to Gangneung Intercity Bus Terminal and take bus no 302 or 315 to Jumujin Beach.
4. E-World, Daegu
Filming site of: Weightlifting Fairy Kim Bok Joo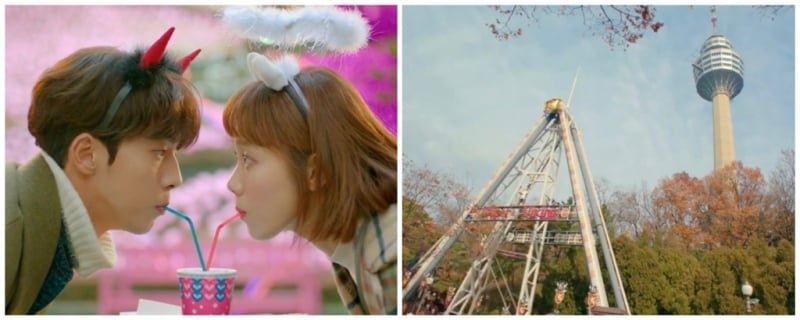 E-world was featured in another famous dating scene, this time from 'Weightlifting Fairy Kim Bok Joo'. This amusement park in Daegu city was where Kim Bok Joo and Jung Joon Hyung went for a "date" with their friends tagging along, and also where the two held hands for the first time in the drama. Remember to visit Daegu's icon, E-world's 83 Tower, while you are there to get a breathtaking 360 panoramic view of the city.
If you happen to come in end April, you might be able to catch Daegu's Dalgubeol Lantern Festival (대구 달구벌 등불 축제) where thousands of lanterns will be released to the sky to celebrate Buddha's birthday. This magnificent sight, coupled with 83 Tower in the background, is one not to miss out on!
How to get to E-World 이월드: Take Korea Train Express (KTX) from Seoul Station to Daegu and take Daegu Subway Line 2 to Duryu Station. Take exit 15 and walk for around 5 minutes to E-World.
5. Chuam Beach, Donghae
Filming site of: My Secret Romance
In the short drama 'My Secret Romance', a Santorini-like resort and beach was used as one of the drama's main filming location. After trying to scour the Internet for the name of this place, I finally found it! The resort used in the drama is Samcheok Daemyung Resort Sol Beach which is located next to Chuam Beach in Donghae.
While strolling on the beach, will you and your girlfriends take on the challenge of finding the 'Candlestick Rock', which is symbolic of Chuam Beach? A small hint: it's the rock formation that points sharply towards the heavens.
How to get to Chuam Beach 추암해변: Take an intercity bus from Dong Seoul Bus Terminal to Donghae Intercity Bus Terminal and take bus no 61 for around an hour. Alight at Chuam Beach bus stop.
6. White Block Gallery, Paju
Filming site of: Introverted Boss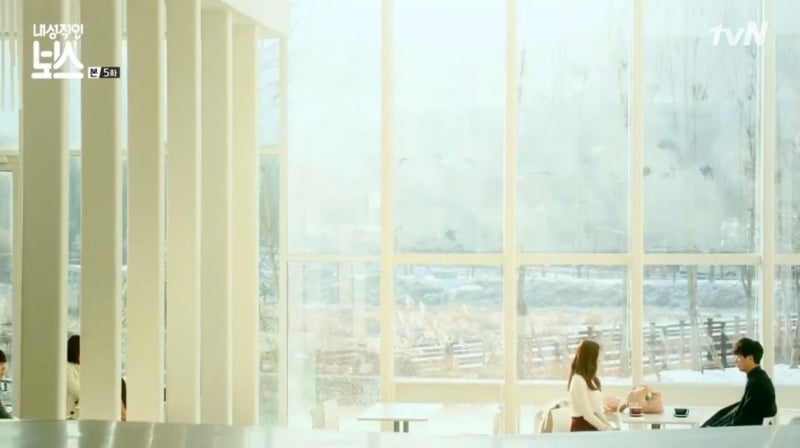 This art gallery cum cafe has been the hot spot recently with seven different dramas using the cafe as their filming location. White Block's cafe in Paju is where Eun Hwan Ki and his secretary, Chae Ji Hye, meets to practice for Eun Hwan Ki's date in  'Introverted Boss'. It was also spotted in the K-dramas like the recent 'Suspicious Partner', 'Legend of the Blue Sea' and 'On the Way to the Airport'. This is not very surprising, especially since the tall glass windows in this gallery results in amazing natural lighting, which perfect for filming (and for your own Instagram feed!).
After snapping all the insta-worthy photos in the gallery, head on to Paju Premium Outlets while you are in the area. Enjoy a mini shopping spree with your girlfriends in more than 165 stores giving you 20 – 65% off on branded goods. I'm sure you will not go out empty handed!
How to get to White Block Gallery 화이트블럭: Take Seoul Subway Gyeongui Jungang Line to Geumchon Station and exit at Exit 1. Upon exiting the station, make a left turn and cross the road to take bus no 900 for around 40 minutes. Alight at Paju English Village bus stop.
7. Daehan Dawon Tea Plantation, Boseong
Filming site of: Legend of the Blue Sea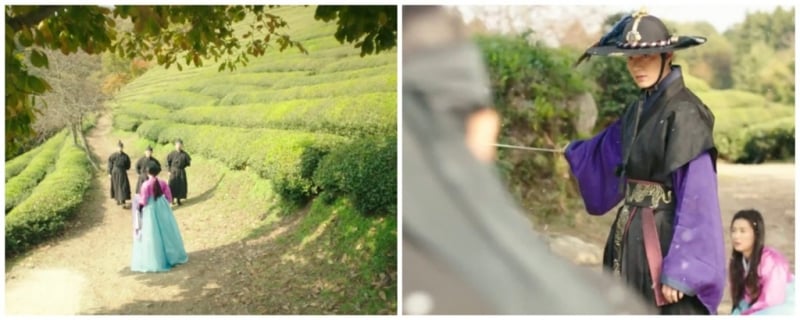 Daehan Dawon Tea Plantation is where Sim Cheong was almost caught by Lord Yang's swordsmen, but is saved in the nick of time by her prince charming, Dam Ryung, played by Lee Min Ho in 'Legend of the Blue Sea'. If you are a green tea fan like me, be ready to feast on everything green tea – they sell everything from green tea ice cream, green tea crackers to green tea ddeokbokki! The vast green tea field is also guaranteed to give you a nice break from the concrete jungle we normally reside in.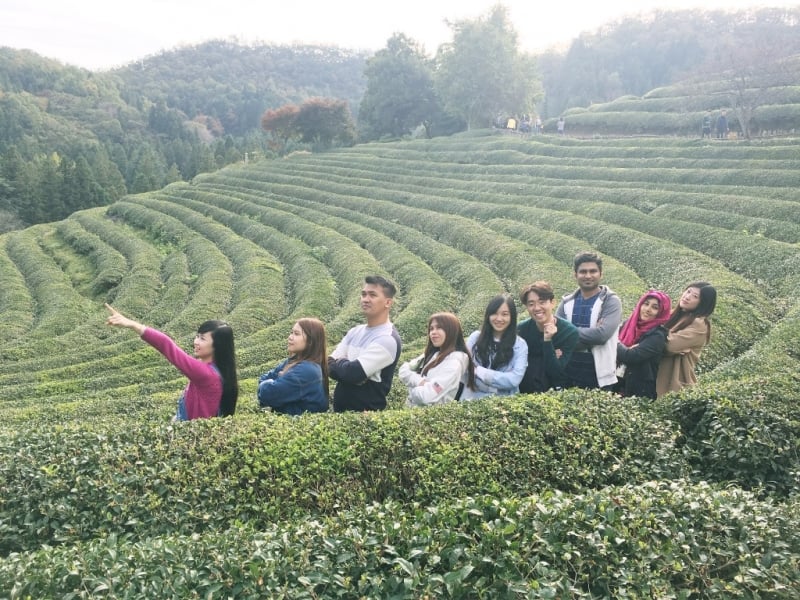 While in Boseong, you can also visit Yulpo beach which is Boseong's iconic beach, the Tibetan Museum and Daewonsa Temple. Also try Jeolla province's signature dish, Tteokgalbi – grilled short ribs patties served on a sizzling hot plate. Yummy!
How to get to Daehan Dawon Tea Plantation 보성녹차밭 대한다원: Take an intercity bus from Seoul Express Bus Terminal to Boseong Intercity Bus Terminal and take a taxi to Boseong Green Tea Plantation for around 15 minutes.
8. Ilsan Lake Park, Ilsan
Filming site of: Radiant Office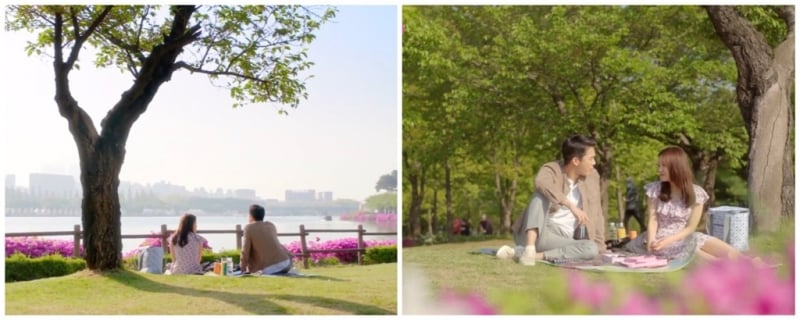 Ilsan Lake Park is another tranquil destination that I like to escape to when I am tired of the city landscape. Although Ilsan Lake Park is still connected to Seoul via Seoul Subway and is located in Ilsan city, the serenity in the park will make you feel like you teleported to a rural area. This park was featured in a recent drama 'Radiant Office' when Eun Ho Won and Seo Woo Jin went for their first picnic date. You can also spot this park in 'Introverted Boss' where they used the lake for a fashion shoot and Eun Hwan Ki was accidentally asked to be a clothing courier.
Make a visit between end April to early May and witness Korea's grand international flower exhibition, International Horticulture Goyang Korea right at Ilsan Lake Park. With over 300 organisations participating and flowers from more 25 countries on display, your trip to Ilsan will probably be one of the highlights of your trip! Stay on after sunset and if you are lucky, you can also catch one or two K-Pop performances in the festival.
How to get to Ilsan Lake Park 일산호수공원: Take Seoul Subway Line 3 to Jeongbalsan Station and exit at Exit 2. Walk for a short five minutes to Ilsan Lake Park from the station.
9. Pocheon Art Valley, Pocheon
Filming site of: Scarlet Heart Ryeo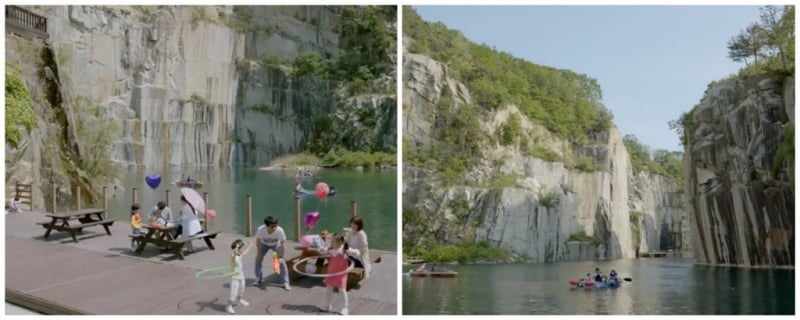 Right at the beginning of 'Moon Lovers Scarlet Heart Ryeo', we see Hae Soo heartbroken at this place. She then tries to save a boy from drowning when she herself drowns in the lake and ends up in Goryeo, Korea's past dynasty. This scene was actually filmed in Pocheon Art Valley, Korea's old granite quarry turned into a shared space for art and culture. Besides the stunning view of the quarry, you will also find yourself amazed by the sculptures built using different mediums such as a variety of plastic bottles placed in the area by artists.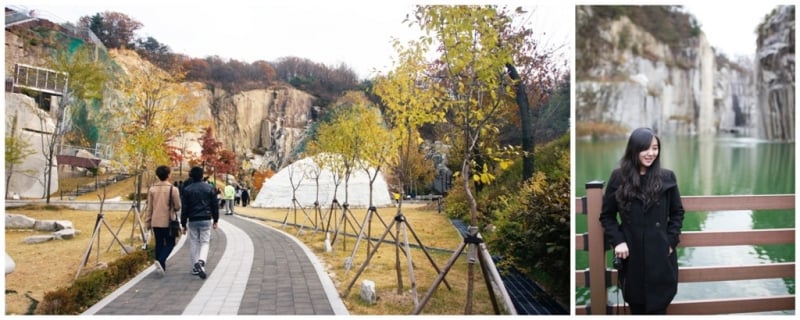 Make full use of your trip to Pocheon by visiting Pocheon Herb Island and pamper yourself to a mediterranean herbal foot massage, learn more about the different herbs grown in the island and try out their special floral bibimbap! Yes, edible flowers are added to this traditional korean dish and it is something you definitely should not miss out on.
How to get to Pocheon Art Valley 포천아트밸리: Take Seoul Subway Line 1 to Uijeongbu Station and exit at Exit 6. From there, take bus 137 or 138 to Gichi-2ri Sinbokmyeon Samuso Bus Stop  (기치2리 신복면 사무소) and then take bus 87-1 or 87-2 for around 20 minutes or take a taxi.
10. Jangsado Sea Park, Geoje
Filming site of: Uncontrollably Fond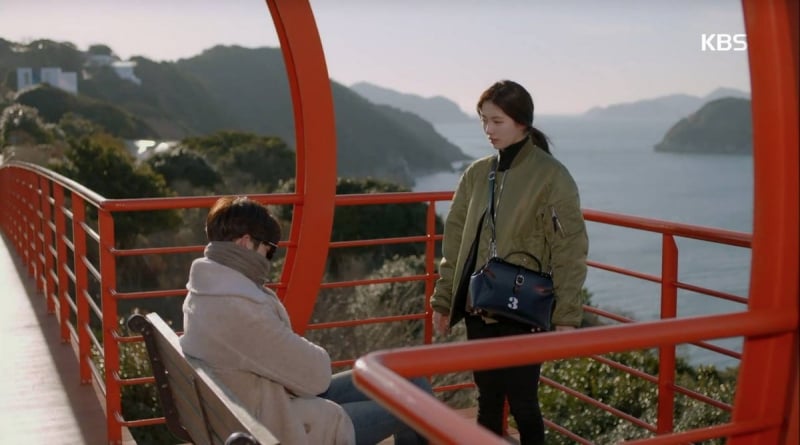 In episode 7 of Kim Woo Bin's recent drama 'Uncontrollably Fond', Noh Eul finally found Shin Joon Young sleeping on a bench on an unknown island after he went missing for a day. This island is actually Jangsado Sea Park which can be reached using a short ferry ride from Geoje city. Jangsado Sea Park is also known to be the place to see winter blooms of Camellia flowers,hence the best time to visit this park is actually in December or January. A 10,000 KRW (~S$12) fee is chargeable for admission to this park.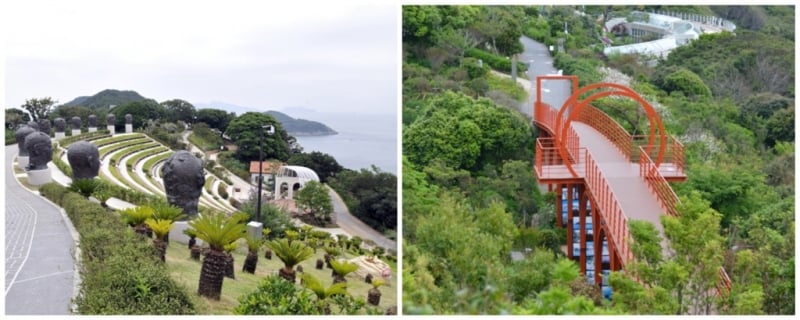 If you have some time in Geoje, take a ferry from the same port that you use to go to Jangsado Sea Park to see Oedo Island. Oedo island is home to a popular botanical garden with an impressive collection of flowers and sculptures.
How to get to Jangsado Sea Park 장사도 해상공원: Take an intercity bus from Seoul Nambu Bus Terminal to Geohyeon Bus Terminal in Geoje. Find Geoje Children Hospital located near the intercity bus terminal and take bus no 52 from Geoje Children Hospital bus stop and alight at Gabae bus stop. Walk to Jangsado Ferry Terminal and take a short ferry ride to the park.
Are you all excited to explore these places? I sure was, fangirls UNITE! Besides the above, there are also just many more filming locations in Korea that you can visit. The possibilities are endless!  If you need more information on where to go and what to do in Korea, check out Korea Tourism Organization's official website as well as their Facebook page.
Start calling up your girlfriends, it's time to enact your very own K-drama – BFF style.
---
Brought to you by Korean Tourism Organization (Singapore) and CheapTickets.sg™.