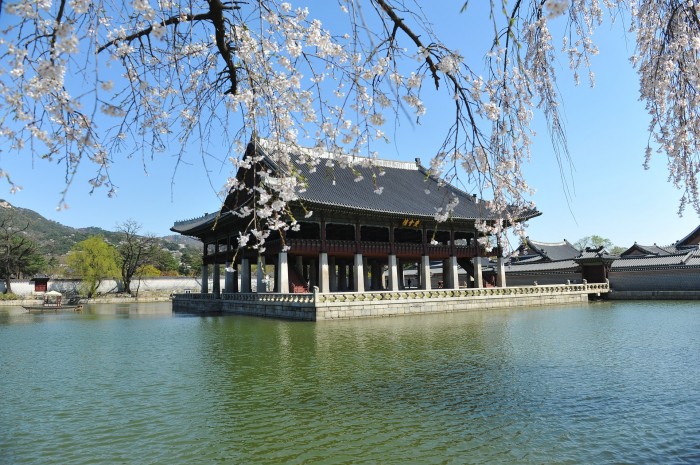 Image credit: Pixabay
You want to travel to South Korea but you need to do it on a tight budget. At the same time, you don't want the budget constraints to cause a compromise with experiencing the best of Korea. Is this possible?
Most definitely. I mean, Mandy did a 12-days trip to Korea with just SGD 1600!
A little travel planning for certain aspects of your trip (transport, accommodation, food and shopping) will prove to go a long, long way. Your every dollar will be stretched so far that you'll be tempted to extend your stay. Here's what you need to know:
Finding the cheapest flight

Most budget travellers turn to low-cost carriers like Scoot and AirAsia to fly to South Korea. Flight prices will fluctuate and sometimes, using the general rule of three months advance purchase may not give you the best deal. Instead, it is imperative to watch out for seasonal flight deals and to follow the different airlines on Facebook to be in the loop for the latest promotions. Do make a note to check out Scoot's Morning Glory Tuesdays for flight deals to Seoul.
You can use flight comparison sites for a shortcut to finding the best flight prices. It is also possible that non-budget airlines such as China Eastern Airlines and Malaysia Airlines provide a better deal, so don't leave them out in your search for the best flight prices.
In general, consider yourselves to have bagged a good deal if you manage to find a return ticket of SGD 400 or less.
Booking unforgettable value-for-money accommodations
Some budget travellers view their accommodation as just a place to rest for the night, sometimes to make themselves feel better if it is far from luxurious. A little smart travel planning will go an especially long way in this component – less money spent does not necessarily mean a trade-off for comfort. If most hotels are well beyond your budget, look into guesthouses or hostels instead. A bonus to staying in guesthouses and hostels is that they offer common areas like a shared kitchen where you'll have the chance to make friends with travellers from all around the world. Start a conversation on how lovely Korea is and before you know it, you'll have a new best friend.
Alternatively, opt for a homestay with a local host, which you can look for through Airbnb or Couchsurfing.
For unique residential experiences, why not stay in a hanok, a traditional Korean house? You'll definitely love the architecture and intricate detail put into every corner of the house. Also, you get to learn more about Korea's history and culture from the owners of the place.
Also, ensure that the location of your accommodation is central to save on transportation costs. When in Seoul, you won't go wrong if you pick Myeongdong or Hongdae as a base. Myeongdong is great for the shopaholics and Hongdae is great for its' nightlife! The Sinchon area is also popular amongst students and is filled with numerous cafes and delicious restaurants. Before booking your accommodation, remember to read the reviews.
Lastly, accommodations that provide free breakfast will mean that you have one less meal to pay for each day, so do take that into consideration.
Travelling around Seoul
The great thing about Seoul is that its public transport is reliable, convenient and inexpensive! First things first, buy a T-money card! It works just like an ez-link card and can be used to pay for fares on the subway, buses, trains, taxis, and in convenience stores. It's ALL you need to get around Seoul. Buy it at any convenience store near you!
Walking 
Obviously the best and free form of transport is your beautiful LEGS. Besides, if the weather is good, a little exercise won't hurt right?! Strolling along the streets to get to your next destination is a great way, because you'll never know what you might find…Or even better, who you might meet! Y'know, like, a celebrity?!
Subway
For tourists I would definitely recommend the subway of course. It's simple to use, and the signs are in Korean and English as well as you can just easily follow them. The subway is also extremely fast and efficient. One awesome phone application you should definitely download is Subway Korea. It's user-friendly, helps you map out your transportation route, tells you the duration needed to reach your destination, and the total fare incurred!
Bus
There are regular, express and village buses in Korea. The regular bus is cheaper than express bus of course, but has more stops, so you will take longer to reach your destination. The fare for the regular bus is 500 won whereas for the express bus it is 1,100 won. For the village shuttle bus, the fare is usually 300-400 won and only serve short distances within the small districts. Make sure to check the direction the bus is going via the signs placed at the bus stop and re-confirm your estimated stop before boarding!
Taxis
Taxis are relatively inexpensive and everywhere on the streets, so you can easily grab one if you're lost. Just be careful to not hail a cab during the peak hours at night or the wee hours of the morning because the extra surcharges can be quite crazy.
Knowing the best budget-shopping locations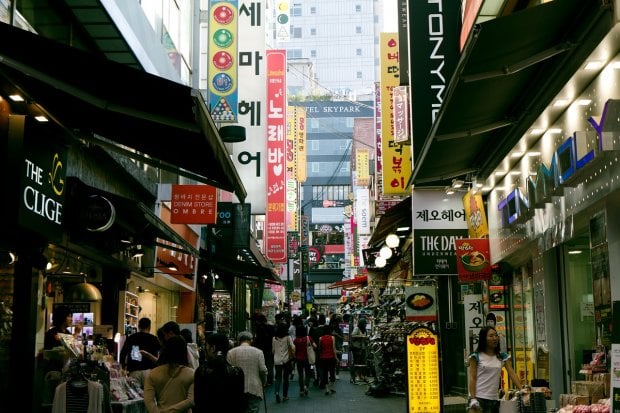 This is the area where budget travellers will find themselves at their weakest. Seoul is a shopping paradise, and it's best to set aside some money for shopping because there really are plenty of things worth spending on. You'll be able to find quality stationeries (go crazy in ArtBox), clothing, accessories, bags and all things related to the K-pop fandom very reasonably priced.
The sheer variety of shopping spots available may render you dazed and confused as to where to even begin. You have to know where is the best place to buy what – clothes, skincare products, souvenirs, etc. Do you hit Hongdae Shopping Street first, or begin with the shopping paradise of Dongdaemun? Is Myeongdong the one-stop-shop for big retailers (the answer is yes) and are there any lesser-known budget shopping spots you should know of?
This is where the Seoul's shopping guide for bargain hunters comes in handy. Aside from the areas mentioned above, Ehwa Womans University Shopping Street, Express Bus Terminal Underground Mall, Gangnam Underground Shopping Arcade and the Hongik University Street are definitely worth a visit. If you're looking for a huge shopping mall where you can find everything under one roof, head to Coex.
Another place that budget travellers should acquaint themselves with is the supermarket. The main ones are Lotte Mart, E-mart and Homeplus. There are those who would spend hours combing through a supermarket – and for a good reason too. You can pick up your daily essentials, food items and even souvenirs at great prices in one of the supermarket complexes in Korea. In fact, one of the first questions you should ask after reaching your accommodation is "where is the nearest supermarket?"
Lotte Mart at Seoul Station, in particular, is extremely HUGE and you'll just get lost in it. Many tourists come here to buy souvenir snacks and unique flavours of ramyun that they can't find in their home country! You might want to check out this article on must-buy food items in Lotte Mart. They even offer cardboard boxes for you so it's easier for you to carry your whole shopping load home. Alternatively, you can also choose to ship boxes of awesome Korean foodstuffs back as well.
Hunting down the best eateries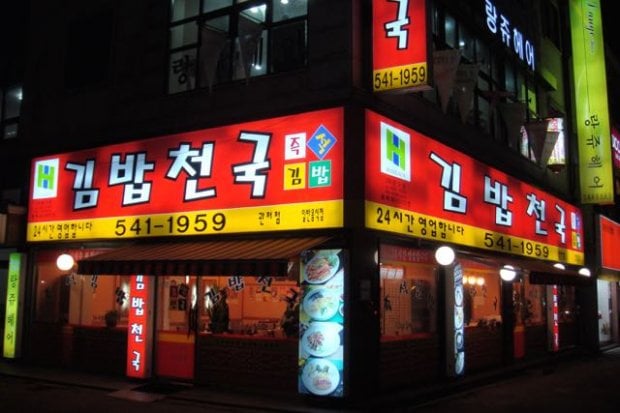 Image credits: Wikipedia
Similarly overwhelming will be the selection of eateries to choose from, and budget travellers can rejoice because a foodgasm in Seoul will not require you to break the bank. The best thing to do is to steer clear of high-priced tourist traps and keep a lookout for where the locals are eating. Kimbap restaurants such as Kimbap Cheonguk (picture above) scattered around town is one of the best places to go for a budget meal. Gwangjang Market and Namdaemun Market are great places to have a satisfying meal without breaking the bank at all!
The hardcore korean-food lovers out there will find that hunting for the best places to eat in Seoul is a fun activity to do in itself. Arm yourselves with this guide to where to eat in Seoul, and set off for satisfying meals after meals after meals.
Also, street food in Korea is something every traveller has to try. We're talking about Tteokbokki (spicy rice cakes), Odeng (fish cakes), Hotteok (dessert pancakes) and more. Besides, it is SO affordable and absolutely delicious! After hunting down these must-try street delicacies in Seoul, you might even find that you've hit your food intake capacity for the day.
If you're into hipster cafes, there are plenty of unique themed cafes, from Hello Kitty to Sheep. Lovebirds can take their pick from these awesome cafes for couples in Seoul.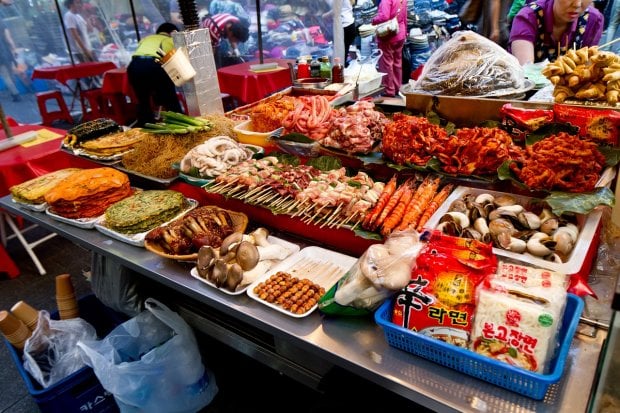 Also read: How To Eat Your Ramen Like A Pro
Drinking picks: Soju and Makgeolli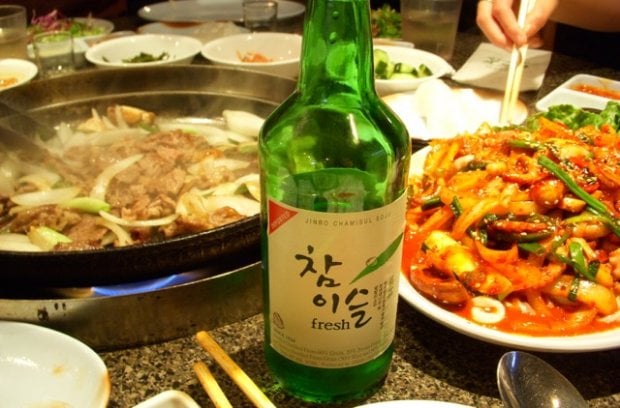 It is great to know that the two most popular alcoholic beverages in Korea, soju and makgeolli, are both affordable. While you can find them both basically anywhere and everywhere in the country, it is worth checking out the best bars in Seoul for Soju and Makgeolli fix for the ultimate drinking experience. An awesome place to try out would be the various fruit-flavoured sojus at
An awesome place to try out would be the various fruit-flavoured soju at Wara Wara! The watermelon soju and pineapple-mango soju are really refreshing and delicious.
Getting to other parts of Korea
Of course, many travellers don't just stop with Seoul when in South Korea. Many buses departing from Gangbyeon or Express Bus Terminal connect Seoul with other cities, and prices vary according to individual bus operators (regular or luxury).
There is also the option of High Speed Railway from Seoul Station, which will be more expensive than taking buses. If you opt for this, do check for any discount combo tickets from Korea Tourism Organisation as they sometimes offer great deals.
Volunteer or work in South Korea
Instead of just travelling, why not consider volunteer or work in exchange for accommodation in South Korea? This is a great way to appreciate actually living in Korea – something tourists will not be able to experience. Sites to look into include Workaway and GoAbroad.
There are so many ways you can volunteer your services in South Korea. Join Volunteers For Peace, United Planet, Itaewon Global Village or Habitat For Humanity and help them out with various community development projects. Or, you can use your English language skills and help out at language cafes as well!
Guesthouses or hostels also offer opportunities for you to work a few hours for them daily in exchange for FREE accommodation, and you get to meet people from all over the world while on the job. For those who want a more spiritual experience, you can stay at a temple and help out with various temple duties, or head to a farm and immerse yourself in nature while taking care of adorable animals. Sounds like a good deal!
Download this handy-dandy smartphone application

This application has everything you will ever need during your holiday in Korea! Featuring tons of travel information, it will be a useful, virtual tour guide on the go. They have plenty of mobile coupons for shopping, dining, and performances, which are now so fuss-free because you don't have to print them out! Just show the coupons on the screens of your mobile phones to enjoy the discounts.
Besides, the app also displays the latest travel information and news articles which are updated daily. There is also a travel planner function that will help you map out your route as you plan your daily itinerary! Popular itineraries by other travellers and recommended itineraries are also shared with you so you can gain more ideas. Get this app right now for a smooth holiday experience!
It really does seem like South Korea is quite a paradise for budget travellers, doesn't it?