Flying Drones in South Korea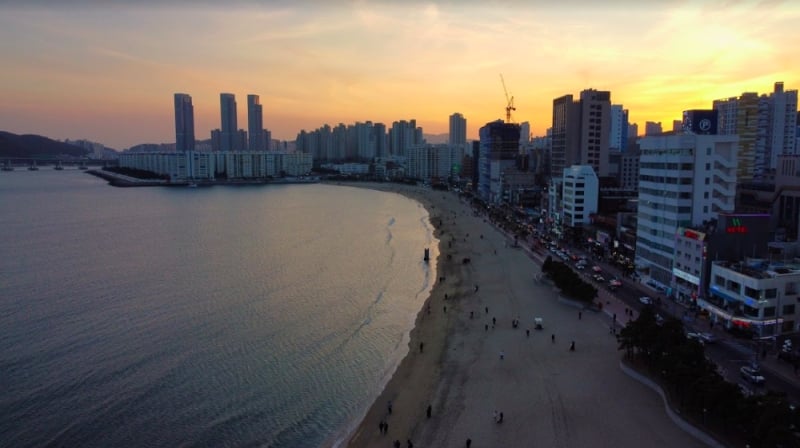 We live in an era where it's easier than ever to get stunning images from the sky, thanks to unmanned aerial vehicles, or as the general public might know them better — drones!
Despite technological advancements, however, some countries are not as liberal with flying drones as others. As these little quadcopters have increased in popularity, so too, have the laws around them. 
Perhaps you've been flying drones for a while and you've got all the paperwork to prove it, or maybe you're an avid hobbyist who enjoys capturing your travel memories with your UAV. 
Well, we've found one of the best countries for you to fly in: South Korea! In this article we'll tell you why South Korea is a drone pilot's heaven, the best places to fly your drone and any pitfalls to look out for. 
Why is South Korea great for recreational drone pilots?
For starters, South Korea is nowhere near as strict or guarded as some other countries when it comes to flying drones. Many of the national parks don't explicitly prohibit drone usage, although we suggest you take this on a case-by-case basis. 
Some tourist attractions, too, are fair game. Some examples include the stunning Metasequioua-lined Avenue in the picturesque county of Damyang, or the vast, colourful Suncheon Gardens in the Jeollanamdo. 
The ability to capture these (and many other) stunning locations from up high gives you a unique perspective on this breathtaking country. The sweeping landscapes are especially pretty in autumn, when the leaves paint the hills bright shades of orange and red before disappearing completely for winter. It's also worth noting that most locals are not that hostile towards flying drones, if done responsibly.
Also Read: Fine for Taking Photos at Kyoto's Famous Geisha Neighbourhood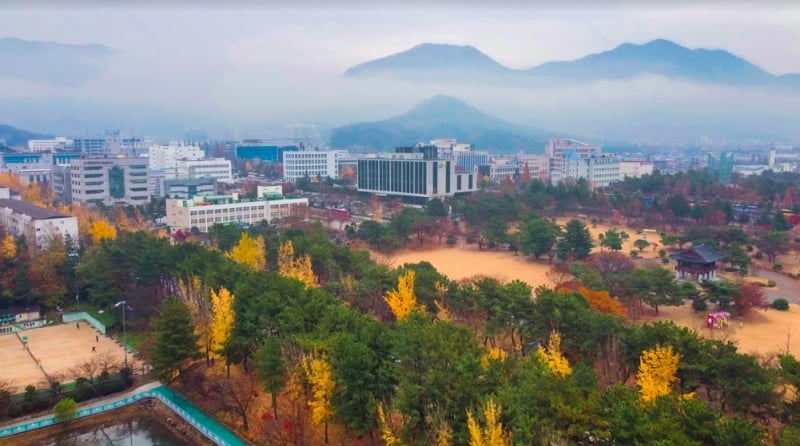 Drone regulations in South Korea
1. No-fly zones
You will find that some cultural sites in South Korea prohibit drone usage. Areas like Gamcheon Cultural Village in Busan, or Nami Island, are clear on their drone laws, and penalties can be as hefty as 2 million won. 
According to the UAVCoach, other no-fly zones include Seoul Plaza, military installations, power plants, or national key points such as the Blue House (the presidential residence). The guidelines set out by the Korean Ministry of Land, Infrastructure and Transport stipulate that you should not fly higher than 150m in altitude and keep at least 9.3km away from airports. 
One other useful app for checking your flight permissions across South Korea is the AirMap app.
2. About flying drones in major cities
Drone-flying is prohibited in most of Seoul's airspace, and the restrictions are the same in the majority of the other large cities across the country. This makes sense, as the metropolis of South Korea can be extremely hazardous to fly in. Two important Ministry of Land, Infrastructure and Transport (MOLIT) guidelines also prohibit flying over crowded areas or beyond line of sight.
3. Which types of drones can you fly as a recreational pilot?
The good news is that recreational pilots can fly without the need for any license or liability insurance (even though this is recommended) and you'll only need government approval for flying aircraft weighing more than 12kg. We highly doubt that you'll be lugging that type of gear around with you, which gives you the all-clear to fly your run-of-the-mill hobbyist quadcopter without any issues.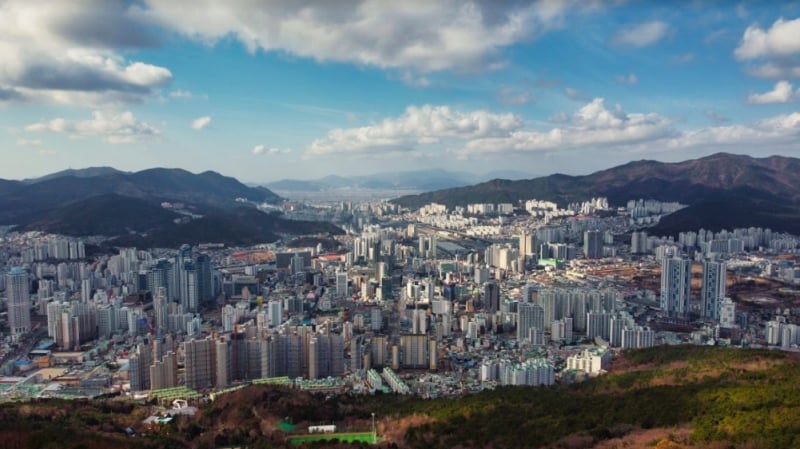 Where are the best spots to fly your drone in South Korea?
1. Damyang Metasequoia-lined Avenue
About 30 minutes from the Jeollado capital of Gwangju is Damyang, a rural town nestled along the banks of the Yeongsan River. It's a picturesque little city and it is especially pretty in the shoulder seasons.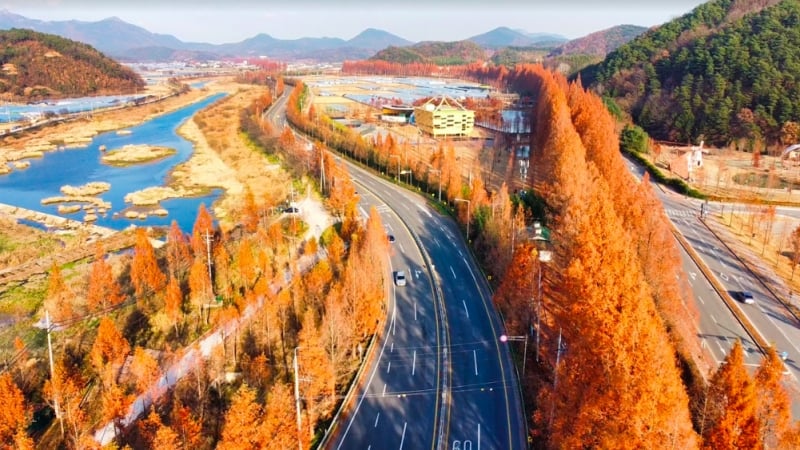 In autumn, the mile-long Metasequoia-lined Avenue turns into vivid shades of orange and red, rendering the countryside a stunning visual spectacle. You should also check out the Juknokwon (Bamboo Forest), Meta Provence and the Bamboo Museum, once you're done flying your drone around this serene rural escape.
2. Wolchulsan National Park
Situated in the rural Jeollado county of Yeongam-gun, the area around Mount Wolchul is South Korea's smallest national park at only 56.6km2. Don't let that small size fool you, as the dramatic ascents top out at an elevation of more than 800m. 
The drone-worthy attraction here is the Cloud Bridge; a bright-orange 52-metre suspension bridge, which connects two peaks at roughly 120m from the ground. It offers some scintillating vantage points for drone-fliers looking to absorb the natural beauty of South Korea!
3. Hangang Drone Park
Avid drone pilots looking to hone their skills will be delighted to know that the Seoul Municipality has built a dedicated facility at the Gwangnaru Hangang Park to practice flying through a custom-built drone course. 
You won't just find quadcopters here, but fixed wing aircraft too. The airfield is 27,000m2 and it's accessible either via Amsa Station (Line 8, Exit 3), or Cheonho Station (Line 5 or 8, Exit 1).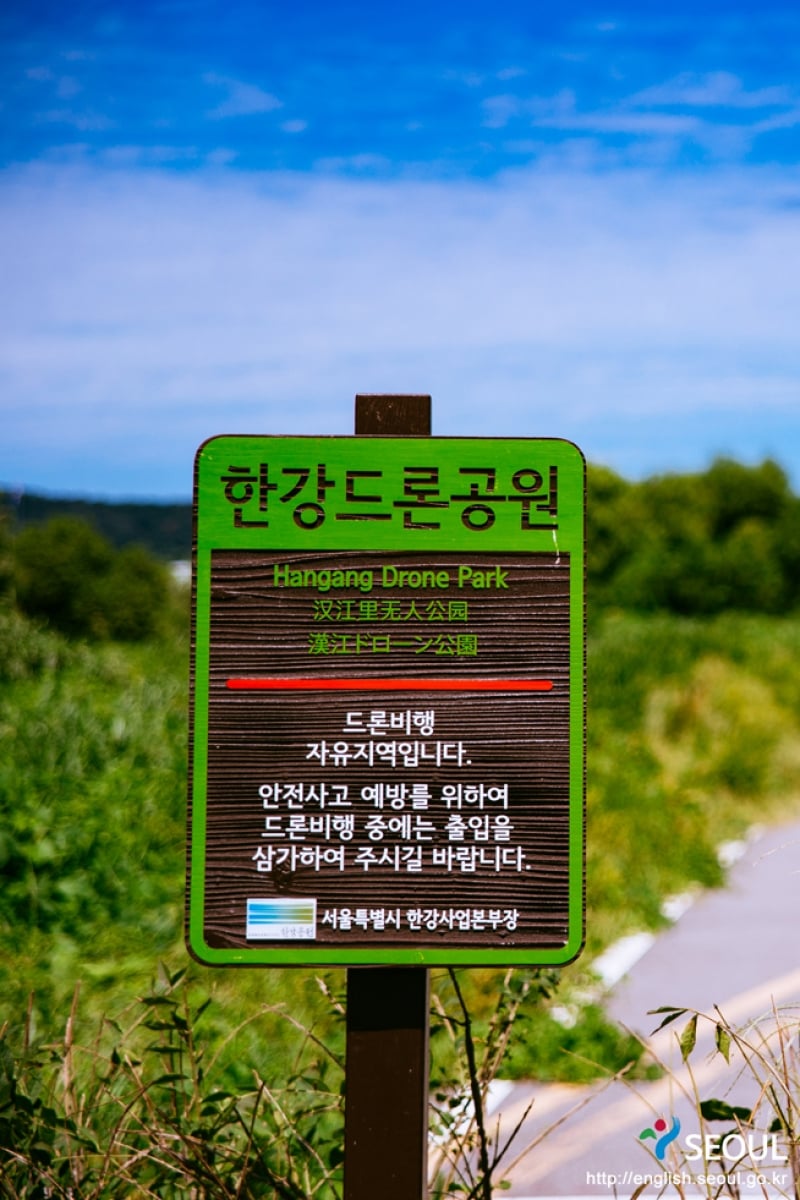 4. Busan beaches
Some places are better viewed from the sky, and South Korea's beaches are no exception. The bustling tourist beachside districts in Busan offer some great opportunities for drone pilots to capture a gorgeous glowing sunset. 
Songdo and Haeundae, although quite popular with tourists, don't see that much drone activity and this means that they're relatively safe to fly – as long as you follow the MOLIT guidelines and fly responsibly. You can practice a wide variety of drone techniques like reveals, orbits and 'dronies.' 
Also Read: 7 Photographer Secrets For Taking Picture-Perfect Vacation Shots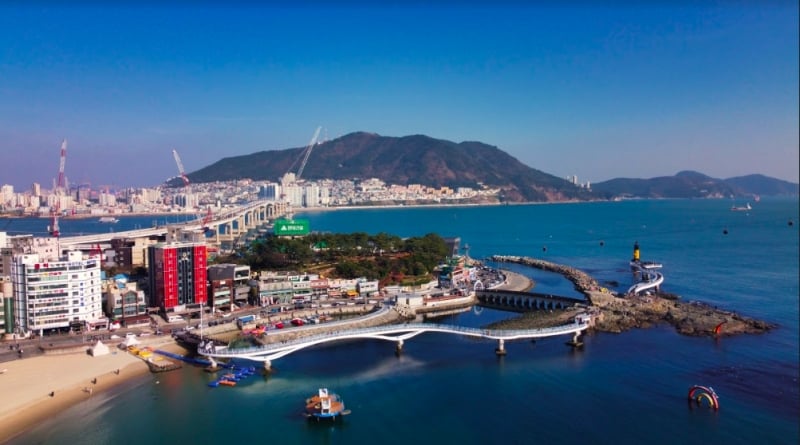 Follow these guidelines for flying your drone in South Korea and the odds are that you'll have a very rewarding experience. Are you ready to fire up the props and see South Korea from way up high?