We can't deny it: Barbiecore is taking over the world. No one's complaining, though. Big, bold, and unapologetically pink, Barbie's iconic style is a joyful renaissance that we're hoping is here to stay. Long after the release of Greta Gerwig's Barbie movie, we'll all still have our hot pink outfits and '80s-inspired prints. And we can't think of a better way to embrace this fun and vibrant aesthetic than taking it as our next travel inspo. Ready to paint your next escape in hues of pink? Live in your very own dream house with these whimsical Barbie Airbnb homes around the world — from California and Santorini, to Tokyo and Bangkok. Pack your pinkest outfits for this one!
Also read: You Can Soon Book Barbie's Malibu DreamHouse on Airbnb
Barbie-inspired Airbnb homes in the United States
1. This lakeside Barbie-themed vacation house in Southern California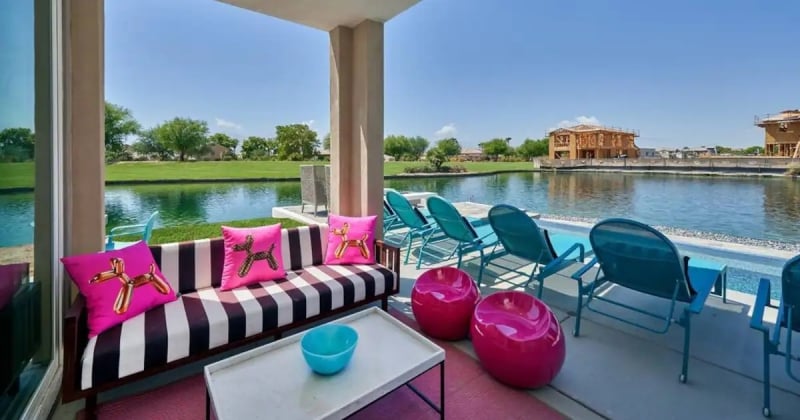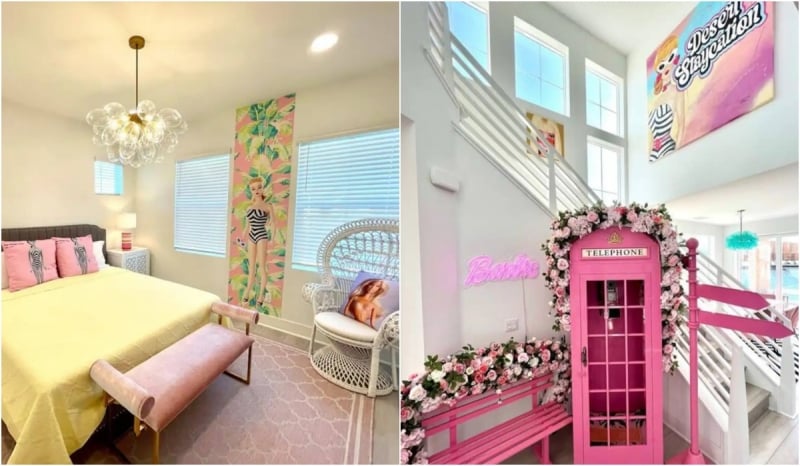 Listing name: Gorgeous Lake Front Barbie Themed House
Listing type: Entire home
Max. no. of guests: 10
No. of bedrooms: 5 
You won't find a Barbie House Airbnb more committed to bringing Mattel's aesthetic to life than this beautiful lakeside home in Indio: the city where the annual Coachella festival is held. The home pays loving tribute to our favourite doll, designed in shades of pink and the iconic black and white stripes of the original Barbie. There are Barbie posters, throw pillows, and even a corner with a pink telephone booth that's perfect for Instagram snaps. 
Beyond the Barbiecore flavour of this Airbnb, it's also a gorgeous rental for vacations with family and friends. Chic furnishings, five spacious bedrooms, and a fully equipped open kitchen create a breezy setting for group getaways. We especially love the sprawling outdoor area with lounge chairs facing the lake that offer the ideal spot for watching sunsets.
Also read: 22 Best Beach Houses to Book on Airbnb, From California to Hawaii
2. This Palm Springs oasis for tropical fun with Barbie-loving pals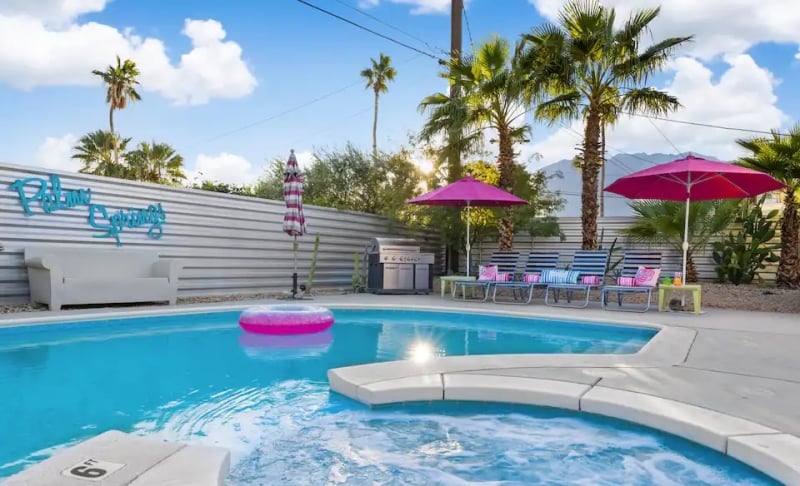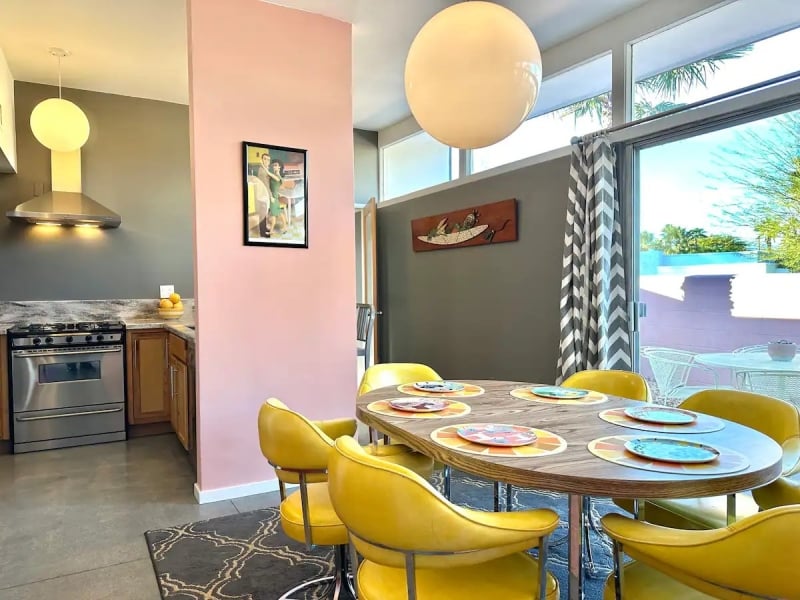 Listing name: Mid-Century Modern Wexler Barbie House
Listing type: Entire home
Max. no. of guests: 8
No. of bedrooms: 4
Pool party Barbie checks in! This sparkling Palm Springs villa was designed by well-known mid-century architect Donald Wexler for the Mattel family in 1959.  So, if it's a Barbie-esque escape you're after, it's the perfect Airbnb to book. Beautiful interiors win Insta-travellers over, with the rooms designed with mid-century modern furnishings and muted hues of pink. Outside, everything is bolder with poolside touches like neon lighting, hot pink umbrellas and floaties, and vibrant pillows. 
Also read: 8 Best Airbnbs in Palm Springs, California With Private Pools
3. This glam hyper-pink Victorian mansion in Wisconsin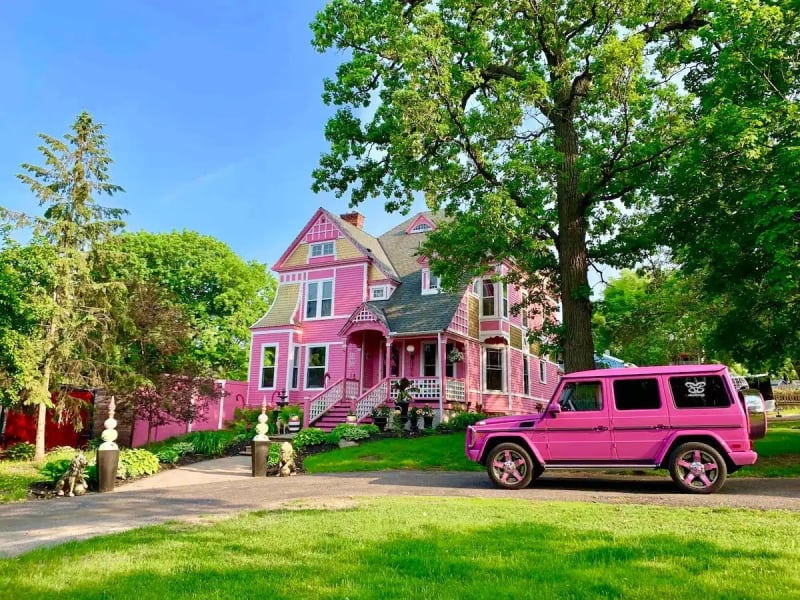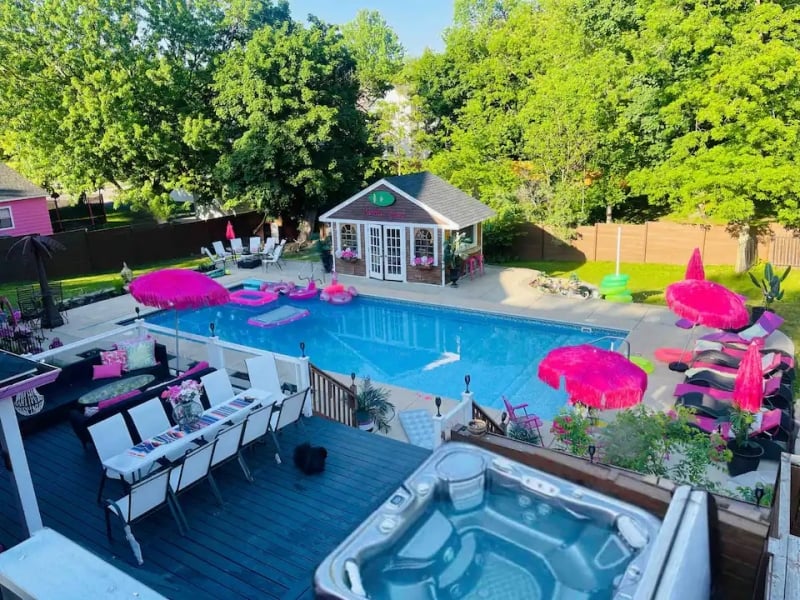 Listing name: PinkCastle Babe'cation w/hottub & heated pool
Listing type: Entire home
Max. no. of guests: 16+
No. of bedrooms: 5
Barbies gone wild? This luxe pink Airbnb is where Barbie girls go to let loose and get pampered. Although the Victorian house was built way back in 1883, it's been completely yassified to suit modern travellers. The Airbnb Host doesn't hold back from going all-in with the hyper-pink fad; from the hot pink facade to the glamourous Victorian interiors, everything is rosy pink to suit our Barbiecore fantasies. For an additional fee, guests can even rent a pink Escalade or a pink moped!
4. This cosy Nashville cottage for cowgirls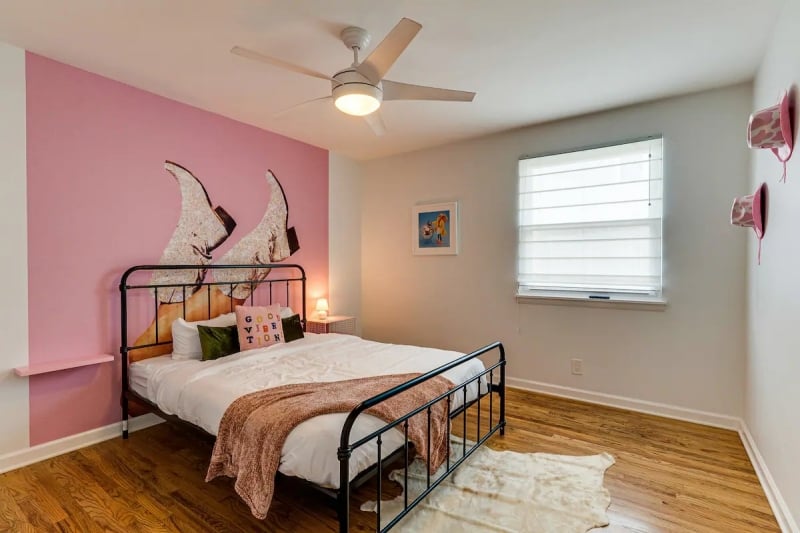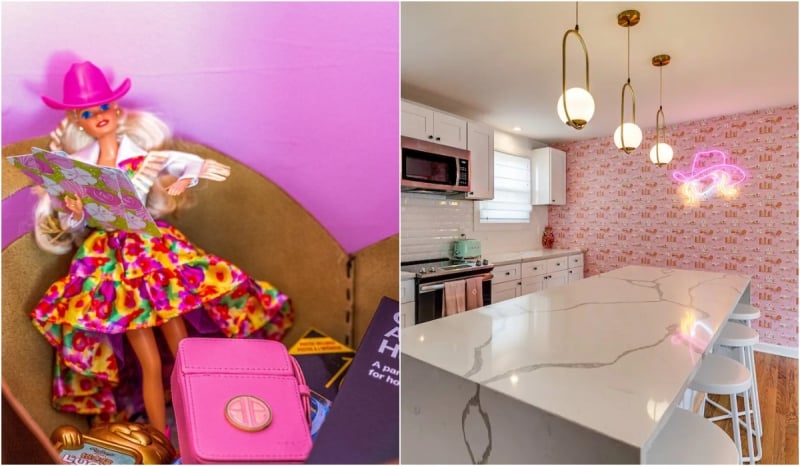 Listing name: Iconic 12 South's Barbie Vacation House
Listing type: Entire home
Max. no. of guests: 10
No. of bedrooms: 3
Cowgirl Barbie will feel right at home in this cosy Tennessee cabin. Cute decor like neon signs, Barbie dolls, and pink cowboy hats and boots hung on the walls make it a unique escape in the Music City. A karaoke machine and daiquiri machine promise fun times, even on the nights you opt to stay indoors. 
It's the perfect Barbie Airbnb for your Nashville adventures, too! The house is within walking distance of popular Nashville cafes, restaurants, and shops, while the downtown area is only a four-minute ride away. 
5. This all-pink beachfront Airbnb in Florida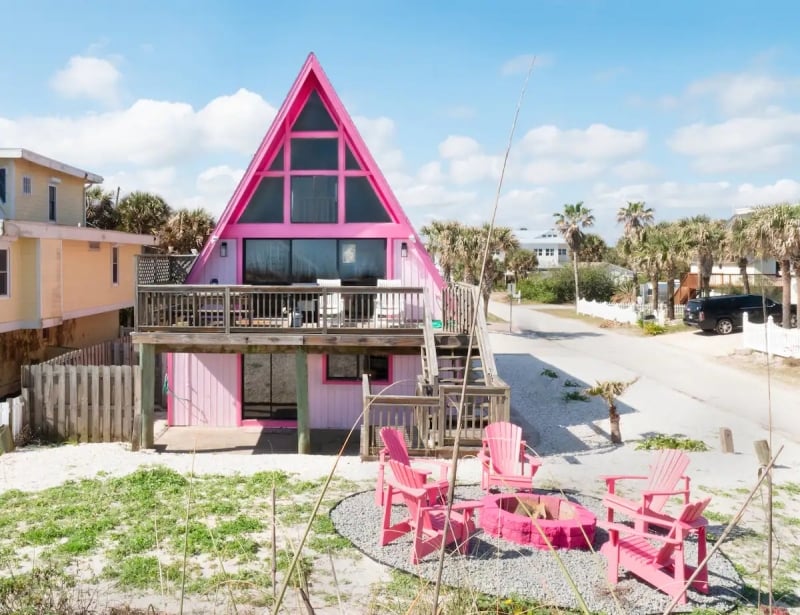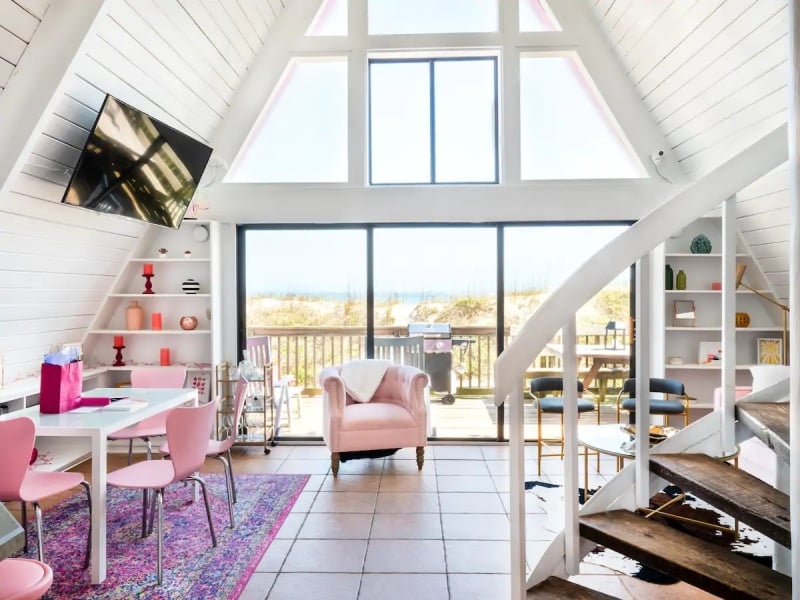 Listing name: Ocean Front Private Getaway in St. Augustine Beach
Listing type: Entire home
Max. no. of guests: 13
No. of bedrooms: 4
Surfer Barbies can rent this beachy A-frame home for a private retreat just steps away from the shores of St. Augustine Beach in Florida. Private beach access means you can easily paddle out or lounge on the sands any time of the day. At night, cuddle by the fire pit with Ken and friends! 
The all-pink Airbnb stands out from neutral-hued beach houses in the area, so you won't have trouble finding this cheerful escape on the beach. It's also conveniently located just five to 10 minutes from the historic neighbourhood of Downtown St. Augustine.
Also read: 14 Best Airbnbs in Miami, From Beachfront Flats to Pool Villas
Barbiecore Airbnb rentals for your getaway in Europe & Africa
6. This bright Barbie-inspired seaside caravan in England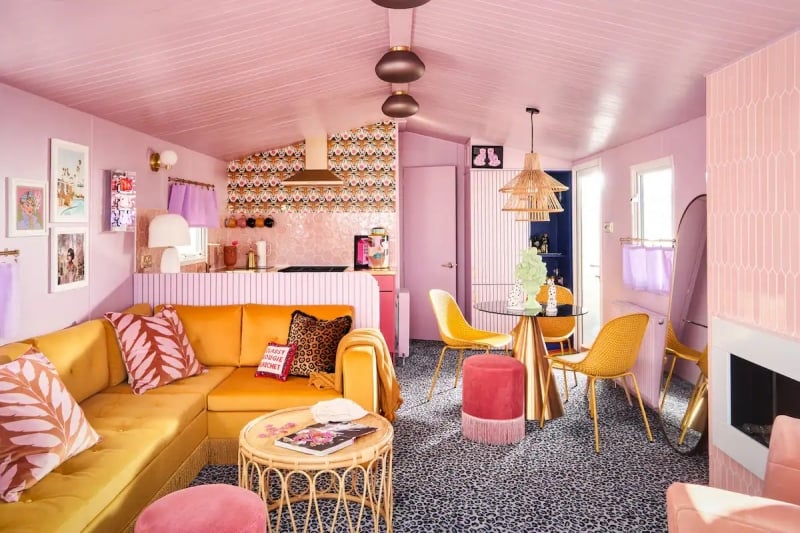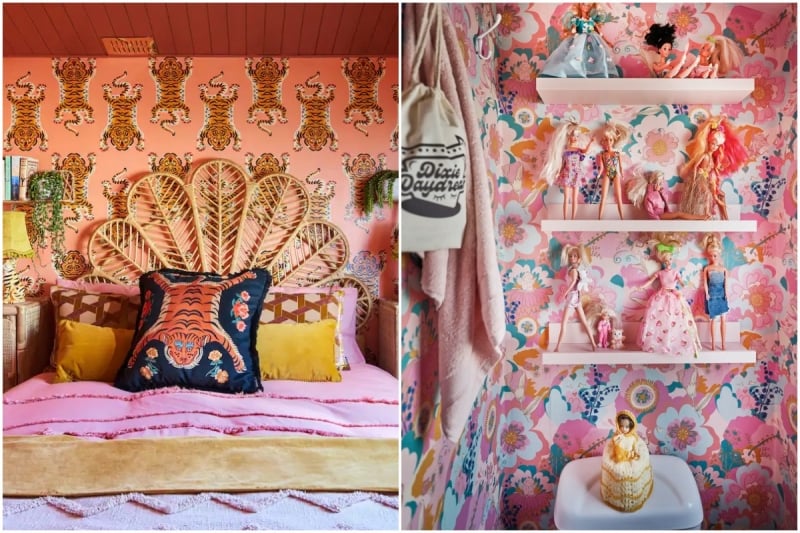 Listing name: Barbie Inspired – Static Caravan near the Beach
Listing type: Holiday park
Max. no. of guests: 6
No. of bedrooms: 3
Flying across the pond to England? Well, Barbie fever hit Europe hard, too! Expect fun Barbie Airbnb rentals like this vibrant caravan home that's the embodiment of all our pinkest dreams come true. Bright, bold, and beautifully designed, every corner of the caravan (named Dixie) deserves its own Instagram post! 
Parked at a traditional holiday park in Camber Sands, East Sussex, Dixie sits near the beach. Park facilities include a heated indoor swimming pool, a restaurant, an arcade, and even a club with nighttime entertainment.
7. This hot pink house for hen parties in England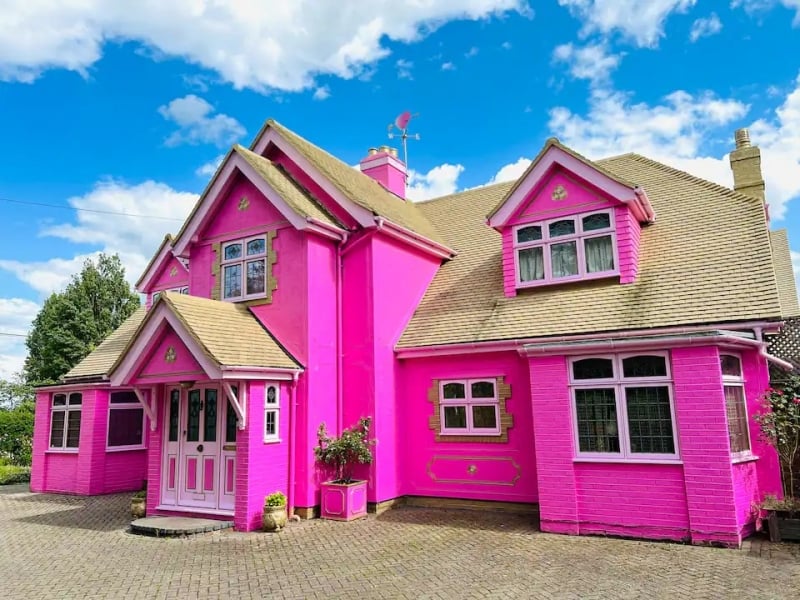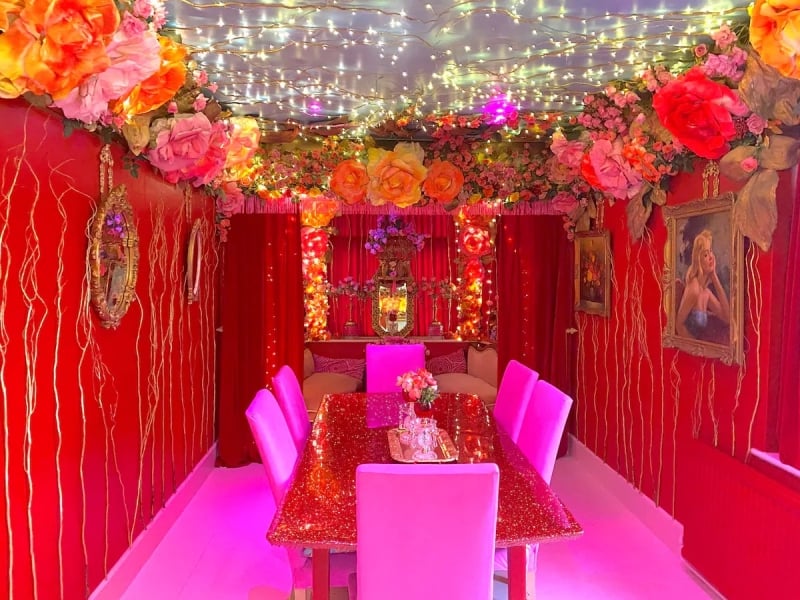 Listing name: The Pink House
Listing type: Entire home
Max. no. of guests: 16+
No. of bedrooms: 6
Get ready to out-pink everyone else at The Pink House that's our pick for glam parties, kitschy fun, and eye-catching snaps. Located in the Essex countryside, the fantastical boutique house is brimming with lavish pink decor, sparkly streamers, giant flowers, and chandeliers. You won't know where to hang out first. Fireman bar or the neon-lit lounges? Outside the pink house, a separate saloon bar, an open-air caravan, and a Barbiecore courtyard are also available for guest use. 
8. This swoon-worthy villa in Porto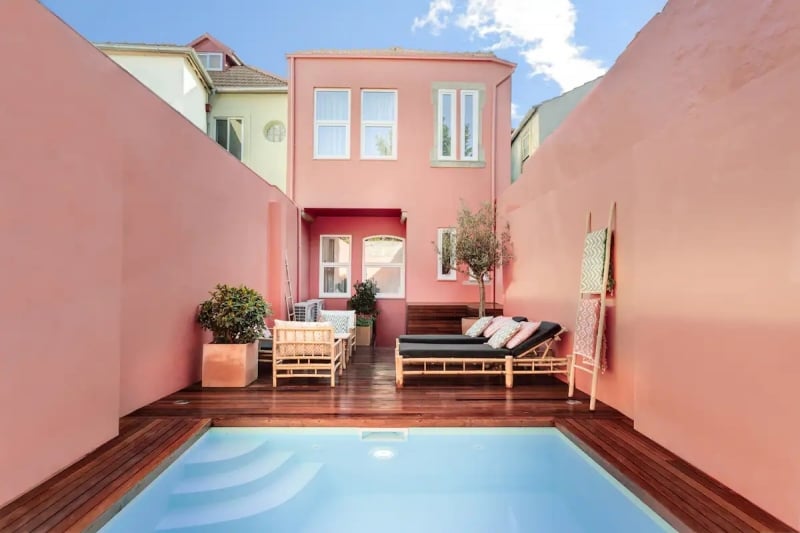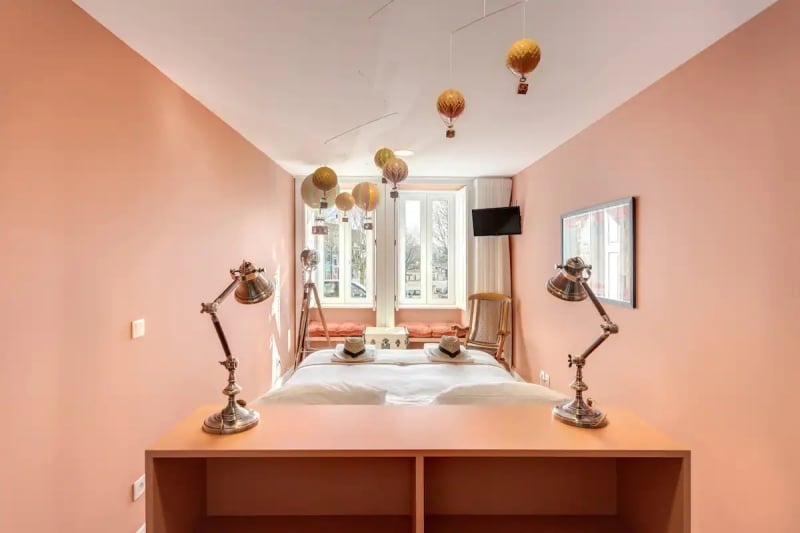 Listing name: Private House with Pool, terrace and 5 rooms
Listing type: Entire home
Max. no. of guests: 12
No. of bedrooms: 5
Pink-loving hearts will melt at first sight of this stunning villa in Porto, Portugal. This understated take on the Barbie Airbnb aesthetic isn't quite as loud as other rentals, but it's just as pleasing to the eyes with soft pink exteriors. The highlight of the house is definitely the beautiful pool deck — we think we're fine spending our entire vacation there, actually! 
Located in one of the most picturesque neighbourhoods in Porto, this Airbnb is a short walk from the Fine Arts School and Coliseu de Porto. 
Also read: 10 Best European Countries That Won't Break the Bank
9. This quirky base in historic Bo-Kaap, Cape Town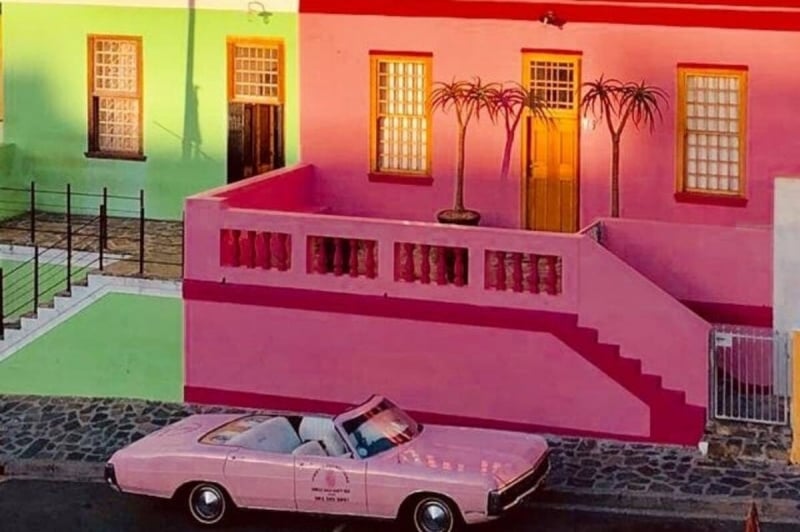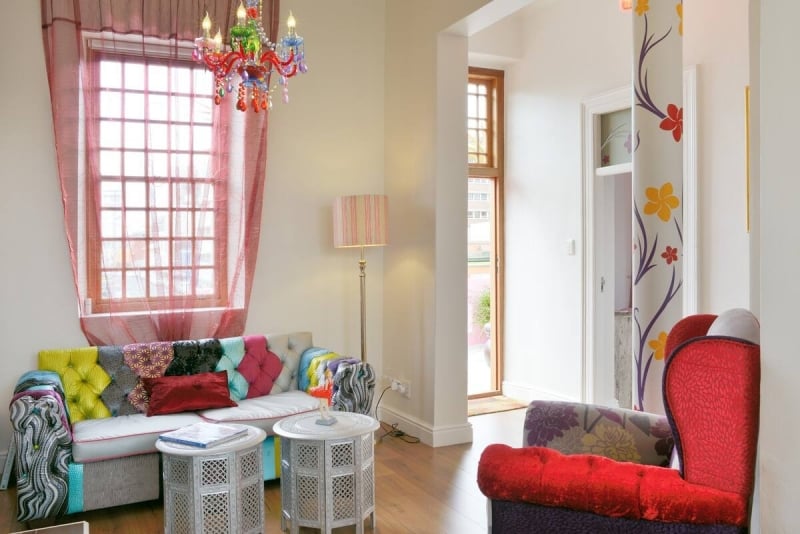 Listing name: The Pink Lady of the Bo Kaap
Listing type: Entire home
Max. no. of guests: 6
No. of bedrooms: 3
Take your Barbie adventures to Cape Town, South Africa. Sitting amidst brightly coloured houses in the iconic Bo-Kaap neighbourhood is The Pink Lady.  Indoors, it's just as colourful as the neighbourhood with quirky furniture and vibrant artworks. Plus, this lovely pink house on Airbnb is the ideal base for the creative Bo-Kaap lifestyle. Set on Wale Street, it's within walking distance of the downtown area. 
10. This slice of paradise in Oia with a stunning view of the Caldera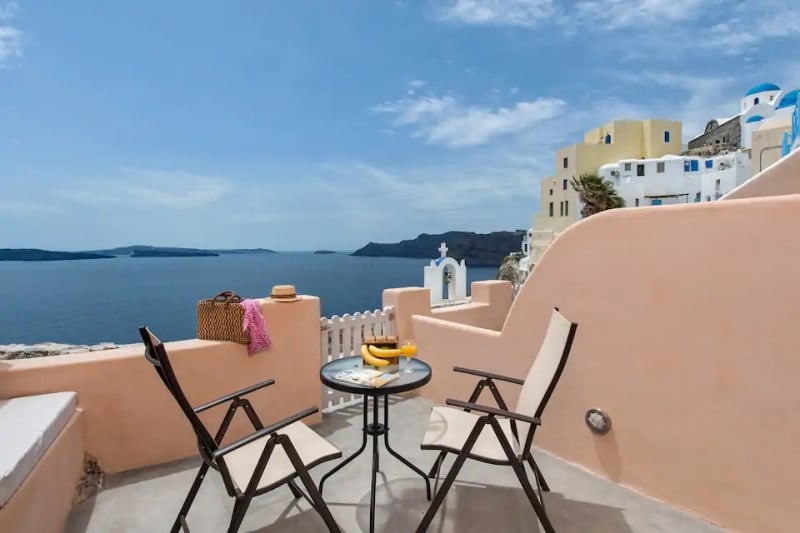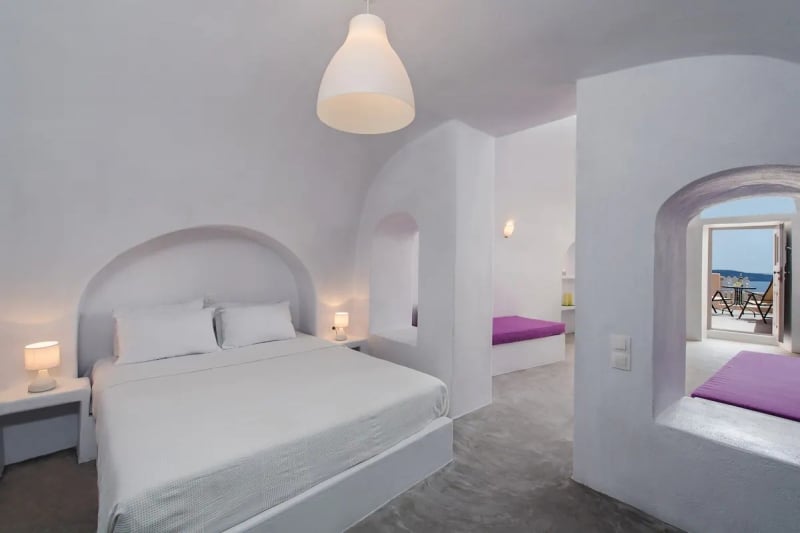 Listing name: ARGITHEA APARTMENT
Listing type: Entire apartment
Max. no. of guests: 4
No. of bedrooms: 1
Just because you're in Santorini doesn't mean you'll have to go for one of the classic whitewashed cave houses that everyone stays in. Instead, commit to your Barbie lifestyle with a pink Airbnb. This pristine apartment in Oia blends light pink hues with the traditional Greek house architecture to create a one-of-a-kind stay in the South Aegean! Best of all, you get your own slice of paradise with a terrace overlooking the dazzling Caldera. 
Also read: 12 Things to Do in Santorini for the Perfect Greek Holiday
Pretty Barbie-style Airbnb stays in Asia
11. This pink wonderland in Harajuku, Tokyo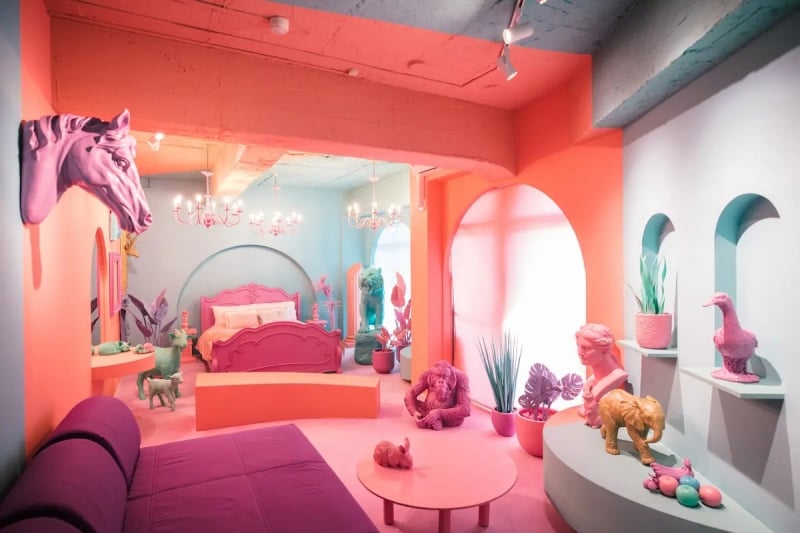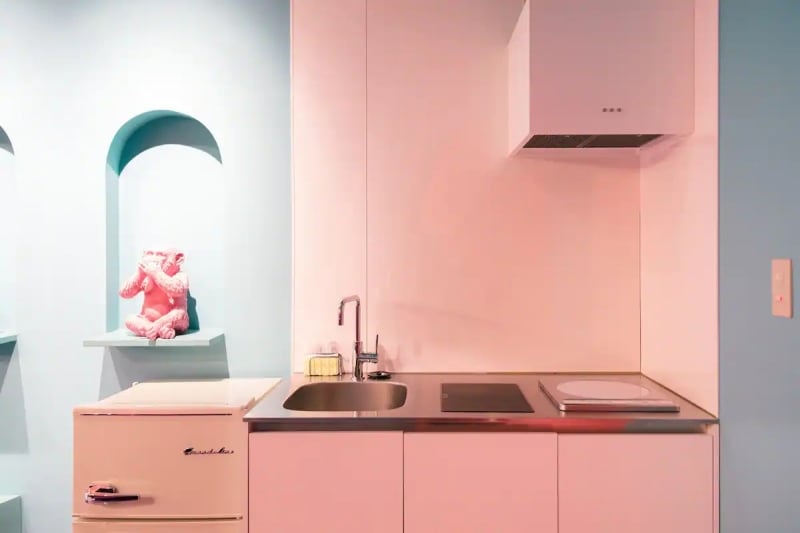 Listing name: Moshi Moshi Rooms「HARAJUKU」
Listing type: Entire apartment
Max. no. of guests: 4
No. of bedrooms: 1
No one commits to kitschy themes quite like Harajuku. And so it's no surprise that this pink wonderland goes all out with its extraordinary fantasy theme. The studio doesn't reference the iconic Mattel doll directly, but the Airbnb certainly captures the spirit of Barbie with bold clashes of bright colours and funky decorative pieces. Additionally, it sits in an accessible area just a walk away from the Harajuku Station, Omotesando, and Shibuya.
Also read: 10 Affordable Airbnbs in Tokyo for Budget Travellers
12. This candy-coloured condo in Malaysia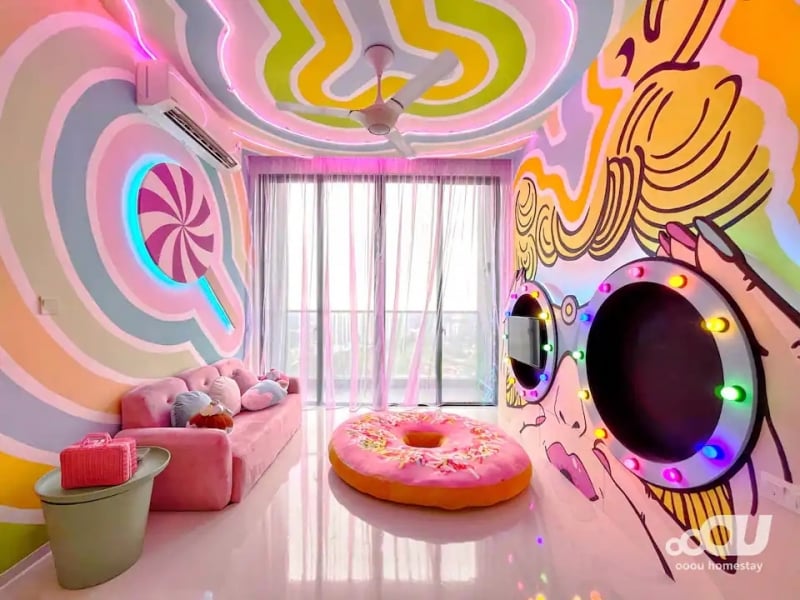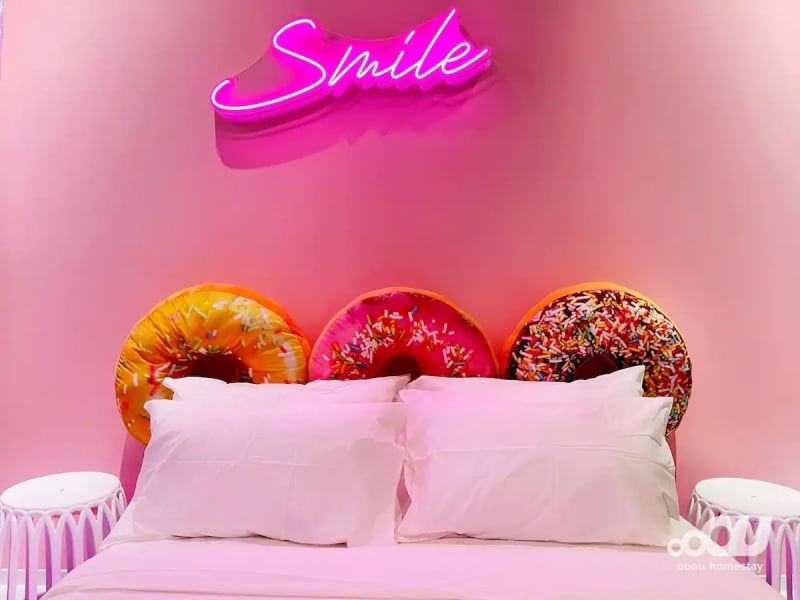 Listing name: JB – Sweet Party @ D' Pristine Medini By OOOU
Listing type: Entire condominium
Max. no. of guests: 4
No. of bedrooms: 2
It's hard to imagine a more perfect staycation Airbnb for Barbie and Skipper than this whimsical condominium in the city of Iskandar Puteri in Johor, Malaysia. Travellers with a sweet tooth will enjoy the food-inspired touches: a doughnut bed, ice cream cone side tables, candy murals, and even an ice cream stand-style dining table. Kids and kids at heart will appreciate its location, too — it's minutes away from Legoland Malaysia!
13. This chic escape in Bangkok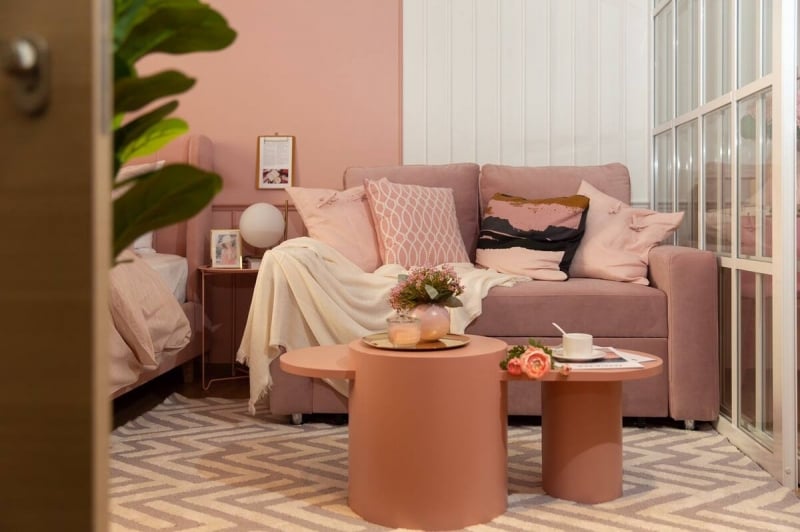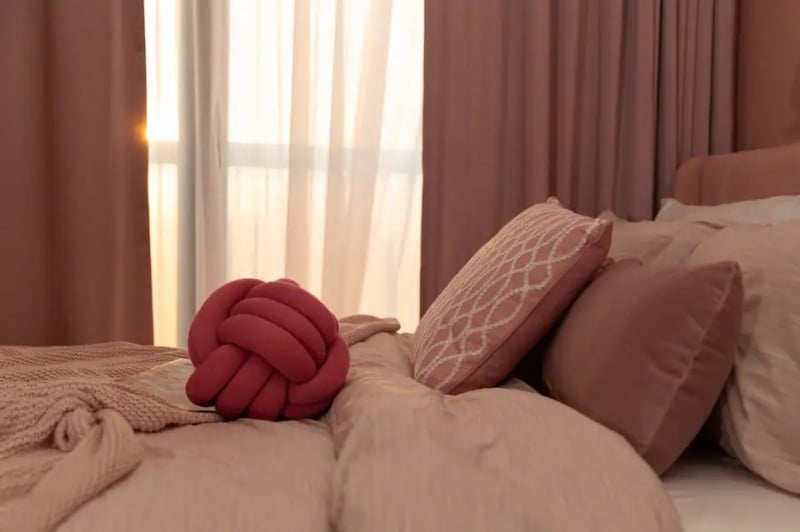 Listing name: The Glamorous pink Room❤BTSPhromPhong❤WIFI❤Netflix
Listing type: Entire condominium
Max. no. of guests: 2
No. of bedrooms: 1
This one is an Airbnb for the grown-up Barbie. Classic and stylish, this luxury condominium in the heart of Bangkok provides all the essentials for modern travellers — wrapped in cute pink interiors, of course! Besides city views from the apartment, the Barbie Airbnb features high-speed internet, Netflix, and a mini-kitchen. 
Guests are welcome to use the building's gym and rooftop pool. It's in a prime spot in the city, too, close to the Phrompong BTS Station, Emporium, and Siam Paragon. 
Also read: 10 Gorgeous Yet Budget-Friendly Bangkok Airbnbs & Vacation Rentals
14. This sleek retro-inspired studio in Seoul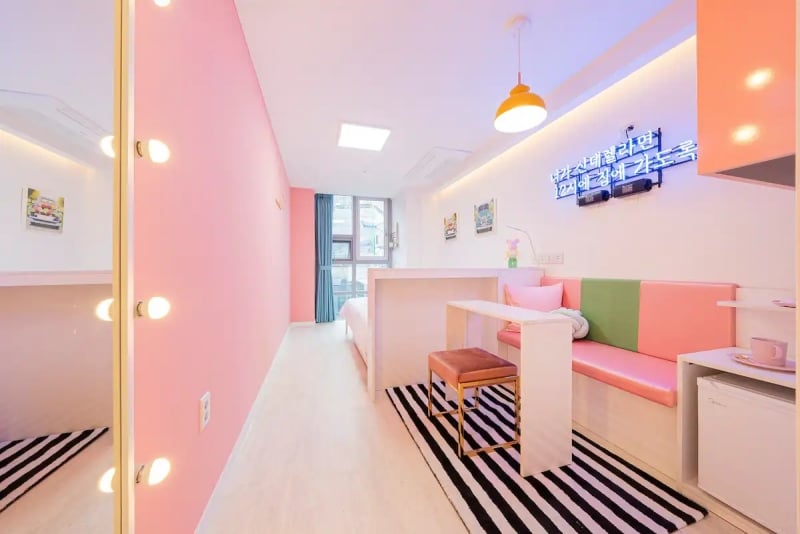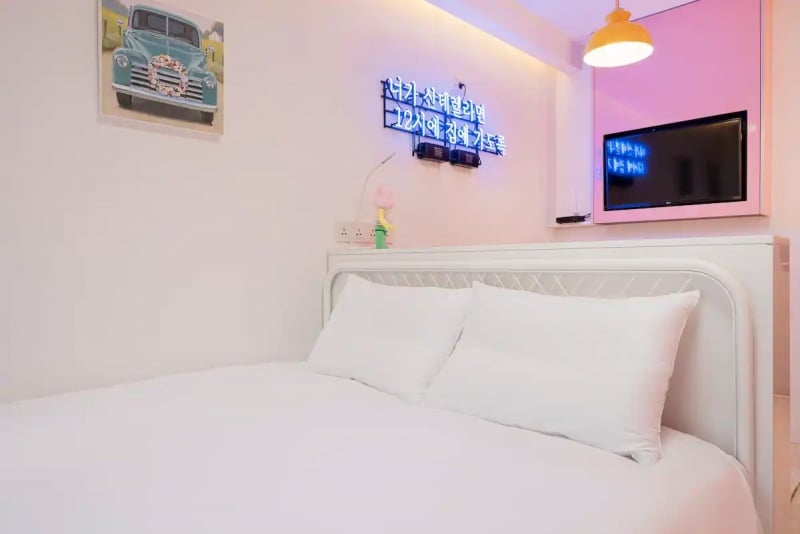 Listing name: PINKVILLE #1 / Myeong-dong(明洞)
Listing type: Hotel
Max. no. of guests: 2
No. of bedrooms: 1
Love all things Korean? When in Seoul, this Myeongdong hotel dubbed Pinkville is probably the best pick for Barbie tourists looking for a pink Airbnb. Modern with fun retro decor, it's definitely one of the cutest stays in the city. Moreover, it keeps you close to many Seoul tourist attractions like Chunggye Stream, Insadong, Lotte Duty Free, and more. 
Also read: 15 Best Airbnbs & Vacation Rentals in Seoul for Every Budget
Up for a vacation that stays in theme with your current Barbie obsession? Hopefully, one of our picks of Barbie Airbnb homes suits your tastes. From Europe to Asia, the world definitely shares our dreams of a world in pink!
Got a property you'd like TripZilla to feature? Inquire with us here.
---
This article contains affiliate links. When you book through these links, we may earn a small commission at no additional cost to you. All images courtesy of the respective property listings.