Bordering the Little Red Dot, Johor, Malaysia is quite the favourite vacation spot among both Singaporeans and Malaysians. If you're planning to go on a weekend trip — whether you're travelling solo, or with your family or friends — check out these Johor Airbnb listings that will boost your travel experience. 

To make it easier for you, we have divided our picks between those in Johor Bahru, those near Legoland Malaysia, and those in other parts of Johor. From themed vacation homes to large villas and bungalows with private pools, read on and find out which Airbnb in Johor suits you the best!
Also read: 17 Airbnbs in Penang Where You Can Live Like a Local
Best Johor Bahru Airbnb homes for every type of traveller
1. This Johor Bahru Airbnb with a stylish interior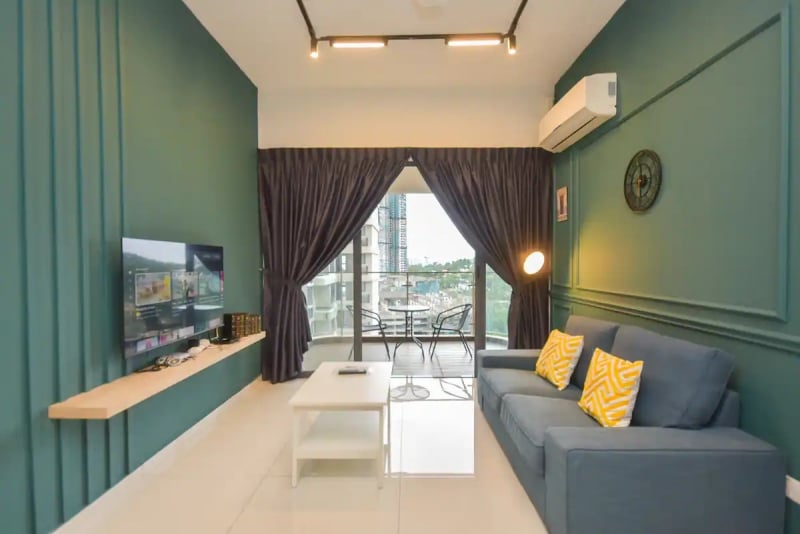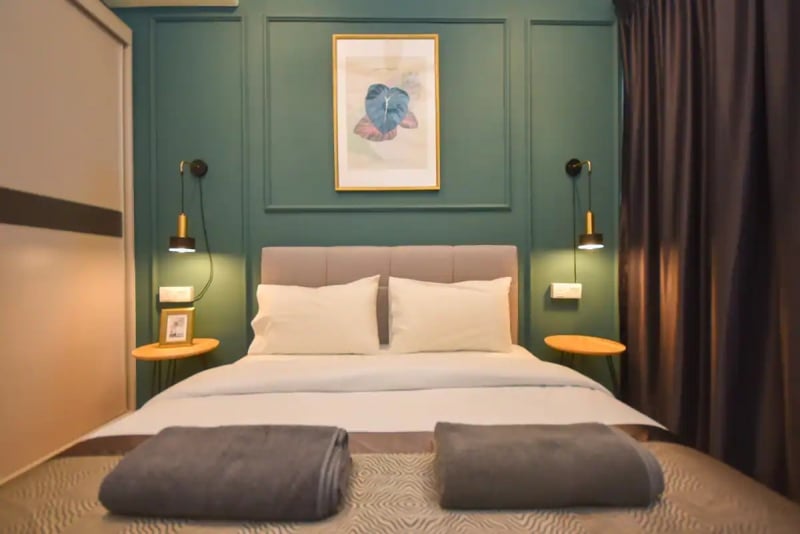 Listing name: D'Tiffany Suite by Nest Home【Beach | Atari Game】
Listing type: Entire condo
Max. no. of guests: 4
No. of bedrooms: 2
If you're searching for a soothing and inviting home, then this simple yet exquisitely designed suite was made just for you. Substituting common colours, the walls are painted in an emerald green shade that looks absolutely soothing. Complementing these are the black and gold table lamps, romantic yellow lights, and wooden furniture. 
Moreover, guests can also enjoy various facilities in the building, including the swimming pool, gym, study area, and BBQ area. Light cooking is allowed in the unit, so you can do some grocery shopping at the supermarket nearby and prepare yourself a simple meal.
2. This elegant home with astonishing sea views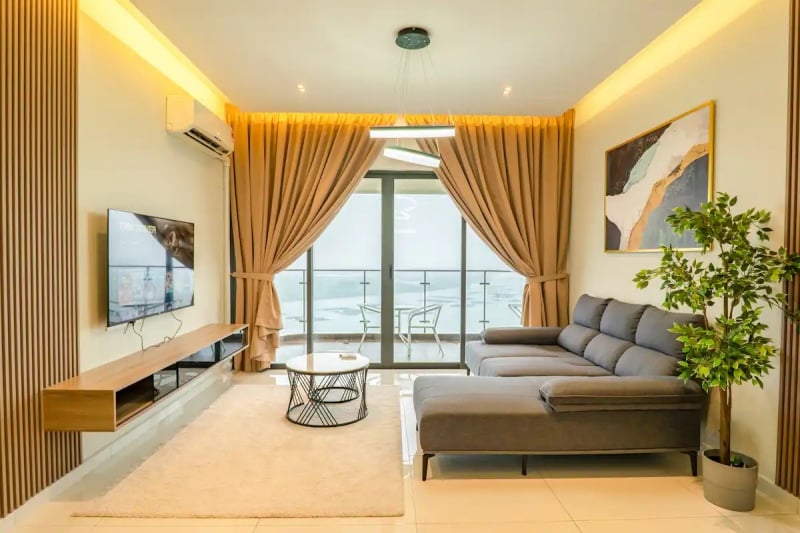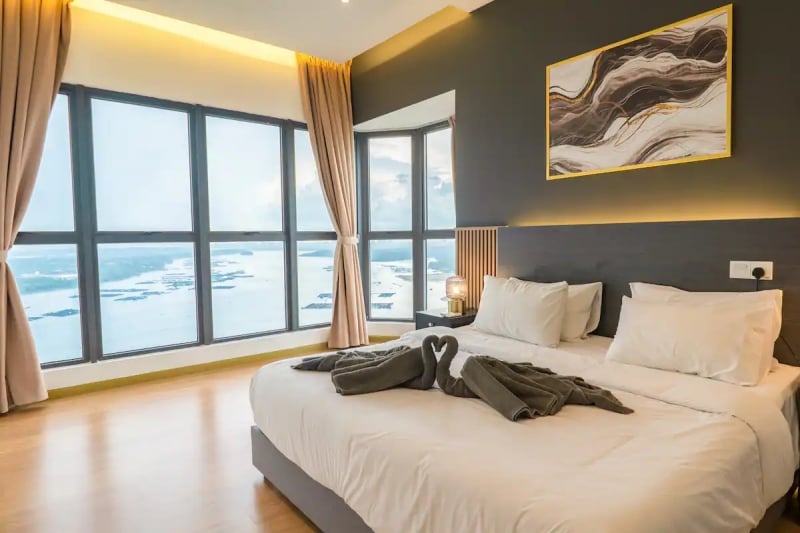 Listing name: 【Ultimate 180′ Seaview!】D'Summer Suite by NestHome
Listing type: Entire condo
Max. no. of guests: 8
No. of bedrooms: 4
If you're searching for graceful accommodation with an unobstructed ocean view, then this suite on the 38th floor is the place for you. The window walls in the living room and bedroom allow guests to catch the jaw-dropping sea view, sunrise and sunset at ease. Incorporating black, white and gold colours, with elements like an LED-light chandelier, green plant, and frame wall art, this place emits elegance. 
There are also facilities like swimming pools within the condo building, as well as supermarkets nearby. Looking to eat, drink, and be merry by the coast? Plenty of beachfront restaurants and bars are only a few minutes' walk from this Johor Bahru Airbnb. Pretty convenient and a perfect place to stay for a chilling vacation, don't you think?
3. This high-rise apartment with industrial interiors and artsy decor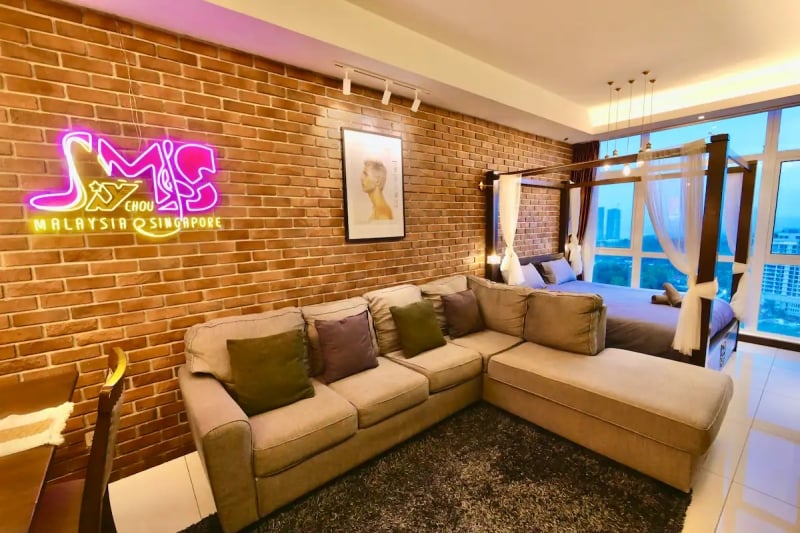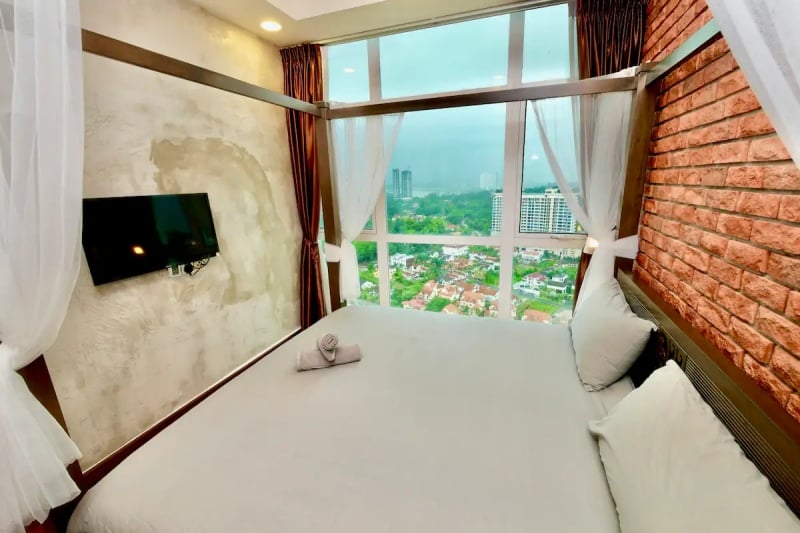 Listing name: Quiet sea view apartment in the city & FREE WIFI
Listing type: Entire rental unit
Max. no. of guests: 8
No. of bedrooms: 2
For your next family vacation or gathering with friends, stay in this contemporary apartment with a city skyline view. Parts of the walls of the bedroom and living room utilise a brick wall backdrop. You'll also find several wall art and vinyl records of famous oldies — lending a subtle vintage vibe to the place. 
Here, there are two bedrooms, a built-in bunk bed, a king-size bed, and a sofa bed. Fitting up to eight guests, this place is suitable for a large group of travellers. The apartment is also close to shopping malls like R&F Mall, local eateries, and major train stations like JB Sentral. 
4. This minimalist condo near famous landmarks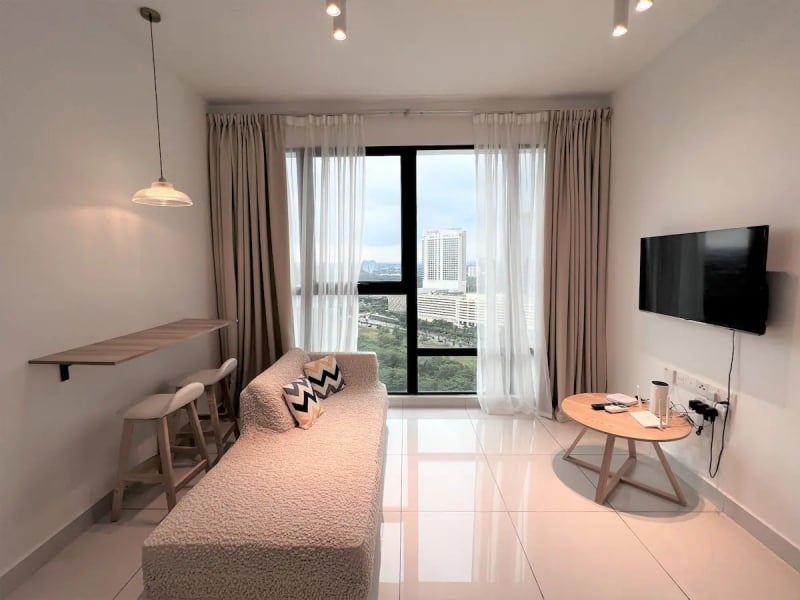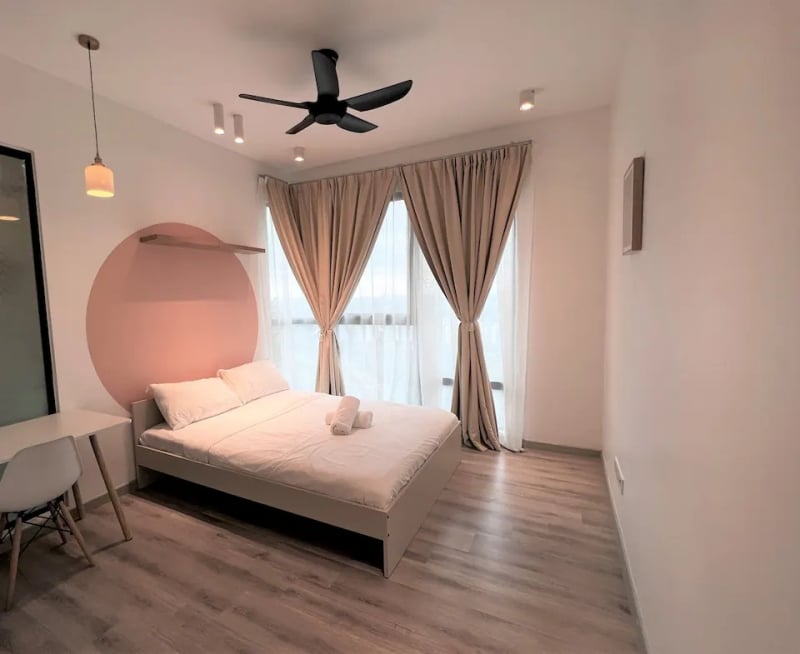 Listing name: R1/JB Town/Walk 5mins to MidvalleySouthkey/Netflix
Listing type: Entire condo
Max. no. of guests: 3
No. of bedrooms: 1 
Just a five-minute walk from Mid Valley Southkey Mall, this lovely Johor Airbnb is another excellent choice for your next vacation. With its faux-fur couch, pink and white walls, and Nordic furniture — nothing too extravagant — it will delight your mood from the moment you walk in. It is also nearby another well-known mall Aeon Terbau City, and only a 30-minute drive from Legoland and Desaru Beach.
Although it is a dual-key condo with two separate units under one house, each unit is equipped with an ensuite bedroom and a private bathroom which guarantees privacy. Netflix and other basic amenities are available too.
5. This elegantly furnished condo overlooking the sky and sea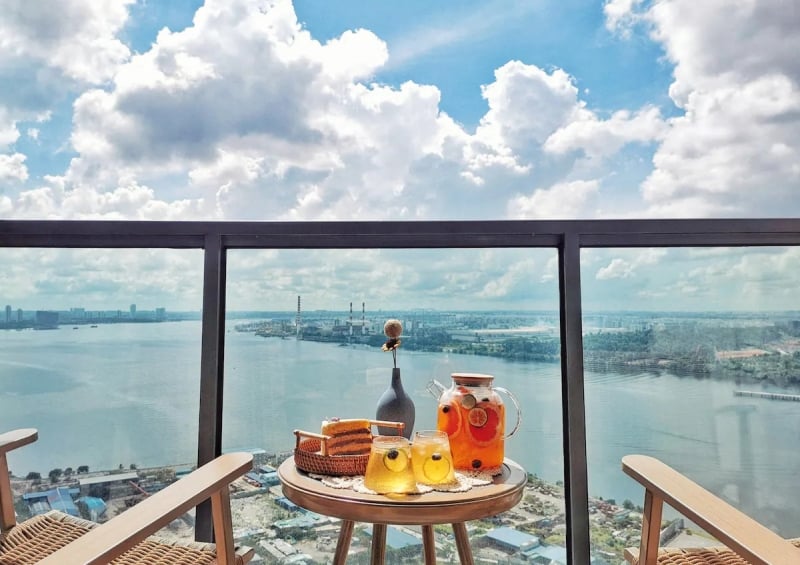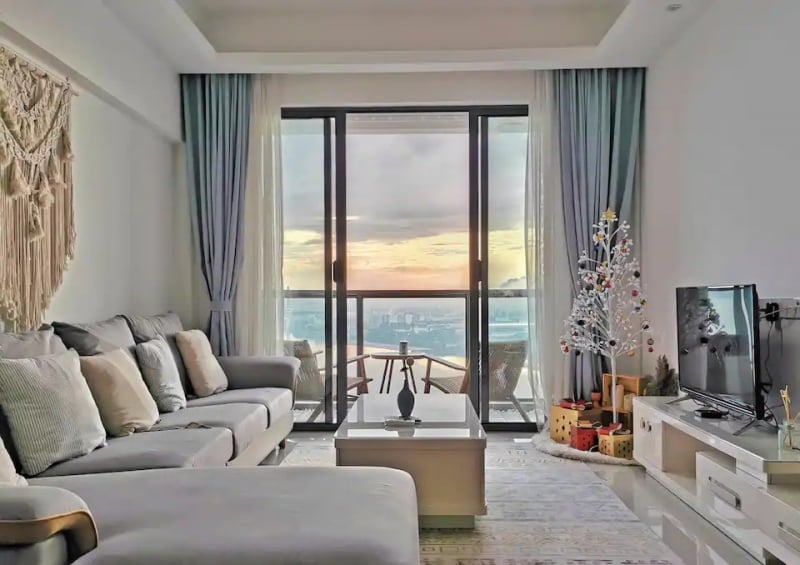 Listing name: 🌾Yussy Ins Sea View Big Mirror 2 Br @R&F Princess
Listing type: Entire condo
Max. no. of guests: 4
No. of bedrooms: 2
This stunning Airbnb in Johor Bahru city centre will make your holiday getaway extra memorable. It features a stylish Scandinavian style, and the rooms are adorned with cute decorations like dried pampas grass, a tiny Christmas tree, and natural wood accents. One of the biggest highlights of the accommodation is no doubt the vista of the sky and sea, where you can sip some tea while enjoying the view on a lazy Sunday afternoon — just like the main characters in your favourite movies.
Besides, guests can enjoy free condo facilities like the sauna room, running track, indoor garden, and swimming pool. It's also a short drive from the Malaysia–Singapore Second Link, which makes it very convenient for Singaporean travellers visiting Johor. 
6. This cool yet simple studio with ample facilities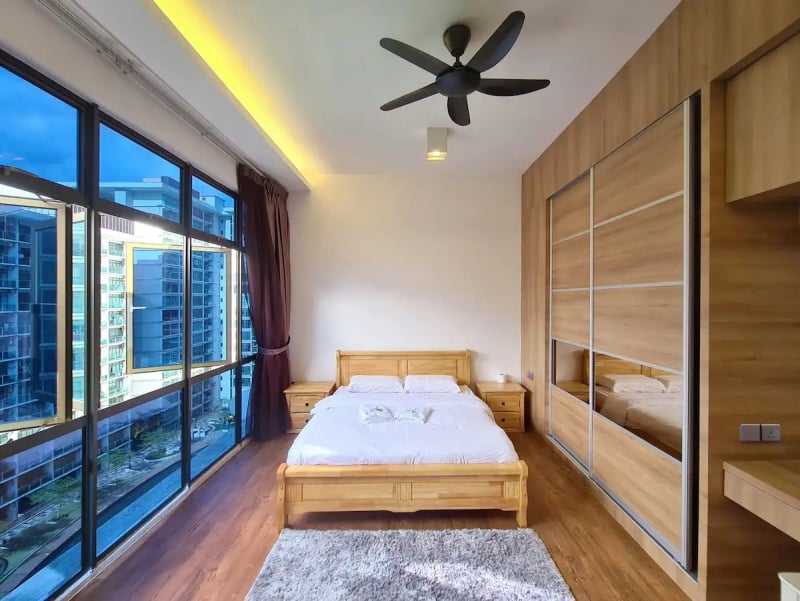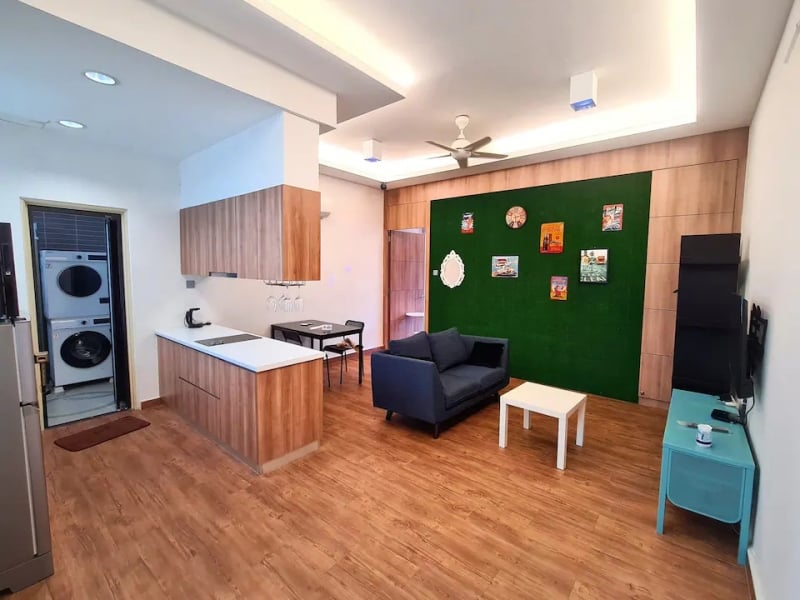 Listing name: Studio 1BR high floor Netflix Palazio Mount Austin
Listing type: Entire serviced apartment
Max. no. of guests: 3
No. of bedrooms: 1
If you're travelling solo or with a partner, look no further than this pristine Mount Austin Airbnb that has all the basic amenities. It's a studio unit with one free parking space, as well as shared facilities like a swimming pool, gym, basketball court, tennis court, and convenience store. The natural wood accents add a hint of cosiness to the modest interior, topped off by the large windows in the bedroom that showcase the skyline. 
It's more convenient if you drive around, as this residence is very close to several shopping locations in JB like IKEA Terbau, Toppen Shopping Centre, and the Taman Mount Austin Bubble Tea Street (a favourite hangout among locals).
Also read: 12 Best Food Spots in Johor Bahru for the Perfect Gastronomic Adventure
Johor Airbnbs near Legoland for absolute convenience
7. This condo with a colourful dessert theme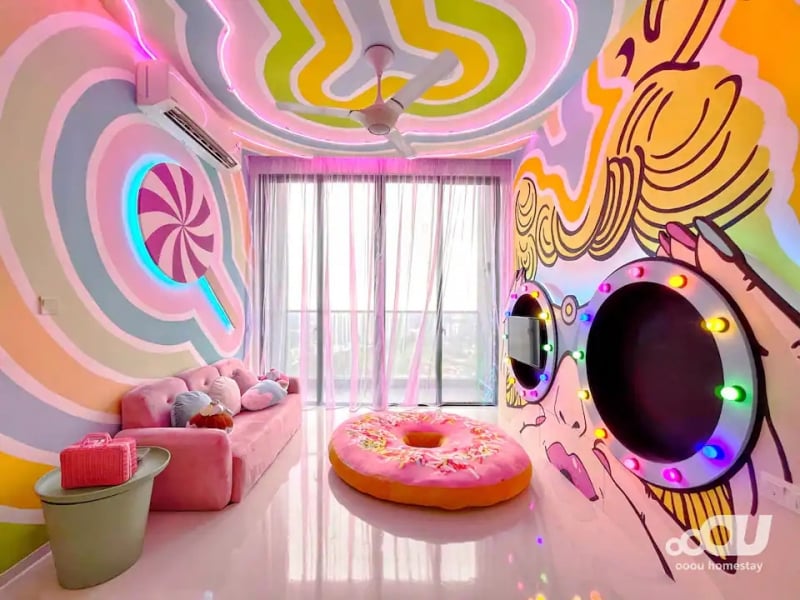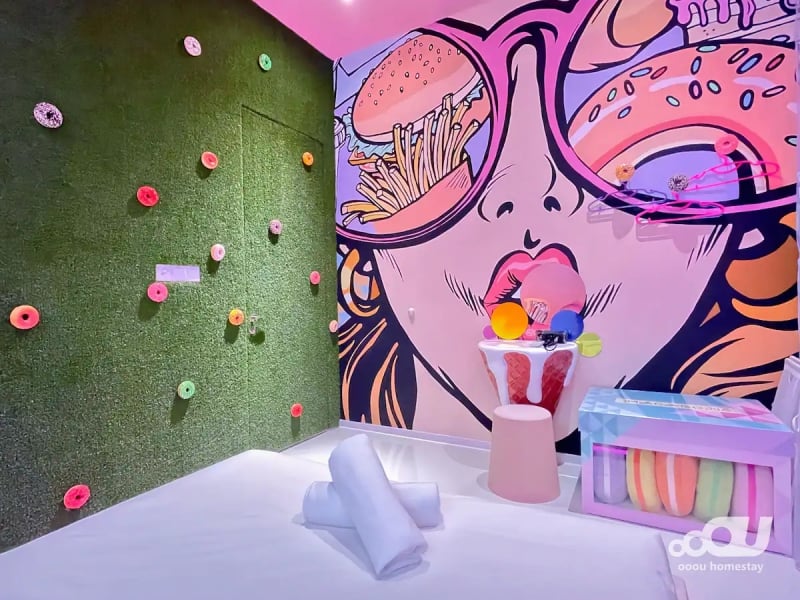 Listing name: JB – Sweet Party @ D' Pristine Medini By OOOU
Listing type: Entire condo
Max. no. of guests: 4
No. of bedrooms: 2
This Johor Airbnb is here to fulfil your dream of living in a candy house. Decked with pink furniture, rainbow-coloured wallpaper and neon wall lights, OOOU Homestay is specially designed for little kids, families, or young adults who want to be showered with sweetness. Besides its out-of-this-world design, the condo comprises a pink doughnut cushion seat, doughnut pillows, and a wall full of doughnut plushies. There are also two colourful indoor market stalls where kids can have a party at. 
It takes only a three-minute walk from the condo to the famous attraction Legoland, and a five minutes drive to nearby restaurants, cafes, and shopping malls. So, would you say yes to living in this delectable home?
8. This Airbnb near Legoland with Lego walls and car collections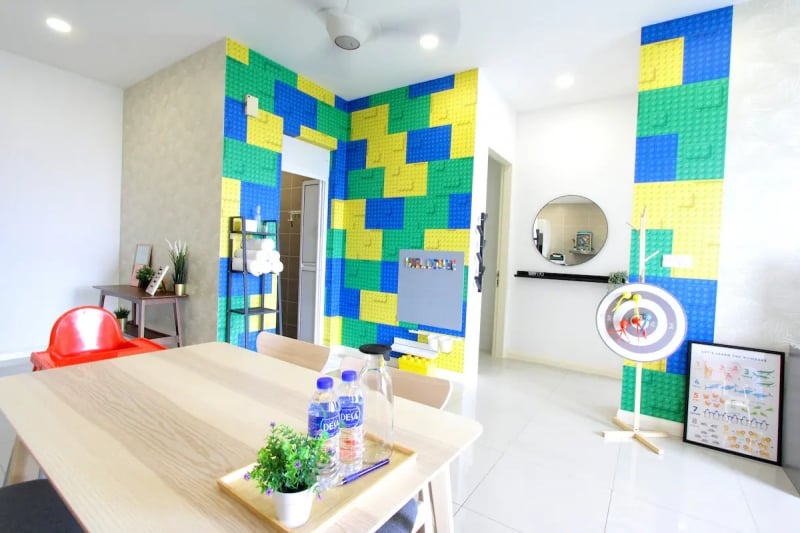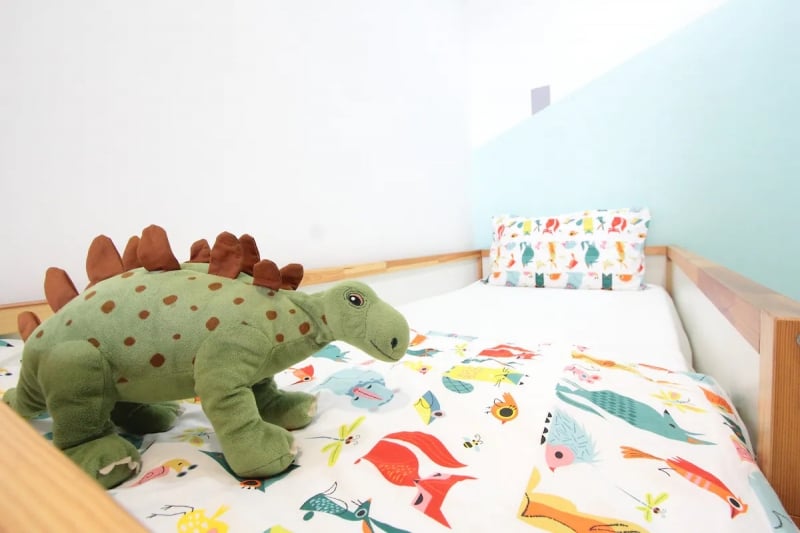 Listing name: 2BR(6pax)FREE WIFI@D'pristine@WALK LEGOLAND 步行乐高乐园
Listing type: Entire condo
Max. no. of guests: 6
No. of bedrooms: 2
At this Lego-themed house, you'll feel as though you have gone back to your childhood of playing Legos and collecting cool toy cars. Part of the house is decorated with Lego wallpaper. Other than lego, the little ones can also indulge in activities such as building Legos, playing darts, racing toy cars, and reading the story books provided. 
Both the living room and the bedrooms come with a panoramic greenery view, and there are kids-friendly facilities like a swimming pool and playground available for use. It's located right across from Legoland Malaysia, making it a truly go-to accommodation for Lego lovers.
9. This massive Johor Airbnb with a pool table and karaoke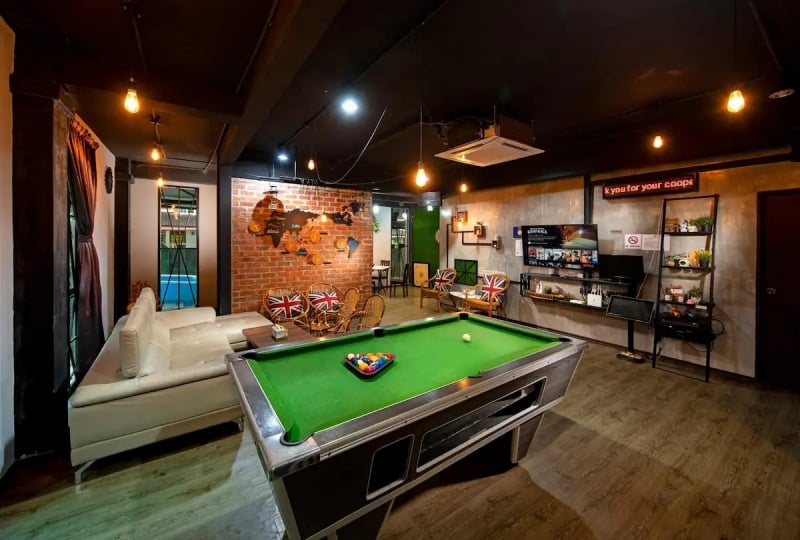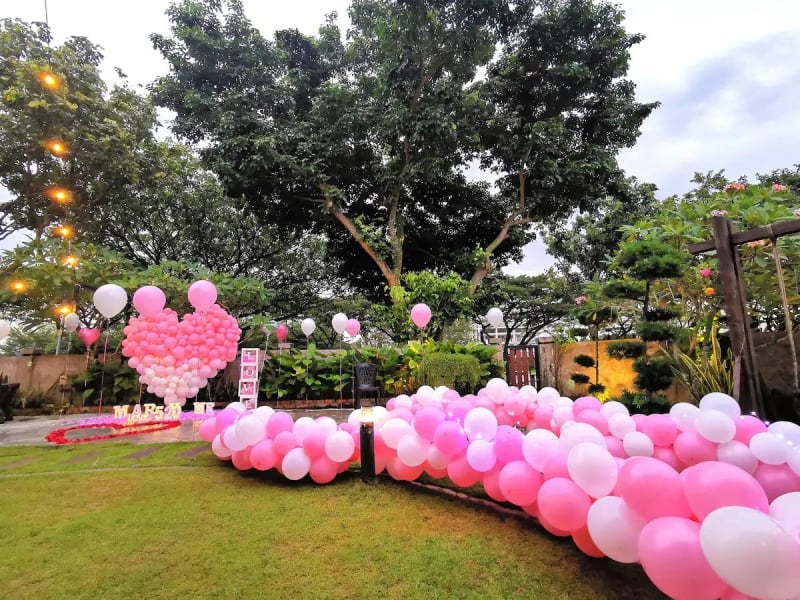 Listing name: ECOHAUS Garden 15mins Legoland +Karaoke/Pool Table
Listing type: Entire home
Max. no. of guests: 16
No. of bedrooms: 5
ECOHAUS Garden in the Bukit Indah suburb is another Airbnb near Legoland worth considering. From outside, this home surrounded by lush green plants already looks massive. There's a large courtyard in the house with a barbecue area, a bench and tires with Minion paintings, and two wooden swings that will make you feel like you're in a tropical jungle. 
With adequate bedrooms and a spacious area dedicated to big gatherings, it's a fantastic place to hold weddings, birthday parties, and other celebrations, too. The house comes with mahjong tiles, a pool table, darts, and other fun games. Plus, most of the art pieces you can spot in and around the house are in fact created by the owner! How cool is that?
Other Johor Airbnb homes you should check out
10. This spacious resort with indoor waterslides and pools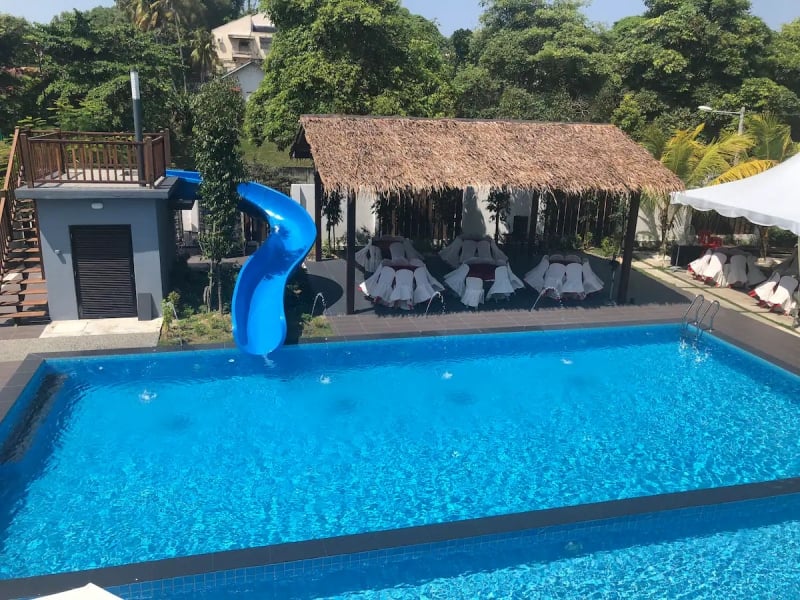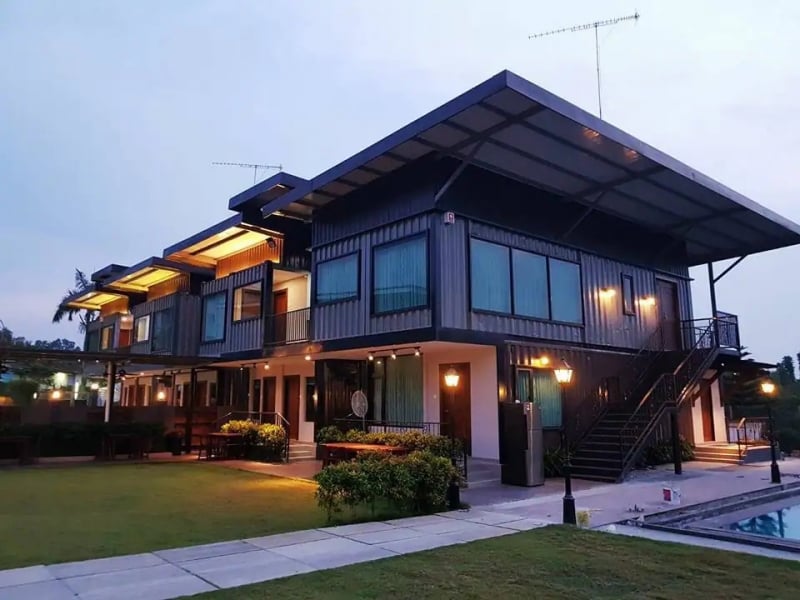 Listing name: Homestay kolam renang kontena Kluang blok B
Listing type: Resort
Max. no. of guests: 16
No. of bedrooms: 7
Forget about going to the theme parks, this Airbnb in Kluang is already a private water park on its own. It's a luxury mini-resort built with containers, featuring a large outdoor jacuzzi pool and a water slide. The inside of the house is simple yet spacious. Apart from the huge private space which is perfect for holding all kinds of events, the house also comprises BBQ equipment, a mahjong table, and a karaoke system.
The container guesthouse is only one kilometre away from the city centre, close to famous tourist attractions such as Gunung Lambak, Kluang Street Art, and UK Farm. 
11. This luxurious villa in Kluang with a private pool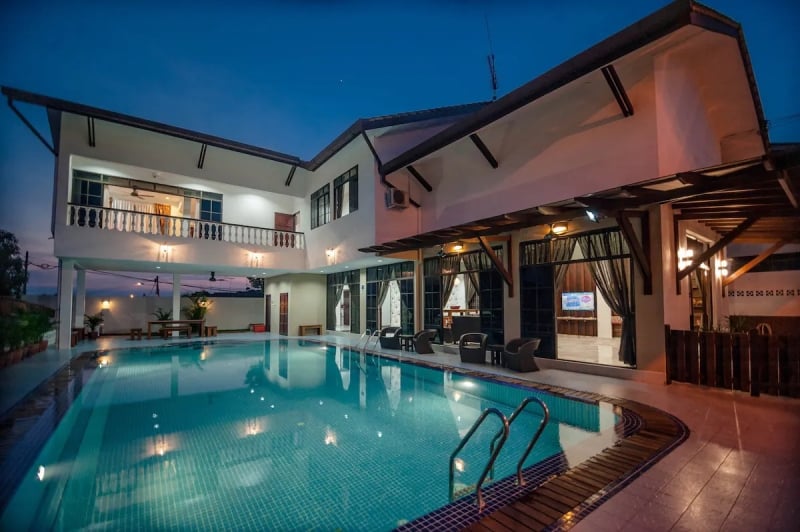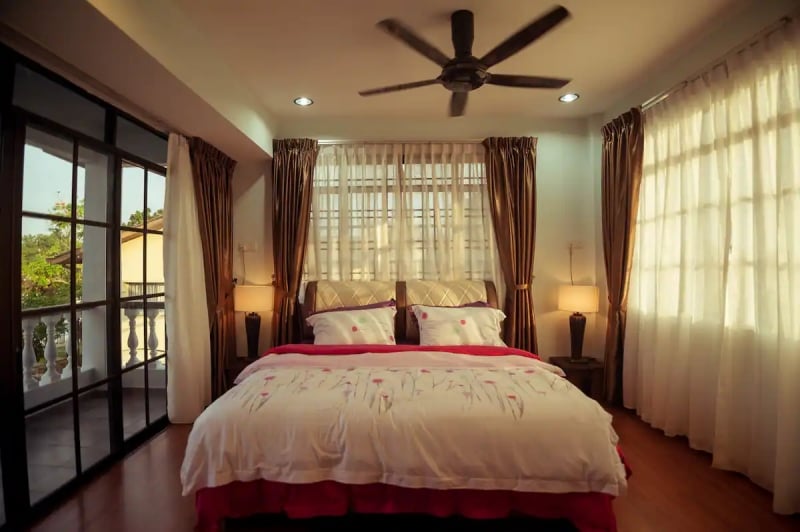 Listing name: Kluang Swimming Pool Homestay 居銮首间别墅渡假屋民宿.超大的泳池😍
Listing type: Entire villa
Max. no. of guests: 16
No. of bedrooms: 4
If you're a fan of older Cantonese TVB dramas, then this lavish swimming pool villa will remind you of those particular mansions that wealthy families live in. Here, each room is equipped with a private bathroom and a bathtub. Aside from the giant courtyard and eye-catching private pool, the modern interiors also give out a comforting vibe to this Johor Airbnb. 
The villa also provides steamboat and BBQ equipment, a swing, and a mahjong table for entertainment. Want to enjoy a cup of nice local coffee and delicious food? The well-known railway coffee shop in Kluang and other restaurants are only a stone's throw away. 
12. This grand brick house with a Santorini-inspired pool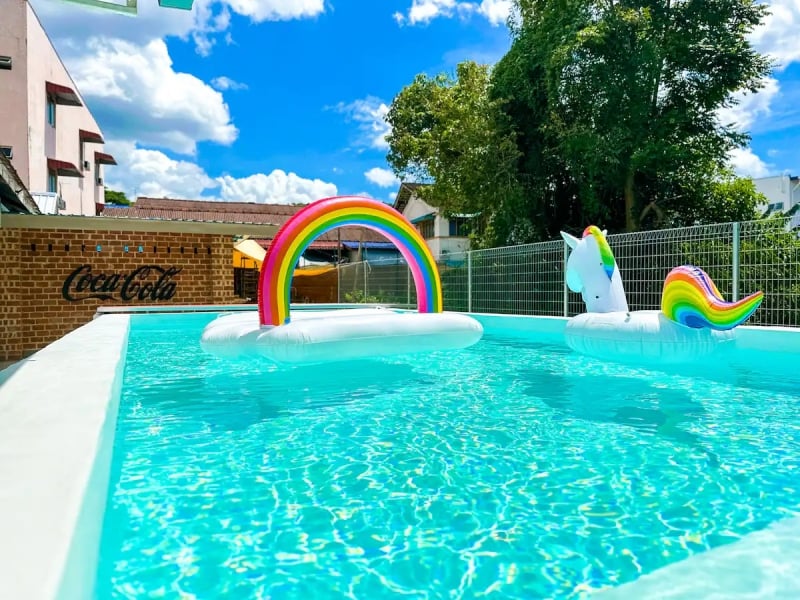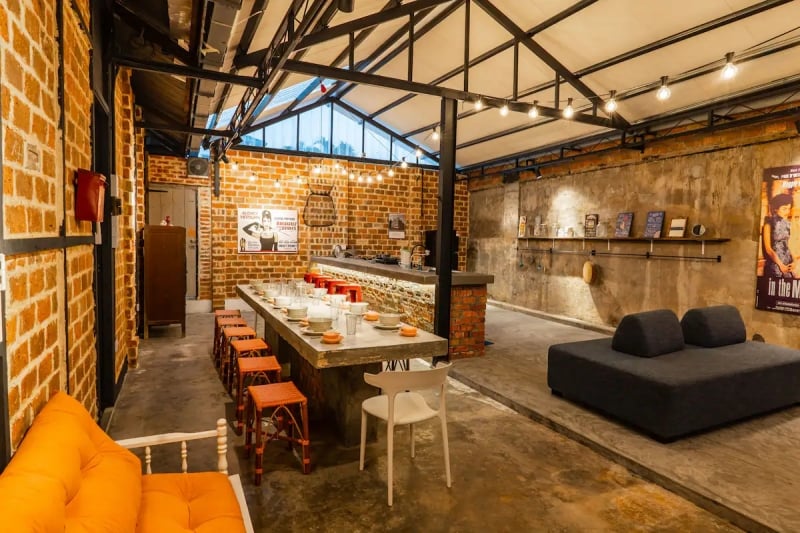 Listing name: 【Santorini Pool】Blues 11 Retro Homestay【KTV | BBQ】
Listing type: Entire home
Max. no. of guests: 16
No. of bedrooms: 7
This is another Airbnb in Kluang worthy of your attention. With its large Bee Gees wall portrait, disco balls, and upholstered velvet bed frames, the interior of the house is almost entirely retro-themed. It is also sprinkled with a little bit of 1920s Shanghai-style elements, like old movie posters and traditional Chinese house windows.
What's more, there is a large outdoor private swimming pool reminiscent of those in the hotels of Santorini. Sing your heart out with the high-end karaoke system provided in the house or spend a fun day barbecuing with your friends at the open-air space!
13. This adorable homestay in Muar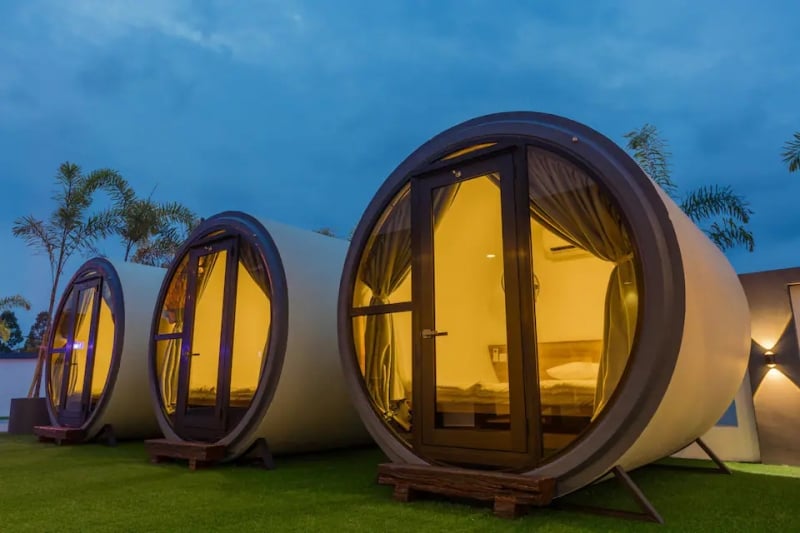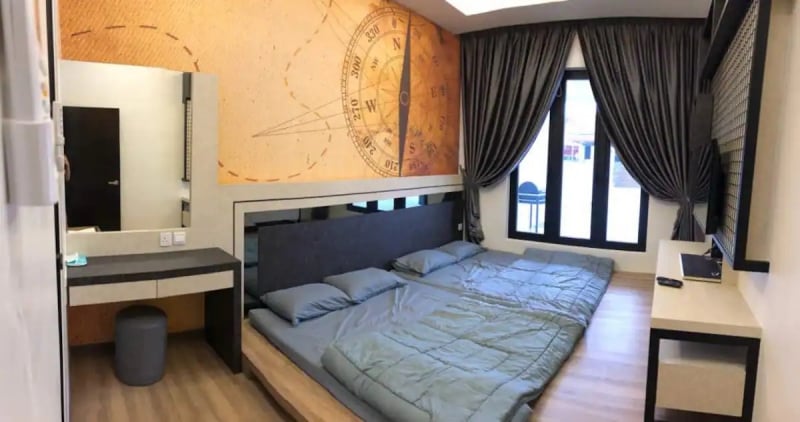 Listing name: 1060th Guest House Muar
Listing type: Entire home
Max. no. of guests: 12+
No. of bedrooms: 6
It's not every day that you find a unique guest house like this one in Muar. Named the 1060th Guest House, it features three air-conditioned cylinder-like houses made from cement pipes. The interior design is simple and contemporary, and previous guests always liked the comfy beds. Of course, the three cylindrical houses are just a part of the bigger house, which can accommodate up to 24 guests! Hence, this Johor Airbnb is perfect for private events like weddings, birthday parties, and big family gatherings. 
14. This serviced apartment where you can enjoy the sunset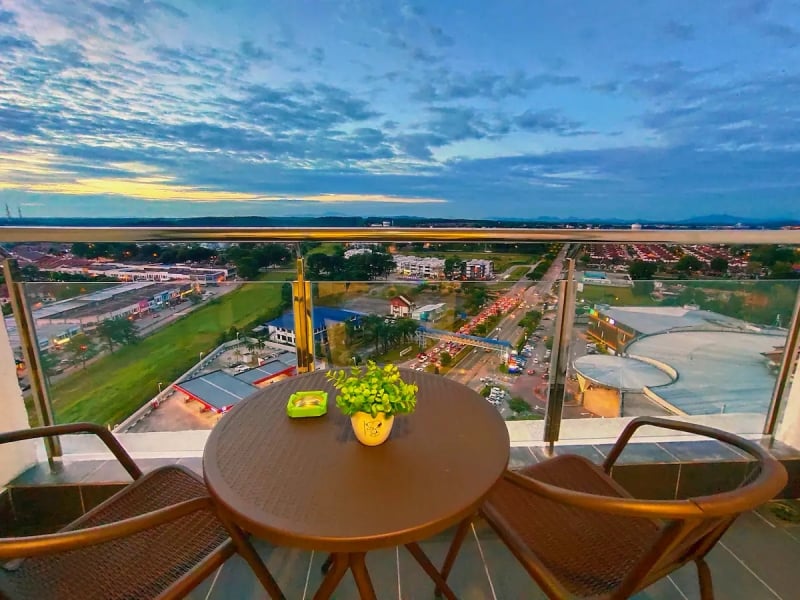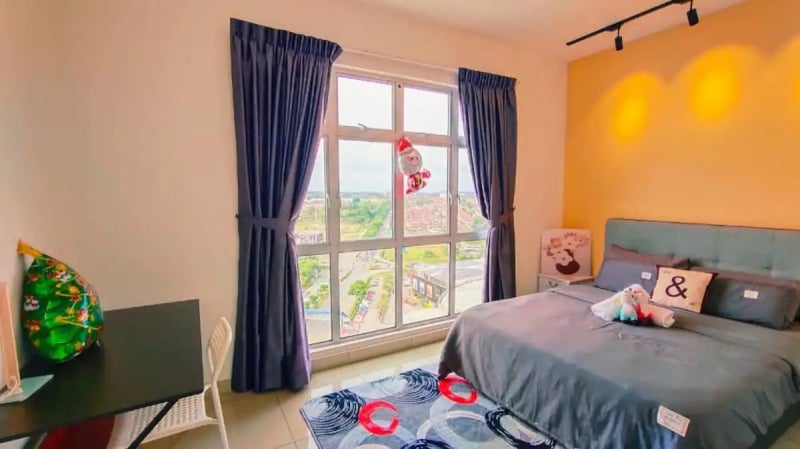 Listing name: Kulai D'putra Suites Apt@Near JPO/Senai Airport
Listing type: Entire rental unit
Max. no. of guests: 6
No. of bedrooms: 2
This Johor Airbnb in Kulai makes another great accommodation for your getaway trip. It's linked to IOI Mall Kulai, and its ideal location provides easy access to attractions like the Johor Premium Outlet, Putuo Village, and Senai Airport. There's also a nearby night market that takes place every Friday.
The unit features a combination of beige and dark grey tones, with indoor plants, colourful throw pillows, and animal plushies as decorations. What's better, guests get to relish the panorama view of the sunset and sunrise from the balcony and the master bedroom. How cool!
15. This vibrant, dreamy house with lots of entertainment amenities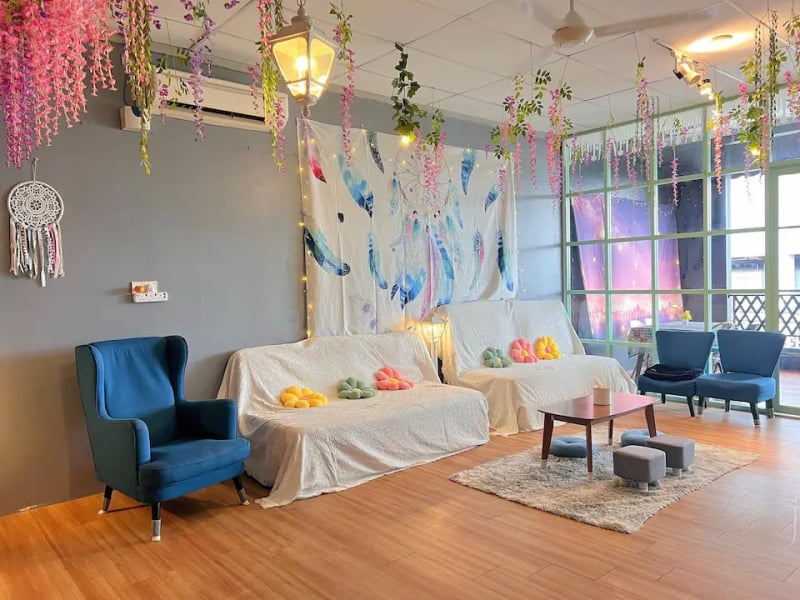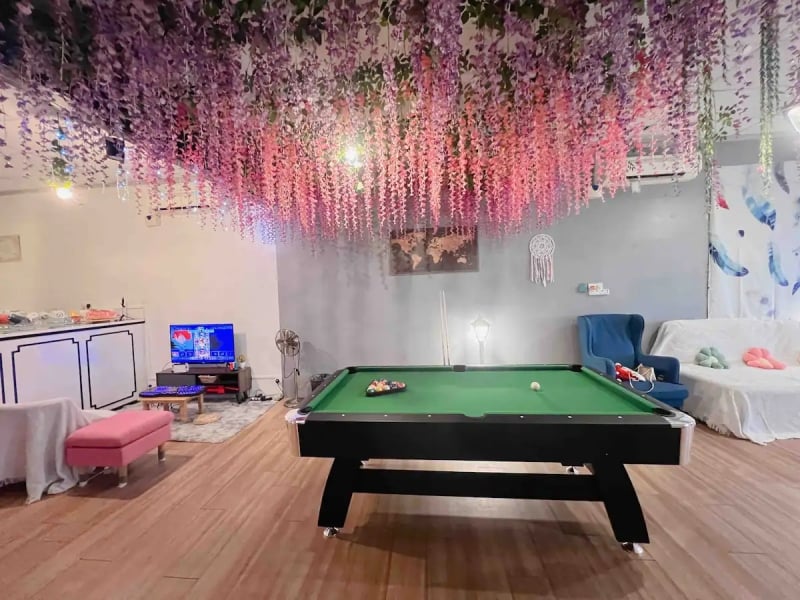 Listing name: Relaxlah in Kulai (up to 20 pax)
Listing type: Entire home
Max. no. of guests: 8
No. of bedrooms: 1
Relaxlah in Kulai is a pet-friendly Johor Airbnb. Located near Aeon Kulai, this adorable condo is a place where you can relax and have fun with your furry friends, while having convenient shopping and eating options nearby. Free games are also available in the unit, such as kids-friendly board games, a pool table, darts, Game Boy, and Nintendo Switch (provided upon request with a deposit required). 
The condo features wooden tiles, wall canvas, and animal-print cafe curtains and carpet. The vibrant flower pillows, hanging lavenders, and dreamcatcher add a unique flair to the house, making it a fun, whimsical place to stay in.
Also read: 24 Hours Across the Border: Everything to Do on a Day Trip to Johor Bahru
We hope this list of the best Johor Airbnb stays helped with your trip planning. Have a fantastic time exploring this destination in Malaysia! 
---
This article contains affiliate links. When you book through these links, we may earn a small commission at no additional cost to you. All images courtesy of the respective property listings.