Sun, surf, and spring break — probably the top three of many, many things that make Miami an endlessly captivating destination any time of the year. Even beyond the sparkling beaches, this Florida hotspot has plenty to offer: a thriving art scene, mouthwatering cuisine, and diverse nightlife. And when exploring, you'll need the ideal Airbnb in Miami to stay at, of course.
From high-rise condominiums overlooking the beach to sleek villas with private pools, these incredible Airbnbs in Miami just might convince you to never leave the Magic City.
Also read: 10 Honolulu Airbnbs to Bookmark for Your Next Hawaiian Holiday
Best Airbnbs in Miami for spring break and beyond
1. This mid-century sanctuary in South Beach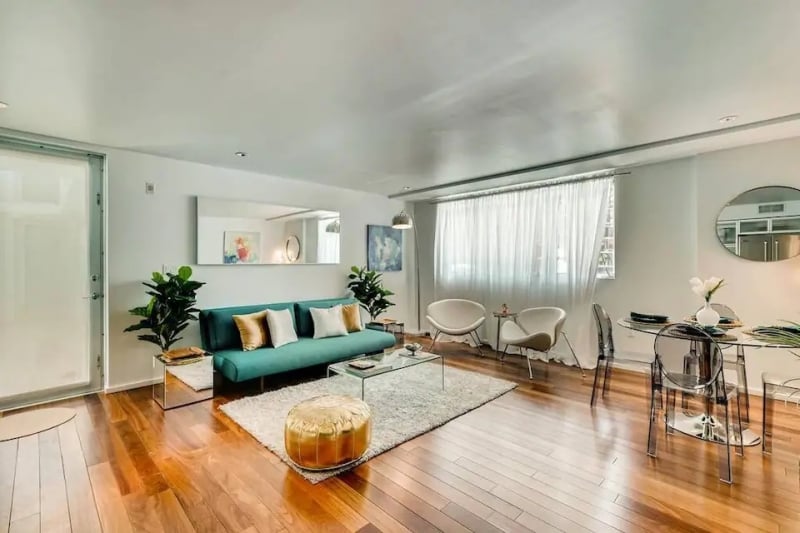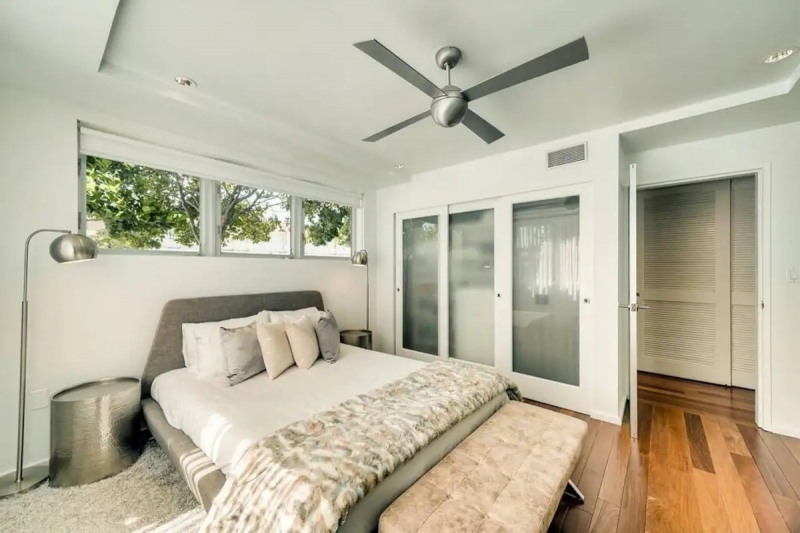 Listing name: Mid-Century Modern Gem South Beach Miami
Listing type: Entire condo
Max no. of guests: 4
No. of bedrooms: 1
Relax in your own space in Miami at this stylish mid-century condominium. The luxuriously appointed space is kitted out with everything you need for a stress-free stay. We're talking a sleek chef's kitchen, flat-screen TVs with streaming options, and tasteful art and decor throughout the space. And if you want to enjoy a little sunshine? Take a dip in the shared heated pool — or join the crowds exploring South Beach.
2. This tiki house in Coconut Grove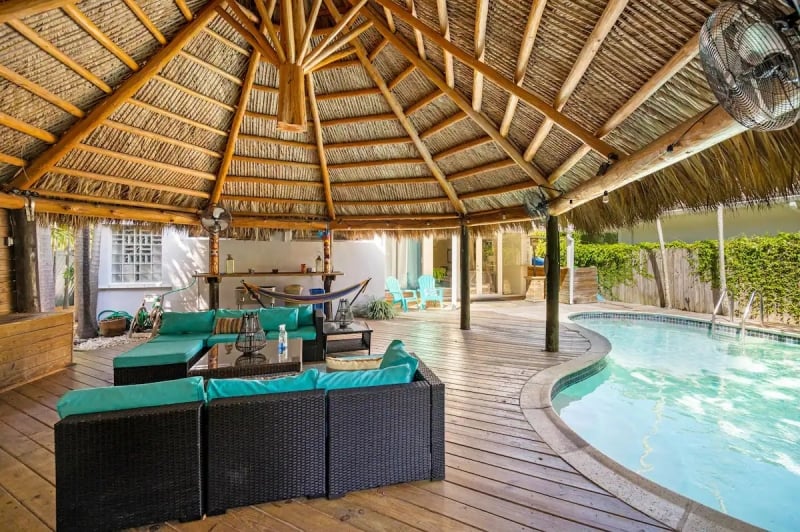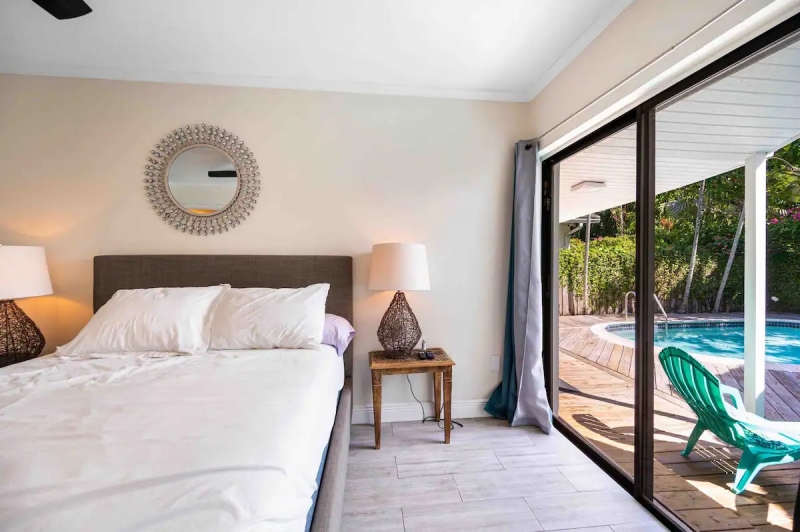 Listing name: Miami Tiki House
Listing type: Entire home
Max no. of guests: 8
No. of bedrooms: 4 
Looking for a fun Airbnb in Miami with a pool for a group vacation? Meet this cool tiki house for a spacious rental with room for up to eight guests. Highlights include amenities like an outdoor pool, a Jacuzzi tub, and a fire pit. Honestly, you can skip sightseeing, stay in, and still have a great time! But if you're up for exploring the peaceful neighbourhood of Coconut Grove, there are two bicycles in the house free for guest use. 
3. This stylish pool house in a residential area
Listing name: Endless Summer Pool House
Listing type: Entire home
Max no. of guests: 8
No. of bedrooms: 3 
Come home to this vibrant pool house big enough to host all your pals. Three bedrooms, multiple dining areas, and a sprawling backyard promise plenty of space for everyone. On sunny days, guests will likely spend most of their time by the pool, either relaxing on lounge chairs or swimming surrounded by pool inflatables. And when you're ready to venture out, head to nearby attractions like Aventura Mall, Sunny Isles Beach, Oleta Park, and Hard Rock Stadium.
4. This cosy cottage near Brickell and Little Havana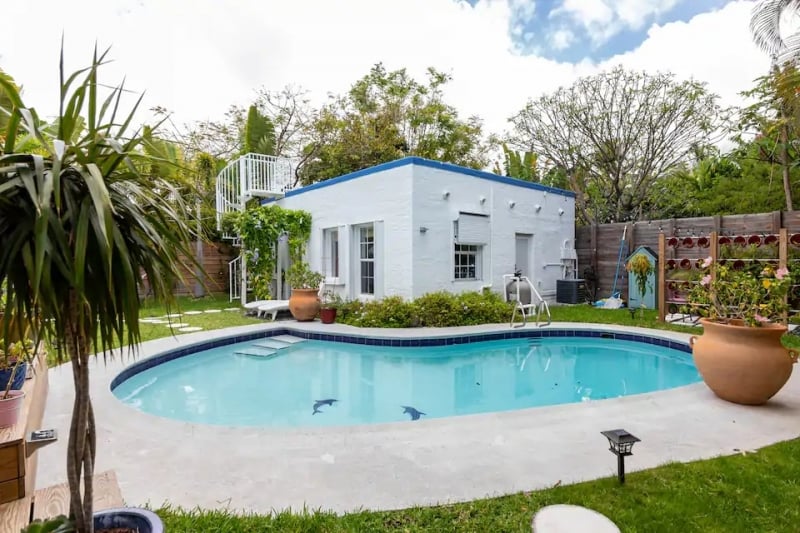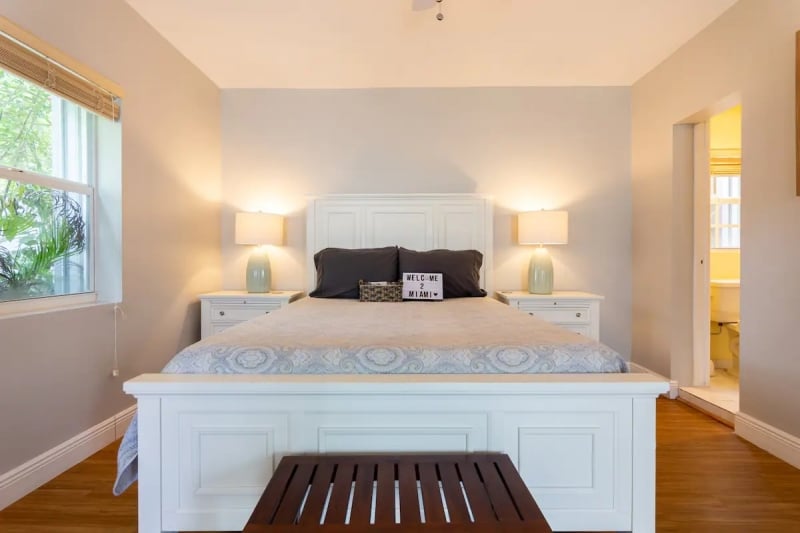 Listing name: Cute cottage w/ pool near Brickell & Little Havana
Listing type: Entire guesthouse
Max no. of guests: 2
No. of bedrooms: Studio 
This pretty little cottage is an excellent pick for solo travellers or couples looking to unwind. Although this rental shares an outdoor pool with the main house, you'll enjoy utmost privacy with your own alfresco area tucked behind a wall of hanging plants. Free parking — a luxury in Miami — is included.
And since it's near Brickell and Little Havana, this Airbnb in Downtown Miami is a fantastic base for sightseeing. It won't take more than 15 minutes by car to South Beach, while Coconut Grove and Key Biscayne are a quick bike ride away.
5. This tranquil oasis in The Roads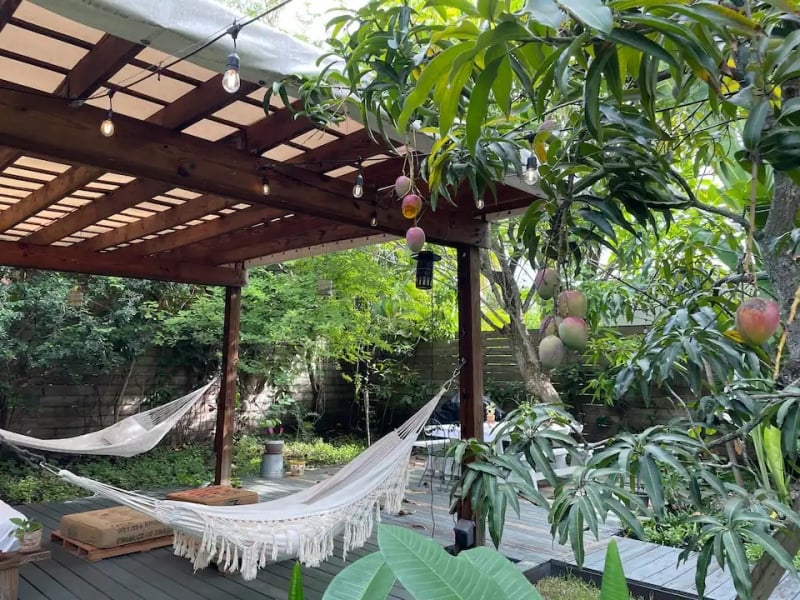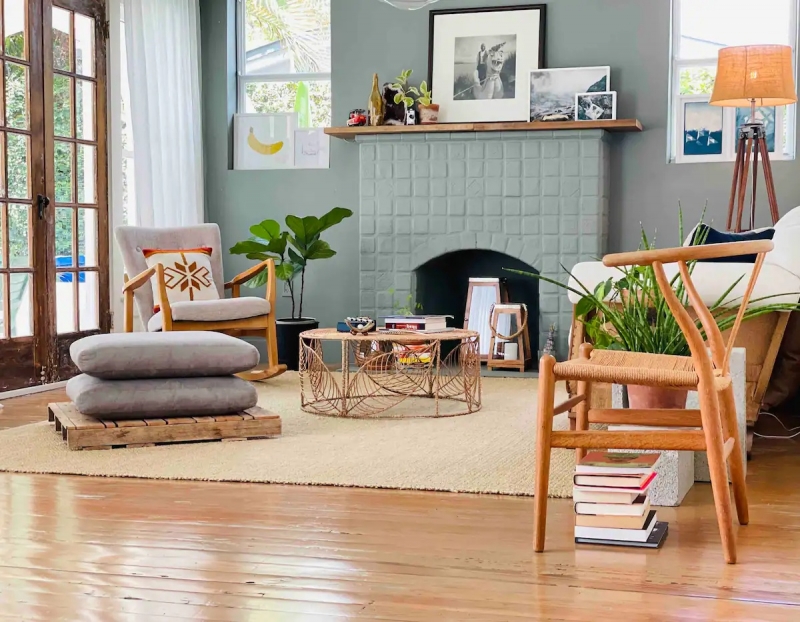 Listing name: Brickell Oasis ~ Perfect Tropical Retreat
Listing type: Entire home
Max no. of guests: 2
No. of bedrooms: 1 
There's something indulgent about finding a quiet corner of buzzy Miami to claim as your own. And we've found a pretty delightful one: This beautiful 1920's residence with a tropical garden featuring a lounge area, hammocks, a BBQ area, and an outdoor shower. Inside, you'll enter a light-filled space with chic furnishings and décor.
A hidden gem in a neighbourhood called The Roads, this Airbnb in Miami keeps you within the city centre. It's within walking distance of Brickell and its many restaurants, shopping areas, cafes, and bars.
6. This bachelor pad in Brickell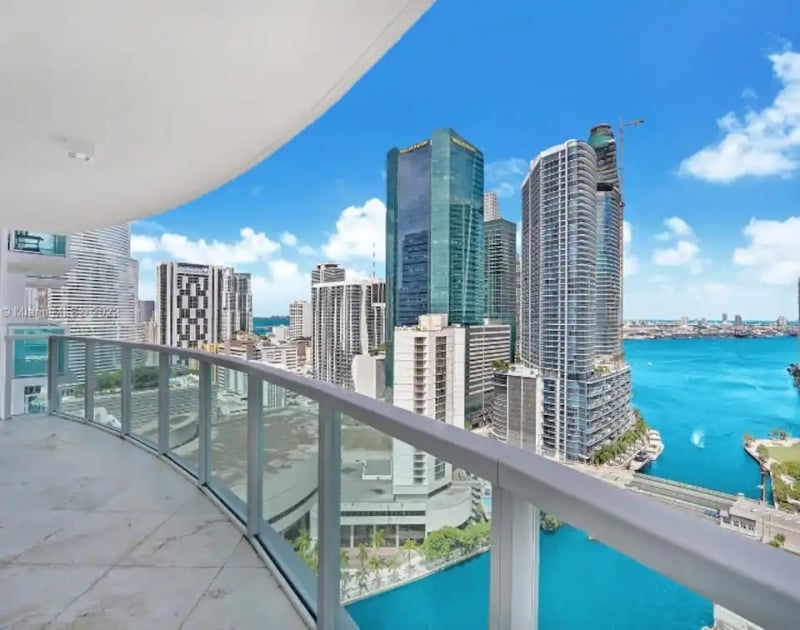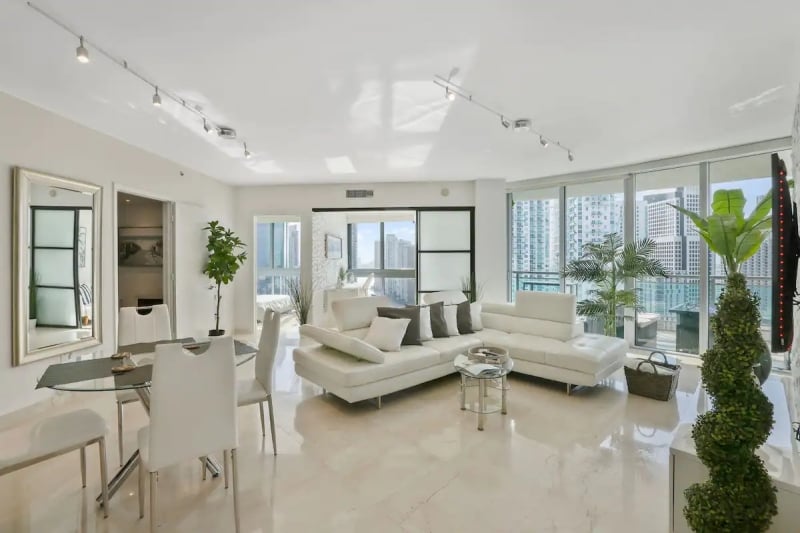 Listing name: Bachelor Pad Paradise – Best Views Brickell Center
Listing type: Entire condo
Max no. of guests: 5
No. of bedrooms: 3 
When travelling, you deserve to splurge once in a while — and this three-bedroom luxury suite is as good a splurge as any! Feel like a VIP in this bachelor pad of your dreams, with breathtaking views of the bay, modern white interiors, and plush furnishings. Every room at this Airbnb in Brickell features floor-to-ceiling windows. At night, the iconic Miami skyline lights up for a dazzling view. What's not to love?
7. This Instagrammable hideout in Miami Beach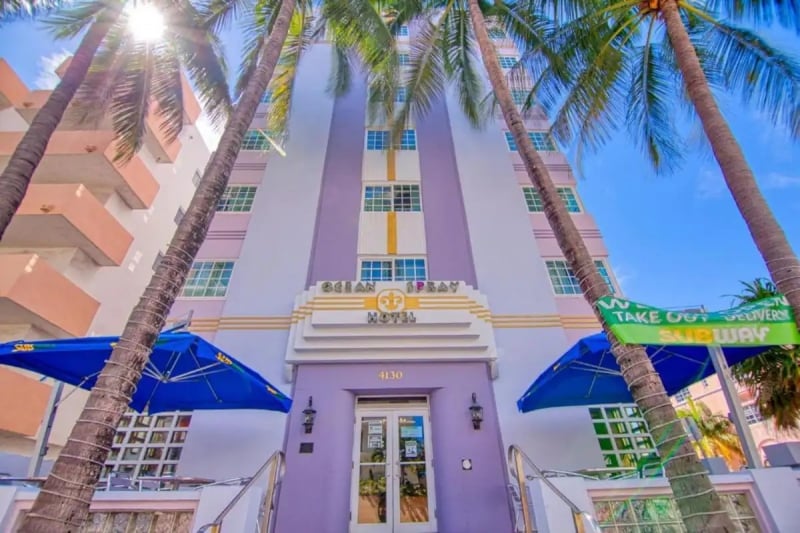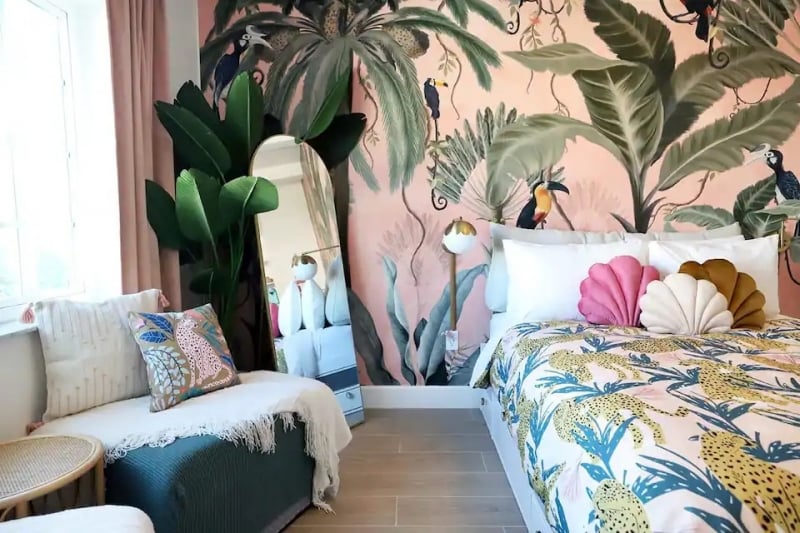 Listing name: Steps to Sea Suite Miami Beach Fontainebleau Faena
Listing type: Entire rental unit
Max no. of guests: 4
No. of bedrooms: 1 
Head to the palm-lined streets of Mid Beach and spend a few nights at this beautifully furnished sanctuary. Tropical-inspired wallpaper, beach-style décor, and colourful appliances create a groovy backdrop for Instagram snaps — you'll find it ridiculously easy to get in the funky Miami Beach vibes at this Airbnb.
Moreover, it's close to neighbourhood hotspots, like the artsy Faena District, The Basement nightclub, and other trendy hotels and restaurants. The beach and the famed Beach Walk are a quick stroll away.
8. This deluxe hotel-like studio facing Miami Beach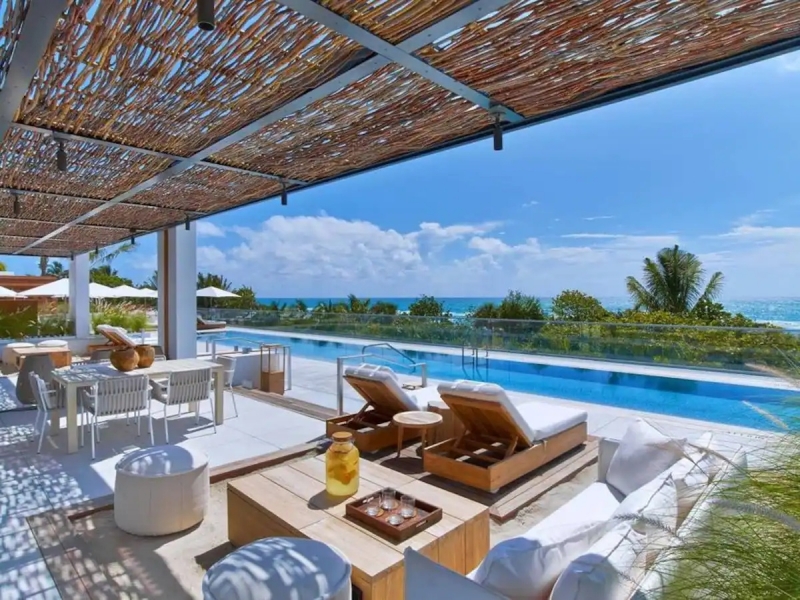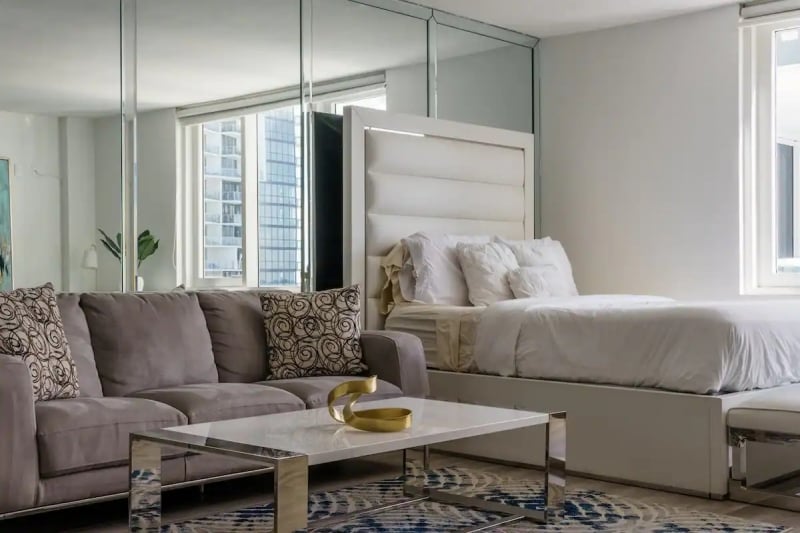 Listing name: Luxury Ocean View Condo
Listing type: Entire condo
Max no. of guests: 4
No. of bedrooms: Studio 
Another fantastic option on Miami Beach is this beachfront apartment. It puts you right where you always want to be on spring break: on the shores of the sparkling sea. This is the best Airbnb in Miami for shore time as it enjoys private beach access for guests. It also has beach-facing swimming pools and a Jacuzzi for soothing soaks in the evening. Inside the unit, guests can rest in a tastefully designed hotel-style space.
9. This tiny home for two in Wynwood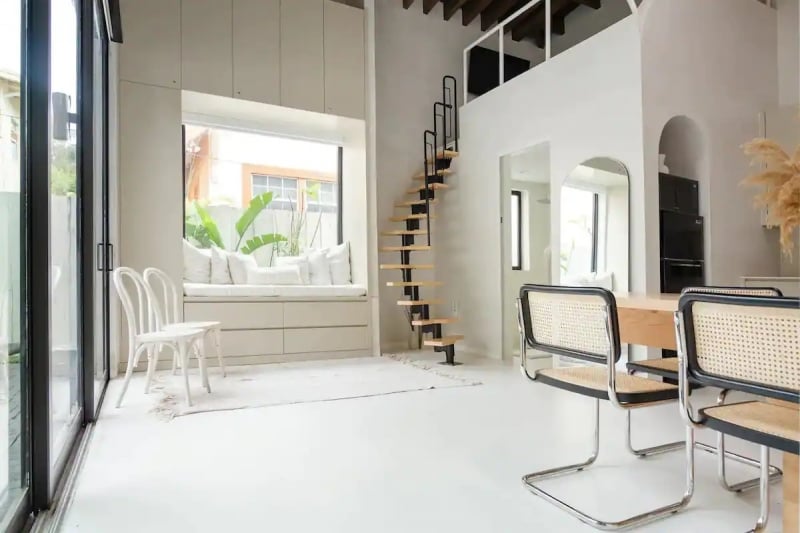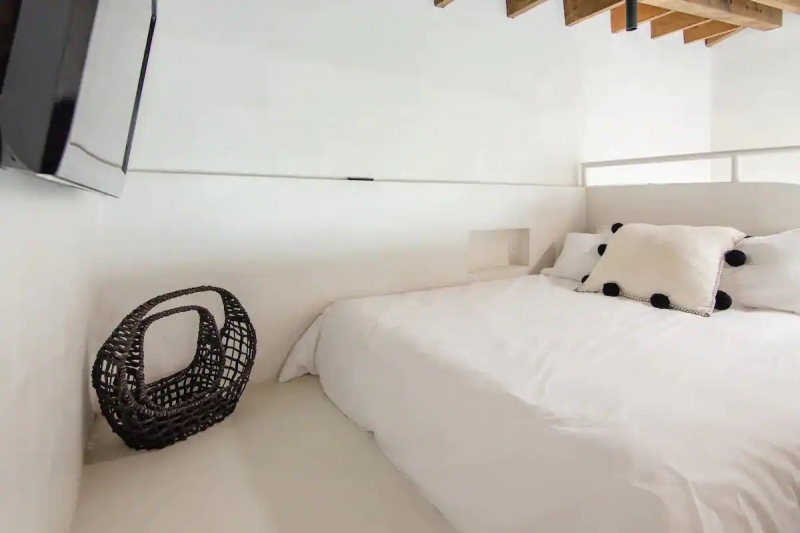 Listing name: Atelier Lumi – @_lumicollection
Listing type: Tiny home
Max no. of guests: 2
No. of bedrooms: 1 
Retreat to this sunlit tiny home in the heart of Miami's celebrated Design District. Perfect for one or two travellers, this loft rental is cosy and intimate. At the same time, ample sunlight, bright white interiors, and minimal furnishings keep it from feeling like a tight fit. And despite the limited space, you'll find multiple spots for lounging, from the cosy bay window seat to the loft bedroom. When you tire of the indoors, step out onto the backyard of this Airbnb for a taste of the famously sunny Miami weather.
10. This hip hideaway for two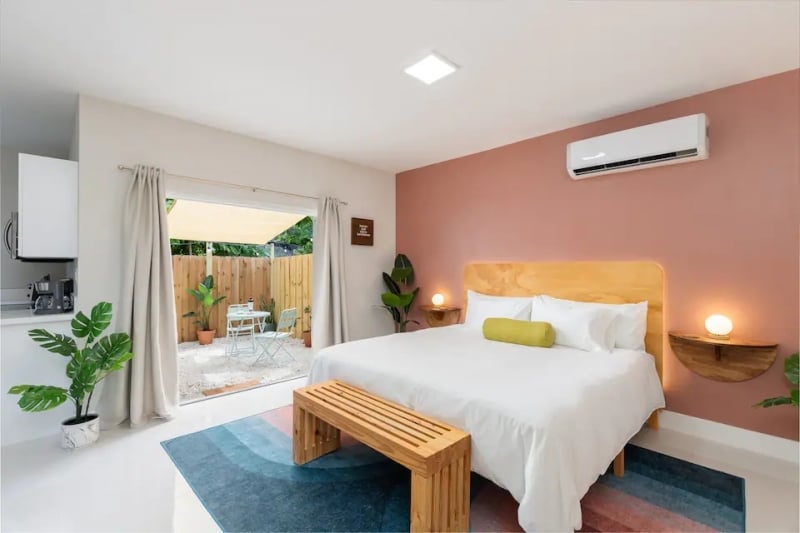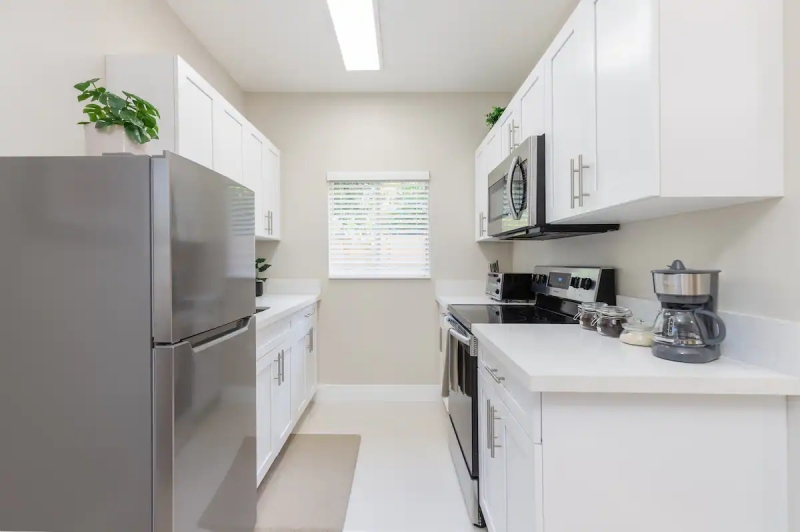 Listing name: Chic Miami Studio – Near Everything Trendy
Listing type: Entire guesthouse
Max no. of guests: 2
No. of bedrooms: 1 
A gem of a find in Miami, this chic Airbnb includes access to a vibrant studio and your own private backyard space. While the detached guesthouse shares a property with a larger residence, guests enjoy complete privacy with its own entrance. Don't worry; you can come and go without running into strangers during your vacation! 
Inside, this chic rental was thoughtfully designed with the guest in mind. Highlights include an ultra-comfy king bed and eye-catching décor showing off Miami's distinct brand of art deco. Even better, this home is minutes from the famous galleries and dining spots of Wynwood, the Miami Design District, and Midtown. Off to South Beach? It's also just a 15-minute drive away.
11. This South Beach escape with ocean views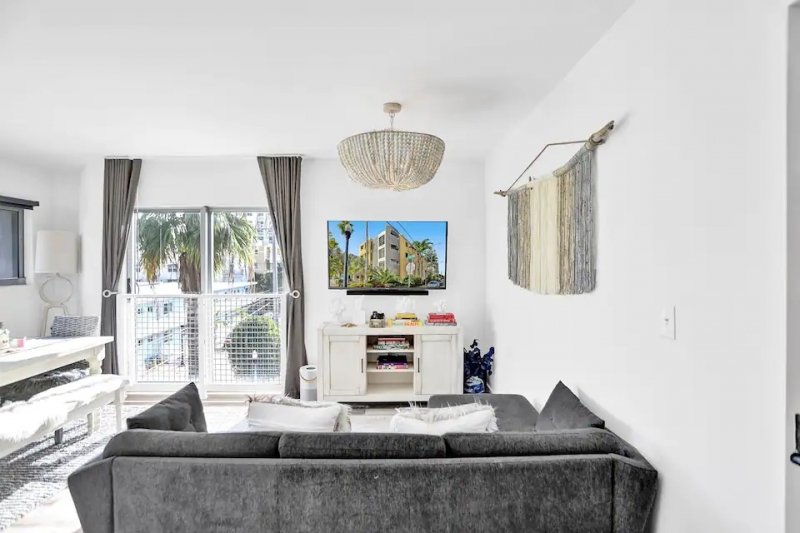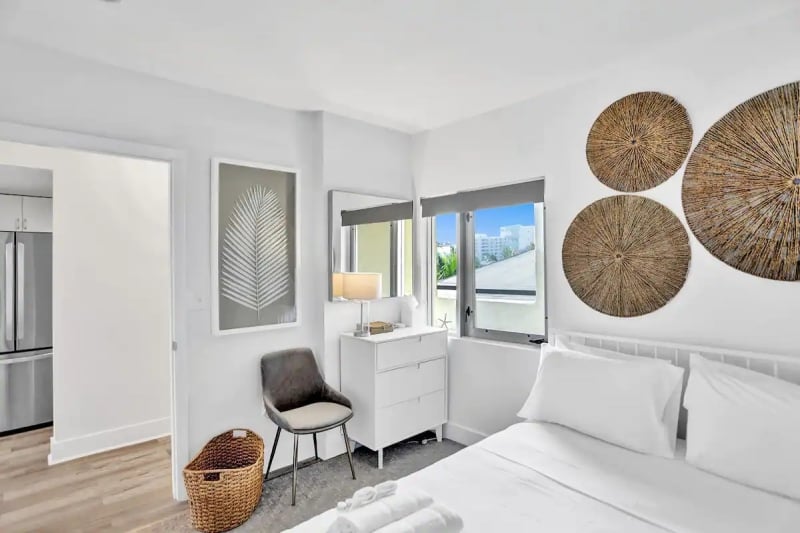 Listing name: Beach Escape with Ocean Views and Private Parking!
Listing type: Entire condo
Max no. of guests: 4
No. of bedrooms: 2 
Two blocks from the beach yet nestled far enough from the chaos for a good night's sleep, this modern apartment offers the best of both worlds. You'll even have plush memory foam mattresses and blackout shades at this Miami Airbnb in South Beach. Don't be surprised if you find yourself hitting the snooze button several times when it's time to get up! But luckily, the caffeine options are also pretty extensive, with a Keurig, a French press, a drip coffee maker, and an espresso machine.
12. This magical casita in Coconut Grove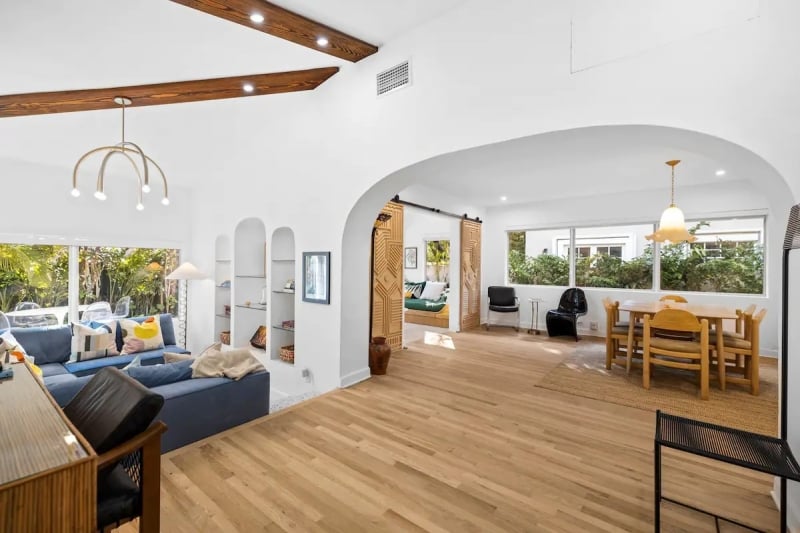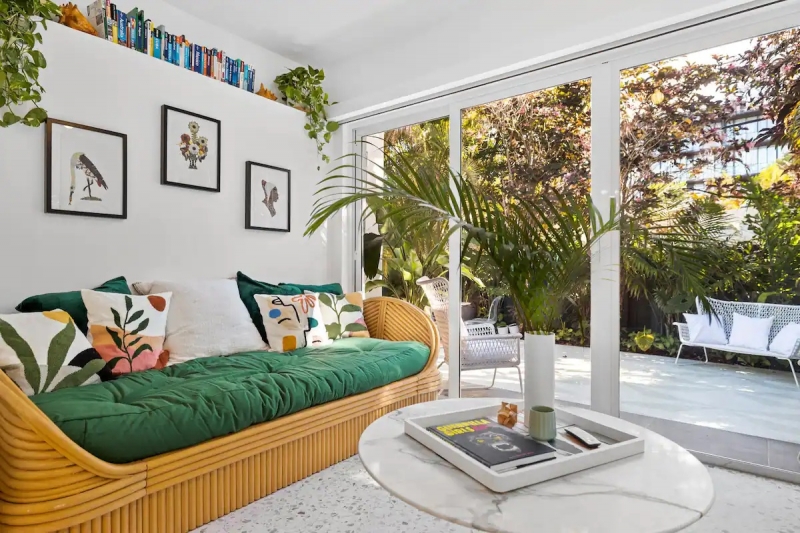 Listing name: Casa Coconut Grove
Listing type: Entire home
Max no. of guests: 6
No. of bedrooms: 3
Even with all the amazing Airbnb rentals in Miami, this stunning casita in Coconut Grove stands out. The sprawling, art-filled home is beautifully decorated with artworks and pops of colour, alongside quality wood furnishings, warm lighting, and exotic orchids. Large glass windows and high ceilings keep the indoor space bright and airy all day.
There are multiple hangout spots in the house, but previous guests say their favourite tends to be the picturesque sunroom, which doubles as a third bedroom with two sofa beds. And if you can bring yourself to leave the casita, you can walk to a variety of shops, restaurants, nightlife, and more.
13. This quiet treehouse villa in El Portal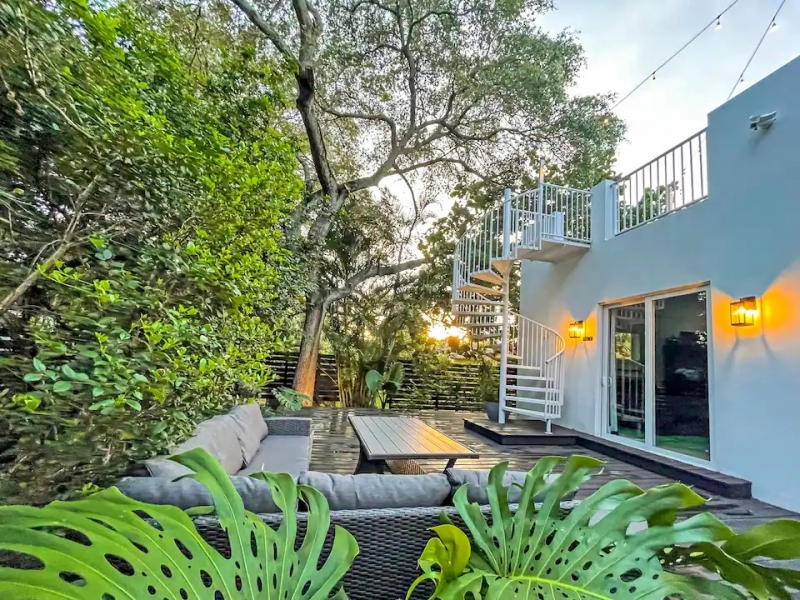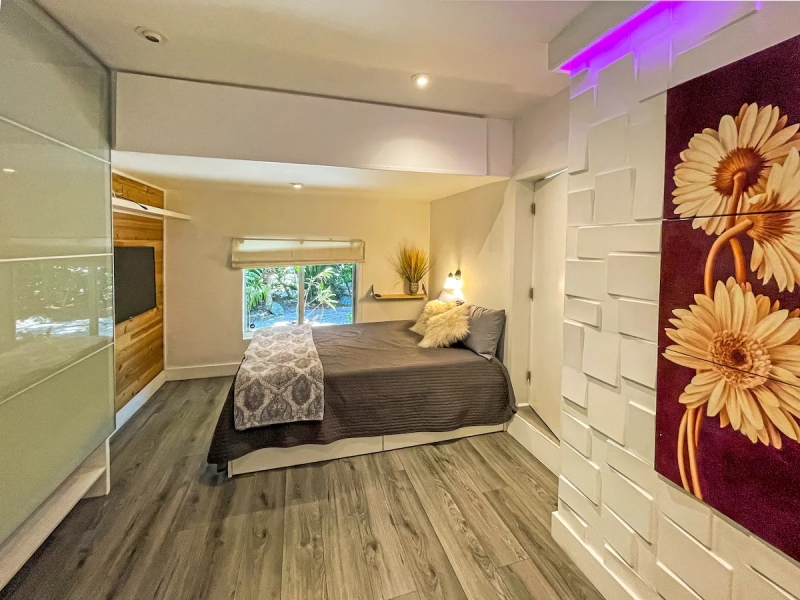 Listing name: Miami Treehouse Villa
Listing type: Entire home
Max no. of guests: 9
No. of bedrooms: 4 
A treehouse isn't what we'd normally expect from Airbnbs in Miami, but this charming escape in El Portal is a welcome surprise. It's one of the best Airbnbs in Miami for a quiet yet accessible base in the city. Lush gardens and centuries-old oak trees keep the house tucked away from view. Step out onto the outdoor spaces — roof deck, fire pit, and grill station — to make the most of this tranquil corner of nature in the heart of the Magic City.
14. This bohemian bungalow on Miami's Upper East Side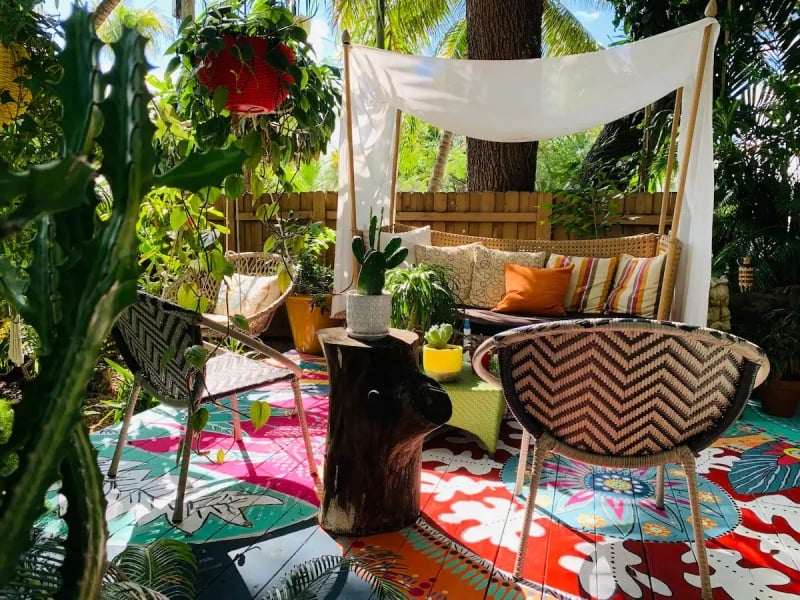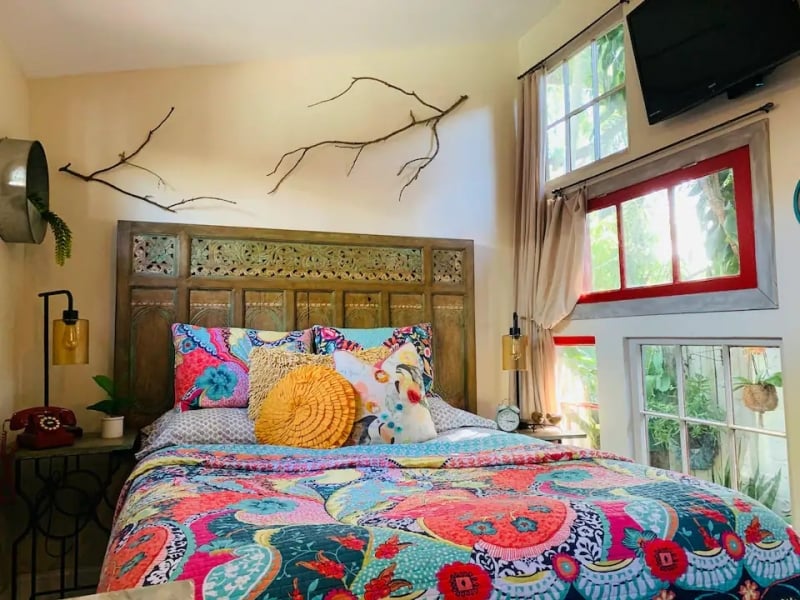 Listing name: BOHO Bungalow — Tiny House on Wheels MIMO District
Listing type: Tiny home
Max no. of guests: 2
No. of bedrooms: 1 
Welcome to the Boho Bungalow, a tiny house on wheels sitting under a canopy of 100-year-old oak trees. A labour of love built by Airbnb host Veronica, her daughter, and a friend, this guesthouse is overflowing with lovely one-of-a-kind touches: rustic decor, a hand-painted deck, and even a 1950s Westinghouse refrigerator. 
A small kitchenette provides all the basics for small meals. Prefer eating out? Fortunately, this is one of the Airbnbs in Miami that has a lot of dining options within a block or two; restaurants, cafes, bars, and shops are a short walk away.  
Also read: 16 Best Beach Houses to Book on Airbnb, From California to Hawaii
A hotspot for beaches, sunshine, art, and parties, the Magic City is one of the most remarkable cities for a seaside vacation in the United States. And staying at these unique Airbnbs in Miami adds even more to the experience compared to an ordinary hotel!
Got a property you'd like TripZilla to feature? Inquire with us here.
---
This article contains affiliate links. When you book through these links, we may earn a small commission at no additional cost to you. All images courtesy of the respective property listings.