Browse through the Cape Town geotag on Instagram, dedicated pages like secretcapetown or hashtags such as #amazingcapetown and you'd have to admit that Cape Town is one of the most photogenic destinations in the world.
With a magnificent mountain range, stunning white sand beaches adorning rugged coastlines and even gorgeous hideaway vineyards, there are plenty of places in Cape Town that make it a travel photographer's dream. Whether you simply enjoy capturing your travel moments or are pursuing travel photography more seriously, you'll love exploring this metropolis known as the Mother City. Look forward to countless photo opportunities as you stumble upon colourful beach huts, scale its craggy mountains or the many other things to do while in Cape Town!
Also read: Top 18 Things to Do in Cape Town on Your First Visit
First time travelling to South Africa? There's no better time than now to plan for your first trip, with Ethiopian Airlines offering amazing fares to Cape Town and Johannesburg!
Book now for travel between 17 Sep 2019 to 30 Jun 2020 to enjoy all-in fares from S$740 for Economy Class and S$2,770 for Business Class.
1. Table Mountain
Starting with one attraction that you can't possibly miss when you step foot into Cape Town — the imposing Table Mountain. As you can probably guess, Table Mountain gets its name from its flat-topped appearance. Along with Lion's Head, Signal Hill and Devil's Peak, this mountain makes up the unique "natural amphitheatre" landscape found in Cape Town.
View this post on Instagram
There are many points around the city where you can go for a good shot of the mountain, but also wouldn't want to miss going up to its plateau to get a captivating overview of Cape Town. The most common way to ascend would be via the aerial cableway which you can take from Tafelberg Road.
View this post on Instagram
Alternatively, a hike up the mountain may also present the opportunity for cool shots you wouldn't get otherwise. There are various hiking trails of different difficulties to choose from, with hike durations ranging from 1.5 hours up to 4 hours.
Fly to Cape Town to Photograph the Table Mountain
2. Lion's Head
From Table Mountain, you'd have spotted this next spot to its west that's a treasure trove of good photo opportunities. The Lion's Head mountain top is another popular vantage point to hike up to, providing unbeatable views of Cape Town on one side and the Atlantic Seaboard on the other.
The walk up to the top which lasts approximately an hour-long is known to be extremely rewarding — and many head up during the full moon or sunrise to make the experience all the more special. Indeed, there's nothing quite like a good sunrise shot from Lion's Head to feature on your feed.
View this post on Instagram
3. Kirstenbosch National Botanic Garden
The perfect location for peaceful picnics on the grass and amazing nature walks, Kirstenbosch National Botanic Garden is an obvious choice for those wishing to photograph the diverse variety of flora and fauna that Cape Town has to offer. As you go wild with your camera capturing the vibrant colours and unique silhouettes of nature's gifts, don't forget to take it slow and make it a point to take in your surroundings. You may also want to head on the winding tree canopy walkway in the area too!
View this post on Instagram
The best time to frolic in the gardens would be during spring for South Africa's wild flower season or in the summer! Look forward to annual summer sunset concerts on Sundays, or the Galileo Open Air Cinema taking place weekly from 16 Oct 2019 to 25 Apr 2020.
View this post on Instagram
4. Kalk Bay Harbour
View this post on Instagram
Kalk Bay is easily one of those places in Cape Town where you just can't get a bad shot of. Besides being a famous spot for the freshest seafood grub (try Kalky's Cape Town-style fish and chips!), it's also a popular location for whale-watching; you may score a shot of the Southern Right whale if you're lucky enough.
View this post on Instagram
Drone shots of the harbour being lined with fishing boats seem to be a popular choice for photographers. You may want to time your visit to Kalk Bay Harbour well to witness fishermen hauling in their catches, but it's a simple fact that there is no bad time to be at the harbour as there is plenty to see at all times of the day.
5. Muizenberg Beach
View this post on Instagram
Although the coastal city of Cape Town has its fair share of beaches that are nothing less than breathtaking, many flock to Muizenberg Beach for the special purpose of snapping photos. This shouldn't be a surprise to anyone; the brightly coloured bathing boxes on the shore of Muizenberg Beach add just that little bit of interest to your photos!
If you like being the subject of your travel photos, there's no better place to strike a pose with the bathing boxes as your backdrop.
Fly to Cape Town to Photograph Muizenberg Beach!
View this post on Instagram
6. Bo-Kaap
View this post on Instagram
For more splashes of colour, Bo-Kaap is your next stop! While this colourful neighbourhood is undoubtedly Instagram-worthy due to its aesthetic quality, the story behind it is beautiful too. As an expression of their freedom at the end of apartheid, the former slaves who were living in all-white houses then re-painted their houses in all sorts of colours. The neighbourhood remains culturally significant to the Cape Malay community to this day.
View this post on Instagram
View this post on Instagram
7. Chapman's Peak Drive
View this post on Instagram
Often touted as one of the world's most beautiful roads, we couldn't leave out Chapman's Peak Drive from this list! The drive also affectionately called Chappies runs between Hout Bay and Noordhoek is 9 kilometres in length, and will grant you a panoramic view of the Atlantic Ocean and the Western Mountains of the Cape Peninsula.
With its reputation as one of the most picturesque locations in Cape Town, it wouldn't be a bad idea to spend a night somewhere along the drive either. Swimming pools by the ocean, the cooling sea breeze and something to photograph at every corner; what's there not to love?
…And we've barely scratched the surface of where to go to capture Cape Town's beauty. Even so, this list is already a definite indication of one thing: any snap of Cape Town has a high propensity to look like it's come straight out of a postcard.
So what are you waiting for? Start making plans to Cape Town immediately and fill your feed with pieces of this photogenic city!
Take advantage of Ethiopian Airlines' incredible fares to Cape Town and Johannesburg, and book your flights now before it's too late!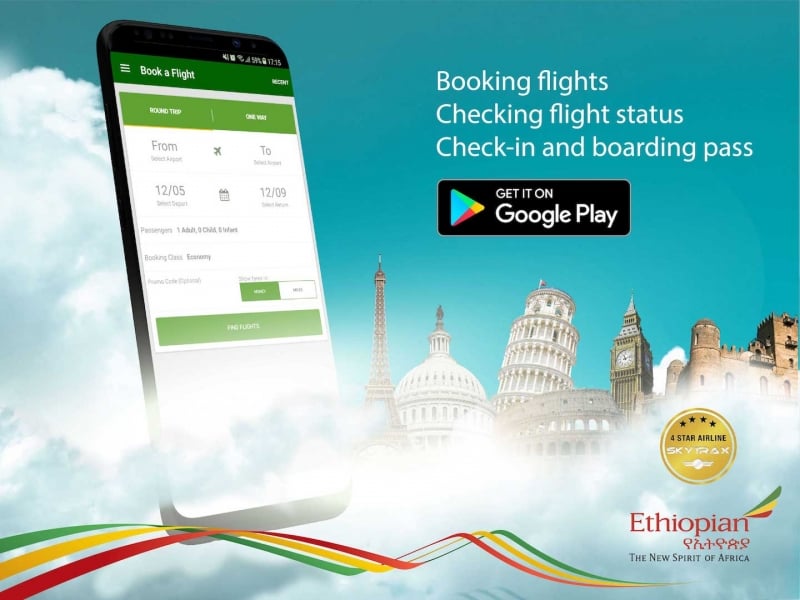 Download Ethiopian Airlines' app for more information on booking your flight.
Also read: 9 Travel Photography Tips for Your Instagram Feed
---
Brought to you by Ethiopian Airlines.