Dreaming about your future beach trip is easy, but choosing the right beach house on Airbnb can feel daunting. It takes time to choose the perfect vacation spot. Thankfully, we know a few coastal getaways that stay mild and temperate all year round. If you're willing to think long-term and plan your trip well in advance, you might just have a charming sea cottage to look forward to.
So, here's your excuse to fantasise a little. We've combed through the dreamiest shores across the United States to find the best beachfront homes on Airbnb, from the golden coastlines of California and the palm tree-lined shores of Florida to the legendary surfing spots of Hawaii. Whether you're a fully vaccinated tourist or a surfer who misses the sand and sea, there's an oceanfront retreat for your bucket list. 
Also read: Top 8 Airbnbs in Malibu for Your Beach Escape in California
Top private beach house vacation rentals on Airbnb
Hawaii
1. This tropical surf shack in Princeville, Kauai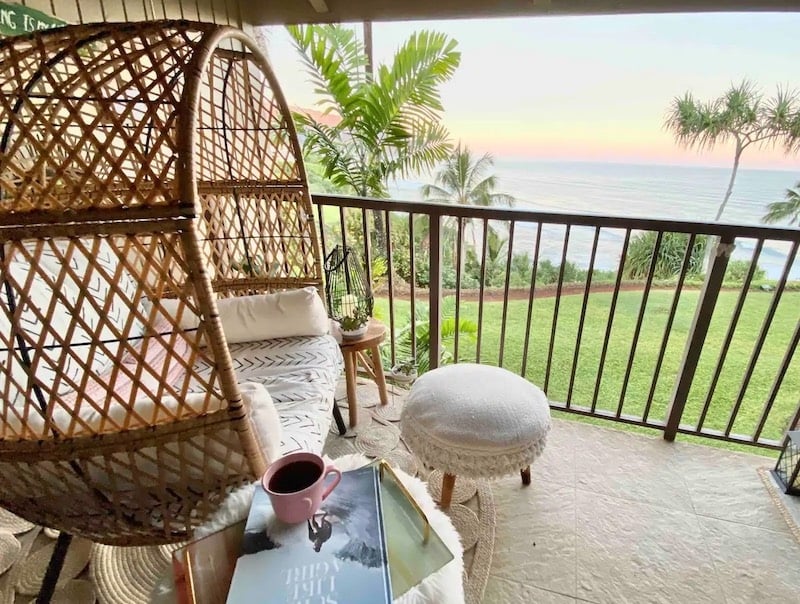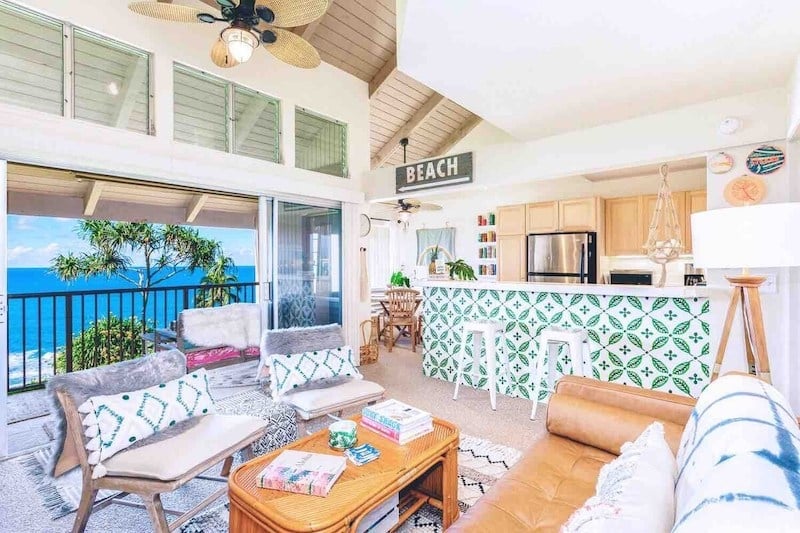 Listing name: ~The Surfshack~ with breathtaking ocean views!!
Listing type: Entire condominium 
Max. no. of guests: 5
No. of bedrooms: 2 
Famously called the Surf Shack, this beachfront Airbnb in Kauai invites you to slow down and enjoy a cup of the local coffee as you watch the waves roll in from the lanai. Aloha spirit radiates from every corner of this Princeville condo, from the living room with its boho-chic decor to the private trail leading to Pali Ke Kua Beach or Hideaways Beach. Even better, this surf shack offers the perfect viewpoint for admiring the sunrise, the sunset, or even a double rainbow curving over the Pacific Ocean. 
2. This stunning penthouse within walking distance to Waikiki Beach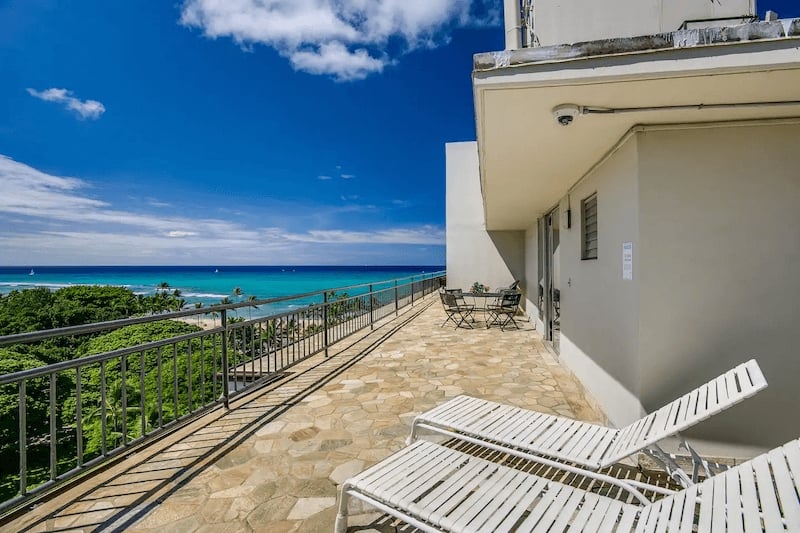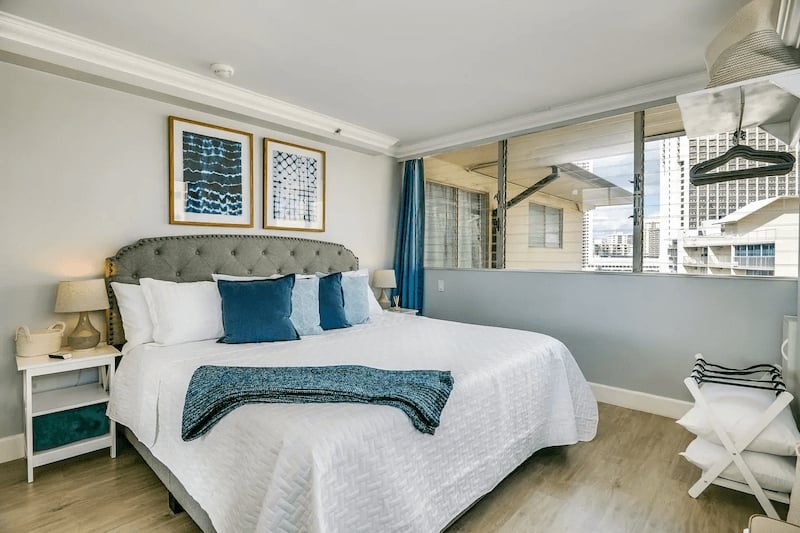 Listing name: STUNNING PENTHOUSE – 100FT TO BEACH – LEGAL!!
Listing type: Entire condominium 
Max. no. of guests: 4
No. of bedrooms: 1 
Your search for the best Airbnb in Waikiki ends with this stunning penthouse in Honolulu. Not only does it place you a quick hop away from Waikiki Beach, but it also comes with views of Diamond Head, Kapiolani Park, and the Honolulu Zoo. All you have to do is open the sliding doors at the sundeck. But if watching the sunrise over the sea isn't enough, you can also take full advantage of the nearby restaurants and shops around this lively neighbourhood. 
Also read: 8 Honolulu Airbnbs to Bookmark for Your Next Hawaiian Holiday
3. This ultimate surfer's haven in the North Shore of Oahu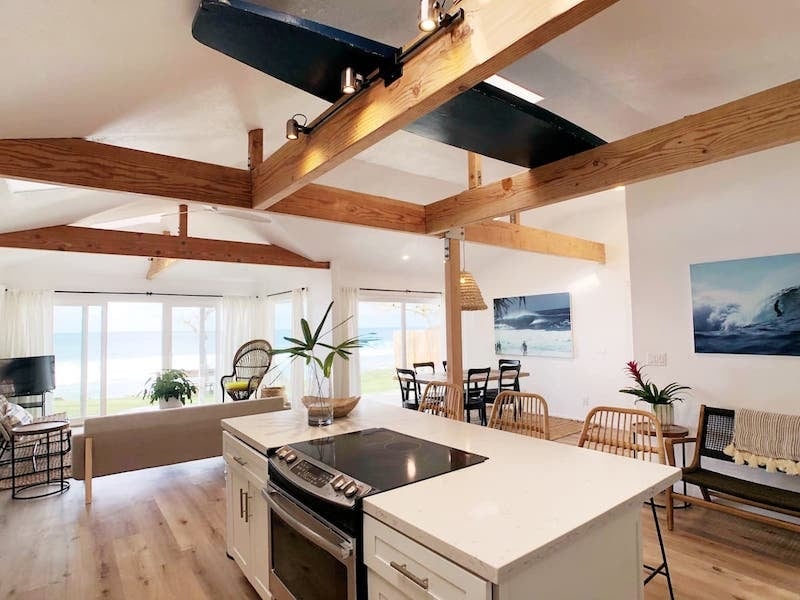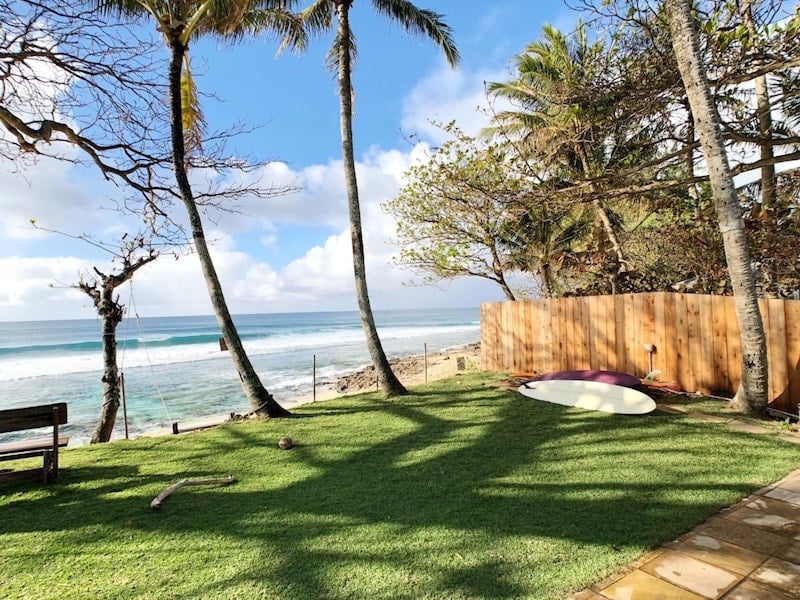 Listing name: North Shore Surf House
Listing type: Entire house 
Max. no. of guests: 3
No. of bedrooms: 1
If you're hoping to chase huge waves on your next trip to Oahu, it's time to pay a visit to the ultimate surfer's haven on the famous North Shore. This private beach house on Airbnb comes with front row seats to some of the world's biggest surf breaks: Banzai Pipeline and Sunset Beach. Time your visit between November to February for the highest waves; alternatively, May to September are milder for casual swims. 
Not up for surfing? Take an afternoon off to explore the laid-back town of Haleiwa, where you can eat garlic-butter shrimps with rice from food trucks and beat the heat with rainbow-flavoured shave ice. 
4. This oceanfront penthouse with breathtaking views in Maui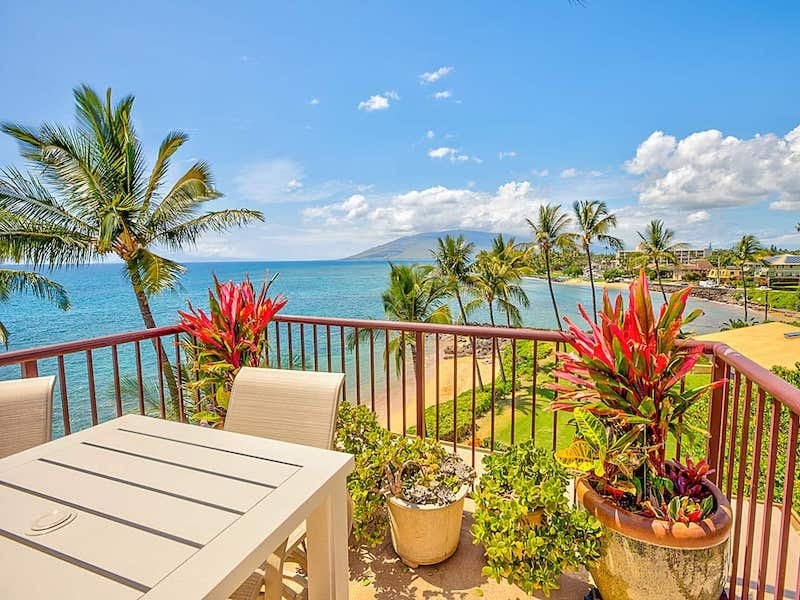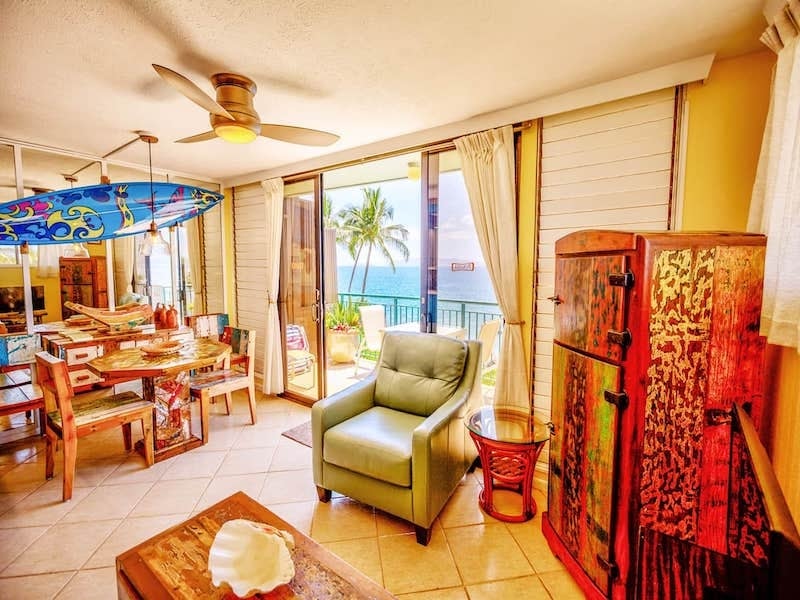 Listing name: Oceanfront Penthouse with Breathtaking Ocean Views
Listing type: Entire condominium 
Max. no. of guests: 3
No. of bedrooms: 1
You're travelling a great distance to Hawaii for ocean views, aren't you? Luckily, you won't find a better place for that than this oceanfront penthouse in Maui. Beach-hopping is par for the course at this one-bedroom home fringed with palm trees, where you can choose between Charley Young Beach or Cove Beach to soak up some sun. Plus, the views from the living room and the lanai are just as rewarding, overlooking the West Maui mountains and the sea. 
Also read: 12 Dreamy Airbnbs in Maui That Are Worth the Splurge [UPDATED 2021]
5. This elegant three-bedroom beach house on the Big Island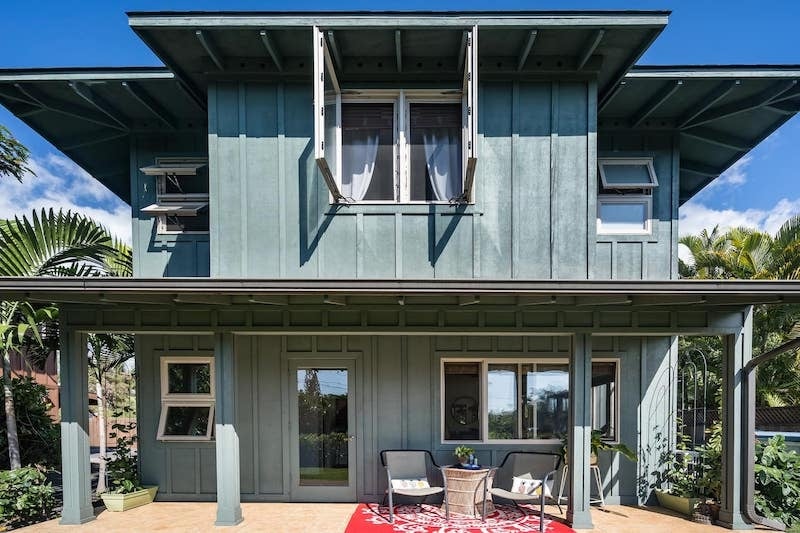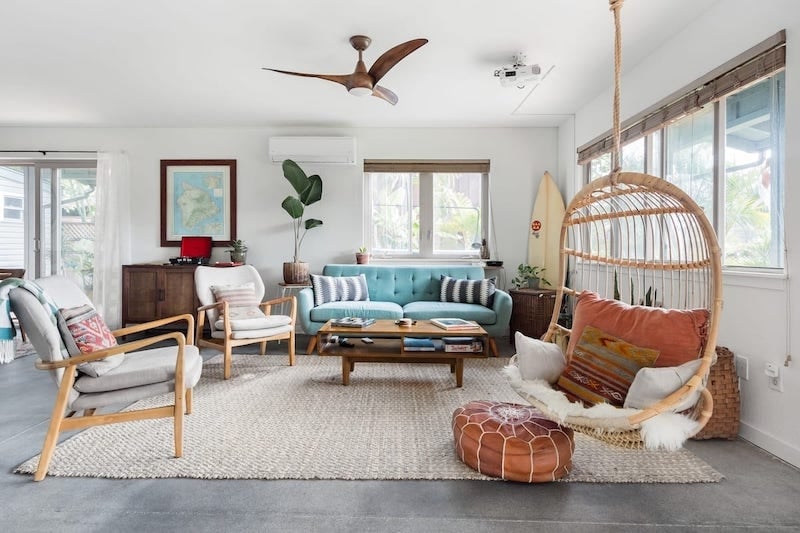 Listing name: Earthy Modern Beach House
Listing type: Entire house 
Max. no. of guests: 6
No. of bedrooms: 3
Say aloha to air conditioning, tropical plants, and short walks to a secluded beach from this elegant beach house on the Big Island. Located in Kailua-Kona along Ali'i Drive, this well-appointed home offers the full package: a strategic location, magazine-ready interiors, and complete amenities. Large enough to fit up to six guests, it features creative touches such as a hanging wicker chair, a turntable, and a projector for watching movies in the living room. 
6. This family-friendly retreat near Pipeline and Sunset Beach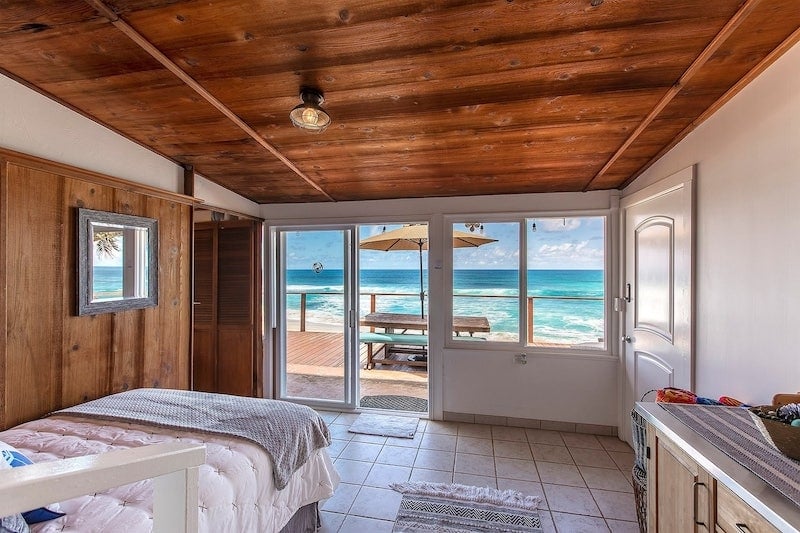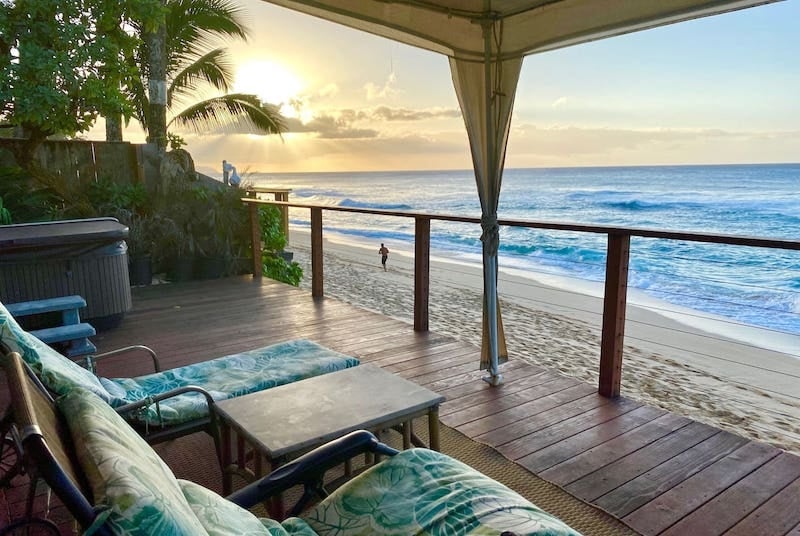 Listing name: Hawaii Oceanfront Beach House | Paradise on the Beach | Family Activities
Listing type: Entire house 
Max. no. of guests: 10 
No. of bedrooms: 3 
Rock yourself to sleep to the sound of the waves at this family-friendly beach house on Oahu's North Shore. Found between Pipeline and Sunset Beach, this three-bedroom property boasts a variety of activities for all ages. Soaking in the hot tub on the waterfront deck, swimming in kid-friendly areas, and watching whales breach the ocean are just a few ideas that come to mind. Does it sound like paradise? Welcome to Hawaii. 
Also read: Top 13 Stunning Airbnbs for the Best Experience in Hawaii
California
7. This relaxing apartment with ocean views in San Francisco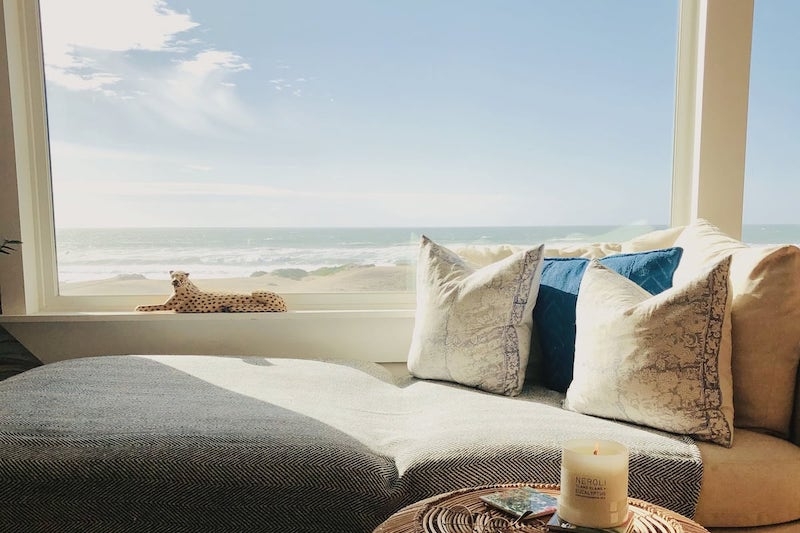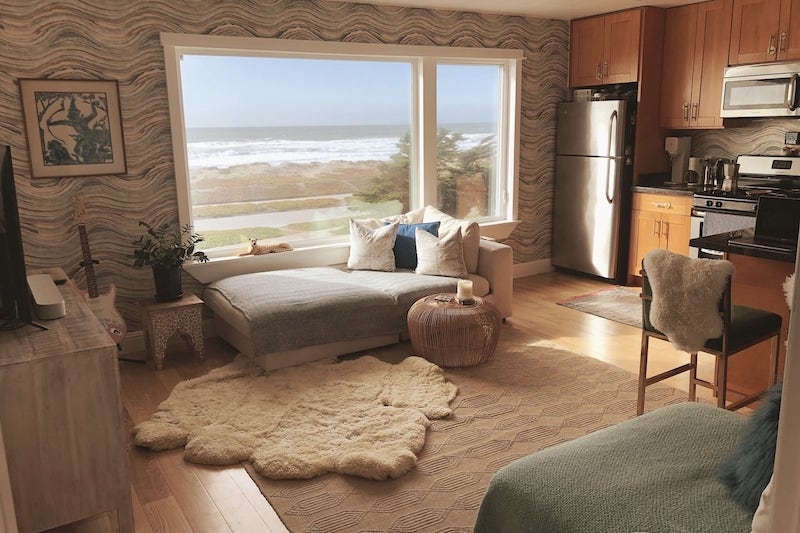 Listing name: Chic 2 BDR apartment with an epic ocean view
Listing type: Entire apartment 
Max. no. of guests: 4
No. of bedrooms: 2
Planning a sun-soaked escape to California? The views of Ocean Beach from this relaxing apartment in San Francisco can already give seaside hotels a run for their money. Sitting just a few steps away from the beach, this two-bedroom apartment was curated by an interior designer and feels like a home away from home. After a fun day at sea, you're all set to explore the nearby coffee shops, restaurants, and bars in the neighbourhood.
 Also read: 10 Luxurious Airbnbs in San Francisco That Are Worth the Splurge
8. This cosy beach cabana near Laguna Beach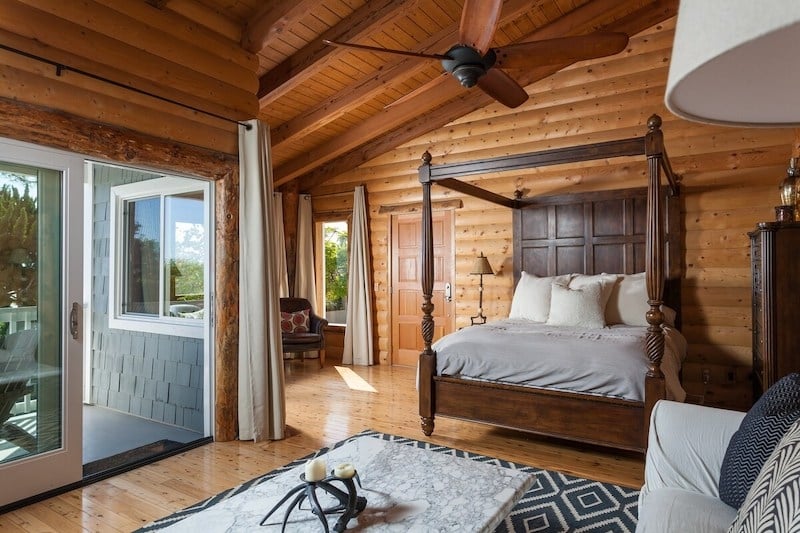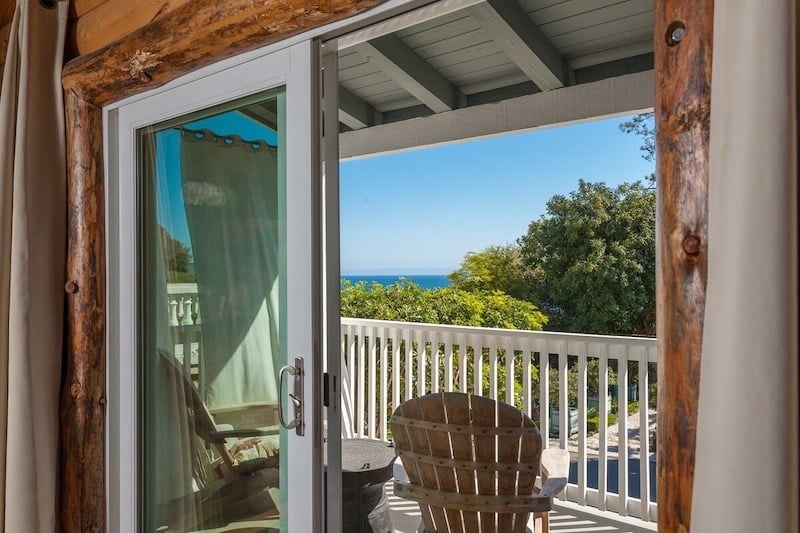 Listing name: Cozy Beach Cabana
Listing type: Entire house 
Max. no. of guests: 2
No. of bedrooms: 1
How about taking a day trip from Los Angeles? Make a beeline for this cosy beach cabana, where the sandy path to Laguna Beach is practically laid out for you. Fitting up to two guests, it enjoys close proximity to the ocean while having all the rustic comforts of a log cabin. You can sit on the outdoor deck with a glass of wine or read a book on the sofa next to the stone fireplace. Come rain or shine, this Airbnb in California is a flexible beach house for any season. 
Also read: 12 Instagram-Worthy Airbnbs in Los Angeles for Your Next Visit [UPDATED 2021]
9. This blissful waterfront escape along the Malibu coast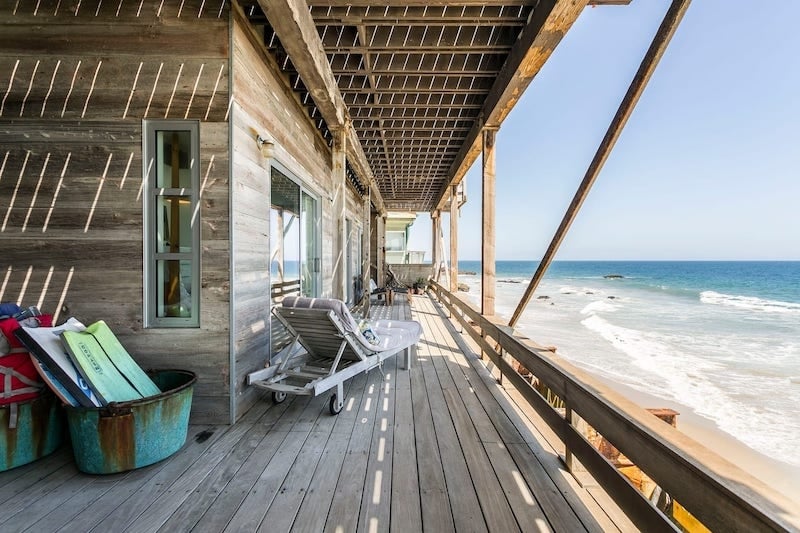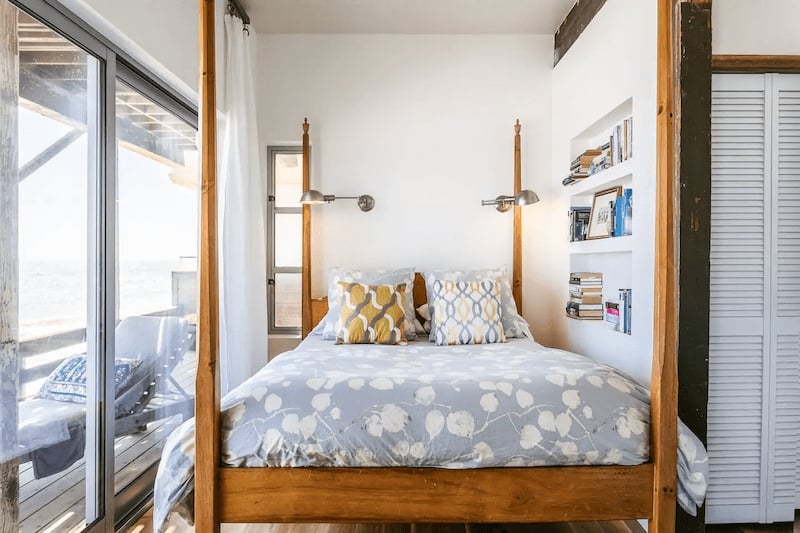 Listing name: Idyllic, Romantic Beachfront Apartment in Malibu
Listing type: Entire apartment 
Max. no. of guests: 2
No. of bedrooms: 1
Of all the private beach house retreats we've seen on Airbnb, this blissful waterfront apartment in Malibu is by far the most impressive. It commands an impeccable view of the coast and brings the crashing waves right below your doorstep; you can practically taste the salty breeze without stepping outside. Sip your drinks on the porch or take a peaceful stroll on the sand — this bright and airy home is what vacations are all about. 
10. This secluded bungalow with mountain and sea views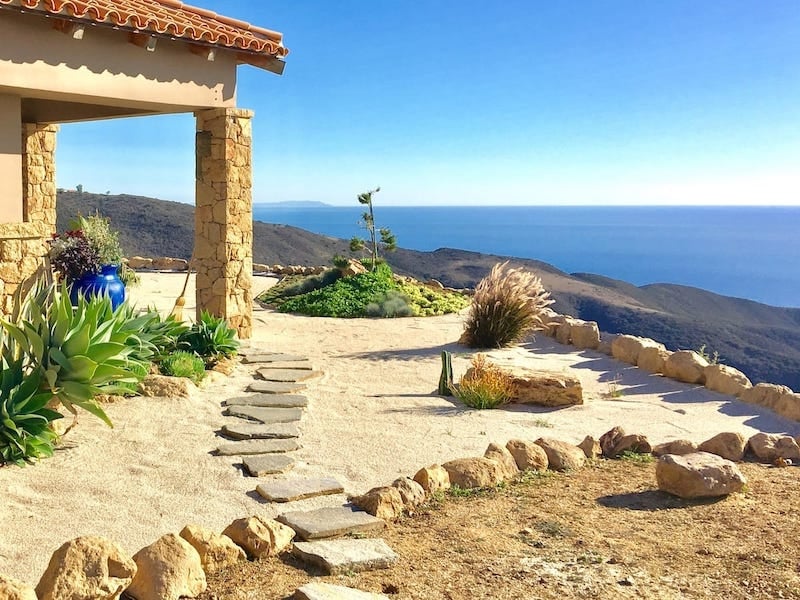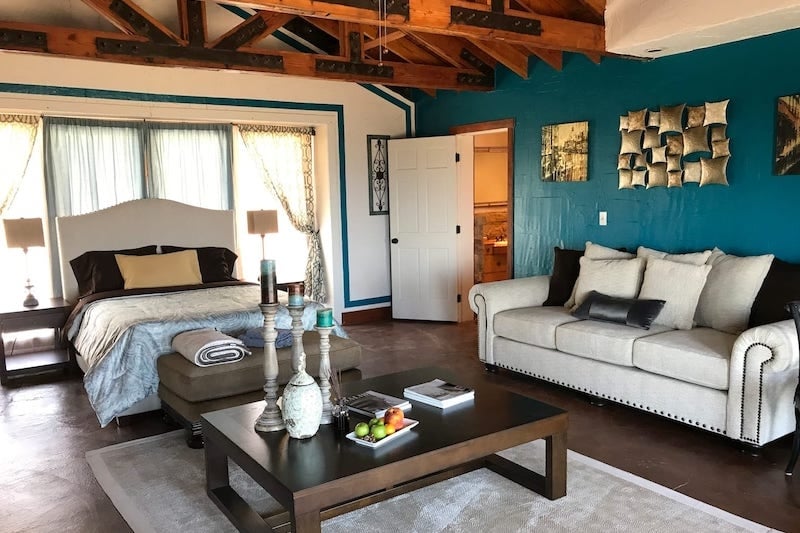 Listing name: Bungalow/Studio with unique Ocean & Mountain views
Listing type: Entire guesthouse 
Max. no. of guests: 4
No. of bedrooms: 1 
Mountain views by day and stargazing by the sea at night? Sign us up. Sleeping in this secluded bungalow with ocean and mountain views means never having to choose between the naturally beautiful sights that make a visit to Southern California worthwhile. Outside this guesthouse, there's an outdoor patio and a garden with two lounge chairs for sitting under the stars. 
Just one more thing before you hit the road: Prepare a playlist in advance. To reach this Airbnb in Malibu, you'll be driving up the Pacific Coast Highway for the ultimate California road trip. 
11. This romantic sea cottage close to Santa Monica Beach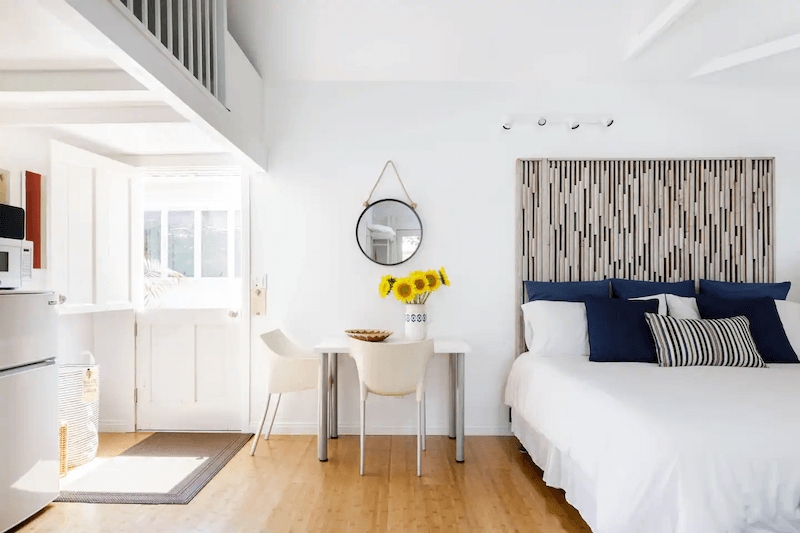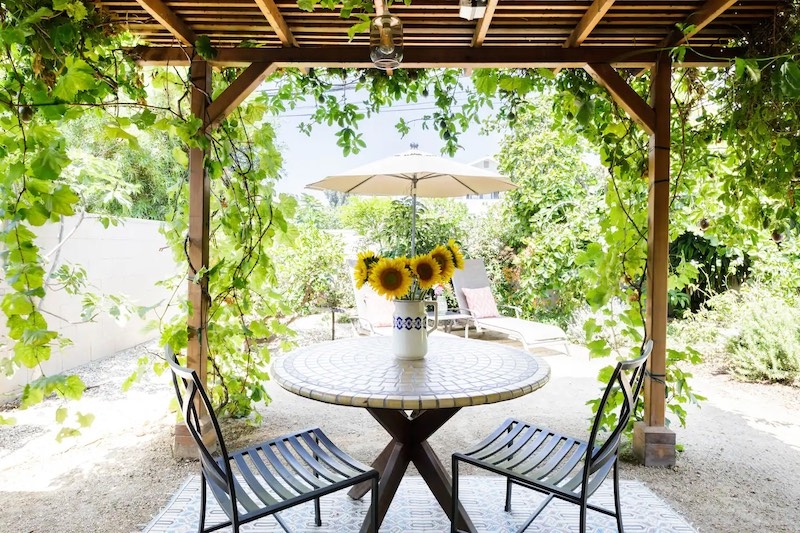 Listing name: Modern, Romantic Sea Cottage by Santa Monica Beach & Venice
Listing type: Entire guesthouse 
Max. no. of guests: 2
No. of bedrooms: Studio 
Handcrafted lamps, sea-inspired artworks, a Danish rocking chair, and a Mediterranean-style garden are just some of the standout features of this romantic sea cottage. Located in a quiet residential neighbourhood, this well-decorated studio offers the ideal home base for exploring Santa Monica Beach and Venice Beach. 
Having said that, the vine-covered pergola is a tempting offer to never leave the property. If you close your eyes and lean back on the chaise lounge, you can almost pretend you're in Italy. 
12. This seaside condo with balcony views in San Diego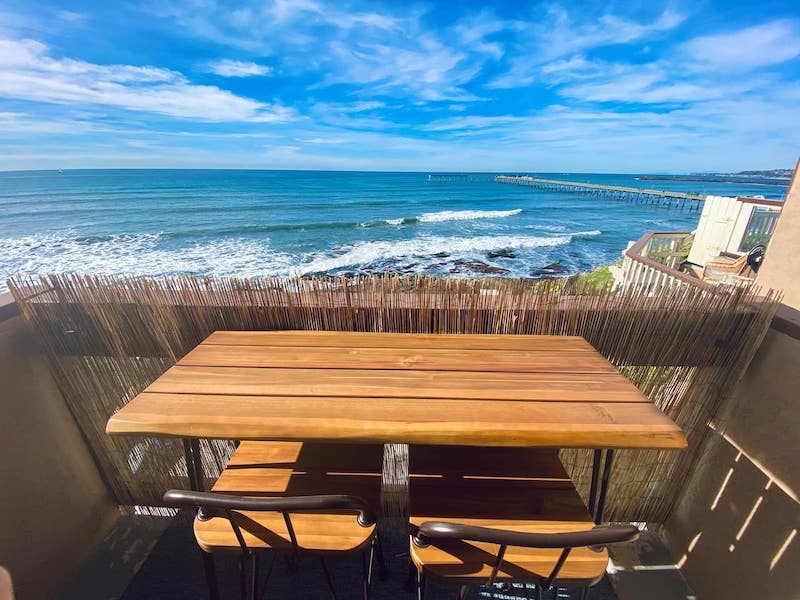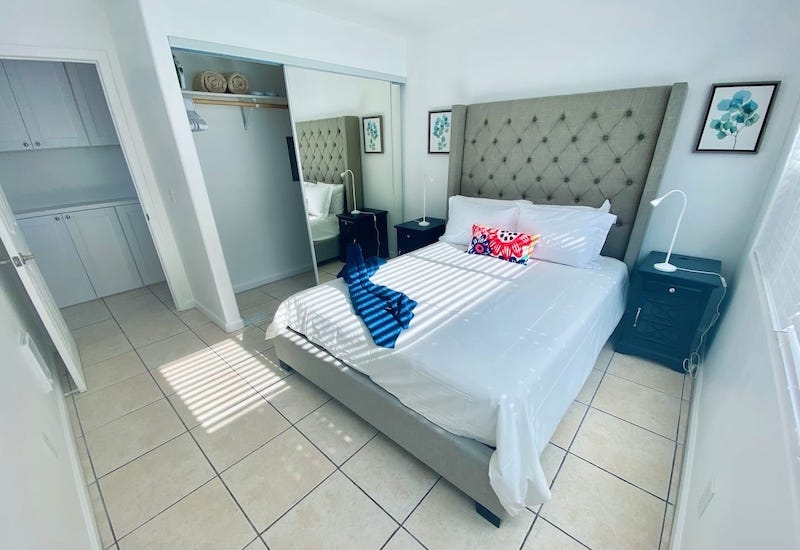 Listing name: OCEAN FRONT Central Spacious 1br Condo *SUPERHOST*
Listing type: Entire condominium 
Max. no. of guests: 4
No. of bedrooms: 1
San Diego's climate stays mild year-round, which is why we're nominating this one-bedroom condo for your beach adventures in California. Situated in the heart of Ocean Beach, this apartment beckons with balcony views and an outdoor dining area with the waves as your backdrop. Here, you're just a stone's throw away to nearby restaurants and cafes in San Diego. 
Florida
13. This dreamy beachfront condo for family trips to Panama City Beach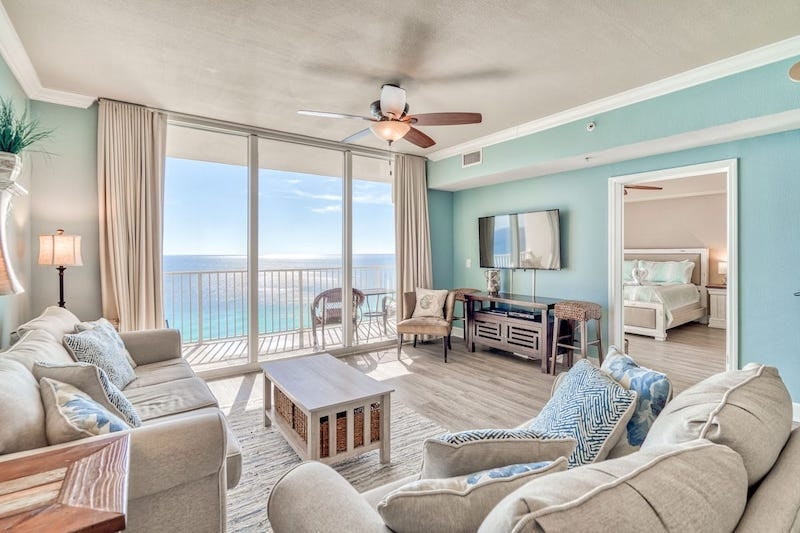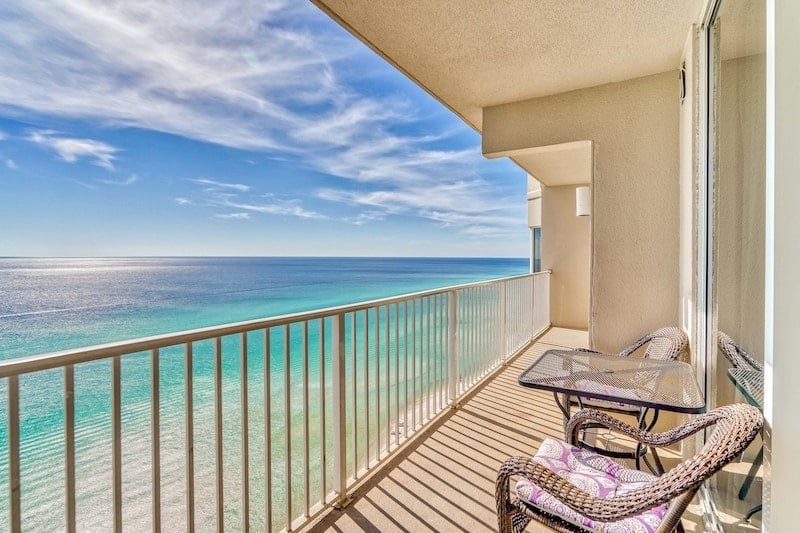 Listing name: Tidewater – Beach Front Master! Amazing gulf views
Listing type: Entire condominium 
Max. no. of guests: 6
No. of bedrooms: 1
Could this be the most photogenic beach house in Florida? The longer you spend at this luxury condominium on the beachfront, the harder it is to part with the views of Panama City Beach from every window. Not to mention that pristine sands are just a short elevator ride down from the building. Complete with a balcony and cosy amenities that live up to the photographs, this Airbnb in Florida is a crowd-pleaser for families who are travelling with kids.  
14. This peaceful beach oasis in Cape Canaveral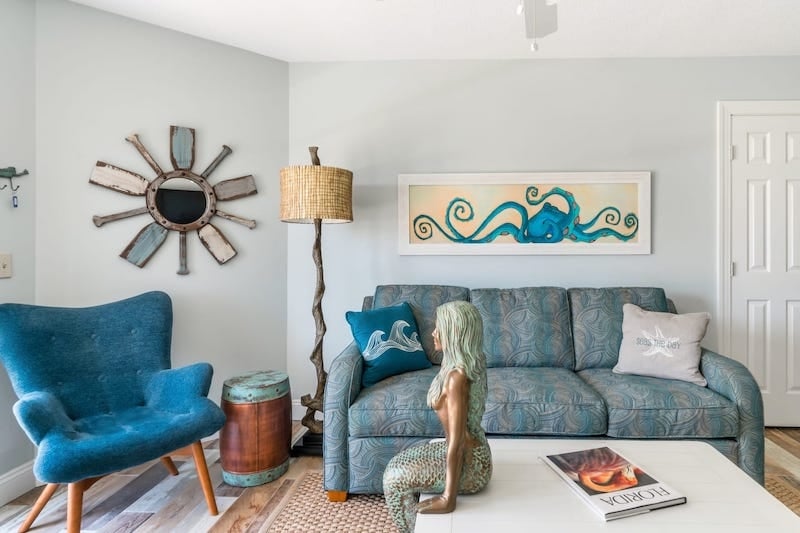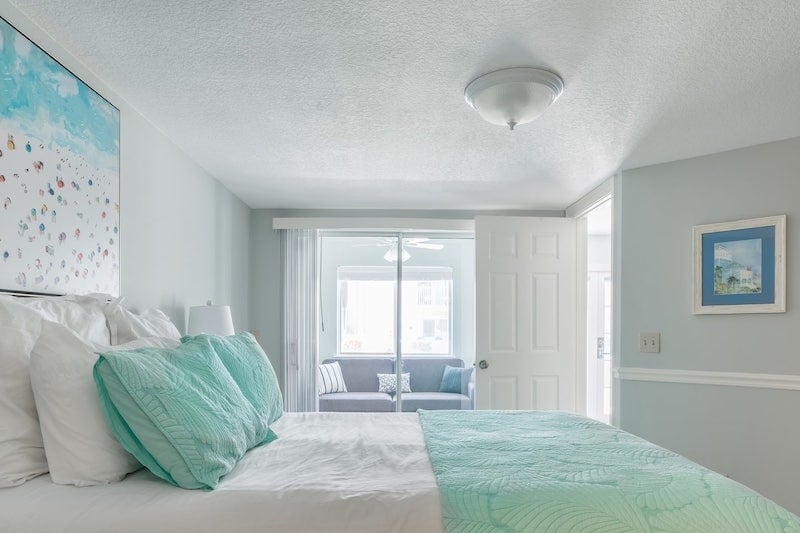 Listing name: Casual Oceanfront Condo With a Pool in Cape Canaveral
Listing type: Entire condominium 
Max. no. of guests: 4
No. of bedrooms: 1
Anyone seeking a respite from stress or burn-out can embrace the slow life at this peaceful oceanfront condominium in Cape Canaveral. Just a short walk to the nearest beach, this Airbnb in Florida exudes the ambience of an idyllic summer house with nautical-inspired decor. Inside, the pastel blue accents create a soothing atmosphere for guests to unplug and relax as well. 
But comfort isn't all that this coastal escape has to offer. If you're lucky, you just might get to witness the historic rocket launches from NASA's Kennedy Space Center in Cape Canaveral. 
15. This studio with direct access to South Beach in Miami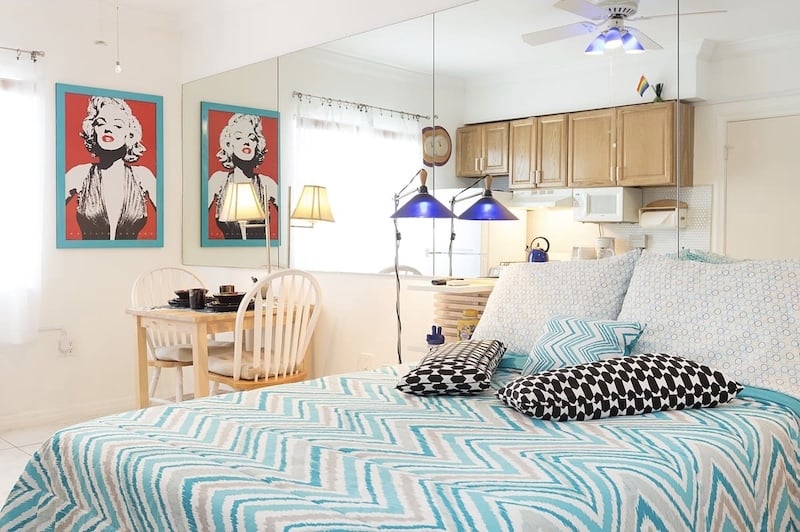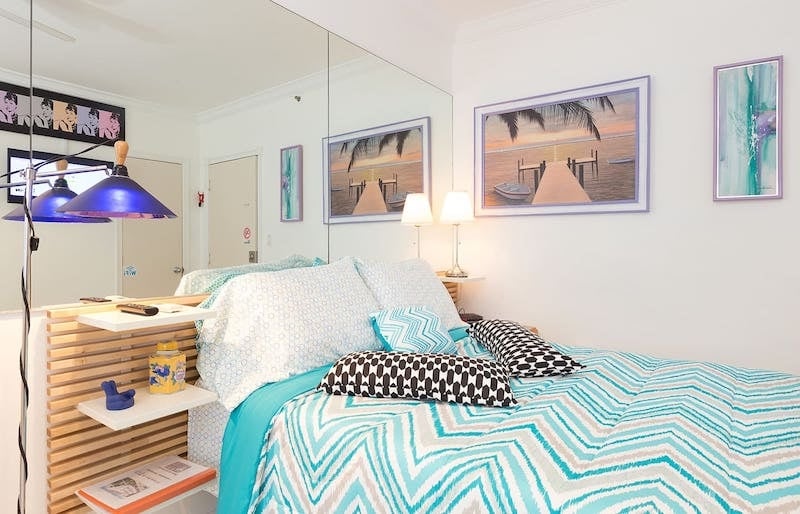 Listing name: Studio Excellent Location and Value.!
Listing type: Entire apartment 
Max. no. of guests: 2
No. of bedrooms: Studio 
Nothing says "welcome to Miami" more than a beach house on South Beach, and thankfully, this Airbnb has the necessary amenities to complete your vacation. This studio with direct beach access is well-stocked with beach chairs, towels, a cooler for drinks, and an umbrella. The beach is pretty much your backyard, so you'll have no trouble beating the crowds in Miami and claiming your spot on the sand. 
16. This beach-ready apartment with a heated pool near Siesta Beach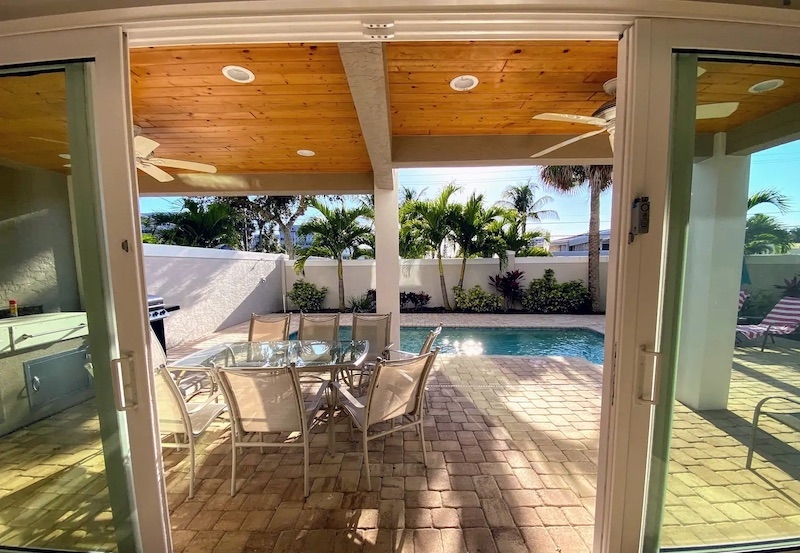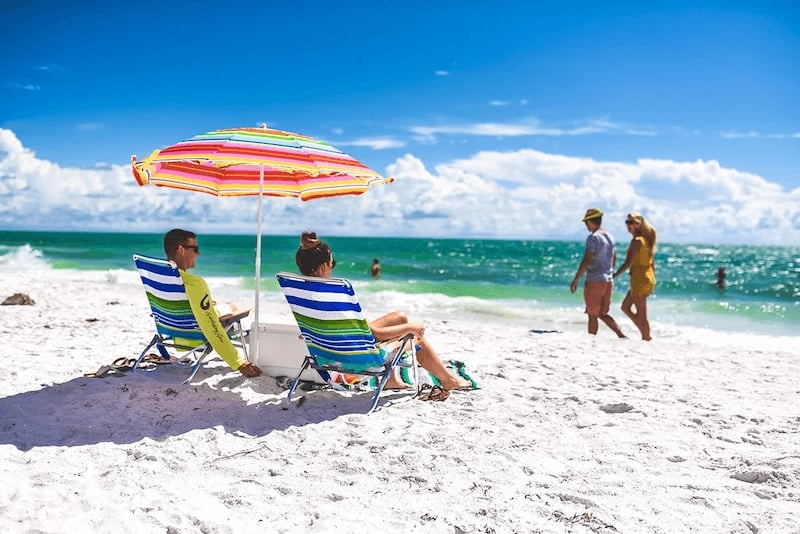 Listing name: 🏖️STUDIO w PRIVATE HEATED POOL @ SIESTA BEACH
Listing type: Entire apartment 
Max. no. of guests: 2
No. of bedrooms: 1
If a heated pool and a white-sand beach sound like a match made in heaven, then this beach-ready apartment right across Siesta Beach is for you. Boasting an average rating of 5.0 on Airbnb, this private beachfront house in Florida is stacked with all the gear you'll need to crush your vacation, from foldable chairs to a colourful umbrella. Most of all, there are still available dates up for grabs. Tempted to pack your bags yet? 
Also read: 10 Most Beautiful Islands In The World For Your Next Island Escapade
Mentally, we're already lathering our reef-safe sunscreen and imagining ourselves frolicking in the sand. Out of all the Airbnb beach house rentals featured here, which one was your favourite?