Upon looking at photos of English country houses, one can easily see why these are considered the country's finest treasures. Fortunately, most of these have stood the test of time and are still standing proudly across the land. Boasting magnificent landscapes, splendid architecture and interiors, and well-curated art collections, they're clearly a haven for those interested in heritage, history, and culture.
Once the ultra-exclusive rural enclaves of nobles, almost all English manors are now open to the public. Some only in certain times of the year, while others have been fully converted into luxe hotels. (Hey, nothing says grand and glam better than staying in a palatial abode that has hosted royalty and other illustrious figures, right?)
Oh, and if you enjoy visiting popular filming locations — then even better, since most of these have appeared on countless films and TV shows; whether it's the usual period drama or those set in the 21st century. But hey, whichever is your reason, we've rounded up the 10 best English country houses that'll let you live out your aristocratic dreams!
1. Highclere Castle, Berkshire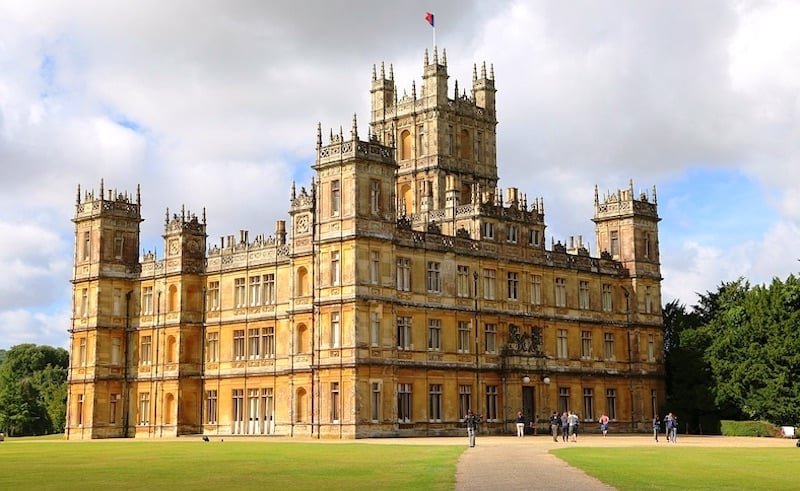 First up is arguably the most iconic among English country houses: Highclere Castle. Most would recognise it from the award-winning period drama, Downton Abbey — where it serves as the filming location of the titular manor. Offscreen, it's the official home of the Earl and Countess of Carnarvon. Nonetheless, it's also open to the public for visits during summer, Christmas, and Easter! 
Apart from reliving the show, make sure to check out the family's collection of ancient Egyptian artefacts! After all, the 5th Earl of Carnarvon was part of the team that discovered Tutankhamun's tomb in 1922.
Fun fact: Fiona Aitken, the current Lady Carnarvon, is actually a close friend of Downton Abbey creator, Julian Fellowes. 
2. Castle Howard, York
Another stunning manor-slash-period drama filming location would be Castle Howard, which you probably remember from shows like Brideshead Revisited and Bridgerton. Boasting a total of 145 rooms, it's one of the largest English country houses! What's more, it took over 100 years to complete this Baroque structure that is now home to the Howard family. And while it's clearly not a fortified structure (as a castle should be), it was actually built on the site of a former castle! 
Also read: Where Was Bridgerton Filmed? A Guide to The Show's Real-Life Locations
3. Blenheim Palace, Oxfordshire
Blenheim Palace is the only non-royal country house in England to hold the title of 'palace.' A masterpiece of Baroque architecture, it was a gift from Queen Anne to John Churchill, the 1st Duke of Marlborough, for his victory over the French in the War of the Spanish Succession. And in case that surname rings a bell — yes, this also happens to be the birthplace of Winston Churchill. 
It's also situated in a 2,000-acre park that has been compared to the likes of the Versailles in France. In fact, the gardens were designed by the great 18th-century English landscape architect, Lancelot "Capability" Brown (whose name you'll be reading more of as we go along). Inside, the Saloon and the Great Hall are definitely a must-see, what with the magnificent fresco paintings depicting John Churchill's victory during the war. 
4. Chatsworth House, Derbyshire
Fans of the 2005 film adaptation of Pride & Prejudice will probably recognise Chatsworth House as Pemberley Estate. IRL, it serves as the seat of the Duke of Devonshire and home to the Cavendish family since 1549. There are also several historical figures who stayed here, including Queen Victoria, Charles Dickens, and Mary Queen of Scots. 
Similar to the previous item, most of the landscape was designed by Capability Brown. (Don't miss the huge hedge maze!) And upon entering the actual 'Palace of the Peak,' you'll find one of Europe's finest private art collections; including classical sculptures, paintings by the likes of Rembrandt, and more. Is it even a surprise that it's often voted as the crowd fave among all English manors in Brit surveys? 
5. Hatfield House, Hertfordshire
Of all the English country houses on this list, Hatfield House is possibly the most popular. In fact, it's nearly impossible that you haven't seen it onscreen at least once. After all, this 223-room Jacobean pile belonging to the Marquess of Salisbury is quite the go-to for stately filming location; from cinematic hits like Lara Croft: Tomb Raider and Sherlock Holmes, to a 2019 Jonas Brothers music video. Though, apart from the sheer size and glamour, it's also likely because of its proximity to London! 
On the same grounds, you'll find the medieval Old Palace, which belonged to the infamous Henry VIII. It also served as the childhood home of his children, Edward and Elizabeth. And then there's a specific spot under a nearby oak tree — now called the Elizabeth Oak — which is said to be where Elizabeth first learned she was about to become queen. 
6. Wentworth Woodhouse, South Yorkshire
Up next is Wentworth Woodhouse, A.K.A. the largest among all stately homes in England. In fact, it's twice the size of Buckingham Palace — so yes, let that sink in. With an astounding 365 rooms and five miles of corridors, this Georgian structure actually comprises two joined houses. 
It's also the only unoccupied one on this list of English country houses. That said, it's currently under renovation thanks to a £7.6m grant from the government. However, restoring it to its former glory restoration will take over a decade, after years of neglect and near decay. Fortunately, Wentworth Woodhouse is now open to the public for guided tours! 
7. Luton Hoo, Bedfordshire
What used to be a neoclassical manor is now a stunning five-star hotel. Luton Hoo started as the seat of the 3rd Earl of Bute — then the Prime Minister to George III — before being passed down from one titled family to another. Like many other English country houses, its gardens were designed by Capability Brown, while the original Mansion House is a work of Scottish architect, Robert Adam. Other notable features of the place include Edwardian Belle Epoque interiors, a spa, a golf course, a fishing lake, and Italianate gardens. 
8. Lyme Park, Cheshire
Lyme Park is another English country manor that stood in as Pemberley in a different Pride and Prejudice adaptation. This time, it was the 1995 limited series on BBC starring Colin Firth. (Yep, the one with a scene of him emerging from the lake…) Apart from this, it's also a fine example of an 18th-century Italianate palazzo, which saw its heyday during the Edwardian period. The estate itself is located within Peak District National Park, which is famous for its herds of red and fallow deer. 
9. Cliveden House, Berkshire
From the 1920s to '30s, Cliveden House was the meeting place of the controversial Cliveden Set: a group of political intellectuals led by Nancy Astor, then Viscountess Astor, who also happens to be Britain's first female Member of Parliament. During its heyday, the Astors held parties regularly, with high-profile guests including (but obviously not limited to) Charlie Chaplin, Edith Warton, and Franklin D. Roosevelt. 
The main house is a three-storey Victorian mansion that sits 40 metres above the River Thames. When the Astors switched enclaves during the '70s, it was leased to Stanford University as an overseas campus. Fast forward to the present day, it's now a luxury hotel whose most recent claim-to-fame is being Meghan Markle's pre-wedding stay! 
Fun fact: Cliveden means 'valley among cliffs.' However, it has been spelt differently through the years, with variations like Cliffden, Clifden, Cliefden, and Clyveden.
10. Burghley House, Lincolnshire
Burghley House makes a memorable appearance in the latest season of The Crown as the filming location for Windsor Castle. But even IRL, this grand 16th-century country house in England has quite the royal ties. For one, it was built and designed by William Cecil, Lord High Treasurer to Queen Elizabeth I before becoming the 1st Baron Burghley. His direct descendants have lived in Burghley ever since, with the current owner being art historian Miranda Rock. 
Hailed as 'England's greatest Elizabethan house,' Burghley House also boasts lavish interiors and an art collection that can put many world-famous museums to shame. Don't miss the jaw-dropping fresco paintings in the Hell Staircase, The Heaven Room, and The Bow Room! 
Also read: 20 Most Impressive Castles in England
Now, don't these grand English country houses make you wish you could go on a period drama-inspired holiday soon? Same here! That being said, you'll probably be also stopping by the capital that is London, yes? If so, here are some of the best budget-friendly flats you can rent — especially if you won't be staying in one of these English manors. 
Looking to explore other palaces and mansions outside of England? We've also got some recs for when you visit Germany, Scotland, and Wales.