Once upon a time in Hollywood, the desert oasis of Palm Springs was the place where famous movie actors flocked to escape the bustle of Los Angeles. What was once a laid-back refuge from the paparazzi of Tinseltown eventually attracted tourists for its mountain vistas and dramatic views of the desert. Today, its celebrity-filled streets are filled with no shortage of Palm Springs Airbnb stays — from a colourful mid-century retreat with a pool to the luxurious estate once owned by Frank Sinatra. 
Whether you have the Coachella Valley Music and Arts Festival on your bucket list or you're looking for a secluded hideout with a pool, the best Airbnbs in Palm Springs will set you up for an epic vacation in Southern California. Your only obstacle? Getting to them before everybody else does!
TripZilla Tip: While it's always a good idea to visit Palm Springs, there are different advantages to each season of the year. Timing your visit from January to April brings ideal sunshine days for poolside relaxation and hiking trips, while travelling from September through December allows you to reap the benefits of fall temperatures without the tourist crowds. 
Also read: 22 Best Beach Houses to Book on Airbnb, From California to Hawaii
Palm Springs Airbnb vacation homes with private pools
1. This colourful poolside oasis with a heated pool and a cosy study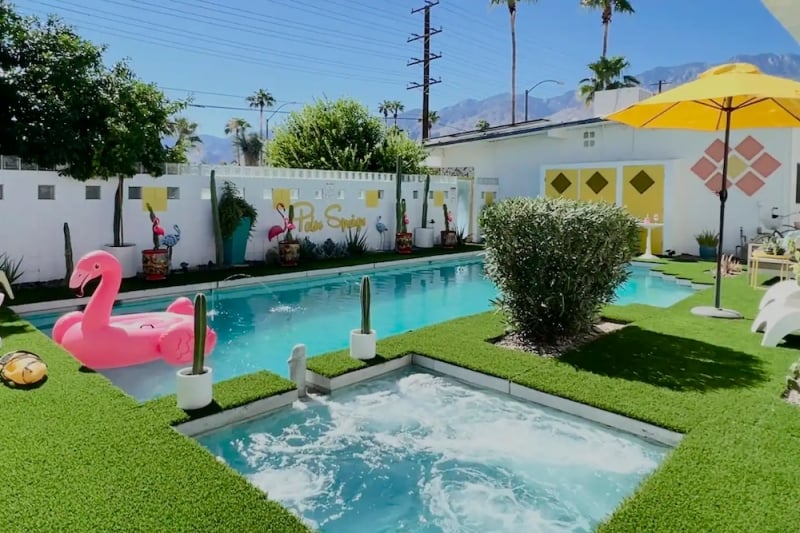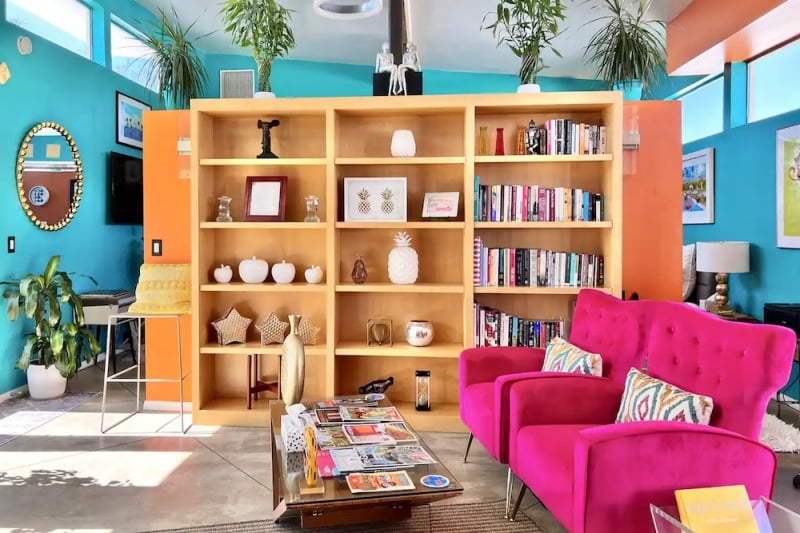 Listing name: Relax Poolside at a Colorful Oasis with a Dreamy Desert Vibe
Listing type: Entire home 
Max. no. of guests: 2
No. of bedrooms: 1
Almost all of the best Airbnbs in Palm Springs offer a swimming pool, and this lively one-bedroom retreat is a stunning example. It's tailor-made for chilling on the sun loungers with a cocktail in hand and floating away in the pool in a state of blissed-out zen. Open the bright yellow doors at the entrance, and you find a lovingly decorated home, spruced up with the owner's art collection and a relaxing study. 
Not to mention, it has an absolutely convenient location, as it's just a stone's throw away from Palm Springs International Airport. There are also several golf courses nearby for those who came here exactly for that.
2. This mid-century desert estate where Frank Sinatra once lived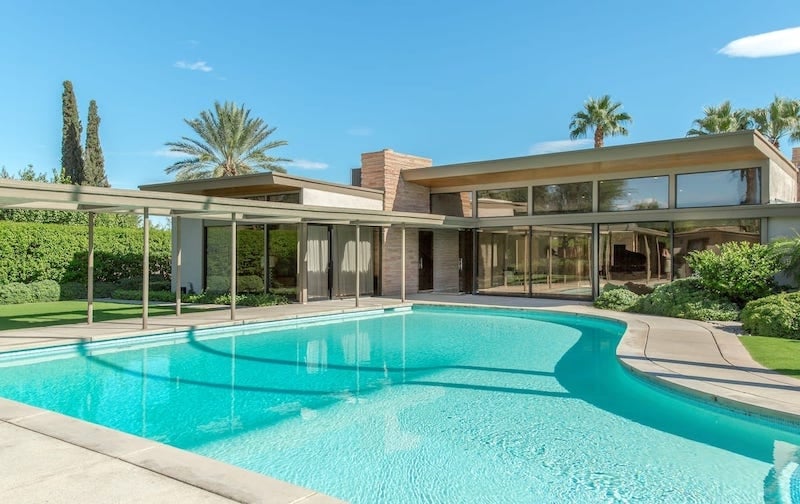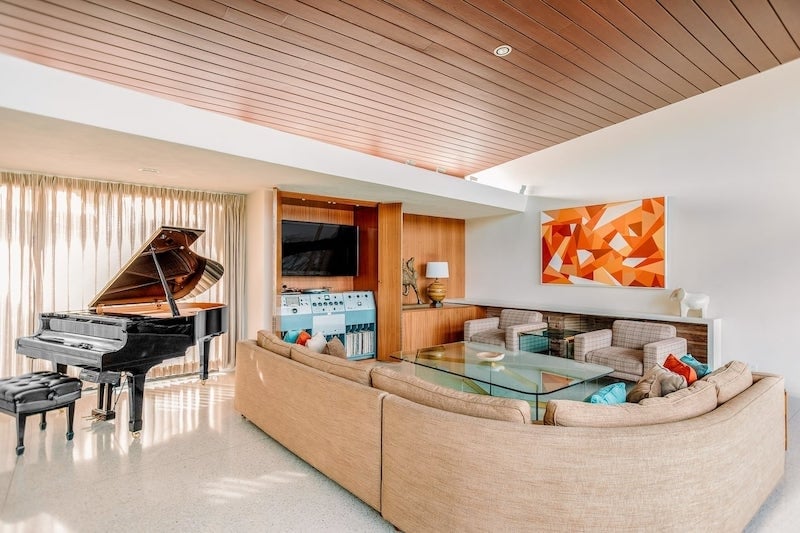 Listing name: Twin Palms Sinatra Estate
Listing type: Luxury stay
Max. no. of guests: 8
No. of bedrooms: 4
Legendary singer and movie icon Frank Sinatra sure loved Palm Springs. Together with his wife Ava Gardner, he hosted the most lavish and fabulous parties right at this sprawling haven until 1957. 
Commissioned by Sinatra himself, this mid-century modern Airbnb in Palm Springs radiates a cosy and elegant atmosphere with a touch of Old Hollywood glamour. Music fans and design-savvy travellers will find plenty to admire in this well-preserved home filled with Sinatra's memory, from the piano-shaped pool to the singer's original recording studio.
3. This pretty-in-pink bungalow with lots of photo spots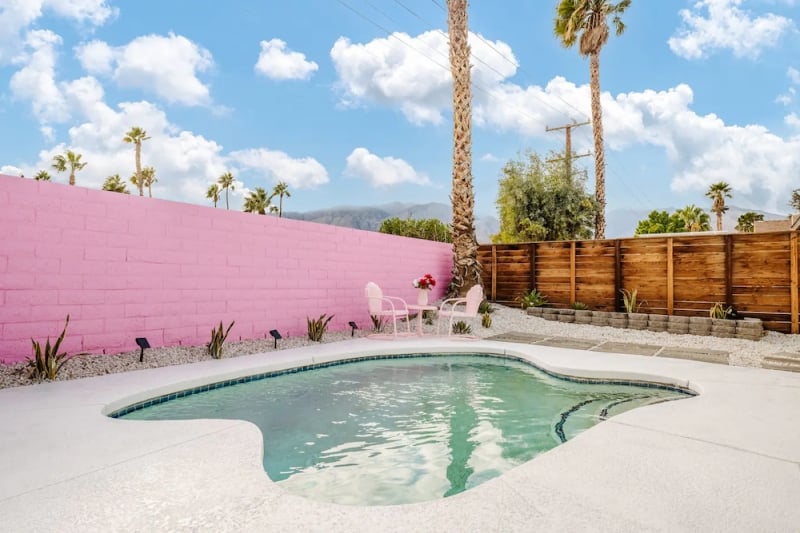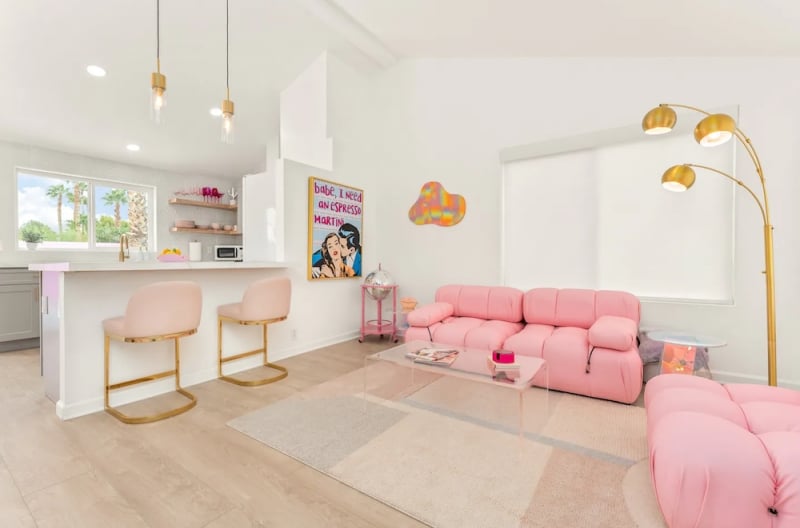 Listing name: The Doll House in 50 Shades of Pink – 7min to DTPS
Listing type: Entire home
Max. no. of guests: 4
No. of bedrooms: 2 
Decorated in various shades of pink, and hints of shiny furniture, this gorgeous abode is a study in Barbiecore perfection. Every section is an Instagrammable spot; from the living room with chic wall art and cloud-shaped sofas, to the bedrooms with cute mirrors and neon lights! Meanwhile, the backyard features a pool, sun loungers, and even a pink brick wall. 
Did we mention that it's within an attractive price range, too? A fairly cheap Airbnb in Palm Springs, it's a great pick for an intimate getaway with the girls. What's more, it's less than a 10-minute drive to Downtown Palm Springs attractions like the Palm Springs Art Museum and the Palm Springs Walk of Stars. 
Also read: 14 Prettiest Barbie-Inspired Airbnbs Around the World
4. This airy Palm Springs Airbnb with tropical-bohemian interiors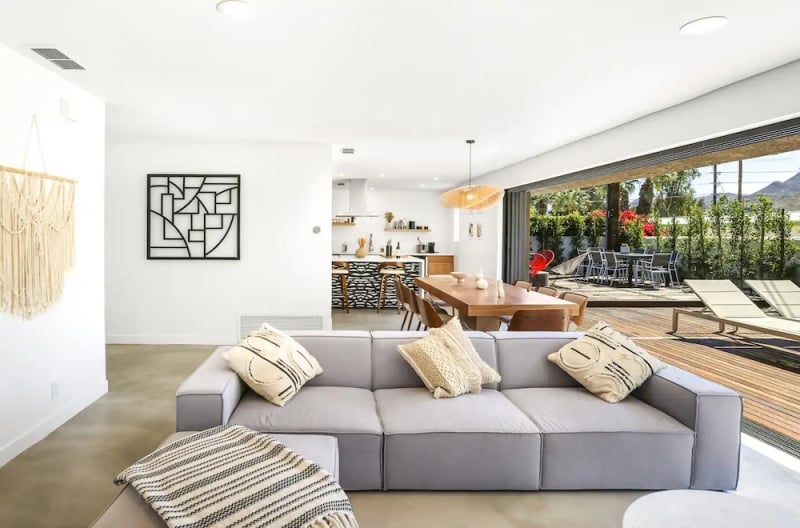 Listing name: Chez Alain & Michou
Listing type: Entire villa
Max. no. of guests: 8
No. of bedrooms: 4 
Bask in the desert sunshine from the comforts of this four-bedroom villa. It boasts an indoor-outdoor concept, with the living room opening directly to the pool deck. (Imagine watching your favourite movie while taking a dip or sunbathing!). Adding to its tranquil ambience are the minimalist interiors blending tropical and bohemian elements. One could easily say it's a frontrunner for being the best Airbnb in Palm Springs with a pool. 
Feeling like exploring? Moorten Botanical Garden as well as hiking areas like Oswit Canyon and South Lykken Trail are just a short drive away. At night, enjoy the chilly air and cosy up around the outdoor fireplace with some hot chocolate and s'mores. 
5. This boho-chic retreat with desert-inspired interiors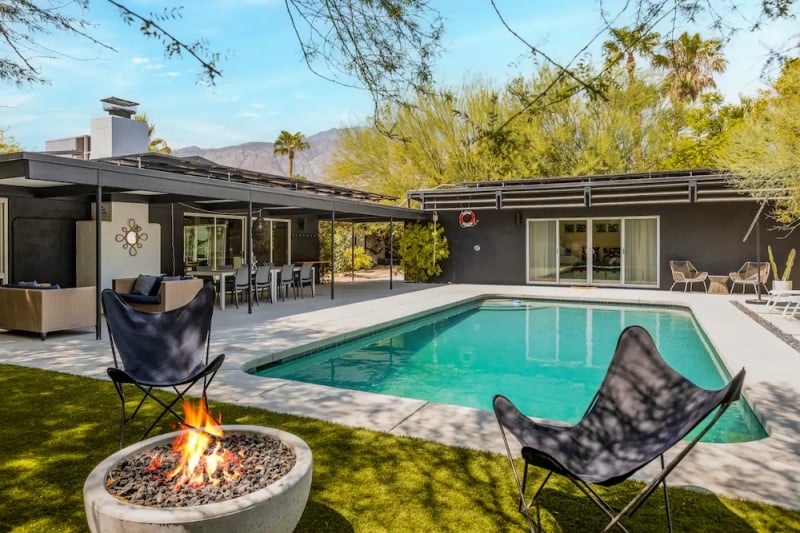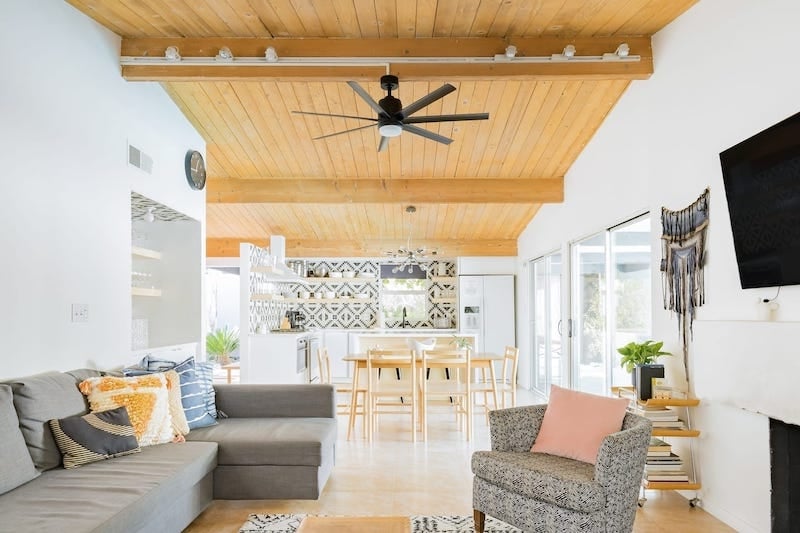 Listing name: Earthy Modern Pool Home w/ Casita! Dogs OK.
Listing type: Entire home
Max. no. of guests: 8 
No. of bedrooms: 4 
Designed by the famous architect William Krisel, who helped influence the iconic look of mid-century homes throughout Palm Springs, this desert-inspired compound is made for lounging in style and comfort. It keeps the decor as earthy as possible with boho-chic decor — think paintings of desert cacti, patterned tiles, and hanging tapestries gracing the walls. 
Up to eight guests can stay at this Airbnb in Palm Springs, CA. Brimming with carefree and relaxed vibes, it showcases a playful contrast to the stark desert landscape. Meanwhile, the travel crib and children's books and toys make it an excellent choice for those travelling with small kids as well.
6. This prairie house with a saltwater pool and mountain views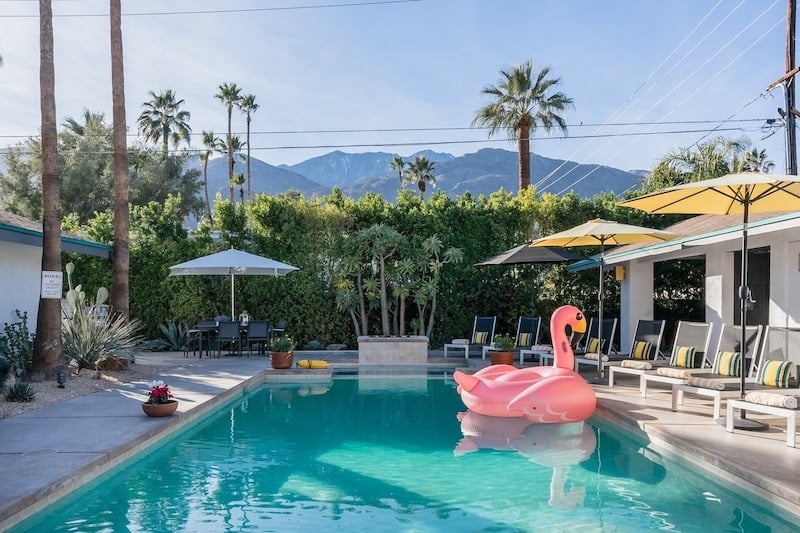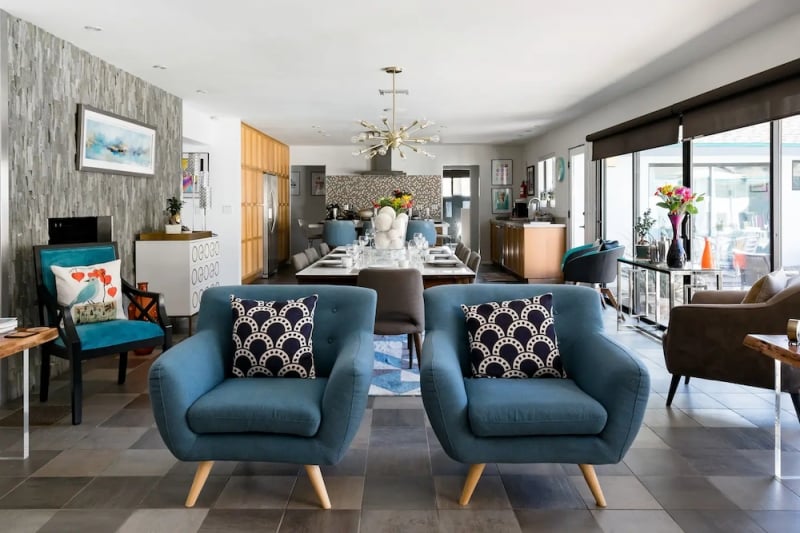 Listing name: Palm Springs Magical Experience Under the Stars
Listing type: Entire home 
Max. no. of guests: 10
No. of bedrooms: 5 
Of all the SoCal vacation homes you can find, this Airbnb in Palm Springs with a saltwater pool is perfect for a blissful vacation with family and friends. Not only is it designed to host large groups, but it also lives up to the promise of allowing guests to look up at the stars; be it from the outdoor hot tub or the chairs on the patio. 
Many guests only have positive things to say about this five-star-rated rental, from its state-of-the-art kitchen to the gorgeous backdrop of the mountains. But here's another standout detail you won't want to miss: the pink flamingo floatie waiting for you in the pool.
7. This design-forward, solar-powered home with a garden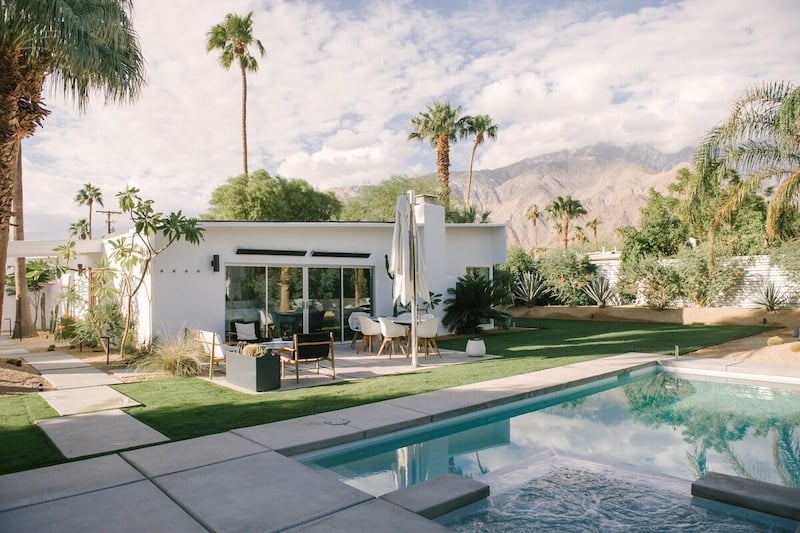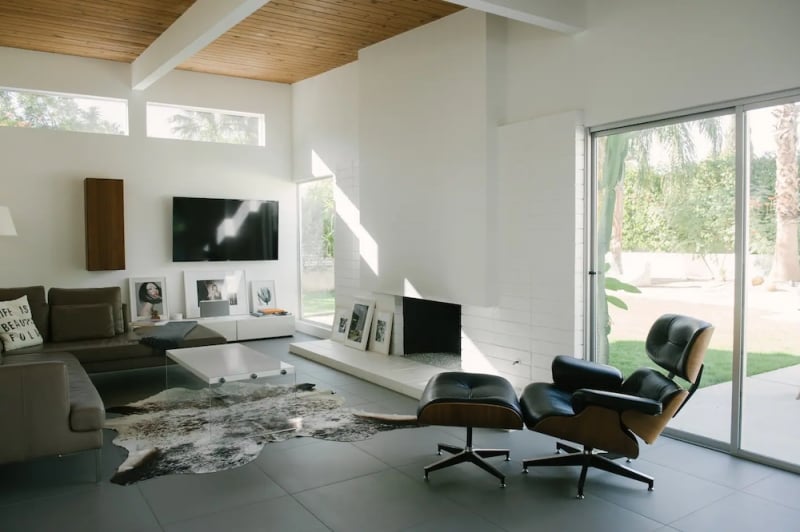 Listing name: LeMode PS-Scandinavian Design Alexander Butterfly
Listing type: Entire home 
Max. no. of guests: 6
No. of bedrooms: 3 
Probably the best-kept secret in Palm Springs is this luxurious mid-century residence. If you have a keen eye for design, then you're going to love the living room with BoConcept furniture and an Eames chair; the bathroom with Turkish towels and heated floors; the kitchen with a Bosch induction cooktop; and the manicured garden with a Tuuci umbrella. All these details lend a hotel-like feel to this Airbnb in Palm Springs with a pool. 
Come home to a California king bed, a swimming pool and a Jacuzzi whose temperature you can control, an outdoor shower, and most of all — jaw-dropping views of the San Jacinto Mountains. Those bringing an electric vehicle will also be pleased to know there's a complimentary charger. Indeed, this is a real oasis in the SoCal desert that's worth the splurge!
8. This stylish two-bedroom abode in a glamorous neighbourhood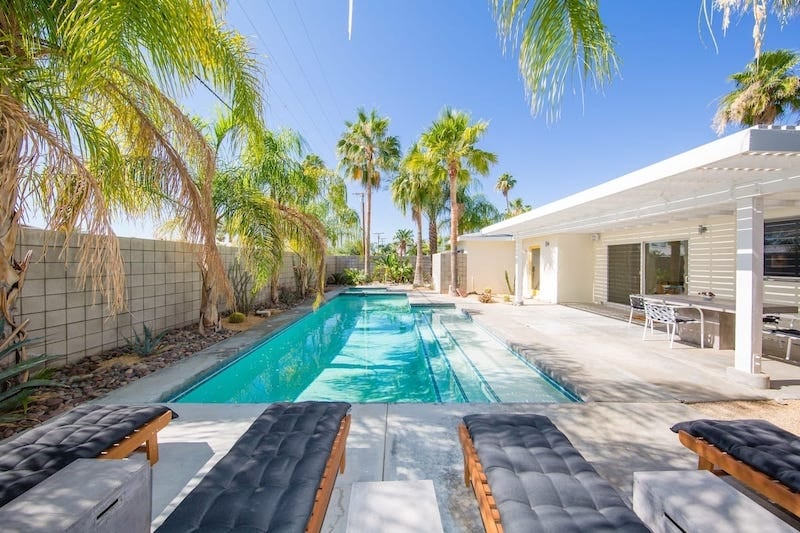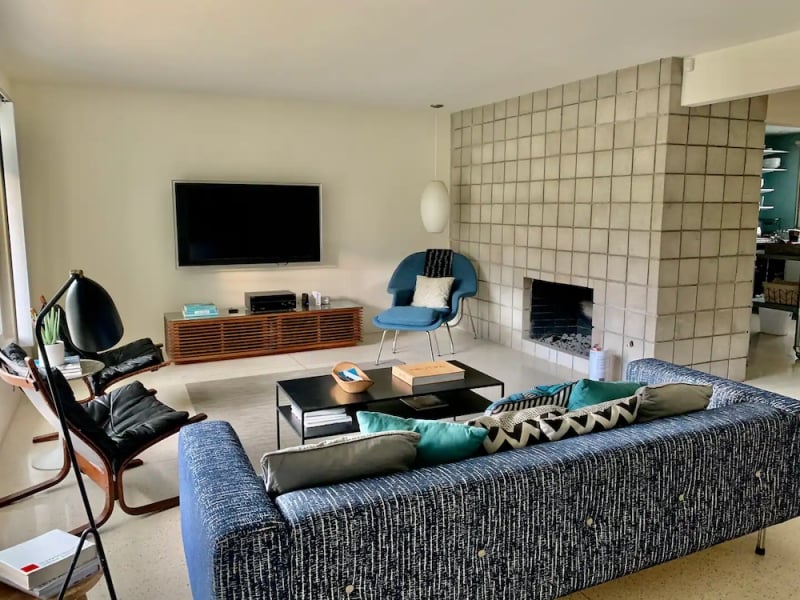 Listing name: Private Mid-Century Oasis
Listing type: Entire home 
Max. no. of guests: 4
No. of bedrooms: 2
We're already jealous of the next person who gets to wade into the swimming pool of this mid-century modern house in the heart of Movie Colony East. When it isn't getting booked left and right by city dwellers looking for a desert escape, Hosts Kris and Marcus bring the best of Palm Springs in one home: sweeping mountain views, a refreshing saltwater pool, and a patio made for soaking up the desert sun. 
Factor in the lemon trees and the outdoor hot tub, and you can see why this is one of the most popular Palm Springs Airbnb options. Better act fast and snap it up before someone else does!
Other top-rated Palm Springs Airbnb rentals
9. This breathtaking dome hideout with 360° views of the desert landscape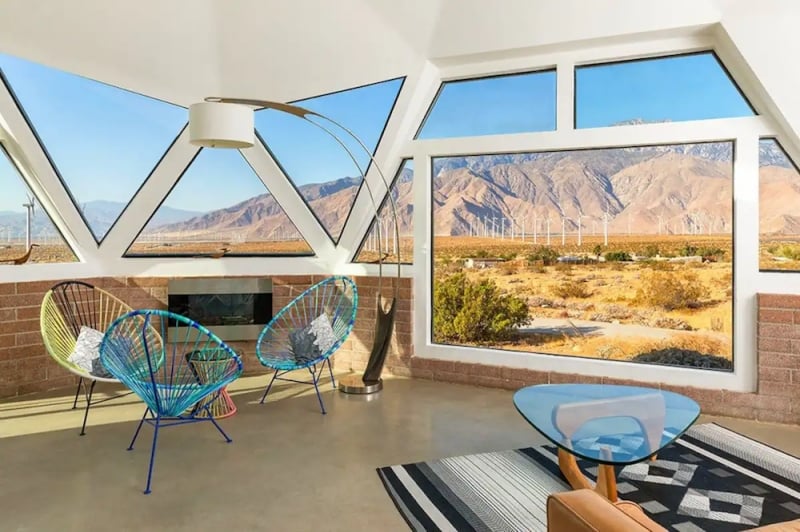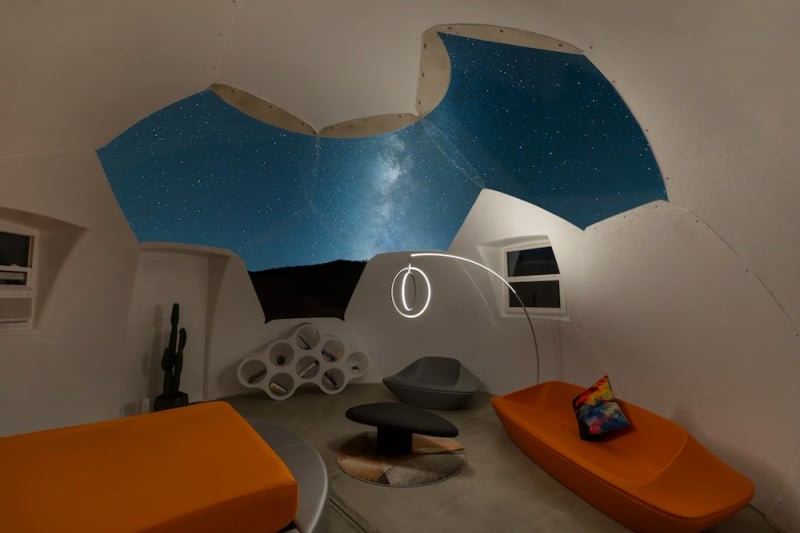 Listing name: Private House 15 mins to Palm Springs Views
Listing type: Dome 
Max. no. of guests: 6
No. of bedrooms: 3
One way to enrich your stay in the desert is to sleep in this majestic geodesic dome house with three bedrooms and breathtaking views of Coachella Valley and the San Jacinto Mountains. Inside, the house features a high ceiling and wide windows to create a light-drenched retreat. This allows guests to bask in the glorious atmosphere of the desert from morning to sundown. 
Emerging from this Palm Springs Airbnb, you catch a glimpse of windmills and native desert plants. Between the natural seclusion of the area and the well-appointed interiors of the dome, it's a unique and socially distant hideaway you won't want to leave.
10. This dreamy Airbnb between Palm Springs and Joshua Tree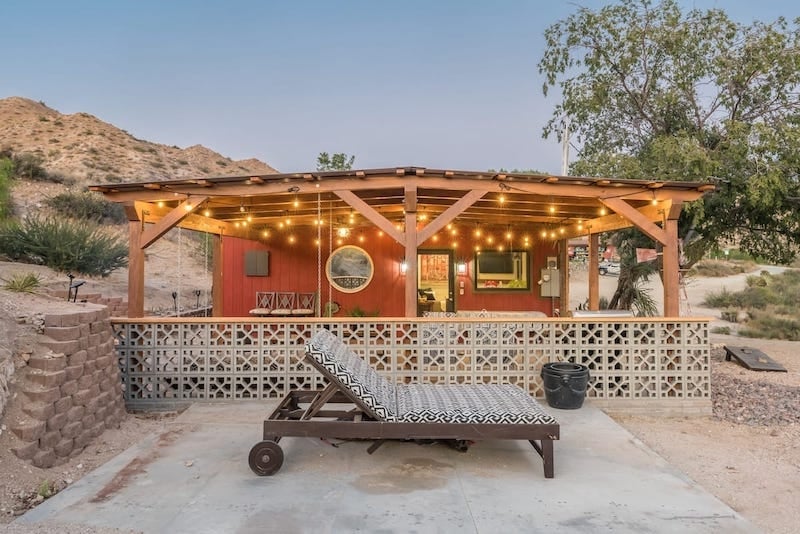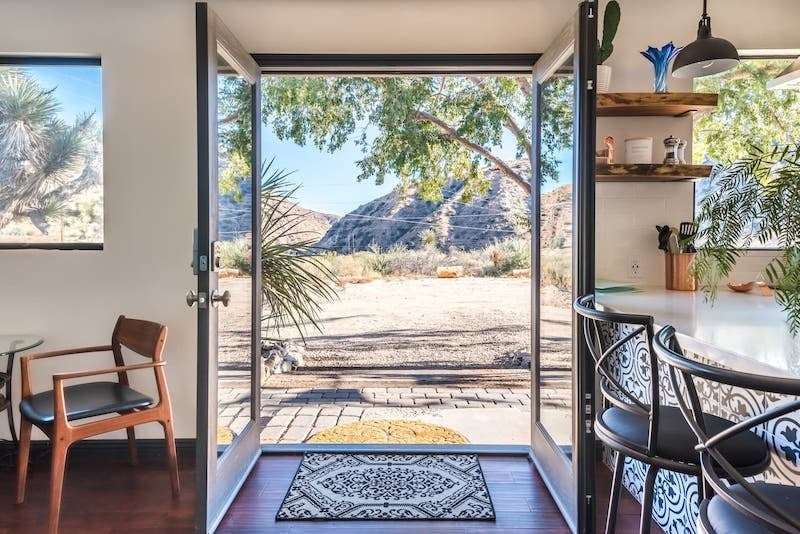 Listing name: Joshua Tree / Palm Springs Sun Ray Cabin Ranch
Listing type: Entire home 
Max. no. of guests: 4
No. of bedrooms: 1
Fancy sinking in the hot tub and drinking a glass of wine as the stars come out at night? Just around a 20-minute drive from Palm Springs and Joshua Tree, the Sun Ray Cabin combines its indoor and outdoor living spaces for an immersive experience in the desert. This way, it's practically built for setting up a bonfire and stargazing in comfort and style. 
Each window of this home frames a beautiful view of Morongo Valley, but you'll want to stretch your legs and explore the hiking trails in Joshua Tree National Park as well. Outside, the wide terrain offers a welcome change of pace — that's something that your pets, who are more than welcome at the Sun Ray Cabin, can also enjoy to the fullest.
Also read: 10 Unique Airbnbs for an Unforgettable Travel Experience
Heading to California soon? From poolside chic to open-air retreats that embrace the natural wonders of the desert, these Airbnbs in Palm Springs have you covered for your next trip. Don't forget to complete your next visit to the Golden State checking out our recommendations for San Francisco, Los Angeles, Big Bear Lake, Malibu, Big Sur, and Universal Studios Hollywood as well.
Got a property you'd like TripZilla to feature? Inquire with us here.
---
This article contains affiliate links. When you book through these links, we may earn a small commission at no additional cost to you. All images courtesy of the respective property listings.