In sunny South Africa, going on safari is hardly the wildest thing that one could do. After all, it's littered with national parks, game reserves and sanctuaries housing the wildlife that is commonly thought of as synonymous with "Africa". However, in Johannesburg (or Jo'burg), South Africa's largest city, its thriving arts scene proves that we really should be paying more attention to the region for more than its captivating animals.
Also read: There's More to Africa than Safaris: 8 Alternative Attractions to Discover
On the streets and inside galleries, there is art all around Johannesburg that's just waiting to be discovered. Below, we've compiled a brief list of reasons why art makes up the city's most significant attractions — be sure to check them out when in Johannesburg to confirm the fact!
Explore South Africa's vibrant culture when you fly with Ethiopian Airlines to Johannesburg and Cape Town! Book now for travel between 17 Sep 2019 to 30 Jun 2020 to enjoy all-in fares from S$740 for Economy Class and S$2,770 for Business Class.
1. It's where incredible street artists call home
Johannesburg is teeming with some of the most talented artists in South Africa and the world, so it's natural that the city is decorated with their awe-inspiring creations. One of the best things about art in Johannesburg is that it isn't confined to enclosed spaces like traditional art galleries; it spills out onto the city streets. Not only does this reflect the democratic culture of art in Johannesburg, it's also a signifier of how the city truly embodies the notion that "art is everywhere".
At every turn, you're likely to find street art, commonly in the form of graffiti. This includes work from renowned artists that are both local and international — one such example is the Johannesburg-based artist Sonny.
In Rosebank, check out Jelani, a famous elephant work that's part of his most significant project,To the Bone. Through his works in various cities around the world, Sonny sought to bring awareness to the need for wildlife conservation efforts.
This rendition of the peregrine falcon that was completed early in 2019 is his latest work to feature on the streets of Jo'burg and you may head to 55 Malibongwe, Linden to view it in person.
2. Everything that happens in Maboneng
The Maboneng Precinct, or simply known as Maboneng, is easily one of the most artsy neighbourhoods you'll ever encounter. Located on the eastern edge of the Johannesburg CBD, it's a sort of hub for creatives filled with buzzing coffee shops, art galleries, and it's even home to several artist studios. Weekdays are a good time to visit if you're content with exploring the quaint shops and wandering through the quirky neighbourhood without the crowds that are almost a staple during the weekends.
There's always something going on at 1Fox Precinct and the Arts on Main development, but the area truly comes alive during Market on Main which takes place from 10am – 3pm every Sunday. Held on the premises of Arts on Main, this market is a celebration of delicious food and Jozi designs — prepare to feast both your eyes and tummies when you visit!
Fly to Johannesburg & Celebrate Jozi Culture
3. Johannesburg Art Gallery: the biggest gallery in sub-Saharan Africa
When talking about art in Johannesburg, there's no missing the Johannesburg Art Gallery or simply JAG, the largest gallery in sub-Saharan Africa that boasts an impressive collection consisting of over 9,000 works of art. Head to Joubert Park in downtown Jo'burg to marvel at art dating back to the 17th-century, with a wide variety of styles ranging from European art to contemporary African works.
Do note that the gallery is closed on Mondays and you may want to check JAG's Facebook page for information on ongoing exhibitions.
4. Handmade African crafts at the Rosebank Art & Craft Market
The Rosebank Art & Craft Market is the place to go if you'd like to browse and acquire handmade African products including artifacts, jewellery, prints, sculptures and more. The market features vendors from all over Africa, including from the Ivory Coast, Zimbabwe, Congo, Cameroon, as well as South Africa. Established in 1993, this market is open every day, so don't fret if you need to purchase any last-minute souvenirs for your art-loving friends back home — just make your way here!
5. Contemporary art galleries on Johannesburg's Art Strip
Art galleries and artsy districts are abundant in Johannesburg, but Johannesburg's art strip is decidedly located on Jan Smuts Avenue. Here, you'll find the prominent galleries like the Goodman Gallery which "holds the reputation as a pre-eminent art gallery on the African continent". From exhibitions to art fairs, this bustling gallery is one not to be missed when you're in the area.
Other notable galleries nearby include Gallery MOMO on 7th Avenue. Despite the competition from having these art venues in close proximity to each other, they also succeed in representing the healthy art industry that's present in South Africa.
6. Plenty of art classes to attend
After seeing all the art found in Johannesburg, you might be inspired to pick up an art form or two during your trip. It's a good thing then that there are many different classes you can attend around the city for a short beginner's course. Take your pick from this list courtesy of some South African artists.
For instance, the Fine Arts Workshop is holding a foundation sculpture course this November over the duration of a weekend.
Those looking for a more accessible option may also want to check out the Color Café located in Hyde Park, where you can paint on ceramics or mosaic some wooden items. You'll also have the option of donating your work to charity at the end of it.
No matter where you wander in Johannesburg, the city is sure to inspire you with its flourishing art scene. It's time to look beyond travelling to Africa for safaris, and head explore all its other attractions instead!
Don't wait any longer to uncover South Africa's best-kept secrets — book flights to Johannesburg and Cape Town by 31 Aug 2019 to enjoy exclusive promotional fares from Ethiopian Airlines!For travel between 17 Sep 2019 to 30 Jun 2020, enjoy all-in fares from S$740 for Economy Class and S$2,770 for Business Class.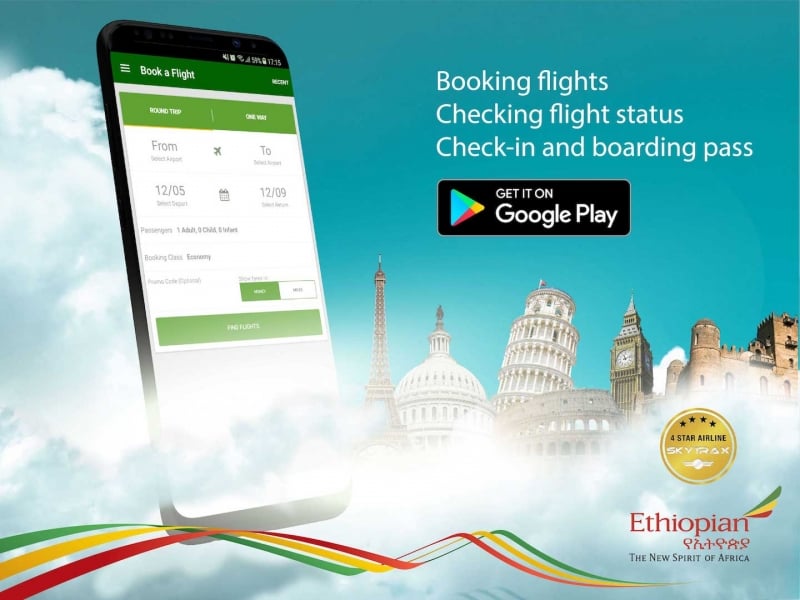 Download Ethiopian Airlines' app for more information on booking your flight.
Also read: 19 Things To Do in Johannesburg, South Africa
---
Brought to you by Ethiopian Airlines.