When we think of flower fields, the tulip farms in Netherlands or the cherry blossoms in Japan usually come to mind. But who says that these alluring floral fields only exist in those countries? Feast your eyes or have a spectacular photoshoot at these charming floral fields listed below, which are all located right on our doorstep in Southeast Asia!  
Note: Most flowers only bloom at a certain time of the year, so be sure to check before making plans!
1. Thailand: Sunflower Fields, Saraburi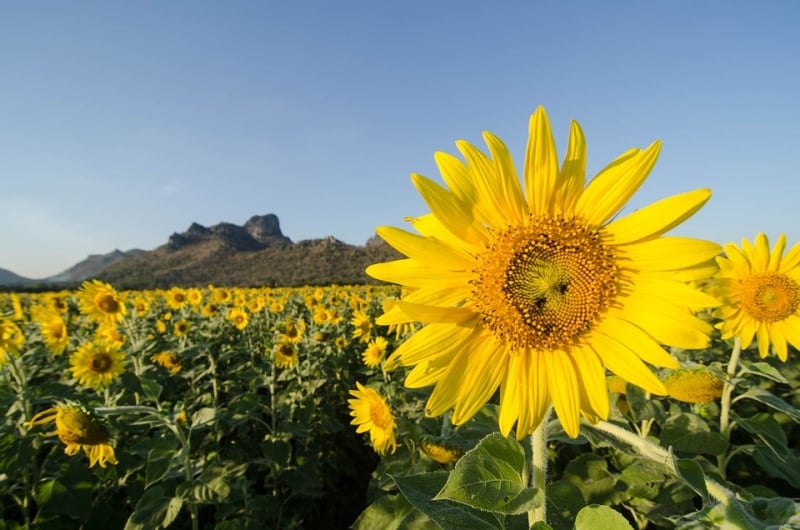 Located close to bustling Bangkok, Saraburi is a small province well-known for its magnificent sunflower fields. Stretching well over 10,000 acres, it is a ray of sunshine in the cool end-year months. For a family trip in the hillside sunflower fields, Tambon Hin Son and Tha Khlo of Amphoe Kaeng Khoi are the perfect places to go. Apart from taking photographs, visitors can also get involved by learning to plant and take care of sunflowers, or they can buy sunflower-made products! How exciting is that? For a different experience, you can also visit the nearby districts,  Amphoe Wang Muang (one hour away from Saraburi) and Muak Lek (30 mins away from Saraburi), where horses and cattle graze nearby, with the sunflower fields in full bloom from December to January.
When: November to January
Where: Pattana Nikhom – Wang Muang Road, Tambon Chong Sarika, Amphoe Wang Muang, Sara Buri Province.
Price: Free
Official Website: None
2. Philippines: Terrazas de Flores Botanical Garden, Cebu  
Also deemed as 'Cebu's Breezy Floral Nirvana' by some, Terrazas De Flores is truly a stunning botanical garden tucked in Cebu's cool highlands. It is a retreat spot which both tourists and locals love. Being the Philippines' first and only flower terraces, Terrazas De Flores is a uniquely and meticulously grown garden for you to feast your eyes on. Not only will you be able to indulge in the lush greenery of 127 species of plants and flowers, the cosy cabanas they offer are perfect for relaxing and unwinding. Whether you decide to relax with a cup of coffee and some pastries at their cafe or spend the day getting that perfect Instagrammable shot, you're bound to feel alive and rejuvenated after your visit!
When: 8am-12am Daily, all year round
Where: Budlaan – Busay Rd, Cebu City, Cebu, Philippines
Price: PHP 100
Official Website: https://www.facebook.com/terrazasdefloresofficial/

3. Thailand: Mexican Sunflower Fields, Doi Mae U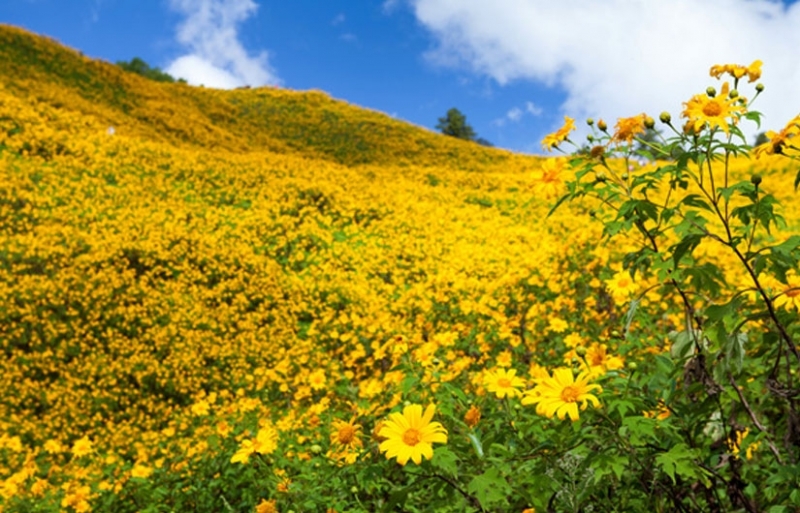 Every November, Thailand's northern hillside, Doi Mae U is transformed into a sea of yellow, as its wild sunflowers (Dok Bua Tong) begin blooming. In that two weeks of annual blooming, visitors are drawn to the Khun Yham district, where some camp there, in order to attend the Bua Tong Bloom Festival. Originating from Mexico, the Bua Tong sunflowers only blossom for less than forty days, thus it is a rather rare sighting that brightens up the entire hillside. Near Doi Mae U also lies other attractions such as the Mae Surin Waterfall that you can visit en route!
When: 6am to 6pm, November to December
Where: 979 Rama 1 Road, Pathumwan Bangkok, Thailand
Price: Free
Official Website: None

4. Vietnam:  Buckwheat Flower Fields in Dong Van Karst Plateau,  Ha Giang
Deemed as one of the most beautiful places in Northern Vietnam, Ha Giang is a picturesque province known for its rice terraces, forested limestone and granite mountains, caves and most definitely, its fields of buckwheat flowers. Planted by locals on the mountain slopes, the buckwheat flower which grows in clusters starts off as white before turning pinkish and eventually, a beautiful dark red. The annual Buckwheat Flower Festival, usually held in November, attracts tons of visitors to Ha Giang whereby many interesting cultural activities such as a flower wine night, a traditional music performance and cultural performances by the H'Mong tribe take place. This is undoubtedly an ideal place to capture the most beautiful photographs!
When: October to November
Where: Dong Van Karst Plateau, Ha Giang
Price: Free
Official Website: None
5. Vietnam: Canola Flower Fields, Duong River, Hanoi
As winter approaches, the fields near Duong River in the Gia Lam district transform into a dazzling sea of yellow, thanks to the canola flowers planted there. Despite not being as eye-catching and fragrant as milk flowers, canola flowers, which originated from vegetables, brighten Hanoi up with its simplicity and timeless beauty. Many locals, especially young people, savour its rare blooming period by flocking there once a year to take photographs or have picnics.
When: November to December
Where: Duong River, Gia Lam, Hanoi
Price: Free
Official Website: None
6. Philippines: Sirao Garden, Cebu

For a glimpse of the Netherlands, just hop on a plane to the Philippines! Also fondly known as Little Amsterdam to the locals, with its eye-catching and aesthetically pleasing landscape, Sirao Garden is every nature and floral lover's paradise. Located only one hour from Cebu, tourists and even locals swarm here to de-stress, avoid the monstrous traffic in Cebu City, take selfies and be one with nature. Sirao Garden is now growing in popularity as a proposal hotspot and many locals enjoy taking their wedding photos with the lush mountain flowers acting as a stunning backdrop.
When: Year Round, 7am to 6pm (Daily)
Where:  Cebu City, 6000 Cebu, Philippines
Price: PHP 20
Official Website: https://www.facebook.com/siraogardencebu/  
7.  Singapore: Tulipmania,  Gardens By The Bay
Held annually for five-years straight is Gardens By The Bay's hit event: Tulipmania, a vibrant and large-scaled event which visitors from all over Asia flock to. Housed in the world's largest greenhouse, you'll find a display of over 30,000 flowers from 90 different types of tulips and hyacinths. Despite not having the climate suitable for growing tulips, Singapore ensures cool temperatures in its Flower Dome in order to cultivate their growth. The mass of bright-coloured tulips of various colours is bound to liven up your social media!
When: April to May (Tentatively)
Where: Flower Dome, Gardens By The Bay
Price: SGD 12/SGD 20 (One or two conservatories, Local Resident Rate), SGD 28 (Standard Rate, Two Conservatories). Discounted rates available.
Official Website: http://www.gardensbythebay.com.sg/en.html 
8. Philippines: Tieza Botanical Garden, Cebu (Malubog Lake)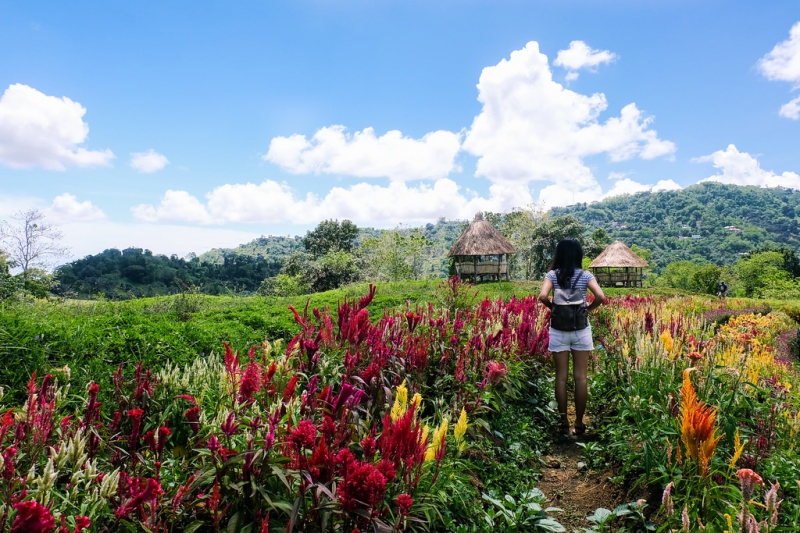 A scenic garden set around Malubog Lake at the foot of Mount Sirao, Tieza Botanical Garden offers you a slice of Cebu's hidden paradise. Surrounded by acres of Celosia and other types of flowers, not only is the air crisp and fresh, but the area is still relatively untouristy and unspoilt. Besides being able to take envy-inducing photos here, those who know of this beautiful place enjoy resting in the two mini huts available on-site or soaking in some sun. Do remember to bring a jacket to protect yourself from the sun or wind, as it tends to get a little chilly at times!
When: 8am-12am Daily, all year round
Where: Budlaan – Busay Rd, Cebu City, Cebu, Philippines
Price: PHP 25 (Donation)
Official Website: https://www.facebook.com/terrazasdefloresofficial/

9. Malaysia: Cameron Lavender Gardens, Cameron Highlands
Newly opened in 2013, Cameron Lavender Gardens is the perfect selfie spot! Rows upon rows of vibrant lavender flowers will greet you the moment you enter and besides those, many other types of flowers such as gerberas, camellias, roses, peonies and yellow daisies are grown as well. Make sure to try their signature lavender ice-cream and purchase some lavender-scented gifts at their gift shop!  
When: Year-Round, 9am-6pm (Weekdays), 9am-7pm (Weekends)
Where: Taman Tringkap, 39100 Brinchang, Pahang, Malaysia
Price: MYR 10 for adults, MYR 7 for kids.
Official Website: http://cameronlavender.com/
10. Philippines: Allied Botanical Corporation's Sunflower Maze Farm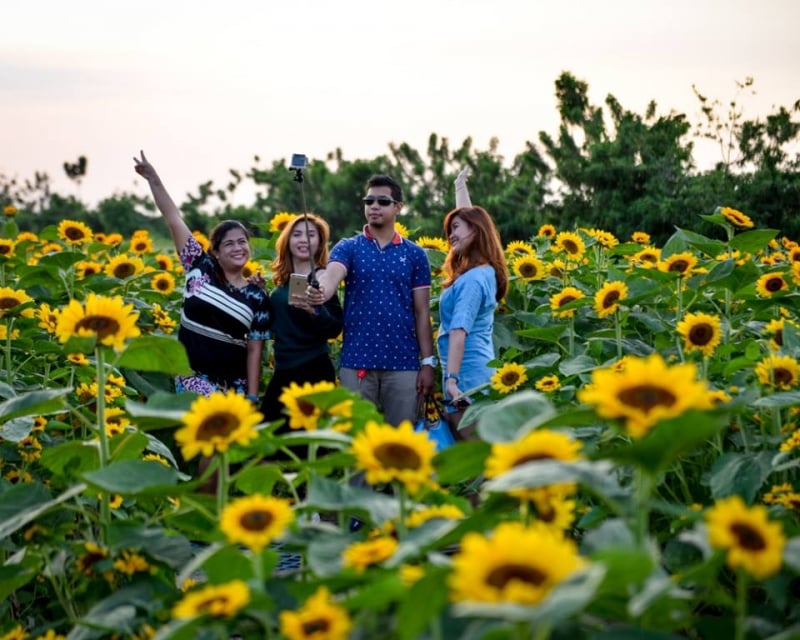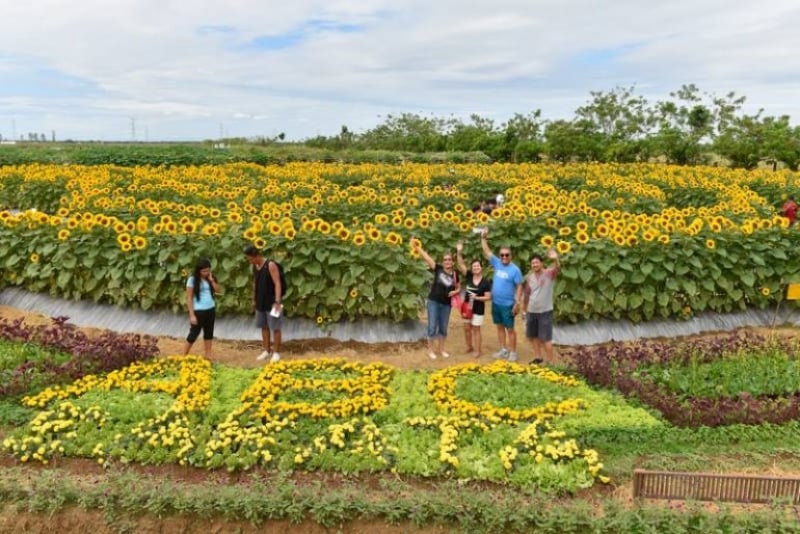 Being a farming corporation with the goal of developing adaptable and high-yielding vegetable varieties, Allied Botanical Corporation took a huge step forward by growing the FIRST EVER sunflower maze farm in the Philippines! Besides sunflowers, visitors will get to see other types of plants and vegetables and will even have the opportunity to harvest their own fresh crops! Although the maze is relatively small and can be finished in approximately 30 minutes, visitors can choose to take their time to sniff the flowers and take numerous selfies, if they wish.
When: Year Round, 7am-5pm (Daily)
Where: Lachauco, Tayug, Tayug, Philippines, Tayug, Luzon 2445, Philippines
Price: PHP 100
Official Website: http://www.alliedbotanical.com/
11. Vietnam: Hydrangea Flower Field, Da Lat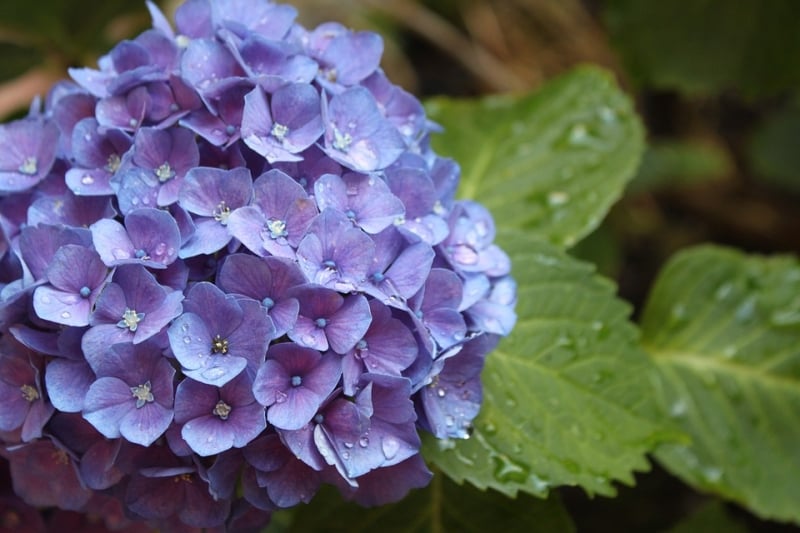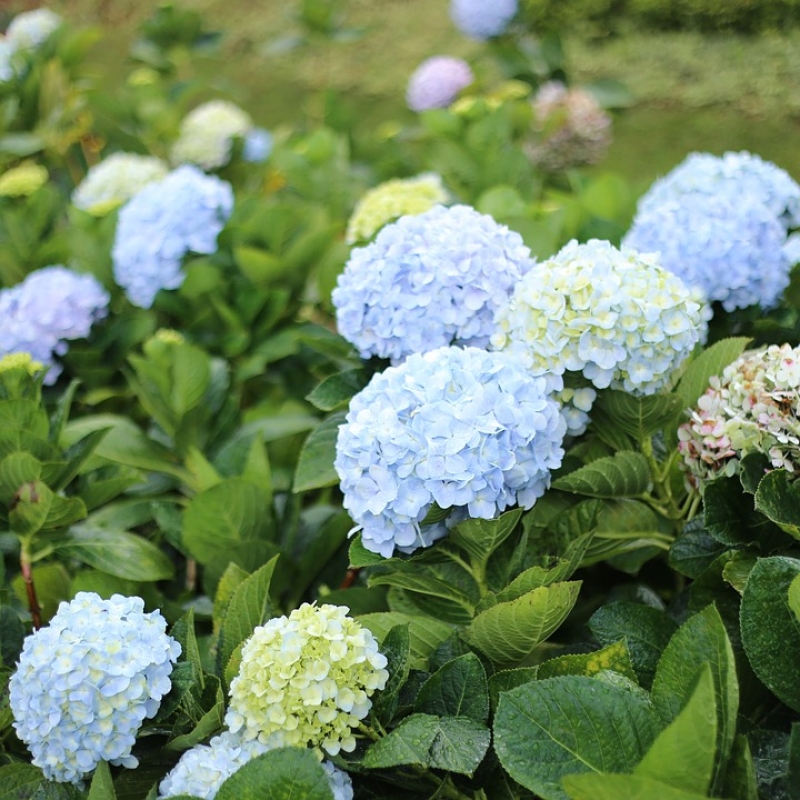 Unknown to most people, Da Lat, the capital of the Lam Dong Province in Vietnam's Central Highlands, contains a picturesque field of royal blue hydrangeas simply 15km from the city centre. Locals who are aware of this hidden gem escape the hustle and bustle of the city by coming here for a quick getaway. Despite the fact that hydrangeas are grown all year round in Da Lat, the best time to visit is in winter, from October to February. Not only is the temperature a nice and cool 15 to 25 degrees, the hydrangeas will be a perfect, uniform sea of blue – perfect for your wedding photographs or selfies!
When: October to February
Where: Lac Duong district, Lam Dong province, beside the road linking Nha Trang and Da Lat; approximately 15km from Da Lat.
Price: Free
Official Website: None
12. Vietnam: Da Lat Flower Park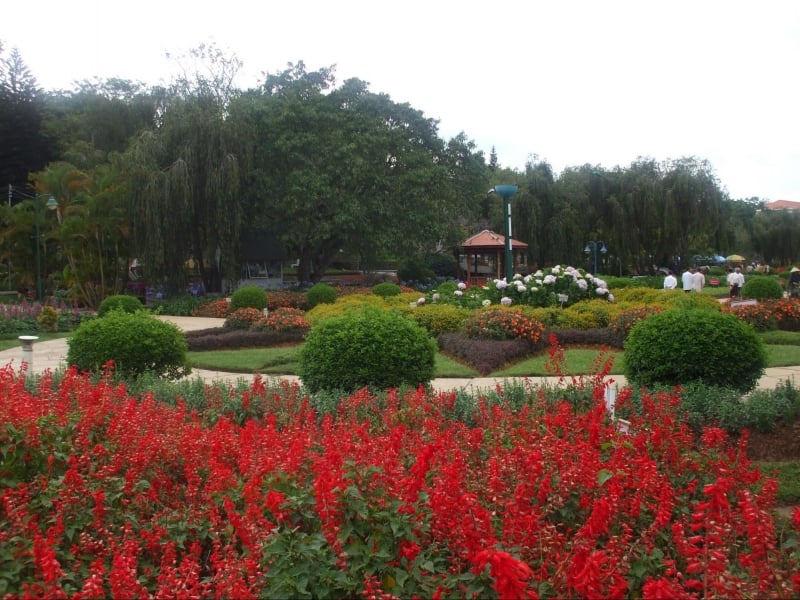 A well-known attraction to the locals of Da Lat, the Flower Park is a must-see if you stop by! Located at the end of Xuan Huong Lake, just 2km from the city centre, this park is an appealing attraction especially when the annual Flower Festival rolls around. During this festival, you will find hundreds of types of flowers blooming, ranging from orchids to mimosas. Furthermore, the flower park, which is considered a natural museum that houses an exotic collection of at least 300 species of flowers, attracts many visitors who come all-year round to enjoy the vibrant variety of nature and have a cup of coffee at their on-site cafe.
When: 7.30am-4pm daily, all year round
Where: 2 Phu Dong Thien Vuong Street, Dalat City
Price: VND 30,000
Official Website: None
Bonus:
13. Philippines: 10 000 Roses Cafe, Cordova, Cebu
Unlike the above listed, these are artificial roses but equally gorgeous when lit up at night. Boasting a white minimalistic sea of roses, this quaint cafe in Cebu gives off a romantic vibe, making it a perfect date spot. Enthralled by its clean-looking aesthetics, many visitors visit the 10000 Roses Cafe in search of photo opportunities as well as a relaxed afternoon of light bites and hot drinks. Definitely worth a visit if you're in Cebu!
When: 10.30am-11pm, Daily
Where: Day-as, Cordova, Cebu, Cordova, Cebu
Price: Depending on what you order
Official Website:https://www.facebook.com/10-000-Roses-Cafe-379098142446703/
Picture this: running through miles and miles of colourful, freshly-bloomed tulips as you breathe in the sweet fragrance that lingers in the air. Doesn't that sound dreamy and relaxing?  Whether you're a social media butterfly who's constantly searching for new photoshoot-worthy spots or just one who just loves to quietly admire flowers whilst thinking about life, these places are bound to be everything you've been looking for.