Looking to pack your bags and jet off somewhere a little off-the-beaten-track? Check out Johannesburg, or more affectionately known as Jo'burg (or even Jozi). A former tented mining village, Jo'burg has steadily shed its derelict image of grungy warehouses and old buildings in favour of trendy markets, hip cafes and stylish art galleries.
Johannesburg is a gem waiting to be discovered by travellers in search of something different in South Africa. Despite its brand of fast-paced city culture and enthusiasm, there is a curious peace to be found in the majestic presence of other beasts that walk the surrounding plains. Yet, many only drop by on a day trip or at most an overnighter, preferring to stay in "grander" African destinations such as Cape Town.
Jo'burg is a treasure trove for anyone willing to give it a chance. Whether in search of a cultural encounter, an adrenaline rush or simply somewhere to kick back and relax, Jo'burg brims with a dizzying array of things to do.
1. Kickstart your city sightseeing by bus
One of the best ways to get familiar with the city is to hop onto one of these red beasts. These buses offer city tours in a hop-on-hop-off format, giving you the freedom to decide where you want to go and how long you'd like to spend there. Listen to the informative audio guide to glean little tidbits about the city while you cruise along the streets to popular attractions such as the Apartheid Museum, SAB World of Beer, and Constitution Hill.
And if you stop at Constitution Hill, you can hop on the green line and discover other attractions such as the National Museum of Military History, Johannesburg Zoo and the nearby Zoo Lake.
2. Embark on an easy walking tour
If you'd rather stretch your legs, why not go on a PastExperiences walking tour? Experience the town and its surroundings with the company of their dedicated guides. There are a variety of themed tours, such as shopping, craft beers, local culture, heritage sites, graffiti art or a tour of the multi-ethnic Fordsburg.
PastExperiences offers both private and corporate group tours that cater to your individual interests. They also run different tours depending on the time of the year. For more information, click here.  
3. Taste a slice of Jo'burg's dark past
Jo'burg was not always a place of carefree culture – it was once subject to apartheid, a former system of institutionalised racial segregation and discrimination. No visit to Jo'burg is complete without a visit to the Apartheid Museum, the first of its kind to depict the story of human triumph over heavy oppression.
Immerse yourself in the vivid recounts of violent racial segregation. Right at the entrance, you'll be forced to choose your race and walk through separate doors. Audio and video records retell the atrocities of the recent past – be warned, the museum does not attempt to sugarcoat the horrors that once took place.
4. Trawl through the quirky markets
With markets popping up all over, it makes sense to pop by at least a couple of them. We recommend the Neighbourgoods Market, a growing popular hipster market with over 100 local specialities, live music and tons of quirky things to buy. Open every Saturday and the first Thursday of the month, meander through lively stalls to discover vintage clothing, tasty craft beers and fresh seafood. For more kid-friendly environments, the Hazel Food Market is a great alternative, complete with a jungle gym and jumping castles for the kids to let loose.
Want something a little more unconventional? Then check out the muti (traditional African medicine) at the Mai Mai Market located in central Jo'burg. Recognised as the "place of healers", this is the go-to-market for locals looking to cure various maladies.
5. Take a breather around the Maboneng precinct
If the markets aren't open, skip the crowds that throng the Maboneng Precinct during the weekends and go on a weekday instead. Explore on foot to hop between quaint boutique stores and cafes, and perhaps an art gallery or two in between some street art.
If you drop by on weekends, check out the Market on Main, where you can grab a beer, soak up lively vibes and browse the numerous stalls. We dare say that the unique outlets and interesting people you'll meet in Maboneng will have you wanting to come back for more.   
6. Have a throwback 60s' photoshoot
Throw on a chunky knit sweater along with a plaid mini skirt and lollipop in hand, and you'll blend right in with this Grease-esque themed town. Pretville was originally a 50's movie set complete with rooms and scenes filled with antiques but has over time turned into a popular attraction for themed photoshoots.
Wander around, grab a milkshake and a cheeseburger from this iconic diner while you're at it. Take note that Preville is open on weekends and public holidays only to avoid disappointment!
7. Dig into some authentic Chinese Grub
To continue the expedition of themed districts, how about a visit to Jo'burg's Chinatown? Experience a piece of Asia in Africa with a walk along Cyrildene's Derrick Avenue. Hit up the Chinese supermarkets, street-side Asian produce stalls, traditional Chinese medicine stores and oriental tea shops.
Those on a budget will especially enjoy a jaunt to one of Chinatown's authentic restaurants (Chinese, Thai, Taiwanese and even Korean options), where portions are sizeable and very affordable at the same time.
8. Vibe out on the rooftop
For a stunning view of the city skyline, make The Living Room one of your must-visit spots. This awesome rooftop venue puts you in the middle of a nursery-like atmosphere, but with the creature comforts of smacking good tapas, good music and chill cocktails.
Watch their Facebook page for events like guest DJs on some Sundays and grab your friends to groove out together with the vivacious crowd and the setting sun.
9. Bask in the presence of stunning artwork
Art and history buffs, this is the place to be. As the biggest gallery in sub-Saharan Africa, the Johannesburg Art Gallery (also known as JAG) houses over 9,000 masterpieces. The exhibits range from 15th-century European art to contemporary African work, displayed within 15 exhibition halls and picturesque sculpture gardens.
The collections are so large that it can only exhibit 10% of its pieces at one time, thus promising something new each time you visit. View the work of famed artists such as Pablo Picasso, Claude Monet, Salvador Dali and more as you cover the premises of this gorgeous 1910's colonial architecture.
10. Take a history lesson on the development of medicine
Ever wondered how medicine advanced enough to perform the modern miracles that it does today? At the Adler Museum of the History of Medicine, you can view intriguing collections that depict the history of medicine, dentistry and pharmacy through the ages.
Immerse yourself in the exhibits and take away fascinating tidbits from the documents, sculptures, pictures, videos and medallion collections on display. The exhibits are constantly evolving as donations come through, so prepare yourself for an eye-opening afternoon surrounded by the curious developments of medical history and its allied health sciences.  
11. Scream your lungs out and embrace the adrenaline rush
A hot favourite among kids and adults alike is Jo'burg's Gold Reef City, a premier entertainment destination reminiscent of the mining town the city once was. Aside from its thrilling theme park rides, the resort also boasts a mining tour, glitzy casino and two 4-star hotels.
Foodies can indulge in exciting food fare for every palate. Must-ride attractions include the Tower of Terror, Anaconda, the Jozi Express and its titillating water rides (pack a spare change of clothes!).
12. Take a leap of faith
Gold Reef City rides too meek for you? Go big with the bungee jump facilities at Orlando Towers in Soweto. Aside from the incredible views of Johannesburg at their peak, you'll experience a thrill like never before when you finally take the 100m plunge.
And if you walk away from the jump feeling like your bones have liquefied, drag yourself to the Ubuntu Kraal Brewery nearby for some comfort food and authentic Soweto Gold Beer to refuel yourself with some much-needed liquid courage.
13. Roam among exotic African wildlife
Enter the Johannesburg Zoo and its adjacent Zoo Lake. The zoo itself is home to over 2,000 animals and 365 different species and is renowned for its husbandry practices like maintaining a high standard of animal welfare and progressive thinking that prioritizes conservation work and education. So animal activists, this is one establishment you may visit without the implicit impact of supporting animal cruelty weighing on your conscience.
For a tranquil end to your enthralling afternoon, head over to the Zoo Lake after your visit to Johannesburg Zoo. This public park is popular amongst joggers and dog walkers, and you can even row a boat out onto its artificial lake with your loved ones if you wish. Grab some cheap grub from the colonial Zoo Lake Bowls Club and while your evening away as you admire the picturesque scenes.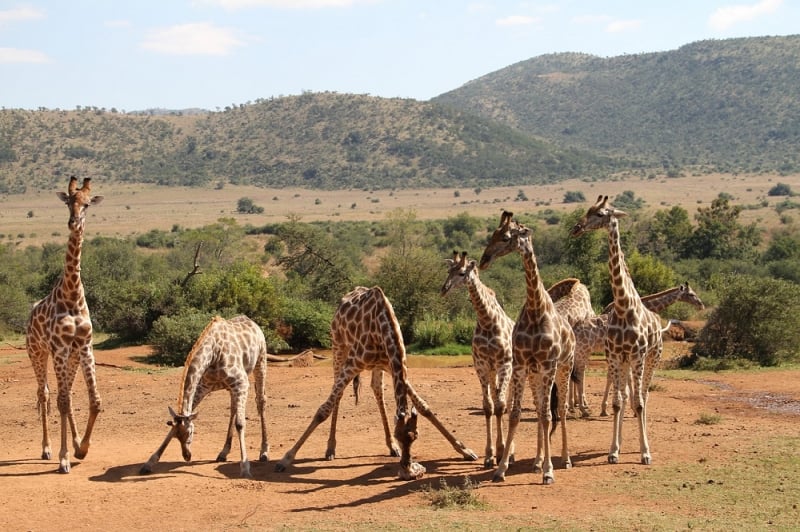 But for those who want a true safari experience, there's no other place like Pilanesberg Nature Reserve Safari. Be warned, the journey there takes between two to three hours for a one-way drive, but if you have the time and transportation means we promise you a priceless experience ahead.
You'll get to drive around more than 200 square miles of single-lane dirt roads and see everything you've ever imagined about African wildlife – a gigantic herd of elephants, lazing lions, basking rhinos, wary cheetahs and more. What you see on your trip is part luck, but we guarantee that these memories will last a lifetime.  
14. Or hang out at this alternative picnic spot
Emmarentia Park is another popular picnic destination for locals and visitors alike, with its two main attractions being the Johannesburg Botanic Gardens and Emmarentia Dam. With seven distinct gardens and rowing opportunities available at the dam, pick a prime spot and you can unwind on a blanket surrounded by the trilling bird life, trotting dogs and routine joggers, all for the attractive entrance fee of free.
15. Get a closer look at the vibrant birdlife
If you want better close-ups with the exotic birdlife of Africa, take the afternoon off to visit the Montecasino Bird Garden. You'll be in bird paradise as you pass through the gorgeous walkways and exquisite cycad garden. Admire the scores of bright pink scarlet ibises amongst flashy parrots, and psych yourself up for a magical feeding encounter with the lorikeets, who are not afraid to land on your head and walk up the back of your neck.
Apart from the spectacular bird shows that showcase the intelligence of these "bird-brains", make sure to check out the frog room and catch a sighting of the longest snake in the world, plus other unusual mammals like the sloth and lemurs in their natural habitats.
16. Visit the birth site of human civilisation
Curious about how humankind came to be from Africa? Then take an hour and a half's drive down to the Cradle of Humankind region for the mystical opportunity to learn about the stones and bones belonging to our ancestors. The Cradle of Humankind World Heritage Site is one of eight in the country, where its caves and natural plains are home to around 40% of the world's earliest human fossils and rich wildlife.
Apart from fossils and a rich history lesson on the journey of humankind, there's still lots to do in the region. For a peaceful retreat, visit Brookwood Estate Trout Farm, which boasts five stock dams for fishing enthusiasts and a beautiful picnic site right next to the Bloubank River. Braai facilities are also available for a lively outdoor cookout, as are sidecar ride opportunities in the wee hours of the morning on a vintage motorbike.
17. Enjoy a peaceful hike through serene natural surroundings
On days when you're just looking for a quick escape from the city's commotions. Klipriviersberg Nature Reserve is a pleasant surprise, especially perfect for those who don't have much time to spare for travelling out of the city to catch nature's wonders. Its 640 hectares are lush with flora and small game, as well as breathtaking hiking trails available for hikers of any expertise.
Catch glimpses of the city and its surrounding suburbs amidst captivating panoramas of unspoilt greenery. You can follow the clearly marked trails armed with light snacks, water, sunscreen and perhaps a camera and be set for the better half of the day.  
Another beauty worth visiting is the Melville Koppies Nature Reserve, also offering breathtaking views and bonus traces of the Stone Age. If you're up for some socialising, join one of the many walking groups available (the reserve is controlled access only) to take you through it.
Opt for the 3-hour guided tours offered on the first and third Sundays of every month, or perhaps join the special birding walks on second Saturday mornings. With over 200 birds recorded in addition to a variety of small mammals including hedgehogs, genets, mongooses and civets, you're sure to fall in love with at least some of the adorable residents of this peaceful reserve.
18. Soak away your aches in natural rock pools
How about some rock pool frolicking? The Mountain Sanctuary Park provides an environment true to its name by restricting numbers that can access the 1000-hectare property at any one time. You can expect to enjoy some peace and quiet in this alluring place. The waters here flow generously especially after summer rains, making it the perfect place to relax after some arduous hiking.
You can even turn a day trip into a weekend getaway at its clean and spacious campsites and let yourself roam free around its magnificent gorges and impressive rock faces. Note that there are no marked trails for the sake of conservation efforts, so it would be wise to have maps ready and hike in the company of someone with a good sense of direction.
19. Catch the sunrise whilst floating above the safari
Whether you're travelling in Africa for a special occasion or looking for fresh experiences to check off your bucket list, you have to check out hot air balloon riding. There are many companies offering rides across the safari, but the one with AirVentures has proven time and again to be a top favorite.
You'll have to wake up at the wee hours of 3am or even earlier if you haven't booked yourself an overnight stay near the takeoff site, but the resplendent views of your surroundings and the rising sun will take your breath away for months to come. Float away with your knowledgeable guides and land in time for a sumptuous breakfast at the spectacular Kloofzicht Lodge.
Let Jo'burg enthrall you with its bustling city-charms, splendid landscapes and roaming beasts on your upcoming expedition to far-out Africa; we promise you won't regret it.